Binocular Reviews Home > Binocular Guides > Wide Angle Binoculars
What is the Angle of View?
To explain the angle of view it is easier to start with the field of view (FOV) of a pair of binoculars, which is a measurement that indicates the width of the view you see through the binoculars at a specified distance, it is most often represented in feet at 1,000 yards, but increasingly common is in meters at 1,000 meters.
The angle of view (AOV) is the angle expressed in degrees between the left and right extremes of the FOV and the center of the objective lenses of your binocular (sounds complicated, but take a look at the diagram below). So in the example represented in the diagram below, the field of view of theses binoculars is 315 feet at 1,000 yards and the angle is 6°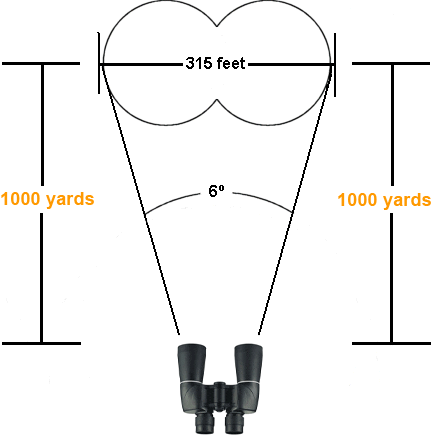 Apparent field of view (AFOV)
Some binocular manufacturers list their field of view as the Apparent field of view, this is the value of the real field of view multiplied by the magnification of the binoculars (Apparent field of view = Magnification x Real field of view). This value is important because it is comparable even among binoculars of different magnifications.
On top of this there is something known as the Apparent field of view ISO 14132-1:2002 standard, that some manufacturers are adopting.
Advantages of a Wide View
When looking through an optical device, if it has a wide field of view, it can basically "fit" more into the image that you see when looking through them, this makes finding objects, especially moving ones that much easier. This is one of the main reasons why the best bird watching binoculars tend to have lower magnifications and higher FOV's especially if they are to be used for observing the smaller, fast and erratic birds that live in wooded areas.
Obviously if your main birding is done out in open areas, for example at sea or on coastlines, lakes and dams, then a higher magnification may be preferable over a wide field of view (take a look at my article on 10x42 Binoculars for Bird Watching).
The down sides to a wide FOV is that they tend to have reduced eye relief and to gain the wide angle it usually means reducing the binoculars magnification. So in general, the higher the magnification, the smaller your angle of view and so there is always a compromise between FOV and magnification and it is about getting the balance right to get your ideal setup depending on how you use your optics.
How Wide is Wide?
Ok, so now we know what the angle of view (AOV) is, the Apparent field of view (AFOV) and why in some areas and situations a binocular with a wide angle of view is preferable. But what should you be looking for and what binoculars are considered to be Wide Angle Binoculars? Well there isn't a magic number, but lets take a look at what most people consider to be some of the best wide field of view birding binoculars on the market to use as a reference point:
I'm not suggesting that to get a wide angle binocular great for bird watching, that you have to buy one of the top of the range binoculars listed above. What it does is to act as a reference point as almost every birder I know would be more than happy with any of those listed above. It also shows that some figures can be misleading and it is worth taking all of the measurements into account when deciding on the right pair for your needs.
Based of the binoculars above, I would say that to be considered as a wide angle binocular it would would have an:
Angle of View (Real field of view) of around 7.5° or more
FOV of around 132m @ 1,000m (396ft @ 1,000 yards)
Comparing binoculars can be difficult as not all manufacturers list all of the stats and so to make it easier I have created a Field of View Conversion Table, that should help.
Extra Wide Binoculars
Apart from the standard wide angle binoculars there are a few specialist ultra or extra wide binoculars, that have huge fields of view, one of the best know is made by Bushnell and is primarily designed to be used for sporting events or even as opera or theatre binoculars.
The Best Wide Angle Binoculars (Standard)
Below are some of the best standard wide field of view binoculars that I have either reviewed or know about and I hope this helps you to make up your mind:
Reviews of Wide Field of View Binoculars