Binocular Harness Guide
Binocular Reviews Home > binocular accessories > bino harness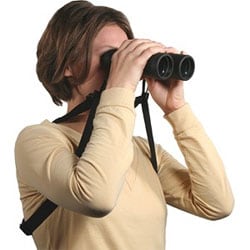 The binocular harness, or binocular suspenders as they are sometimes called, can be in certain situations a very useful and relatively inexpensive accessory for your binoculars that can make all the difference between you enjoying your day or spending it fumbling around juggling your equipment.
Why use a Binocular Harness
There are actually a couple of reasons why you would use a bino harness, the main one is that they securely and comfortably attach your binoculars to your body, freeing up both your hands when you are not actually using them. Your regular binocular strap can be sufficient, but they don't usually prevent your binoculars from swinging about and are less secure than a harness that makes it almost impossible to drop your optics. A harness also makes it far more comfortable to carry your binoculars, but is most useful to people who carry other equipment with them in the field, this can include birders who carry a bird book, photographers and hunters.
Dual Harness
If like me you often carry your camera as well as a pair of binoculars with you, or indeed if you need to carry two different cameras, camera lenses or other equipment, you should consider a duel harness system that allows you to comfortably carry more than once piece of equipment with you: Dual Harness Straps.
Dual Harness
If like me you often carry your camera as well as a pair of binoculars with you, or indeed if you need to carry two different cameras, camera lenses or other equipment, you should consider a dual harness system that allows you to comfortably carry more than once piece of equipment with you:
Below is a short video that goes over some of the advantages of using a binocular harness: