In Bushnell's vast range of optics that they produce, it is only the Elite series that sits above the Legend Ultra HD's and so you immediately know that you are looking at a quality pair of optics.
In terms of concept the main difference between these two is that the Bushnell Elite's aim is simply to be the best no mater the price. However with the Bushnell Legend Ultra HD binoculars, they place a little more emphasis on value for money, but still with the main objective of maintaining as high a quality of image and outer components as possible.
With everything from compact porro prisms to monoculars, this series covers all bases, but the 10x42 version is almost certainly the most popular and so I decided to take this model and look a little more closely under the hood:
Bushnell Legend Ultra HD 10x42 Binoculars
As you would expect at this level, the Bushnell Legend Ultra HD 10x42mm roof prism binocular does come with a vast array of features, components and terms that their marketing department bombards you with, which can make it quite difficult to decipher what is important from what is not. So lets take a closer look:
What I Like
Optical Coatings
As you would expect at this price, the optics are fully multi-coated using what Bushnell call their "Ultra Wide Band Coatings", which is that same as they use on the Elite series.
The BaK-4 prisms are also phase corrected which is good, but to fair, so are most others within this price category.
Exterior Water-Repellent Lens Coating
Whilst not scratch resistant as you get on some models, the fact that Bushnell have added their water-repellent lens coatings to the exterior surfaces is a sure sign of quality and is definitely not something that gets added to lower end models.
These special coatings make it possible to effectively use your instrument in rain, sleet, snow and mist, without having to constantly wipe the lenses. However even if you never go out in the rain, these coatings help to make cleaning the lenses easier and because of this you have much less chance of damaging them when you do.
ED Glass Lenses
Made from fluorite, these lens elements have extra low dispersion properties and thus in theory can improve the view by reducing chromatic aberrations which are the main cause of color fringing on the image. Once again this is a good sign of quality.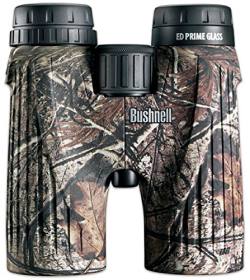 Bushnell Camo Binoculars
I like that that Bushnell have offered these in both standard black and a camo option and is a good sign that these are not only aimed at general users, but wildlife enthusiasts and hunters as well.
Magnesium Chassis
To save money many manufacturers will use a cheaper polycarbonate housing, I like that Bushnell haven't cut corners here.
A magnesium chassis may be a little heavier than plastic, but is more durable and just makes the instrument feel like it is of a higher quality.
Field of View
At 340ft wide measured at a distance of 1000 yards away, the width of view is excellent for a 10x power instrument and matches that of the very best. This will please many users, but especially hunters and birders.
What I Don't Like
At this price level, there really is not too much wrong with these and definitely nothing major to be concerned with.
One small gripe I have is with the amount of eye-relief, which is often the price you pay for having such a wide field of view:
Eye-Relief
Whilst 15.2mm is not terrible, for eye-glass wearers it is right on the boundary of what I recommend as being the absolute minimum to ensure you can still get the full field of view through them whilst still wearing your glasses.