Please Note: Hawke Sport Optics have now updated the Nature-Trek series and whilst this open bridge version is still available, you can also now read my full review of the newer single top hinged version of the Hawke Nature-Trek 8x42 Binoculars here.
I recently wrote an article entitled "Low Cost vs Very Cheap Binoculars" which is aimed at helping those shopping for optics on a tight budget. In it I discuss the main differences between poor quality, very cheap binoculars and some much better, but still low cost binos that I feel perform to a pretty good standard.
The main conclusions taken from the article were that there are three important aspects to look out for that often make the difference between the good and the not so good at this price level. Firstly as a indication of their overall build quality, they should be waterproof and fogproof. Next the prisms should be made from a good quality glass (usually BaK-4 ) and finally their optics should be "fully multi-coated" and not just "coated" or "multi coated".
As you can see from the highlights (listed below), these low cost Hawke Nature-Trek Open Hinge 8x42 binoculars (HA3933) are off to a great start as they possess all three of these initial indicators and so have the potential to be one of the better quality, but still cheap binoculars:
Key Features
Fully Multi-Coated Lenses
Waterproof and Fogproof
Bak-4 Roof Prisms
Field of View - 388ft @ 1000yds
Long Eye-relief - 18mm
So to find out just how good they actually are and indeed how well they perform in the real world, take a look at my full Hawke 8x42 Nature-Trek binocular review below:
The Body
Body Design
These 8x42 Hawke Nature-Trek binoculars sport an "open hinge" design, that is also sometimes called an "open bridge", which means rather than the more traditional single large bridge spanning the two barrels, this cut out shape can help to reduce weight as well as expose a little more surface area of the barrels that can and does in this case make for a better grip, especially when holding them one handed.
Note: All models in the Hawke Nature-Trek series use roof prisms and so all have the typical straight through shape to them, with the eyepieces in line with the objective lenses. However as well as the "open hinge" version that I am testing for this review, you can also get the Nature-Trek in the more traditional large central hinge design.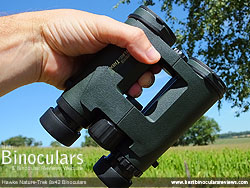 External Covering
The entire main body, apart from the eyepieces and a few other very small areas has been covered in a dark green rubber armouring. It is quite thick, but also very hard, so whilst it will protect the frame and optics, it possibly provides a little less cushioning during an impact than a softer armour would.
This very hard surface is also a little less grippy than some, however Hawk have added a fine texture to the outer surface on the Nature-Trek which does help a little.
As well as dampening down sounds, the dark green, lightly textured matt finish of the rubber covering also makes the instrument far less reflective than they would be had the chassis been left exposed, which also helps to prevent you from giving away your location or frightening away wildlife.
What is a bit different about these is that they have far more square edges and angles to them than most of the very rounded binos that I am used to. This is especially noticeable on the top surface (see image above) which does feel a little different when you first hold onto them. But actually after using them for a while, I found that I really like the shape, with my middle fingers curling around and inside the open, cut out area, it makes for a very secure and comfortable grip, which really helps to keep the bins nice and steady against your face.
Measuring it to about a depth of about 10mm, the objective lenses are set quite deeply within the ends of the barrels. Whilst this may be because of the lens covers that fit into this recess as opposed to over the barrels as on many binoculars, it also helps to protect the lenses, not only from getting scratched, but from light rain and I have found that less dust settles on ones like these as well.
I have read that it can also help to prevent lens flair as the cover formed by the body acts in a similar way to the lens hood used by photographers, but I have never really noticed really bad lens flair on shallow lenses before, so am not sure how much difference it makes.
Chassis
Hawke Sport Optics do not say what the main skeleton of the Nature-Trek is made from, but judging from what I can see under the armour, I would assume it is some sort of polycarbonate, which is fairly commonly used on entry and mid level binoculars. Whilst it may not be as strong as the aluminium or magnesium ones used in more expensive bins, it does have the advantage of being lighter.
Waterproof
I was very glad to read that this cheap binocular is fully sealed and thus waterproof. Although Hawke do not stipulate a depth or a standard, I am sure it will be sufficient for the usual bad weather encounters most people will have. This fully sealed body also prevents any small particles like dust from being able to enter they system, which can also spoil the view.
Fogproof
During the sealing of the unit, all the internal air is replaced with a dry nitrogen gas. This prevents the internal glass surfaces from fogging up and this moisture and oxygen free environment also prevents any mould from forming on the glass, which you can sometimes find on older binoculars especially.
Twist-Up Eyecups

The housing for the eye-pieces looks to be made from a type of plastic, as is the twist-up eyecup which then has a thick rubber coating covering it.
The twist up and down mechanism is smooth, there is no free play and you get two fixed intermediate stops between fully extended and retracted.
This along with a full 18mm of eye-relief on the 8x42 Nature-Trek means that there are plenty of options and a good amount of space to play with, to get the distance between your eyes and the ocular lenses exactly right no matter if you wear glasses or not and thus ensure you get the full view.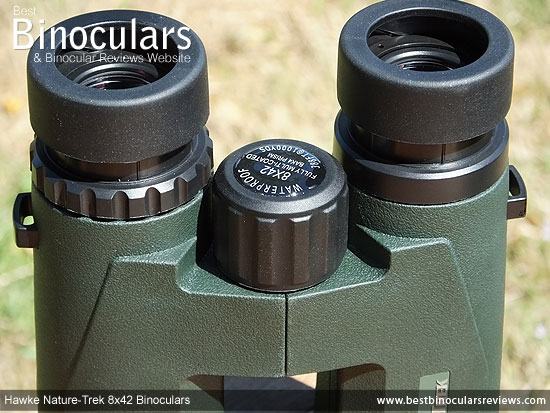 Focusing
Covered in a soft rubber, the focus wheel also looks to be made from plastic. There was no unwanted play and it turned smoothly with just the right amount of resistance to prevent unwanted movement, but not so much so as to make turning it a problem.
This combined with the deep grooves and an external diameter of 31mm make the wheel easy to reach and turn, which I also tried with my very thick gloves on and was able to do without any problems.
It takes just under two full revolutions (approx 710°) of the focus wheel to adjust the focus from one extreme to the other. This fairly low geared focusing mechanism means that it takes a little longer to get from one end of the focusing plane to the other than most, but has the advantage in that it is easier to make small adjustments to get the focus perfect.
Diopter Adjustment
For those who don't know, the diopter is used to calibrate your binoculars to your particular vision, compensating for any differences between your left and right eyes.
On the Hawke 8x42 Nature-Trek, like many others it is the ring located on the right barrel, near the eyepiece. On the pair I was testing, it worked well enough and even though it is not lockable or ratcheted, it had enough resistance to stop if from easily be moved by mistake.
Whilst you can quite easily make your own mark should you need to, I do however wish they had added a scale or at least some more markings that would make it easier to remember and return it to your setting if it is not located at the neutral point.
Inter-Pupillary Distance (IPD)
As with almost all bins, you can adjust the distance between the two ocular lenses to match the distance between your eyes by opening and closing the central hinges. Known as the Inter-Pupillary Distance, on these Hawk binoculars the maximum IPD is 7.5cm and the minimum is 5.7cm, which is a pretty good range that should accommodate most people, even those with fairly close-set eyes, as can see from the photo below of my "assistant" and 2½ year old daughter Kara using these bins!
Rating for Body Construction Quality: 7/10
Weight
The cut-away "open bridge" design can help to reduce weight and at only 23.5oz (665g) it obviously does as it makes these Hawk binoculars amongst the lightest full sized 42mm binoculars that I have ever reviewed (see table below) and they really feel it. Once again and for a bit of fun, I will draw your attention to my young daughter in the pictures above who at only 2½ years old was using them one handed.. and I honestly say that I did not ask her to do it either!
What is impressive is that even though they do feel really light, they do not feel either fragile or cheap as is the case on some cheaper, very lightweight binoculars that I have used in the past.
Dimensions
As you can see from the table above, their overall dimensions are fairly standard for a full sized 42mm roof prism binocular.
Their length of 14.2cm (5.6in) is measured with the lens covers removed and the eyecups twisted fully in. By twisting out the eye-cups their length extends to 15cm and then by adding both the objective and ocular covers, it moves out to 15.5cm.
Their width of 12.6cm (5in) is measured at the widest point with the central hinge fully open. At this point, their height is 5.7cm (2.2in), by collapsing the hinge, their width reduces to 11cm and the height increases to 6.9cm.
BBR Rating for Body Stats: 8/10
The Optics
Lenses
Hawke Sport Optics also do not give much away as to the precise make up of their ocular or objective lenses, but I can say that with a diameter of 22mm the eye-piece lenses are in my experience, pretty much on a par with most full sized 42mm binoculars.
The 42mm diameter objectives, combined with an 8x magnification is probably the most commonly used setup as it offers a really good light gathering potential, the potential for a wide field of view and all in a package that is not too big or heavy:
With a 5.25mm exit-pupil (42 ÷ 8 = 5.25), all 8x42 binoculars should provide your eyes with enough light to produce a reasonably bright image in all but the very poorest light conditions when some people's pupils may dilate to more than the size of the exit pupil.
This fairly large exit-pupil has another advantage in that it makes it easier to line up your pupils with the shaft of light exiting the eye-piece, which means that it is easier to achieve the full view, without any dark rings on the edges of the image than a binocular with a smaller exit-pupil.
Prisms
All the models in the Hawke Nature-Trek series, including these, use roof prisms which are made from BaK-4 glass. This glass is generally considered more desirable than the cheaper BK7 glass that is sometimes found in binoculars in this price range as it has a higher refractive index, producing a steeper light cone which enables the manufacturer to make a more compact and shorter binocular.
Optical Coatings
The optics on these Hawke binoculars are "Fully Multi-Coated", which means that all air-to-glass surfaces throughout the binocular have multiple layers of anti-reflective coatings.
This is really important as it means that they probably have a transmittance level of around 90% to 95%, which can and does make a really big difference to the brightness and overall quality of the image that you see.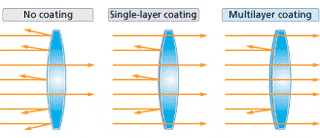 To reduce costs, many binos is this price range will only have "Coated" or "Multi-Coated" optics, meaning that only some glass surfaces (usually just the first and last) will have anti-reflection coatings added them and thus they only transmit between 66% and 86% of the light depending on the coatings and the number of glass surfaces.
With this taken into account, it is good to see that Hawke have not cut back in this area and therefore it should result in them producing a sharper, brighter and better contrasting image than many others in this class that use less coatings.
Hawke Nature-Trek Optical Comparisons
So whilst these may not have all the high end features of far more expensive binoculars (as you would expect in this price range), they do use good quality prism glass and are fully multi-coated, both of which are not always included in this price range. For example take a look at the more expensive Bushnell NatureView above, which is only multi-coated.
Optical Components Quality Rating: 6/10
Optical Stats
The Field Of View (FOV)
The view through these 8x42 Nature-Trek's is 388ft wide at a distance of 1000 yards (130m at 1000m). As you can see from the table below, this FOV places them around mid table and is therefore good, but not brilliant for a full sized bin with a magnification of around 8x:
Near Focus
Hawke advertise their minimum close focus distance as 2m (6.6ft), however on the pair that I was testing, I measured it to be a little more than this at 2.36m (7.7ft) away. Anything under 6ft is rated as excellent on BBR, so either way, I would describe the close focus on these as being good, but not excellent and will still be fine for the occasional observation of nearby flowers, butterflies, birds etc.
Eye-Relief:
With 18mm of eye-relief they join my list of binoculars with long eye-relief which is excellent. This combined with added flexibility you get with the eye-cups on these that have 2 intermediate click stops, this Nature-Trek makes a good choice for those who want to keep their glasses on whilst glassing.
Optical Stats Rating: 8/10
Quality of Image
I have a collection of control or benchmark binoculars that I used to compare with the view through these binoculars. I do this for all my reviews and it is in this way that I am able to position and mark a binocular in comparison to all the others that I have tested I the past.
Image Brightness
In good light, I was unable to detect any difference in brightness between these and my mid level 8x42 benchmark, however I did notice a slight improvement in the brightness of the image on my high level 8x42 controls when compared to the Nature-Trek. This difference became a little more obvious in poor light.
So whilst they may all have the same size exit-pupil, it is features like the very highly reflective dielectric coatings on my high end benchmarks that do make a small difference. However it is important to keep in mind that the difference was fairly small and my top end bench mark costs more than 10x the value of these. So overall, I would describe the brightness as good, but within their price range it would be very good, but not excellent.
Colour Reproduction & Image Contrast
To me the colors produced looked normal, without any perceptible artificial tints that I sometimes find within this price range. I am not sure if it was just because it was a little less bright than my high end benchmark, but the colors did seem to be a fraction less vivid when comparing the two.
Image contrast between these and my mid level bench marks was equal and both a fraction less pronounce when compared to high end bins and so would describe them as being good in this area.
Depth of Field
By focusing on an object 5 meters away and then taking the view back as far as I can go and remain in focus without adjusting the wheel is how I judge their depth of view.
I have to say that these Hawke's managed to go a little further than my mid-level benchmarks and were about equal to the others and so rate them as good to very good in this area and equal or better than most 8x42 binoculars out there.
Color Fringing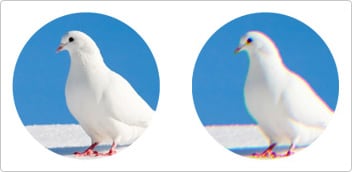 Whilst there is a small amount of color fringing on the edges of objects that contrast greatly with their background, it was no more than normal and indeed better than I would expect for a binocular at this price. I must also point out that it really is not that obvious unless you are actually looking for it and far less evident than the example image on the right.
This is actually quite impressive, especially when you consider that they don't use extra low dispersion glass (ED Glass) in their lenses that can help reduce the chromatic aberration, that causes the color fringing.
Image Softening
The image looks nice and flat and remains sharp until quite near the edges of the view, with only a minimal amount of softening. Once again this amount is only really noticeable when looking for it, which is more than acceptable and in my opinion is better than most others within this class.
Image Quality Rating: 6/10
Accessories & Attention to Detail:
Carry Case
Whilst it may not match the very best, the soft case that comes included is a lot better than what I usually find in this price class. Although it is lightly padded, it looks to be made reasonably well with the bins fitting perfectly inside their compartment even with the eye-cups fully extended and the lens covers on, which believe it or not, is often not the case.
The main case has a long Zip that goes around three sides of the case, which is great as it means that the front face can be fully opened for easy access to the insides. There is also a flap that folds over the top, which is held in place with a strip of Velcro. However apart from displaying their logo, I am not totally sure what the purpose of this is, perhaps to provide another layer to increase the amount of protection from the likes of rain perhaps? But for me it just adds to the time it takes to get to your optics and you have to be careful that the sound of the ripping Velcro does not frighten away your quarry.
It comes with it's own strap that can easily be removed as it connects to the rings on the bag with some freely rotating, quick release clips. On the back of the case is a belt loop for those who want to carry around their waist.
I like the separate meshed pocket on the inside, which I use to keep my lens cleaning cloth and other small items like car keys etc.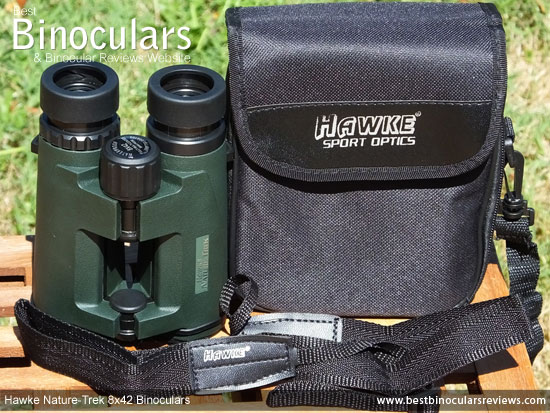 Neck Strap
The Nature-Trek neck strap works, in that it holds the bins around your neck, but it is pretty basic. Made from a nylon type material, it is 2.5cm wide and only 1mm thick without any sort of padding.
So compared to the quality of the case and indeed the actual binoculars, the neck strap is a little disappointing, but to be fair to Hawke it is about average when compared to others in this price range.
Objective Lens Covers

The objective lens covers are made from a soft rubber and fit very well into the ends of the barrels, rather than over them as is the case on most, which I really like as it makes for a much cleaner look.
Each lens cover has a loop that fits around the barrel so that it can remain attached to the binocular at all times (you can remove it if you wish). When glassing the loop allows the lens cover to simply hang down, but is always handy when you need it, preventing you from misplacing or loosing it.
Rain-Guard
Also made from a soft rubber, the rain guard, which protects the ocular lenses fits very well over the eye-cups and should not come away accidentally. There are also a couple of loops for you to thread the neck strap though, should you wish to keep it attached and handy at all times.
The guard also has a flexible rubber bridge between the two cups that allows for the different distances between the eye-cups depending on your inter-pupillary setting.
Lens Cloth
Also in the box is reasonably good quality lens cleaning cloth, which may be a small thing but is not always included with a bin in this price range.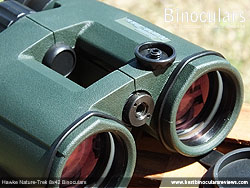 Tripod Adaptable
The dust cap on the front bridge can be unscrewed, revealing a standard ¼-inch thread that allows you to attach most standard tripod adapters to the binocular.
Manual & Warranty Information
The included user manual is fairly generic and includes basic information on how to care for the binocular, focus it and adjusting the diopter in a number of languages.
A page within the booklet goes over the main details of the Hawke 10 year Worldwide Warranty.
Extras & Attention to Detail Rating: 6/10
Review Conclusions:
Strong Points: If I had to pick out one area of strength, it would be the lightness of the Hawke Nature-Trek Open Hinge 8x42 binoculars, but for me one of their major strong points is that they don't really have any major bad points! You see in this price range, most binoculars I test tend to be severely lacking in one or more areas and that is simply not the case with these. So whilst they don't really excel in any area (which is very understandable at this price), they also don't really fail in any areas either!
The quality of the image is good, brightness is good, build quality is good and they have a good feel and balance to them. All in all a more than decent binocular at an exceptionally good price.
Weak points? The neck strap is a little too basic for my liking, but I suppose that to keep costs down they have to make cuts somewhere and I would much rather it was on the peripherals like the neck strap than having to make more compromises than needed on the actual binocular or it's optics.
I would have been great if they had added phase correction coatings and/or a higher reflectivity coating to the prism than whatever they currently use, which I think would just raise their brightness a little, but this would also probably mean that they would also have to increase the cost of the product as well.
Overall - I started this review by stating that for a low cost or cheap binocular, the Nature-Trek looked to have the main bases covered and thus had the potential to be better than the vast majority in this price bracket. Now having used and fully tested them, I can confirm that whilst they justifiably may not match higher spec binoculars, they are indeed pretty much about as good as it gets in this class and a great option if you are looking for a good quality, but low costing binocular.
Ideal Uses: As with most 8x42 binoculars, their good field of view and low light performance make them ideal for general use, bird watching and most other wildlife applications.
Thanks...
Many thanks to Deben, the UK distributors of Hawk binoculars and spotting scopes for sending me this and many other samples to review.
100% Genuine & Honest Review
This Hawke Nature-Trek binocular review, like all the others on BBR is completely my own and honest opinion of the product.
I spent a lot of time researching and testing the binocular both in the office and out in the field and I believe that all the details to be correct, but I have been known to make the occasional omission or mistake. So if you spot any, please feel free to contact me to let me know.