Binocular Reviews Home > Binocular Guides > Servicing & Repairing Binoculars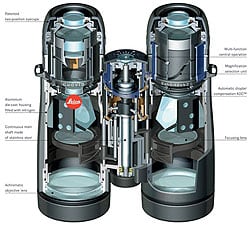 I often get sent questions about peoples optics and one of the most common is "where can I get my binoculars repaired." So I thought I thought that I would put together a page of information and resources related to servicing and repairing binoculars, that I hope will answer most of your questions and get your optics back into working condition.
Which Binoculars can your Repair
As far as I have been able to find out pretty much any pair of binoculars can be repaired. You get some companies that specialise in niches like wartime and vintage binocular repairs and then obviously if you have a newer pair that is still under warranty you can get it repaired or even replaced by the manufacturer or distributor themselves.
Almost all makes of binoculars can be repaired including all the major brands like Swarovski, Steiner, Minox, Zeiss, Leitz, Leica, Canon, Nikon, Opticron, Bausch and Lomb, Avimo, Optolyth, Miyauchi, Fujinon etc etc.
Zoom type binoculars can also repaired.
Which Faults can be Repaired
Again pretty much every problem can be repaired from collimation problems to even modifying some binoculars to focus closer. Once opened to be repaired, your waterproof binoculars can then even be re-sealed and purged again with zero grade nitrogen to ensure that they remain water and fogproof by some of the better repair companies. Binoculars can also be serviced, where they will be completely stripped down to be thoroughly cleaned both inside and out, new lubricants put on all moving parts and then sealed up once again. Any small repairs will also be carried out as well as checking for any collimation issues.
How Much Does it Cost?
What it costs to repair binoculars obviously depends on what need to be done, but also what type and age of binoculars you have. The best companies (see below) will be able to give you a free estimate if you request it, but below are some price guides that I have been able to find out for you:
Depending on type and complexity of binocular, a straightforward correction of assembly, collimation and test will start at about $30 / £30.
For a full porro prism binocular service that includes fully stripping down the binoculars to clean the mechanical parts, renew the lubricants, any minor repairs, clean the optics, reassembly, adjustment for a smooth operation, collimation, testing and cleaning externally is available from about $50 / £40. Note: Roof prism binoculars usually cost a little more.
Nitrogen purging for water-proof or sealed instruments (as part of the overhaul) costs about £20 / £10.
Where to get your Binoculars Repaired
Repairing binoculars is not something that just anyone can do, especially if you want it done properly.
That is why I highly recommend that in the first instance if your binocular is still under warranty that you first contact the manufacturer. Even if your binoculars are not under warranty it is worth contacting the makers, they in many cases will be able to help by suggesting where they recommend that you get the problem fixed.
To find the address of your make, take a look at my page about your manufacturer, at the bottom of most of them I have included their contact details: Binocular Brand Details.
To help I have also listed links to the contact details of a few of the most commonly asked for brands below:
Binocular Repairs UK

Binocular Repairs USA
If you have a problem with you binoculars, especially if it is just a collimation issue, I recommend trying the companies below, both are based in the UK, but they also tell me that they will accept accept binoculars for repair from all over the world.
Opticalia - Binocular Repairs
Opticalia was founded in 2005 and specialises in the repair and service of photographic and specialist optics, like binoculars and scopes.
In the past Opticalia has operated as the service centre for the Bresser and in particular their successful 'Safari' range of binoculars and other optical products. Currently they deals with all the service and guarantee work for Barr & Stroud as well as the Swedish Adler Optical company.
They also welcome all enquiries from the public for the repair of binoculars and scopes.
As well as repairing binoculars, they offer a range of refurbished binoculars as well and are also the UK distributors of Luna Optics Night Vision Products.
Contact Details
Opticalia Ltd
Website: www.binocular-repairs.com
Email: enquiries [at] binocular-repairs.com
Telephone: 023 80455872
Mobile: 07771922243
Postal Address:
Opticalia Limited,
1 Mariners Close,
Hamble,
Hampshire SO31 4PD.
OptRep - Optical Repairs
OptRep specialize in repairing binoculars and many other types of optical equipment including spotting scopes, telescopes and other and ophthalmic instruments.
Located in Selsey, West Sussex, they are a small British company run by enthusiastic optical technicians that have been working with optical equipment since 1960.
They can repair and service all makes and ages of telescopes and binoculars in their workshop, from the very earliest vintage binocular to the most modern. Servicing is always carried out as the manufacturing intended including, when appropriate, purging with zero grade nitrogen. Customers are invited to visit their workshop or send their equipment by post or courier. Whilst they are based in the UK, they accept binoculars for repair and servicing from all over the world. They also arrange a call-out for in-situ servicing if needed. (this service being chiefly for Opticians). Free estimates are given when requested.
Contact Details
OPTREP
16, Wheatfield Road, Selsey
West Sussex,
PO20 0NY.
Telephone/Fax: 01243 601 365
info [@] opticalrepairs.com
website: opticalrepairs.com
Opening hours: 9am to 5pm Monday-Thursday, 9am to 3pm Friday.
Always telephone before calling. Other days/hours possible but by appointment only.
Binocular Repairs USA
There are a number of companies in the US that specialize in binocular repairs.
My advice as always is to first try contacting the manufacturer. However if you have an older pair or an instrument where you cannot get hold of the manufacturer, or if they are not interested in repairing your instrument (this does happen!) then below are my suggestions as to where you should look:
Mountain Optics
Mountain Optics has been specializing in repair, service and superior restoration of binoculars, scopes as well as other optics since 1986.
Currently located next to Camp Pendelton Military base. They have provided excellent & knowledgable customer service, delivering top quality workmanship for well over 30yrs. Old or New, early 1900s vintage to modern sophisticated optics.
They focus on service, repair and restoration for all Civilian and Military binoculars & scopes They are best known for exceptional work on vintage optics from WWI & WWII. Mountain Optics offers complete service for all types of binoculars, foreign and domestic. Including, but not limited to…
Doctor Optics
Swarovski
Zeiss
Leica / Leitz
Bausch & Lomb
Many others...
Over 30+ years of Superior service.
The company also services and repairs all types of optics for birders, hunters or any other type of observation. However, they do not offer any repair services for telescopes.
For more information and/or appointment, feel free to reach out Mountain Optics at:
Contact Details
1-877-756-2466
(406)-857-2354
Address: 4338 Morgan Creek Way Oceanside, Ca 92057
email address: info@mountainoptics.com
website: www.MountainOptics.com
Binocular Repairs in Australia

Optical Repairs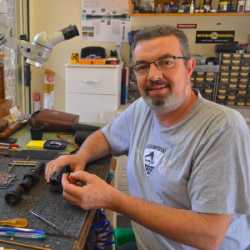 Optical Repairs is based in Brisbane, Queensland, Australia. This passionate company offers a comprehensive range of optical repairs and restores a wide variety of optical devices dating from the 1st and 2nd World War periods to current day optical equipment.
Optical Repairs specialize in European optics, but also inspect and evaluate products from all manufacturers.
With more than 30 years of experience in optics, Optical Repairs also offer service repairs as well as overhauls, general maintenance on a wide range of optical devices including microscopes, refractor heads, scopes and binoculars.
As well as this they also offer insurance appraisals and valuations.
Optical Repairs has customers in Australia as well as the rest of the world such as the U.K., Canada, USA, South Africa and New Zealand.
Optical Repairs have undertaken work for large organizations like the Australian Maritime Services, Australian Federal Police, the Queensland Government as well as many specialised hospitals and clinics associated with eye disorders both in Australia and around the world.
You are invited to contact Optical Repairs for a free quotation. They will then offer you a detailed evaluation before starting any work:
Contact Details
Name: Malcolm
Mobile: 0407 007 116
Email: malcolm@opticalrepairs.com.au