Zoom Binoculars
Binocular Reviews Home > Buyer & User Guides > Zoom Binoculars
What are Zoom Binoculars?
Basically zoom binoculars have a continuously variable magnification so you can look through them at a magnification of 8x or 10x for example and zoom in to an object at a higher power magnification, to get a close up view and observe the object in more detail.
Zoom binoculars are designated by their magnification range separated by a hyphen, for example a pair of 10-30x25 zoom binoculars has a magnification range of 10x to 30x and an objective lens diameter of 25mm and a pair of 12-60x70 binoculars have a magnification power range from 12x to 60x and objective lenses with a 70mm diameter.
It is important to point out that some binoculars have multiple magnifications, but are not officially zoom binoculars as the different magnifications are obtained by switching to different sets of eyepieces. You can tell these apart from boom binoculars as they are designated with a slash and not a hyphen, for example 25/40x70.
Do Zoom Binoculars Work?
The idea of being able to scan an area and then zoom in to get more detail on a particular object sounds ideal, but do Zoom binoculars actually work and if so, how well?
The answer is both yes they 'work', but how well depends on a number of factors.
Let me explain, they do work in that you can zoom into an object. However they do not compare to the quality of image that you get through a good fixed magnification binocular.
The view through the variable ones that I have tested tend to be a little fuzzy in comparison to high end fixed magnification binoculars and they often have a much smaller field of view. This often makes them far less suitable for uses like birdwatching or anywhere where you need to be able to quickly lock onto a subject or scan wide open areas.
I think a telling point here is that of all manufacturers of binoculars, not many/any of the real high end, quality brands like Steiner, Kowa, Swarovski or Zeiss have zoom binoculars in their lineups.
Could this because they don't want to risk their reputation on something that is a little gimmicky or is it because they are not progressive enough? Of the companies that do make zoom binoculars, the best are Nikon, Bushnell, Olympus, Pentax and Celestron.
The Best Zoom Binoculars 2023
As with most things in life, nothing is perfect and the ability to be able to scan for something using the low power magnification and then zoom in to observe the close-up detail outweighs their potential downsides.
Thus if you are going to get a pair, my advice is to look for higher end products from respected brands. So what are the best Zoom binoculars and where can you get them?
Below I have split what I believe to be the best zoom binoculars into three major categories. First we have compacts, then "standard sized options and then instruments with large objectives that are better in low light conditions and thus a good option for astronomy:
Best Compact Zoom Binoculars
Interestingly one of the biggest selections of zoom binoculars can be found within the compact size category, with many of the Japanese manufacturers in particular producing at least one model.
I say it is interesting because with compacts, it's even more important than ever to make sure that you opt for a the highest quality optics as you can.
The reason for this is the combination of the small objective lenses on a compact (which capture less light than larger ones) and the higher powers that you often get with a variable magnification instrument often results in poor image brightness which is especially bad in low light conditions.
So my advice would be to shy away from the cheapest options and look to get the best that you can afford.
Nikon Aculon T11 8-24x25 Compact Zoom Binoculars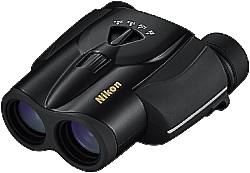 Available in a variety of colors (Red, Blue, White and Black), the Nikon Aculon is certainly on my shortlist of the best compact zoom binoculars in 2023.
Main Features & Specs:
Compact and lightweight
Multicoated Optics
BaK-4 Porro Prisms
Unique zoom adjustment dial located on top of the device
Twist-up eyecups
Field of view at 1000 Yards: 241ft @ 8x
Eye Relief: 13mm @ 8x
Close Focus Distance: 13.1 ft
Dimensions: 4.8in x 4.3in
Weight: 12.3oz.
Other models that I recommend for you to look out for include the Vixen Ascot 10-30x25 CF Zoom, Bushnell Powerview 7-15x25 Compact Zoom Binocular, Bushnell Spectator 5-10x 25 and the Pentax UP 8-16x21 Zoom Binoculars:
Best Zoom Binoculars for Astronomy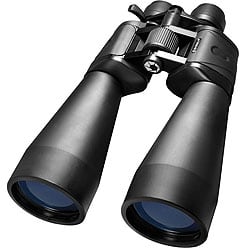 Another area when zoom binoculars are also very popular is in the field of astronomy and this time there really is a good and useful reason for this:
This is because they allow you to scan the sky using the low power magnification and then zoom into a planet, star or constellation once you have identified that you are in the correct part of the sky that you wish to observe.
As with the compacts, it is once again vitally important to look for the best quality optics that you can afford. Whilst this time you will have large objective lenses, the major limiting factor is the very low levels of light at night.
Thus to ensure that you get the best and brightest images as possible, you need as much of the captured light to transmit through the instrument and then into your eyes.
For the very high power zooms, make sure that the binocular is tripod adaptable. There is no point in a massive magnification and not being able to keep the image still enough to properly observe what it is you want to see!
Barska Gladiator Zoom Binoculars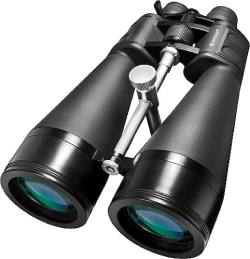 The Gladiator Series from astronomy, high powered experts Barska consists of a good selection of variable magnification models that are perfect for stargazing, but also good for long distance terrestrial (land) use.
Available Models
12-60x70
20-100x70
25-125x80
20-140x80
The two larger 80mm versions come with Braced-in Tripod adapters (see image on the right), whilst the slightly smaller 70mm Gladiator's are still tripod adaptable, but in the standard way buy removing the front dust cap.
The zoom mechanism on these binoculars is smooth and easy to operate by flicking the lever near the right eye-piece.
All models are Multi-Coated come with Bak-4 Porro Prisms and Barska's Limited Lifetime warranty.
More Suggestions: Celestron SkyMaster 25-125x80, Celestron SkyMaster 20-100x70 and Sunagor Mega Zoom Binoculars 30-160x70:
How Do Zoom Binoculars Work?
The way that Zoom binoculars work, is partly the reason for the view through them being a little fuzzy when compared to quality fixed magnification optics: Some people may wonder why a zoom lens on a digital camera or video camera works so well why cannot they just use this on a pair of binoculars?
The main problem with designing zoom lenses for binoculars is due to the fact that a binocular is basically two separate telescopes connected together, each perfectly synchronised so that you get a crisp clear image. This problem gets far more complicated if you want a variable magnification as the zoom mechanism consists of moving lens elements in each barrel and each 'telescope' has to somehow maintain the synchronization even whilst zooming. To achieve this, manufacturers use a flexible linkage band that passes through the ocular arms that connect the zoom mechanism on the left to the zoom mechanism on the right.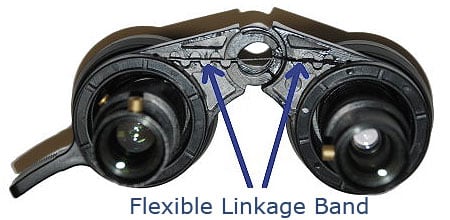 Each moving part of the system has a certain amount of "slack" that is unavoidable and because there are many parts in the zoom mechanism, that each adding a small amount of "slack" to the system, it makes it impossible to maintain perfect synchronization. The result is that the two telescopes are never exactly at the same magnification and hence the image can become a little fuzzy.
Issues & Potential Problems
Reduced Field of View
The width of the image you view through your binoculars (field of view) will be far less on a pair of Zoom binoculars at the low end of their magnification range than that of a comparable fixed magnification pair. This is because of the limitations of having to use moving lens parts inside the eyepieces. As a general rule, the bigger zoom, the smaller the field of view at the low end of the range. This can be as much as half of the field of view when compared to that of a fixed magnification binoculars at the same magnification.
Collimation Issues
Collimation refers the optical and mechanical alignment of the binocular and if this is not perfect it can feel like the binoculars are trying to suck our eyes out! Good quality binoculars are very carefully collimated, often with the use of laser instruments. This requires time and expense at the manufacturing level, and raises the price at the retail level.
So what does this have to do with zoom binoculars? Well, because zoom binoculars use moving lens elements in each eyepiece, each image moves very slightly as the lens elements move to zoom. This tiny movement is not be noticeable with just one eyepiece in a telescope for example, but because you use both eyes with a binocular, the collimation changes as you zoom from one end of the magnification range to the other. This results in the binoculars never being in perfect alignment and so are not perfectly collimated.
Alternatives
If these issues above concern you, but you still require an instrument where you are able to vary the magnification, there are a number of other options well worth considering:
2x Doublers
One option is to use a binocular that will accept a doubler.
These 2x eye-pieces can be attached to the eye-piece on your binocular and thus double the binoculars power.
So here you get the the versatility of two different magnifications, but without the performance limitations of zoom binoculars.
Here both Vortex and Swarovski make excellent quality products: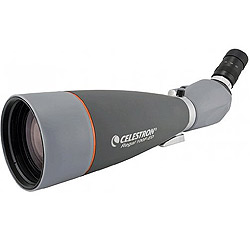 Spotting Scope or Monocular
Another option and one well worth considering is to use either a spotting scope with a variable zoom eye-piece, or a zoom monocular.
The great thing here is that because a scope or monocular is just basically half a binocular, they do not suffer from the collimation problems associated with variable magnification binos.
Scopes are larger and generally more expensive, whilst a monocular is literally be half the size of the equivalent binocular and usually less expensive as it only uses have the amount of components.
For more details, product reviews and suggestions, take a look at my guides to
Zoom Binocular Reviews
Below is a selection of my most recent reviews that I have written on zoom bins:
These good looking, but inexpensive compact porro prism zoom binoculars from Nikon have a centrally located zoom control lever that enables the user to select any magnification from 8 power to 24 power with the push of a finger. The Multilayer-coated lenses produce a good quality as well as bright image especially at the 8x magnification setting.

Price: (2/6) Low Cost Binoculars
BBR Ratings:
Body Quality:
5/10

52%




Above Average

Body Stats:
6/10
Optical Quality:
5/10
Optical Stats:
4/10
Image Quality
6/10
Extras & Details:
5/10
More Info & Related Articles: