GPO: German Precision Optics
About GP Optics
A new player in the high end optics market is German Precision Optics, who rather like Best Binocular Reviews (BBR), shorten their name to GPO!
Germany & GPO USA
As their name suggests, GPO has its roots in Germany, where all of the designing and engineering takes place, but they also have a North American division based in Midlothian, Virginia.
From what I can gather (and please feel free to correct me if I am wrong), the company was created by two guys, both of whom held top positions at Carl Zeiss Sports Optics:
Firstly there is Richard Schmidt, who was the CEO at Zeiss GmbH and who now owns and runs the German division of GPO GmbH which owns the GPO brand.
Then there is Michael Jensen, who had held the post of president at Zeiss Sports Optics, LLC and who now heads up GPO USA.
USP & Ethos:
GPO have what they describe as a "unique corporate structure" that they say enables German Precision Optics to produce superior quality instruments with even better features, but at the same sort of prices that you would expect from the other top tier brands from Germany and Europe (I assume they mean companies like Zeiss, Swarovski and Leica, etc.).
Or the other way of looking at it, they can deliver instruments of a similar level to the other top end brands, but at a lower price.
GPO Range
Currently German Precision Optics have a couple of riflescope options (the GPOTAC series and the PASSION series) and two ranges of binoculars:
GPO Binoculars
Being new to the arena and I guess because their main focus is on the very high end, premium instruments niche, their range is quite small at the moment, but I expect this will grow over time. Even so, what they do have looks very interesting with some unique features that are well worth highlighting:
GPO Range:
GPO Passion HD Binoculars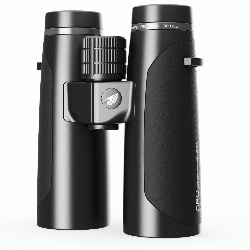 The flagship series from German Precision Optics, the Passion HD series consists of five roof prism models, which as you would expect boasts a whole flotilla of premium features and stats, but which also have a couple of very interesting aspects and innovations:
The interesting one for me is that they highlight the use of more than one extra-low dispersion element within the lenses.
GPO call this their "Double HD glass technology" and they say it further reduces chromatic aberrations and that whist this is a feature commonly used within high end photography lenses, it has now been brought to the field of sport optics.
I am not actually sure if or how many other brands do this with their ED lenses as almost none go into details, but whatever the case it seems that it must be an improvement on their standard ED lenses used on their cheaper Passion ED models (see below).
Fully Multi-Coated Optical system
GPObright™ lens coatings - that they say has a transmittance of 99.7%
Double HD Lenses
Hydrophobic Coatings on exterior lens surfaces
Locking diopter located on the central focus wheel
Aluminum eyecup housing
Magnesium Chassis and Bridge
Fog & Waterproof
Reviews
Models & Specifications
GP Optics Passion HD Binoculars come in five different configurations:
| | | | | | |
| --- | --- | --- | --- | --- | --- |
| Model | FOV | Eye Relief | Min Focus | Weight | Dim (in) |
| 8x42 | 375ft | 19.5mm | 6.5ft | 29.3oz | 6.1x5.1x2.2" |
| 10x42 | 336ft | 17mm | 6.5ft | 29.6oz | 6.1x5.1x2.2" |
| 8.5x50 | 315ft | 19.5 | 9.8ft | 33.2oz | 6.9x5.3x2.5" |
| 10x50 | 309ft | 19.5mm | 9.8ft | 33.9oz | 6.9x5.3x2.5" |
| 12.5x50 | 286ft | 16.5mm | 9.8ft | 34.1oz | 6.9x5.3x2.5" |

Price & Where to Buy
Depending on the model (with the larger higher powered ones being more expensive) the RRP ranges from $1299.99 to $979.99 in the US or in Europe: €1299.99 to €979.99. As for current price levels, this has already dropped and so it is well worth checking and comparing current retail prices:
Buy & Compare Prices for GPO Passion Binoculars
GPO Passion ED Binoculars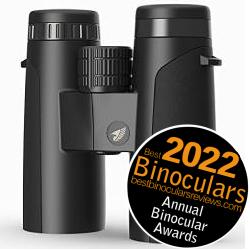 Whilst still very high quality, the Passion ED series sits just below that of the HD series.
Apart from design differences to exterior and a range of available colors, the main differences (besides the cost) is the use of "normal" ED glass lenses rather than the Double HD lenses that I discussed above.
As far as I can see, GPO Passion ED binoculars also lack the hydrophobic exterior lens coatings used on the HD's:
Main Features
Fully Multicoated Optics
ED (extra-low dispersion glass) elements in the objective lenses
Magnesium Chassis and Bridge
Aluminium Eyecup Housing
Waterproof and fogproof
Molded hard carry case
Reviews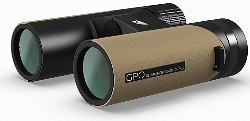 32mm Passion ED's come in four different color options which include "desert sand", "charcoal black", "deep green" and "dark brown earth".
Another difference between these cheaper ED models and that of the HD's is that I think these have the diopter adjuster located on right eyepiece in the usual position as there is no mention of it being lockable and on the focus wheel in the description.
Models & Specifications
The GPO ED series binoculars come in mid-sized 32mm configurations as well as 42mm options. There are currently no 50mm Passion ED models:
| | | | | | |
| --- | --- | --- | --- | --- | --- |
| Model | FOV | Eye Relief | Min Focus | Weight | Dim |
| 8x42 | 341ft | 19.5mm | 8.2ft | 23.2oz | 5.7x5.1" |
| 10x42 | 314ft | 16mm | 8.2ft | 24oz | 5.7x5.1" |

Where to Buy & Prices
Recomended retail prces for the German Precission Optics Passion ED binoculars goes from $399.99 for the 10x42 model, to $359.99 for the 8x32 making these look like really great value for money ED binoculars, for current prices in your country, check out the link below:
Buy & Compare Prices for GPO Passion Binoculars
Where to Buy GP Optics Binoculars & Scopes:
To check out the current prices of GPO binoculars in your country, check out the links below:
GPO Binocular Reviews
Below are my full GPO binocular reviews: View >> All the GPO Binoculars that I have reviewed.
Offering extremely good value for money, these GPO Passion ED binoculars combine components like a magnesium chassis and a fully multi-coated optical system with dielectrically coated, phase corrected roof prisms with a whole host of very impressive specifications.

The result is a highly capable binocular that beats most in its class and competes very well with many far more expensive instruments.

Price: (4/6) Mid-High Value Binoculars
BBR Ratings:
Body Quality:
8/10

85%




Outstanding

Body Stats:
9/10
Optical Quality:
8/10
Optical Stats:
9/10
Image Quality
9/10
Extras & Details:
8/10
Designed and 100% quality controlled in Germany. These GPO Passion HD binoculars are manufactured in Japan to the highest standards:

The use of extremely high quality components, optical glass and coatings, combined with an obviously high level of expertise has come together to produce an alpha level binocular at a sub alpha price level. Seriously Impressive.

Price: (5/6) High Value Binoculars
BBR Ratings:
Body Quality:
9/10

90%




The VERY Best

Body Stats:
8/10
Optical Quality:
9/10
Optical Stats:
9/10
Image Quality
10/10
Extras & Details:
9/10
View >> All the GPO Binoculars reviewed on BBR.
GPO Binoculars on Amazon:
GPO prietary Technologies
GPObright™ is a German Precision Optics lens coating process that they say increases level of light transmission through each surface of an optical element:
Normal uncoated high-performance glass can reflect up to 5% of light that arrives at an optical surface and so does not continue throught the optical system.
With GPObright™, the lenses are vacuum-coated with these coatings, which they say will transmit up to 99.7% of the light through each surface.
Thus if you take into consideration the entire optical system the total level of transmittance is about 92% which offers an excellent low light performance.
German Precision Optics Contact Details:
GPO GmbH
Wildmoos 9
82266 Inning am Ammersee
Germany
Tel: +49 8143 99 20 87 0
Email: info@gp-optics.com
GPO USA
11303 Whistlewood Ct.
Midlothian,
VA 23113
Tel: 844-MY-BINOS (692-4667) (toll free)
Email: info@gpo-usa.com