Made to appeal to the more serious observer, but who is on a tighter budget, the GPO Passion ED binoculars are designed and 100% quality controlled in Germany, however unlike their flagship Passion HD binoculars which are made in Japan, these GPO Passion ED binoculars are manufactured in China.
By doing this and by making a number of other small changes (which I go through in my review below), German Precision Optics (GPO) has been able to reduce the production costs and thus deliver a less expensive binocular, but one that still offers a very high performance and thus has an excellent performance to price ratio.
Available in four different configurations, I obtained a pair of the 8x42 GPO Passion ED Binoculars to test and below you can find my thoughts and complete review which I wrote after a long-term test period:
GPO Passion ED 8x42 Binocular Review
Specs & Features at a Glance:
Mid to High End Binoculars: Approx: $350 / £400 / €400
Body

Single Top-Hinge Body Design
Magnesium Chassis & Bridge
Water & Fogproof (Nitrogen purged)
Large centrally located focus wheel
Right-eye diopter
Twist-up eyecups
Tripod Adaptable

Optics

Fully Multi-Coated Optics
ED Glass Elements
Schmidt Pechan roof prisms
Dielectric Coatings
Phase Correction Coatings

Optical Stats

18mm of Eye Relief
Very Wide FOV: 426ft @ 1000 yards (142 @ 1000m)
Minimum Focal Distance: 2m (6.6ft)
The Body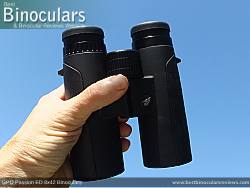 Shape
At first glance, these ED versions look very similar in design and shape to the more illustrious Passion HD's, the main difference being that they have shorter barrels and thus feel and look more compact. Indeed this is reflected in their actual overall dimensions and weight, which you can read more about below.
With a fairly typical shape for a modern roof prism binocular, they have a single, thin bridge that GPO call a "micro-bridge".
Measuring 3.3cm wide and made from magnesium it feels very robust and despite the comparatively small contact points with the barrels, the whole unit feels very robust and whilst I obviously could not test it, I am sure it would take a large force to result in any sort of misaligning.
The obvious benefit of this thin bridge is the weight saving, however not so obvious is that it takes up less space on the barrels and thus gives you more surface area on which to hold onto for a more secure and comfortable grip. Now, I'll agree that this is not a major deal, but it is all the little things when added up can make the difference between an average and a great set of optics.
Inter-Pupillary Distance (IPD) Adjustment
As well as feeling robust, the hinge at the center of the bridge opens and closes very smoothly and it has the right level of resistance so that they comfortably remain at your desired setting to match the distance between your eyes, but at the same time is easy enough to change when you wish.
With a minimum of 5.6cm and a maximum of 7.5cm, the IPD (Inter-Pupillary Distance) range on these GPO Passion ED 8x42 binoculars is fairly wide and pretty much the normal range for a 42mm binocular.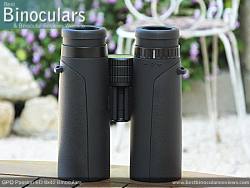 Exterior Rubber Coating
The very hard rubberized exterior coating on these GPO binoculars is very similar to that used on the Passion HD series, which is on the whole is a good thing as I really like the way it almost has a metallic look to it.
A slight difference here though is that on these binoculars they have decided to cover the bridge, whereas the bridge on the GPO Passion HD 10x42 Binoculars is left exposed. The advantage of this is that more of the chassis is protected and it potentially makes these a little more camouflaged as even though the rubber coating on this section is untextured and thus very smooth, it is still less reflective than an exposed metallic surface.
Whilst softer rubbers do offer more impact protection and grip, they tend to be not as long lasting and GPO have raised the grip levels by strategically placing a fine texture on the sides of the barrels. This has the added side benefits of adding to the design and reduces the reflectivity of the surface.
Another very minor difference between these and the HD version is that they lack the thumb indents on the underside. This is not a major deal, but these indents can be nice to have if they are correctly positioned as they subconsciously coax you into holding your instrument in the right way and at the right balance point, which helps with comfort and stability.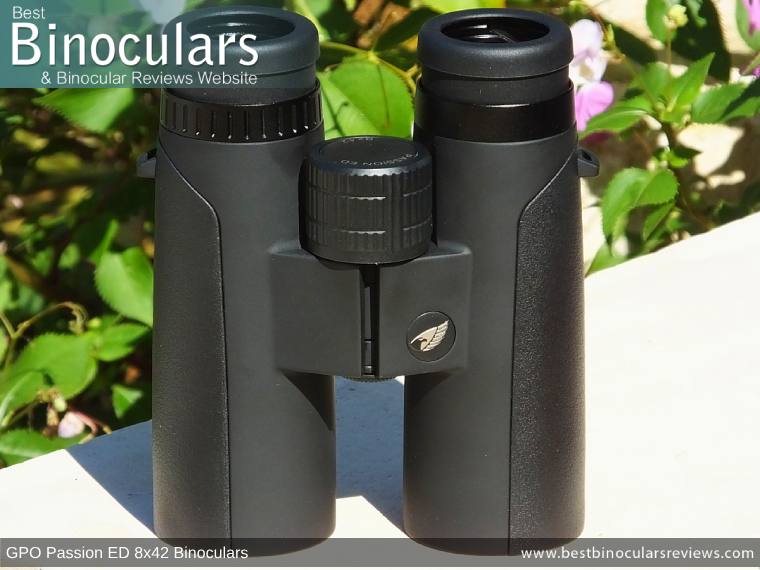 Chassis
As with their top-end models, German Precision Optics have decided to use the more expensive magnesium alloy frames on these binoculars rather than the polycarbonate ones that you often find at this price level and below which is great to see.
Fully Sealed
As you would expect, these GPO Passion 8x42 ED binoculars are both waterproof and fogproof.
Whilst I did not test this, in their official specifications, GPO gives them a pressure rating of 200 Mbars, which is good, but not quite as good as the 500Mbars you get with the Passion HD binoculars.
However, unless you are doing something pretty crazy and happen to drop your binoculars into the lake or a pool, this difference should really not matter as both will provide more than enough protection against even the very worst weather conditions. Also, remember that these seals also protect small particles like dust from entering the system in dry conditions.
Nitrogen gas fills the interior cavity, which prevents the internal glass surfaces from fogging up when the optics go through quick temperature fluctuations, like when you take them outdoors on a cold winters morning.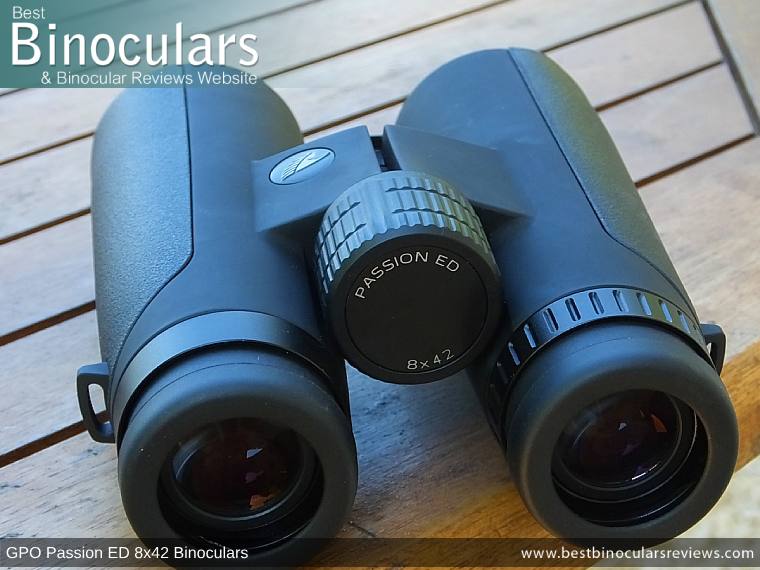 Eye-Cups & Eyepieces
I really like the eye-cups on these GPO Passion binoculars. The cups themselves look good and are comfortable, although unlike some of the best I don't think these can be completely unscrewed should you need to replace them.
The twist-up mechanism is excellent and the cups lock positively into each of the 4 stops with a rather satisfyingly 'click'. This with a full 18mm of eye-relief makes them very customizable and an ideal choice for eyeglass wearers to ensure that you get the full field of view without any black rings forming on the edges of the view.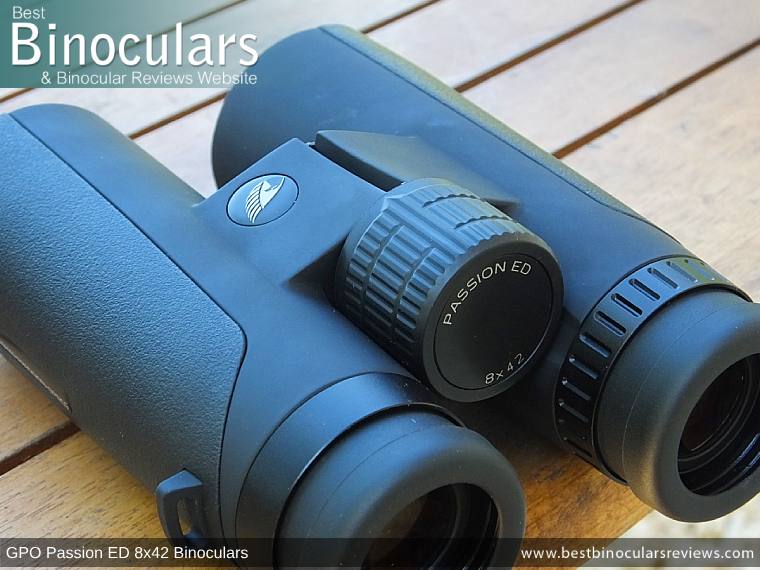 Focus Wheel & Focussing
The centrally located focus wheel on these GPO Passion ED 8x42 binoculars is very similar to that used on the HD series, which on the whole is another piece of good news.
33mm in diameter and 27mm long, it is both easy to reach and along with a smooth action is nice and easy to turn with one finger.
The gearing is such that it takes just over 1 full turn of the wheel (360°) to adjust the focus from one extreme to the other. This is quite aggressive, meaning that large focal changes are nice and quick to make. However, this does in theory also make it a little more tricky to make fine adjustments, although this really was never an issue for me when using them.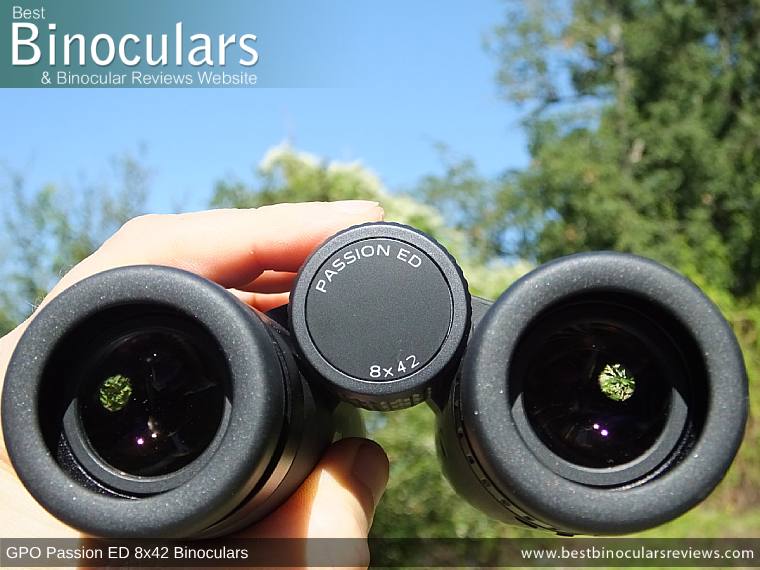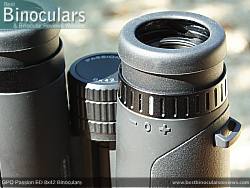 Diopter Adjustment
One of the most obvious differences between these and the more expensive HD version is that rather than having the diopter integrated within the focus wheel, it is positioned on the right eye-piece.
Used to calibrate your instrument to match that of your particular eyesight, this is the much more common location and what I would expect to find at this price level and whilst it is not lockable, the level of resistance is more than sufficient to ensure that accidental movement does not occur too easily.
Tripod Adaptable
The GPO 8x42 Passion ED binocular is 'tripod adaptable' and thus can easily be attached to a tripod using an ordinary tripod adapter. This is achieved by unscrewing the cover on the front hinge and then screwing in the adapter in its place.
Body Quality Score: 8/10
Weight
When it comes to their weight, these GPO binoculars rank up there with the best 42mm binoculars. This is made all the more impressive when you take into account they have a number of high quality metallic components including a magnesium chassis:
Dimensions
As well as being lightweight, their overall dimensions are also nice an compact for a 42mm binocular as can bee seen by their official stats in the table above.
Body Stats Score (for a 42mm binocular): 9/10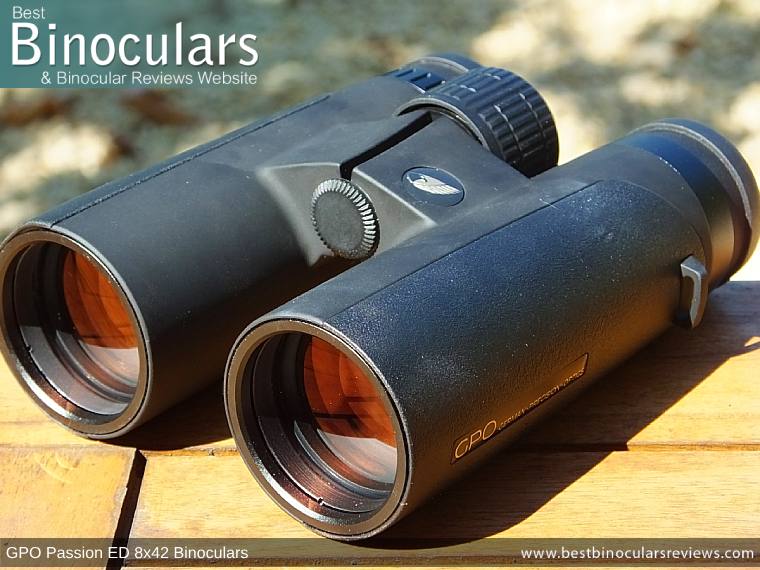 Optics
Eye-Pieces
At 22mm in diameter, the ocular lenses are of a good size for a 42mm binocular. As well as making it easier to line up your eyes, this potentially has a number of other advantages. For more on this, take a look at my article on Binocular ocular lens size.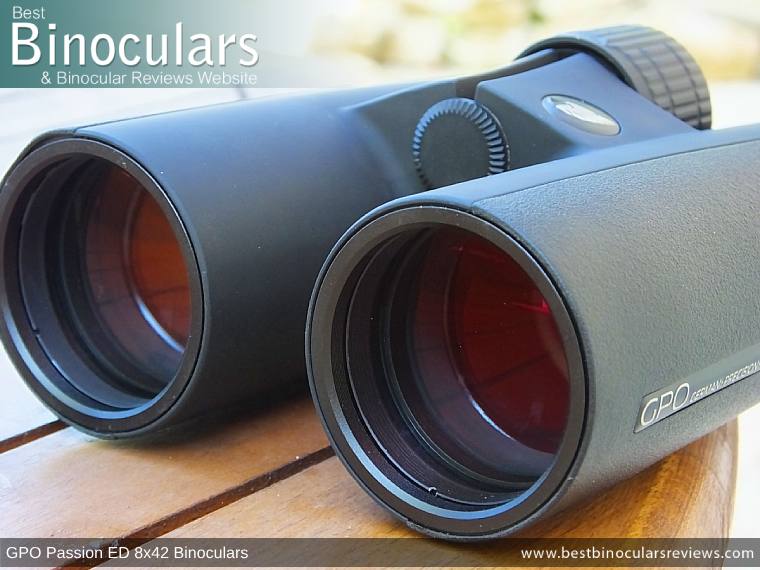 Objective Lenses
Positioned about 9mm in from the ends of the barrels, the 42mm objective lenses are well protected by the overhang from things like light rain and scratching.
ED Lenses
These GPO Passion ED binoculars use good quality lenses, that as the name suggests have a fluorite containing ED (extra-low dispersion ) glass element contained within each objective lens that are potentially better at eliminating chromatic aberrations.
This is one of the main differences between these and the HD version which uses two even higher grade fluorite containing ED elements within each lens.
So whilst not quite at the same level as the HD version, it is important to keep in mind the large difference in cost and it also has to be said that within this price range, the glass used in these is about as good as it gets.
For more on how they actually performed out in the field, take a look at my section below on the Image Quality below.

Prisms
As with the Passion HD series, all GPO Passion ED binoculars use the Schmidt Pechan design of roof prisms within them to correct the inverted image created by the lenses. Whilst this type of prism does require a number of special treatments (see coatings below), it has the advantage over porro prisms in that they enable a more lightweight and compact binocular.
Optical Coatings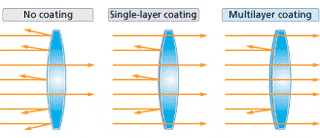 Anti-Reflection Coatings
This GPO Passion 8x42 ED binocular is advertised as being Fully Multi-Coated.
Here it is important to take note of the precise wording at it tells us that they have added multiple (multi) layers (coated) of a special anti-reflection material to every (fully) air-to-glass surfaces throughout the entire optical system.
Whilst lower quality (usually cheaper) instruments will only be Fully Coated (single coating on all surfaces) or Multi-Coated (multiple layers on some surfaces).
In my experience, the difference in levels of these anti-reflection coatings makes a big difference and one that you can really notice and so it is always worth checking to make sure that you are happy with the level that you have selected.
For more: What To Look For When Buying Binoculars & Anti-Reflection Lens Coatings.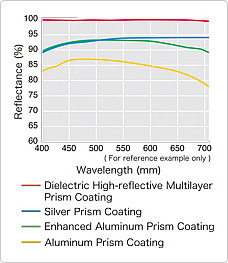 Prism Coatings
Here I was also glad to discover that GPO has maintained the same very high level of coatings as that used on their flagship series.
To start with, the prisms are dielectrically coated. This ensures that over 99% of the light (in all wavelengths) that reaches them gets transmitted.
At this price range, I would not expect to see aluminum mirror coatings, but there are plenty that do use the less expensive silver, this is good, but nowhere near as good as the dielectric ones.
German Precision Optics have applied phase correction coatings to the prism to ensure the separate wavelengths remain in step whilst passing through the prism and thus ensures these binoculars deliver an image with improved resolution and contrast than roof prism binocular that forgo adding them.
Coating Comparisons
As you can see in the comparison table below, in terms of the coatings used, these GPO ED binoculars use a very high level and sit quite comfortable amongst the best in their price range. Indeed, in this area, the only real difference between these and the more expensive HD range is the lack of water phobic exterior coatings.
Optical Components Score: 8/10
Optical Stats
The Field Of View
One thing that I instantly noticed and then really appreciated during my tests is that the GPO Passion ED 8x42 binocular has an extremely wide field of view (FOV).
Specifically, it is 426ft wide at a distance of 1000 yards away (142m @ 1000m), which for as you can see from the comparison table below is truly excellent and ranks them right at the top of the table with some of the very best wide angle binoculars on the market.
A very wide view like this offers the user a number of advantages, but will especially appeal to birders and those observing other small fast moving animals from reasonably close range as it makes it easier to quickly locate them within your view and then much easier to follow them as the move about.
Close Focus
Advertised as being only 6.6ft / 2m, which is excellent for this class of instrument, I actually measured the closest that I could focus on an object as being even better than this at only 1.7 meters away.
This makes these GPO binoculars a great option should you also like to study things like Butterflies and other Insects from close range.
Eye-Relief:
Considering that these GPO Passion HD binoculars have such a wide field of view and good minimum focus distance, it is impressive to see that they are still able to maintain such a long eye-relief. At 18mm and in combination with their quality, multi-position eyecups, it really does make these a fantastic option for eyeglass wearers.
Optical Stats Score for an 8x42 binocular: 9/10
Optical Performance
As well as taking careful notes whilst using them, I also made direct comparisons between the view through these GPO Passion ED's) and my benchmark 8x42 binoculars, which I use as a reference point for all my binocular reviews.
Image Brightness
As you would expect from a high level 8x42 binocular and especially one that has a fully multi-coated optical pathway and dielectric mirror coatings on the prisms, these GPO binocular produce a very bright image.
This is not really noticeable in good ambient light conditions, but once the light gets bad like when you are in a thickly forested area or late on in the day and the sun is setting, these binoculars really do come into their own and I was really impressed.
Colors & Contrast
Once again, I compared the views in a variety of times and light conditions and once again I was really impressed with the overall quality and color reproduction of the image that you are presented with when looking through these GPO Passion ED 8x42 binoculars.
To me the colors look very natural and true to life and there is certainly no apparent and unwanted tinting that I can sometimes observe.
The level of contrast is also good. Strong enough so that you get a good feeling of depth, but not so harsh so that it makes the image appear unnatural.
Color Fringing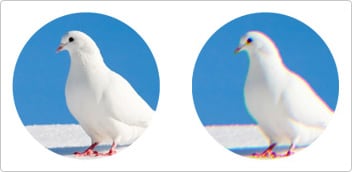 The level of color fringing around the edges of objects in your view is very minimal.
Caused by chromatic aberrations, you are always going to get some color fringing when you look at a highly magnified an image, but the obviously well designed optical system and the effective use of the ED glass elements has done a great job of minimizing it in the case of this instrument and once again I rate them up there with the best in this price range in this area.
Image Distortions & Blurring
The level of fuzziness right at the edges of the view is very minimal (almost non existent) and once again, in my experience is about as good as you could ever hope for.
In terms of other image distortions (like unwanted image curvature) at no time did I notice anything out of order.
Conclusion
These GPO Passion ED binoculars produce a very bright, excellent quality image and which sits very comfortable with the best in this and indeed higher price tiers.
Score for Image Quality: 9/10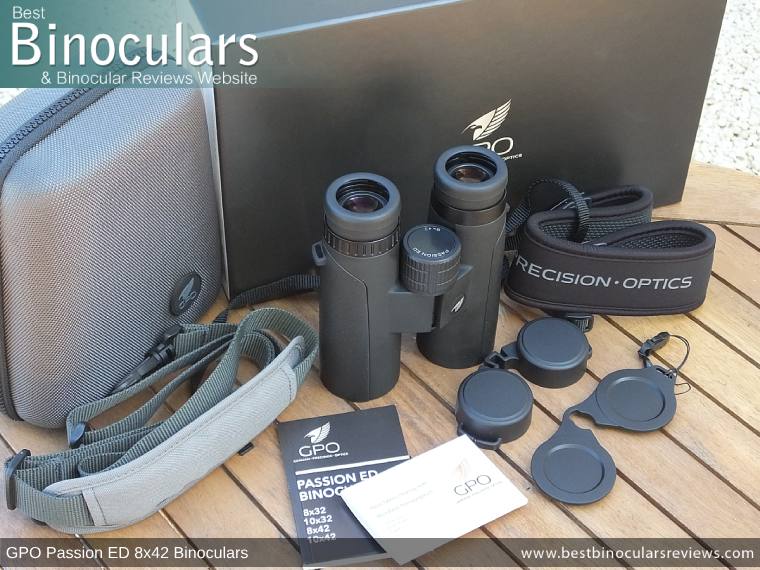 Included Accessories:
I was extremely delighted to discover that these Passion ED binoculars come supplied with the same package of accessories that you get with the Passion HD series.
Thus if you think about it, you are basically getting accessories good enough for an alpha/high level binocular, with a mid to high level binocular.
This is truly excellent as they (especially the carry case and neck strap) are of a very high standard.
Below are a number of photos for you to take a look at, but as they are exactly the same and so rather than repeating myself, you can read my thoughts in the accessories section on the GPO Passion HD 10x42 binoculars review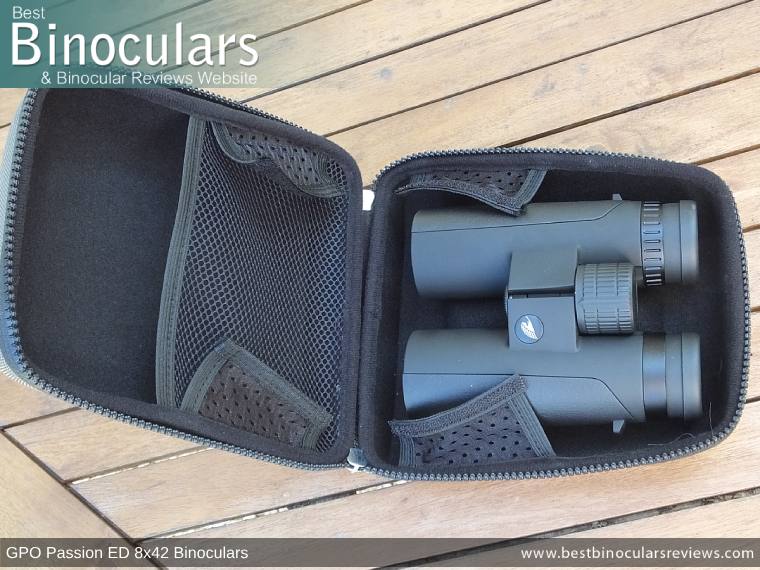 Accessories Score: 8/10
GPO Passion ED 8x42 Binocular Comparisons
Below are some other recent Mid to High End (Price between $500-$1200 / £500-£1200) 8x42 binoculars that I have tested and fully reviewed and thus make good choices to compare these against.
To get a better view, you can Open the table in full-screen mode to view the full results which also contains all the 8x42 binoculars in this price range that I have tested.
Review Conclusions:
Based on their flagship Passion HD series, the GPO Passion ED binoculars are less expensive, but still aimed at the serious observer and indeed offer an extremely good price to performance ratio. Indeed taking into account their BBR score and the price range, I put these forward as one of the Best Value for Money Binoculars that I have ever tested.
What I Like
Image
This instrument is strong in most areas, but I was really impressed with the very bright, excellent quality image which is easily as good as any at this price level.
Field of View
Whilst all their image specifications are impressive, it is the extremely wide field of view that really stands out and is another particular strength of this binocular. When you combine this with the very high-quality view, then you most certainly have the makings of an excellent wildlife and in particular a cracking birding binocular.
Components Used & Build Quality
Considering the price range, the overall build quality, great quality eye-cups and the use of a magnesium chassis is impressive.
This HQ theme carries through in terms of the quality of the glass and coatings used as these have just about everything you could wish for at this level.
Accessories
As I mentioned earlier, these come supplied with the same accessories as the Passion HD series, which if you consider cost almost three times as much as these, then you know you are a winner.
I especially like both the quality and semi-rigid construction of the carry case and the neck strap is up there with the most comfortable that I have ever used.
Eye-Relief
At 18mm, this GPO Passion 8x42 ED binocular has ample eye-relief and is thus a good choice should you want or need to wear glasses whilst observing.
Close Focus
The minimum close focus distance at 6.6ft is also very good for a full sized binocular.
Room For Improvement
Whilst the neck strap is excellent, I think that it could be even better if German Precision Optics were to add some quick release clips to it. In this way you can quickly remove it should you wish and this would also allow a quick transition between carrying them around the neck and then fixing them to a harness.
In terms of its function, the focus wheel on this GPO Passion ED 8x42 binocular is excellent. However, I just feel that replacing the plastic faceplate with a metal one would enhance the overall appearance and feeling of quality.
Ideal Uses