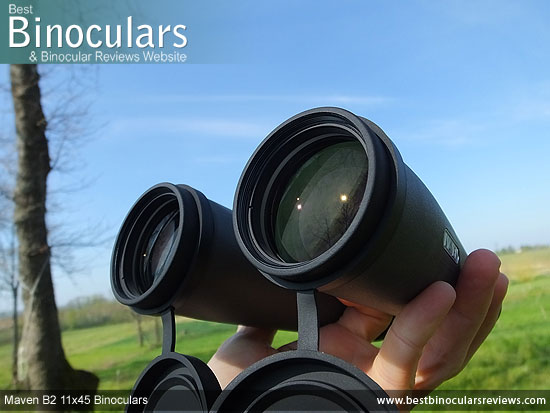 This is an interesting question, because the current trend / buzz word within the optics industry is ED glass and it was not so long ago that you only found ED glass on very high end binoculars.
However there are many mid range and even some lower costing devices that have ED glass and all most certainly use it in their marketing and milk it for all that it is worth.
Because of this I now get a lot of queries from readers who wonder if they should automatically disregard any binocular that does not use glass in their lenses as they wonder if a binocular with out ED glass lenses is any good.
My answer to them is most certainly NO, especially at the lower price levels and here is why:
Firstly, it is almost certainly the case that not all ED glass lenses are created equal.
So your $100 ED binocular is almost certainly not going to have the same quality lenses as your $1500 Swarovski, Zeiss, Leica etc.
Then just because you use extra-low dispersion elements in your lenses, it does not immediately guarantee that you are going to reduce unwanted abnormalities like chromatic aberrations and thus get a higher quality image with lower levels of color fringing.
Ed vs Non Ed Binoculars
What it does mean is that they have the potential to achieve this.
To actually reduce color fringing, the whole optical system has to be taken into account and not just the use of quality ED lenses will do it. I have quite often looked through cheaper ED glass binoculars and observed more color fringing in the image than on some well made non ED binoculars.
So how and where were the binoculars made and by whom, what quality materials are used, the quality of glass in all the lenses and prisms is very important as are the coatings. There are many factors to be take into account.
Remember that all modern binoculars use some sort of low dispersion optical glass and ED glass just has a more low dispersion properties than "standard" low dispersion glass. Thus to get the benefit of reduced chromatic aberrations and viewable color fringing, you need a very high level of components, expertise and manufacturing that must be applied throughout the whole optical pathway on the instrument.
Therefore good quality binoculars without ED glass are not bad and unless you are comparing them against very high quality (and usually expensive) ED binoculars, you will struggle to notice any difference in the level of color fringing that they display in the view. Or if you look at it another way: a poor quality binocular will still show more color fringing with or without ED glass elements in their lenses.
I guess the takeaway from this and my personal view on this is I would rather have a very good quality non ED glass binocular in my hands than an average quality ED binocular.
I'd love to get your thoughts and opinions on this, so don't forget to use the comments section below.
Related Content