Hidden Gems: The Best Binoculars you never heard of!
Binocular Reviews Home > Binocular Guides > Hidden Gem Binoculars
Hidden Gem Binoculars
Bushnell, Canon, Nikon, Leica, Swarovski, Vortex, Zeiss: Due to their long and often illustrious histories as well as substantial marketing budgets, many of us are familiar with these famous optical brands and to be sure they do make some of the very best binoculars on the planet (and in some cases, bad ones too!).
But to find a diamond in the rough, you often need to work a little harder and dig a little deeper and that is where I hope to come in to help:
Established Brands
Let me let you into a secret: In order to get as much traffic on review sites like BBR, I and other reviewers need to do two main things: firstly we need to write about the products and brands that people are searching for most and then secondly we need to make sure that these articles and reviews rank well on search engines like Google so that when you search for them, the article or review is at or near the top. You then click on the link and hey presto.. welcome to BBR (or whatever other product you were researching)!
The problem with this is that there are only so many hours in a day and thus for me, it is very tempting to only write about the popular, well-known brands and binoculars that I know the majority of people are searching for.
Small, Lesser Known Brands
However, I feel that by just doing this, it is a great disservice to you the visitor to my site and indeed the industry as a whole as I frequently come across truly fantastic binoculars (within their particular category/niche) from smaller, lesser-known, less established brands that I know very few people have even heard of, let alone are searching for.
Sure, it is easy to assume that these less "popular" binoculars or brands are not as good as those from more established companies with household, recognizable names and in many cases, this may indeed be true. But then there are the hidden gems, binoculars from less established brands, that really could and indeed should shine, if only they could rise to the top and be noticed.
Soapbox
So the aim of this page is to give these binoculars and the brands that make them some sort of a platform and in this way, it is my hope that I can introduce you to a binocular or brand that you otherwise would never have given a second thought to.
I would also like to make it clear that this page will only contain binoculars that I have actually used, tested, and reviewed. As well as this, the binoculars below are ones that I honestly feel truly excel within their particular niche or price point and therefore at least match the best instruments from the big brands within this same category.
In this way, I feel that you can be confident that you will not in some ways missing out by choosing an instrument from a smaller company. Indeed in many cases, I feel you have much to gain from opting for a "good" small company: customer service is often far better and knowing that your purchase is important to the company in question and you are not just another number in a sea of others.
Ignore Big Brands?
This is also not to say that you should completely ignore binoculars from the big, established brands (far from it, they still make some excellent instruments). I just ask that you give these a fair shot and consider adding them to your shortlist and then compare them against each other. Depending on your specific needs and budget, you never know, you may just uncover that diamond of a binocular that is perfect just for you:
Hidden Gem 01:
Please note that this page will grow over time, and I will add binoculars to it as and when I come across ones which I feel deserve to be featured: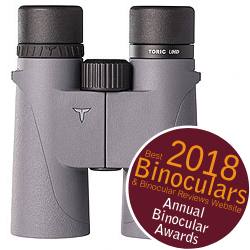 Manufactured in Japan using extremely high-quality optics and components, the Toric is the flagship series from American brand Tract Optics which does have a good reputation within hunting circles, but I feel is largely unknown outside of it and certainly almost unheard of here in Europe, which is a shame as these and many other of their instruments perform equally as well for many other uses including general wildlife observation, birding, and many others.
Hailing from Pennsylvania Tract Optics was founded by Jon LaCorte and Jon Allen who between them had many, many years worth of experience in the optics industry before combining forces to set up this joint venture and I highly recommend taking a look at the video of their story of how and why Tract optics came into existence as it really gives you a good insight as to the guys behind the brand and their ethos.
Main Highlights & Features:
High End: approx $654 / £760
Made in Japan
Magnesium Chassis

Water & Fog Proof (Argon Filled)
Tripod Adaptable

Fully Multicoated Optics:

SCHOTT HT (High Transmission) glass
ED Glass Lenses
Exterior Scratch & Oil-phobic Coatings

Schmidt-Pechan Roof Prisms

Phase Corrected
Dielectric Mirror Coatings

Field of View: 377ft at 1000 yards
Close Focus: 8.2ft
Eye Relief: 19mm
The Tract Toric is now available in 8x42, 10x42, 10x50 and 12.5x50 configurations which was not the case back in 2018 when I first tested it and I must say it has also had a number of improvements added to it since then making it even more impressive now than what I already thought it was back when it deservedly went onto win the BBR award for Best High-End Wildlife/Hunting Binocular.
In terms of price they are positioned right near the bottom of what I describe as very high-end optics, yet they possess all the components and features that I would only expect to find on instruments right at the top of this price category.
With a score of 9/10 for both Optical Components Quality and Image Quality, the Tract Toric's overall BBR score of 82% is outstanding in itself, however this also includes the fact that I had to mark them down somewhat as they are do not come supplied with a carry case and thus they could have easily scored much higher overall.
For many wildlife observers and hunters especially, this is often not a big deal it is common to use some sort of bino harness and so many will feel that paying for a case automatically and having it included is actually a negative.
Body Quality:
8/10

82%




Outstanding

Body Stats:
8/10
Optical Quality:
9/10
Optical Stats:
8/10
Image Quality
9/10
Extras & Details:
7/10
So are these binoculars perfect? No most certainly not, like most, they have their downsides which I do go through in the full review, but if you a on the lookout for some seriously superior optics, with an image quality to match for wildlife observation, hunting, birding and many other uses and are not to fussed about not having a carry case and don't want to pay alpha-brand prices, then I highly recommend you consider these Tract Toric binoculars and at least add them to your shortlist.
Both the 10x42 and 8x42 models cost around the $660 mark, which for a these super HQ bins looks to me to be a really good deal and far less than you will pay for many others at this very high level:
Buy & Compare Prices: Tract Toric Binoculars
Further Reading