Tract Toric Binoculars
The guys at American brand Tract Optics recently got in touch with me here at BBR and asked if I would be interested in putting a pair of their Toric binoculars through its paces:
The Toric series is their very high end, flagship range and currently consists of two roof prism models: an 8x and 10x42, both of which are manufactured in Japan using extremely high end components.
This combined with what looks to be competitive pricing has lead to both models receiving a lot of attention since their release and the 10x42 version winning Outdoor Life's Great Buy Award in 2016.
Tract Toric 8x42 Binoculars Review
Tract Optics set their stall out very early as they describe the 8x42 Toric as the "last hunting binocular you'll ever need".
However from my initial look at them and their advertised specifications, I do think that even with this rather bold statement, Tract are selling themselves somewhat short! I say this because the Tract Toric 8x42 binocular really does look like it could also excel in number of areas and not just hunting. Great general use, wildlife observation and birding come directly to mind.
Main Features & Specifications:
High End Binoculars: retial approx $654 / £760
Manufactured in Japan
Single Hinge Magnesium Chassis

Water & Fog Proof
Tripod Adaptable

Fully Multicoated Optical system:

ED Glass Lenses
Scratch & oil-phobic coatings

Large Ocular Lenses
Schmidt-Pechan Roof Prisms

Phase Corrected
Dielectric Mirror Coating

Field of View: 377ft at 1000 yards
Minimum Focus Distance: 8.2ft
19mm of Eye Relief
So to see just how they actually perform and if these impressive specifications and features all come together I invite you to sit back and take some time to go through my full Tract Toric 8c42 binocular review that I wrote after thorough research, use and testing of them both in my office and out in real world conditions:
Chassis
Shape
The first thing you will notice when taking them out of what has to be said is some excellent packaging (loads of padding and protection), is that these Tract Toric 8x42 binoculars have the very typical, body shape for a modern roof prism instrument:
With it's centrally located focus wheel, single bridge connecting the two straight through barrels located near their centers, this now tried and tested design is functional, uncluttered, compact and comfortable in the hands.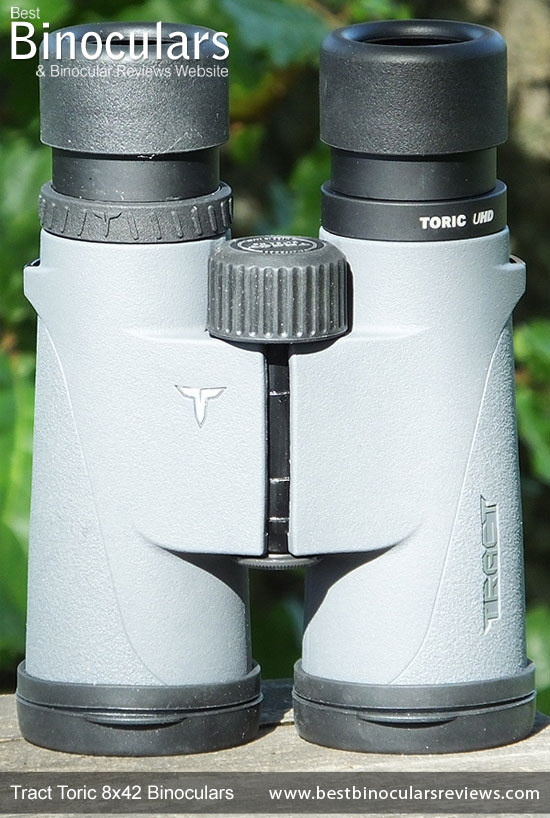 Chassis Material
One of the features that separates these from Tract Optic's cheaper models and indeed many bins out there at the moment is that these have magnesium alloy chassis, which whilst heavier, is stronger, more durable and to my mind just simply better than the polycarbonate ones.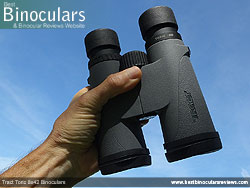 Fully Sealed
These days any binocular worth it's salt is sealed and thus waterproof to some sort of level, but most manufacturers do not go further. I like the fact that these Tact Toric binoculars are officially rated at IPX7, which means they are tested in water to a depth of 3 feet for 30 minutes.
So you know for sure that not only will these be fine on even the wettest days, but they should survive should you accidentally drop them into a stream.
It is also worth remembering that these seals also protect interior glass surfaces in dry and dusty locations.
Anti-fogging
The internal glass surfaces on these Toric's are also protected against fogging up as the air inside has been replaced with a moistureless gas during manufacture.
Again this is as to be expected on ay half decent modern bin, but what is interesting here is that Tract Optics have chosen to purge them with Argon gas and not the more commonly used nitrogen.
There are a number of theories out there as to which is best and it is hard to separate facts from marketing hype. But as far as I know Argon maintains it's attributes over wider temperature range and it's molecule is larger than Nitrogen so is therefore more resistant to diffusion or leaking out of the device and thus maintains the integrity of the air free environment over a longer period of time.
Should you want to learn more, take a gander at my article on water & fog proofing here.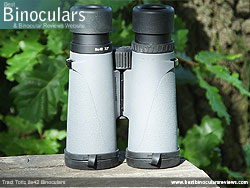 Exterior
Apart from a few small details like the neck-strap eyelets and a ring near the left eye-piece, almost all of the exterior is covered with a gun metal grey body armor. Tract Optics state that it is an elastomer body armor, which to my understanding means that it is a rubber like solid, so I assume it could be made from a natural rubber, neoprene rubber, or other similar man made material?
Whatever the case, the coating is in my experience comparatively thin and hard. These properties have the following effects:
The hard surface offers fractionally less grip than softer, more spongy rubbers
Thicker, softer body armors will provide more shock absorption and this better impact protection
I have found harder armors less likely to perish or disintegrate than soft rubbers
It has a tighter fit onto the chassis, where soft rubbers can sometimes move or slide about a little if they not glued down very well
To combat some of the negative aspects to it being hard and thin, the rubber has a fine texture imprinted into it which improves grip and because this textured surface is less reflective than a smooth one, it also improves the level of camouflage, which for uses like hunting can be important.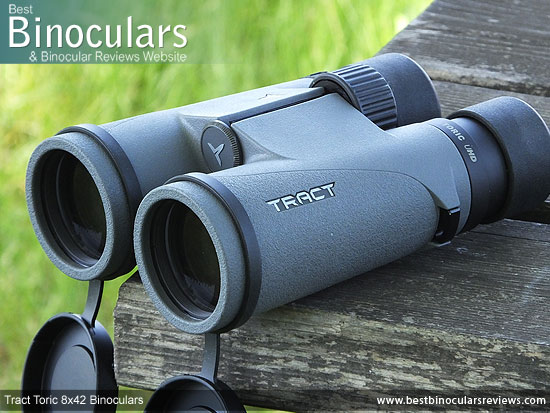 Tripod Adaptable
As you would hope to find on any well designed binocular for hunting or even birding from a hide, the Tract Toric is easy to attach to a tripod.
You simply have to remove the dust cap on the pivot on the front face of the hinge and then screw in a tripod adapter, which then fixes to tripod or tripod head depending on your setup.
One point to note is that whilst I was able to screw in my fairly typical tripod adapter, the fit was tight as the space in between the two barrels on the Toric is quite small and so those with a thick/larger tripod adapter may find it difficult or even impossible to do so.
Eye Pieces & Cups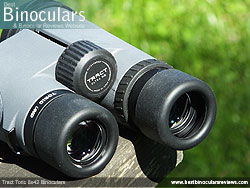 Another indication as to the high quality of these Tract Toric binoculars is that as well as the chassis, the eyepiece housing is also made from metal. These days I see many instruments using plastic parts here to save money, but as this is one area that most often takes the impact if dropped, I feel it is important that it is as robust as possible.
The twist-up eyecups work well and I do really like the fact that you get a total of 4 click stops (fully extended, fully retracted and two intermediate), meaning that they offer a good amount of customisation so that you can get your eyes the perfect distance behind the ocular lenses and get the full view of the image, no matter the shape of your face and/if you wear eye-glasses.
Here the long eye-relief of 19mm will also please those that do wear glasses as you get plenty of room to allow and adjust for the added distance glasses put your eyes from the instrument.
However in my opinion they turn just a fraction to easily meaning that apart from the click-stop point, they will not easily remain at any other point. But I really am being super critical here and it really is nothing that you need to overly worry about.
With an outside diameter of 4.2cm, covered in a soft rubber and really rounded edges, I found the cups themselves to be really comfortable even when pressed snugly against my face over long periods.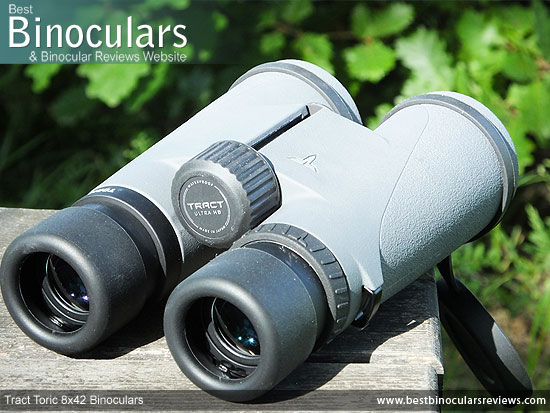 Focus Wheel
Centrally located, the mechanism of the focus wheel on my sample worked brilliantly as it was perfectly smooth with no tight or loose sections anywhere along the focal plane. I also found there to be no free play or unwanted movement at any point.
The gearing for focussing is quite aggressive in that it takes just over one full turn (about 405°) of the wheel to go from one end to the other. This is good for making quick adjustments, but potentially makes it more difficult to fine tune the focus. However I never had any sort of issue with this.
The wheel itself is on the smaller side (30mm diameter) of what I normally find on a full sized bin, but it is well placed, protruding up above the central bridge, which along with a very tactile rubber exterior and the smooth as silk mechanism meant that reaching and turning it was nothing but a pleasure. Even testing it with my thick winter gloves, I had no problems making accurate and fine focus adjustments.
Indeed for me, the only slight shame is that the focus wheel is not just a little more luxurious and perhaps made of metal with a more substantial and less of a hollow feel to it. Obviously this would not really add a functional improvement and would also add weight to the instrument, but I feel a metal focus wheel would better match the quality of the rest of the body.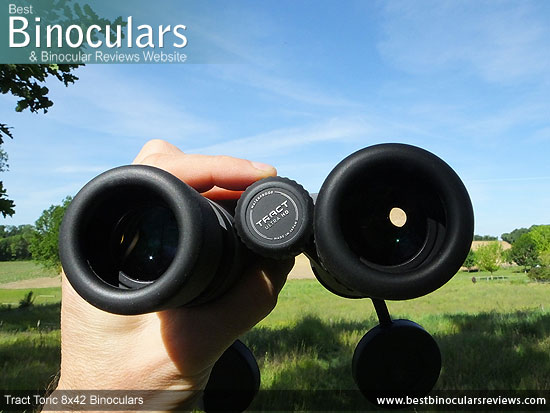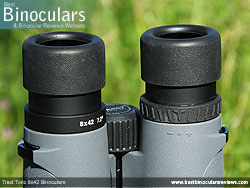 Diopter
Somewhat similar to the focus wheel, in that the diopter ring on these 8x42 Tract Toric binoculars works well, but just lacks a little when compared to the very best.
For those who don't know, adjusting the diopter is an important part of calibrating your bins so that they allow for any difference between the vision of your left and right eyes. Once correctly set, you don't really need or want it to change unless you were to share your bins with someone else.
With this in mind, the best ones are lockable, which is not the case on the Toric. This combined with a soft and deeply grooved rubber track means that accidental movement can occur more easily than some and just a little too easy for my liking.
Again I am being super critical here because if you do have a particular setting that is not neutral, just make a mark of where it is and if it moves, you can very easily return it to that point without having to re-calibrate.
Body Quality Score: 8/10
Weight
Tract Optics publish the weight of the 8x42 Toric as being 26.4ozs / 748g which is accurate as I measured my test pair as being 745g without lens covers or straps attached.
If you take a look at the table below comparing the weights of a sample of other 8x42 binoculars that I have reviewed, it confirms that this is little heavier than some, even those with magnesium shells (plastic bodes tend to be much more lightweight), but in the hands they really do not feel heavier than normal.
More importantly to me is that it had a nice balance and that little bit of weight gives them that lovely reassuring feeling of quality and robustness, which is often lacking on super lightweight polycarbonate bins.
Dimensions
As is also clearly show in the table above is that their main length and width dimensions (with the hinge open and lens covers removed) are pretty standard for a 42mm roof prism binocular, so not much to report here other than to say I measured their height (depth) to be 2.2in / 5.6cm which is not something that they publish.
Body Stats Score: 8/10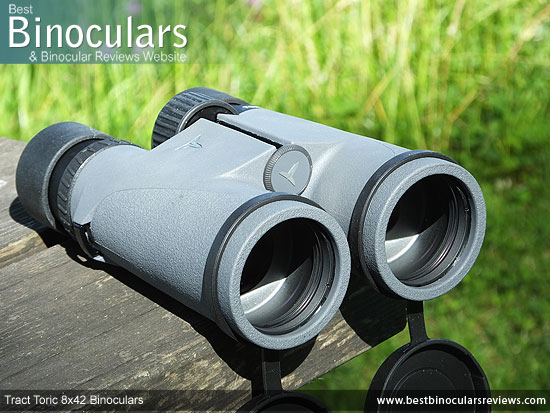 Optics
Ocular Lenses
The ocular lenses have a 4 element, 5 lens configuration and at 24mm in diameter they are as big as any that I have come across on a 42mm instrument. Indeed the only ones larger have been on large 70mm devices and the Minox BL HD 8x44 binoculars that are only fractionally bigger at 25mm.
So what does this mean? Well Toric Optics filled me in saying that their enhanced (larger) ocular lenses on their Toric has the following advantages:
Increased resolution with a larger lens for clearer, more sharp image
Helps make it possible to have a wider field of view making it easier to find and stay on moving subjects
Longer eye relief which provides a better fit for eye glass wearers
The larger ocular also minimizes the blackout that occurs with improper eye position
Objective Lenses
The objective lenses are arranged into 3 elements in 4 groups with at least the external face measuring 42mm in diameter. This is the most common size used for a standard full sized bin as it provides a good balance between size, weight, light gathering capability and cost.
Each lens on the Tract Optics Toric 8x42 binoculars is set back to a depth of 10mm from the ends of the barrel, which is deeper than most. This overhang helps to protect them from physical damage as well as shielding them from light rain and even dust.
Anther potential advantage of this deeply set position is that the ends of the barrels act like a camera or spotting scope lens hood and thus helps prevent lens flair.
ED Glass
Tract Optics don't go into detail as to what each element is made from, I do know at least one element has extra-low dispersion (ED) properties.
Whilst all half decent modern bins will use 'standard' low dispersion glass, ED glass gives the lens designers even more potential to direct the individual light wavelengths as they pass through the lens and thus they may all come together onto the same focal point after leaving it (if well designed) and so can reduce chromatic aberrations for less visible color fringing in the final image.
The image below demonstrates a lot of color fringing around the edges of the flower caused by not focussing the wavelengths back onto the same focal point after passing through a lens:

To see how well these Tract Toric binocular performed in this arena, see the Image Quality section below.
Prisms
Tract Optics do not state what glass is used to make their prisms (I assume BaK-4), but they do tell us that they use the Schmidt-Pechan design of roof prism. This is the most commonly used of roof prism as it shape enables manufacturers to build a more compact and shorter instrument.
However there is a disadvantage to a Schmidt-Pechan roof prism in that not all the surfaces reflect 100% of the light and so there is the potential for less light to be transmitted, which would contribute to you observing a less bright and lower quality image.
However as you can see in the Optical Coatings section below, Tract Optics have countered this by using the best possible (and most expensive) mirror coatings which are only found on very high end devices:
Coatings
Prism Mirror Coatings
As mentioned earlier, the Schmidt-Pechan roof prism design offers a number of benefits and is why it is now the most popular used. However unlike a porro prism, it does not offer total internal reflection and thus manufacturers will often add layers of a highly reflective material to these surfaces to increase light transmission.
Here the cheapest option is to use an aluminum mirror (93% reflectivity), which is what you will often find on mid to low end devices. Next are silver mirror coatings 95% to 98% transmittance) which you will see on most mid to high end devices.
However the very best binoculars, including these Tract Toric's have expensive 'super high reflective' dielectric coatings that transmit more than 99% of the incident light.
Phase Correction Coatings
As well as this, the prisms also have phase correction coatings which get rid of the the "phase shift" phenomenon that also occurs within a roof prism and so compared to untreated prisms, these will deliver an image with higher resolution and better contrast.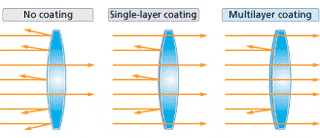 Anti-Reflection Coatings
As to be expected at this high end level, the optics on these Tract Toric binoculars are Fully Multi-Coated.
This specific wording here is important in that it implies that multiple layers of a special anti-reflection material are applied to every optical element within the system which makes a big and most certainly visible difference to the quality and image brightness when compared to those with either multiple coatings on some surfaces (multi-coated), single layer coatings on all surfaces (fully coated) or worse still, single coatings on only some of the elements (coated).
Lens Protective Coatings
What is more, this Tract Toric binocular has extra coatings on the external lens surfaces to protect them. Here again it is usually only very high end optics that have these and in this case it is the full house as these not only protect the outer surfaces from scratching, but are both water and oil-phobic.
The advantage of this is there is much less chance of water marks or fingerprints being left on the glass and so it means that the lenses require cleaning less often and even when you do, you probably have to be less vigorous which can only be a good thing.
Coating Comparisons
Optical Components Score: 9/10
Optical Stats
Field Of View (FOV)
With a FOV that is 377 feet wide measure at a distance of 1000 yards away (approx: 126 meters @ 1000 meters), you can see from the table below that the Tract Toric doesn't have the widest view for an 8x42, but in my experience it is still plenty wide enough for all but those who really require a massively wide view, which in itself can bring it's own problems. .
So personally I feel the balance that they have obtained here with this and the relatively long eye-relief (see below) is good and not restrictive at all.
Eye-Relief:
The 19mm of eye-relief is good and just more than the minimum of 18mm to be considered as having a long eye-relief. This combined with the well functioning 4 click stop eyecups makes them a perfect choice for eye-glass wearers.
Close Focus
Whilst good, the advertised minimum close focus distance of 8.2ft / 2.5m does fall a little short of the 6ft / 1.83m that I would consider as excellent for a full sized roof prism bin with a magnification of around 8x.
However as a point of interest, I actually measured the closest that I could focus on an object as being 6.7ft / 2.05m on my test pair of Tract 8x42 Toric binoculars.
What this all means in real terms is that I feel they are more than fine for the occasional close-up viewing of things like Flowers, Lizards & Butterflies etc and something that you only need to worry about if this is a major or primary use for your optics.
Optical Stats Score: 8/10
Image Quality
I compared the view through these Tract Toric 8x42 binoculars against my high end and mid range 8x42 benchmark bins in both good and bad light conditions (at sunset) and below are my thoughts and observations:
Image Brightness
Remember image brightness has a lot to do with perception and especially in poor light, it depends on how your pupils react (remember everyone is different).
However as all 8x42 bins have pretty much the same size of exit pupil (5.3mm) and thus the same diameter tube of light is being passed on into your eyes, any difference that you perceive between two different pairs should in theory be down to the light transmission differences between instruments. So here the quality of glass their coatings and the expertise with which the instrument was put together are factors.
This is why it is impressive that in all but the very worst lighting conditions, the Toric was a match for my very high end 'alpha' binoculars in terms of brightness and even then when the light was very bad, it was one of those cases where I had to swap back and forth between the bins many times as I was unsure as to if the difference was just imagined or real as it was very negligible, so really not something that I personally would be at all worried about.
Colors & Contrast
In this area, these were again good and I have no specific issues to report: I felt that the colors were vibrant, but looked normal and I never noticed any tinting of the image that you do occasionally see where poorer quality glass has been used.
Likewise the level of contrast felt natural with a nice balance between light and dark giving the image a good sense of depth.
Color Fringing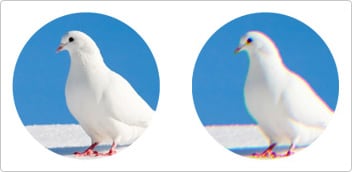 Another very impressive aspect of the view through the 8x42 Tract Toric binoculars was just how little color fringing I could detect.
This was the case even when looking along power lines and telephone cables against a bright lit sky in the background which is usually my acid test, these showed only a tiny level and easily a match for my alpha benchmarks.
Image Distortions
I was never able to detect any obvious distortions of the view like the image curving in or outwards.
Softening & Blurring
When in focus the image on my sample was as you would expect pin sharp, and super impressive was just how little is softening of the view that I could detect right at the edges which once again is impressive and right up with the best.
Score for Image Quality: 9/10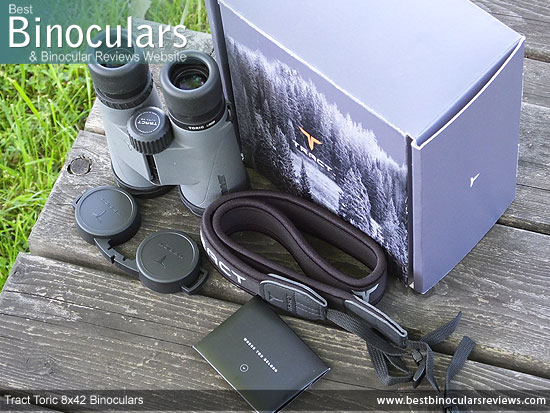 Included Accessories: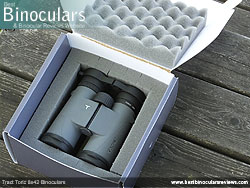 No Carry Bag
I have to say that the omission of an included carry bag was a little surprising to me.
Now I know that there will be many users, myself included who use a carry bag when out in the field as I either prefer to have my binos hanging around my neck or on a binocular harness and thus always close at hand and ready to use. So it can seem that being 'forced' to pay for an included case is unnecessary and actually a welcome change.
However it is when you are transporting or storing the bins that a carry bag / storage case really comes in handy. Sure the supplied box that the Tract Toric comes in is a great piece of packaging and very well padded with a thick foam liner. But it is a little bulky to easily carry about everywhere and even if you do, I fear it is still just a cardboard box and so won't last.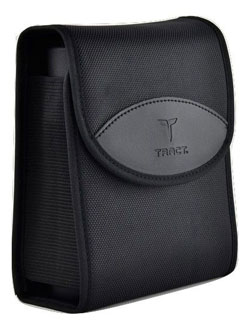 Optional Extra
You can of course always buy a carry case and Tract Optics do make what looks like a fairly basic case that will set you back $10 (pictured right) .
Whilst I have not been able to test it, I can say that it has a simple flap over lid that is held closed by a Velcro strip. Not the most secure closure and you do need to be careful when opening so as not to make too much noise if you need or want to remain hidden. Which for hunting can be a consideration.
Tract Optics also make no mention as to if there are any separate pockets or a belt loop on the rear, so I can't comment here.
The case also does not come with it's own carry strap, however you can easily use the strap on your bins by threading them out the sides of the lid as you close it, a system that I really like as it makes for less bulk and clutter.
Other Options
If you do want and like a good carry case then I would really suggest taking a look at either the Carson BinoArmor Deluxe. For under $20 it bridges that gap between a harness and a case all in one, making it easy to carry your bins and protect them at the same time.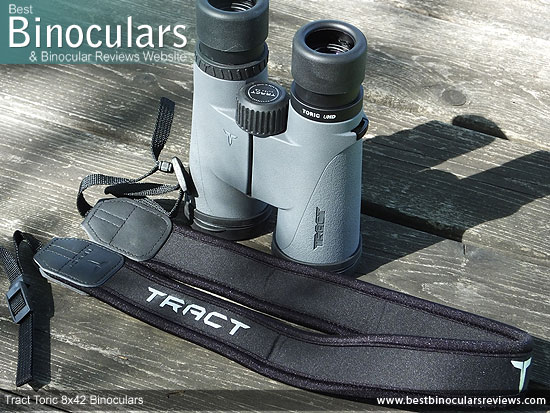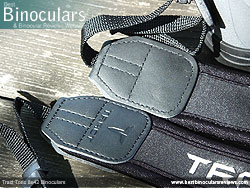 Neck Strap
Tract Optics do include a neck strap with the Toric and it is a pretty good one at that, although is perhaps a little less luxurious and lack a few details hen compared to the very best.
The padded section looks to be made from a neoprene type of fabric, which is nice and thick offering plenty of padding and is slightly elasticated for plenty of comfort.
It is also very slightly curved in shape so as to have a more natural fit around your neck and shoulders to prevent twisting and thus also adds to comfort.
The quality of the stitching looks excellent as are the leather connections between the padded section an the nylon straps. I also like that they are embossed with the Tract logo which is a nice touch.
Attachment to the bins is via the standard way of threading the nylon cords through the eyelets on the bin and then back through a slider to enable length adjustment. Here I think Tract Optics have missed a trick as I now see more and more higher end bins like these (especially those for designed with hunting in mind) come with quick release clips on these cords that enable you to quickly swap the instrument between the neck strap and a binocular harness.
Objective Lens Covers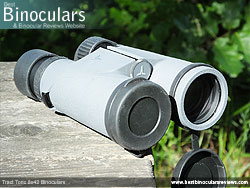 The objective lens covers are good. Made from a soft rubber, they can remain attached to the binocular when opened as they have a separate ring that goes around each barrel allowing the cover section to hang down and out of the way when you are binning, but always there ready to replace once you are done..
This is a feature that I really like and in this instance without an included carry case to store them in, it is actually even more important.
The fit of the lens covers over the ends of the barrels is tight enough so they don't fall off to easily, but also not too tight so as to make them a pain to replace.
For me the only small point that separates these from the very best is that to me they look rather generic and that they fit over the ends of the barrels and not into the ends of them. Those that do fit into the ends just look a whole lot neater and more like they are a part of the instrument rather than just being an afterthought.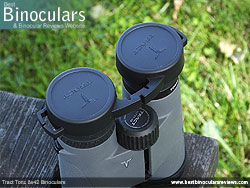 Rain-Guard
The rain-guard is pretty standard but really functional in that like the lens covers is made from a soft rubber/plastic and has a great fit over the eye-cups.
I do like the fact that the bridge between the cups on the guard is flexible and thus enables you to replace it without having to open up the hinge on the binos, a small detail which sometimes gets overlooked.
It has the Tract logo imprinted into each of the cups and there are also a couple of eyelets that you can thread the neck strap through.
Cleaning Cloth
The Tract Toric binocular comes with an excellent quality microfiber cleaning cloth that is as good as any that I have seen.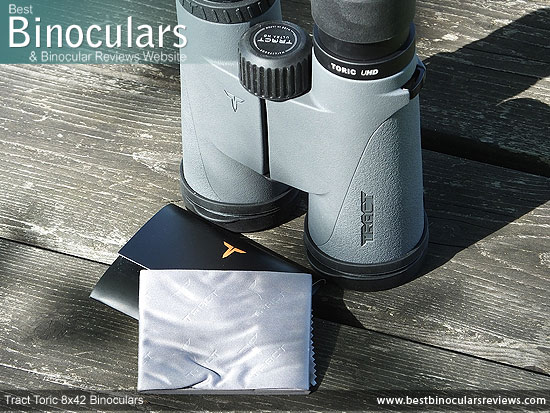 Warranty Information
The Tract Warranty on these and indeed all their products is something that I feel is worth highlighting:
All Tract binoculars and scopes come with a lifetime warranty against any defects in materials or workmanship. Whilst this is excellent in itself, what I really like is their approach to the warranty in what they call their Trust Assurance:
They say that their aim is to do away with all "unnecessary paperwork or mumbo jumbo mess" and don't have a "fancy warranty with all kinds of legal jargon", instead Tract Optics take a more old fashioned gentleman's approach of trust, stating that if you own any Tract product regardless of whether or not you are the original owner or not, it is under their lifetime warranty and does not any sort of registration.
Extras Score: 7/10
Tract Toric 8x42 Binocular Comparisons:
Review Conclusions:
Strong Points: Overall I found these Tract Toric 8x42 binoculars to have a lovely comfortable, well balanced and nice weighted feel to them. So not too heavy, nor too lightweight as as to make them feel like the cheap plastic ones do.
The fact that these use extremely high quality optical components and coatings, combined with an obvious manufacturing expertise really shows as they offer up a super quality image that is to my mind as good as it gets at this price point and really super close to as good as it gets.
19mm of eye-relief is very good and combined with the very customizable eye-cups makes them ideally suited to those who wear glasses.
Weak points? To my mind, these 8x42 Tract Toric binoculars do not have any major weaknesses and especially not deal breaking ones. However there are a few points where I do feel that they could have improved and still kept the instrument within the same price range:
A metal focus wheel for me always elevates the look and feel of a bin to the highest level, so it would have been nice. Likewise the diopter adjustment ring is not lockable, the best ones at this price range are.
I have to say that upon opening the box I was surprised to discover that tract Optics do not include a carry case with these bins. For many users especially those that use a harness, this probably won't be an issue, but it is just where you store your bins after use that becomes a slight issue. At home you can always just return them to the great box they come in. However taking this relatively large box on trips may not be practical all the time.
Final Thoughts
I begun this review by wondering if the Tract Toric 8x42 binocular was more than just a 'hunting binocular' and if it would be a viable lower cost alternative to the 'premium' European brands.
For me there is no doubt that you should not just consider these a great binocular for hunting, but one that will please most wildlife observers, birders and those looking for a cracking general use instrument.
In terms of image quality these do get extremely close to the very best premium costing optics, however where they fall back a little is with some of the details like the lack of a carry bag, lockable diopter, etc.
For most, none of these will be deal breakers and I guess this is where you have to decide would you rather spend the extra cash to have all of those small details or go without them, keeping the difference in your pocket, but still have super high quality image every time you look through your bins.