I recently had a question sent into me from a hunter looking to get a pair of laser rangefinder binoculars. They had just about settled on the Vortex Fury HD, but still wanted to get some advice from me and perhaps get a little reassurance as to the quality of the optics.
My first instinct was to reply stating that as I had not used them, so could not really help. However after a little research I found out from Vortex Optics that the Fury HD's optical system is equivalent to that of their popular Viper HD binocular that I have actually used, tested and reviewed.
So whilst I cannot provide a full review and be absolutely specific in regards to the actual view you get through them, by taking into account my prior experience of the Viper HD, we can do a mini-review and explore the level of optics, the specifications as well as the rangefinder function and capabilities to see just how good these laser ranging binoculars potentially are:
This way you should get a pretty good understanding of each model making it easier to decide right for you and your needs:
Vortex Fury HD 10x42 Rangefinder Binoculars Review
Vortex offer a number of options when it comes to ranging optics. They have a good selection of dedicated laser rangefinders, monoculars and reticle binocular rangefinders - you can read more on them all on this page on Vortex Rangefinder Binoculars & Monoculars.
However what is interesting and I guess somewhat surprising is that at the time of writing the Fury HD is the only laser rangefinder binocular that they currently offer.
One of the first differences between the Viper HD and the Fury HD is that these are made in China and not Japan. In the "old days" I would have said that this was a really big deal, but these days just about every top brand has at least some of their products produced in China and as a result the level has really improved and I think it has got to the point where the best optics made in China are on a par with many made in more "popular" locations.
Main Specs & Features
42mm Objective Lenses

Super hard exterior lens coatings

Roof Prisms

Phase Corrected
Dielectric Coatings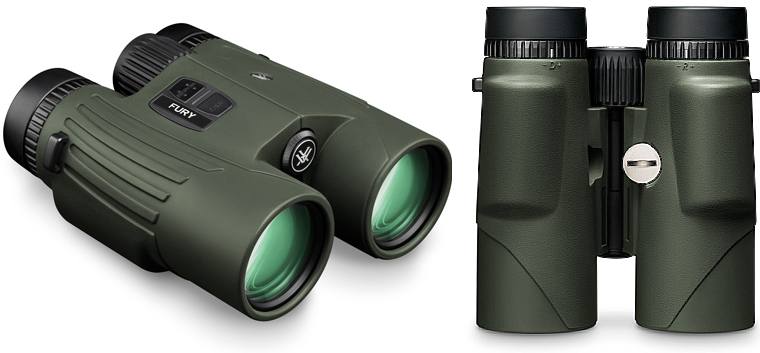 Body Design
The design and body shape of the Vortex Fury HD binoculars is very typical for that of a "standard" 42mm roof prism binocular and if it wasn't for the controls on the top and the battery compartment on the underside, it would be really difficult to spot that these do contain an onboard laser rangefinding system.
One area where the body is slightly different is that it has a couple of bulges in the undersides of the barrels, I assume at least one of these is there to house the rangefinding electronics.
It would be interesting to learn from anyone who has used these as to how this affects the feel of holding the binocular and if the balance is affected in anyway. So if you do have one, please feel free to contact me to let me know.
As with almost all current bins, the Fury has an external rubber armouring. As this instrument is primarily aimed at hunter, I thought I would quickly mention the couple of advantages of this apart from the obvious increase in grip and extra protection that it provides:
Both of which have to do with stealth. Firstly the dull green color is a good general camouflage color, but also because rubber is a softer material than metal, it is a far less reflective surface and on top of this, it also muffles sound better than a hard exterior. The fact that it is also slightly textured helps once again in reducing its reflectivity.
Diopter Ring
Another departure from the Vortex Viper HD is that the diopter ring on the Fury is not lockable. it is also located on the left barrel near the eyepiece and not the right. this is because the focus for the rangefinder display is located on the right side.
Other than that you use it to set up your optics for your own particular eyesight using the normal method.
Fully Sealed
As you would expect, the Vortex Fury HD 10x42 binocular is fully sealed using o-rings, making it completely waterproof, although they do not stipulate to what depth, but I would assume that it will be more than enough to get through even the worst weather without any problems.
Another small change on these is that they have used Nitrogen gas and not Argon on the inside to prevent fogging. As far as I know, this is no big issue as both seem to work just about as well as each other, although i have read that the larger Argon molecules mean that it is less likely to leak out over time. You can read more on this here: All About Fogproof and Waterproof Binoculars.
Tripod Adaptable
Another important aspect, especially where hunting is concerned is to confirm is that the Fury HD is easily tripod adaptable in the normal way by screwing in a standard adapter into the front hinge: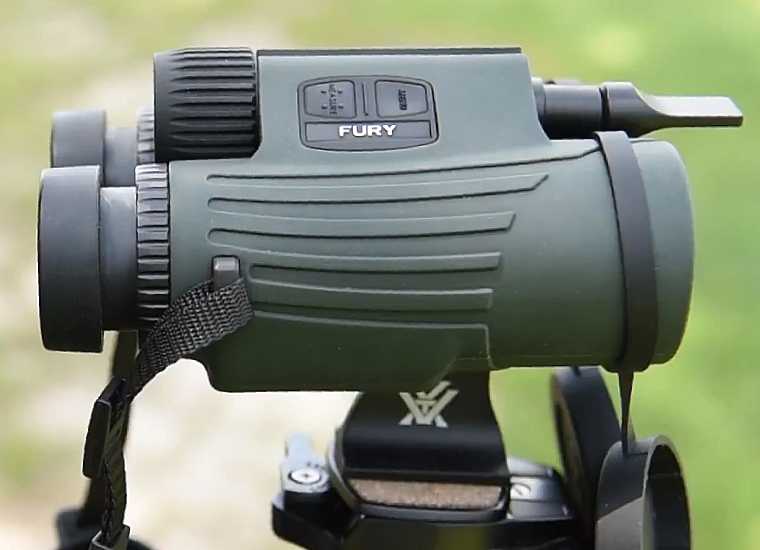 Image Credit: Screen grab taken from SportOptics.com Video review
Laser Rangefinder
The onboard laser rangefinder is powered by an easy to find and install CR2 battery. The compartment for which is located on the underside of the body. Vortex do not mention the potential battery life, but a level indicator is present within the display at all times (see image below) .
Range
The laser rangefinder on the Vortex 10x42 Fury HD has a maximum reflective range of 1600 yards under ideal conditions. This means whilst observing a large highly reflective object, probably under overcast conditions where a laser works best.
The effective range when viewing a less reflective deer sized animal is about 1000 yards which is about the industry standard.
If you need a longer range than this, you either have to spend a lot more, or use a standard "optical only" reticle rangefinder - more details on this on my page on Rangefinder Binoculars.
For interest, the minimum distance that the laser will work is about 10 yards.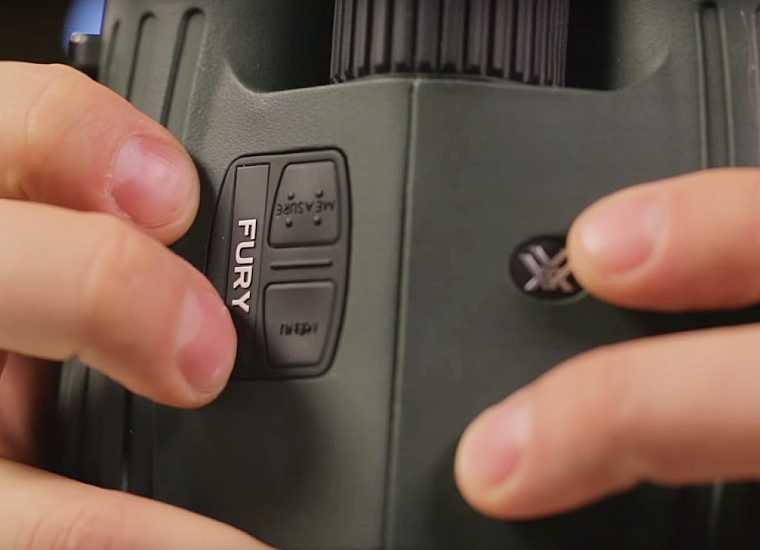 Controls
From all the reports that I have read, the controls for the rangefinder are large and nice and easy to reach and use one handed whilst glassing. This is important because it means that you can use your free hand to hold onto your rifle or bow.
The menu system is also very simple and you can make the usual adjustments like changing the display brightness, the units from yards to meters and for choosing which mode you want to use:
Modes
Modes on the Fury HD rangefinder include Vortex's HCD (Horizontal Component Distance) which gives both rifle and bow hunters the information that you require to compensate for the angle when ranging to take an accurate shot.
You also have a line of sight range and a scan mode that provides continuous distance readings as you pan across a landscape. This can also be useful as you follow an animal that is moving.
Rangefinder Display
The display can be adjusted for brightness which is good as the best option will depend on your viewing conditions. You can also focus this display using the ring located on the right barrel near the eyepiece.
For more on these modes and how to use the range finder, take a moment to download and read the Vortex Fury HD Manual (1.6MB).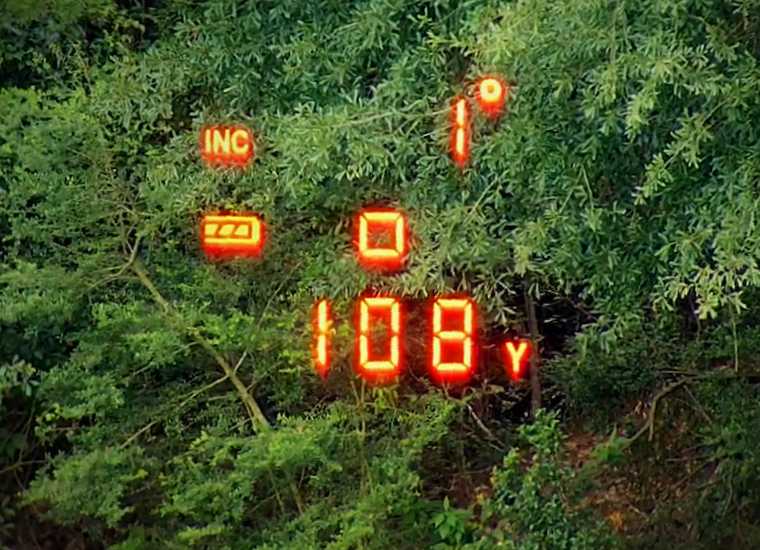 Image Credit: Screen grab taken from SportOptics.com Video review
Optics
As I mentioned at the start of this mini-review, the Fury HD optics are said by the company to be equal to that of their Vortex Viper HD binoculars, which is good news as in my experience they certainly play their part in delivering an excellent quality as well as bright image:
Whilst they do not explicitly state it, I will assume for now that like the Viper HD, the lenses contain ED glass elements (I have written to Vortex to ask and will update this when I know for sure).
Coatings
As you would expect at this level, the optics are fully multi-coated, what is not standard is that the roof prisms phase corrected and have very highly reflective dielectric mirror coatings on them as well.
These make it possible for more than 99% of the light to be reflected, whilst those that are silver coated can only manage about 95%. The results is a brighter and better quality view.
Another excellent inclusion is that the Vortex Fury HD lenses have an ultra hard exterior lens coating added to them. This protects them from easily scratching and makes it harder for oil and dust to stick to them, which not only means a better view, but you have to clean them less often and when you do you have to be less vigorous.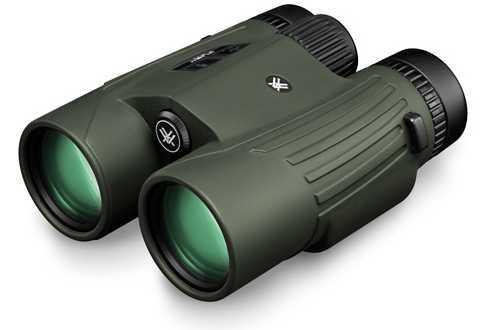 Optical Stats
Field of View (FOV)
The FOV on the 10x42 Vortex Fury HD binocular is 315ft wide when you measure it at a distance of 1000 yards away.
As you can see from the comparison table below, this is good, but not spectacular for a full sized 10x binocular.
Eye Relief
The 16mm of eye-relief is very good, but once again just misses out on what I call excellent.
To be fair though, this still should be enough for most of those who wear glasses to get the full field of view so it is not something that I would be overly concerned with.
Close Focus
Minimum focal distance is advertised as being 20ft, which has to be said is not great as most good 10x42 binoculars will be able to focus on an object around 6ft away. So if this is correct I would suggest that this is far from the ideal instrument for close observation of insects, butterflies and flowers for example.
Video Review
I came across this very helpful and knowledgable review from SportOptics.com. it includes a good overview of the body, the optics and most importantly gives you a view of the laser rangefinder display in action:
Comparisons
The table below compares the main features of these Vortex Fury 10x42 HD Binoculars against a small selection of other 10x42 binoculars in the BBR database.
Open table in full screen mode to view the full results.
Included Accessories
These Vortex binoculars come with the usual assortment of accessories that includes lens covers (the objective covers are tethered), a neck strap and a carry case. These look to me to be of the same quality and design as that which you get with the 8x42 Viper HD.
Lifetime Warranty
Vortex's offer their excellent unconditional lifetime warranty on this instrument.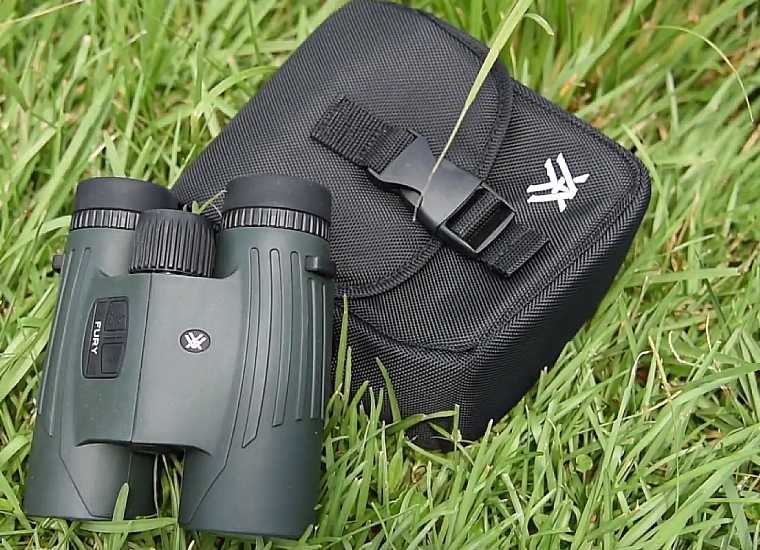 Image Credit: Screen grab taken from SportOptics.com Video review
Conclusion
In summation, I would say that with the Vortex Fury HD 10x42 binoculars you have a instrument with a very good level of optics and coatings that should deliver a superior quality image and perform well under all conditions when out on a hunt.
Features like the phase corrected and dielectric coated prisms and protective exterior lens coatings stand out for me.
The field of view is good as is the eye-relief, however neither are what I would describe as being excellent.
The specifications and functions on the rangefinder are on a par with any other at this price range which is great and I guess one of the most important elements of this product.
Weaknesses
Whilst the optics are at the same level as the excellent Viper HD, there are a few areas where these lack a little:
For example the diopter on these is not lockable and the focus wheel is just a little less luxurious as that which you get on the Viper HD. Now I will admit that these are both very minor differences, but it is a shame that not every aspect on these is as good.