Because the planets, stars, comets, and even the moon are so far away from us, many people logically assume that you need a very high magnification binocular for astronomy and indeed giant high powered binoculars like a 15x70 or even a 25x100 are important for and commonly used for astronomy.
However, as well as these, the combination of a modest 7x power with the reasonably large, but not giant 50mm objectives is also one of the most frequently used setups for observing the night sky using binoculars.
So, why is this?
In this article, I explore and explain the reasons why the 7x50 configuration is so popular with astronomers and then at the foot of this page, I also take a look at some of the best 7x50 binoculars for astronomy currently on the market:
Why 7x50 Binoculars for Astronomy?
It is true that the more magnification you have, the more image detail you can potentially see. Thus in regards to astronomy, higher powers help you to see deeper into space to reveal more objects or view more details on the surface of the moon for example.
Bigger is not always better
However, increasing the magnification also brings with it a number of drawbacks and so as with many things in life, you have to make some choices and compromises depending on your needs and exactly what you want to get from your instrument.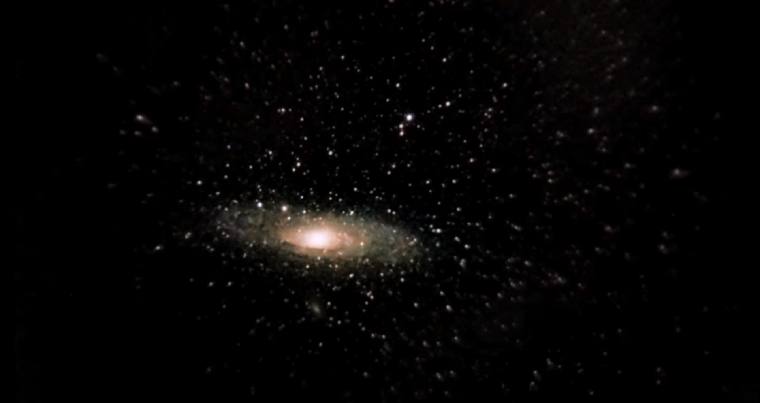 So What can you see with a 7x50 Binocular?
This is a question I am frequently asked, as well as things like how far can you see with a 7x50 binocular?
The literal answer is you can see 3 million light-years away and more! Indeed you don't even need binoculars to do this as you can see the Andromeda galaxy M31 with the naked eye.
But by adding magnification through the use of binoculars, you will add detail. However, don't expect Hubble Telescope levels of detail!
So with just your eyes, Andromeda looks like a dim, fuzzy star, but just by adding a pair of 7x50 binoculars, you can see a small elliptical cloud. A high powered telescope will add a little more detail and so on.
Without example images and video, it is hard to explain. Luckily I have managed to obtain excellent and accurate example photos and videos. So for more take a look at this guide:
Using 7x50 Binoculars for Astrophotography
If you want to see something incredible and which shows you what is possible with just a cheap pair of 7x50 binoculars, a tripod, a mobile phone and a bunch of software, take a look at this excellent video by Astrobiscuit (Rory):
Whilst this video shows what is possible, the main advantage of using a 7x50 binocular is that they add more detail and more stars to what you can see without binoculars, but at the same time they are just so easy to use and thus make scanning the skies above at night a joy:
Field of View
As you increase the power or "zoom in", the width (and height) of your overall view decreases. This is fine if you want to observe the finer details on the surface of the moon. Although, a narrow field of view makes it harder to locate objects and at very high powers it can be difficult to locate the object you wish to view. So at high powers, it can be hard to locate a particular star or planet because you lose all your reference points around it.
So for example, if you are looking for The Pleiades (Seven Sisters) and you know that to find them, you need to look for the constellation of Taurus this is fine and not too difficult with just your eyes. However, with a very high powered instrument, you will not be able to see the whole of Taurus and thus you lose your reference point making the Seven Sisters much harder to locate.
This is one of the main reasons why many spotting scopes have a variable magnification eyepiece as you can start in a low power setting and use it to find and then lock onto the object you wish to observe and then zoom in to get more detail.
However, because of the complications of viewing through two eye-pieces at once, in most cases, "Zoom Binoculars" are not really recommended.
So a low power like that on a 7x50 binocular gives you a wide view, making it much easier to scan the night skies and find particular points of interest. The wider view also means you can view entire constellations or star clusters in their entirety without the need to pan about.
Exit Pupil & Image Brightness
The exit pupil diameter or the size of the shaft of light exiting the eyepiece is critical in determining how bright an image you will see, especially in low light situations when your eye's pupils are dilated and thus is incredibly important when considering what binoculars to get for stargazing.

The exit pupil size is directly related to both the magnification and the size of the objective lenses.
So a 7x50 binocular has a 7.1mm exit pupil (50÷7). This is large enough to provide your eyes with enough light even when the pupils are fully dilated.
However, let's say for example we increase the magnification to 12x and keep the objective lenses the same size. The exit pupil or shaft of light exiting the binocular would now only be 4.2mm (50÷12), which is much smaller and far less than ideal in low light scenarios.
Size & Weight
To increase the exit pupil in the example above, we could, of course, increase the objective lens size. Which is exactly what many high powered astronomy binoculars do. So popular higher powered Astro binoculars include configurations like 10x50, 20x70 or even 25x100. However all of these have smaller exit pupils than the 7x50 configuration and thus whilst you get more detail, the image is probably not going to seem quite as bright to most people.
Increasing lens sizes not only increases the cost, but also the size and weight of the binocular. This is fine if you don't mind setting up your binocular with a tripod. However, should you want a binocular for stargazing using just your hands and one that you can quickly take out and carry anywhere, then the 50mm size provides a good compromise between portability and light gathering ability.
Image Shake
Lastly, there is the problem of keeping the view still. No matter how powerful the magnification you have, you will miss all the detail in it if you can't stop the view from shaking about. So, in order to view more detail, you need a shake-free image.
The problem here is that the magnification of the image also magnifies any movement, so the higher the power, the harder it is to keep the view still. So as well as taking the weight off your arms, this is the other reason why you need a tripod when using high powered/giant binoculars for astronomy.
So here once again, the 7x50 setup makes it much easier to keep a steady view and thus perfect for use in the hands.
Ideal Uses
So taking into account their particular strengths, a 7x50 binocular makes an ideal, no hassle, take with you anywhere (like on a camping trip) binocular that is quick and easy to use without having to lug about or set up a tripod. It is also great for scanning the skies looking for a particular cluster or constellation.
At home, I also like to use my 7x50 in combination with either a giant high powered binocular or my telescope that I have set up on the tripod next to me.
Multi-Purpose Instrument
The other advantage of a 7x50 is that the combination of a very wide view and bright optics also makes a great low light general use, wildlife and particular bird watching binocular.
So long as you think about waterproofing, this setup is also ideal for marine use. Once again, the lower power once again makes it easier to keep the image still on the unsteady platform of a boat/yacht on the water and is great for scanning the horizon.
Best 7x50 Binoculars for Astronomy
So now that we have discovered why 7x50's are in some case the best binoculars for stargazing, let's take a look at some of the options out there in a range of price categories:
Cheap 7x50 Astronomy Binoculars – Under $50 / £50
Whilst better quality instruments with their improved optics and coatings will most certainly offer you a higher quality and brighter view, if you are just getting started with binocular astronomy, or just want a low-cost backup to take along anywhere or use next to your scope or high power device then these are worth taking a closer look at:
Low Cost 7x50 Binoculars – approx $100 / £90
At this price range, (especially with Porro prism binoculars), you can get a good performance to price ratio if you know where to look! Here is also where I recommend you look if you are on a tight budget. Indeed if you can afford it, you are usually better off with these than the very cheapest options (under $50) above as they offer some important improvements that will make your experience far more enjoyable:
Mid Range 7x50 Binoculars – approx $150 / £150
Here you should be looking for a binocular that has fully multi-coated optics and which is completely waterproof and fog proof as well as having a number of other small improvements. Below is my current favorite option at this level:
High End 7x50 Binoculars – over $500 / £500
For those not wanting to compromise and who want the best views possible:
Further Reading