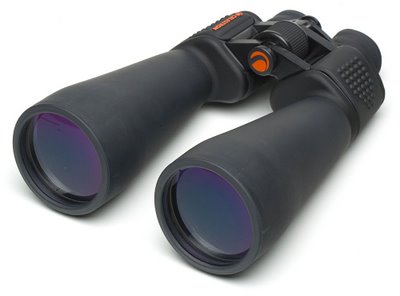 There are two main complications in relation to optics for those who want to take a closer look at the stars and planets:
What you want to see is very, very far away
You generally can only see them at night
So because most astronomy is conducted at night you need a optical device that will perform at night. This means that thy need to let in as much of the available light as possible. So this means that in general the best astro bins have large objective lenses.
But to get a more detailed view, you also obviously need a device that magnifies the image. As we all know, Telescopes have been specifically designed for taking a closer look at objects in the sky at night, but they do have a number of drawbacks to them:
Their very high magnification means that you can get plenty of detail on distant objects, but it also means that they have a very small field of view, which makes it difficult to locate objects and is not the ideal instrument for scanning the sky.
They are generally larger and heavier than a pair of binoculars and you almost always need them mounted on something like a tripod, making them far less transportable.
They are less versatile – binoculars can be used in a number of situations and for a number of different uses.
So whilst binoculars may not give you the reach of a telescope, they also have their uses in astronomy and this is why almost every experienced astronomer will also have a pair of binoculars.
Astronomy Binoculars
So a good astronomical binocular generally has a higher magnification than those specifically designed for terrestrial uses and they should also have large enough objective lenses to be be able to let in enough light in order for them to work at night.
Large aperture bins known as "Giant binoculars" are ideal and are defined as those that magnify the view at least 10x, right up to 25-30x and have objective lenses with a diameter of 70mm or larger.
Apart from their increased size, the main problem with these larger lenses is that they are more expensive to make and so the best astro or giant bins can cost a lot of money.
For example one of the best binoculars fro astronomy, the Fujinon 16x70 FMT-SX have a list price of over $1200 (>> Fujinon 16x70 FMT-SX). So whilst this is a great price for what is a fantastic set of binoculars, it is probably a little to steep for most casual star gazers.
Cheap Astronomical Binoculars
So is there a cheaper option, a set of binoculars for astronomy of good quality that don't cost the earth?
Recently, the market has seen a large increase in the amount of giant binoculars being produced and this increased competition has brought down the prices. It used to be that the least expensive ones would cost in excess of $150, even $200 (£200), now several companies offer giant binoculars that sell for half that, or less. You just have to be sure that the quality is still there.
Celestron Sky Master Binoculars
The Celestron SkyMaster range is one of the leaders in the low-price giant binocular arena. They certainly sound good on paper costing just over $80 (>> Where to buy Celestron's 15x70 SkyMaster binoculars).
The SkyMaster's include multicoated optics and BaK-4 internal prisms, two features that promise brighter, better images, and key points to look for when judging a pair of binoculars. They also come with an adapter for attaching them to a photo tripod, which is a must in order to get a steady view, and a soft carrying case.
Celestron SkyMaster 25x70 Binoculars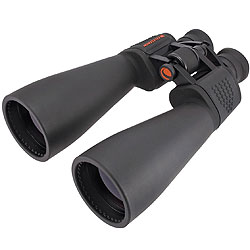 The 25x70mm Celestron SkyMaster binoculars combine a very high powered 25x magnification with large 70mm objective lenses and come with a tripod adapter making them very simple to attached to a tripod.
At 141t wide @ 1000 yards (47m @ 1000m) they have a fairly wide view for a binocular with such a high magnification.
For more details, Read My Full Review and see why I believe this is a great cheap astronomy binocular that also makes a great long distance terrestrial binocular for use during the day.
Price Range
These Celestron SkyMaster 25x70 Binoculars were available for around $90 in the US and £80 in the UK, which makes them great value for money.
So are these cheap binoculars for astronomy good enough and would it be better to save up for a more expensive pair? To find out, Phil Harrington(author of Touring the Universe through Binoculars recently had the opportunity to judge the Celestron SkyMaster 15x70 binoculars against the Fujinon 16x70 FMT-SX binoculars and this is what he had to say:
"Like the SkyMaster's, the Fujinons feature BaK-4 prisms, but also have fully multicoated optics. As a general rule, superior coatings mean superior image sharpness and contrast. But then, that should be expected, given that the Fujinons cost many times more than the Celestron's.
While the Fujinons were clearly the better performer, the Celestron SkyMasters held up admirably. Image brightness, quality, and contrast were all remarkable considering their bargain price. Although images were a little soft across the outer 25% of the Celestron's field, the overall view was impressive nonetheless.
Some inexpensive binoculars have very sloppy focusing, causing the eyepieces to tilt and shift. Not so with the SkyMasters. I found that their center-focusing mechanism worked smoothly, with no apparently backlash or wobble. Eye relief (the distance you hold your eyes away from the eyepieces to see the full field) is stated to be 18 mm, a good distance for higher power binoculars and an important consideration if you must wear glasses when viewing. The SkyMasters are also light enough to support by hand for short periods of time, although buyers would be well advised to mount them on a sturdy photo tripod.
The bottom line is, if you are considering a pair of giant binoculars, whether for bird watching, stargazing, or another recreational use, and have a limited budget, Celestron's SkyMasters represent excellent value.
Below are the Celestron SkyMaster 15x70 and Fujinon 16x70 FMT-SX as well as some other recommended Binoculars for Astronomy that are available on Amazon:
More Information & Further Reading