Having recently reviewed the larger 20x80 Levenhuk Bruno Plus binoculars (which I really enjoyed using for astronomy and long distance terrestrial observations), I wanted to try out the smaller 70mm version which I was hoping would be a little easier to carry about and with its slightly less powerful 15x magnification perhaps also be able to use it out in the field for long-range observation without the need to mount it onto a tripod.
Levenhuk Bruno Plus Binoculars
Before tackling the review of this specific model, I think it is worthwhile to quickly take a look at this series as a whole:
Levenhuk is a brand that produces a large range of instruments and mainly focus on the budget end of the market and therefore even though their Bruno Plus binoculars both cost less than $200, they are their most expensive offerings:
Levenhuk Bruno Plus 20x80 Binoculars - $199 / £214
Levenhuk Bruno Plus 15x70 Binoculars - $174 / £179
This is partly due to the use of better quality components, but also down to their size: larger binoculars and in particular larger lenses cost more to make.
Deciding which model to choose will depend on these main factors:
The larger and heavier 20x80 Bruno Plus will enable you to reach further into space, or provide you with a more detailed image at longer ranges here on earth. But for either of these uses to be effective, you need to mount it onto a tripod. Thus unless you like or are willing/able to carry about a lot of gear, these giant binoculars are best used from a fairly static location.
With the smaller, lower powered 15x70mm Levenhuk Bruno Plus binocular, you don't quite get the reach as the 20x version, but what you do get in return is a wider field of view.
This has a number of advantages which I will go through in the review below. Another advantage of this model is it is more portable. This is something that I was really after because I could then more easily take these Levenhuk binocular out in the field on camping trips for example where I wanted to use them both during the day and under the stars at night.
So to see if and how all this works out, let's get started with the review:
Levenhuk Bruno Plus 15x70 binoculars Review
Important Specs & Features: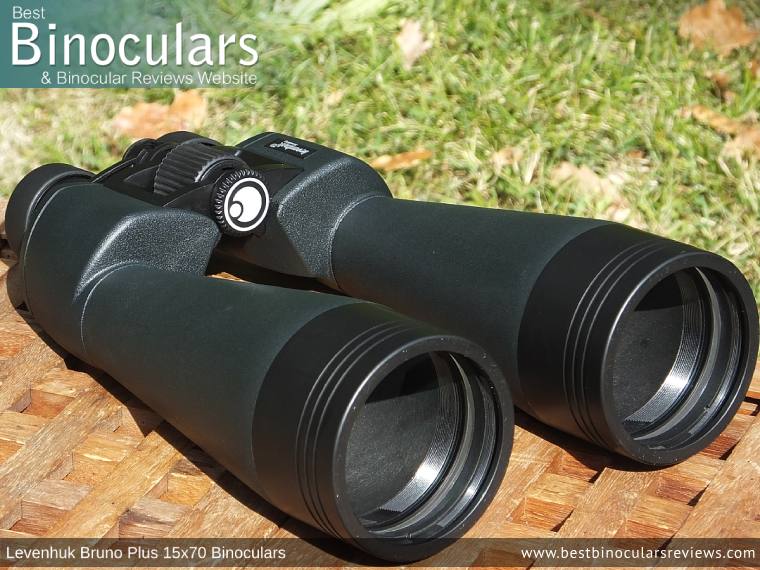 The Body
Design
As with the vast majority of Astro binoculars, this Levenhuk Bruno Plus binocular has a typical shape for a binocular using Porro prisms with the objective lenses set further apart than the ocular lenses.
Whilst not as modern looking or as compact as the straight through shape of a typical roof prism binocular, this tried and tested design is functional, ergonomic and the use of Porro prisms presents us with a number of advantages at this price range and within the long range/astronomical fields.
Like the larger version, the exterior rubberized coating is very thin and hard which may be less susceptible to perishing, but offers nowhere near as much impact protection as thicker armors made from softer rubber.
Likewise, the surface is texturized, but it is very fine and so whilst it does improve grip, it is nowhere near as much as instruments that use softer rubbers with more pronounced grip patterns.
Whilst not as lightweight as polycarbonate plastic, I do like the fact that Levenhuk Optics have opted to use a more robust aluminum housing on their Levenhuk Bruno Plus binoculars as I think this tradeoff is well worth it on larger instruments like this that really can feel and look cheap when plastic is used.
Sealed
Another small but important nod to the quality of this instrument is the fact that these Levenhuk Bruno Plus binoculars are waterproof (class IPX6), which at this price range is not by any means a given, especially within the astronomy niche.
For those who like to stay indoors when it is wet, this may not seem important but remember: a fully sealed instrument also prevents dust and other small particles from entering which can be just as damaging to the view as water.
Also the sealing enables the manufacturer to replace the air inside with Nitrogen gas. This is completely moistureless and thus inhibits internal lens fogging.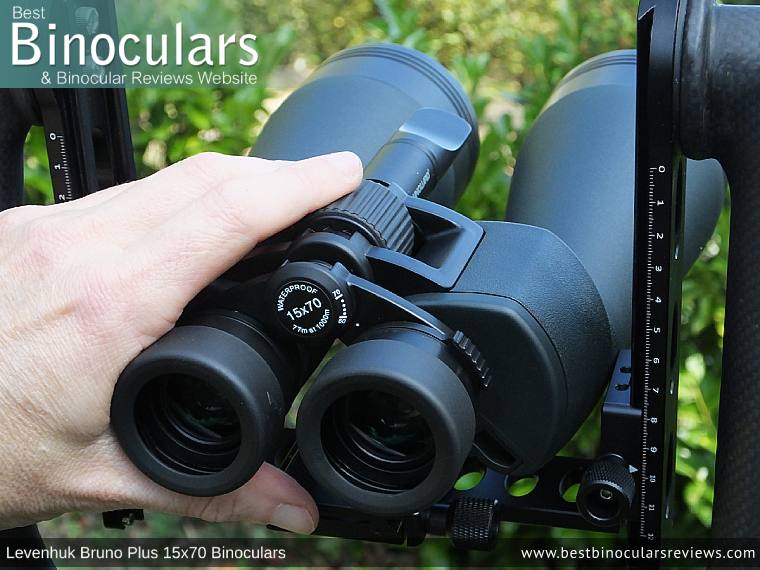 Focusing
There are a lot of astronomy binoculars on the market that have the individual eyepiece focusing system, whereby you have to adjust each eyepiece independently in order to focus on an object.
This is perfectly fine for setting the focus up and viewing objects at the same sort of range (like infinity for the moon, stars, etc). However it is not the best solution if you need to change the focus often, like when using the binoculars for a more general, long-range use here on earth during the day!
Thus the single, centrally located focus wheel on this Levenhuk Bruno Plus 15x70 binocular that adjusts the focus for both eyepieces simultaneously was very welcomed as I was specifically looking for a more general purpose long range binocular that could be used effectively at night and during the day.
Diopter Adjustment
Also important is the fact that these Levenhuk binoculars have a diopter adjuster. Located on the right eyepiece it anables you to calibrate them to accommodate for any difference in vision between your right and left eyes
The diopter adjustment on this particular 15x70 Leven huk Bruno Plus binocular has a range of ±4, which is fine. However note that the 20x80 model has a wider ±6 range, which for some users may be an important factor to keep in mind.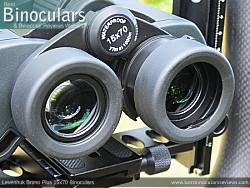 Eyecups
Within this sort of price range, you will find many poor prism binoculars that use simple fold up/down eyecups. This is fine if all you need is to have the distance set at fully extended or if you wear glasses, fully retracted.
However if you for some reason, like you have thin eyeglasses or just a differently shaped nose/face than the 'standard' user and you need them set at an intermediate distance, folding eyecups are not ideal.
Thus it was good to see that Levenhuk has opted to use the more customizable twist up/down eyecups on the Bruno Plus series.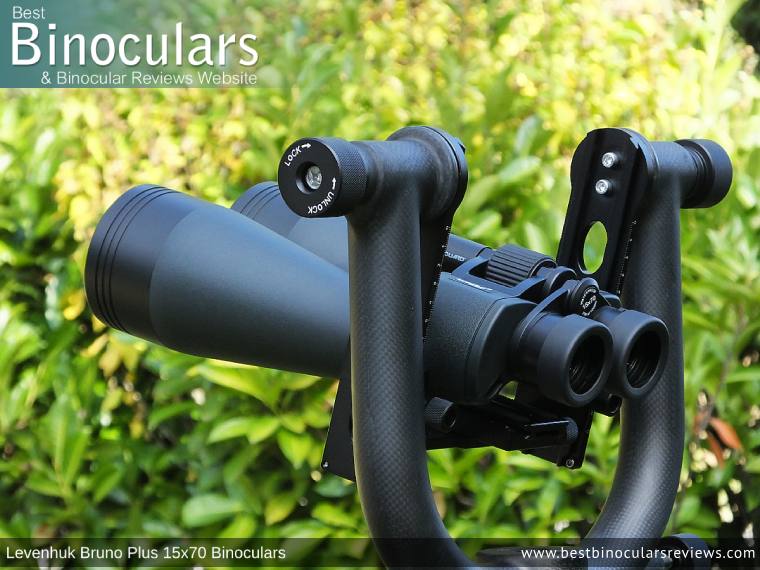 Tripod Adaptable
Whilst with a steady hand is possible to hand hold these Levenhuk Bruno Plus 15x70 binoculars. This is fine for short durations and definitely easier when using the binocular during the day for terrestrial uses. So for a camping trip or something like that this is fine.
However for long periods of observation and to get the best possible, completely shake-free image (especially when looking up at the night sky), it is still nice to be able to attach the instument to a tripod and so it is good to note that these are easily tripod mountable.
Note that unlike the 20x80 version that has a permanent tripod mounting bar, you will need to have a tripod adapter which you fit onto the Levenhuk Bruno Plus 15x70 Binoculars before mounting it onto the tripod. Whilst not included, they are readily available and relatively cheap to buy.
Tripod Head
Note: The photos in this review depict these bins mounted on the excellent MOVO GH1000 Gimbal Tripod Head that I also happend to have with me for review and so whilst I usually would have opted for a more lightweight tripod head like my trusty Vanguard ABEO Pro tripod and Pistol Grip ball head, I did enjoy the freedom of movement that the gimbal head gives you.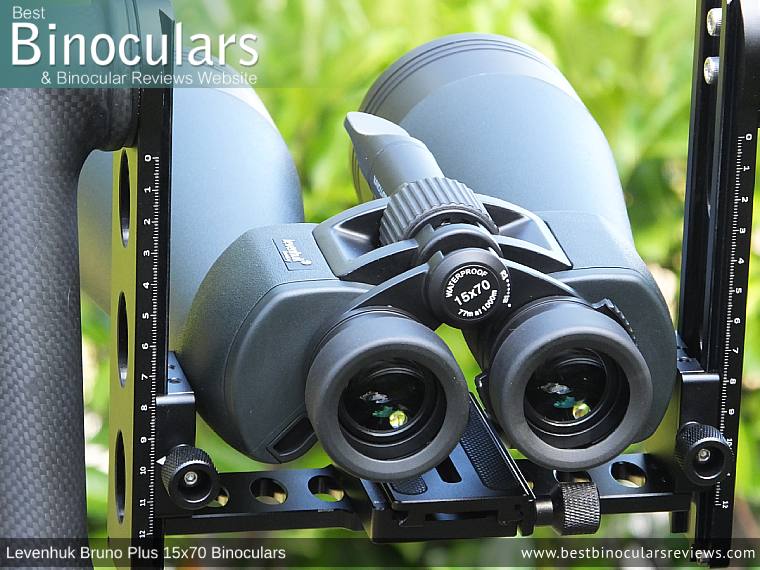 Interpupillary Distance Adjustment (IPD)
Opening and closing the central hinge on the binocular adjusts the distance between the eyepieces and thus you can set it to match the distance between your eyes.
Levenhuk state that this Interpupillary range on their Bruno PLUS 15x70 binocular is from 60mm to 70mm, which is a little narrow as you can see on my article on Interpupillary Distance on Binoculars. However, as this did not seem right to me, so I measured it indeed this was wrong as my sample actually had a range of between 55mm and 74mm which is much better and thus will accommodate a far wider spectrum of people.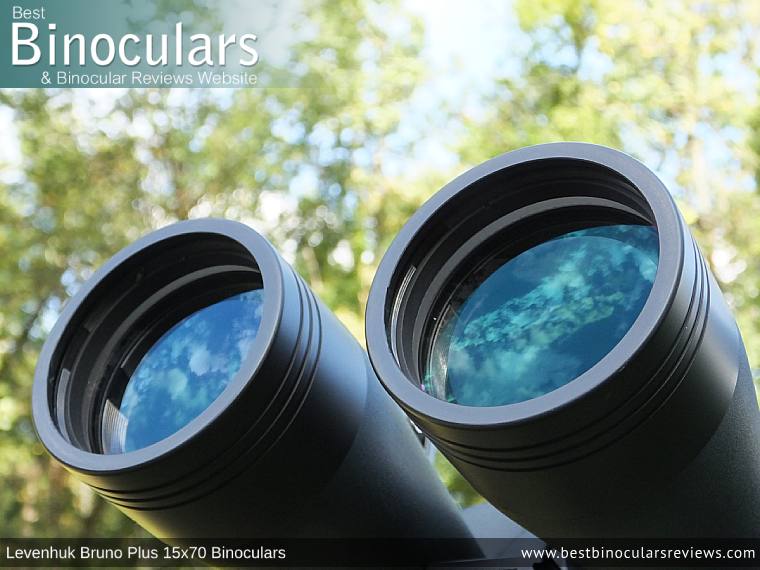 The Optics
Whilst 10mm smaller, the 70mm objective lenses are still make using the same arrangement (2 elements arranged in 1 group) as the 80mm ones on 20x80 Bruno Plus.
The eyepieces I assume are exactly the same on both models as they both have 5 lens elements, which are arranged into 3 groups, with the one on the outer one also measuring an impressive 24mm.
Amongst a few other benefits, large ocular lenses make it easier to line your eyes up with them, which in unison with the eye-relief, makes it easier to achieve the full image without any black rings forming on the edges.
Optical Coatings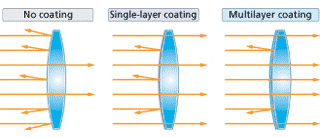 Anti-Reflection Coatings
Both Levenhuk Bruno Plus binoculars are fully multi-coated, which is both good to know and important:
The amount of glass surfaces that have anti-reflection coatings added to them is one of the key features of what to look for when buying binoculars and really makes a difference to both the image quality and brightness. You can also read more on Anti-Reflection Lens Coatings here.
Optical Stats
Field Of View (FOV)
Whilst many people assume that the higher the magnification on a binocular, the better. So whilst it is true that you potentially gain more image detail, a powerful magnification has a number of downsides; One of the most important is that as you "zoom in" the width of your viewable area decreases.
Depending on what you are observing and at what distance, it can mean that you are less able to see the whole picture at once and have to pan the view about. Another is that it can make objects harder to locate.
The 20x80 Levenhuk Bruno Plus binoculars have a view that is 56m wide at 1km, whilst this 15x70mm version is 77m wide, which does make a difference.
Here there is no "right" option, it just depends on what your needs and preferences are. Ideally you would have both or a variable magnification, but as you can read about in my article on zoom binoculars, these are generally not a good option.
Close Focus
The minimum close focus distance on thee is 14 feet, which is fine for a long distance binocular, but would obviously not be ideal as butterfly binoculars!
Eye-Relief:
At 19mm. the amount of eye-relief on these Levenhuk binoculars is excellent. this in conjunction which the multi-positional twist-up eyecups makes this a great option for eyeglass wearers.
The Image Quality
Whilst it is probably the most important part, the hardest part of any review I write is to describe and evaluate the image I observe through the instrument. To help with this, I usually compare the instrument under review with that of a benchmark binocular that I have in the same size and magnification class.
Unfortunately, I do not have an "official" 15x70mm benchmark, but I do own a high quality pair and so for this review I will offer you my impressions after having used them together on a number of occasions, both at night for stargazing and during the day in both good and poor light conditions:
Image Brightness
The 15x70mm configuration generates a 4.7mm exit pupil. Whilst not massive, it is a reasonably good size. For comparison, the good all-round 8x42 setup is 5.2mm, which is larger but not by a massive amount.
This along with good quality optics and a fully multi-coated optical pathway meant that it was no surprise to me that despite the high power, these deliverd a bright image in good light conditions.
At low light (overcast and just before sunset) they were equal to that of my personal 15x70 binoculars, which means they are also about the same as the 20x80 Levenhuk Bruno Plus which I also tested against my personal 15x70s.
For general terrestrial use in very low light, you really need a large exit pupil, here something like a 7x50 is ideal with its 7.1mm exit pupil, so it was again no surprise that these, like my high end 15x70 were not great in these conditions.
However for looking at bright objects in the night sky (like stars and the moon), this is not so much of a problem and is where both these and my 15x70 binoculars looked to be about as bright as each other. Vewing the moon with these binoculars was particularily impressive.
Colors & Contrast
Both the colors and the amount of contrast looked to me to be neutral through these Levenhuk 15x70 Bruno Plus binoculars. By that I mean that to me it looked natural and no different than without binoculars. This is good as you often find with lower cost, high powered binoculars that the image can have a slight tint to it (usually yellow).
Color Fringing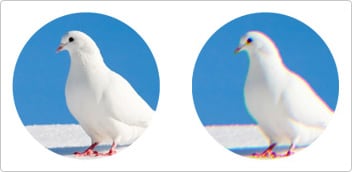 Caused by chromatic aberrations, the amount color fringing often far greater on high powered binoculars and so I was impressed with just how little there was when looking through these Levenhuk binoculars.
Indeed, I would say it really was not any more than what I would expect to see through a mid to high-end 10x42 binocular which is impressive.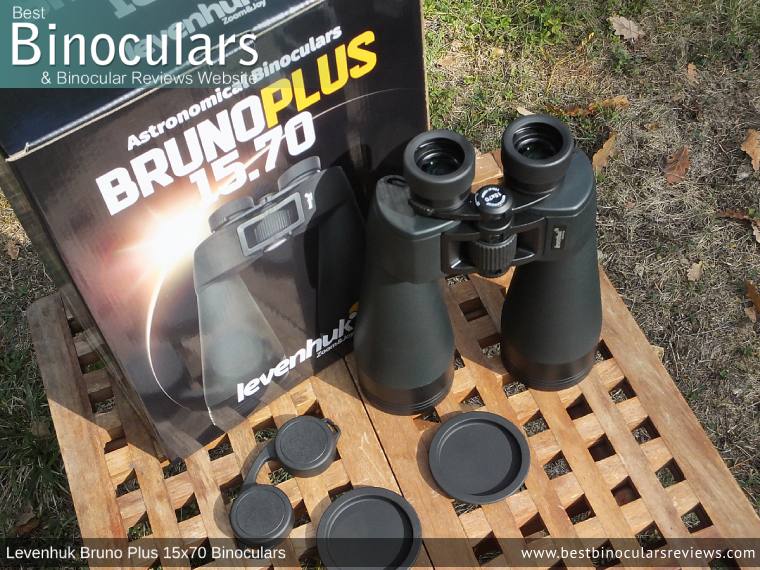 Included Accessories:
Whilst sized accordingly, the included accessories are essentially exactly the same with these as those which are suppled with the 20x80mm version. Thus rather than repeating myself, I will just list the main points and any differences below.
If you want a more detailed explanation, please refer to the accessories section on the Levenhuk 20x80 Bruno Plus Review.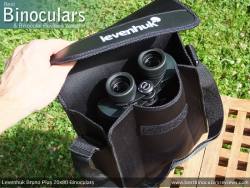 Carry Case
Soft carry case
Includes a carry strap, adjustable in length
Flimsy design
Very little padding
Binoculars fit well inside
Neck Strap
Good standard at this price range
Comfortable: Well padded and reasonably wide
Attaches in the standard way
Adjustable length
Objective Lens Covers
Soft Rubber Covers
Offer Good Protection
Fit Well
Not Tethered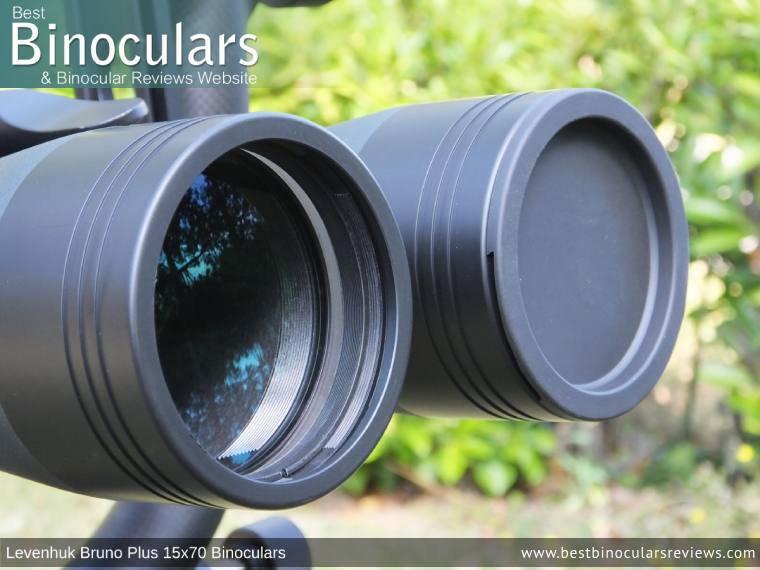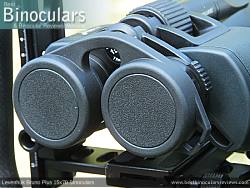 RainGuard
Standard Design
Flexible Bridge to accommodate different IPD settings
Good Fit
Can attach to Neckstrap
Cleaning Cloth
The cleaning cloth that comes with the Levenhuk Bruno Plus 15x70 binocular is typical in that it is fairly basic and fine for cleaning the body of the instrument. I reccomend purchasing a better quality lens cleaning kit for the glass.
Warranty
An impressive lifetime warranty is offered by Levenhuk Optics on all their binoculars.
Review Conclusions:
I started this review wanting a good, versitile, but low cost long distance and astronomy binocular that I could use from home, but also take out with me on camping trips and the like.
On the whole, I would say that the 15x70 configuration is a good compromise for this type of request in that the lenses are large enough to enable them to perform at night, but not so large that you need a seperate car to carry them in! Likewise, with the magnification, it is powerful enough for a good level of stargazing and brilliant moon obsrvations, but at the same time offers a decently wide field of view and is just managable to keep steady with out having to use a tripod.
For handheld long distance observation during the daytime, 15x70 binoculars do make an excellent choice.
As for the pair of Levenhuk Bruno Plus 15x70 binoculars in particular. At this price level, I was a little skeptical as low cost, high powered instruments are in general pretty poor.
However, as with the 20x80 version, I was very impressed with these Levenhuk Bruno Plus 15x70 binoculars and they certainly go well above what I had expected in terms of the image quality, build quality and in some cases the level of materials used:
Strengths
Theses Levenhuk Bruno Plus binoculars are a sturdy, well built instrument and the external highlights include the use of an aluminum frame (not plastic), twist-up eyecups (not fold down ones) and a central focus wheel mechanism (not individual eyepiece focusing), which at this price level are certainly not always present.
The optics are fully multi-coated and not just multi-coated which certainly makes a big difference and something to look outfor at this level.
Weaknesses
To keep the final cost down, there will always need to be some compromises. I think Levenhuk has been smart and restricted most of these to the areas that that don't actually affect the views or functioning of the binoculars. These include:
It has to be said that the carry case is very basicand far too lightly padded for such a large and heavy binocular.
The objective lens covers work well, but tethered ones would really be much better. this is specially true for a binocular that will often be used outside in the dark for astronomy.