Although new to me, Helios is a British registered brand of sports optics that has been around for nearly 50 years which now produce a wide range of mostly entry to mid level binoculars. I was recently contacted by their UK distributors, who asked me if I would like to review a few of their models, which of course accepted as I love taking a look and testing models and brands that I have not seen before. Below is my full review of the Helios Aero-ED 8x42 Binoculars:
The Body
The most obvious feature of the Aero-ED is their contemporary open-hinge design which I really love. The reason s for this are that not only does it help to keep the weight down, but it is very comfortable to hold and more secure in your hands. This is especially true, when for example, you are walking through dense cover or over difficult rocky terrain. In these situations, I often hold my binoculars in one hand, rather than leave them hanging them around my neck where the neck strap can easily get caught up or the dangling binocular could easily smash against a rock. The open-hinge design means that you can hold onto the binocular much more firmly by wrapping your hand completely around one barrel.
This design is also generally just that bit more comfortable to hold and whist this model does not have the commonly seen thumb indents, there is a cut-out in the styling of the rubber armour that just encourages you to put your thumbs in the right place to ensure that the weight is distributed evenly making them very well balanced.
Weight
At 24.3 ounces (690g), these are a fairly light pair of 8x42 binoculars. To put this into context take a look at the weights of some other similar well known pairs:
You need to be a little careful when comparing the weights of binoculars as it can sometimes be a little misleading. This is because some of the lightest binoculars are also amongst the cheapest (and worst) because they use sub-standard materials in their construction that may be lighter, but are definitely not as durable.
I can happily confirm that this is not the case with these 8x42 Aero-ED's as not only does the open bridge design help reduce their weight, but they have a magnesium alloy body which is not only much lighter than aluminum that is often used, but is also exceptionally strong.
Dimensions
The dimensions (LxWxH) of these 8x42 Aero-ED binoculars are 6.5in (16.5cm) x 5.0in (12.7cm) x 2.2in (5.7cm). With their eyecups retracted their length is 6.1in (15.5cm) and with the inter-pupillary adjustment set to it's minimum, their width is 4.2 in (10.7cm). This makes them about average for a full sized binocular and in my hands they felt very comfortable, well balanced and I really like the open bridge design. The large focussing wheel is well placed making it simple to adjust without having to change your grip.
BBR Rating for Body Stats: 7/10
Build Quality
As mentioned earlier, these Helios Aero-ED binoculars have a magnesium alloy body and even though I could not test it to destruction, the frame feels very solid and robust and should be able to handle most of what you can throw at it in normal usage. Most of this frame has been covered with a thin and very hard green rubber armoring, but there are small sections of the inner barrels and the bridges that have been left with the frame exposed. The rubber armouring is not needed in these sections and it does create a nice two tone design that helps with styling and I guess it also helps to keep the weight down. The armouring on the barrels is there to give you a more "grippy" surface to hold onto as well as protect your bins from scratches and small bumps.
Waterproof & Fogproof
These Helios Aero ED binoculars are sealed with O-rings making them waterproof, which not only prevents moisture from getting into them, but also any other small debris and dust that could easily spoil your view.
They have also been filled with dry nitrogen gas which helps to protect them from internal fogging. This can often occur when you get rapid temperature changes or in places that have a high humidity level. A secondary benefit of this is that because there is not internal moisture, it protects the inner workings from corrosion.
The Eye Cups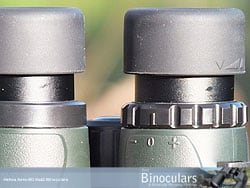 The eyepiece housing looks to be made from aluminium or something similar, whilst the twist-up eyecups look as though they are made from a hard plastic, which have then been covered in a fairly thick soft rubber coating. This makes them quite comfortable, even when pushed quite firmly against your face. The ocular lens has a diameter of 20mm, whilst the eyecup has an external diameter of 40mm, both of which are a little larger than a lot of the binoculars that I have reviewed.
The twist-up (helicoid) mechanism on these Helios binoculars is smooth and has 3 fixed stops (1 intermediate), the best ones have 2 or even 3 intermediate stops to give eyeglass wearers as much flexibility as possible when adjusting the eye-relief to suit their exact needs. Having said that, the maximum of 18.4mm of eye-relief is excellent and they easily make it onto my list of long eye relief binoculars and so this should be more than enough for most people who wear glasses to be able use them without having to remove their glasses and still get the full field of view without any without any vignetting. Non-eyeglass wearers will just use the eyecups in the fully extended position.
Focusing
The large (30mm diameter) focussing wheel on these 8x42 Aero-ED's looks like it is made of a hard plastic that has then been covered in a fairly hard rubber coating with grooves cut into it for extra grip. On the pair that I was testing, it was easily reachable and turned very smoothly.
The wheel itself takes about 1 and ½ turns to go from infinity to it's minimum focusing distance of 6.6 feet (2m). What this means is that focusing from near to far (or vise versa) is not as quick as a binocular that takes less amount of turning (some take as little as half a turn), but it does have the advantage of making fine tuning your focus to get it exactly right, that little bit easier.
Diopter Adjustment
Like the focussing wheel, the diopter adjustment ring looks to be made from a hard plastic that is deeply grooved for grip. It is located on the right barrel, between the eyecup and the barrel and is used to correctly set up and focus the binoculars to your particular eyesight and only really needs to be done once when you first use the binoculars, unless it accidentally moves or you share your binoculars with someone else who has a different setting to yours. On my pair it was nice and tight and so should not move accidentally and there are markings on both the barrel and diopter ring so you can easily see where the neutral point is.
Best Binoculars Rating for Body Construction Quality: 7/10
The Optics
Considering their low price point, these Helios binoculars have a surprising amount of quality optical components and coatings:
As their name suggests, these Aero-ED binoculars use extra-low dispersion glass (ED) in the lenses which helps to minimise the amount of chromatic aberration (color fringing) and is achieved by giving the designers of the multi-element objective lens a wider range of options to better direct and concentrate the wavelength of light. Generally speaking, the better the aberrations are controlled the cleaner and brighter the image will appear, but because of the costs involved and precision needed to make them, they are only usually found on higher end cameras, telescopes, microscopes and binoculars.

The Prisms and their coatings
These roof prism Helios binoculars use good quality BaK-4 glass on the prisms as opposed to the cheaper and inferior BK-7 prisms.
On top of this they have also added phase correction coatings to the prism glass. This is done because when light waves are reflected at the opposite faces of a roof prism, phase shift occurs resulting in marginal deterioration in sharpness. These coatings keep the light in the correct color phases and therefore produce images that have better contrast, a higher resolution and have a better color reproduction. Once again, these coatings are only usually found on high end optics.
Lens Coatings
The lenses on these Aero-ED's are Fully multi-coated, which means all air-to-glass surfaces have received multiple layers of anti-reflective coatings which helps to increase light transmission, for a brighter image and therefore better low light performance.
Best Binoculars Rating for Optical Components Quality: 8/10
Optical Stats
Field Of View
At 356 feet@1000 yards (118m @ 1000m) or 6.8°, the field of view on these Helios 8x42 binoculars is good, but does fall a little short of the very best in this department. To put this into perspective, I have listed the F.O.V's of some other similar binoculars below:
Celestron Granite 8x42: 426ft @ 1000 yards
Eagle Optics Ranger ED 8x42: 425ft @ 1000 yards
Swarovski 8.5x42 EL: 399ft @ 1000 yards
Minox 8x43 HG: 379ft @ 1000 yards
Helios 8x42 Aero-ED: 356ft @1000 yards
Vortex Viper 8x42 HD: 347ft @ 1000 yards
Kowa 8x42 BD: 330ft @ 1000 yards
Close Focusing Distance
The minimum distance that you can focus on an object is also a pretty good 6.6 feet (2m) away - I consider anything under 6ft to be very good. So if you are looking for a full size binocular that is also not bad for viewing objects close up, things like butterflies for example then these Helios 8x42 Aero-ED's would make a good choice.
Eye-Relief:
Their maximum eye-relief of 18.4mm is very good and they easily make it onto my list of long eye relief binoculars and so this should be more than enough for most people who wear glasses.
Best Binoculars Rating for Optical Stats: 8/10
Image Quality
Testing was carried out on a partly clear afternoon and again at sunset. As I do for all my reviews, I compared the view through these Helios 8x42 Aero-ED binoculars with that of my control binoculars:
Brightness
In terms of image brightness, these were to my eyes, the same as that of my benchmark binoculars and so I rate them as very good in area.
More about brightness & Low Light Performance
Like all 8x42 binoculars, these Aero-ED's have an Exit Pupil of 5.25 and a Twilight Factor of 18.3, both of which indicate that they are fine for most low light conditions, just like what you find early in the morning and early evening when most birds and other wildlife is most active.
It is very important to remember that these figures should be just used as a guide as they do not take into account the quality of the lenses, prisms and their coatings. I have seen many cases where this can make a really big difference and where a high quality binocular with small objective lenses outperforms a binocular with larger objective lenses, but poor quality glass and coatings. But as we have already mentioned these Helios Aero-ED's use good quality coatings that help to produce a brighter image than binoculars with the same configuration, but poorer quality coatings and glass.
Color Fringing
This is where the ED glass used in these optics should make a difference as it should help to minimise the amount of chromatic aberration (color fringing). To test for signs of color fringing, I focus on light coloured and white objects that contrast greatly with something in the background and look at the edges of the light objects. This is for me always a hard one to judge and if there was any color fringing on theses, it was very minimal and so rate these very highly in this area.
Softening
Whilst not bad, the amount softening of the image on the periphery of the view is for me the weakest part of the view through through these optics. As I said it is not bad and I have seen far worse, but if you are looking for it, you can notice it, so I would rate these as good in this area.
Contrast & Colour Reproduction
To me the colors produced look natural, without any tints that you often find on cheap binoculars. The amount of contrast is also good and I thought that the depth of field was also good to very good for an 8x binocular.
Best Binoculars Rating for Image Quality: 8/10
8x42 Helios Aero-ED Comparisons
Below is a table comparing some of the main specifications of these Helios Aero-ED with a selection of other full size roof prism binoculars with magnifications of around 8x including the very top of the range Swarovski 8.5x42 EL binoculars, the mid to high value Minox 8x43 HG Binoculars, Kowa 8x42 BD and the Vortex Viper HD 8x42.
| | | | | | | |
| --- | --- | --- | --- | --- | --- | --- |
| | Helios Aero-ED 8x42 | Eagle Optics Ranger ED 8x42 | Vortex Viper 8x42 HD | Swarovski 8.5x42 EL | Minox 8x43 HG | Kowa 8x42 BD |
| Price (approx): | £199 | $440 | $450 | $2300 (£1600) | $1100 (£640) | $550 (£590) |
| Weight: | 24.3oz (690g) | 27.4oz (777g) | 24.2oz (686g) | 28.9ozs (819g) | 22.9ozs (649g) | 25.7ozs (729g) |
| Length: | 6.5in (16.5cm) | 6.7in (17cm) | 5.8in (14.7cm) | 6.5in (16.5cm) | 6.0in (15.2cm) | 5.7in (14.5cm) |
| Width: | 5.0in (12.7cm) | 5.0in (12.7cm) | 5.3in (13.5cm) | 4.8in (12.2cm) | 5.1in (13cm) | 5.0in (12.7cm) |
| Eye Relief: | 18.4mm | 18mm | 20mm | 18mm | 19.5mm | 18.3mm |
| Close Focusing Distance: | 6.6ft | 6.0ft | 5.1ft | 8.0ft | 8.2ft | 6.5ft |
| Field of View at 1000yds: | 356ft | 425ft | 347ft | 399ft | 379ft | 330ft |
| ED Glass | Yes | Yes | Yes | Yes | No | No |
| Phase Correction | Yes | Yes | Yes | Yes | Yes | Yes |
| Lens Coatings | Fully Multi-Coated | Fully Multi-Coated | Fully Multi-Coated | Fully Multi-Coated | Fully Multi-Coated | Fully Multi-Coated |
| Waterproof | Yes | Yes | Yes | Yes | Yes | Yes |
| Fogproof | Yes | Yes | Yes | Yes | Yes | Yes |
What the table above does highlight is that whilst they may not stand out too much in any particular area, they compete very well with many binoculars far more expensive than these, which in itself is impressive.
Included Extras & Attention to Detail:
Neck Strap
The Helios Aero-ED comes with a pretty basic neck strap which is nowhere near as luxurious as the very best. It only has a small amount of padding and is probably not quite as wide as I would have liked.
Carry Case
The soft nylon carry case is functional and is reasonably well padded, but once again not as much as some of the very best. It has a second internal pocket that can be used to store a few small items and would be a good place to keep a lens cleaning cloth, some money or your car keys for example. The bag has a loop on the rear which you can thread your belt through. The carry case strap works well and again is possibly not quite as well padded as some of the better ones I have used.
The binoculars fit nice and snugly in the bag, without it being too tight and you can close the Velcro fastened lid without having to retract the eye-cups which is great and something that many others get wrong.
Lens Covers
The eye-piece covers are made from a very flexible rubber/plastic and they fit very well to the eye-pieces and should not fall off to easily. I like the fact that they have a flexible bridge between the two cups that allow for the different distances between the two eyepieces depending on your inter-pupillary adjustment. This is something that is often overlooked by manufacturers meaning that the eyepiece covers wont fit, unless you store your binoculars fully open, which can be a real pain as you have to adjust them every time you use and replace your binoculars.
The objective lens covers are also made from a soft rubber and also fit very well to the barrels of the binocular and should not accidentally fall off. A feature that I really like is that they have a rubber loop that attaches them to the barrels of the binocular which saves you from having to put them somewhere safe every time you use your binoculars. If like some people, you don't like to have the lens caps hanging down from your binos when you are using them, you can just take them off and put them away.
These Helios binoculars also come with a lens cleaning cloth as well as a fairly generic instruction booklet that includes basic details on adjusting the eyecups, how to properly attach the neck strap, the inter-pupillary adjustment, how to properly focus your binoculars, lens care and cleaning.
There is a small cover or cap on the front hinge that can screw off to allow you to then screw on a binocular tripod adapter (not included) that uses the standard ¼-inch threading, which you can then attach to your tripod.
Best Binoculars Rating for Extras & Attention to Detail: 6/10
Conclusion
Strong Points: The quality of the optical components used and their coatings as well as their long eye-relief are real highlights. I also really like the open bridge design and the fact that the body is made from magnesium alloy is also good. But what I guess is most impressive is the fact that you get all this for around £200.
Weak points? The extras like the neck strap and the carry bag are adequate, but not quite as luxurious as the very best.
Ideal Uses: Like most 8x42 binoculars these make ideal birding binoculars. This is because they strike a good balance between their field of view and magnification with lenses that are large enough to make them nice and bright even at dawn or dusk or in thickly wooded areas, yet not so large that they are too big and heavy to carry about with you. I would also say that these would be great for general wildlife observation optics and good for hunting. Because of their good close focus, I would also recommend them to anyone looking for a full size binocular that can also be used to occasionally view things like flowers, butterflies, dragonflies and other insects really close up.
Whilst you could take these Helios Aero-ED binoculars on a camping trip, on safari or to an outdoor sporting event, if it is going to be your main use for them, I would suggest getting some compact or mid-sized pair of binoculars that will be easier to put in your bag or luggage.
Overall I would say that whilst they may not quite match the very best, these Helios binoculars offer extremely good value for money.
Acknowledgements
I would like to thank Optical Vision Ltd. the UK distributor of Helios Binoculars for sending this one to me to review. I would also like to point out that this and all the other reviews on this site are my opinion and are not influenced in any way by manufacturers, distributors or suppliers.