When Levenhuk Optics contacted me a short while back asking me if I would like to review their products and if so, which ones, I immediately requested that they not only send me a few pairs of their "standard" bins, but also some opera glasses which they are well known for.
This is because the majority of my reviews are on binoculars intended to be used for the most part outdoors, so to have a pair of theatre binoculars designed for indoor use is somewhat of a rare treat for me.
Below you can read my detailed Levenhuk Broadway 325F Opera Glasses review that I wrote after thoroughly testing using, photographing and researching them:
Main Specs & Features:
Galilean binoculars with LED Light & Chain
25mm Objective Lenses
3x Magnification
BaK-4 glass
Fully Multi-Coated Optics
5mm Eye Relief
Field of View: 327ft @ 1000yds
Close Focus: 11.5ft
Dimensions: 4.3in x 2.2in x1.6in
The Body
Opera glasses like these serve two main functions: Their main purpose would be to hopefully give you a better view of what is happening on stage, but they are also considered to be an important fashion accessory at the theatre or opera, which for some people is equally or even more important. Thus most manufacturers of binoculars for the opera, including Levenhuk ensure that their range comes in a variety of styles and colours to hopefully match your particular tastes.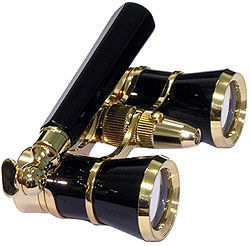 Thus whilst Levenhuk chose to send me their silver and gold version with a chain, which I will us as the example for this review, it is important to remember that you can also get what is essentially the same binocular, but in slightly different styles and colors, including ones that have a Lorgnette handle rather than a chain like the ones pictured on the right.
Shape
These Levenhuk325F Broadway's have a very typical design and shape to that of most other Galilean type theatre glasses.
That is the objective lenses are in line with the ocular lenses and is similar to that of roof prism binos, unlike porro prisms where the ocular lenses are usually closer together than the objectives.
The two barrels are connected together by a three thin and centrally hinged bridges.
Inter-Pupillary Distance (IPD)
You can adjust the distance between the eye-cups to match that of your eyes by opening and closing these central hinges. The maximum IPD (interpupillary distance) is 7cm, and I measured the minimum as being 6.2cm.
This range is somewhat less to what I am used to seeing on standard bins and thus whilst they will probably be fine for the majority of people, those that have unusually close or far set eyes may have a problem.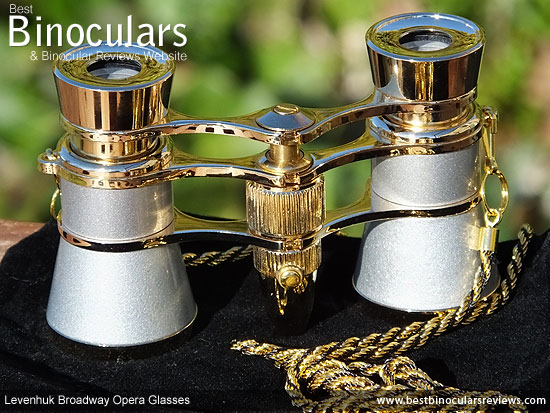 Focusing
Located at the center of the bridges on the hinge is the focus wheel. Made from metal it has grooves in it to help with grip. It turned smoothly on my test pair without any sticking points and even though it is relatively small, I had no problems in being able to accurately adjust the focus.
Turning the focus wheel moves both the eye-pieces forwards or backwards depending on which direction you turn it and so this effectively moves the ocular lenses closer or nearer to the objective lenses and it is in this way that you can focus on near and far objects.
To take the focus from the extremes of near to far takes roughly 1½ turns of the wheel, which I feel is a good compromise between being able quickly adjust the focus over a large distance and being able to easily and accurately make fine adjustments.
Diopter
These bins do not have a diopter or any way to adjust or calibrate each barrel independently and thus you cannot compensate for any differences in vision that you may have between your left and right eyes as you can with most standard binos.
LED light
Also located in between the two barrels, positioned in the center of the front bridge is a small LED light, which is there to help you find your way to your seat or find something in your bag in the dark. You turn it on via a small button on top of it.
I tested it a couple of times by walking around my house in completed ark ness and it worked rally well, but is not so bright so as to blind or overly disturb other theatergoers.
Materials
These opera glasses look to be almost completely made from metal, which has then been either silver or gold coated. The barrels also look to have had a clear lacquer coating to finish them off which really gives them a nice feel and shine to them.
Water & Fogproofing
It is no surprise that these INDOOR bins are neither fog or waterproof, which should not be a problem at all and would probably just be a little overkill if they were anyway.
Eye Cups
These Levenhuk binoculars have fixed eyecups made from metal.
This is very different to most standard bins that have either twisting or folding ones that are usually made of rubber and used for comfort and to enable you to adjust how far your eyes sit behind the ocular lens so that you can finely adjust them to suit your face or in some cases enable you to look through them with eye-glasses on and still get the full width of view.
It must also be said that whilst they look good, the metal eyecups are far less comfortable than rubber ones found on standard bins.
Eye-Relief
These glasses have an eye-relief of only 5mm, however because the eyecups are fixed at this distance behind the ocular lenses, it is fairly irrelevant anyway as you cannot adjust them and so cant make adjustments should you wish to look though them whilst wearing your eyeglasses.
Body Construction Quality: 8/10 (compared to other opera glasses)
Weight
Levenhuk advertise their weight as being 290g / 0.7lbs which does not really make sense as the two amounts in different units do not equal each other and is also quite different to my measurements:
My scales have them a much lighter 174g / 0.38lbs which includes the metal chain.
Either way and even though they are made from metal, you could never describe these as being heavy and they do have a nice and rather reassuring feeling of substance, which I far prefer to the very lightweight, but somewhat cheap and fragile feeling plastic ones.
Dimensions
Advertised as being 11cm (4.3in) wide by 5.5cm (2.2in) long and 4cm (1.6in) deep, they are nice and compact, making it nice and simple to pop into your bag or carry around.
For interest, I measured their width at an even more compact 10cm with the central hinge fully open. This reduces even further to 9cm when you close the hinge.
Body Stats: 8/10 (compared to other opera glasses)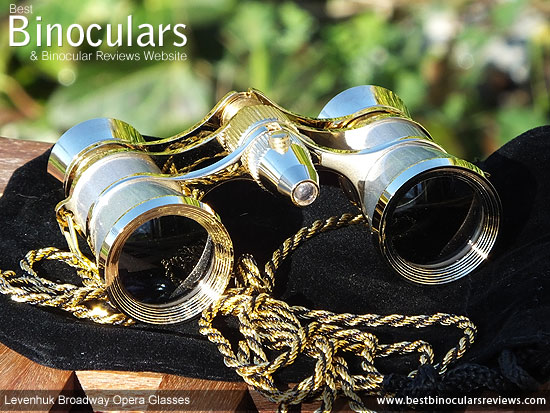 Optics
These and indeed most opera glasses have a convex objective lens and a concave eyepiece lens and as this system produces and image that is the right way up, they do not don't need or use a prism as is found in most standard modern binoculars. Known as a Galilean binocular, they are basically the same design as that used by Galileo Galilei, the famous Italian astronomer who lived from 1564 to 1642!

The advantage of this design is that it is very simple, thus with less moving parts it is cheaper to make and less that can go wrong with them. You can make a very compact and lightweight instrument.
However the negatives compared to roof or porro prism bins are a relatively narrow field of view and more blurring on the peripherals.
The Galilean design also limits the magnification to a maximum of around 4x which is another reason why it is not suitable for most outdoor binos.
Ocular Lenses
The ocular lenses have a diameter of 10mm, which is quite a lot smaller than that which is usually found on compact prismed bins.
Objective Lenses
Whilst the objective lenses have a stated diameter (aperture) of 25mm, I measured their effective diameter as being smaller at 23mm. and the missing 2mm is the part hidden by the overhang that holds them in place.
Levenhuk advertise that they use BaK-4 glass in their Broadway glasses, which for the most part is deemed to be superior to the BK-7 glass that I saw on a number of other theatre glasses within this and even a higher price point (see comparison table below).
Optical Coatings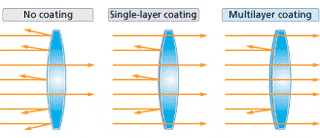 These Levenhuk Broadway 3x25 opera glasses have been "Fully Multi-Coated", which at this price level is quite impressive and most certainly not always the case on other opera glasses.
What it means is that all the optical surfaces throughout the system have multiple coats of anti-reflection material material added to them.
As you can see from the illustration on the right, this held to ensure that more light passes through each piece of glass and thus raises the level of transmittance to produce a brighter and better quality image than those that have fewer (coated or fully coated) or no coatings.
Optical Components Quality:
8/10 (compared to other opera glasses)
5/10 (compared to standard compacts)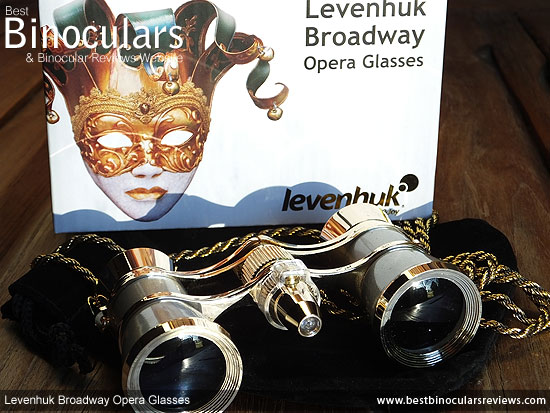 Optical Stats
Field Of View
These Levenhuk 3x25 binoculars have a field of view (FOV) that is 327ft wide at a distance of 1000 yards away (109m at 1000 meters).
As mentioned earlier one of the drawbacks to the Galilean binocular design is a comparatively narrow FOV when compared to either roof or porro prism bins, however even compared to other theatre glasses of the same design, it must be said that it's FOV is still a little on the narrow side:
Field of View @ 1000yds:
3x Magnification Opera Glasses
Levenhuk Broadway 3x25
327ft
Barska 3x25 Blueline
344ft
Konus 3x25 Deluxe
381ft
Lascala Carmen 3x25
588ft
Roof or Porro prisms with a 7x, 8x or 9x Magnification
Pentax 9x32 DCF BC
351ft
Swarovski CL Pocket 8x25
357ft
Minox 7x28 BD
384ft
A wide FOV can be an advantage in this context in that it lets you view more on stage at once without having to move the binocular about. Do keep in mind though that whilst some Galilean bins may have a very wide FOV, the image at the edges may not always be completely in focus.
So whilst the view through these is a little narrower than most and I would certainly have preferred to have had it a little wider, I would say that it is probably just wide enough and not something that you should overly worry about unless you particularly want a wide FOV.
Close Focusing Distance
Levenhuk advertise these opera binoculars as having a minimum close focus of 11.5ft (3.5m), which compared to others is not good at all.
However this figure is completely wrong and they are doing themselves a terrible injustice as I was easily able to focus on objects that I measured at being only 4.1ft (1.25m) away. This distance now puts them in line with most of the others that I have researched out there and is the one I will use when giving them their score.
Eye-Relief
The 5mm of eye-relief that you get is short when talking about standard bins, but about the same as most other opera glasses. In any case, because you cannot adjust the eyecups in anyway (unless you completely remove them by unscrewing them), the amount is largely irrelevant.
Optical Stats:
7/10 (compared to other opera glasses)
5/10 (compared to standard compacts)
Image Quality
With almost all of my reviews, I contrast and evaluate the view through the product that I am testing with one or more benchmark binoculars so that I can be as consistent as possible.
Unfortunately I do not have benchmark opera glasses and so for this section, I will just make comments based on my experience and give you an idea of what quality you can expect when compared to more "normal" outdoor compacts that use prisms:
Color Reproduction & Contrast
The image that you see whilst looking through these Levenhuk Theatre Glasses looks natural and without any sort of artificial tinting which sometimes see on cheap products that use low quality glass.
Likewise the contrast was good, felt natural and very similar to that I would normally observe on a quality pair of standard compacts.
Color Fringing
As expected, with such a low powered magnification, color fringing not an issue at all with these, indeed I found it really difficult to spot any at all. So no issue here.
Image Softening
As discussed earlier, one of the downsides to Galilean design is that the view at the edges tends to be out of focus. I found this to be the case with these and whilst it is not terrible, the amount of image softening on the periphery of the view is quite a bit more than what I would expect to see on a quality pair of standard prism binoculars.
Image Flatness
On the positive side, the image does look nice and flat and once properly focused is pin sharp (apart from at the edges).
Brightness
I thought image brightness is good, both during the day and in very low light conditions, which is what you will get indoors at the theatre.
This is is as expected, with a such a low magnification (thinner glass) and the large size exit pupil that you get with this Galilean binocular design, so no issues here.
Image Quality:
Not sure (compared to other opera glasses)
5/10 (compared to standard compacts)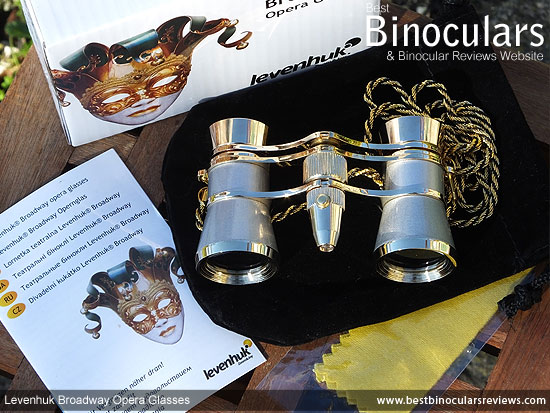 Included Extras:
Carry Bag
Rather than a carry case that most outdoor bins come with, these Levenhuk Theatre binoculars come with an included carry pouch.
Made from a velvety material, it is very simple, but looks well stitched and has a drawstring to keep the top closed.
Whilst I am more used to a more substantial and protective case, in a way this is the perfect solution for these optics as the very lightweight bag takes up almost no room and will protect the lenses from scratching whilst the bins are inside and then you can easily pop this into your carry bag, which as long as you are careful with, will protect the bins whilst you are going to and from the opera/theatre.
Neck Chain
The neck chain is once again very different to the neck strap I am used to seeing on a standard pair of bins and whilst they may not be as comfortable, they are certainly more stylish in this context.
It would also be rather unnecessary to have a padded neck strap on such a lightweight pair of optics that you will only really carry around for short distances and periods of time.
The chain looks really well made and whilst I did not test it to breaking point, feels nice and strong and I doubt will break very easily. Indeed, it would probably be the small metal clasps that break before the chain and even these I would say are robust enough unless you were to really yank on the chain.
Cleaning Cloth
It is good to see that Levenhuk have also included what is a reasonably good quality cleaning cloth with these that will be adequate for cleaning and the lenses if you are careful.
User Guide & Warranty
Included within the box is also a very basic guide that explains how to alter the interpupillary distance and focus the glasses as well as how to care for and maintain them.
There are also details of the 3 year warranty offered and what to do should you have a problem.
Extras & Attention to Detail:
7/10 (compared to other opera glasses)
5/10 (compared to standard binociulars)
Levenhuk Broadway Comparisons
I have included the main features and specs of these bins as well as that of some of their main competitors in the table below so that it makes it easy for you to compare them.
| | | | | | | |
| --- | --- | --- | --- | --- | --- | --- |
| | Levenhuk 325F | Barska 3x25 Blueline | LaScala 3x25 Carmen | Swarovski CL Pocket 8x25 | Vixen HF 5x17 DCF | Kowa YF 6x30 |
| Price (approx): | $35 / £30 | $50 | $40 | $800 / £450 | $160 | $89 / £90 |
| Type | Galilean | Galilean | Galilean | Roof | Roof Prism | Porro Prism |
| Glass | BaK-4 | BK-7 | | BaK-4 | | |
| Magnification | 3x | 3x | | 8x | 5x | 6x |
| Weight: | 11.2oz (318g) | 6.35oz (180g) | 6.35oz (180g) | 12.2ozs (346g) | 6oz | 16.5oz |
| Width | 4.3in (10.9cm) | | 3.9in (9.8cm) | 3.9in (9.9cm) | 2.0in | 6.2in |
| Length | 2.2in (5.6cm) | | 2.3in (5.8cm) | 4.3in (10.9cm | 4.0in | 4.4in |
| Eye Relief: | 5mm | 8mm | 4mm | 17mm | 14mm | 20mm |
| Close Focusing Distance: | 11.5ft | 11.5ft | 6ft | 8.2ft | 10ft | 16.4ft |
| Field of View at 1000yds: | 327ft | 344ft | 588ft | 357ft | | 420ft |
| Lens Coatings | Fully Multi-Coated | Fully Coated | | Fully Multi-Coated | Fully Multi-Coated | Fully Multi-Coated |
| Waterproof | No | No | No | Yes | No | Yes |
| Fogproof | No | No | No | Yes | No | Yes |
Conclusion
If you take these for what they have been designed for: that is a useful fashion accessory to take to the theatre or opera then these are a great little set of glasses that I have no hesitation in recommending.
However if you are expecting to find all the features and indeed all the levels of optical performance that you get with a quality pair of standard bins and wish to use them outside of the theatre, then you will most probably be disappointed.
Strong Points: Their build quality is very good and in my opinion they look as well as feel far more expensive than they are, which for a fashion accessory is important.
The included neck chain looks to have been made to a high standard, has a nice and somewhat reassuring weight to it and I feel should not break that easily.
The fact that they have used BaK-4 glass that has been fully multi-coated is also a good sign of quality.
Weak points? If you are comparing them to other similar Galilean opera glasses, then these do not in my opinion have any major weaknesses, but a wider field of view would have been welcomed.
I also feel that whilst the carry pouch is sufficient and because of its low weight and ease of storage, it is easy to take with to the opera/theatre, it would also have been nicer to have also had a more robust and decorative carry case to keep them in when storing them for longer periods.
If you were to compare them to standard bins, you will probably be a little disappointed by aspects like the relatively narrow field of view and the inability to adjust the eye-relief. But do keep in mind that these are a specialized product designed for a particular niche and not designed as an all purpose binocular.
Thus if you are only after optical performance and not bothered about looks and fitting in with the crowd, you may be better off getting a low powered pair of standard compacts that you can also use in other areas. Otherwise I would say that these are a great addition to enjoying and looking good at the opera or theatre.
Acknowledgements
I would like to thank Levenhuk Optics for firstly arranging and then sending me these glasses to review.
Genuine Review
I would also like to make it completely clear that I have in no way been compensated or incentivised by Levenhuk or indeed anyone else to write this review or indeed any other in a particular way. The thoughts and opinions I express on this page and the rest of BBR are completely my own and are written after thoroughly researching, testing and using the optics in the office and real world conditions.