Opera Binoculars & Theatre Glasses
Binocular Reviews Home > Binoculars by Use > Opera Glasses
>> Skip the blurb, show me the best theatre binoculars | Opera Glasses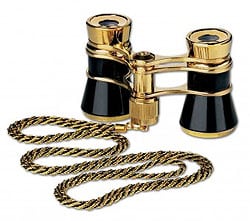 It's all in the name.
There are a number of terms used to describe optics that are used at performance events like the opera, theatre or even the ballet. These include Theater binoculars, Galilean binoculars, Opera Binoculars, Theatre glasses or the most popular, Opera glasses. For this article I will be using the terms that end in binoculars to describe standard binoculars that are also suitable to take to an indoor event and either opera or theatre glasses to describe optics specifically designed with that purpose in mind.
So just what makes a good theatre glass and what features do we need to look out for?
Magnification
Generally a magnification below 5x is recommended for an opera glass and most specialist pairs have a power of 3x. This is because at this level of magnification image-shake is kept to a minimum making watching the performance as comfortable and as easy as possible. It also means that it is easier to achieve a large or wide field of view. (importance 6/10)
Field of View
More important than the magnification is their field of view, which is basically the horizontal width of the image you can see while looking through the binoculars at a certain distance. It is important because a field or angle of view that is too narrow will prevent you from getting the whole stage into the view when looking through the optics. (importance 7/10)
Galileo Binoculars
Just like some of the earliest binoculars ever made, many specialist Opera glasses use the Galilean optical design and are therefore sometimes referred to as a Galileo Binocular.
It basically means that they have a convex objective lens but a concave eyepiece. This produces an upright image and rather interestingly a fairly narrow field of view.
The advantage of this however is that because the image produced is upright, a prism is not needed and therefore the binoculars are not only cheaper to make, but are usually much more compact.
On the negative side, they suffer from a reasonably high level of image blurring on the edges of the view.
It is just important to note that not all devices that use Galileo optics are designed specifically for the theatre or opera.
Kabuki Glasses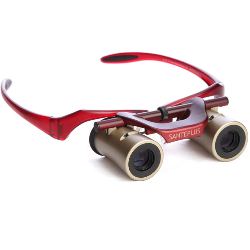 I was initially going to place the unique and dare I say it excellent Kabuki Glasses in amongst the others on this page, but I feel that they are so different that they deserve their own section.
As well as completely hands-free use, the have another huge advantage over much of the competition in this market:
Unlike most of the other glasses on this page that don't have prisms because the use the very simple Galilean design, these have an optical design that is far more similar to your standard binocular with roof prisms.
Whilst this means they cost a little more to manufacture, the results include a far better quality image without the blurring that you get on the others. This combined with their very wide field of view makes them the best theater glasses that i have ever
Read my full Kabuki Glasses Review
Opera Glasses
As mentioned earlier, most specialist opera or theatre glasses come with a 3x magnification. Most also have 25mm objective lenses, some with 27mm and a few that have smaller 18mm ones. This will make the glasses smaller, but will also mean that they take in less light, making the image that you see through them less bright, which may be a factor in dark lit theatres.
Some opera optics also feature a built-in light (usually a soft color like red) that can be very useful in low-light situations, allowing you to search for your seat number or to softly illuminate some reading materials without disturbing your neighbor. Many styles and colors are available, but with most having a classical vintage look to them.
Leading Brands
Levenhuk Optical Instruments: Based in the US, they offer a wide range of optical instruments across the globe including a good selection of theatre and opera glasses in a whole host of styles and most cost under $50 in the US or £30 in the UK but are also available throughout Europe and North America.
Find my Lenvenhuk reviews and read more about Levenhuk binoculars here.
LaScala Optics, named after the world renowned opera house in Milan are some of the most popular. Lascala have a wide range, available in five different series: Aida, Carmen, Iolanta, Othello, Rigoletto. Every piece is hand assembled and features an elegant and innovative design, with a broad choice of colors meet the requirements of most peoples tastes. Lascala Opera Glasses to my knowledge are not available in the UK, but are a leading brand in the US and prices range from about $30 to $100.
Eschenbach Opera Glasses are available in both the US and UK, Eschenbach are a German manufacturer of precision optics and make both 18mm and 25mm glasses in a wide variety of styles with prices ranging from £50 to £100 or around $100 in the US. Eschenbach Glamour and Eschenbach La Scala are their most popular models. You can read more about the company here: Eschenbach Binoculars
Zhumell Opera Glasses come in a variety of styles and designs and they also produce ones with a Lorgnette handle. Zhumell have their headquarters in the US, were they are readily available and cost under $50, they are harder to find in the UK. More about Zhumell Binoculars.
Bresser Opera Glasses: The Bresser Skala Opera Glasses are a popular choice in the UK, available in black and gold, they come in two sizes, 3x25 and 3x27 and range in price from £30 to £50. More about Bresser Binoculars.
Braun Theatre Glasses: Located in Germany, BRAUN Photo Technik produce a wide range of optical and related products that include DigiFrames, Cameras, Episcopes (Opaque Projectors), Scanners, tripods and binoculars including a range of 3x25 opera glasses that retail for under £40. More about Braun Binoculars & Opera Glasses.
Buy & Compare Prices

Lorgnette Glasses
Lorgnette opera glasses are a twist on "standard versions" in that they feature a Lorgnette handle on one end to easily lift the glasses to your face and keep them steady. LaScala Optics make some classy looking pairs and Zhumell produce some great looking versions, known as Zhumell Mezzo Opera Glasses, they come in a ruby as well as silver color and are well worth looking out for.
Buy & Compare Prices


Lorgnette Glasses on Amazon.com
Fold-up glasses
Fold-up glasses do as they say on the tin: they fold up into their own case. Because they are pocket-sized, this makes them very convenient and are easily carried in a formal clutch, purse or tuxedo jacket. Vixen Opera glasses (below) are some of the more popular ones on the market.
Vixen Opera Fold-Up Glasses
Vixen Binoculars produce a small range of pocket sized opera glasses that pop open and snap shut to fold-up into their own case. They are therefore convenient to carry to and comfortable for the viewing of concerts and operas. They will fold up to fit in most pockets, purses or formal clutches and measure 4x2x1.25 inches when closed.
These Vixen opera glasses have a 3x magnification and a 28mm diameter objective lens.
Price Range
These are a very cheap option, costing under £20 / $15 on Amazon:

Vixen Opera Glasses on Amazon.com
Theatre & Opera Glasses Reviews
Below are the detailed reviews that I have written on specialist opera and theatre glasses:
With an extremely wide field of view and low power, these small, easy to carry Vixen binoculars offer a unique view of the stars and complete constellations.

This along with their exceptional low light capability also make them and excellent choice as a high quality pair of opera or theatre glasses and a host of other uses.

Price: (3/6) Mid Priced Binoculars
BBR Ratings:
Body Quality:
8/10

77%




Excellent

Body Stats:
9/10
Optical Quality:
7/10
Optical Stats:
9/10
Image Quality
7/10
Extras & Details:
6/10
Originally designed for the theater, the high quality Japanese made Kabuki Glasses are also ideal for many other hands free uses like the opera, ballet, concerts and both outdoor and indoor sporting events.

Price: (3/6) Mid Priced Binoculars
Designed as a useful fashion accessory to take to the theater or opera, these Levenhuk Opera Glasses with their all metal construction and high quality finish both look and feel far more expensive than they are.

Optically these Galilean type binoculars are fully multi-coated and use BaK-4 glass, which beats many others in this class.

Price: (1/6) Cheap Binoculars
BBR Ratings:
Body Quality:
8/10

72%




Excellent

Body Stats:
8/10
Optical Quality:
8/10
Optical Stats:
7/10
Image Quality
5/10
Extras & Details:
7/10
A compact binocular that the Transformers would be proud of!

The Pentax VD 4x20 can be split in half and thus converted into two 4x monoculars, which in turn can be placed end-on-end, transforming it once again into a mini-sized, but powerful 16x Spotting Scope!

Price: (3/6) Mid Priced Binoculars
BBR Ratings:
Body Quality:
8/10

82%




Outstanding

Body Stats:
9/10
Optical Quality:
8/10
Optical Stats:
10/10
Image Quality
8/10
Extras & Details:
6/10
Standard Compact Bins for the Theater or Opera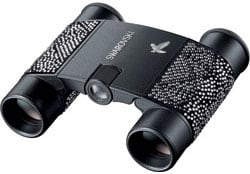 Whilst using standard compact binoculars for the theatre or opera may seem like a good idea, especially as this means you can also use them as general use binoculars as well, there are a few things that you should keep in mind. "Normal" compacts usually have a magnification that is a little too powerful and whilst this is great for a close up view of a few cast members, it does also often mean that they usually have a much narrower field of view which may prevent you from getting the whole stage into the view you see through the optics.
So if you want to use standard compact binoculars for the theatre, I would suggest keeping the magnification to a minimum. Remember 5x is the maximum recommended for a specialist opera binocular, but if you plan to use your optics for general use, then you may want to break this rule and go to 6x, 7x or 8x which means they will also work well outdoors. Also look for a pair that has the widest field of view possible, this will make sure that you get to see the whole stage without having to move the binoculars around.
Swarovski 8x20 Crystal Binoculars
Swarovski Optics, one of the worlds leading manufacturers of high end binoculars have wrapped their premium compact 8x20 binocular in spectacular Swarovski crystals to create a showpiece. So not only will these binoculars dazzle you with their performance, but also with their appearance too. These Swarovski's make great concert binoculars where the distance to the stage may be a little greater than in a smaller opera house.
For a pair of 8x compacts they have a fairly wide field of view (345 feet at 1000 yards) and there is no denying the quality of the optics used in these stunning binoculars.
The Swarovski Crystal Pocket binoculars are available in three styles and comes with a coordinating leather case and carrying strap embellished with Swarovski crystals. This unique binocular comes with a limited lifetime warranty from Swarovski.
Styles Available:
Swarovski Nabucco 8x20 Crystal Pocket Binocular
Swarovski Idomeneo 8x20 Crystal Pocket Binocular
Swarovski Tosca 8x20 Crystal Pocket Binocular
Price Range
These top of the range premium binoculars are Priced at about $800 - $1000 (£800 - £1000), or you could choose the standard Swarovski 8x20 B Binoculars, available for around $650 - 700 / £400 - £450

Swarovski 8x20 Binoculars on Amazon.com