The Swarovski EL 10x50 binocular is one of the most asked about and indeed searched for high end instruments here on BBR and so as I have already fully tested and reviewed the EL 8.5x42, I thought it would be interesting to talk about the larger, more powerful version of this iconic binocular.
So in this mini review, rather than going through every single aspect as I usually do on a full review, I will instead just go over the main differences and features that are particular to the 10x50 configuration and leave you to browse through my full review of the smaller model for all finer details.
Swarovski 10x50 Binoculars
There are actually two choices if you want to own a pair of Swarovski 10x50 binoculars, firstly you get this top of the range EL model, but Swarovski Optik also produce it in their more traditional SLC range as well.
What this means to me is that this 10x50 configuration must also be important to them and so first off I just wanted to go over the setup in general terms and discuss it's merits and downsides. By doing this I hope we can perhaps get a better understanding of why it is popular, which type of user will benefit from it and what the ideal uses that it will suit:
50mm Lenses
The main deviation of these from the "normal" full sized 42mm binocular is that they incorporate larger 50mm objective lenses.
Advantages
The main benefit of this 8mm larger diameter is that this increase in surface area on each lens makes it possible for more light to be collected. Think of it like a window: A small window in your attic only lets in a little light, whilst a large sliding glass door overlooking your garden let in a whole bunch of light. So whilst the difference here will obviously be much smaller, you get the idea.
More light collected and then passing through the instrument and on to your eyes means the potential for a brighter and better quality view, which can be especially important in low light scenarios where the available light is a limiting factor.
Disadvantages
Larger lenses are obviously bigger (doh!), but they are also heavier and cost more to make. So compared to a 42mm instrument, most 50mm binoculars will have to have a larger body to accommodate the bigger lenses and will usually be a little heavier and more expensive to make and therefore buy.
Exit Pupil
To put some numbers on how larger lenses can help with perceived image brightness, we can take a look at the size of the exit pupil (shaft of light exiting each ocular lens) different configurations produce:
A 10x50 binocular has an exit pupil of 5mm (50÷10), which if you compare it to the more common 10x42 setup and their 4.2mm exit pupil, you can see that it is substantially larger.
So especially in low light, the 10x50mm will have a quite big advantage over a 10x42 as most users will perceive a brighter and better quality image.
What is also interesting is if you consider that at 5mm, the exit pupil is only slightly smaller than the 5.25mm that you get with an 8x42mm binocular. this means that you are almost getting the same low light image brightness, but with more image detail, larger twilight factor and therefore a better twilight performance.
Main Uses
So by taking into account these main points a 10x50 is an ideal solution for anyone who is not too concerned with size and weight, but who especially wants very good low light capabilities, but also wants to maintain the little more reach and image detail than what you get with an 8x power.
I can think of many users and uses that this will appeal to, but it will especially be of interest to larger wildlife observers and hunters, especially those that operate in thick forests or woods or who go out early in the morning or late into the evening when the light is not at it's best.
As well as this there are many who consider a 10x50, especially those with high quality optics to be ideal astronomy binoculars.
Swarovski EL 10x50 Binoculars
Ok, now that we have gone through the main peculiarities of an instrument with a 10x power and 50mm objectives, let's take a closer look at this specific EL model and see just how it differs from the more traditional 42mm versions: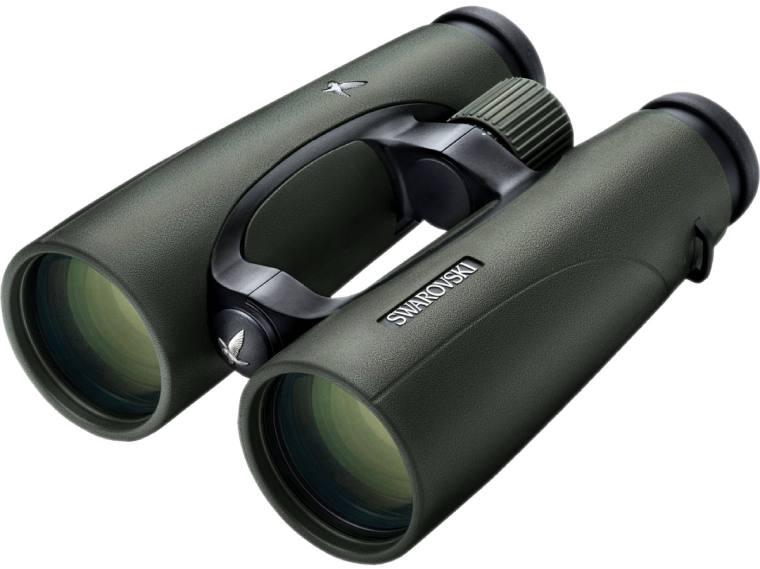 Main Specs & Features
Very High End Bins - approx $2800 / £2000
Body

Open Bridge Design
Locking Diopter incorporated into the Focus Wheel
Twist-up Eyecups
Dimensions: 6.8in (17.4cm) x 5.2in (13.1cm)
Weight 35ozs (999g)

Fully Sealed Chassis - Waterproof & Fogproof
Optics:

Fully Multi-Coated HD Optics

50mm Objective Lenses

Fluoride ED Lens Elements
Field Flattener Lenses
Exterior Swaroclean Lens coatings

Roof Prisms

Phase Correction Coatings
Dielectric Reflective Coatings

Optical Stats

Field of View: 345ft at 1000yds
Close Focus Distance: 9.2ft
Eye Relief: 20mm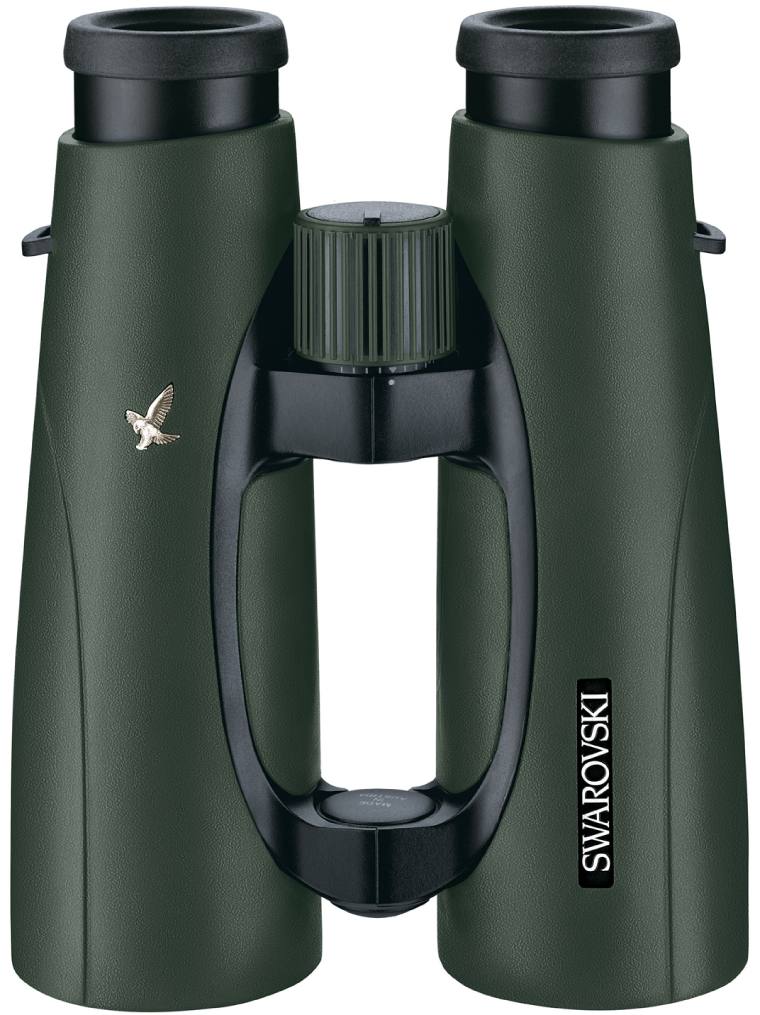 Body Design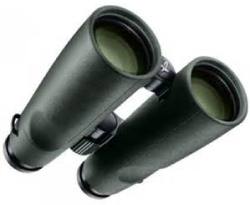 For the most part the body design and the materials used both for the chassis and the exterior are exactly the same as on the EL 8.5x42 version, so I will not repeat myself again here.
The most obvious difference by looking at them is how the barrels flair a little bit more on the ends of the Swarovski binoculars 10x50 version in order for them to accommodate the larger lenses.
One point that is worth mentioning here is how many people who have used both comment on how little difference in terms of feel and looks that there is between the 42mm and 50mm versions. Indeed unless you look closely and perhaps compare the weight between each of them, you really do not know for sure which pair you have in your hands.
Main Points
Magnesium Chassis:
Swarovski use Magnesium alloy to make the chassis on their top level binoculars. This is not only stronger than the alternatives, but is lightweight and just feels better.
Diopter:
I love this system where the diopter is not only lockable, but is integrated into the main focus wheel. This just works and makes for a nice clean solution.
Focus Wheel:
The function on the 8.5x42 model that I tested was simply excellent. I just wish Swarovski would make a better more luxurious looking wheel. perhaps out of metal and not plastic would help and fit in better with the level of the rest of the instrument.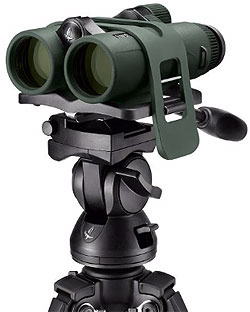 Tripod Attachment
One thing that slightly bugs me about the Swarovski EL binoculars is that whilst they are (like any binocular) technically tripod adaptable, you cannot simply unscrew the front dust cap and attach a normal tripod adapter as you can with most other bins.
Instead you have to use a different method, like Swarovski Optik's own "UTA universal tripod adapter" which works by strapping the binoculars onto a plate using a elasticated band that you wrap over the chassis.
Whilst this method works as well and is fine if you don't already own a tripod adapter, but is just a bit more of a pain if you have to go out and buy another one for your new optics.
This is an important point to some users especially for hunting and target shooters who often like to have their optics trained on a specific location over long periods.
Body Stats
So by briefly glancing at the 42mm and 50mm versions of the Swarovski EL binoculars, apart from the larger flaring on the ends of the barrels, the differences are very minor.
So what about the weight and dimensions as this is where the larger lenses should have more of an impact:
Weight
These Swarovski 10x50 EL binoculars have a stated weight of 35ozs (999g), which is a little heavier than the 10x42 version (29.6ozs / 840g), but not a massive amount and which is why I say that even ion the hands, they do feel remarkably similar.
Dimensions
In terms of dimensions the 50mm EL's are as follows:
Length: 6.8in (17.4cm)
Width: 5.2in (13.1cm)
Depth: 2.6in (6.7cm)
Compare these to the 42mm EL:
Length: 6.3in (16cm)
Width: 5.2in (13.1cm)
Depth: 2.4in (6.1cm)
So once again, there is a difference, but it is not huge.
Optics
Here again and to the best of my knowledge, apart from the different size objective lenses, the actual quality of optical glass and all the coatings used on both the lenses and the prisms is exactly the same, so I wont go over it again here.
For more details, please take a moment to read the optics section on my full Swarovski EL 8.5x42 Binoculars Review, but as you would imagine the optical components used and all the coatings are to the very highest standard and pretty much as good as it gets:
Main Points
Fluoride ED Glass Elements in the objective Lenses
Field Flattener Ocular Lenses
Fully Multi-Coated Optics using their proprietary Swarotop & Swarodur coatings
Phase Corrected Roof Prisms
Swarobright coatings on the Prisms - which I believe to essentially be dielectric prism coatings
Easy to clean and tough protective Swaroclean Exterior Lens coatings
Optical Stats
Field of View
The width of the view that you see through these Swarovski EL 10x50 binoculars is described as being 345ft at a distance of 1000 yards away from you (115m @ 1000m).
As you can see from the comparison table below, for a full sized bin with a 10x power this is excellent and a real strength of these.
If you also compare this to the 10x42 EL which has a FOV of 336ft / 112m @ 1000yds/m you can see that not only do you get improved image brightness and quality, but also a slightly wider view as well.
Indeed the FOV on these is actually not far off that of the 8.5x42 EL which is 399ft / 133m which I feel is really impressive.
Eye Relief
The 20mm of eye-relief is excellent and as such easily make it onto my list of long eye-relief binoculars and thus also makes them a perfect choice should you wear glasses.
Remember this can also be important for hunters and those at the shooting range who will often also wear glasses for the sun or to enhance the view on dull days.
Note that the 10x42 EL has the same 20mm exit pupil distance as these.
Close Focus
The slight downside to maintaining such a wide view and long eye-relief is that the close focus distance is fairly long (9.2ft / 2.8m), whilst not terrible, I would suggest that there are much better options out there if your main interest is close distance observation of insects, birds and flowers etc.
For interest, the 10x42 EL has an improved minimum focusing distance of 4.9ft / 1.5ft.
Comparisons
The table below compares the main features of these new 10x50 Swarovski EL Swarovision binoculars against a small selection of other similar binoculars in the BBR database.
Open table in full screen mode to view the full results.
Included Accessories
Carry Case
Neck Strap - One of the very best in the business
Objective Lens Covers
Rain-Guard
Lens Cleaning Kit
The included accessories that come with these Swaro bins are excellent and up there with the very best. They are also exactly the same as that which you get on the EL 8.5x42 version, so once again please take a look at that review for more details.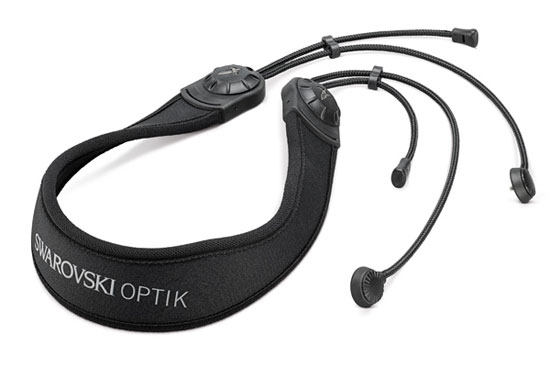 Conclusion
The big brother of the extremely popular Swarovski EL range of binoculars, the 10x50 version offers the user some very interesting advantages over the more standard 42mm versions and makes for a very interesting choice indeed.
I really like the idea of a better low light performance and wider field of view, with only a slight increase in weight and size. However this version is also a little more expensive.
What I Don't Like
At this level and for such a high end instrument there really are very rarely any areas that are so bad as to be a deal breaker.
But having said that there are always some compromises to be made:
In this example you do have a little more bulk and increased size than a normal 42mm binocular and the close focus distance will be an issue to those that need to view objects from close range.