Introduction: New Swarovski EL Binoculars
The Swarovski EL series has been around for a long time now, but they have not stood still. Instead over the years Swarovski Optik has made a number of changes to what is still their flagship range.
Whilst it is true that most of these changes are small and so may at first seem to be insignificant if you just to compare them to the previous version. But in my experience almost all of the changes made are well thought out, based on real users feedback and/or reflect improvements in technology and thus over time these slight incremental adjustments add to what was already an outstanding instrument and thus over time do make a big difference.
The latest incarnation of the Swarovski EL binoculars were announced towards the middle of last year and for the most part the changes that were made this time were to the exterior design, aimed at improving their ergonomics, aesthetics and functionality.
To take a closer look at what's new this time, as well as an in-depth look at the all-round package to see just how good they actually are, I managed to get my hands on a pair of the Swarovski EL 8.5x42 binoculars, which I tested and used extensively over a number of months before writing this complete review of them:
Swarovski EL 8.5x42 Binoculars Review
At A Glance:
Top End Binoculars - approx $1999 / £1800
Open Bridge Body Design

Dimensions: 6.3in x 5.2in (16cm x 13.1cm)

Magnesium Chassis
Fog & Waterproof
Fully Multi-Coated
Dielectric Coated, Phase Corrected Roof Prisms
Wide Field of View: 399 @ 1000yds
Min Focus Distance: 4.9ft
Long Eye Relief: 20mm
IPD Range: 5.6cm - 7.4cm
The Body
Shape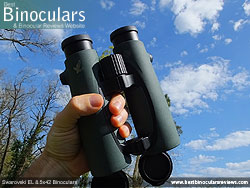 The tried and tested open hinge body design on the whole range of Swarovski EL binoculars really need no introduction. The cut-away sections offer a good and secure area to hold onto the instrument when carrying it about and in theory it can help reduce weight, but often the two thin bridges make up for the reduced amount of material needed to make one large bridge.
Chassis
Like the majority of the best binoculars out there, Swarovski Optik have used a Magnesium alloy for the main frame material. Whilst this is a far mor expensive option than the commonly used Polycarbonate plastic and Aluminium frames, it's far more robust as well as being resistant to corrosion and is one of, if not the lightest structural metals currently known.
Metal just also gives you more in terms of the feeling of quality you get when holding them in your hands.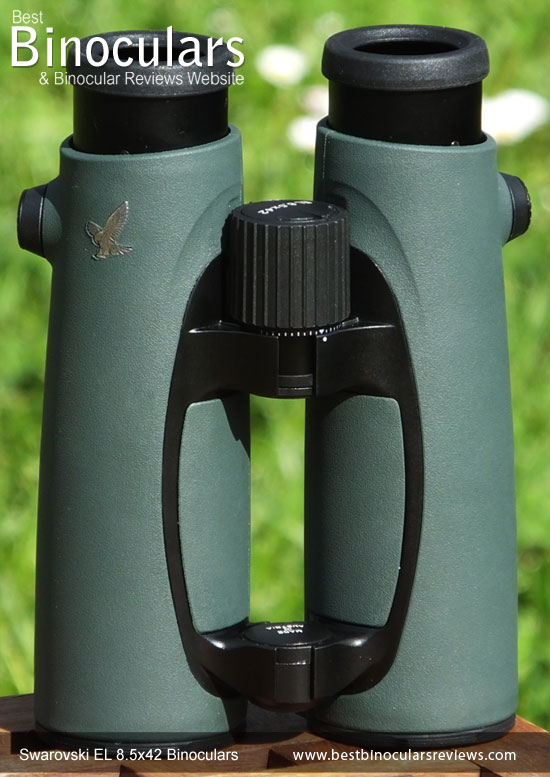 Water & Fog Protection
Like all good quality bins, the internal cavity of the Swarovski EL binoculars is completely sealed. Whilst they do not specify a internationally recognized standard, Swarovski Optik do stipulate that these are submersion tested to a depth of 13 ft / 4m in water.
They also mention that the internal cavity is filled with an inert gas, but don't specify what gas it is. Nitrogen is by far the most commonly one used, but it could also be Argon. Either of which prevent the internal glass surfaces from misting up and also help in that it stops corrosion and lens mould/fungus developing in the airless and moistureless environment. More info here: Fogproof and Waterproof Binoculars.
External Covering

To my eyes and from memory, the external rubber armouring is exactly the same as which was used on the older version of the EL.
For the most part this is a good thing as it looks to be very tough as well as hard wearing. However as it is not quite as thick and the rubber is harder than you find on some, thus it probably offers a little less protection from hard impacts.
Grip levels are good as Swarovski also add a very fine texture to the rubber.
Set back 15mm from the ends of the barrels, the lenses get far more protection than the majority of binoculars that I have used. This deep inset also prevents dust and light rain or mist from settling on the glass and thus keeps them cleaner for longer and thus will require cleaning less often.
This inset is also said by some to act a little like a lens shade used by professional photographers on their cameras to prevent glare and lens fair.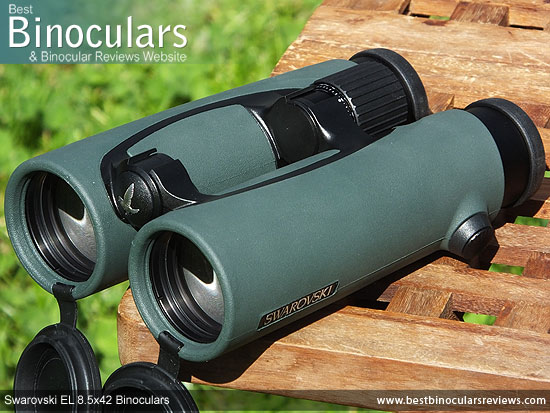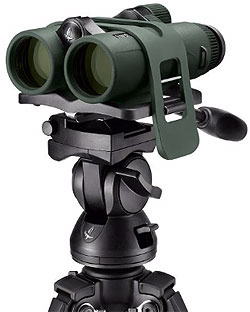 Not Tripod Adaptable
It is important to note that the dust cap containing the Swarovski logo on the front hinge cannot be unscrewed on these Swarovski EL 8.5x42 binoculars.
For some, this will be an important difference between these and that of most other full sized bins on the market (including the Swarovski SLC) as it means that you cannot simply fix these bins to a tripod using a standard tripod adapter.
You can of course use other methods to fix these bins to a tripod and indeed Swarovski do have their own "UTA universal tripod adapter". Pictured on the right, it has a strap that fits over the binocular and which you then fix to your tripod.
Eye-Cups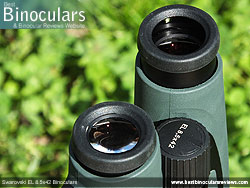 Also remaining unchanged on this latest version of the EL are the twist-up eye-cups and their housings which are truly excellent and for my money easily rank amongst the very best.
Apart from the small rubberized sections that provide just enough padding to make them comfortable against your face, they are all metal which does make them heavier, but they are also far classier and more importantly stronger than the majority of others which are fashioned from plastic.
As well as this they can be unscrewed and replaced, which considering that this is the most common area on a bin to get damaged when dropped for example is really important.
These metal cups, along with the all metal eye-piece housings also make for one of the best twist-up actions that I have ever used. Silky smooth, you get two intermediate click stops for added flexibility and there is zero free play or unwanted movement that is quite common on lesser optics.
Long Eye-Relief
With 20mm of eye-relief the Swarovski EL 8.5x42 binocular makes an ideal choice for eye-glass wearers as there is plenty of space for you to be able to position your eyes at the correct distance behind the ocular lens, even with your glasses on. Combine this with their excellent adjustable eye-cups and you most certainly have one of the best long eye-relief binoculars that you could ever hope for.
IPD - Inter-Pupillary Distances
You can adjust the distance between the eye-cups to match the space in between your eyes in the usual way using the central hinges.
These Swarovski 8.5x42 EL Binoculars have a minimum IPD setting of 5.6cm and a maximum of 7.4cm, a standard range that means that they should cover most users out there.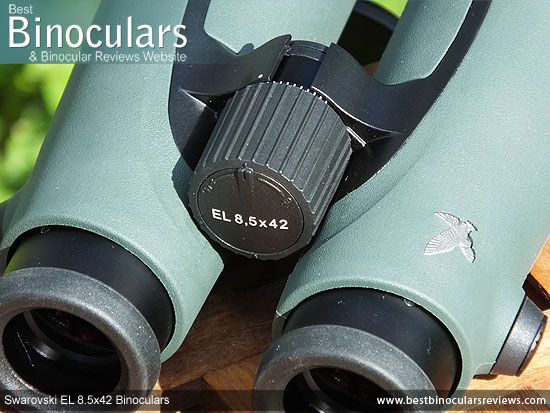 Focus Wheel & Focusing
There is plenty to like about the focus mechanism on the new EL, but there are also a few things that niggle me a little as well.
I'll start with the good: The wheel is perfectly placed, prominent enough and thus easy to reach, with a diameter of 30mm and 25mm long, it is also reasonably large. Combine this with a deeply grooved rubberized track and a silky smooth action and you have a focus wheel that makes it super easy to make the finest adjustments quick and accurate, even when wearing my thick winter gloves.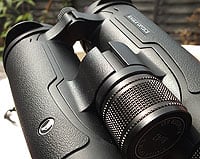 The niggles: For a focus wheel on what is an ultra premium product, it has to be said that whilst in no ways terrible, it would not look out of place on a mid or even cheap binocular.
Sure it would probably add a few extra grams to the total weight of the instrument, but for me it would have been just a bit more classy and in keeping with the rest of the ultra high level of components if the focus wheel was metallic, or at least if the face plate been metallic rather than plastic and perhaps it could have featured an embossed Swarovski Optic logo, rather than the cheap looking "EL 8,5x42" marking that they have used.
For example take a look at the Eagle Optics Ranger ED or the Minox HG 8x43 focus wheels on the right... far more beautiful and classy.. or is that just me?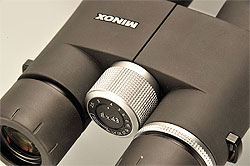 Apart from this, as I say it really does work excellently - my sample was as smooth as you like with absolutely no free play or stiff sections at all.
One other point to mention is that like many of their other bins, Swarovski have opted for a very low geared focus mechanism as it takes 2½ rotations (900°) of the wheel to move the focus plane from the near to far extremes. The advantage being that it makes it easier to make fine adjustments to the focus and get it pin sharp. On the other side of the coin, large adjustments take just that little longer. As to whether this is good or bad is largely up to personal preference.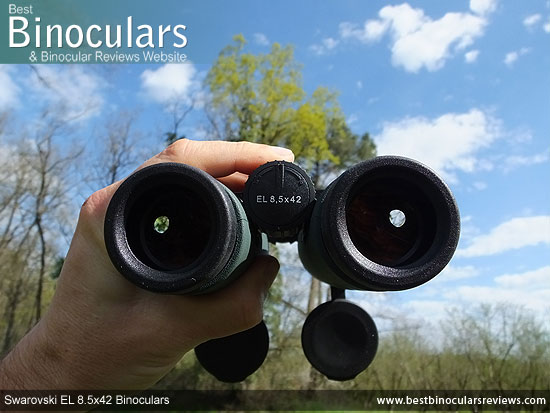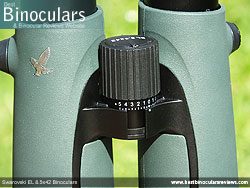 Diopter Adjustment
The vast majority of bins enable you to adjust the diopter and thus calibrate your binoculars to your specific vision via a ring that you twist located near the right eye-piece. On the Swarovski EL 8.5x42 binoculars, the diopter adjustment mechanism is incorporated into the focus wheel.
To adjust it, you simply pull back the focus wheel and it clicks out revealing a marked scale, Then you turn the wheel as you would when focusing, but rather than turning with the smooth action like the standard focusing mechanism, the diopter adjustment turns with very fine clicks that lets you know that you are adjusting the diopter.
Then once you have set up the binocular (see how to calibrate your bins here), you lock the diopter setting in place by clicking the wheel back in place. This system works really well.
It is also the small things that really add up to make a difference - Not only is the diopter lockable, so that your setting is safe from accidental movement, but I love the fact that unlike almost every other bin on the market, Swarovski have included a scale on the diopter.
This very simple inclusion makes it far easier to remember your personal setting and return to it, should you share your bins with someone who has a different setting. For the life of me, I simply can't understand why most other manufactures don't do the same.
Rating for Body Construction Quality: 9/10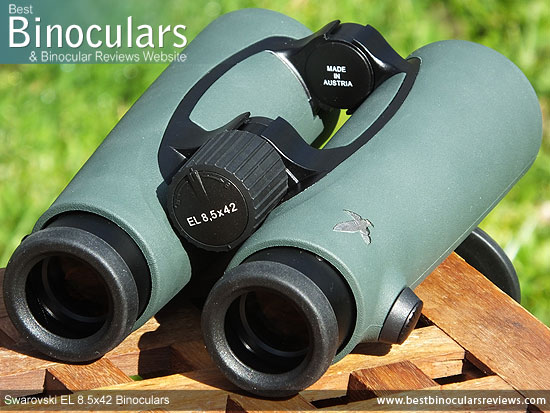 Weight
Whilst they don't feel too heavy, at 29.5oz / 835g, the Swarovski 8.5x42 EL binoculars are amongst the heaviest standard bins that I have come across.
To be fair to Swarovski, with features like their magnesium chassis, all metal eye-pieces they do contain far less lightweight plastic than you normally find on cheaper (and inferior) instruments, but even so they are still a little heavier than many other high quality bins on the market.
Dimensions
Swarovski advertise the 42mm EL as having a length of approximately 6.3in / 16cm, which is indeed the measurement I came to with the eye-cups twisted in and without any lens covers attached. Twist out the eye-cups and the length increases to 17cm. The add the objective lens covers and the rain guard and you get a maximum length of 18.3cm.
Likewise the advertised width is 5.2 inches / 13.1 centimeters and the height at 2.4in / 6.1cm, which is taken with the hinge fully open. By closing it, the width decreases to 11.2cm and the height increases to about 6.5cm.
As you can see from the table above these dimensions are relatively standard (if a fraction on the large side) for a full sized 42mm bin.
BBR Rating for Body Stats: 8/10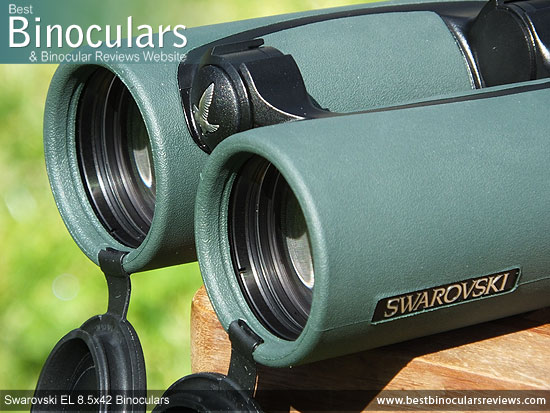 The Optics
Swarovski Optik keep their tried and trusted HD "SWAROVISION" optical system on the new EL. This is essentially a combination of some of the very, very best optical components, technologies and coatings, which I will do my best to go through below:
Ocular Lenses
The diameter of the ocular is an impressive 23mm, which is as large as any full sized binocular out there.
Field Flattener Lenses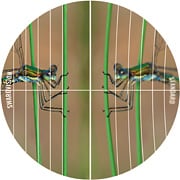 An important feature of these EL 42 Swarovision binos is the use of field flattener lenses in the eye-pieces. Only found on high end optics, they improve the view by reducing distortions across the whole image:
When you focus most binoculars on an object that sits at the center of the view, some of the area on the edges of the view may be slightly out of focus. Likewise focusing on an object at the edge of the view, often means that it may be slightly out of focus at the center.
Thus what a field flattening lens does is to shift the focal points across the whole surface to lie in the same plane making the edge of the view and the center of the view come into focus at the same time to produce an image that looks sharp right across the field of view with less distortion. Swarovski have a nice graphic which I have added on the right to illustrate this. As I said, having these "field flatteners" is very impressive because only a small percentage of the very best binoculars use this in their lenses.
Objective Lenses
Fluoride HD Glass
Each of the 42mm objective lenses on these Swarovski 8.5x42 EL Swarovision binoculars contains one element that has extra-low dispersion glass containing fluoride that enable them to reducing the light dispersion and thus limit chromatic aberrations to an absolute minimum which in turn have the potential to almost eliminate color fringing and deliver a sharper image.
I think it is worth mentioning that whilst it is probably the most effective/best method of reducing these distortions, ED glass containing Fluoride is just one way for manufacturers to make a lens with extra low dispersion properties. These days you can find many much cheaper binoculars that have ED glass lenses made from ordinary flint and crown glass combinations. These are usually better than "normal" low dispersion glass (if well designed), but normally not quite as effective as well designed lenses containing Fluoride like those used on very high end optics like these and the Zeiss Victory HT binoculars for example.
Lens Coatings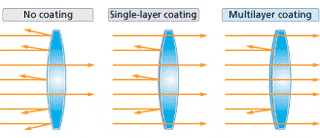 All Swarovski EL binoculars are fully coated with their patented Swarotop & Swarodur coatings. These are essentially their own cocktail of multi-layered, wide-band anti-reflection coatings that are designed to minimize unwanted reflections from the surfaces of their lenses.
So what does this mean for us and why is it important? Well as light hits the surface of the lens, some of it gets reflected away, potentially causing unwanted effects like lens flair and reducing the amount of light traveling through the optical system and thus adversely effects the image quality and brightness.
So to reduce the amount of light reflected away almost every decent quality binocular uses some sort of anti-reflection coating(s) on the lens surfaces. However, not all are created equal and to save costs some use a single layer on all or even just some of the air-to-glass lens surfaces.
As you would expect with a bin in this class, Swarovski apply numerous layers of at least one of these special optical coatings to each and every air to glass lens surface and they claim by using these they can reduce the surface light reflection from a level between 4 and 6% to an impressive 0.2% and they say also give a "noticeably better colour reproduction".
The outer lens surfaces have also had their Swaroclean Lens coating applied to them. This is a non-stick coating designed to make cleaning your lenses easier. This initially may not sound like a big deal, but remember making it easier to clean away stuff like oil, dirt and water marks from your lenses means you have to apply less pressure when you do it, which in turn means you have a far lesser chance of scratching the glass and it's coatings, ensuring the last a whole lot longer in a perfect condition.
Prisms
These Swarovski EL 8.5x42 binoculars use roof prisms to invert the image after it has passed through the lenses. This prism design has a number of advantages over the other commonly used porro prism, including allowing for a more compact and sleeker designed body. But on the flip side, roof prisms also have a number of issues that can affect their optical performance if not addressed:
P-Coatings
As the light reflects off the surfaces of the glass on the roof prism, it diverges into two slightly out-of-phase beams of light. This is known as "phase shift" and left uncorrected produces a lower resolution image with less contrast.
To correct this, the best optics add phase correction coatings to a surface on the prism and Swarovski call this their P-Coating which is used on this EL binocular.
Highly Reflective Prism Coatings
The next drawback to a roof prism is that one of the surfaces does not reflect all of the light that hits it and so left uncorrected, less light gets through the optical system and onto your eyes.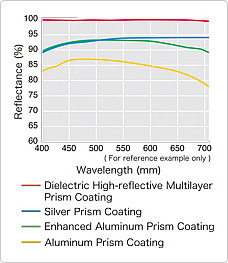 To improve the amount of light reflected manufacturers add highly reflective coatings to this surface. The cheapest way of doing this is to add a mirror coating made from aluminium which has a reflectivity approx 87% - 93%. Silver mirror coatings cost more, but can improve this reflectivity to about 95% -98%, but can result in the images having a slightly yellow tinge to them.
Then at the very top you get dielectric prism coatings that boost the reflectivity to more than 99% across the entire light spectrum and so not only are images brighter, but have a much more natural appearance (true color fidelity).
Whilst they do not specify it, I believe that this is pretty much what Swarovski call their Swarobright coatings that are used on this EL series bin.
Indeed through some research, I think it was actually Swarovski Optik that invented the elaborate and indeed expensive process of adding a large (over thirty) layers of dielectric material that are tremendously thin to create a mirror on the prism which dramatically increases the amount of light transmitted.
Optical Components Quality Rating: 10/10
Optical Stats
8.5x42 Configuration
It is no accident that 42mm diameter lenses are the most commonly used size on full sized bins as for the most part they offer a great balance between maintaining a reasonable portable size (and weight) instrument and light gathering potential.
However rather than they typical 8x magnification, Swarovski Optik have decided to increase this a fraction to 8.5x. So apart from the obvious very slight increase in image detail, what difference does this make:
The Field Of View (FOV)
Well a higher power also generally reduces the width of the view and there is no doubt that had Swarovski used the same eye-piece make-up but reduced the power to 8x they would have achieved an even wider Field Of View, but at 399ft / 133m wide at 1000yds / 1000 meters, their FOV is plenty wide anyway and should be more than adequate for all uses.
Compared to your standard 8x42 binos and their 5.25mm diameter exit pupil's (42 ÷ 8 = 5.25), at 4.9mm (42 ÷ 8.5 = 4.9) these Swarovski's will potentially appear less bright (compared to equal quality 8x42 bins) in very low light conditions once the pupils in your eyes dilate.
Close Focus
The shortest focussing distance on these 8.5x42 Swarovski EL binoculars is only 4.9ft / 1.5m, which is fantastic and substantially closer than the majority of their competition.
This makes these an excellent option if you also enjoy viewing birds, flowers, butterflies or other insects from closer ranges.
Eye-Relief:
With 20mm of eye-relief and superb eye-cups, these are for me amongst the very best long eye-relief binoculars available and a perfect choice should you like to or need to wear your glasses when binning.
Optical Stats Rating: 9/10
Image Quality
To sum up the image quality as a whole, I would describe it as sublime and as good or better than any bin that I have ever looked through in all areas. To arrive at this conclusion, I compared the view through these against my mid range and top end 8x42mm benchmark bins that I use for all my reviews in a range of areas:
Colour Reproduction & Image Contrast
As you would expect with any quality binocular, there was no noticeable tinting of the image caused by inferior glass or coatings on the Swarovski EL 8.5x42 binoculars. Indeed I thought that whilst they were nice and vivid, the colors were very neutral and natural looking.
The same could be said for the level of contrast. In almost all light conditions, I thought that the contrast between light and dark was good giving a good sense of depth to the image. Lower quality optics can sometimes look a little flat and either seem a little washed out in bright light or dull in poor light.
Color Fringing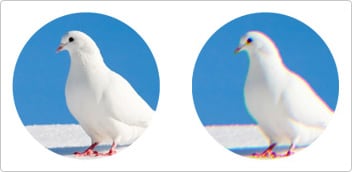 As I discussed in the optics section above, the Swarovski EL 8.5x42 binoculars have lenses with elements made from fluoride that enable them to limit chromatic aberrations to an absolute minimum and thus potentially limit color fringing to the lowest possible levels.
To test this I carefully looked along the edges of objects that had a high contrast to their background. It was only under extreme situations like when looking very carefully at a black telephone line against a bright sky that I noticed a small line of color fringing. In my experience this very small level is excellent and is on a par with the very best.
Distortions and Softening
Softening of the image right at the edge of the view is also very minimal and I was never aware of any distortions that can make the image look like it curves either inwards or outwards.
Image Brightness & Low Light Performance
How bright you perceive an image to be depends on a large extent to the size of the exit-pupil and how it compares to the size of pupils depending on the available light (for more on this take a look at my guide to the exit pupil).
However other very important factors are the quality of glass, the coatings that are used as well as the precision that they are are all put together within the optical system which ensures that as much of the captured light gets transmitted to your eyes. So to evaluate the image brightness, I compared the view through these with my 8x42 benchmarks in good and poor light conditions.
Understandably and rather predictably, perceived image brightness between all three looked to me to be equal in good ambient light. However in very poor light, compared to the mid range 8x42 benchmark I did observe a brighter view through the Swarovski.
In these same conditions image brightness between the Swarovski 8.5x42 EL and that of my very high end 8x42 benchmark looked to me to be equal. If you consider that the Swarovski has a smaller exit pupil of 4.9mm (42÷ 8.5 = 4.9) than that of an 8x42 (5.25mm) then this is really impressive.
Image Quality Rating: 10/10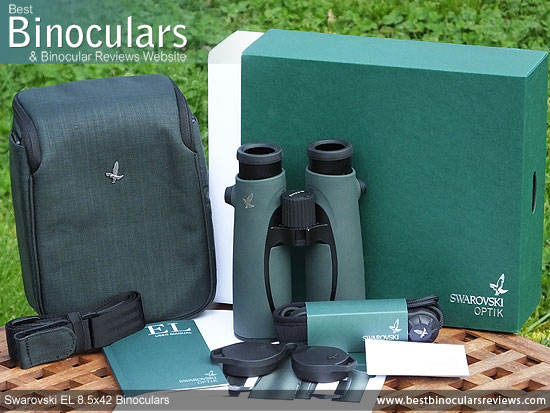 Accessories:
Carry Case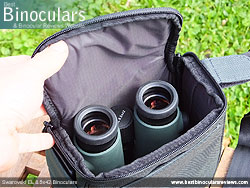 More rectangular in shape, new EL carry case is a slightly different design to that which I have been supplied with from Swarovski in the past. What remains unchanged is the superb craftsmanship and use of high quality materials in it's construction:
The semi-soft bag may not provide as much impact protection as a fully hard case, but it is more lightweight and there is plenty of padding that should protect the enclosed instrument from all but the very worst accidents.
The flip over lid is held closed via a long Zip that may take a little longer to open and close, but is far more secure than a simple Velcro strip or magnetic button that is often used instead.
Swarovski use exactly the same case for these and the 50mm EL's and so the smaller 42mm EL's fit inside with plenty of room to spare and thus are easy to take out and return. However being very critical, I would say that there was a tad too much room as they do have a tendency to flop about a bit inside, rather than being held firmly in place which would be more preferable.
There are no separate pockets internally, but there is one on the rear of the bag. However it cannot be fastened closed, so I would suggest if you plan on storing anything of value (like money), you may consider keeping it in with the bins.
Whilst not padded, Swarovski Optik include a very well made and high quality carry strap with the EL bag. It can be adjusted in length and attaches to a couple of buckles on the side of the case with a quick release Velcro fastening.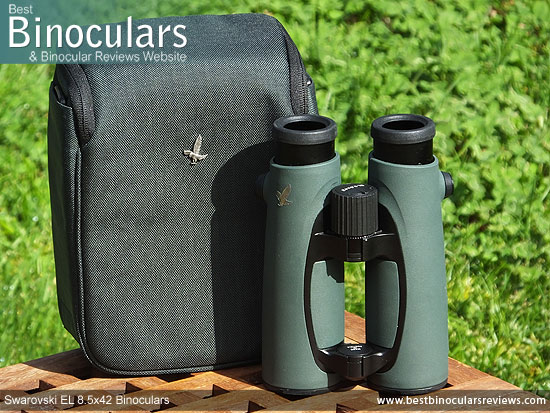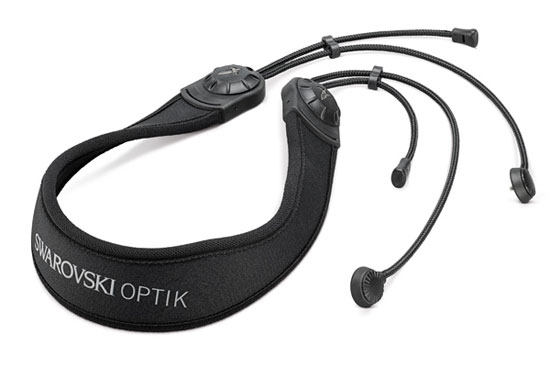 Neck Strap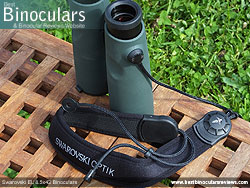 One of the most obvious changes to the latest Swarovski EL range is their new neck strap design that forms part of what they call their "FieldPro package". It is obvious that a lot of time and thought has gone into this often underappreciated accessory and which after using it is now easily the best that I have ever used and this is why:
Rotating Connection: With a few exceptions, the most common method of fixing a neck strap to a binocular is by threading it through a loop on the side of the bin and then back through a strap slider. Whist this usually works well enough and you can adjust the strap length, it is always a little bit of a pain to set it up, you easily get a twisted strap as it cannot rotate about the binocular and is often a little untidy as you are usually left with loose lengths of strap on the sides that can just flap about.
Swarovski Optik have very cleverly designed around these issues as their new strap fixes to the bino via a couple of small T-shaped pins that you thread through a loop on the end of the neckstrap and then click into a port on the side of the chassis. Sure because it is all new, the first time you do it takes just as long as before to setup, but once you get your head around the concept, it becomes a far quicker and indeed tidier solution.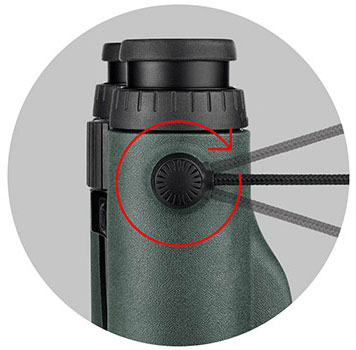 However the best aspect to this new fixing method is that the pin allows the strap to rotate freely 360° around the binocular and so this, along with the bootlace cord design completely eliminates the twisted neck strap that is oh so annoyingly common with the traditional system.
Indeed for me the only potential downside to this system is the possibility of loosing either the small pins or the rubber spacers when you are fixing or removing your strap as they are quite small and can easily be dropped and then lost, especially if like me you decide to do it when out in the field - something that happened to me... luckily I managed to find it again!
Length Adjustment: Swarovski have designed a circular shaped locking device at the point where the thin bootlace cord connects to the thick padded section of the neck strap. To adjust the length you simply unlock it by turning it and then slide the cord up or down to lengthen or shorten it. This system works well, is easy to do, secure when locked and is much neater looking than the traditional slider.
Padding: The main padded section looks to me to be the same as that which was used on the previous version of the EL, which is great news as it to is excellent.
Made from neoprene, it has a curved shape to offer a better fit around your neck and shoulders and combined with about 6mm of padding, it is very comfortable.
For more on this excellent strap, take a look at the video below produced by Swarovski Optik that demonstrates the main features and how to attach it to the bin:
Objective Lens Covers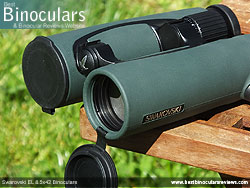 Due to all the benefits, tethered objective lens covers are now found on almost all modern bins, so there is nothing new here.
However whilst most achieve this buy using a rubber loop that you place around the end of each barrel, Swarovski have opted for having the cover permanently fixed to the body of the bin at the end of the barrel.
No doubt this looks far cleaner, however one downside to this aspect is that unlike the rubber loop solution, you cannot completely remove the covers if you wish.
The covers themselves are made out of a tough rubber and fit perfectly into the ends of the barrels, which once again makes for a far cleaner more streamlined look than those that it over the barrel ends.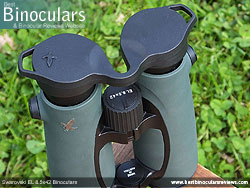 Rain-Guard
The included Swarovski rain-guard looks to be made from a tough rubber/plastic and fits nice and securely to the eye-cups, without being too difficult to take off or replace.
The bridge between the two cups is not quite as flexible as it might be, but it still bends enough so that you can attach the cover to the bins no matter what your inter-pupillary distance setting is.
On the edge of each cup there is a loop, through which you can thread the neck strap and thus keep it close at hand and easy to replace as soon as you have finished glassing.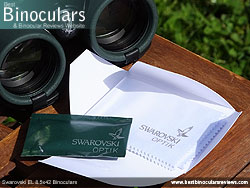 Lens Cleaning Kit
Unlike most bins that simple come with a cleaning cloth, Swarovski include a basic cleaning kit with the optics. So not only do you get a very good quality microfiber cleaning cloth that is better than most, but also a single use, moistened cleaning tissue for emergency use when out in the field.
However as good as the cloth and the tissue are, I would still highly suggest that you also invest in a Lens Cleaning Kit to keep these superb optics clean without the risk of damage.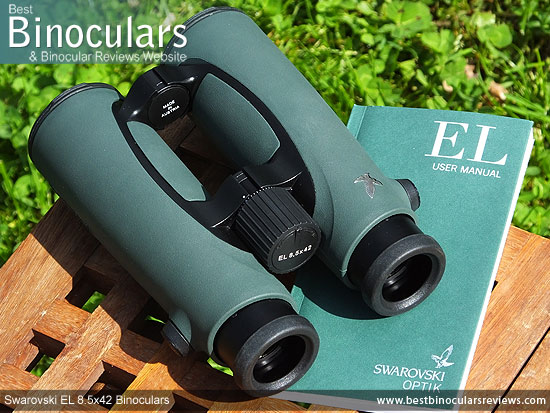 User Manual & Warranty
Whilst this is far from being the most important aspect, the quality and comprehensive nature of the Swarovski user manual is testament to the attention to detail that they show in every single area on this product and goes way beyond that with which you usually find.
It comes in the form as a booklet and includes all the main topics like how to use and look after the device and there is also a pull out sheet that contains all the technical details of the series. On the back cover is the warranty card and details of the worldwide 10 year guarantee.
Extras & Attention to Detail Rating: 10/10
Swarovski EL 8.5x42 Comparisons
Conclusions:
There is no doubt that this Swarovski EL 8x42 binocular is a beautiful, exceedingly well made, high performance optical instrument and in my opinion rightly deserves the reputation as being one of, if not the best overall binocular that you could ever hope to own.
Strong Points: Build quality and the quality of materials and components used on every single aspect of this product, including the accessories is as good as it gets. Period.
The use of the best glass and coatings and their obvious technical expertise translates into an incredible view, which is matched by a few, but in my experience never surpassed.
The eyecups and 20mm of eye-relief is excellent and whilst not class leading the field of view is up there with the best in this size category, which if you consider that they have a slightly more powerful 8.5x magnification makes it even more impressive.
Their minimum close focus distance is superb.
I love the new neckstrap, the design is no gimmick and Swarovski have obviously put a lot of thought into it and have developed a system that is simple better than most other solutions.
The lockable and very easily adjustable diopter adjustment that is incorporated into the focus wheel is excellent and far superior to the normal alternative of having a ring located near the eye-piece.
Weak points? As we know nothing in this world is perfect and so as you improve in one area, you usually find (especially with optics) that you then loose in another: So the fact that the Swarovski EL 8.5x42 binocular has a very tough and robust chassis, using far more high end quality metallic parts than most others that use cheaper but more lightweight plastic parts means that these binoculars are pretty heavy when compared to most other 42mm binoculars. So if your main criteria is low weight then these will be far from ideal.
Whilst it works like a dream, the look of the focus wheel is in my opinion is a little cheap looking and not in keeping with the rest of the device.
Whilst you can still fix it to a tripod, it is a shame that these Swarovski binoculars cannot accept a standard tripod adapter.
Final Words
So if it is a cheap or lightweight and compact 8x42 that you are after, then I would suggest that you look elsewhere, but other than that, if you are looking for the ultimate pair of 42mm binoculars, then you will most certainly not be disappointed with the Swarovski EL 8.5x42 binoculars. These are for me now the reference point and by which all others need to aspire towards.
Ideal Uses:
8x42 binoculars are in many ways the ultimate configuration as an ideal all-round and general use binocular as the best ones combine a good level of magnification, with a wide view, let in plenty of light and yet are not too big or heavy to easily carry about.
So as these Swarovski 8.5x42 EL binoculars are really in my opinion one of and perhaps even the best 8(ish)x42mm bins currently available, then it stands to reason that they must be one of the best all-round general use bins that money can buy - without doubt.
The wide field of view has a number of advantages, but will appeal to most birding as it makes it easier to track small, faster moving, unpredictable birds from close distances. Add to this the sublime image quality and brightness and you have the main ingredients for the perfect bird watching binocular.
These same features and their undoubtably tough and waterproof magnesium shell, durable rubberized coating and scratch resistant lens coatings combine together that will make even the fussiest hunter smile. However if you are after a hunting specific bin that contains a rangefinder, then Swarovski also has that covered with their EL range series.
In terms of size and weight, they are on the larger heavier side for a full sized bin and so may not be the ideal choice for travel, thus if you are after a bin specifically for adventures like a safari then I would suggest taking a look at something like the Swarovski EL 10x32 binoculars instead.
Their extremely close minimum focus distance also makes them an ideal bin for viewing butterflies, other insects, flowers or even birds from closer ranges.
Genuine & 100% Honest Review
Apart from having Swarovski Optik send out a sample for me to test (which was then returned), I have no connections or vested interests in the brand over any others and so the words that I have put down in this Swarovski EL 8.5x42 binocular review are my own and completely honest opinions and thoughts on the device. If I think something is worth mentioning, be that a good point or a bad one, I do so without hesitation.