Eagle Optics, a leading optics retailer in the US describes the Vanguard Spirit XF 10x42 Binoculars as having "User-friendly features at a budget-friendly price." Cabela's describe them as being "value-loaded", whilst Vanguard themselves say that their Spirit XF binoculars will "outshine other optics in its price class."
So as you can see the emphasis on these is definitely on their low price-point and that they believe that you get really good value for money, or to put it another way: plenty of bang for your buck!
However, those comments come from retailers and the manufacturer and so you expect them to be fairly positive and upbeat about all their binoculars, so just how well do they perform and what kind of quality can you expect from what is effectively Vanguard's third tier binoculars?
To find out just how well I think they perform and if they do indeed offer great value for money, please read my full and detailed review of the Vanguard Spirit XF 1042 Binoculars below:
Selected Features & Highlights
Open Bridge Body Design
Fairly Lightweight: 23.5oz (665g)
Fully Multi-coated Lenses
BAK-4 Prisms
100% Water & Fog Proof
Eye Relief: 16mm
Field of View at 1000yds: 332ft
The Body
Like so many modern roof prism binoculars, the Spirit XF series has an open bridge body design. Apart from the aesthetics, there are actually quite a few pretty good reasons why this body design is currently so popular:
When carrying your optics with just one hand, an open bridge makes a binocular far easier and more secure to hold onto. I find that I often carry my optics this way when walking over difficult terrain or through thick undergrowth because unless you are using a harness, the neck strap or even the binocular can get caught up and snagged if you carry them around your neck. Carrying them one handed means you can also use your free hand to steady yourself or to clear a path.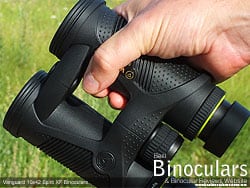 Another good example of where this design helps is if you are climbing over rocky and very hilly terrain. In these situations, t is very annoying to have a binocular dangling from your neck and there is always the possibly of them hitting against a rock or other obstacle as you climb and scramble about. Simply holding them in your hand helps to overcome this problem and the open-bridge design ensures that your grip on the binocular is just that bit more secure because you can wrap your hand completely around one barrel.
On top these ergonomic benefits, the open bridge can also helps to reduce the overall weight of the instrument:
Weight
The Vanguard 10x42 Spirit XF weighs 23.5oz (665g) which places them with some of the lightest good quality full sized bins that I have reviewed. To put their weight into context, take a look at these other Vanguard models and similar sized optics:
So as you can see, compared to many in their size class these are pretty lightweight, but weight alone can sometimes be a little misleading: This is because sometimes they are made from very lightweight, but much weaker and inferior materials (like plastic). This is usually the case with very cheap binoculars, but thankfully not the case with these Vanguard binoculars - for more take a look at the section on chassis construction and general build quality below.
Dimensions
With their eyecups fully retracted, I measured their length as being 14.6cm (5.7in), completely twist out the eyecups and it extends their length to 15.4cm (6.1in). Their advertise length is 15cm (6.0in)
Folded (inter-pupillary adjustment set to it's minimum), the distance between the centers of the eyepieces is 5.6cm (2.2in) and the width of the whole binocular is 12cm (4.7in) at their widest point.
Fully open the hinge and the inter-pupillary distance is 7.5cm (3in) and they are 13cm (5.1) at their widest point, which is also their advertised width.
I measured their height at the maximum point as 6cm (2.4in)
Overall, these dimensions are fairly compact for a full-sized binocular an in my hands, which I would describe as being fairly "average" they were comfortable, nicely balanced and the central focussing wheel was easy to reach and turn without having to adjust from the standard grip when holding them up to your eyes.
Best Binocular Rating for Body Stats: 8/10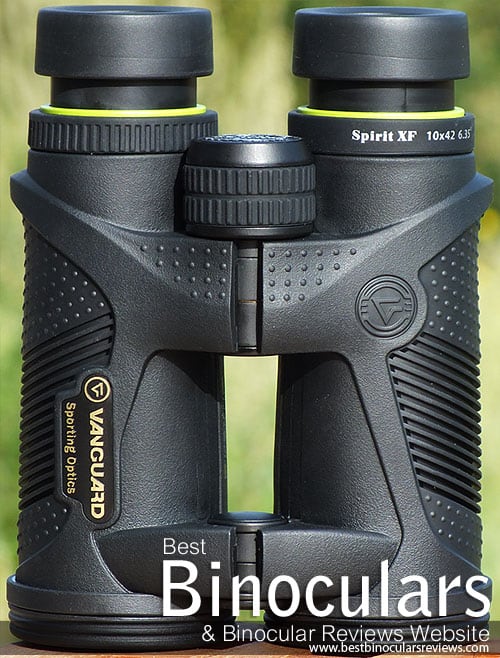 Chassis Construction
Unfortunately I have not been able to find out exactly what the frame of the Spirit XF 1042 is made from, but they seem to be nice and robust and have an overall feeling of being nice and solid. Just taking their low weight into account, I would guess that the chassis was made from either magnesium or aluminium and considering their low price point, it is most probably aluminium.
External Covering
The entire exterior surface on the Vanguard Spirit XF is covered in a fairly thick, but quite hard rubber armoring. This body armor will obviously help to protect them from day to day knocks and bumps. But as well as this, the strategically placed dimples and deep grooves cut into the armor helps to ensure that you have a really good and secure non-slip surface to hold onto.
Unlike many open bridge binoculars, the two thin bridges on this Spirit XF have also been covered with the rubber armor which is great because apart from the obvious benefits of the rubber covering mentioned above, it also makes the body less reflective than if all or even some of the metal was left exposed. This can actually be an important feature, especially if you want to remain hidden like when when observing timid birds and other wildlife.
Another benefit of this armour is that it helps to dampen down any sounds, when something like your watch or ring strikes against the barrel, which once again is important if you want to remain undetected.
Unlike many of the binoculars that I review that have thumb indents under each barrel, these Vanguard binoculars have deep grooves and dimples on the armouring. These textures do help with grip, but unlike thumb indents, they don't really "encourage" you to use the correct grip when glassing to make sure the binoculars nicely balance in your hands.
The objective lenses are set fairly deeply within the body (about 5mm) - this helps to protect them when the lens covers have been removed.
Fog and Waterproof
The body on these Vanguard 10x42 Spirit XF binoculars is sealed with O-rings to prevent moisture, dust, and debris from getting inside the binocular.
The barrels are also filled with a dry nitrogen gas to inhibit internal fogging. This moisture free environment also helps to protect the internal workings from any corrosion.
The Eye Cups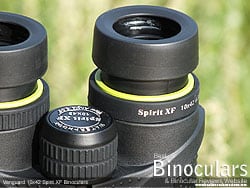 The eyepiece housing on these Vanguard Spirit binoculars look to be made from metal, which is great and something I only usually find on more expensive optics.
It was hard to see under the hard rubber covering to ascertain what the twist-up eyecups are made from, but it looks like they are made from metal or a really hard type of plastic.
The ocular lens has a diameter of 20mm, which is fairly standard, whilst the eyecup has an external diameter of 42mm, which is nice and large and along with the rubber coating helps to make the eye-cups fairly comfortable even when pushed quite firmly against your face.
The helicoid (twist-up) mechanism on the pair that I was testing was nice and smooth and worked really well. There are two fixed intermediate stops in-between fully extended and fully retracted which gives eyeglass wearers more flexibility when it comes to adjusting the eye-relief to suit their exact needs.
Whilst non-eyeglass wearers will just use the eyecups in the fully extended position, the 16mm of eye-relief is good news for those who wear glasses. This is because most should be able to fully retract the eyecups and use these optics without having to remove their glasses and still get the full field of view without any vignetting.
Focusing
The central focussing wheel turns very easily, if a little too easily as a little more resistance would help prevent accidental movement. It looks like it is made from a type of hard plastic with a soft rubber track with indents cut into it running around its circumference to help with grip. The wheel has a diameter of 28mm, which is about average for a full sized binocular, but because it is well grooved and protrudes out from on top of the binoculars, it makes adjusting the focus very easy even with thick gloves on, which is an important consideration if you plan on using them in very cold weather.
The focusing mechanism is geared so that it only takes one full turn (360°) of the wheel to go from infinity to it's minimum focusing distance. This is a fairly aggressive mechanism and it means that focusing from near to far (or vise versa) is very quick (takes less turns of the wheel), but it does have the very small trade-off of making fine tuning your focus just that tiny bit trickier as a relatively small movement of the wheel moves the focusing plane a relatively far distance.
How you like your binocular focussing geared is often down to personal preference, personally I like a fast focusing mechanism like these and whilst using them, I never found it a problem to fine tune the focus and it was not noticeably any more difficult to fine tune than my control binoculars that take a full one and a half turns to go from infinity to their minimum focusing distance.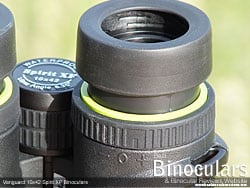 Diopter Adjustment
Like most roof prism binoculars, the diopter adjustment ring is located on the right barrel, between the eyecup and the actual barrel. Unless you share your binoculars, you only really need to use it once, when you correctly set up and focus the binoculars to your particular eyesight.
Unlike the plastic ones you find on most cheap binoculars, the Vanguard Spirit XF diopter adjustment ring has a rubber covering with grooves cut into it to help with grip. However, like most optics in this price range, it is not lockable and so even though the resistance is good, your setting could be moved accidentally.
Whilst there are a number of markings on the main body and the ring, most are not really uniquely identifiable. This means that if your setting is not neutral and you need to use one as a reference point to easily return to (if moved accidentally or when sharing your binoculars), you may have to make your own mark or etch to assist you in remembering your particular setting.
Tripod Adaptable
You can unscrew the Vanguard emblem on the front hinge which enables you to attach a tripod adapter (not included) with the standard ¼-inch threading. to the binocular and then mount them onto a tripod. Whilst this is a very common feature on most "standard" designed full sized binoculars, many open bridge ones don't have this and so it is a nice feature to see on these.
Best Binoculars Rating for Body Construction Quality: 8/10
The Optics
Lens Coatings
These Vanguard Spirit XF 10x42 binoculars come with fully multi-coated lenses, which means that the lenses have received multiple layers of anti-reflective coatings on all air-to-glass surfaces which is great and what you want to see.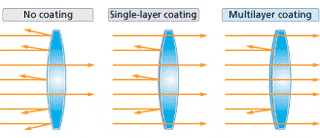 These coatings are designed to increase light transmission by minimizing the amount of light reflected away and thus help to produce a brighter image and therefore have a better low light performance. It is not unusual to look through binoculars with smaller objective lenses, but with better quality anti-reflection coatings and seen them outperform binoculars with much larger objective lenses, but with fewer or no coatings.
This is why it is very important, especially when comparing optics in this price range to pay attention to how the manufacturer describes their Anti-reflective coatings as they can make a really big difference on the brightness of the image produced, but not all are created equal:
Lower quality optics often only add multiple anti-reflection coatings to the outer surfaces of the lenses (Multi-Coated) and even worse are optics that only have a single layers of anti-reflection coating added to the outer lenses (Coated). The worst are optics that have no anti-reflective coatings at all and I highly recommend staying well clear of these.
To give you an idea of the improvements that anti-reflective coatings can make, take a look at the table below that shows the average Transmittance by the amount of coatings:
| | | |
| --- | --- | --- |
| | Per Single Lens Surface | 10 Lens & Prism Surfaces |
| No Coating: | 96% | (0.96) x Power of 10 = 0.66 66% |
| Single-Layer: | 98.5% | (0.985) x Power of 10 = 0.86 86% |
| Multilayer Coating: | 99.5% | (0.995) x Power of 10 = 0.95 95% |
The Prisms and their Coatings
The roof prisms on these Vanguard 10x42 binoculars are made from superior optical BaK-4 glass, which helps to produce clearer images and will outperform the BK-7 prisms found on cheaper optics.

Best Binoculars Rating for Optical Components Quality: 6/10
Optical Stats
Field Of View
The field of view for these Vanguard Spirit XF 10x42 binoculars is 111m at 100m / 332ft at 1000 yards (6.3°) - which, for a binocular with a 10x magnification is very good and ranks them well above average when compared to most other 10x42 binoculars that I have reviewed. To put their FOV into context, take a look at how they compare to some other really good quality and high end 10x42 binoculars:
Close Focusing Distance
The trade off for a wide field of view is often a longer minimum focussing distance. I consider 6ft or under to be excellent and the closest distance you can focus on an object with these 10x42 Vanguard Spirit binoculars is 6.9 feet (2.1m), which is not excellent, but is still pretty good.
So whilst I would not recommend these as dedicated close focus binoculars, they will be perfectly adequate if you occasionally like to look at things like butterflies from close range.
Eye-Relief:
Their maximum eye-relief of 16mm is also very good and should be enough for most people who wear glasses.
Best Binoculars Rating for Optical Stats: 9/10
Image Quality
As I do with all my reviews, I compared the view through these Vanguard Spirit XF 1042 binoculars with that of my control 10x42 binoculars. These specific comparisons were carried out on a clear bright day and once again just before and after sunset.
Contrast & Colour Reproduction
Comparing these with my controls, I was not really able to distinguish any differences in terms of the contrast and color reproduction of the image. This is always a hard parameter to judge but the image produced looks and feels natural without any of the artificial tints that you sometimes see through lesser quality binoculars.
Also once you have correctly focussed on an object the image is pin sharp and in my opinion, the depth of field for a binocular with a 10x magnification is about average as they were about the same as that of my control pair.
Image Brightness
Compared with my benchmark binoculars, I would say that the brightness of the image was about the same and I really could not notice any differences even in very poor light during the evening. This means that I rate them as good to very good and well above average in this department.
More about Image Brightness & Low Light Performance
Good light gathering ability is important especially where the lighting is sub-optimal, like in thickly wooded or forested areas, early in the morning just before or at sunrise or late afternoon when most birds and other animals are at their most active. All 10x42 binoculars, including these Spirit XFs have an Exit Pupil of 4.2 and a Twilight Factor of 20.5, both of which indicate that they will perform pretty well in most low light conditions.
But no matter how much light your binoculars gather, it is no good if that light is not passed onto your eyes (transmittance) and this is where it is important to know that not all 10x42 binoculars are created equal as the performance of a pair of optics in poor light depends hugely on the quality of the glass and optical coatings and not just the exit pupil and twilight factor formula.
Good coatings on the lenses and the prisms can in some cases double the amount of light that gets through the binocular, when compared to those that have none or poor quality coatings - As we have already discovered, these Vanguard binoculars fully multi-coated lenses that will help to transmit more light to your eyes and therefore produce a brighter image than inferior binoculars of the same design and configuration.
Color Fringing
To test for any signs of chromatic aberration (color fringing), I focus on and look at the edges of light coloured and white objects that contrast greatly with something in the background.
As these don't come with ED (extra-low dispersion) glass, which helps to minimise the amount of color fringing, I was half expecting them to perform not very well in this test.
However I was surprised that once again it was very hard for me to notice any and if there is any color fringing it really is not noticeable unless you are REALLY looking for it. So I rate these as excellent in this area.
Softening
The amount of softening of the image right at the edge of the view of these bins is very minimal and once again only really noticeable if you are looking for it. So in this price range they perform well above average.
To sum up, I rate the overall view through these 10x42 Vanguard Spirit XFs as excellent and they easily outperform most others in their class and match many that cost a whole lot more which for me is very impressive.
Best Binoculars Rating for Image Quality: 8/10
10x42 Vanguard Spirit XF Comparisons
Below is a table comparing some of the main features and specifications of this Vanguard 10x42 Spirit XF Binocular with a selection of other 10x42 roof prism binoculars - The Carson 10x42 3D, The Kowa SV 10x42, the Minox 10x42 BV's, the Steiner 10x42 SkyHawk binoculars and the two Vanguard models above these, the Spirit ED and the Endeavor ED:
| | | | | | | | |
| --- | --- | --- | --- | --- | --- | --- | --- |
| | Vanguard 10x42 Spirit XF | Vanguard 10x42 Spirit ED | Vanguard 10x42 Endeavor ED | Carson 10x42 3D | Kowa 10x42 SV | Steiner 10x42 SkyHawk | Minox 10x42 BV |
| Price (approx): | $200 (£220) | $280 (£240) | $340 (£280) | $300 (£250) | $230 (£279) | £390 | $250 (£220) |
| Weight: | 23.5oz (665g) | 22.6oz (640g) | 25.8oz (730g) | 23.2oz (658g) | 23.6oz (670g) | 25.4oz (720g) | 27.5oz (780g) |
| Length: | 5.9in (15.0cm) | 5.7in (14.5cm) | 6.0in (15.4cm) | 5.5in (13.9cm) | 6.8in (17.2cm) | 5.9in (15.1cm) | 5.5in (14cm) |
| Width: | 5.1in (13.0cm) | 4.9in (12.5cm) | 5.1in (13.0cm) | 5.0in (12.8cm) | 5.0in (12.8cm) | 4.9in (12.5cm) | 5in (12.7cm) |
| Eye Relief: | 16mm | 16mm | 16.5mm | 16mm | 15.5mm | 8mm (approx) | 18mm |
| Close Focusing Distance: | 2.1m (6.9 feet) | 2.8m (9.2 feet) | 2.5m (8.2 feet) | 3m (9.8 feet) | 4m (13.1 feet) | 2m (6.6ft) | 1.2m (3.94ft) |
| Field of View at 1000yds: | 332ft | 315ft | 342ft | 314ft | 315ft | 315ft | 342ft |
| ED Glass | No | Yes | Yes | Yes | No | No | No |
| Phase Correction | No | Yes | Yes | Yes | Yes | Don't Think So | Yes |
| Lens Coatings | Fully Multi-Coated | Fully Multi-Coated | Fully Multi-Coated | Fully Multi-Coated | Fully Multi-Coated | Fully Multi-Coated | Fully Multi-Coated |
| Waterproof | Yes | Yes | Yes | Yes | Yes | Yes | Yes |
| Fogproof | Yes | Yes | Yes | Yes | Yes | Yes | Yes |
Comparing these mid priced Vanguard Spirit XF binoculars more expensive models may seem a little unfair, but as long as you keep in mind the price difference, it does throw up a few interesting points and can highlight a few of a binoculars relative strengths and weaknesses.
What the table above does highlight for me is whilst they don't really excel in any one area, they also don't have any major weak points and thus as an average, they do very well. One point worth mentioning is that for a 10x42, their field of view is pretty good, well above average and beats many others out there.
Included Extras & Attention to Detail: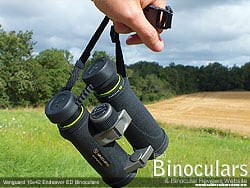 Neck Strap & Carry Case Strap
The neck and carry case strap on this Spirit XF are part of the same and designed to work together. The quality and the design of them is excellent and it is actually exactly the same as the one you get on Vanguard's top of the range Endeavor ED binoculars and indeed their Spirit EDs.
So compared to most other binoculars in this price range, you are really getting a far superior quality product as many manufacturers try to keep the cost down on the cheaper ranges by skimping on things like the neck straps
A feature that I really like about this Vanguard neck & case strap is that the quick release clips enable you to use it in a number of different ways and interchange it between carrying the bins or the case:
Attached to the binocular, the strap can obviously be used in the standard way as a neck strap
Un-clip the padded part of the strap from the binoculars and click the two short ends of the strap that are still attached to the binocular together and you have a great short, unpadded hand strap which makes for a very secure way of holding onto your optics (see image on the right of the Endeavor ED, which uses exactly the same system).
Now released from the binoculars, you can take the padded section of the strap and connect it to the sort hand strap on the carry case, making one of the best quality and most comfortable carry case strap I have ever seen!
Overall all, the clips, stitching and the padded section on this multi-use strap is of excellent quality and looks to be very well made. The neck section is nice and wide, slightly curved to better follow the shape of your neck and is well padded making it very comfortable to wear.
One very small omission is that the strap does not come with loops between the padded section and the cords that connect to the optics that I sometimes see. These loops allow for a little more freedom of movement when moving the binoculars from your chest to your eyes. I must stress that I am being ultra picky here and this is an extremely minor thing to point out, but is something that I would include on my ultimate neck strap!
Carry Case
Unlike the neck strap, the soft carry case that comes with the Vanguard Spirit XF is not the same as they use on their higher end ranges, bit it still looks to be made very well and out of good quality materials.
But like the other Vanguard cases, it is not the most padded one that I have ever seen and so may not protect the binoculars as much as some, but is should still be enough for minor knocks.
You gain access to the inside of bag via a top flap that is held closed with a Velcro strip, which is quick to open and close, but not as secure as a zipped opening and the noise Velcro makes could frighten or at least alert timid wildlife to your presence.
The binoculars fit nice and snugly into the bag, but not too tightly so as to make taking them in and out difficult. You can also easily and completely close the flap with the eyecups fully extended and with the eye covers on. You won't believe how many bags wont let you do this meaning that you have to twist your eyecups in and out every time you use and replace them and is a real pet hate of mine!
There are no extra internal or external pockets on the bag, which is also a bit of a shame as they often make a great place for storing a few small personal items and your lens cleaning cloth for example.
On the rear of the case there is a loop that enables you to thread your belt though, to let you carry it on your waist should you wish to.
Like the binoculars, the carry case comes with its own short strap, which is great for carrying it in your hand, but can then be unbuckled and you can then connect the end of the neck strap to it for the full length strap - this is a really nice feature as most carry cases only come with a very basic strap.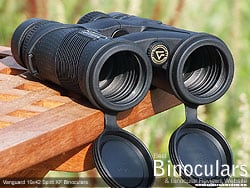 Lens Covers
The eye-piece cover (rain guard) is made from what looks like a soft rubber or plastic, it fits very well over the eye-pieces and should not accidentally fall off. I like the flexible bridge between the two cups that allow for the different distances between the two eyepieces depending on your inter-pupillary adjustment. This is sometimes overlooked, meaning that the rain guard wont fit, unless you store your binoculars fully open, which can be a real pain as you have to adjust them every time you use and replace your binoculars.
The soft rubber objective lens caps fit well over the ends of the barrels and like the rain guard should not accidentally fall off. I like the loop that keeps them tethered to the barrels of the binocular, allowing them to hang down out of the way when you are looking through the optics, preventing you from loosing or misplacing them them. If however you don't like your lens covers attached and hanging down when glassing, you also have the freedom to simply remove them completely and put them away in your bag.
I also really like the fact that the objective lenses are set quite deeply within the body (about 5mm) - which will help protect them when the lens caps are removed.
Other Included Accessories
Inside the box you will also find a good quality lens cleaning cloth and a fairly generic user manual that includes details like adjusting the eyecups, how to properly attach the neck strap, the inter-pupillary adjustment, how to properly focus your binoculars, lens care and cleaning etc.
Vanguard Guarantee
In the box is also the warranty card that gives you details of the Vanguard Premium Lifetime Warranty for this binocular.
Best Binoculars Rating for Extras & Attention to Detail: 7/10
Conclusion
Strong Points: The quality of the image produced, a nice wide field of view for a 10x42 and great quality, lightweight body are real highlights, but as the manufacturer and retailers alluded at the beginning of my review, for me the standout aspect of the Vanguard Spirit XF 1042 binoculars has to be their overall great value for money.
Whilst they may not have expensive ED glass, or dielectric coatings on the prisms, they still have enough quality optical components and coatings to produce an image that is as good or superior to most at this price level and indeed matches many that cost much more.
Likewise, they may not have a magnesium chassis or lockable diopter adjustment ring, but the have most of what is important and their weight, dimensions and quality of the body is well above most in their class.
Weak points? What I find really impressive, especially at this price point is that I am struggling to point out any major shortcomings on these. Sure you would always wish for a wider field of view, but this would probably compromise the minimum focussing distance.
Very minor improvements could include things like a better carry bag, or a lockable diopter adjustment ring but not if that was to drive up the cost.
A bit more on Value for Money..
Vanguard have a reputation for producing great value for money optics, and so having said all these really positive things about the Spirit XF, I would just like to point out that the higher spec Vanguard 10x42 Spirit ED, that includes extra features like ED glass, high reflective coatings on the prisms and higher spec carry case only costs about $40 more in the US, or even a smaller difference of £20 more in the UK. This means that they both sit in the same price category and which is why I rate them as being slightly better value than these Spirit XFs.
Ideal Uses: Like most 10x42 binoculars, these Vanguard Spirit XFs also make ideal general wildlife observation optics, hunting binoculars and are easily light and adaptable enough to be considered great general use optics.
It is not that often that I recommend a 10x42 binocular for birding, but because they have a pretty wide field of view for a 10x42 and because they produce good quality as well as bright image, it makes these an ideal choice if you do a lot of bird watching in fairly open areas, over longer distances like around lakes or by the sea or if you just want to get that bit more detail than what you would with an 8x or 7x binocular. For more please take a look at my article on 10x42 Binoculars for Bird Watching.
They also more than hold their own as a binocular to take camping as well as on any safari, however depending on your circumstances and how light you want to travel, some may prefer a slightly more compact binocular in these cases.
Acknowledgments
I would like to thank Vanguard for sending these to me to review and I would also like to point out that like all the reviews on this website, these are my opinions of the product and I am not influenced in anyway by manufacturers, distributors or suppliers.