Whilst I have tested a number of mid to high-end roof prism compacts recently, it has been a while since I last got my hands on and reviewed more budget-friendly compact binoculars.
So in order to rectify that I went out and bought myself this pair of Vortex Vanquish 10x26 binoculars.
Why I bought the 10x26 Vortex Vanquish Binoculars
I decided my budget would be under $100 as this is where I was hoping to get a reasonable level of performance, but without having to splash out too much of my hard earned cash.
So whilst not exactly cheap the Vortex Vanquish has an MSRP of $129.99, but currently retail for around $99 / £96 and so looked to be perfect in terms of my budget.
Vortex also has a wide range of instruments and a very good reputation for producing great value for money binoculars and even though many others do as well, I settled on this brand because apart from being the right price, they also just happened to have the exact type/design and configuration of instrument that I was after:
Best Budget Compact Binoculars - Roof or Porro Prism?
When money is not the major concern, I believe that the Best Compact Pocket Binoculars in terms of their all-round function are ones that have the double-hinged design as they can fold up into a very small shape making them true pocket sized binoculars.
However, this double hinge design needs to use the more compact roof prisms inside of them, which if you want them to offer the same level of performance as a Porro prism, they require a number of expensive coatings, which at the budget price level is not possible.
Therefore, in general, and especially the case with compacts if you want good optical performance at the budget and especially at the cheap end of the market, a Porro prism is usually the way to go. But you do have to accept that your instrument will not be quite as compact as an equivalent roof prism model when folded up.
As I wanted to test to see what the best performance you can expect out of a low-cost compact, I opted for a Porro prism design. More specifically a reverse Porro prism, but we'll get into that later on in the review.
10x26 Configuration
The Vortex Vanquish binocular is also available in an 8x26 configuration, but I desired a little more reach and also wanted to push the envelope and test how good a compact binocular at this price level would perform in low light when you combine small 26mm lenses with a higher 10x magnification and thus only have a small 2.6mm exit pupil.
So there you have it, that is how I ended up with this pair of Vortex Vanquish 10x26 Binoculars. Not the shortest introduction that I have ever written, but I hope it gives you an insight into my thought process behind my choice and I believe is something you should think about when choosing your ideal binoculars.
Anyway below is my full, in-depth hands-on and 100% honest review of them: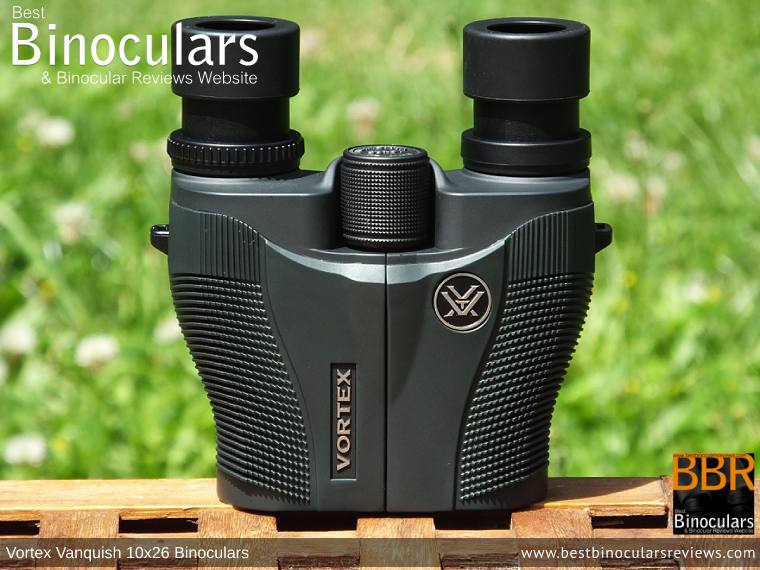 Vortex Vanquish 10x26 Binocular Review
Main Features & Specifications:
Low Cost Binoculars: Approx: $99 / £96
Body

Compact Reverse Poor Prism Body Design
Rubber Armoring
Water & Fog Proof (Nitrogen Filling)
Central Focus Wheel
Right Eyepiece Diopter
Twist-Up Eyecups
Weight: 12.7ozs (360g)
4.7in (11.9cm) x 4.4in (11.2cm)
Lifetime Warranty

Optics

Fully Multi-Coated Optics
Reverse Porro Prisms

Optical Stats

Wide FOV: 294ft @ 1000 yards
Minimum Focal Distance: 2.3m (7.6ft)
Eye Relief: 16mm
The Body
Shape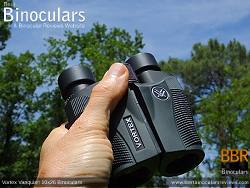 Shape As I eluded to in the introduction, the distinctive shape of this type of compact is largely the result of using Porro prisms and in particular, the reverse Porro prism design.
You can see this because these 10x26 Vortex Vanquish binoculars have ocular lenses that are closer together than the objective lenses whereas a standard Porro prism binocular has eyepieces closer together than the objective lenses (binoculars that use roof prisms will have in-line objectives and ocular lenses).
Whilst not as compact as roof prism compacts, the shape is very comfortable in the hands and I think can be easier and less fiddly to use for those that have large hands, but at the same time, my eight-year-old daughter had no problem holding and using them.
Inter-Pupillary Distance (IPD) Adjustment
The central hinge opens and closes smoothly with just enough resistance to ensure they remain at your desired setting.
Speaking of which, you can adjust it so that they eyecups go from a minimum of 5.7cm apart up to 7.1mm. This IPD (Inter-Pupillary Distance) range is pretty standard for this type of instrument and should accommodate most users, including those with closer set eyes like children.
Rubber Armor Coating
As is the case with most modern binoculars these have a rubber coated exterior.
Vortex has opted to use a hard, but reasonably thick rubber on the Vanquish. This offers a good level of protection and is bound to be long lasting, but won't provide as much shock absorption as softer rubber armors.
I really like the deeply cut etching on the sides of the body that not only ad to the design, but also substantially increase the grip levels.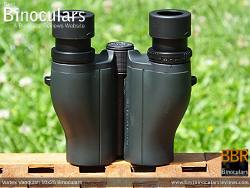 Fully O-ring Sealed
Something that is very important to look out for when shopping for budget binoculars is to check if they are fully waterproof and fogproof as many won't be.
If you don't go out in bad weather, you may think this is not important. However, for me, this is a really large indicator as to the overall quality of an instrument. On top of this, just remember that these seals also prevent dust from entering the chassis which is important in dry areas and whilst your instrument is not in use/storage.
So here it was really good to learn that theses Vortex Vanquish 10x26 binoculars have O-ring seals and the internal air has been replaced with Nitrogen gas that prevents internal fogging of the lenses.
Eye-Cups & Eye-Relief
Another good sign of the quality of this Vortex Vanquish binocular is the fact that they have twist-up eyecups and not simple folding rubber ones that many compacts at this price level will use instead.
This combined with the fact that you get a more than decent 16mm of eye-relief is excellent as there are not that many 10x compacts that will have enough eye-relief to allow you to use them whilst wearing your glasses.
16mm is on the cusp of being enough to achieve the full field of view whilst wearing glasses and will depend on your particular glasses and face shape.
I tested them using my sunglasses as whilst there was a small amount of tunneling, the amount was minimal. For more on this, check out my guide to How To Use Binoculars With Glasses: Eye-relief & Eye-cups Explained.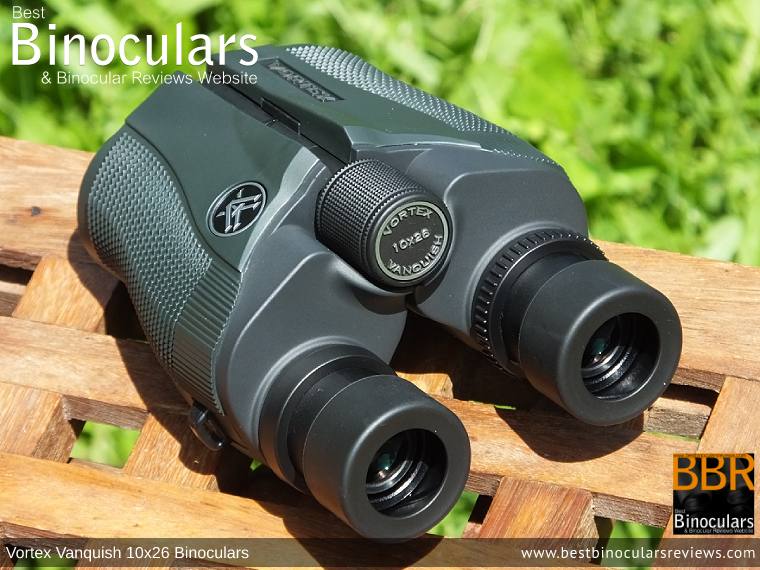 Focus Wheel & Focussing
Apart from one small aspect, I really like the focus wheel on these Vortex Vanquish 10x26 Binoculars, especially when you compare it to other compacts of this type.
First the good:
I like the look of it with its embossed Vortex Vanquish branding on the face which is far superior to the tons of completely generic alternatives you get that this price.
The soft rubber track with its tiny diamond shaped dimples is excellent in terms of the level of grip. This along with a very smooth action makes a joy to make focus adjustments.
It takes just over two full turns (approx 730°) to take the focus from one extreme to the other. This is on the lower end of the scale and means that it takes a little longer to make large changes, but is easier to make small, accurate focal adjustments, which for a small diameter wheel on a compact is my preferred option.
Measuring 2cm in diameter and 2.3cm long, it is small compared to a full-sized binocular, but for a compact, it is a very decent size and generally well positioned as it was easy to reach and adjust, even for my 8-year-old daughter.
My Only Gripe:
Whilst it looks great having the wheel largely encased within the body of the binocular, it does mean that there is less of it that you can get to. For the most part, this is not at all a problem, but when wearing thick winter gloves, I would prefer a more prominent wheel that is easier to feel.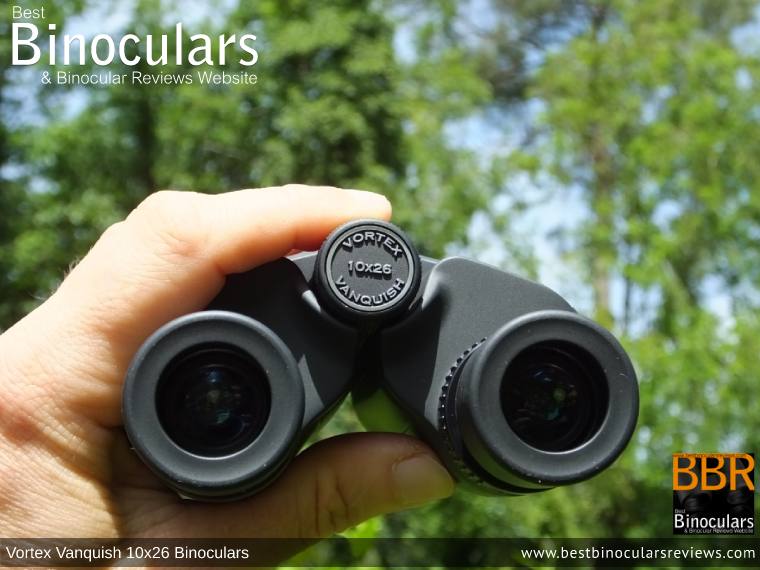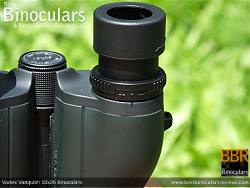 Diopter Adjustment
Like all good binoculars, this Vortex Vanquish has a diopter adjuster that enables you to calibrate it for your particular eyesight.
Positioned on the right eyepiece, what I really like is that it has a fine ratchet system. So whilst it is not lockable like on some top-end instruments, this is the next best thing in ensuring that your setting does not get changed unwantedly.
The majority of binoculars don't have this small but useful feature and so to find it on a budget instrument is well worth highlighting and for me is another small indication of the quality and of how much better these are than most at this price point.
Body Quality Score: 7/10
Weight
Not the most lightweight compact binocular on the market, as you can see in the table below, they are still in the ballpark and are far lighter than your average full-sized 42mm and mid-sized 32mm instruments:
Weight
Design
Chassis
Length
Width
Height/Depth
Compact Binoculars
Vanguard Orros 10x25
9.88oz / 280g
Single Side Hinge
Polycarbonate
4.1in / 10.4cm
4.5in / 11.4cm
1.9in / 4.8cm
Pentax 8.5x21 Papilio
10.2oz / 289g
Porro Prism
Polycarbonate
4.6in / 11.7cm
4.3in / 10.9cm
2.2in / 5.6cm
Steiner BluHorizons 10x26
10.6oz / 301g
Double Hinge Roof
Poly & Metal
4.5in / 11.4cm
4.6in / 11.7cm
1.8in / 4.6cm
Swarovski CL Pocket 8x25
12.2oz / 346g
Double Hinge Roof
Magnesium
4.3in / 10.9cm
3.9in / 9.9cm
1.8in / 4.6cm
Vortex Vanquish 10x26
12.7ozs / 360g
Reverse Porro
Polycarbonate
4.7in / 11.9cm
4.4in / 11.2cm
2.2in / 5.6cm
Pentax 9x28 DCF LV
12.9oz / 366g
Single Hinge Roof
Polycarbonate
4.6in / 11.7cm
4.5in / 11.4cm
1.7in / 4.3cm
Mid Size 32mm Binoculars
Snypex 10x32 Knight D-ED
13.4oz / 380g
Open Bridge
Fiberglass & Poly
4.25in / 10.8cm
4.64in / 11.8cm
1.57in / 4cm
Opticron Traveller 10x32
16ozs / 453g
Single Top-Hinge
Polycarbonate
4.7in / 11.9cm
4.5in / 11.5cm
Full Size 42mm Binoculars
Celestron Nature DX 8x42
22.2oz / 629g
Single Hinge
Polycarbonate
5.3in / 13.5cm
4.9in / 12.4cm
2in / 5.2cm
Hawke Sapphire 8x42 ED
25.7oz / 730g
Single Hinge
Magnesium
5.5in / 14cm
5.1in / 13cm
2.0in / 5.1cm
Opticron DBA VHD 10x42
25.2oz / 714g
Open Bridge
Mag & Poly
5.7in / 14.5cm
5.0in / 12.6cm
2.0in / 5.0cm
Dimensions
For a compact binocular in particular, the dimensions are especially important as this is one of its main points of of choosing one and so I think it is well worth dwelling on a little.
As I mentioned in the introduction to this Vortex Vanquish 10x26 binocular review, at the budget end of the market, you are generally better off with a Porro prism instrument, even though this does not make for the most compact shape.
So how much bigger are these that the Best Pocket Binoculars and is it still small enough for your requirements?
Here it is important to take into the stated dimensions when the hinges are open as well as how small a package the binocular can be when folded and not in use. This is especially important for users like hikers, lightweight backpacking travelers and indeed those who will be using their binocular in combination with other equipment. For example, those going on a walking safari with a camera as well:
Length
With Eyecups Extended - 11.9cm / 4.7in
With Eyecups Folded down - 11cm / 4.3in
Width
Hinge Open: 11.2cm / 4.4in
Hinge Closed: 9.5cm / 3.7in
Height / Depth
Hinges Open: 5.6cm / 2.2in
Hinges Closed: 6.5cm / 2.5in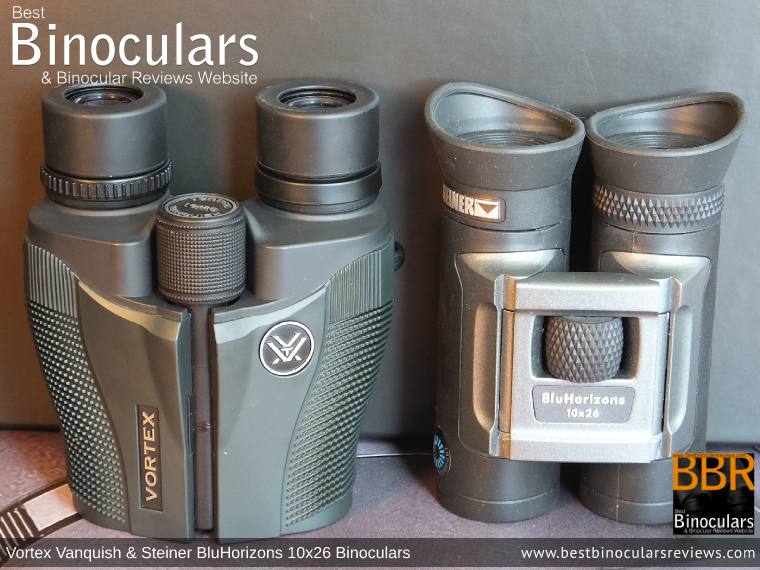 So as you can see from the dimensions and the photo above that compares the folded states of these single hinge, reverse Porro prism Vortex Vanquish binoculars against the double hinge, roof prism design of the Steiner BluHorizons, even though they both have the same 10x26mm configuration, these are appreciably larger.
Body Stats Score (for a compact binocular): 6/10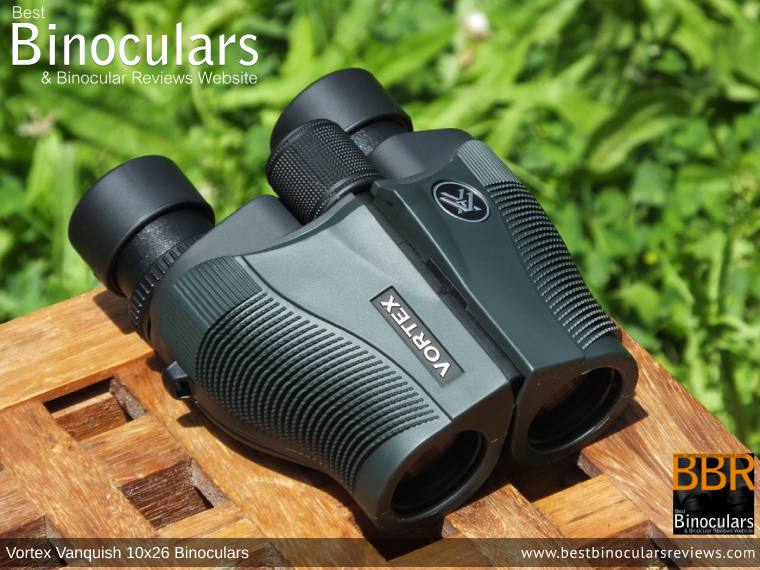 Optics
As I mentioned at the start of the review, one of the main advantages of a porro prism binocular is that it does not require many of the expensive coatings needed on a roof prism instrument to achieve the same level of optical performance and was one of the main reasons I chose it when choosing a budget compact for myself.
So whilst this section may seem short if you were to compare it to one of my reviews of high-end roof prism compact like the Swarovski CL Pocket 8x25 for instance, just remember that many of the coatings used on those bins are not needed on these.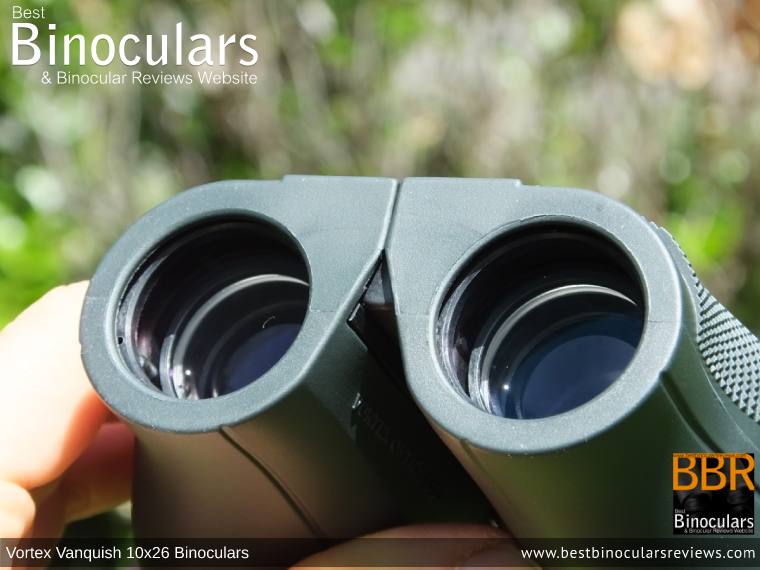 Objective Lenses
As the second number in their name indicates, these Vortex Vanquish binoculars have 26mm objective lenses, which is small for a standard binocular, but for a compact is on the larger end of the scale.
The advantage here is that just as larger windows in your house that let in more light than smaller ones, the increase in surface area makes it possible for them to capture more light and potentially produce a brighter, higher quality image.
Obviously on the negative side is that larger lenses are both bigger and heavier resulting in a larger, heavier compact.
So whilst they won't compete against a standard sized 10x42 binocular in terms of image brightness in low light conditions, for a 10x compact, these have the potential to do well.
Prisms
These Vortex binoculars use reverse Porro prisms, which I have already mentioned and discussed the pros and cons many times in this review, so I wont repeat myself again.
However, what is important to note here is that I believe Vortex use the better quality Bak-4 glass and not the cheaper BK-7 glass that many instruments will use at this level.
Optical Coatings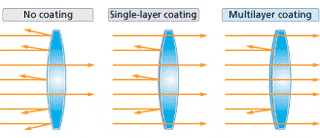 Anti-Reflection Coatings
Here it is most important to note that these Vortex Vanquish binoculars are Fully Multi-Coated.
The exact wording is relevant and important to note as it tells us that multiple layers of an anti-reflection material has been added to all air-to-glass surfaces throughout the entire optical system.
Many budget binoculars will either only be Fully Coated or Multi-Coated, and this makes a big difference to both the quality and brightness of the view.
For more: What To Look For When Buying Binoculars & Anti-Reflection Lens Coatings.
Optical Components Score: 7/10
Optical Stats
The Field Of View (FOV)
For a 10x compact, this Vortex Vanquish 10x26 binocular has a decent, but not super wide field of view.
Close Focus
Likewise, at 7.6 feet/ 2.3 meters, the official minimum focus is good, but not excellent, which would indicate that they are fine for the occasional very close range of things like butterflies, but perhaps not the best solution if this is your primary interest.
However, I measured the minimum focus distance on my sample Vortex Vanquish 10x26 binoculars as being a more impressive and excellent 5.2 feet / 1.6 meters.
As I can't be sure if all models will achieve this, I cannot include it in the scores, but it is worth keeping in mind as I am sure that like most manufacturers, Vortex overstate the official minimum focus distance.
Eye-Relief:
As I mentioned in the eye-cups section above, at 16mm, the level of eye-relief on this Vortex Vanquish binocular is very good for a 10x compact, which in combination with the twist-up cups makes them a good option for eyeglass wearers.
Optical Stats Score for a 10x binocular: 7.6/10
Image Quality
Note: Due to the fact that I was travelling, I did not have my usual selection of benchmark binoculars with me to compare the view through these against. However, I did also have the Steiner Predator AF 8x30 binoculars and a couple of mid and high level 10x42mm binoculars that may parents were using.
So below are my observations based on my general experience using them and the comparisons I made against these:
Image Brightness
Straight off the bat, I was impressed by the brightness of the image produced by the Vanquish. Sure they have slightly larger 26mm lenses, but they are a third of the price of most mid-range instruments like my benchmark and yet in terms of brightness, they were their equal in both good and poor light conditions.
Just keep in mind whilst good for a compact, these like all compacts are not the ideal choice if you are often out in very bad light. For more on this look at my guide to the exit pupil.
Colors & Contrast
I thought that the color reproduction on my sample Vanquish was excellent which is great. At the budget price point, in particular, this can often be poor as the use of cheaper glass in the optics often results in a yellowish tinge to the image which was most certainly not the case with these.
Likewise, the contrast was good, with plenty of differentiation between bright and dark areas of a view, giving you a nice sense of depth.
Color Fringing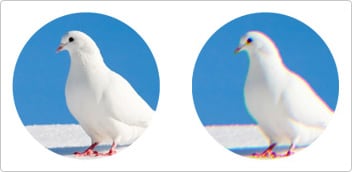 The higher the magnification, the more obvious the amount of color fringing around the edges of objects tends to become.
So with a relatively high 10x power and a low price tag, I was expecting there to be far more color fringing than there was. Indeed the amount was more than acceptable and these compare very well to many mid or even mid-high end instruments in this area.
Softening, Blurring & Image Distortions
The small amount of fuzziness or softening of the view right at the edges of the view is impressive on these Vortex Vanquish binoculars and in my experience I would say is better than the vast majority at this price level.
In terms of distortions, I was never aware of any sort of image curvature or waviness of the image.
Score for Image Quality (for a compact): 8/10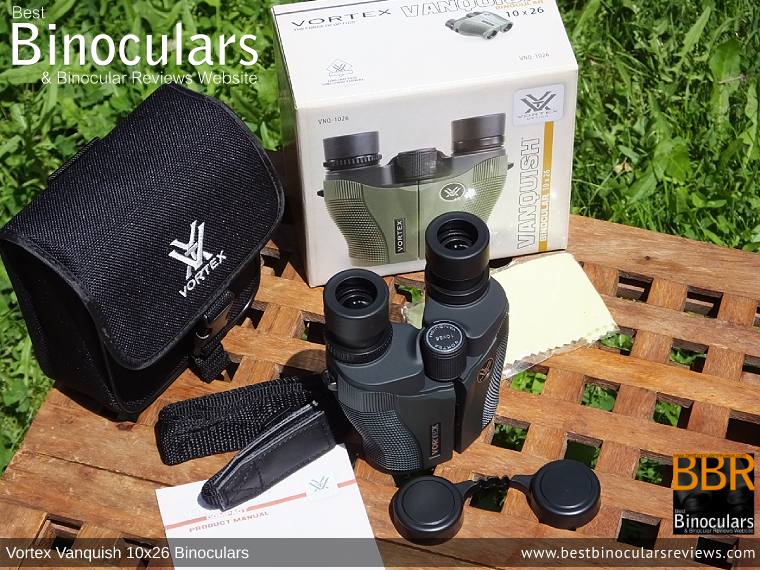 Included Accessories:
As with most compact instruments, the array of accessories is fairly basic, but to be fair to Vortex they have all the important bases covered and for a budget instrument the level is more than decent: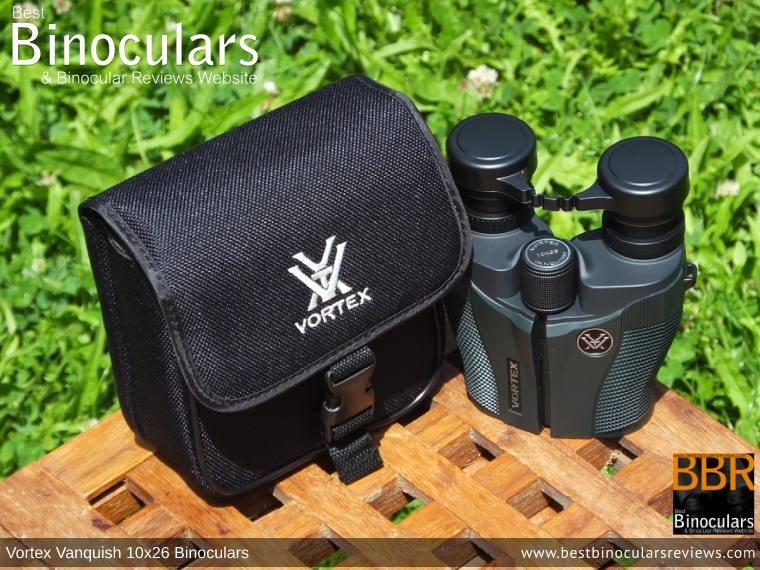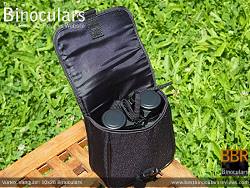 Carry Bag
Well made from a tough Nylon material
Vortex branded - not generic case found with many budget instruments
A reasonable level of padding for a compact
Quick Release Closure - Very secure, but easy to access
Belt loop on the rear
Binoculars fit easily inside even with eyecups extended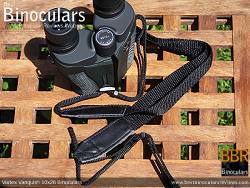 Neck Strap
Due to their low weight and small size, most compact binoculars, especially at the budget end come with pretty simple and often un-padded neck strap and these were no different:.
Simple Nylon carry strap
No padding & relatively thin, but as binocular is lightweight is not a major problem
Attaches to the binocular in the usual way through the eyelets on the side using sliders
Adjustable in length
Lens Covers
Interestingly the Vanquish comes with a rain-guard (ocular lens cover) which is a nice addition as many compacts don't.
The one you get is simple, but works and fits well enough so not much to report here.
Like many compacts, the Vortex Vanquish 10x26 binoculars don't come with objective lens covers. The assumption here is that you will use the carry bag as it is so easy to carry about and use.
Cleaning Cloth
These Vortex 10x26 Vanquish binoculars also arrived with a reasonably good quality cleaning cloth in the box, but always, I suggest you still get yourself a lens cleaning kit for the best maintenance of your lenses.
Instruction Booklet & Warranty
The instructions are basic, but far from basic is the comprehensive Vortex VIP warranty which states that "in the event, your binocular becomes damaged or defective, Vortex Optics will repair or replace the monocular at no charge to you".
Accessories Score (for a Compact Binocular): 7/10
Vortex Vanquish 10x26 Binocular Comparisons
Below are some other 10x compact binoculars that I have tested and fully reviewed and thus make good choices to compare these Vortex binoculars against.
To get a better view, you can Open the table in full-screen mode to view the full results which also contains all the compact binoculars in this price range that I have tested.
Review Conclusions:
For the price, these Vortex Vanquish 10x26 Binoculars are a great pair of compact binoculars that due to their size and weight can be used by the whole family in a wide range of uses.
What I Really Like
Image Quality
For a compact and especially a compact at this price point, the quality and brightness of the view was surprisingly good and certainly ranks them right at the top against their direct competitors in this size category and price point. I will also go as far as to say that it is as good as the better mid-range compacts that cost more than three times as much
Build Quality & Components Used
At this price, it is not a given that your binoculars will be fully water and fogproof and whilst you may not go out in the wet, it is still important and is for me a big indicator as to the overall quality of a binocular, so it was great to discover that the Vanquish is both.
You also can't argue against the general build quality and level of components used by Vortex on this device. At this price level, this is about as good as it gets and far superior to the large amount of really cheap and nasty instruments that I come across at the under $100 threshold.
There are also loads of other small indicators of quality, this includes the ratcheted diopter adjuster, metal eyepiece housings and a bespoke focus wheel all of which contribute to placing this binocular well above what I would normally expect to find at this price point.
Eye-Cups & Eye-Relief
Not only does the Vortex Vanquish 10x26 binocular have twist-up eyecups, but you also get a full 16mm of eye-relief. Most budget binoculars will have simple folding cups and definitely not enough eye-relief to accommodate eyeglass wearers, so this will certainly be a plus point to some.
Weaknesses
As with all reverse Porro prism compacts, this Vortex Vanquish is not the smallest 10x26 binocular on the market and this is just one of the compromises you have to accept if you choose this design.
However, if you are on a tight budget, I do think that unless you specifically require a pocket-sized instrument, this is the preferred option as they will generally outperform roof prism compacts at this price level in terms of their optical performance.
Other than that they really don't have any major weaknesses that I would consider to be a deal breaker at this or indeed a mid-level price point, which I think is really impressive
Excellent Value For Money
If you ask me if these are good value binoculars, well I would go further and say that for their price level, the level of performance and build quality is excellent and therefore these make excellent value for money and definitely one of the best compacts I've used at this price point. Ever.
Ideal Uses
Travel, especially Safaris and other wildlife adventures
Hiking, Camping
General Wildlife Observation & Lightweight Hunting
Longer range Birdwatching - like from a hide overlooking a lake or at the coast
Great for Older Kids, although perhaps here the 8x26 Vanquish would be a better option.