When opting for a mid-sized binocular, the thought process is generally that you are after an instrument that is smaller and more lightweight than a standard 42mm one, but are looking for a better and brighter image than what you would get from a full compact.
I always try and keep these main objectives in mind when testing any binocular within this size class as I think that it is broadly speaking a good way to ascertain if a particular mid-sized instrument is worth adding to your shortlist or not.
This is exactly what I did with these new Opticron's, so let's take a closer look and see how they fare:
Opticron Traveller BGA ED Binoculars
Recently updated, the high end Traveller BGA ED series from Opticron currently consists of just two mid-sized instruments (8x32 & 10x32) that as their name suggests are designed with travel in mind.
The focus is also very obviously on quality and performance as the list of very high end components and features that they incorporate is impressive.
Thus these bins will instantly be of interest to the more serious user for everyday use, but also those going on a birding or safari holiday or even for backpacking and hiking adventures, where you need an easy to carry and pack binocular, but still expect a very high optical performance.
The 8x32 Traveller will cater to users who value a little wider view and low light performance over the additional reach and resulting improved image detail that you get with the higher powered 10x32 model:
Opticron Traveller BGA ED 10x32 Binocular Review
I decided to test and review the 10x32 Opticron Traveller binocular and below are my findings:
Main Aspects:
Mid-High Value Bins - approx $440 / £300
Single Top-Hinge Body Design

Dimensions: 4.7in (11.9cm) x 4.5in (11.5cm)
Weight 16ozs (453g)

Waterproof & Nitrogen Filled Chassis
Optics:

32mm Objective Lenses
BaK-4 Roof Prisms

Phase Corrected
Dielectric Coated

Field of View: 339ft at 1000yds
Min Focus Distance: 5.9ft
Eye Relief: 17mm
Just by taking a quick look at these standout points, you can already get a pretty good idea of the potential quality and capabilities, but let's take a closer look at each aspect and try and separate the marketing hype from how they perform in the real world:
The Body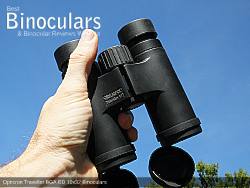 Design
The general shape of the Opticron Traveller BGA ED 10x32 Binoculars is basically that of a standard roof prism design, but there are a number of small differences that give it a quite modern and streamlined appearance that does in my opinion mark it out a little from the crowd and gives it a touch of uniqueness that I really like.
I think the main contributor to this is the relatively thin single bridge that is very obviously positioned closer to the ocular lenses than the objectives.
This thin top hinge design has an advantages other than aesthetics in that it opens up more of the barrel to more securely grasp onto when carrying your instrument about.
The potential down side of this is that the thinner bridge and the added leverage effect of the length of the barrel to it is that there is more chance of misalignment. However the bridge on my sample Opticron Traveller Binocular felt as robust and secure as most wider, beefier designs so this is not something I would be too concerned with on these.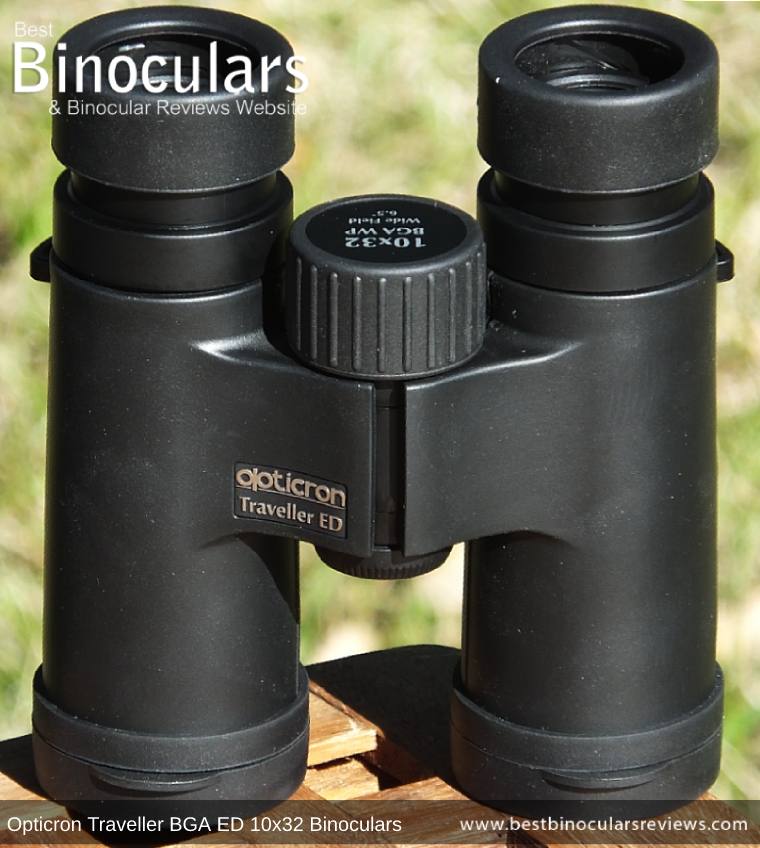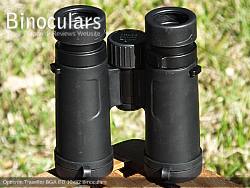 Rubber Exterior
The black rubber armor added to the exterior of the Opticron Traveller BGA ED binoculars is slightly, but noticeably softer and thus more tacky than the majority of devices that I test.
So whilst the imprinted texture on the rubber is very fine, you do get a higher level of grip than most.
Whilst very marginal, I also feel that this more compressible and yielding material offers more impact protection than the more prevalent harder rubber exteriors.
The potential down sides to this softer rubber and are things that I have seen before is that it may move about, perish or rip a little more easily.
However I found that the coating on the Traveller was very tightly fixed to the chassis below and so there was no hint of movement and thus also a reduced chance or ripping. So unless you are particularly rough with your instrument, I would not be too concerned with this.
Chassis Material
The chassis used on both the Opticron Traveller BGA ED binoculars is exactly the same and made from polycarbonate.
At this price range, better full sized binoculars will use a higher spec magnesium chassis, however it seems that for mid sized instruments the trend is to stick with a cheaper to make polycarbonate one even with high end products is growing.
Apart from the reduced production costs, I think the rational behind this is that the more compact frames and smaller diameter tubes do not require the extra strength and resistance to expansion from temperature changes that magnesium offers
Polycarbonate also has the advantage in that it is a more lightweight material, which as we have already discussed is an important aspect for a mid-sized instrument.
So whilst I have noticed that this trend is certainly there, the very top end bins in this size class like the Swarovski 10x32 EL do still use magnesium.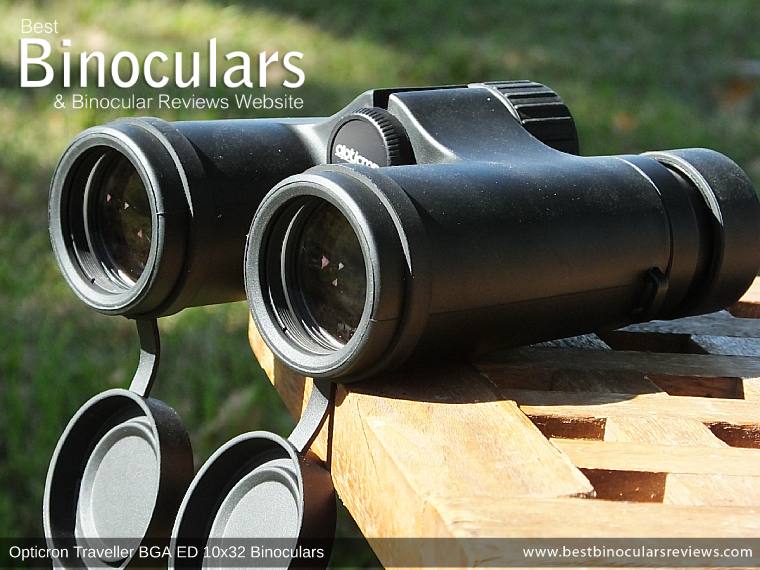 The objective lenses sit back about 5mm from the ends of the barrels. This offers a reasonably good degree of protection to them, however it must be said that it is a little less than that which I see on many others.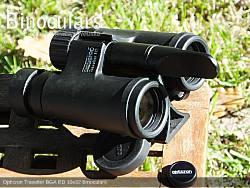 Tripod Adaptable
Most full sized bins are easily tripod adaptable by using a simple tripod adapter that you screw into the front face of the central bridge after removing the dust-cap, but this is not always a given within the mid-sized class, so it was pleasing to see that this is possible on these Opticron Traveller binoculars.
Eye-cups
The eye-cups and their twist-up action are particular strengths on this Opticron binocular.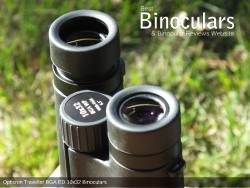 The cups themselves have an outer diameter of 39mm and are covered in the same softer rubber coating as the body making them about as comfortable as you can get with this design.
But what I really liked is how securely they are attached and just how well the twist-up mechanism works.
With almost zero free play or wobbling, you get two intermediate and definite click stops in between fully extended and retracted.
Here the solid feeling of the mechanism is superb and I love they way they click securely into each click stop. The fact that there are two intermediate stops is also better than most in this size class and just makes them more personally customizable than most to ensure you get your eyes the ideal distance behind the oculars to see the full view without black rings forming on the edges.
The 17mm of eye-relief is also good and whilst not class leading is on a par with most of it's direct competitors and should be enough for most eye-glass wearers.
Inter-Pupillary Distance (IPD)
The IPD range on these Opticron Traveller BGA ED 10x32 Binoculars goes from a minimum of 5.1cm, up to 7.4cm with the hinges fully opened.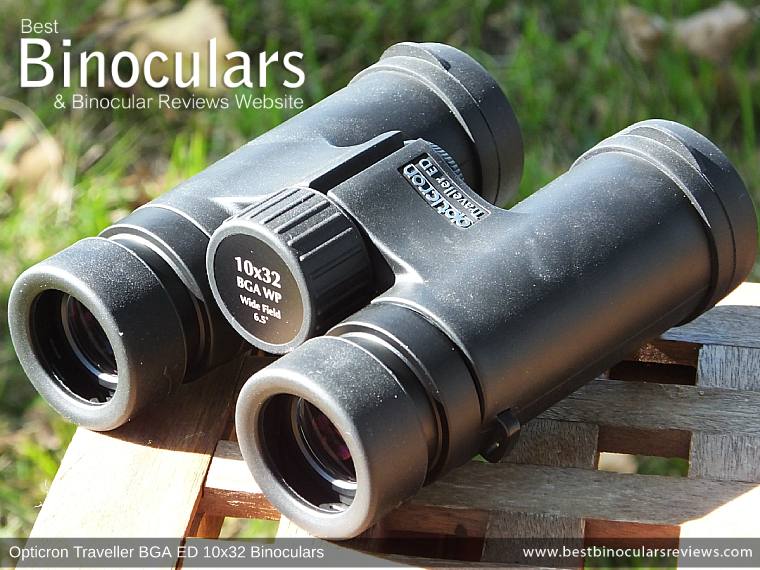 Focus Wheel & Focusing
At 31mm in diameter and sitting in an easy to reach and prominent position, the focus wheel on these Opticron Traveller BGA ED Binoculars is generally good.
Covered in a rubberized track with ridges on it there is plenty of grip and the mechanism is smooth with just about the right level of resistance.
All these aspects made it really simple for me to accurately focus on my subject, even when I tested them with thick winter gloves on.
The gearing is such that it takes just about 1¼ turns of the wheel to go from one limit to the other. This is what I would describe as being fairly moderate and offers a good balance between the speed at which you can make large changes and on the other hand being able to easily make fine adjustments when zeroing in on the subject.
The only slight niggle I have here and is the same on just about all the Opticron binoculars that I have tested is that the whilst the function is excellent, I feel that they look no different to many that you find on much cheaper products and as such don't add or match the quality as that of the rest of the instrument which is a shame.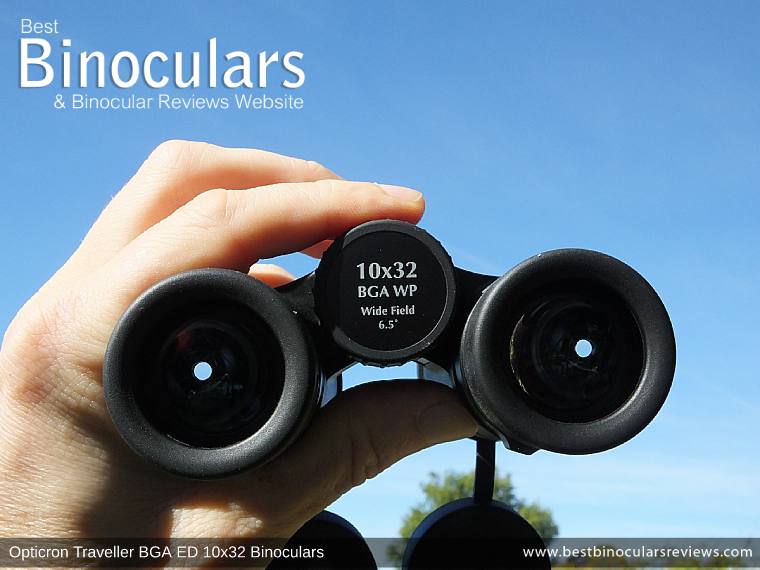 Diopter Adjustment
The calibration of these binoculars using the diopter is pretty standard in that it is a ring located in the usual position on the right eyepiece.
It is not lockable and lacks any sort of ratchet system that some of the best ones have, but there is a fair amount of friction and so won't move too easily from your desired setting.
Having said that I would still suggest making a mark of some sort if your setting is not neutral so that you can quickly return it to that point should this happen or if you share your optics with another person.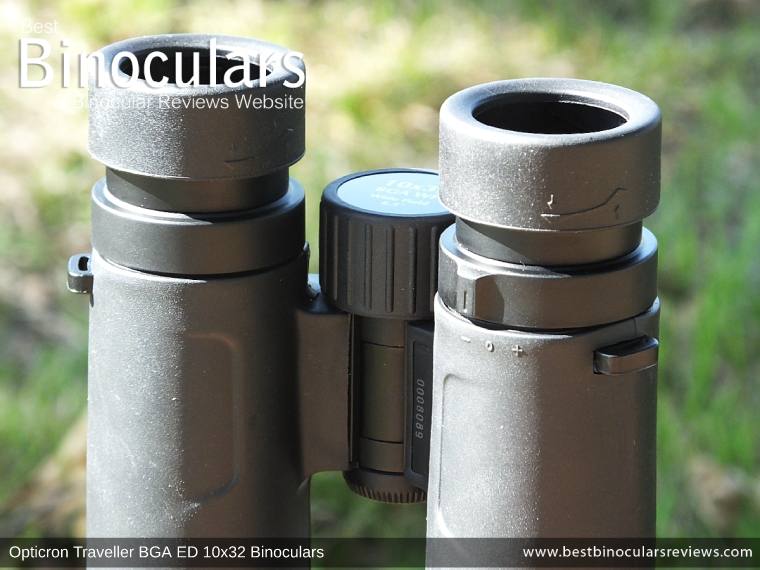 Rating for Body Construction Quality: 7/10
Weight
The Opticron 10x32 Traveller ED binocular has an advertised weight of 16oz / 453g, which as you can see is up there and amongst the more lightweight bins within this size class:
Dimensions
In regards to their outer dimensions, you can also see that they are fairly standard for a 32mm binocular, if perhaps just a little on the more compact side, which as you know is for me an important feature for any bin that I review within this class.
BBR Body Stats Score (compared to Mid Sized Bins): 8/10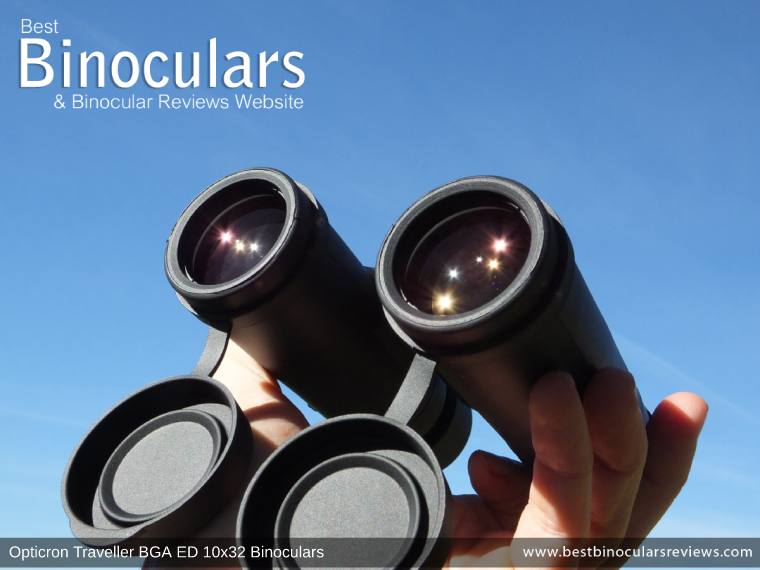 The Optics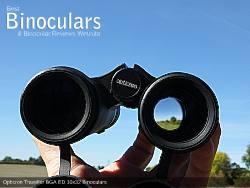 As you will discover below, there is no question that the level of optical components and the coatings that are used on the Opticron Traveller BGA ED Binoculars is of a very high level:
As you would expect from any binocular that this price range, the optical system is fully multi-coated, which ensures as much light goes through the instrument as possible and in the desired pathway and thus deliver as high a quality and bright view as possible.
ED Elements
Whilst they don't go into too much detail regarding the exact makeup of their lenses, we do know that the 32mm objective lenses on these 10x32 Opticron Traveller BGA ED binoculars contain at least one ED glass element This glass has extra low dispersion properties when compared to the normal level of low dispersion you see on standard optical glass.
The result is that they can potentially (but not always) lead to a better quality image that shows less color fringing than those without.
Ocular Lenses
Whilst Opticron don't divulge the exact make-up of their eye-pieces I can tell you that I measured the external ocular lens diameter as being 22mm in diameter.
I think this is worth highlighting as it is on the lager side for a binocular within this size class and which potentially offers up some interesting advantages over the many others that use smaller lenses, which includes make lining them up with your eyes easier.
For more on this particular subject: Ocular Lens Size in Binoculars.
These Opticron Traveller BGA ED 10x32 Binoculars use Roof prisms made from BaK-4 glass which is pretty standard, but what is less ordinary is the very high level of coatings they use on them:
Dielectric Prism Coatings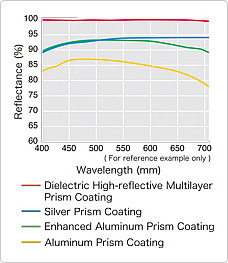 All good quality bins using roof prisms will have some sort of highly reflective mirror coatings added to them to increase their transmittance.
The cheapest option is to use aluminium based coating and, whilst the next level up is to use silver, which is more expensive, but also raises the amount of light that gets reflected to between 95% and 98%. At this price level, this is the minimum that you should accept.
These Opticron Traveller ED binoculars go a step further and like the very best use dielectric prism coatings, which are much more expensive to apply, but boost the amount of light reflected to 99% across the full spectrum.
The result is a more accurate color reproduction as well as better image brightness because of the increase in light being transmitted through the optical system.
Dielectric mirror coatings are technically difficult and expensive to apply and which is why you do not find them on all binos.
Phase Corrected
The prisms have also had phase correction coatings added to them. This is also really good as it corrects the phenomenon known as phase shift and thus ensures that the image resolution remains as high as possible and definitely better than those without.
Coating Comparison Table
The comparison table below clearly demonstrates the increase in optical components quality and coatings the higher up the scale you go:
Optical Components Quality Rating: 8/10
Optical Stats
Field Of View (FOV)
In terms of their field of view, the comparison table below is really interesting.
It shows us that for a mid sized binocular with a 10x magnification their FOV at 339ft wide at 1000 yards is excellent and these compare and compete very well against some of the very best with the same power.
However should you really need or want an extremely wide FOV, then my suggestion would be to seriously consider the 8x32mm Opticron Traveller. As you can see below, their FOV of 429ft beats almost any other bin that I have ever tested:
Close Focus
Here on BBR I consider a minimum close focussing distance of 6ft or under to be excellent. So at 5.9ft these rank with the best and make a great option should you also like taking in stunning views of nearby birds, insects, butterflies or even flowers.
Eye-Relief:
This table also clearly shows us that at 17mm the Opticron Traveller 10x32 BGA ED binocular is also very good to excellent in this area and thus makes a good choice to almost any eye-glass wearer.
Optical Stats Rating (compared to Mid Sized 10x Bins): 10/10
Image Quality
Whilst I don't expect them to, nor indeed is it physically possible for a mid-sized instrument to match a like-for like full sized bino in terms of their image. A critical feature of any great mid-sized binocular in my eyes is one that can get as close as possible.
Well I have to say that these Opticron 10x32 Traveller BGA ED binoculars come just about as close as you could ever hope for and the high quality glass and best coatings possible that Opticron Optics use really play their part here:
Contrast & Color Reproduction
Altogether I would describe the image and the colors that you see as bright and vibrant, but at the same time looks completely normal.
Sometimes a binocular may have too much contrast and the colors too vivid which can make it look unreal. At the other end of the scale, a too bright image with little contrast can seem washed out.
Neither of these scenarios was the case on this binocular.
Image Brightness
During the day and in good levels of sunlight, to my eyes these were every bit as bright as my mid level 8x42 binoculars that i had on hand, which if you keep in mind the 10mm smaller objective lenses is impressive.
It was only in the evening when I compared them again that the much smaller exit pupil and my now dilated pupils made the image on the 8x42 look somewhat brighter.
What I would like to add though is that the difference was less than I expected and the Opticron Traveller binocular easily outperformed my mid-range 10x32 benchmark binocular that I use for testing against when writing all my reviews in this size and magnification class.
Color Fringing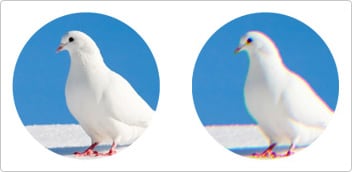 Once again the Opticron Traveller 10x32 performed excellently in this area and as with any binocular, if you look very closely along the edges of highly contrasting objects (I use a telephone line against a bright blue sky), some color fringing is evident.
But here the level was about as minimal as any 10x binocular that I have used which is impressive.
Image Flatness & Softening
Looking for abnormal image curvature or waviness that you sometimes see, during testing and comparisons as well as general use when out in the field, I never observed or became aware of any of these image distortions on the Traveller.
Another real impressive feature of the view through these optics is just how little softening there is right at the edges of the view. Combined with what looks like a perfectly flat image and all the other aspects makes for a very high quality image.
Image Quality Rating (compared to Mid Sized 10x Bins): 9/10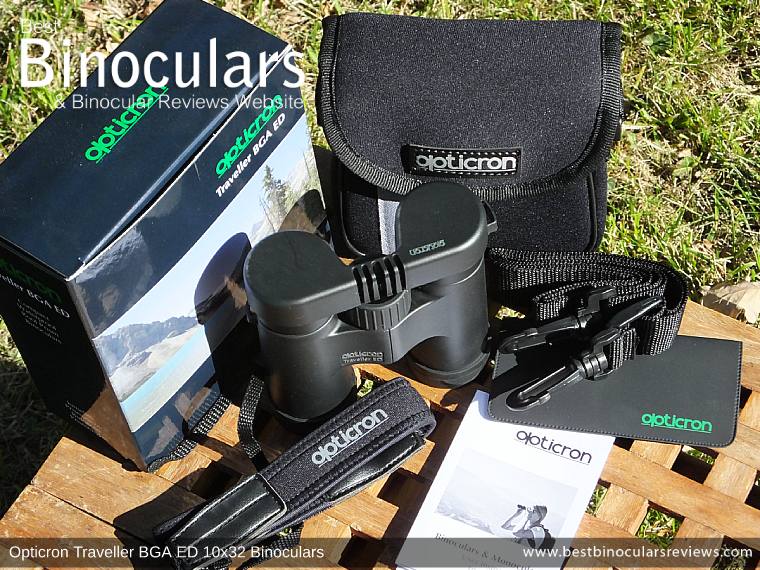 Included Accessories:
The Opticron Traveller binos come with the usual assortment of extras, which includes a carry case, neck strap, lens covers and cleaning cloth:.
Carry Case
I would summarize the included Opticron Traveller carry case as getting all the basics right, but without any bells and whistles.
The padding on this soft case is of about medium thickness in comparison to the majority and so offers what I would consider to be the minimum acceptable amount of protection.
Internally it is lined with a smooth faux leather type of material. I would say that this makes it easier to clean, but have never really had an issue with this so am not sure of the reasoning behind it?
It has it's own carry strap that can be removed should you prefer to fix the case onto your belt, through the loop on the rear face. The strap is un-padded, but this is typical. It attaches to the case using a couple of swivelled clips that is easy and quick to do.
The Hook and Loop (Velcro) strip on the lid makes access and closure quick, but is not quite as secure as a Zip and you need to take extra care not to make too much noise when opening if you are nearby sound sensitive birds or animals.
I like that it has the Opticron branding on the front, but even so it does come across as a little generic and has to be said does not quite match the level of the actual instrument it protects.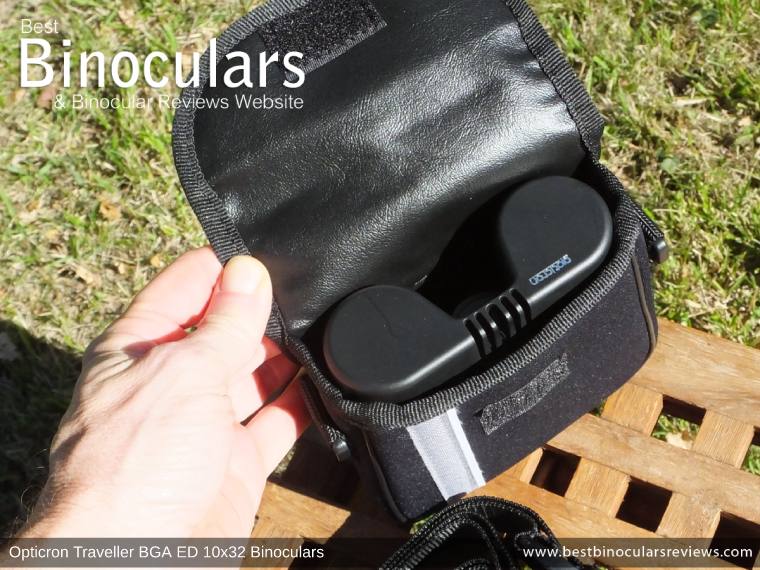 Neck Strap
The neck strap is similar to the case in that it is good and easily covers all the basics, but does just lack a bit in terms of the finer details.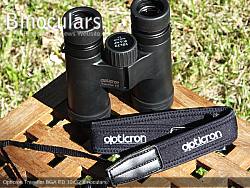 Highlights
Very good quality
High level of padding for a lightweight 32mm binocular
Room for Improvement
It is a shame that Opticron do not use the same quick release clips as that which you find on their Imagic BGA VHD 8x42 Binoculars for example that just make it so much quicker to take off and replace the strap. You also get the added bonus of a handy hand strap with this solution.
Better neck straps have a material on the underside of the padded section with a high level of grip. This is a small point, but helps prevent it from sliding about your neck and shoulders.
Lens Covers
The objective lens covers are on the whole very good:
Soft flexible rubber fits well over the ends of the barrels
Tethered to the binoculars makes them hard to loose and always ready to replace after glassing
For me the only thing missing here was if they were to fit into the ends of the barrels (not over them) for a cleaner more integrated and streamlined look.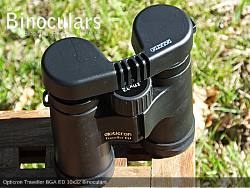 Rain-Guard
The ocular lens cover or rain-guard is the same design that Opticron use on almost all of their bins and which I have to say is not my favorite.
Made from a soft plastic and even though you can thread it through the neck strap, it just comes away a tad too easily for my liking.
For people like me who don't often use a neck strap, this means it is easy to drop and loose and so I end up leaving it at home. Thus the lenses remain unprotected and more likely to get dirty until I return to base.
Cleaning Cloth
A highlight of the accessories that come included with the Opticron Traveller BGA ED 10x32 binoculars is the very high quality micro-fiber cloth that even has it's own pouch and cleaning instructions and is most certainly one of the best you get included.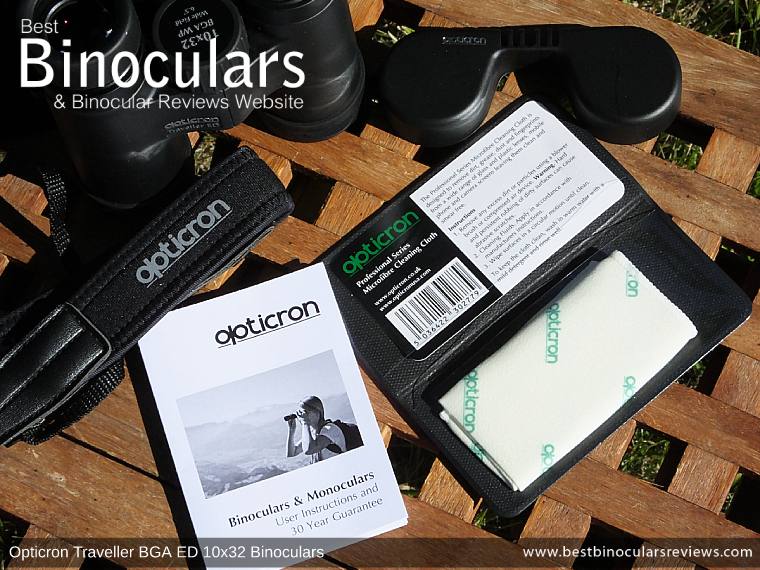 Extras Rating: 7/10
Opticron Traveller BGA ED 10x32 Binocular Comparisons
The table below displays a small selection of similar 10x32 binoculars in the BBR database.
Open table in full screen mode to view the full results.
Review Conclusions:
These Opticron Traveller BGA ED 10x32 Binoculars are in almost every section an excellent pair of mid sized binoculars and for my money really do compete with and in many cases beat the very best.
So whilst they might not be the cheapest out there, in this case you really do get what you pay for and in my opinion their mid-high range price tag is fully justified.
Strong Points:
I love the slightly softer than average exterior rubber coating on these Opticron binoculars. It feels great in the hands and offers up plenty of grip.
The mechanism on the twist-up eye-cups is superb and certainly about as good as it gets.
The optical stats are Wow! For a 10x32 binocular they are seriously impressive: You get a really wide FOV, long eye-relief and excellent minimum close focus and their score in this section of 10/10 is well deserved.
The very high level of optical glass and coatings used shows in the excellent image that you are presented with. Foe a 10x32mm binocular this is about as high a quality and as bright as any other that I have tested. bravo.
Weak points:
Whilst the function is excellent, for me it is a pity that the focus wheel is not just a little more luxurious in terms of it's looks. High end instruments often have metallic wheels with the brand etched onto the rear face.
The neck strap and carry case are very similar to the focus wheel in that the function is good, but they do just lack a little in terms of the finer details and class that you get with the very best high end optics.
I'm no fan of the rain-guard design as in my opinion, it just falls away a little too easily.
Final Thoughts
When I began writing this Opticron Traveller BGA ED review, I mentioned that for any mid-sized instrument to have a chance of being successful in my eyes, they need to be as close to a full sized version as possible in terms of optical performance, but at the same time also be substantially smaller and more lightweight.
I think that these Opticron Traveller BGA ED 10x32 Binoculars have most certainly succeeded in this regard and sure as with most other optics there are some compromises. But I feel they have easily surpassed the core requirements and produced an excellent mid sized binocular that I have no problems in highly recommending..