Best Binocular and Rangefinder Harness 2023
BBR Home > Hunting > Binocular Harness with Rangefinder
There's no denying that hunting can be expensive, but for most of us, it's a price that is well worth it if you can enjoy and get the most out of the pastime.
A big part of this equation involves ease of use and comfort and thus if you use both binoculars and a rangefinder for hunting, then a harness that is designed to accommodate both is a really important piece of gear.
The best ones not only make it more comfortable and convenient to carry both, but gaining access to them at critical moments is that much faster and easier than ever before.
Due to their usefulness to the hunter, the binocular and rangefinder harness market has exploded over the last few years and there are now many different options available. So whilst this is good in many ways, making the right choice can be a little more difficult as there are also many sub-standard options out there and so it pays to do a little research to get the right one for your particular requirements at your desired budget.
So following on from my guides to the Best Binocular Harness for general use and the Best Binocular Harness For Hunting (without specific rangefinder carrying options) in this guide I take a close look at a particular subset of both of these and focus on a binocular harness with rangefinder attachments or compartments that are specifically designed to take a rangefinder and thus offer a single carrying solution for both pieces of gear.
Quick Links: Rangefinder Harness 2023
What Kind of Solution Do You Need?
Different people will have different requirements as well as different tastes when it comes to choosing the correct binocular and rangefinder harness. What works for one person doesn't necessarily work for another, which means there is very rarely a solution that is suitable for everyone. However, this doesn't mean that we shouldn't consider some factors before purchasing a binocular rangefinder harness, as there will be the ideal carrying solution that suits your needs.
One factor to consider is whether you want your rangefinder to be stored internally or externally on the harness. Both have their advantages and which you prefer will often depend on what type of hunting you do and your personal preferences.
Internal options tend to offer more protection, however some of the best range pouches can negate this. Whilst more protection often comes at the cost of ease and speed of access and the bags can often be a little more bulky which for those who like to hunt with as lightweight as possible may be an issue.
There are also other considerations to make when establishing what kind of rangefinder strap, you need. For example, there are some cases that have the rangefinder compartment situated in one place, whereas others that fix to the case at different points and thus offers more in terms of flexibility for you to find your particular and most convenient place to store your range finder.
Consider Your Environment
When we think of the environment, it's easy for us to only focus on the weather and forget about some of the other factors around us.
For example there can be many obstacles and hindrances that surround you out there, be it nearby shrubbery or coarse rocks. If your regular hunting spot is quite open with little obstruction, then you may be fine choosing a combined binocular and rangefinder harness.
However if your surroundings are a little more confined and you often find yourself crawling through thick undergrowth, then it may be worth making the investment in a bino case that allows for a sturdier rangefinder pouch to be added for extra protection or one that is more streamlined so as not to get caught up.
Don't Be Swayed by Price Alone
Whilst it is almost always tempting to go for the least expensive option, this can prove to be a mistake. However depending on your exact needs, this can also sometimes it is also the right choice!
You need to think about how often you will use your rangefinder harness, how important it is to have one and what punishment it is likely to endure. This is to make sure that the product you choose is up to the job, and can offer the protection and smooth operation you need.
Hunting Binocular Rangefinder Harness Reviews
So taking these and many other points into consideration, below are what I believe to be the best harnesses for carrying both your binoculars and rangefinder currently on the market:
Horn Hunter Bino Harness System
The Hornhunter bino harness offers a good level of comfort and practicality that becomes evident as soon as you put it on and at price that don't break the bank.
Only available in Camo, it has been designed completely with hunters in mind.
Like all good harnesses, the weight of your bins and rangefinder are taken by the harness which distributes it far better than a neck strap would and offers a good level of protection to your gear at the same time.
I like the magnetic closure feature as it makes access to your bins super quick, but also ensures that you're not making a sound when reaching for them as can happen with Velcro or Zip closures.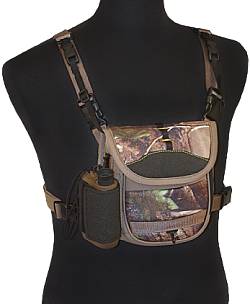 The Horn Hunter Binocular Harness system comes with what they call a "Range Wrap" that as the name suggest simply wraps around and protects your rangefinder. This wrap is magnetized and to fixes to the the left of underside of the main harness bag for really quick and silent access.
For extra security, your rangefinder can also be attached to the harness via an elasticated cord, so while there's plenty of room for manoeuvre, you're not going to find yourself in the position of dropping and possibly breaking or loosing it in the wilderness.
With There are two different sizes available, there is no problem finding the Horn Hunter case that houses your binos perfectly.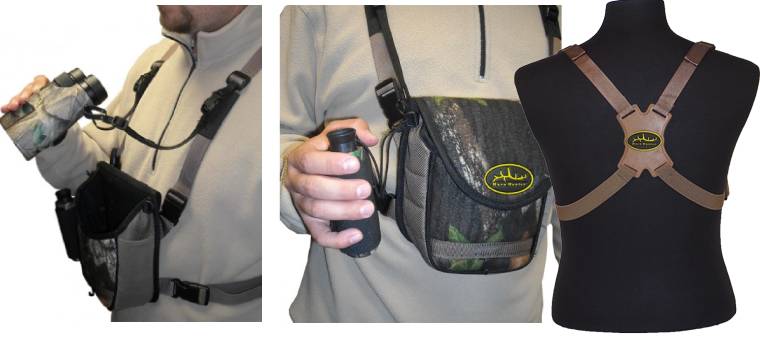 Strengths
Great Value for Money.
Versatile rangefinder storage that can be stored on the side or bottom of the harness.
Comfortable design that gives a weightless feel when carrying your binos.
Quiet opening of the bino case thanks to a magnetic clasp.
Available in large and standard sizes to take standard and larger optics
Your Bins can be easily detached from the straps should you need more room for manoeuvre in the field.
Weaknesses
Whilst still good, the stitching quality and materials used does not quite match that of the higher priced options on this page
Price:
Depending on the exact model you choose, the Horn Hunter Bin Harness System with Rangefinder options can cost under $70 (£75 in the UK) at the time of writing this review.
This makes it one of the cheapest complete bino and rangefinder carrying options available as this price includes the harness and the range wrap - you can check current prices in your country by following the links below:
Badlands Bino XR Binocular and Rangefinder Harness
This XT version of the Badlands Bino Harness is for those who don't want to compromise in terms of carrying comfort or with the level of protection for your instruments.
What makes the Badlands Bino XR harness different to many others on the market is that it rather than having it stored on the exterior, it has a fully enclosed rangefinder compartment. The advantage of this is added protection, but on the down side it adds a little more bulk and can be a little more time consuming to gain access to.
I really like that your binos are unveiled by undoing a magnetic clasp, which makes for an almost completely silent in its operation.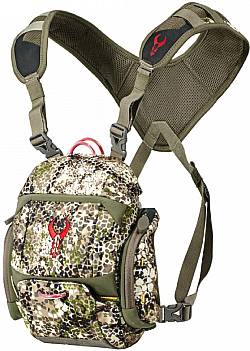 Then should you need to determine how far away your proposed target is, a simple pull on the bottom of the Badlands binocular chest pack allows you to reach in and grab your rangefinder.
This is a great solution for those who brave the elements as this offers maximum protection to both your binoculars and rangefinder in even the most volatile weather. The Badlands XR comes complete with a waterproof covering, which can be applied to your case within a matter of seconds, protecting against rain and the debris that can be found whilst hunting, such as dust.
There are a couple of drawbacks with the Badlands XR, and it's strengths can also be it's weakness in that the extra comfort and protection make for a little more weight and bulk and so as to if it is perfect fro you will depend on what you're looking for in a combined rangefinder and binos harness.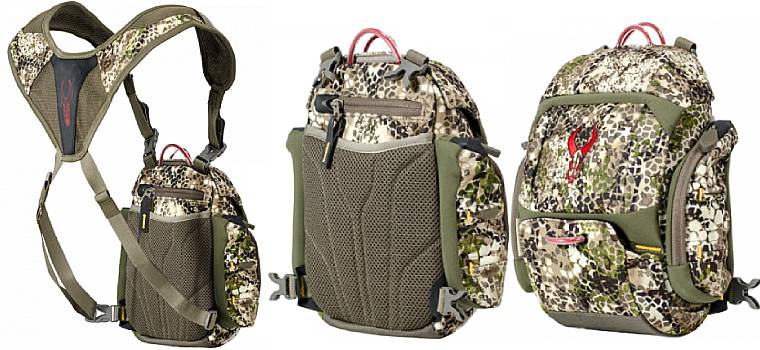 Strengths
Super high quality materials and great looking design
Harness can become a great carry case with a few clicks
Superior comfort
Maximum level of protection for your Binoculars and rangefinder
Weatherproof cover for more volatile weather conditions.
Comfortable fit that eliminates the strain associated with carrying binos.
Weaknesses
A little more bulky than some options
Access to your harness is not as quick or easy as those that are stored on the exterior.
Price:
With a current retail price of around $149 (£164 in the UK), the Badlands Optics Bino XR Binocular and Rangefinder Case with Shoulder Harness is one of the more expensive options out there, but make no mistake, it is also one of the very best dedicated single case carry solutions currently available:
FHF Gear Binocular Harness
Of all the options on the market, the system from FHF Gear is one of the most flexible as they offer a ton of options to make sure you get one which is perfectly tailored for your exact gear and requirements:
Available in four different sizes (most only offer two), you can be sure to get a case that better matches the size of your bins so that they don't rattle about, but at the same time is not too tight so as to make taking them in and out difficult.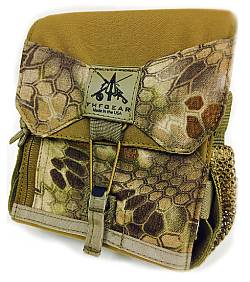 Next: The FHF Binocular Harness comes in five different color options, with three different camo designs, a plain green and blaze orange, there is every chance that there is exactly the right solution for your needs and tastes.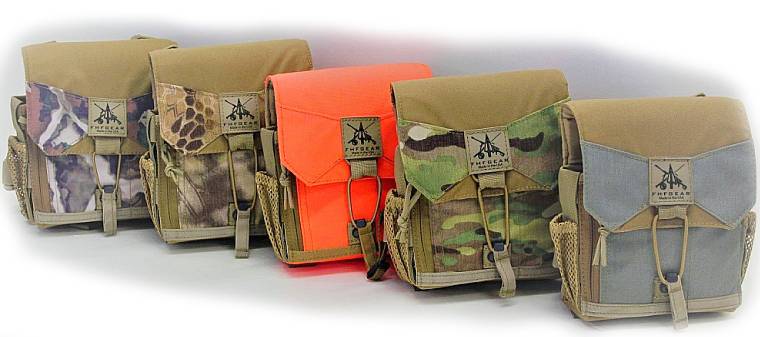 Compared to many others, the FHF bino harness is less padded and so whilst this offers a little less in terms of protection, on the plus side your get a more lightweight harness. Which combined with the extra sizing options also means you can get a more streamlined solution.
For hunters who travel long distances in difficult terrain or thick forests, this can be an important feature to keep in mind.
The pouch can be opened with one hand by unhooking the bungee and boot hook closure, which is secure, quick and easy to do and silent in operation. A simple solution that I really like.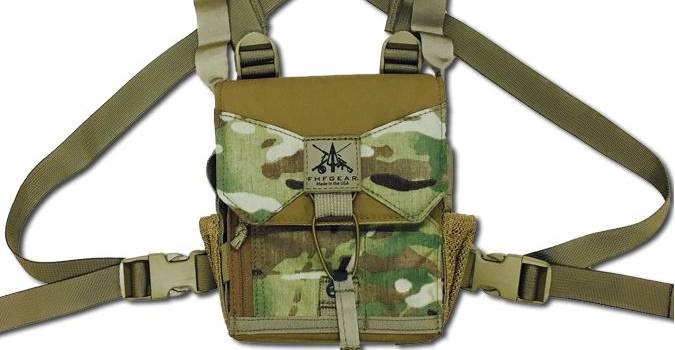 The straps themselves are sturdy and offer a little elasticity which is enough to offer a comfortable fit, but not so much that it means that your binoculars are bouncing about. The case has a fleece interior that contributes to the silent operation of the FHF gear.
Rangefinder Storage
While not stored onboard and a dedicated rangefinder storage in not include, you can purchase the FHF Rangefinder Pouch that is designed to work in tandem with the binocular harness to offer an all-round solution that can be amended depending on your requirements.
There are two sizes available and come in the same colors as the harness to match perfectly. It fixes to the side of the case via a secure belt loop designed to attach to one buckle that prevents it from sliding around on the harness.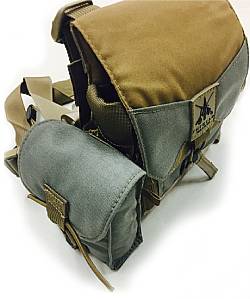 Strengths
More Lightweight and less bulky than most other options
Mesh on the back of the pouch means warmer days are easier to contend with.
Many size and color options to choose from
Weaknesses
Rangefinder Pouch is a separate purchase.
Price:
At around $100 for the Harness and an extra $30 for the Rangefinder Pouch, this carrying solution from FHF Gear is not super cheap, but you do get loads back in terms of the quality and options available:
Kuiu Bino Harness with Rangefinder Holder
Sometimes less is more, and that's certainly the case with the KUIU bino harness. At first sight, it would be easy to assume that the KUIU bino harness is not able to provide ample storage. However, this bino harness showcases how appearances can be deceiving thanks to some clever design work.
The design of the KUIU bino case is different to other solutions in the way that it is operated. While some harnesses may have a magnetic closure, the KUIU bino case peels down from the top, and has a finger loop that can be easily used with one hand, even if the user is wearing gloves. As well as containing a fleece-lined compartment for your binos, there are also two mesh pockets that can be used to carry other items of importance, such as diaphragm calls or a wind checker.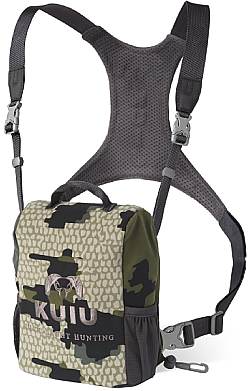 The lid is semi-rigid, which ensure they eyepieces of your binoculars are protected, and comes complete with a waterproof cover should you have to brave the elements during a hunt. The cover can also protect against debris and potential scratches.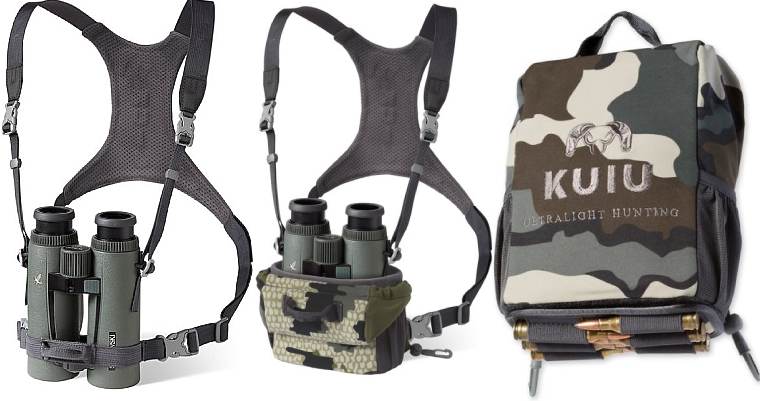 Rangefinder Storage
Like the FHF option above, there is no rangefinder case included, but a holder can be purchased as an extra to be used in partnership with the KUIU bino harness.
Available in two sizes and three different color options, the KUIU Rangefinder Holder securely fits to the underside of the harness using a Velcro (hook and loop attachment). This works well, but can make a bit of noise should you have to remove the pouch for any reason.
You gain access to your rangefinder using a loop, flip to which makes for a silent operation, but positioned under the case can be a little tricky to do until you get used to it after some practice.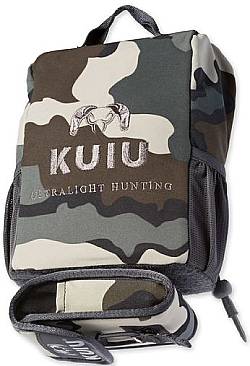 Strengths
Excellent build quality
Streamlined design
Hunting Heritage you can trust
Versatility: Carry your bins in the full case or just the harness. Only add the rangefinder holder when you need it
Included rain cover
Offers good level of Security and Comfort
Silence & Camouflage is Forefront with Different Camo Options available
Air Mesh Space on the back panel for better air circulation
Weaknesses
Rangefinder Holder needs to be purchased separately.
Requires a little practice to quickly access your rangefinder
Be sure to also take a look at this article on the Kuiu vs Badlands Bino Harness that will give you a far better understanding of the relative strengths and weaknesses.
Price:
Depending on the size you choose the Kuiu bino harness for sale at around $90 / £90, and the Rangefinder holder comes in at almost $35 / £35:
Athlon Optics Binocular Harness
The Athlon Optics Binocular Harness offers a lot and is a very interesting option especially when you consider it's low cost:
It offers a good level of comfort and protection including being waterproof and thus ideal in wet and snowy/blizzard conditions.
The harness is designed to reduce the strain that using a standard binocular strap can present during a long hunting trip. It is also fully adjustable and can be altered to allow for maximum comfort.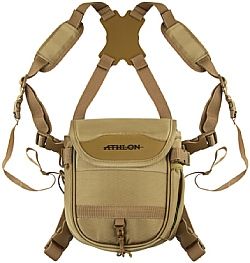 The flip cover is magnetic, and snaps silently shut. A nice feature is that the cover can also be held open using the same magnet system, which enables you to have easy access to their binoculars with one hand while still holding onto their bow/rifle or rangefinder with the other.
Rangefinder Storage
A side pocket, stretch cord, clip and hook make it a versatile option for carrying licensing as well as other accessories and makes this a great binocular and rangefinder harness solution. Indeed Athlon's own rangefinder comes with a case that fits perfectly to this harness, but so will most other rangefinder cases if you already have one.
Whilst not the most spectacular on on the market, the neutral earth tone desert-tan color is a great general use camo that will work well in a variety of environments and seasons.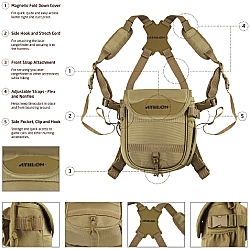 Strengths
Protective and waterproof case
Silent Access
Great Value for Money low cost binocular chest pack
Weaknesses
Perhaps too simple for some tastes and not quite as luxurious as the more expensive options out there
Review
As I type this, I have this Athlon Bino harness in for testing and have been using it for about a week, my look out for my full review which will be up soon.
Price:
Costing about $50 this Athlon Bino Harness looks to be a real bargain and most certainly a great choice for those on a tight budget
Conclusion
For me to simply state which binocular and rangefinder harness is the best and leave it at that is impossible as it depends on what your exact requirements are and as such different ones excel in different areas and each has their own quirks.
The Horn Hunter bino case system and the Athlon Optics Binocular Harness are good low cost all-rounders, which offer secure storage, easy access and a couple of ways of storing your rangefinder. These are the ideal choices for those who will use their case less frequently or who are on a tight budget.
For a all-in-one solution with onboard rangefinder carrying the Badlands Bino XR Bino Harness is the way to go if you are looking for maximum comfort and protection.
If lightweight and customizable choices are what you are after then the options from FHF Gear and KUIU are certainly two of the very best choices on offer.