Snypex Optics
About Snypex Optics
A new optics company, Snypex LLC. is based in the US (New York).
Snypex sports optics currently offer a small but expanding range of mid to high end optical products that includes binoculars, spotting scopes, accessories for digiscoping and laser range finders.
Designed using cutting edge technologies most of their current optical instruments come with ED glass, strong, lightweight and waterproof magnesium housings and many other features and so make them ideal for most outdoor pursuits.
Snypex Binoculars
Snypex Optics currently have a small range of binoculars but are in the process of adding more ranges to their stable.
With mid-size (32mm) and full-sized bins in both 42 and 50mm objective lenses, currently all Snypex binoculars are primarily aimed for use outdoors (wildlife observation, birding, hunting, hiking, safaris etc) and are available at the mid to high end spectrum at what looks to be at competitive prices.
Snypex Optics Binoculars:
Snypex Extreme HD Binoculars - coming soon
Snypex Strike Binoculars (focus free)
Snypex Knight ED Binoculars
Snypex's most recent offering and their current flagship range is their selection of Knight ED binoculars.
There are currently there are six models within the Knight ED series (2x32mm, 2x42mm and 2x50mm), all are roof prism bins with magnesium chassis that are fully fog and waterproof and sport an open bridge body design.
The Knight ED is aimed at the higher end of the market and include many very high quality optical components and coatings including the use of apochromatic compound lenses with extra-low dispersion (ED) glass elements.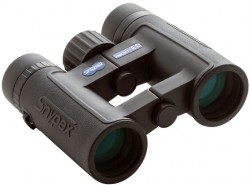 Other optical features include fully multi-coated optics that you would expect at this price point, but they also have water-repellent coatings on exterior lens surfaces, that not only make them usable in damp conditions, but makes them easier to clean, thus you are less likely to permanently mark them during cleaning.
The roof prisms are all made from top quality Bak-4 glass and they have been phase coated to ensure the best quality image is maintained.
Models & Full Reviews:
10x42 Knight ED
8x32 Knight ED
Main Specifications:
| | | | | | |
| --- | --- | --- | --- | --- | --- |
| Model | FOV @1000yds | Eye Relief | Close Focus | Weight | Dimensions |
| 8x50 | 362ft | 20.3mm | 4.92 | 31oz | 6.1x5.3x2.3in |
| 10x50 | 309ft | 20mm | 4.92ft | 30.7oz | 6.1x5.3x2.3in |
| 8x42 | 393ft | 18.4mm | 6.56ft | 26.8oz | 5.5x5.2x2in |
| 10x42 | 351ft | 17.2mm | 6.56ft | 26.8oz | 5.5x5.2x2in |
| 8x32 | 351ft | 16.8mm | 4.92ft | 13.4oz | 4.3x4.6x1.6in |
| 10x32 | 288ft | 17.5mm | 4.93ft | 13.4oz | 4.3x4.6x1.6in |

Related Articles

Prices & Where to Buy
These mid to high value Snypex Knight ED binoculars have a reccomended priced from between $440 for the 8x32, to just below $600 for the 10x50, with the Snypex 8x42 Knight ED costing about $480.
For current prices and availability take a look at the link below, although as they are still very new, at the time of writing, I have only thus far been able to find them listed on Ebay and Amazon:
Where to Buy Snypex Binoculars:
Snypex Binocular Reviews
Below are some featured and fully reviewed Snypex Binoculars: View >> All the Snypex Binoculars that I have reviewed.
Mid-High end optics that contain may high end components and features including an Aluminum/Magnesium Open Bridge Body, apochromatic lenses with ED glass elements, FMC optics and Bak-4, phase coated roof prisms.

This translates to a great performing binocular, buit to a very high standard that is as good as or better than any other at this price level.

Price: (4/6) Mid-High Value Binoculars


A very lightweight and compact open bridge body that is tough as well as fog and waterproof do a great job of protecting the high quality optics contained inside these Snypex binoculars.

Components like Apochromatic lenses with ED Glass Lens Elements, fully multi-coated optics and Phase Coated, BaK-4 Roof Prisms all combine to produce an image of stunning clarity and brightness that is a match to any in this class.

Price: (4/6) Mid-High Value Binoculars


High specification 10x binoculars with larger than standard 50mm objective lenses for superior light gathering ability, which combined with optical features like fully multi-coated optics and highly reflective silver mirror coated prisms deliver a stunning low light performance for a 10x binocular of this size.

Other optical highlights include the use of ED glass elements in their apochromatic designed lenses and phase corrected Bak-4 roof prisms.

Price: (5/6) High Value Binoculars


These 8x5 Snypex binoculars with their large 50mm objective lenses have improved light gathering compared to the more commonly found 42mm models, but with only a slightly larger and heavier body.

This combined with optical features like ED glass elements in their apochromatic lenses, phase corrected Bak-4 roof prisms, fully multi-coated optics and silver mirror coated prisms produce a high quality view, bright image and improved low light performance.

Their Magnesium & Aluminium body is fully water and fogroof and covered in a tough rubber armour.

Price: (5/6) High Value Binoculars


View >> All the Snypex Binoculars reviewed on BBR.
Snypex Binoculars on Amazon:
Amazon USA
---
Amazon UK
Contact Snypex Optics:
Telephone. 1855-2-SNYPEX
E-mail: sales[at]snypex.com
Address:
111 S. Franklin Avenue
Valley Stream, NY 11580