A while back I was a little surprised to get a phone call from the owner of Snypex Optics. The conversation mostly revolved around the fact that he had really taken my reviews of their binoculars and scopes very seriously and that he valued my input.
He also wanted to let me know that they were working on a new version of their then top of the range Knight ED series and that this newer incarnation would address the points from my reviews that I had highlighted where they could have done better of have improved to make an even better pair of bins.
I must admit that I was a little taken aback by this as it really dawned on me that not only were my thoughts and opinions important to consumers, but manufactures as well. In a way this should have been obvious as ultimately they are the ones who stand to loose or gain by performing well against their competition in any given review or test. It also re-affirmed my belief that you are often far better off going with a smaller company where every single sale is important to them and they actually listen to your feedback, rather than the giants of our industry where you are completely lost in the 'fog of war' that is business.
What is more and I am not going to name names here (besides you can easily work them out by which ones are absent from this site), but to date, I still an unable to get hold of samples from some of these 'giants' within our industry, which I find incredible. If you think of it, they are either afraid of how their instruments will compare against the competition which to me says a lot about the belief they have in their products, or they simply just don't care what I have to say about them. If this is the case, then just imagine how much they care about the average single purchase consumer and the level of customer care they give to them.
Now compare that to this experience, where the owner of what I would describe as a small to medium sized optical company not only takes the time to send me their products to review, but then takes to heart my and I assume your feedback and who is then willing to act on this during their product development and thus hopefully continue to improve - brilliant!
New and Improved Snypex Knight D-ED 8x42 Binoculars
So with the words 'New and Improved' proudly printed onto the front face of the packaging, there is no doubt that Snypex Optics truly believe that they have developed and enhanced what I thought was already a great pair of binoculars into something a little bit special.
Indeed I rated the original Snypex Knight ED 8x42 Binoculars as 'Outstanding' within their class and they even went on to win the award for the Best Birding Binocular 2015/16, which if you consider the competition they were up against was really impressive.
So have Snypex really been able to improve on them? In this review, rather than repeating what I have already written about, I am just going to focus on what is new and thus hopefully this will make it easier for you to decide which version is best for your needs and budget. For the rest, you can simply refer back to the review of the older model.
Key Specs & Features
Top of the Range/High Value Binoculars, approx: $580
Open Bridge Body Design
Aluminum & Magnesium Chassis
Extra Low Dispersion (ED) Glass Lens Elements
APO (apochromatic) Lenses
Fully Multi-Coated Optics with water repellent coatings on exterior lens surfaces
Waterproof and Fogproof
Phase Coated, Bak4 Roof Prisms
Dielectric Mirror Prism Coatings
Field of View of 393ft @ 1000yds
Close Focus: 6.56ft
18.4mm of Eye-relief
Weight: 760g (26.8oz)
ED vs D-ED
The first and probably the most significant point to note is that whilst very similar, Snypex have changed the name slightly (from Knight ED) to Knight D-ED (more on that below) and so I guess technically these are a different product. Indeed you can still buy both versions and if I am not mistaken they are still producing the older "ED" and this newer ED-D version.
Dielectric Mirror Prism Coatings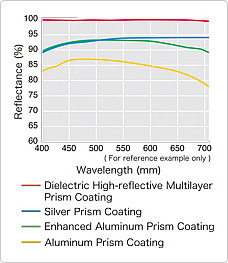 The 'D' added to their name actually indicates that instead of using silver mirror coatings on the prisms, the new versions now have the very best Dielectric mirror coatings added to the surface of the roof prism that does not naturally reflect all the light that hits it.
So whilst silver is a very good coating material because it increases the reflectivity of this surface to between 95% and 98%, it does fall short of the more than 99% that is achieved by dielectric multilayer coatings.
In real terms this translates to a more accurate color reproduction and a perceived image brightness that is as brilliant as what you see when not looking through your bins.
The major down side to adding Dielectric mirror coatings to a roof prism is that it is technically difficult and expensive to do an that is why it is only found on top end instruments.
Water Repellent Lens Coatings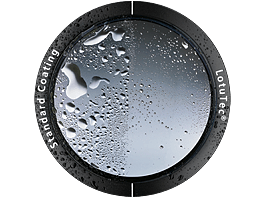 Also new is the addition of a water repellent coatings to the exterior lens surfaces. This is another small but important upgrade and which also shows an increasing level to the small details from Snypex.
Largely pioneered by companies like Zeiss, the addition of an 'aquaphobic' material on the external lens surface helps ensure that any water that hits the lens forms into tiny droplets and then simply rolls off the glass.
Obviously in wet conditions this helps maintain a superior view, but almost more importantly is that it prevents water marks from being left behind. This means that the lenses require less cleaning and if you do need to clean them, you do not have to be quite as vigorous. Both of which go a long way in ensuring that you don't mark or damage any of the other coatings or the glass itself.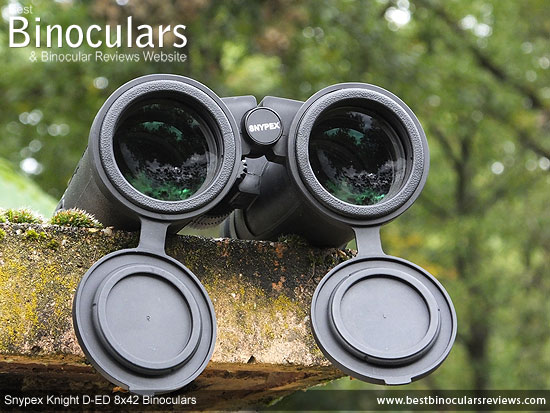 Optics - Summary
To to summarize, the optical system has been enhanced with the addition of superior dielectric coatings on the prisms and the addition of the water repellent coatings. Other than that it looks to be the same. This is excellent as you can see from the summary below and with these inclusions this optical system is for the most part on a par with the very best:
Extra Low Dispersion (ED) Glass Lens Elements
Fully Multi-Coated Optics
Water repellent coatings on exterior lens surfaces
Bak4 Roof Prisms

Phase Coated
Dielectric Mirror Coatings
For more details on each of these points that are not new, please refer to the optics section on my previous review: Optics on the Snypex 8x42 Knight ED
Coating Comparisons
Optical Components Quality Rating: 8/10
Body & Chassis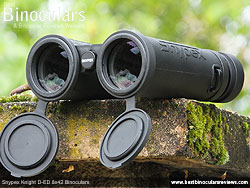 For the most part the body design and materials used remains the same, indeed I am pretty sure that the main chassis and external rubber coating is exactly the same open bridge body that is used in the older version as not only does it look identical, but the main specifications like the dimensions and it's weight are all still published as being identical.
This is not a bad thing as in almost every respect, I thought that the overall design, construction quality and materials used were of a very high standard and so there really was not much need to make any changes.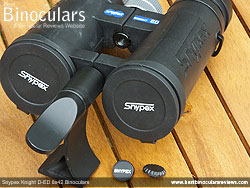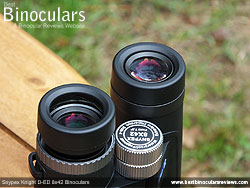 Body - Highlights & Main Points
Open Bridge Design
Magnesium & Aluminium Chassis
Hard but thin rubber armour - making it tough and longer lasting, but provides less protection than softer and thicker rubbers
Tripod adaptable - can attach tripod adapter to either of the hinges
Waterproof tested to 1 meter for 15 minutes
Nitrogen gas filling for fogproofing of internal lens surfaces
To go over all these features in detail, please refer to the body section on my review of the original Snypex Knight ED 8x42 Binoculars.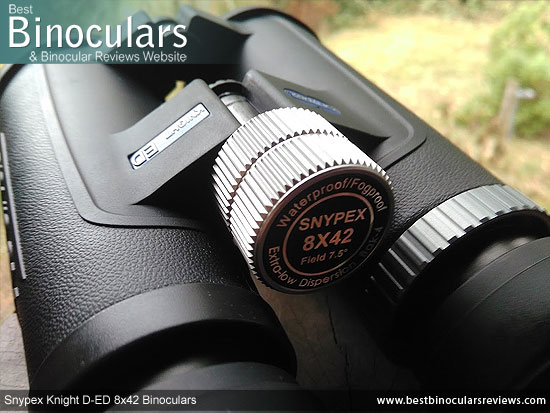 Body: What's New
Focus Wheel
In my review of the older ED version, I expressed that whilst the mechanism and smoothness were really good, it was as shame that Snypex had opted to use a plastic focus wheel. Well the great news for us is they have now upgraded this on the D-ED version which comes with an aluminium focus wheel.
Whilst this may be a small change, for me this shows a really good attention to detail and makes a big difference to the look and feel when you are using your optics. It is a little hard for me to explain, you really do now feel like you have a really high end instrument in your hands.
As well as this 'feeling', the more pronounced edges of the ridges that go around the outer surface of the wheel also offer better levels of grip than the more rounded edges on the rubber coated plastic wheels. Whilst this is for the most part not super important, in winter when you are wearing gloves it can be an advantage as it ensures that you are better able to accurately adjust the focus.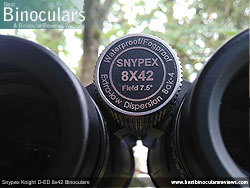 Focussing
Other than the wheel itself, the actual focus mechanism remains exactly the same.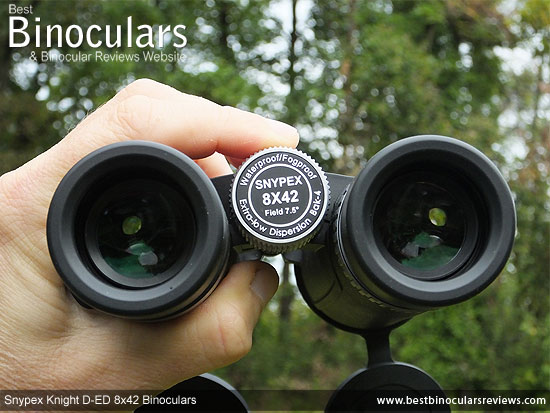 Diopter Adjustment
Also made from Aluminium, the diopter ring used to calibrate the binoculars changes very slightly in that it is now a silver rather than black, which ties in very nicely with the focus wheel,
Rating for Body Construction Quality: 8/10
Weight & Dimensions
The advertised weight and dimensions are exactly the same. As this bin uses exactly the same chassis this is not surprising, however I would have expected the weight to have increased or at least changed a little with the inclusion of the metal focus wheel.
Anyway I decided to place them on the scale for myself:
780g with lens covers, rain-guard & neck strap
720g with both lens covers & rain-guard
698g with just objective lens covers
664g just the binoculars, no extras
Table of Official Published Weights & Dimensions
BBR Rating for Body Stats: 8/10
Optical Stats
These all remain remain the same for the new Snypex Knight D-ED 8x42 binoculars:
Optical Stats Rating: 8/10
Image Quality
Unfortunately I did not have the older 'standard' Knight ED version at hand and so was not able to directly compare the view against each other. However as with all my reviews I did compare what I saw through them against my control/benchmark bins. In this case it was my high end and mid range 8x42 benchmarks, which were exactly the one that I used when I tested the older version.
Image Brightness
Like the older version, I was once again able to detect a brighter image through these Snypex D-ED binoculars when compared to my mid range 8x42 benchmarks in poor light and once again they looked to e to be the same level of brightness as that of my high end 'alpha' 8x42 binoculars.
Thus once again I am able to rate these as being excellent in this area.
Colour Reproduction & Image Contrast
I had no issues here and to me the colors look vivid without being to artificial.
Likewise, the contrast is good, so the image is bright without being washed out, but at the same time there is not too much contrast so as to make the image look unnatural.
No artificial tinting of the image was observable.
Color Fringing
Caused by chromatic aberrations and seen as color fringing around the edges of objects in the view (especially when they have a big contrast with their background), this Snypex Knight D-ED binocular showed only very low levels of this.
Like the older variant, the high end apochromatic lens design and the ED glass in the lenses most certainly help with this and ensures that in this department they once again compare very well against the best.
Image Flatness & Softening
Very minimal amounts of image softening right on the edges of the view were visible, but no more than what I would expect to see when looking through a binocular at this level.
During my use and testing, I was never aware of any defects or aberrations of the image. It looked nice and flat and I never experienced any curving of the image that you sometimes can see.
Image Quality vs Previous Version
The inclusion of the dielectric coatings on the prism will in theory improve the light transmission levels, which in turn will improve image brightness and supply your eyes with more accurate colors. As we have seen, these Knight D-ED's perform very well in these and indeed all other departments in this section,... but then again, so did the 'standard' non dielectrically coated version when I tested them!
So without a direct comparison, it is quite hard for me to say definitely how much improved the image is on these, which is a shame. But what I can say is you really will not be disappointed with what you do see when you look through them, which at the end of the day that is what really matters.
Image Quality Rating: 8/10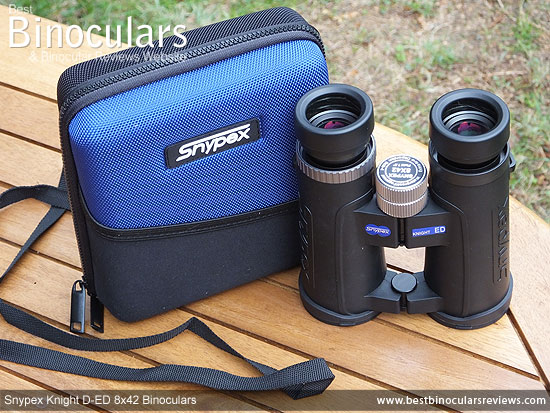 Accessories:
The accessories that come with these Snypex Knight D-ED binoculars largely remain unchanged, apart from two quite important upgrades:
Neck Strap

The neck straps now come with easy fasten quick-release clips.
This is for me a great addition as this design enables you to quickly remove the main padded part from the instrument should you need to without having to re-thread the straps through the eyelets again which is quite time consuming and if you have done it as many times as I have, a real pain!
What is more, once you have uncoupled and removed the main padded section, you can then reconnect the now much shorter parts of the strap that are still fixed to the binocular and create a hand strap which works really well.
For me not only is this an extremely useful feature as I often don't care for the added clutter of a full neck strap, but once again to me, it shows some great attention to detail form Snypex.
For more details of exactly how this quick-release strap works and how to change it from a neck to hand trap, take a look at the video below: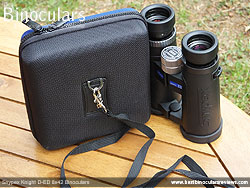 Warranty Upgrade
To show just how much Snypex LLC believe in their products, they have now extended their 5 Years warranty to 25 Years on all their binoculars which can only be a good thing..
For more on all the other generally excellent quality accessories, including the semirigid carry case please take a look at the Accessories section on the Snypex Knight ED 8x42 Review.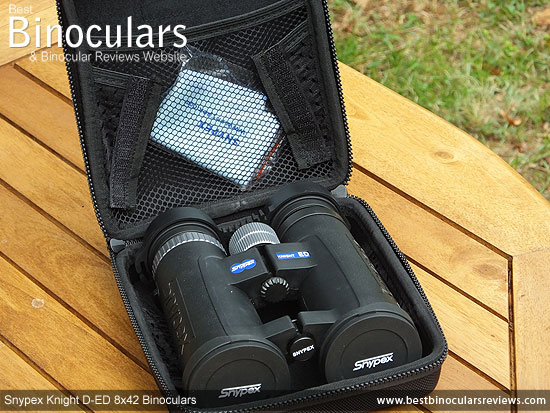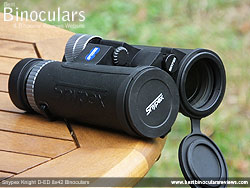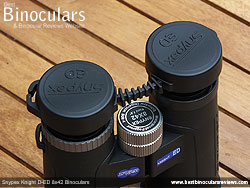 Extras & Attention to Detail Rating: 8/10
Snypex 8x42 Knight D-ED Comparisons
Price - As you can see from the table below, this new D-ED version is around $100 more than the 'standard' Knight ED. This increase largely reflects the higher manufacturing costs involved in implementing the improvements that we have already covered.
Review Conclusions:
There is no doubt that these Snypex D-ED 8x42 binoculars are very good to excellent in pretty much every single department. I really love the fact that they have listened to feedback from the public and have then acted on it where possible to produce a n instrument that is also most certainly superior to it's predecessor, which it itself is still an outstanding binocular.
The increase in price of the new model reflects the cost of implementing these upgrades. With binoculars it is most certainly the case of diminishing returns and thus the higher up you go in terms of quality, the more it costs to make even the slightest improvements. So ultimately it will be up to you to decide as to if the extra $100 for the new and improved version is worth if for the improvements made.
One thing that I can say for sure is in my opinion, the level at which companies like Snypex value their customers is well worth keeping in mind and so whilst they may not be able to match the mega companies because of lower production volumes, you do get value in other ways.
Ideal Uses