Over the years I have used, tested and written ALOT of binocular reviews and whilst I really like the process, it is always just that that much more enjoyable when something a little special or out ordinary comes my way:
Step up Maven Binoculars
Maven Outdoor Equipment Company, stands out from the crowd in that not only do they only produce high end binoculars, but if you wish, you can also customize them to suit your personal style or taste.
This service does however come at an extra cost, so if you wish, you can opt for an off the peg stock instrument, that uses all the same high end components as the custom versions, but have to 'settle' for either a black, silver or orange accented design.
What also stands out for me with Maven binoculars are their of their many "out of the ordinary" size and magnification options available, which really make for some interesting choices. Sure you can still have your typical 8x42 if you want (or need), but then you also have Maven's available in 6x30, 10x56 or like I decided on an 11x45 configurations!
Maven B2 11x45 Binocular Review
For this review, Maven supplied me with their somewhat unique orange accented, 11x version of their B2 series which all use larger than normal 45mm objectives:
Specs & Features at a Glance:
High End / Premium Binoculars, RRP Approx: $1000
Fully Multi-Coated Optics with:

45mm Objective Lenses using ED Glass Elements

Abbe-Koenig Roof Prisms:

Phase Correction Coatings

Magnesium Alloy Body:

Waterproof & Filled with Nitrogen Gas for fog protection
Twist-up eyecups with 16.7mm of relief
Tripod Adaptable

FOV: 314ft @ 1000 yards
Close Focus Distance: 4.9ft
The Body
Shape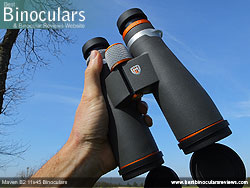 At first glance these Maven binoculars look to have a really typical design and shape that you see used on most modern roof prism bins on the market. However on closer inspection there are some small differences that I feel are worth mentioning here:
Firstly and whilst not massively different, they are somewhat larger than your normal 42mm instrument. This is to be expected, because they have larger 45mm objectives, but what is also noticeable when you hold them is that they are proportionately slightly longer than the norm.
This I think is down to Maven Optics opting to use the Abbe-Koenig design of roof prism, which are are longer than the more commonly used Schmidt-Pechan design, but do offer other advantages in this context (more of this in the prism part of the Optics section below).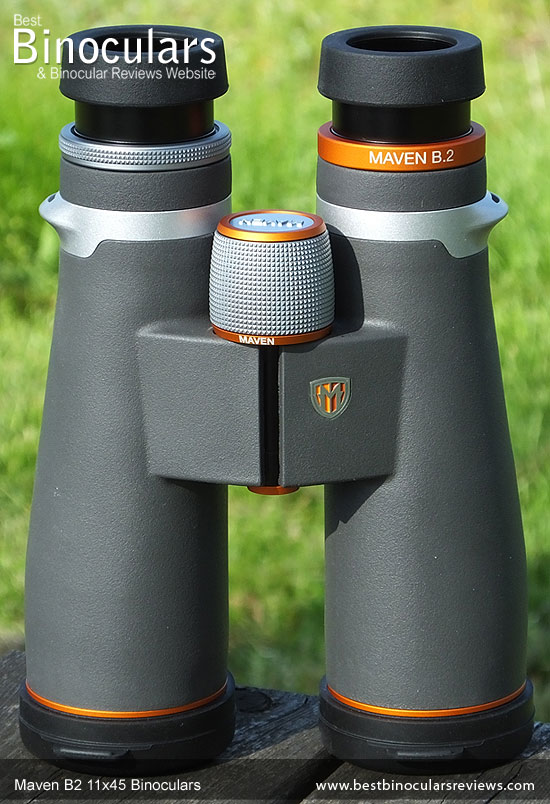 The position of the single hinge is also somewhat interesting as it sits nearer the eye-pieces than the objective lenses and not in the middle as is the case with most bins. This top-hinge design in many ways reminds me of the newer instruments from Zeiss, who also happen to use the Abbe-Koenig roof prisms in their products. What I like about this shape is that it leaves a large area of the barrels free to hold onto, be that when you are glassing or when carrying your bins about one handed.
Exterior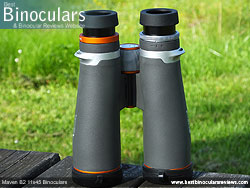 The rubberized coating that covers most of the Maven B2 binoculars is thinner than that I see on many instruments that I test. This characteristic means that it provides less cushioning from heavy impacts, however on the flip side, this thinner rubber also fits the chassis like a glove and in no way slips about as is the case on some thickly padded bins that I have tested.
The rubber that they have use is also extremely tactile and very finely textured, offering much more grip than the majority, which has to be a good thing.
The dull grey gun metal color that Maven has used makes for a reasonably good camouflage, which along with the fine textured finish minimizes the light reflecting off them. For uses where you need to remain hidden like hunting and even general wildlife observation, these are important features.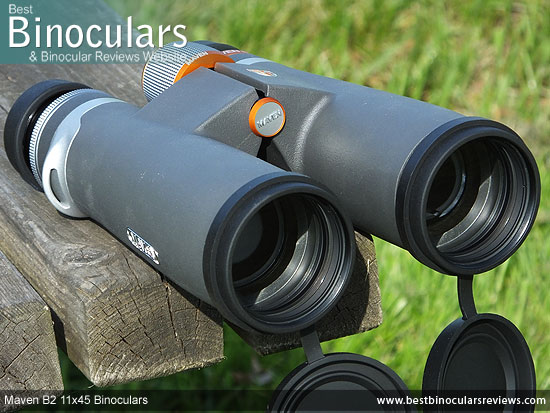 Protected Lenses
Another feature that I really like is that the lenses are well protected by the fact that they are set back nice and deeply (9mm) from the ends of the barrels. Sure Maven could have made these B2's a little shorter by reducing this amount, but then the lenses would be more exposed. This cover not only protects the glass from being scratched (like when you place your bins down on the ends without replacing the lens covers), but also shields them from light rain and even settling dust. Remember the less you need to clean your lenses the better.
Housing
As with with most modern premium level bins, the Maven B2 11x45 binocular has an internal chassis that is made out of a magnesium alloy, which is lighter and stronger than aluminium and more robust and has to be said exudes more class than the polycarbonate shells found on many lower quality/cheaper instruments.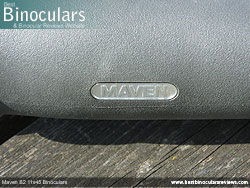 Waterproof
These Maven 11x45 B2 binoculars are sealed and thus waterproof, which is what you would expect to find on any have decent modern binocular.
However what I do like to see is that they have quantified this statement with a recognized standard (IPX7) and which means that that they pass a pressure test of 1 meter for 30 minutes, which should cover you for any accidental dropping into a stream or when using out in the rain.
I also think it is worth pointing out that a sealed instrument like this is also protected in dry conditions as it will prevent dust etc from entering.
Fog-Proof
During the manufacturing process, Maven also pump Nitrogen gas into the interior to replace the air that is in there. This moistureless gas essentially fog proofs the interior glass surfaces which can quite easily occur on unprotected devices.
Inter-Pupillary Distance (IPD) Adjustment
The single rather thin (in comparison to the length of the barrels) hinge on my sample Maven optics felt very robust and for my preferences there was just the right amount of resistance to movement when opening and closing it so that it is not difficult, but at the same time remains at the point you desire.
By fully opening and then fully closing the hinge you can adjust the distance between the centers of the eye-pieces from 7.5cm to 5.6cm which is quite typical as can be seen in this document on IPD on Binoculars and so should be able to accommodate most people.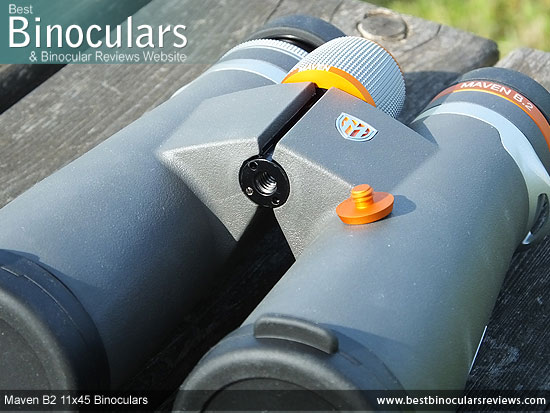 Tripod Adaptable
This Maven B2 binocular is 'tripod adaptable' and by this I mean that they can very easily be fixed onto a tripod by using a standard tripod adapter that screws into the front face of the hinge after you have unscrewed and removed the small aluminium dust cover as shown in the image above.
Eye Pieces & Cups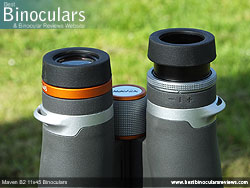 These Maven B2 11x45 binoculars and indeed all the other models within this B2 and I think all their other ranges use the twist-up (and down) design that enables you to adjust the distance of the end of the eyecup to the ocular lens.
The twisting mechanism on my sample was very good and clicked firmly into the maximum, minimum and the two intermediate settings with a reassuring clunk sound. This 4 position click-stop adjustment (most only have 3) along with a very good amount of eye-relief (16.7mm) means they should be customizable enough to suit most shapes of face no matter if you wear glasses or not.
Also worth noting is that the eye-piece housings are made from metal, which is important because many have plastic parts and as this is a section on the bin that can easily get damaged when dropped, it is important that it is as strong as possible.
The cups themselves have a thin and quite hard rubber coating, so whilst comfortable enough, they are not the most comfortable that I have ever used and you can feel it if you press the bins firmly against your face.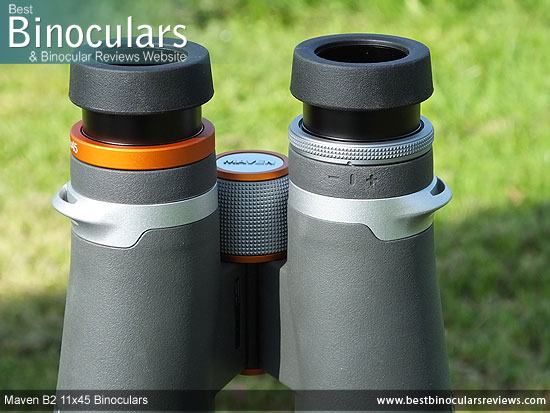 Diopter Adjustment
Maven have positioned the diopter adjustment ring in the normal position, on the right side of the instrument under the eyecup.
Turning this ring changes the focus of the right barrel independently of the left and it is in this way that you can calibrate the bins to allow for any difference in the vision of your left and right eye.
At ±4 this 11x45 Maven B2 has a larger range of adjustment (Diopter correction) than most others, thus making it a good choice if you know you have to make a large correction.
I also like that the ring is made from metal and even though it cannot be locked (as some can), it has plenty of resistance to movement, meaning that once you have taken the time to find your perfect setting, the chances of it moving by accident are pretty small.
Other than not being lockable, I think the only thing that Maven have missed and is common to most bins is the lack of a scale or markings, which can make it easier to remember your setting, making it easier to change and return to it if you have to share your optics with someone else.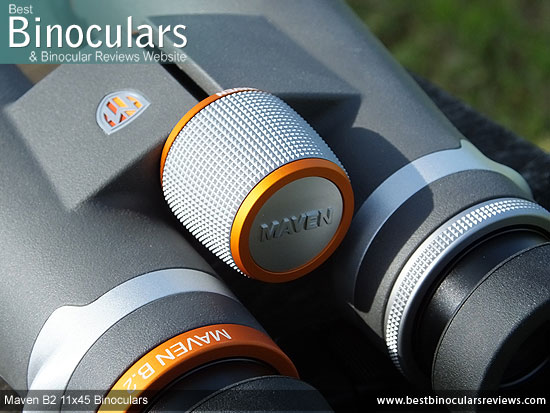 Focusing
I know this may sound strange to some and perhaps a little too nerdy, but the focus wheel and the actual mechanics of it are for me one of the real highlights on these 11x45 Maven B2 binoculars. Focusing on this device is excellent and just remember whilst using your optics it is something that you have to do all the time, so for me this is not just a trivial point.
The wheel itself is real quality: all metal and with a deeply grooved pattern machined/stamped (?) into it and just looks great.
Whilst at 27mm in diameter, it is a little smaller than normal for a full sized bin, it is located in a prominent position so is easy to reach and offers up a lot of grip. Whilst these aspects may not seem that important at first, just remember that in times like winter when you have thick gloves on and thus less feel, being able to easily reach and turn the wheel is vital.
The smoothness at which the wheel on my sample turned was superb and there was absolutely no free play or stiff sections at any point along the full range of focus.
Personally I also like the fairly aggressive gearing on this instrument as it takes you from the focal extremes with just 1 ¼ turns of the wheel (450° of rotation) and thus big focus adjustments are quick to make. In theory this should make it a little harder to make really fine adjustments, but I never had any problems getting the view perfectly sharp during my use of them, so no issues from me here.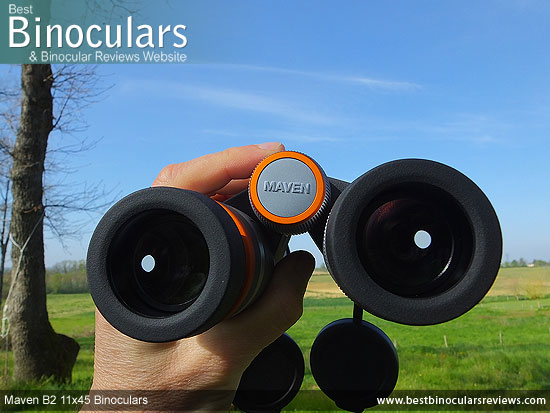 Rating for Body Construction Quality: 9/10
Weight
As is clearly demonstrated in the table below, there is no denying that for a "standard sized" binocular, tipping the scales at 33.2oz / 941g these Maven B2 11x45 binoculars rank up there with the more heavy instruments that I have tested. However the difference between these and all but the lightest (usually plastic bodied) options is not that massive, so unless you specifically require a lightweight instrument, I would not be overly concerned with this.
Size
The table above also clearly shows that at 7.1in (18cm) in length, the Maven B2 is a comparatively long when compared to your standard 42mm roof prism binocular. As I have already briefly mentioned and as you will read about further in the optics section below, this is most certainly due to the fact that they use the Abbe-Koenig design of roof prism.
BBR Rating for Body Stats (compared to standard size bins): 7/10
The Optics
As you will read below, the makeup of the optical system on these Maven B2 11x45 binoculars and indeed all others in their range approaches that of the very best: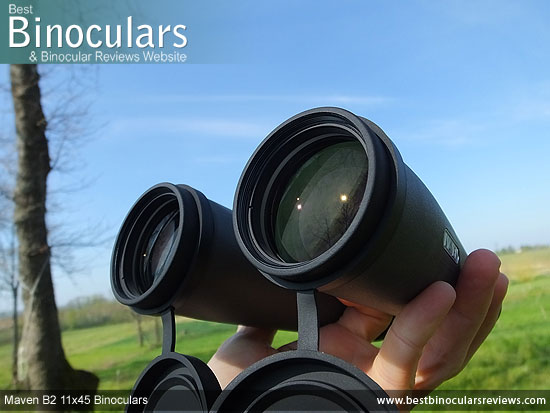 Objective Lenses
The Maven B2 11x45 binocular has objective lenses that are made up of 3 groups with 4 individual elements that are very carefully designed and arranged in such a way so as to manipulate the individual wavelengths of light very precisely so that they behave as intended after passing though the lens and thus deliver the highest quality view as possible:
Size
At 45mm in diameter, the objective lenses are a fair bit larger than what you usually get on "normal" full sized bins that most commonly have 42mm objectives, but at the same time I feel that they are not so large as to make the instrument to heavy and unwieldy.
So whilst larger lenses are more expensive to produce, they offer a number of benefits. Firstly and most importantly, they are able to capture more light and thus, so long as the transmittance level of the optical system is high, the potential is there for them to get more of this light to your eyes, which will result in a better image quality and a brighter or better low light performance.
A good way to explain some of this is by comparing the size of the exit pupil. So for example your normal 10x42 binocular should have an exit pupil that is 4.2mm in diameter (42 ÷ 10 = 4.2). Whilst even though these Maven binoculars have a higher 11x magnification, their exit pupil is a very similar 4.1mm in diameter and thus assuming all else is equal (quality of glass & coatings etc.) they will look to be as bright in low light conditions, but you have the added bonus of viewing what you are looking at in greater detail because of the higher magnification and thus higher twilight factor of 22.2.
Just as a side note, if low light capabilities is of premium importance to you, you may like to consider dropping the magnification a little and opting for the 9x45 or even the 7x45 versions of the Maven B2 as they will have even lager exit pupils of 5mm and 6.4mm respectively, whish is really large and thus perfect for extremely low light and even night time conditions for stargazing.
ED Glass
Even though Maven do not highlight it in the name of the bin as is the case with most manufacturers, I can confirm that they have used ED (extra-low dispersion) glass elements within the objective lenses.
If used correctly this is great news as it can help produce an image that shows less color fringing as it can help reduce chromatic aberrations because the optical designer can make the lenses better refocus the separate wavelengths of light after passing through the lens. To see how these performed in reality, take a look at my section on Image Quality below.

Eyepiece Lenses
Other than to state that the compound lens that makes up the eyepiece comprises of 4 groups with 6 elements, Maven do not go into further detail. What I can add is that the exterior lens has a diameter of 24mm, which in my experience is up there with the largest used on any full sized bin that I have tested.
Prisms
Whilst we can largely tell by the fact that the objective and ocular lenses line up, these Maven B2 11x45 binoculars have roof prisms inside them to correct the inverted image. However what is interesting is that Maven have opted to use the Abbe-Koenig design in these and not Schmidt-Pechan ones that are employed in the majority of roof prism bins and indeed is in contrast to their own B1 series.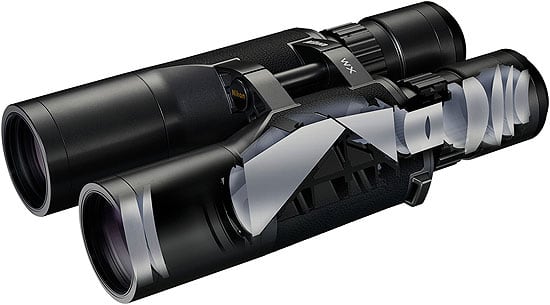 This longer and thinner V-shaped design of roof prism probably explains the relatively longer body of the B2 and whilst loss of compactness is a trade-off for this design, they do have a number of advantages if size and weight is not the major concern:
Their longer focal length is said to result in the reduction of some color & spherical aberrations and Abbe-Koenig prisms internally reflect 100% of light. So whilst the differences between this and the very best dielectric mirror coated Schmidt-Pechan roof prism is very small (less than 1% or 5% for silver coated ones), more light does get transmitted through the optical system using this prism design, which is obviously a good thing in terms of image quality, contrast and brightness.
Optical Coatings
External Protective Coating
Maven have also added special scratch and oil resistant coatings to the external lens surfaces, which is great to see and something that I wish I saw more of because not only will your lenses require less cleaning, but when you do have to, the pressure which you need to apply when cleaning will often be less.
You also have the added benefit of the anti scratch surface to help as well during use and cleaning and so as long as you look after them and clean them properly they will remain in perfect condition.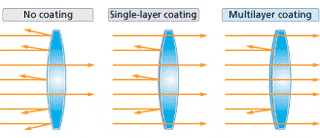 Fully Multi-Coated
As you would expect from any instrument at this level, the optical system on these has been Fully Multi-Coated with a anti-reflection material. This implies that meaning every single glass surfaces throughout the whole system has multiple coatings of this material added to them.
This is important as cheaper bins will use single coatings on only some of the lens surfaces (usually only the exterior ones) and does make a marked difference in the image.
Phase Correction Coatings
Also very good to know is that the prisms have also been 'phase corrected'. What this means is that they have bean treated with a material that corrects the problem of "phase shift" that occurs as light passes through a roof prism. Untreated prisms will deliver a lower resolution image with less contrast.
Coating Comparisons
Optical Components Quality Rating: 9/10
Optical Stats
The Field Of View (FOV)
The Maven B2 11x45 binocular has a Field Of View (FOV) that is 314t wide (or high) at a distance of 1000 yards away (115m @ 1000m), which as you can see from the comparison table below, compares very well with many quality 10x binoculars, plus you get the added benefit of that little more power (image detail):
Near Focus
I class any full sized bin with minimum close focus of 6ft or less as being excellent, so at only 4.9ft away these are way an above most others and so not only do they make an ideal instrument for longer distances, but also close observation of things like butterflies, flowers and even some birds if you are lucky enough to get that close!
Eye-Relief:
At 16.7mm, these fall a little short of the 18mm in order for me to describe them as having a particularly long eye-relief, but this amount should be enough to accommodate most uses, even those who want or need to use their bins with eyeglasses.
I tested this using my sun-glasses that sit quite far from my eyes and by fully twisting down the eye-cups I was perfectly able to use the bins and was able to see the full width of the view which is great.
Optical Stats Rating: 8/10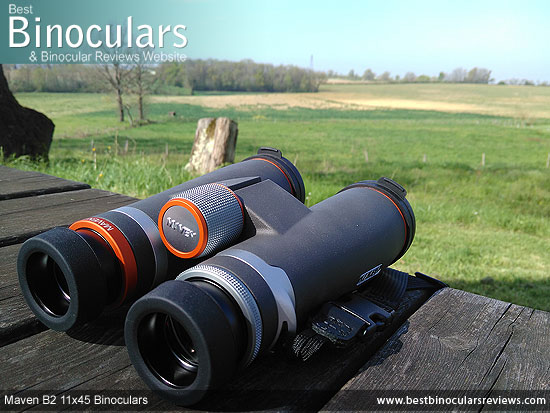 Image Quality
In order for me to be as consistent as possible with what is a very difficult but most important part of the review, I compare the view I see through the bin under review with a selection of control binoculars that I use for all of my reviews and then rank it against them in a number of key areas.
As the configuration of these is somewhat unique, I could not compare them like for like, so for this test, I compared the view of these Maven B2 11x45 binoculars against my benchmark 10x42 binoculars, which I would describe as being mid range and then also for interest against my alpha quality 8x42 binoculars and below are my thoughts:
Colors & Contrast
Even without comparisons, you can immediately tell that the general view through these is superb. The colors are both vibrant and bright, yet not to a point where the image can look artificial. For me the image was without any sort of tinting that I sometimes see, either intentionally or especially when lower quality glass is used and you often get a yellowish hue to the view. Comparing them with my 10x42 control, I would definitely say that in terms of colors, these Mavens were better.
I also though that the level of contrast is spot on and gives you a great sense of depth and brings out the highlights to the fore.
Image Brightness & Low Light Performance
Here the use of high quality glass and coatings as well as the larger 45mm objectives and their added weight, size and cost more than make up for it because for me this is one of the true strengths of this binocular.
Image brightness is excellent: Even in good light they looked to me to be fractionally brighter than my mid range 10x42's but it is their performance when the ambient light gets really bad (I tested them in thick forests and at sunset) that is super impressive. For me there was a large and easily observable improvement on the Maven B2 vs my 10x42 control under these conditions. This is even more impressive when you consider that the 4.1mm exit pupil produced by the 11x45 Maven is actually fractionally small than that of the 10x42 (4.2mm) and so I feel it must be the quality of the optics making the difference.
Comparing them to my very best, highest quality 8x42 bins, I could see no difference in brightness during the day whilst in good light. In low light forest conditions, no difference again.
Indeed it was only in very poor light (twilight), when my pupils were obviously really large that I would say that the smaller exit pupil that the 11x45 produces (4.1mm) versus the 8x42 (5.25mm) became a limiting factor and to me they were not quite as bright.
Color Fringing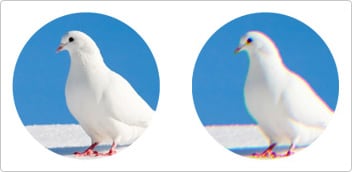 Here again these Maven 45x11 B2 binoculars with their extra-low dispersion (ED) glass really impressed me as the level of color fringing that I observed, even when looking right along the edges of a telephone line in front of a bright sky was very minimal. Indeed it was as little as any I have ever seen, less than my 10x42 control and a match for my alpha 8x42, which if you once again consider these have a higher magnification which magnifies these aberrations is super impressive.
Softening & Flatness
Whilst still good, probably the weakest part of the view through these Maven's is the amount of image softening around the very edge of the view.
Still really nothing to worry as you don't even see it unless looking for it, it was about the same amount as my control 10x42 binocular (so about normal), but it was fractionally more than on my alpha's.
Other than that the image looked nice and flat and without any sort of aberration that can make the image feel curved or wavy.
Image Quality Rating for a bin with >= 10x magnification: 10/10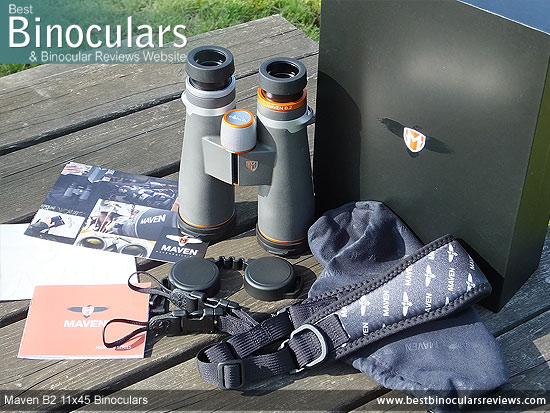 The Accessories
Unboxing & Packaging
Whilst I pride myself on the thoroughness of all my reviews, it is quite rare that I take some time to reflect on the packaging and it is even more rare (indeed this is my first time) to actually go over the unboxing process, but I feel in this instance it is well worth highlighting as the packaging is in itself almost a work of art and of very high quality: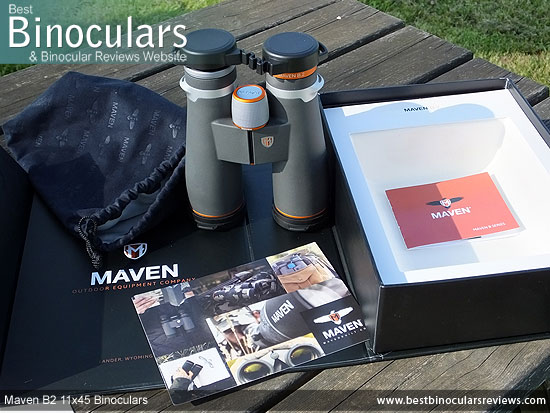 Carry Bag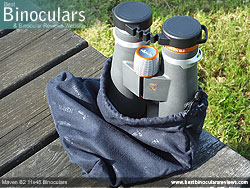 Whilst they can be purchased separately for $20 if you wish (see below), I know some of you will be disappointed to learn that these Maven binoculars do not automatically come with a carry case as part of the included accessories.
Rather, Maven supply the B2 with a soft material carry bag and whilst I have to say that it is of excellent quality (double-layered with a microfiber interior), it is still just essentially a really nice bag. with a drawstring.
I am not sure how I feel about this. On one hand it is a somewhat strange decision as I can't recall any instrument (apart from some giant ones) being supplied without a case.
However on the other hand, there will be many users (myself included) that don't actually always need a protective carry case: For example when I leave the house with my bins to go for a walk, I usually leave the case at home, preferring to de-clutter and just carry the binos either around my neck with the strap or sometimes with a harness. Here the case is merely something to keep them in and away from dust when not in use around the house and so the soft material drawstring bag is more than adequate.
However, if I am planning a weekend away camping for example, I prefer to store and carry the bins in their case as this provides them with more protection when packing and when leaving them about in my tent etc.
So I guess if you don't need a protective carry case, then why should you automatically have to pay for one and if you do need one, there is always the option to buy the optional case.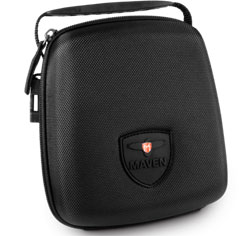 In terms of scoring, I have had to mark Maven down here because my scores are relative and thus in comparison to most other bins, the bag they supply is excellent, but is still inferior to most cases.
Optional Maven Binocular Case:
If you really need or want a carry case for your bins, then you can buy the Maven one as an optional extra. At only $20, I have to say from the photos this semirigid looks to be really good value.
However other than that I can't really comment as I have not actually seen or used it myself.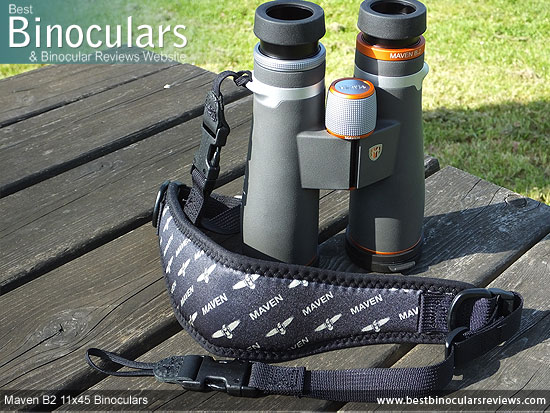 Neck Strap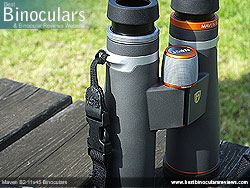 The included Maven neckstrap is excellent and makes carrying these bins about as hassle free and comfortable as you could hope for.
Firstly I really like the way it attaches to your bins. You very simply and very quickly loop the thin cord back through itself after you have passed it through the eye-let on the side of the instrument. This method is not only far less time consuming to do than the majority that use sliders, but is also far neater as well as you don't have any loose strap ends hanging about.
The only potential downside here would be that you don't have a way of adjusting the length of the strap, except Maven have you covered here as well, as the strap does has a couple of sliders near the padded section for length adjustment.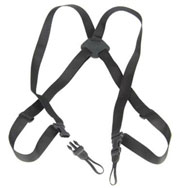 These work well and the bonus is that there are no loose annoying loose ends as it is a closed system.
As I say this whole way of attaching and adjusting the strap length just works, is neat and is in my opinion a far better solution to the usual method. Super.
The next part I like are the quick release buckles that allow you to very quickly remove the padded section from the instrument. This in turn makes it incredibly easy for you to fit the bins to a Maven binocular harness or their neck strap extension (not included, but available as optional accessories) as they both use the same quick release clips.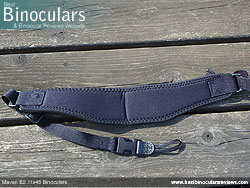 The padded part of the strap is also excellent as it it looks very ell made with great stitching, is thickly padded and slightly curved so that it fits around your neck and shoulders better and without crimping up.
I think here the only thing that they have missed is that some straps have a rubberized underside that grips better around your neck and thus helps to prevent the strap from sliding about.
Maven Adapt-Its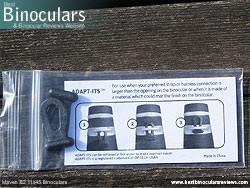 A nice inclusion and which is for me just another indication of the great attention to the small details shown by Maven Optics are these small "Adapt-Its" that they include with their bins.
These small plastic pieces slide tightly into the eyelets on the sides of the bin and thus enable you to attach another design of strap or harness to the B2 if it happens to have a cord that is too thick to fit into the smaller than standard eyelets used on this instrument.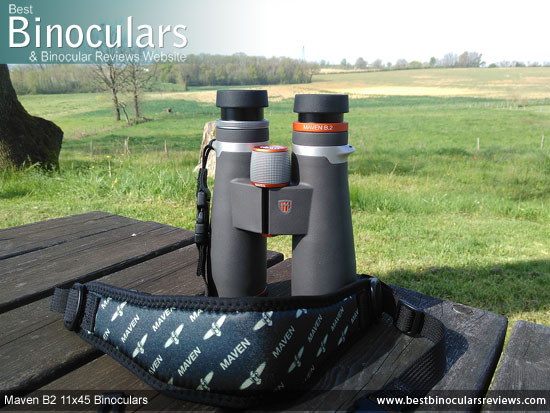 Ocular Lens Cover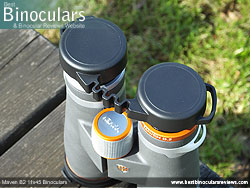 To protect the eyecups and the exterior lenses on the eyepieces, these Maven B2 binoculars come with what is a very typically designed rain-guard.
Made from what feels like either a soft plastic / rubber material, they do their intended function well and tick all the required boxes.
By this I mean that the cups of the guard fit perfectly over the eyecups on the bin and are thus just tight enough so that they don't come away too easily by accident, but not too tight that it makes taking them off or replacing them in anyway difficult.
I also like that the rainguard has a very flexible bridge between the cups, this means that they can be returned onto your eyecups without having to open up the hinge on the binocular. Sounds like a small thing I know, but I can assure you that it does get annoying to have to open and close your bins every single time you want to use them whilst on a walk.
The lens cover also has a eyelet on the side of each cup designed for you to thread the neck strap through, should you wish.
Objective Lens Covers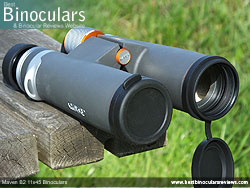 Similar to the rainguard in that they are quite typical and do their intended task well without much fuss or extravagance, the objective covers too are made from a soft rubber and have a good fit over the ends of each barrel.
I have highlighted "over" in the sentence above because I must say that in most cases I prefer the design of lens cover that allows them to fit into the ends of the barrels. Not that they work better, I just feel that it looks a lot better and makes them feel like they are more a part of the instrument rather than just an afterthought.
Having said that, functionally these are perfect and as always I really appreciate the fact that each one is tethered to the barrel via a separate rubber loop and so when opened, they just hang down below the bin and out of the way, but always right there to replace once you have finished using your bin. This is a far better solution than loose lens covers which can be misplaced, lost or at best you have to search through your pockets and carry bag every time you want to replace them!
Cleaning Cloth
Whilst Maven do not include a cleaning cloth, the whole interior lining of their carry bag is made from what is a really good quality microfiber material, which is as good as pretty much any cleaning cloth I see supplied with a binocular and indeed Maven suggest you use the bag for cleaning in their manual.
However for the best results and to enure you keep the lenses and the exterior coatings in perfect condition, I would still encourage you to invest in a Lens Cleaning Kit.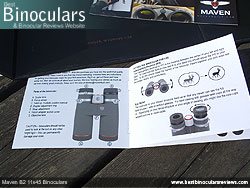 Manual
Experienced users of binoculars probably don't care too much about instruction manuals, which is good because most binoculars come supplied with very poor information that is very obviously just an afterthought.
However I feel that for some users, clear and comprehensive information on how to setup, use and care for your purchase is extremely important. Thankfully I can say that the included Maven Instruction Manual is top class and most certainly one of the best that I have seen. Bravo.
Lifetime Warranty
There is no doubting the faith that Maven have in their product as this and indeed all their instruments are covered with an unconditional life-time warranty.
This means that should your Maven binocular get damaged or is in anyway defective you can be confident that no matter who's fault it is, just contact them to get it repaired or replaced.
Accessories Rating: 8/10
Maven B2 11x45 Binocular Comparisons:
With the 11x45 configuration of this Maven binocular being so unique, I have obviously not been able to create the table below to directly compare it against others with the same setup, but rather I have included similar instruments in a range of prices that I feel makes for some interesting comparisons and shows of their relative strengths and weaknesses:
Review Conclusions: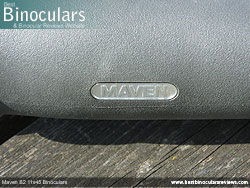 Highlights:
The materials used and the build quality of this binocular is truly superb and in my opinion a match for pretty much anything else out there at the moment.
I love the all metal focus wheel, to the touch, for the way it looks and just how smoothly and precisely it works.
The use of very high specification optical glass and coatings as well as an obvious expertise in putting them all together delivers what is a truly exceptional view and which is as good or better than any bin at this or even a higher price level in my opinion.
Image brightness is super impressive, for a high powered 11x device these have an incredibly good low light performance
The neck strap is excellent, both comfortable and functional in that it is easily attachable and can be quickly swapped with a harness
You can't argue with the unconditional lifetime warranty
There are many little details like the Metal Maven logo on the sides of the instrument (see image on the right), that really do add up to differentiate these from the normal, something that I really love
For a full sized bin these have an incredible minimum focus distance of only 4.9ft. This is especially impressive considering their powerful 11x magnification and makes them ideal for long and very short range observation
Weaknesses:
Optics is all about compromises, so where you make a product strong in one area, you reduce it in another. I feel that the Maven B2 11x45 Binocular has got this delicate balancing act about right and there are no major weaknesses that would make me not want to use it. However as always and being as tough as I can be, there are a few areas where I feel that they could have done even better:
These are not the most compact or lightest "full sized" binocular out there and as such the B2 may not be ideal for those who highly prize or require those characteristics. However I would like to add that for the majority of users, the added weight and size is really not that much and I really did not find it a big deal at all and feel that whilst testing them the benefits of the larger lenses easily outweighed the downsides. Although had I tested them on a hiking trip where I was also carrying a lot of other gear and needed a lightweight and compact device so as they could be easily packed away in my rucksack, then this would obviously be more of an issue. If this is the case, I wold probably take a closer look at the Maven B1 or even B3 models.
The lack of an included carry case may be an issue to some and perhaps this may be why some would opt for another device on their shortlist. However others may feel happy in the knowledge that this is money saved as it means that you only pay for it if you specifically want or need a case.
Objective lens covers the fit into the barrel ends wouldn't work better than the external ones provided, but would in my opinion just add a touch more in terms of looks to this premium product
Honest Review
Firstly I would like to thank you for taking the time to mead my Maven B2 11x45 binocular review and I hope that it has been of help.
Secondly and whilst they are areas where they could improve, I make no apologies for openly stating that I really like these bins and thoroughly enjoyed testing them. However I would like to add that I get really annoyed with all the fake reviews on the web that are nothing more than adverts written by people who have in many cases never used the product in question. So as a final takeaway, I would like to reassure you that whilst I may not know everything about optics and I do make the occasional mistake, this and indeed all the reviews on BBR is genuine and my truthful and honest opinion of the device.
Should you have any comments or information to add, please feel free to use the comments section at the foot of this page.