Opticron Imagic BGA VHD 8x42 Binoculars
This latest VHD version is actually the seventh incarnation of the popular Imagic series from British brand Opticron. Made in Japan, these high end binoculars are said by the company to offer a real lower cost alternative to the 'premium' optical brands on the market.
Taking a quick look at their advertised components and features this could well be the case, but to see if this is indeed true, I managed to get my hands on the 8x42 version (code: 30679) and below is my full and in-depth review which I wrote after extensive research and testing both in my office and out in the field:
Opticron Imagic BGA VHD 8x42 Binoculars Review
Points of Interest:
Mid to High End Binoculars, retial price around: $700 / £450
Manufactured in Japan
Single Hinge Body Design

Water & Fog Proof
Tripod Adaptable

ED Glass Lenses
Fully Multi-Coated Optics
BaK-4 Roof Prisms

Phase Corrected
Opticron's Oasis (Dielectric) Mirror Coating

Field of View: 378ft at 1000 yards
Minimum Focus Distance: 6.6ft
22mm of Eye Relief
Housing
Shape
As you can see from the main image below, the Opticron Imagic BGA VHD 8x42 binoculars essentially have what is now a fairly standard shape for a modern roof prism bin, but they also sport a couple of swept back "winged" accents that gives them a sleek and modern (even slightly futuristic) look to them, which may not be to everyone's taste, but I personally like a lot: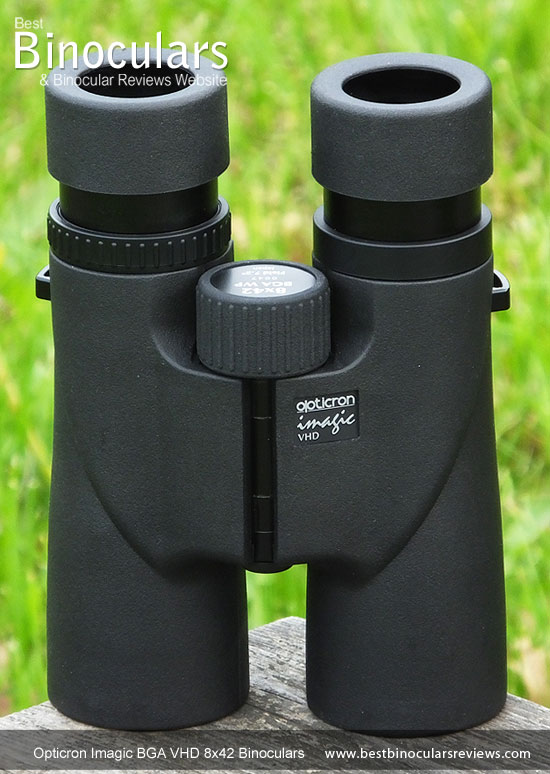 Casing Material
Opticron do not explicitly mention as to exactly what the chassis is made from, but from my past experience with their other higher end binoculars like the Verano BGA HD, they most probably use a combination of both polycarbonate and a magnesium. However I am not exactly sure which parts use which. If anyone has any more info, please feel free to comment below or contact me so I can add it to this section.
Waterproof
At this level I would be shocked to discover that a binocular was not completely sealed and thus waterproof to some sort of level. Thankfully and as the WP in their name suggests, there are no surprises here and whilst they do not offer a recognized standard, Opticron do state that this Imagic is waterproof to a depth of 3 meters / 10 feet which should cover them in almost any 'normal' situation.
Anti-fogging
Filled with nitrogen gas, they are also protected from fogging as this moistureless gas helps stop the internal glass surfaces from fogging up.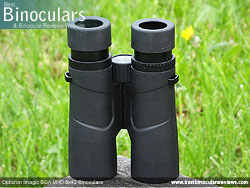 Exterior
Opticron have gone with a hard and rather thin black rubber coating on the exterior of these new Imagic's. These properties have the following effects:
Provides less grip than softer, more spongy rubbers
Less likely to perish / disintegrate than soft rubbers
Tighter fit onto the chassis - soft rubbers can sometimes move about if not glued well
Rather than being completely smooth, this rubber has also been lightly textured:
The light texture improves grip
Is less shiny than a smooth surface - good for camouflage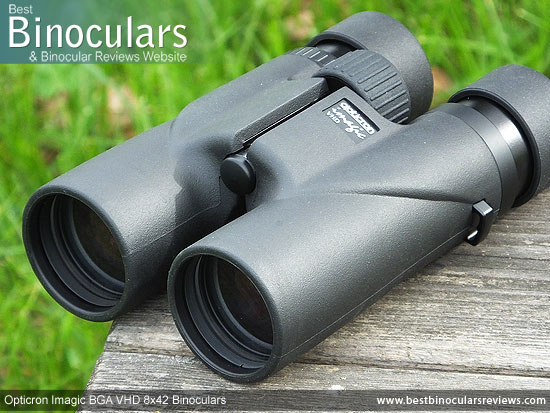 Not Easily Tripod Adaptable
Interestingly and what is a departure from the vast majority of full sized bins is that you cannot unscrew the cap on the front of the central hinge.
This means that you cannot attach a standard tripod adapter to these bins, however if you really need them fixed to a tripod, there are other types of tripod adapters out there that hold the bins down with a strap that goes over the whole instrument.
Eye Pieces & Cups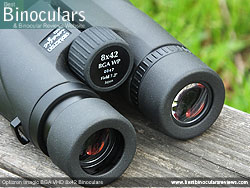 It is great to see that the housing on both the eyecups and the main eyepieces are made from metal on these Opticron Imagic BGA VHD 8x42 binoculars as this is for me a definite sign of quality that often gets overlooked and is often a hidden difference between bins.
A way for manufacturers to save a little cash is to fashion these parts from polycarbonate plastic and to be fair to them, most of these plastic ones work well enough. But I feel it is also important to keep in mind that this is that part of a bin that damaged most often (especially when dropped), so it can be very important to have this delicate area built as robustly as possible.
Also when you compare the twist-up motion of the eyecups between plastic and metal ones side by side, most plastic eyepieces just lack a little in terms of the "feel of quality" and often have more unwanted play in the mechanism.
Indeed the twist-up mechanism on these Opticron binoculars is truly superb and as good as any I have ever used. The cups click into each of the two intermediate stops securely, there is zero free play and keep in mind you get a full 22mm of eye-relief which is excellent. Therefore these are classed as having long eye-relief and are thus ideal for anyone who wants or needs to wear eye-glasses whilst binning.
With an outside diameter of 4.3cm, the actual cups are nice and large and so even though they are only lightly padded, I found them to be as comfortable as most others.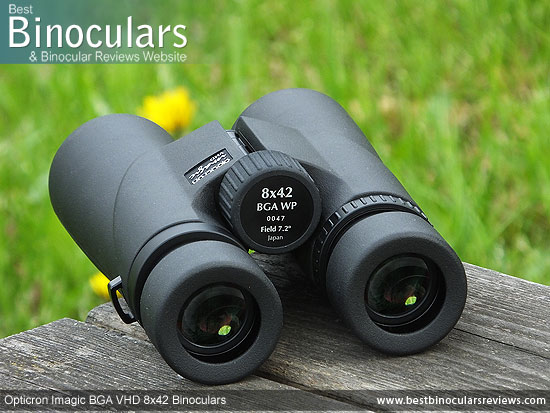 Focus Wheel
Whilst it does not detract from their functionality, I feel that the look of the focus wheel lets these higher specification bins down a little as it looks no different to those you find on the hoards of mid and low cost instruments out there which is a shame.
Indeed the actual feel and the working of the mechanism is excellent: silky smooth and I had no free play or stiff sections anywhere along the focus plane on my sample.
This along with a rubber track on the exterior and the relatively large diameter of 32mm diameter made it easy to reach and move. I also personally like the aggressive gearing which takes you from the extremes of near and far focus in just over one full turn of the wheel. Great for making large changes quickly and perhaps more difficult to fine-tune and make minor changes, but as the mechanism was so good, I never experienced any noticeable problems with this.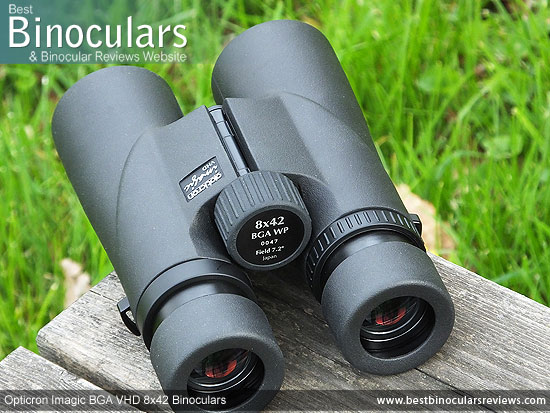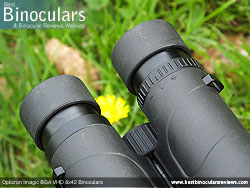 Diopter
The diopter plays an important part in being able to set the binoculars for your particular vision and so whilst you only need to use it rarely, it is important that it works well and keeps the setting that you put it at.
Rather like the focus wheel, the diopter ring on these Opticron Imagic binoculars works well, but lacks a little when compared to the best at this higher price range. For example some are plastic and will have some sort of locking mechanism to ensure that it does not accidently move from your setting.
Body Quality Score: 7/10
Weight
The published weight for these Opticron Imagic BGA VHD 8x42 binoculars is 24.2oz / 686g, which is spot on as I measured my sample at 684g which excludes any of the accessories (lens covers and neck strap).
As you can see from the table below that lists the weights of a selection of other 8x42 binoculars that I have reviewed, this places them around mid table. However important to note is that they are one of the more lightweight magnesium bodied options:
Dimensions
As the table above also demonstrates, their overall dimensions are fairly typical for that of a 42mm roof prism binocular.
For interest, I also took their dimensions in a number of different states:
Length, with eye-cups retracted: 15cm
Length with eye-cups extended: 16.3cm
Width with hinge open: 12.3cm
Width with hinge closed: 10.8cm
Height with hinge open: 4.8cm
Height with hinge closed: 6.1cm
Body Stats Score: 8/10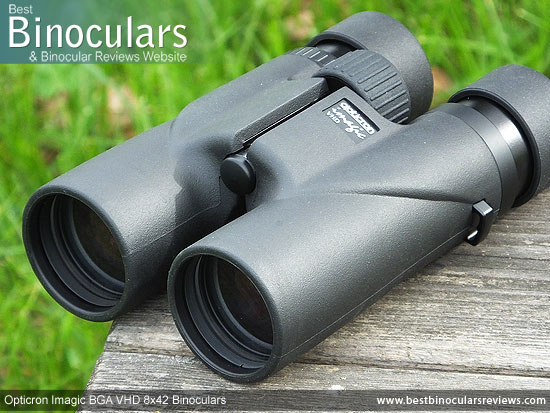 Optics
Lenses
Opticron do not make any mention as to the number of elements that go into making up any of their lenses, but what I can say for sure is as their name suggests, these binoculars have an 8x magnification and objective lenses with a 42mm diameter. I also measured their ocular lenses and they have a diameter of 24mm which is nice and large.
A small feature of the objective lenses that I like is that they are set nice and deeply back from the ends of the barrels (I measure the depth to be around 10mm). This offers them plenty of protection and I am told helps to prevent lens flair, similar to how the lens hoods you see being used on high end cameras and spotting scopes.
ED Glass
Unlike many bins that contain ED glass elements within their lenses, these Opticron's do not stipulate that fact in their name. However I do believe that it forms part of their VHD optical system and so what this means is that whilst most bins will have lens elements with low dispersion properties in order to potentially better direct the individual light wavelengths, these have extra-low dispersion elements and so have the potential to offer even better image quality as used correctly can decrease chromatic aberrations even more and thus show even less signs of color fringing.
Take a look at the Image Quality section down below, to see how they actually performed in this area.
PGK Prisms?
Whist the body shape gives away the fact and Opticron do confirm that they use roof prisms to correct the inverted image, but they also advertise the as using their 'PGK' roof prisms, but rather annoyingly do not state what that actually means.
I have also not as yet been able to find out, so cannot comment any more. Any input from anyone out there would be most appreciated.
Optical Coatings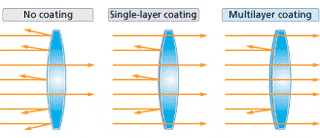 Anti-Reflection Coatings
As you would expect at this level, the optics on these Opticron Imagic binoculars are Fully Multi-Coated.
What this means is that multiple layers of an anti-reflection material has been added to every optical element within the system which makes a big difference to the quality and image brightness when compared to those with single layer coatings on only some of the elements.
Prism Mirror Coatings
In order to improve the amount of light that the roof prism transmits, most bins will have some sort of highly reflective mirror coating added to it.
The cheapest option is an aluminum mirror that raises the reflectivity to around 93%. Better still, but more expensive are silver coatings that can get the transmittance levels to between 95% and 98%.
However the best high end bins, like this Opticron Imagic go even further and use dielectric coatings that are said to raise the reflectance to more than 99% of the incident light. Opticron's own version of these prism coatings is known as their "Oasis" coatings and which consists of 64 layers and which they indeed confirm has a reflectivity of more than 99%.
Phase Correction Coatings
I can also confirm that the prisms have been phase corrected, eliminating the "phase shift" phenomenon and so they produce a higher image resolution and better contrast than untreated prisms.
Coating Comparisons
Optical Components Score: 9/10
Optical Stats
Field Of View (FOV)
At 126 meters wide at a distance of 1000 meters away (378ft wide at 1,000 yards), you can see from the table below that whilst not the widest field of view for an 8x42 binocular, this amount is still really good and unless you specifically need a super wide FOV will be more than fine. Whilst testing and using them, I never felt restricted by the width (or height) of the view.
Eye-Relief:
The 22mm of eye-relief is as you can see excellent and they rank up there with those that I would class as having a very long eye-relief.
This combined with the stable and well functioning 4 click stop eyecups makes them a perfect choice for eye-glass wearers.
Close Focus
Advertised as being 6.6ft / 2m, I actually measured the closest that I could focus on an object as being slightly closer at 6.2ft / 1.9 meters away.
Either way, their minimum focus is good, but not spectacular for an 8x42mm binocular. Meaning that for occasionally viewing objects at close range they are fine, but if this something you do a lot of, you may wish to look for a more specialized pair - take a look at my section on Insect & Butterfly Binoculars.
Optical Stats Score: 8/10
Image Quality
Comparing the view through these against my high end and mid range 8x42 benchmark bins, below are my thoughts on the view that I observed both in good and bad lighting conditions:
Image Brightness
The perceived brightness amongst all three was very similar in really good light, which with the size of exit pupil that an 8x42 binocular creates is no surprise at all as your eyes are receiving more than enough light.
In poor to very bad light, the Imagic was to my eyes better than my mid range benchmark's, but by a small fraction not quite a match for my very high end 'alpha' 42mm binoculars.
Here I will stress that the difference that I observed was extremely minimal and I had to check back and forth many times to make sure and even then it was very difficult to be certain.
Colors & Contrast
Absolutely no issues or problems to report here, indeed if anything the opposite is true:
I thought that the colors were vibrant, but looked normal, with no observable and undesirable tinting that I was aware of.
The contrast was also really good, in that you go a good feeling of depth as the shadows and bright spots are very well defined. However this level was not as stark as to make the image look unreal, which can sometimes also be the case with the extremes.
Color Fringing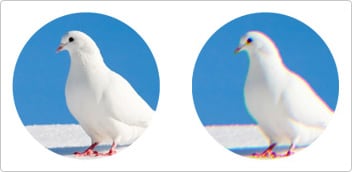 As with every bin I test, these did show a certain level of color fringing. Caused by chromatic aberrations, I have to say that the level that I observed was really very minor, better than my mid level and as good as my high end benchmark which as a point of reference is excellent.
Image Distortions & Blurring
I never became aware of any other image distortions of the view on these that you can and do sometimes see, which is great news.
Image softening at the edges of the view is also about as minimal as it gets which was impressive.
Score for Image Quality: 9/10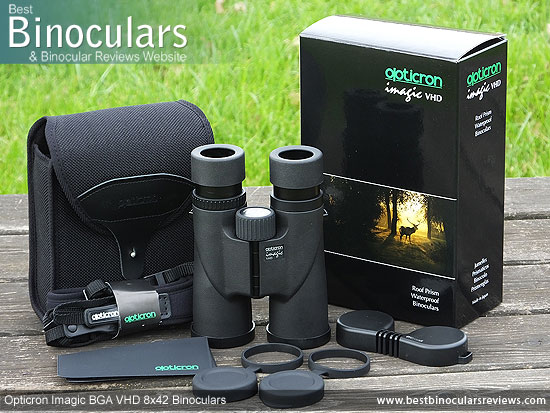 Included Accessories:
Bundled with the instrument itself are a number of accessories. These can often be overlooked, but as they say the devil is in the details and for me these are often the only thing that separates two bins that are very similar in price and so can make the difference when making a choice as to which binocular to purchase:
Carry Bag
The simple un-bulky design is very lightweight and well made (in Germany I believe). The woven nylon type fabric is tough and offers a good level of protection. Internally the padding is very soft
I also like the simple way in which the flip over lid is held closed. Sure it is not as secure as a Zip, but it is secure enough and does not make any noise when you fasten or unfasten it, unlike Zips or Velcro, which if you are not careful with can alert or even frighten certain wildlife of birds.
The bins have a good fit inside the case (if the eyecups are retracted), with not so much room that they fall about, but enough so that they are simple enough to take out and replace.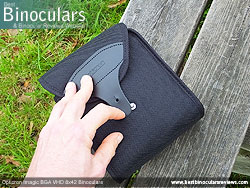 However if you have the rain-guard on and the eyecups extended, it makes it really hard to close the lid (see image right). Although because of the type of fastening, there is a simple fix to this problem as all you need to do is make another small hole in the leather flap.
Whilst not the thinnest out there, the padding is a little lightweight for my liking and as such offers not as much impact protection as more thickly padded cases.
The fact that the case does not come with it's own strap, I think is a good thing as it makes the case more lightweight and less cluttered and you simply use the neck strap of the bins and thread them out through the sides of the case. However I do feel that they should have added a loop on the rear of it so that you have another option of carrying it on your belt.
There are no separate pockets on the case, either internally or externally. Not a major issue, but for some they can very useful.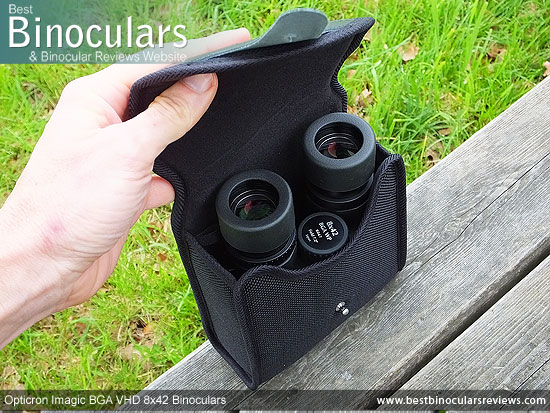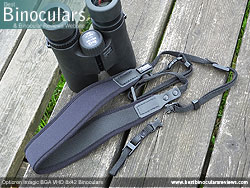 Neck Strap
As usual, Opticron have paired these Imagic's with their really very good neck straps that are well made, very comfortable and versatile:
The neck and shoulder section is very slightly curved which means that it has a better fit around your neck than if it was straight.
The Neoprene padding is both wide (4cm) to spread the load and thick (5mm). I also like the very grippy underside which helps to stop the strap from sliding about around your neck and shoulders.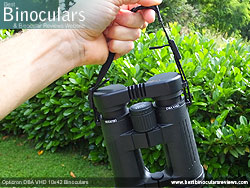 However one of the best features is that the thinner sections of the strap have quick release clips at the ends on them.
What this means is that not only can you very quickly and easily remove the main padded section from the bin, but you can also then convert the shorter thin section into a hand strap for a different way to carry your instrument about, which I have always found to be a really 'handy' feature (excuse the pun!).
To see what I mean take a look at the photo on the right that depicts the Opticron DBA VHD 10x42 Binoculars that use the exact same strap.
Objective Lens Covers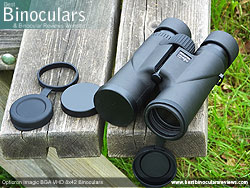 Something that I don't often see and what I think is an excellent idea is the Opticron Imagic binoculars come with two different sets of objective lens covers.
First a simple set of plastic cups that just fit over the barrel ends, ideal for those who want to be able to easily completely remove the covers when in use.
Then they also come with a set that can be tethered to the barrels with a second loop, so that when in use the cup simply hangs down under the binoculars (see image on the right).
Both sets fit 'just right' onto the binocular and so unlike some do not come away too easily, but at the same time are not too difficult to replace.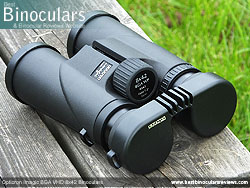 Rain-Guard
Whilst the objective covers are really good, I am not as keen on the design of the rain-guard and personally wish they had gone with a more softer rubber ones.
I say this because the harder and less flexible plastic guard comes away from the eye-cups a little too easily and whilst it is possible to fix them back onto the cups when you have closed the binocular's hinge (because of the semi-flexible bridge between the cups), it is just a little more difficult to do than it could/should be.
Having said this, I am being very critical here and they are also far from being bad. As long as they do remain attached to the bin, they will do a good job of protecting the ocular lenses and the eye-cups.
Cleaning Cloth
As with almost every other Opticron binocular that I have reviewed, the supplied cleaning cloth comes with it's own pouch, cleaning instructions and a very high quality microfiber cloth - most certainly one of the best quality ones to come supplied with the instrument.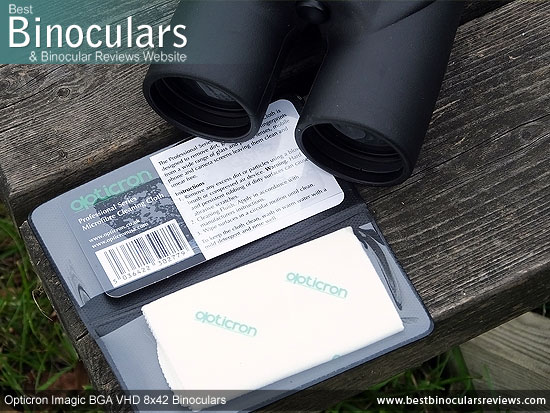 Manual & Warranty Information
Like the other Opticron binoculars that I have tested, these have a Limited Lifetime Warranty if purchased from authorized dealers in North America and a 30 year guarantee for those purchased in Europe.
Extras Score: 7/10
Opticron Imagic BGA VHD 8x42 Binocular Comparisons:
Review Conclusions:
Strong Points: Overall these Opticron Imagic BGA VHD 8x42 binoculars have a great feel to them, nicely balanced and weighted, you know you are holding a quality optical device when they are in your hands.
The use of very high end optical components and coatings shows as they deliver a super quality view to match any at this price point and whilst they fall fractionally short of my alphas in terms of image brightness, the difference is far less than the price.
Whilst these do not have the widest view, or the closest near focus, they are both really good. This balance that they have struck between is spot on making them the ideal choice for a wide range of uses.
22mm of eye-relief is excellent, which will please anyone who wishes to use their bins whilst wearing glasses.
Weak points? Whilst I would not say that there are any major weaknesses, however for what is essentially a high end, top of the range binocular, there are a few things that fall a little short of what has to be said are more expensive premium brand optics.
For example the focus wheel, works great, but just lacks the quality of an engraved metal one that you get on the best premium products. Likewise the diopter ring, nothing at all wrong with it, but not nearly as 'snazzy' as the lockable ones located on the central focus wheel that you get on some very high end products.
This is also true of the accessories, like the carry case. It works well enough, but if you have ever seen or used a Swarovski one, then you will know what I mean when I say the difference here is rather large. However also keep in mind that the difference is price is also rather 'large' and I guess Opticron had to make the savings somewhere.
Final Thoughts
I started off this review by wondering if the Opticron Imagic BGA VHD 8x42 binocular was indeed a real and viable lower cost alternative to the 'premium' optical brands.
For the most part and especially if we talk in terms of the view that they deliver, I would have to say that they do come quite close. However to keep the cost down, they had to make some sacrifices along the way. The good thing is for me Opticron have made these saving in a very shrewd way, so that the actual performance of the instrument is not affected.
So if you can look past some of the differences (mostly cosmetic) between these and the alpha' binoculars, then I would say yes, for the most part they are a viable lower cost alternative to an alpha binocular.