There are not many bigger or well known brands in the world of optics than that of Pentax, so it stands to reason that their flagship series of binoculars should be more than decent.
Up until recently this title was held by their snappily named DCF ED series. I tested the 8x42 version of this and thought it was excellent. So with the release of the updated Pentax Z-Series binoculars that now takes over from the DCF ED bins at the top of their pile, I thought that It would be well worth taking a closer look.
Below is my full and detailed Pentax ZD 8x43 ED binocular review that I wrote after thorough research and testing both in the office and out in the field under real world conditions:
Selected Features
Water & Fogproof Magnesium Housing
Lockable Diopter Adjustment Ring
Aspherical Lens Elements
ED (Extra-Low Dispersion) Lens Elements
'New' Antireflection coatings on all Optics
'New' Light Transmission Coatings
New Aquaphobic & protective exterior Lens Coatings
Phase Corrected, Dielectric Coated BaK4 Roof Prisms
Field of View: 330ft @ 1000yds
Eye-Relief: 22mm
2m (6.6ft) Close Focusing Distance
The Body
To me it looks as though Pentax have stuck with exactly the same body as what was used for the older DCF ED's, which for my money is a good thing as there is a whole lot to like about it:
Shape
At first glance the general shape of these Pentax ZD 8x42 ED binoculars looks like your typical modern roof prism design, however if you take a closer look at the details, you will find a number subtle differences and details that I feel are worth mentioning: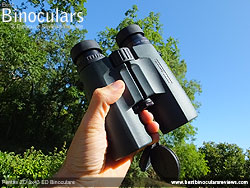 The single bridge/hinge design is nothing new, but the one on these is a little thinner than what you commonly find. On top of this, it is not centrally located and even though I would not describe it as a true top hinge design as found on bins like the Vortex Razor HD's or Hawke Sapphire ED's, it still leaves a little more area at the ends of the barrels free, which you can use to wrap a couple of your fingers around for a more secure grip. Whilst this aspect may not that important whilst binning (other than providing a nice comforting feeling), it can be important when carrying them about one handed.
Framework
I was very pleased to re-discover that this Pentax ZD ED binocular has maintained the magnesium alloy framework. Whilst a comparatively expensive material, it is lighter and stronger than aluminium ones sometimes used in this class and whilst it may make for a slightly heavier body than the Polycarbonate ones found on many bins, it is superior in all other areas and adds a certain amount of class and feeling that you can't replicate with cheaper materials.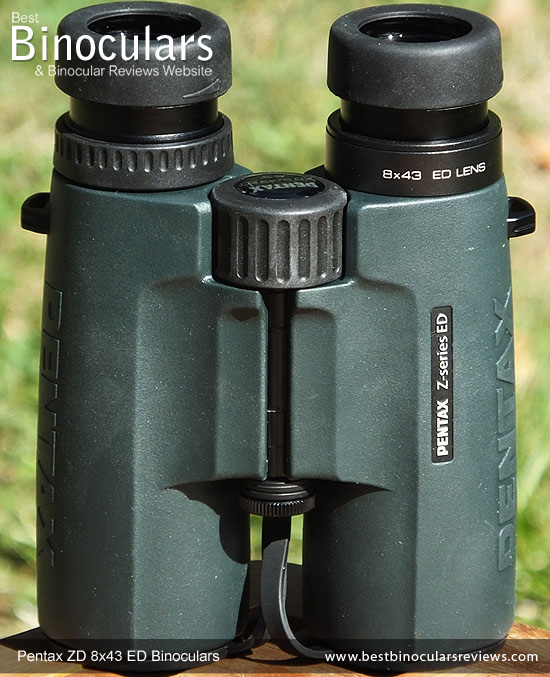 100% Waterproof
Whilst many bins will advertise that they are waterproof, very few quantify this statement. So it is nice to see that these come with a JIS Class 6 rating. This means that they have been tested by having a direct jet of water sprayed at them from all directions and they remained water tight and are rated as being impervious to water at a depth of 1 meter.
Anti-Fogging
As these Pentax binoculars get sealed during the manufacturing process, all the internal air is replaced with nitrogen. This completely dry gas is added because it means that internal glass surfaces don't fog up and due to the now moistureless environment, it prohibits corrosion and lens mould/fungus, which is something that you quite often find on older bins.
For more information, take a look at this article on Fogproof and Waterproof Binoculars.
External Covering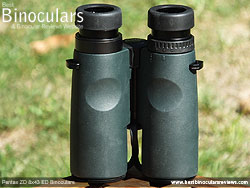 Most of the exterior surface of the Pentax 8x43 ZD ED binocular is covered in a fairly thick, dark green colored rubber armour.
This armour is quite hard, so whilst it may not provide as much cushioning as softer, spongier covers, I feel that it will still do a reasonable job of protecting the body and optics underneath. The harder rubber will also be far longer wearing and less lightly to perish than the soft rubber coatings.
Whilst hard, it is also quite tactile and the very fine textured surface makes for a good level of grip that beats most others that have a comparably hard rubber coating.
This textured rubber surface makes for a non glossy, matt finish that will help reduce the amount of light reflecting off of the body that could frighten away wildlife or give away your position. Likewise the rubber will dampen down sound which is also beneficial in similar situations and are important features on wildlife or hunting binoculars that are not often thought about.
I thought that the thumb indents on the underside of the body were well positioned. By this I mean that they very subtly get you to grasp these bins correctly and in the right position, which in turn makes them nicely balanced and thus makes it easier to keep any image shake to a minimum. Most people won't consider this to be important, but it can lead to less eye fatigue during longer periods of use.
Each barrel contains an eyelet on it's outer side in the usual location. These are designed as the points from which you attach your neck strap to the binocular, but can also be used to connect the bin to a binocular harness should you wish. These eyelets don't seem to be fixed onto the barrels, but rather form part of the body mould. Either way they felt very secure and robust to me and I doubt they will easily break.
At a depth of 9mm, the objective lenses are not the deepest, but are set deeply enough within the ends of the barrels to offer a good amount of protection from not only marking and scratching, but also from dust and light rain.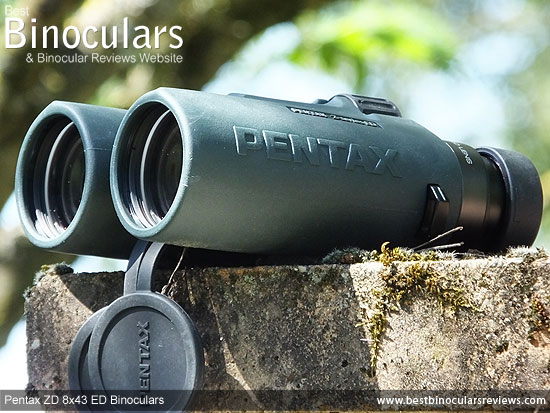 Tripod Adaptable
The circular dust cap with the Pentax logo positioned on the front of the hinge in between the two barrels can be unscrewed and removed. This liberates the two objective lens covers, but also reveals a ¼-inch thread that is the standard size for adding a tripod adapter (not included).
One note of caution here is that the design of these bins is such that there is a little less room between the barrels than on many, so if you are looking for an adapter, try and ensure that it has a fairly thin neck otherwise you may not be able to close the hinge to your desired IPD position with it installed.
The Eyecups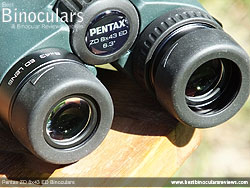 The eye-cup housing look to me to be made from metal, which for me is a good indicator of quality. The best plastic ones are not bad, but will never be as strong as metal ones and as this is one of the most vulnerable parts on a bin, it is an important design feature.
Like the older version that I tested, the twist-up mechanism on my test pair was nice and smooth, did not offer any unwanted play and clicked nicely into the fixed stops.
On top of this metal housing, Pentax have added a fairly thick rubber layer to each eye-cup. This combined with the fact that they have an external diameter of 40mm and a flat surface that is about 6mm wide on the top, really helps with comfort when pushing them firmly against your face.
Long Eye-Relief
You get an excellent 22mm of eye-relief on these Pentax 8x43 DCF binoculars, which means they are up there with the best long eye-relief binoculars and so makes them perfect for those who wear glasses.
As well as this, you also get two fixed intermediate click-stops points as you twist up the eye-cups, which gives you plenty of options to get your eyes exactly the right distance from the ocular lenses to ensure that you get the full view when you look through them with or without glasses on.
Inter-Pupillary Distances (IPD)
By opening and closing the central pivot, you can adjust the distance between the eyecups (IPD) from a minimum setting of 5.8cm, right up to a maximum of 7.4cm. For a full sized bin, this is a pretty good range and means that they should be able to accommodate most people.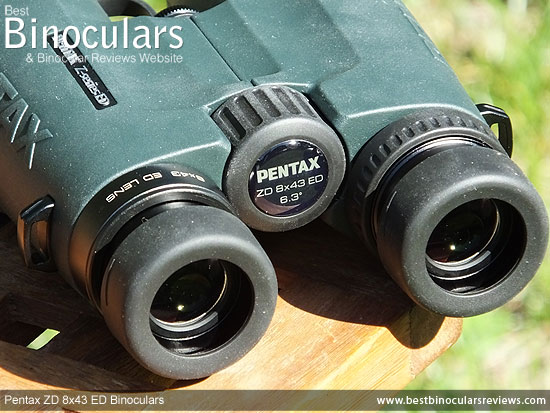 Focus Wheel & Focusing
The central focus wheel is large (33mm diameter) and on the pair I was testing turned very smoothly without any play or rough sections.
The gearing of the focus mechanism is what I would describe as being nice and balanced because it takes just over 1½ rotations (540°) of the wheel to take the focus from the extremes of near to far. Whilst some take more and some less turns, by being firmly entrenched in the middle ground, it means that this Pentax binocular is reasonably fast to adjust over long distances, yet still enables fine focus adjustments easy to achieve.
The body design is such that it's moulding encases and I guess protects the wheel far more than on most bins. In terms of the styling, this really looks great as the wheel almost appears to form part of the body, rather than just been stuck onto the end of it. The small issue I have with this design though is that there is less of the wheel for you to actually use to turn. For most of the time this is really no problem at all, but put on your heavy duty winter gloves and it just makes it a little more tricky to 'feel' and thus quickly and accurately adjust than some others.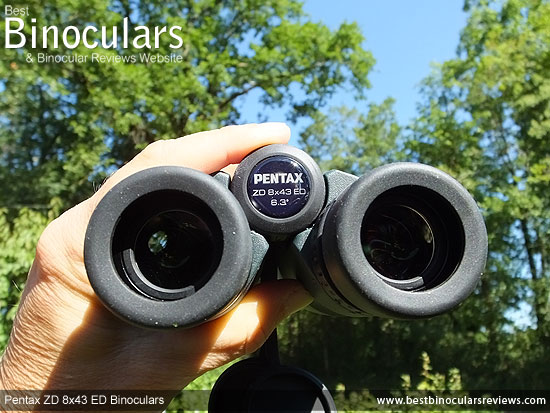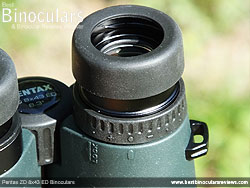 Diopter Adjustment
Another good indicator of quality and the attention paid to the small details on these Pentax ZD binoculars is the lockable diopter adjustment ring.
Most bins will just rely on a little resistance to movement, with these you need to unlock the diopter by clicking it up before you are able to turn it left or right to make adjustments. This prevents any accidental turning once you have calibrated the bins to compliment your particular vision.
Whilst lacking a scale, I also like the fact that Pentax Sport Optics have included more reference markings than what you commonly find, this makes it much easier to remember and return the diopter to your setting should you need to move it when sharing your bins etc.
Rating for Body Construction Quality: 9/10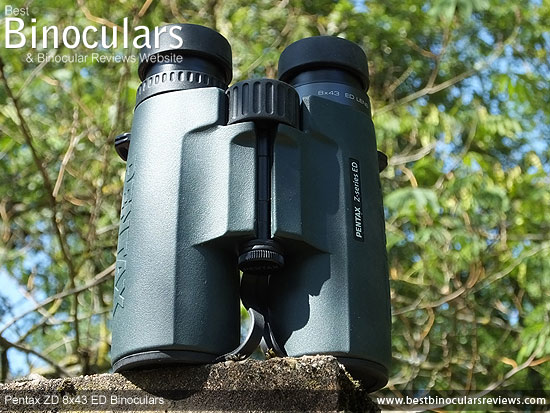 Weight
Weighing 25.2oz (715g) these Pentax ZD ED binoculars sit around mid table when compared to other higher spec full sized binoculars (see below), which considering that their 43mm objectives being slightly larger than most, it is pretty impressive.
I assume the magnesium alloy body helps in this regard as it is lighter than the aluminium bodies that are also sometimes used in this class. Note: Cheaper bins will often be lighter, but this is largely down to them having a polycarbonate body.
Dimensions
Pentax list the length of these as being 5.7in (14.5cm), which is achieved without lens covers and with the eye-cups twisted in, which once again makes them fairly typical for a bin with objectives around this size.
For your interest, by fully extending the eye-cups, it extends their length to 15.3cm and by adding the lens covers and the rain-guard, this measurement moves out to 16cm.
Their advertised width (12.7cm) and height/depth (5.3cm) is achieved with the central hinge fully open, which is fairly standard. By closing the hinge, it decreases their width to 11.3cm, but and increases their depth/height to 6.5cm because the focus wheel protrudes up above the body a little more.
BBR Rating for Body Stats: 8/10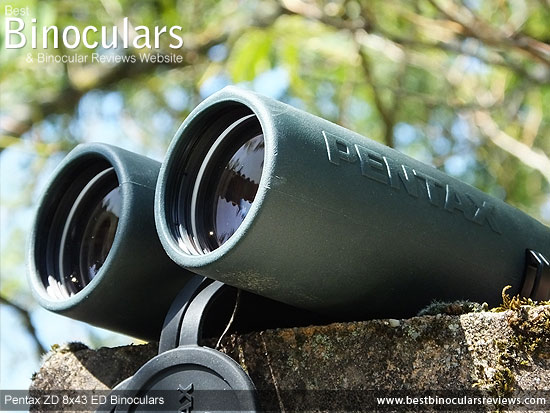 The Optics
Lenses
Eyepiece Lenses
Pentax Sport Optics mention that their ocular lenses consist of 3 elements arranged in 2 groups, but other than that they do not go into too much detail. I measured the lenses to be 22mm in diameter which is about average for this size of bin.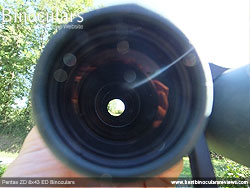 Objective Lenses
The objective lenses on the Pentax 8x43 DCF ED consists of 4 elements in 3 groups and are of what they call a hybrid aspherical design. What this essentially means is that Spherical lenses made of optical glass are then converted to make much more complex curved surfaces of aspherical lenses where the radius of curvature changes according to distance from the optical axis. In this way they can concentrate all the light into one point and thus reduce aberration, which in turn provides a better image resolution.
There are a few ways that this can be achieved. Ground and polished aspherical lenses are made using grindstones turning at at super high speeds, whilst Precision Glass Mold (PGM) aspherical lenses are made by heating the glass and then shaping them in a mould. However the hybrid aspherical lenses on these Pentax ZD ED binoculars are produced by injecting a UV-curable resin between the spherical glass and the metal aspherical mold, it is then irradiated with UV light to form a glass-resin hybrid aspherical lens.
ED Glass
As their name suggests, one of the elements in each lens is made from ED (extra-low dispersion) glass. The properties of this glass with it's high breaking index and a minimum of dispersion allow for better control and more freedom when directing the light as it goes through the lens. It is because of this they can potentially reduce or even completely get rid of chromatic aberrations and thus produce a better quality image with less or even no color fringing.
A secondary advantage of a well designed ED lens is that because their results can be comparable to the use of high end Apochromatic lenses, but now only use 2 lens elements are used, they can be easier and cheaper to produce as well as being more lightweight and compact.

Prisms
These Pentax binoculars use the very common, but tried and tested Dach (DCF) prism design to rectify the inverted images projected by the objective lenses.
The advantage of the roof prism over the other commonly used porro prism is that because the optical path is straight you can make a more compact, lighter and slimmer binocular where the eyepieces are in-line with the objective lenses. However on the down side, they require a greater level of optical perfection as well as a number of coatings to achieve the best possible image:
Optical Coatings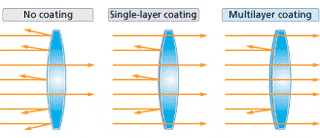 Fully Multi-Coated
As the light passes through the optical system in any binocular it comes into contact with many glass surfaces, all of which have the potential to disturb or reflect the light in an unwanted way. Left unchecked the result is a much lower quality and far less bright image.
To improve this and thus maximize light transmission through a lens, prevent flare and ghosting, manufacturers add coatings of a special anti-reflection material to some or all of the glass surfaces. This is a specialized process and so costs money and thus to reduce costs, some binos have fewer coatings on less surfaces than others.
Pentax stipulate that their new Z-series ED binoculars have New Fully-multi-coated optics.
Being Fully-multi-coated is great as it means every surface of every element and prism in the entire optical path of the bin has these coatings and is way better than those that only have single coatings on some elements.
The New part in the marketing of the ZD ED suggests to me that this is one area where these bins are different to their older DCF ED 8x43 binoculars which are also Fully Multi-Coated. However other than putting a New in front of the phrase, they do not offer any more information as to exactly what the difference is, so I can't really comment as to whether this difference is actually an improvement.
Mirror Coatings
One of the disadvantages of the roof prism is that you get some light loss off one of the surfaces as it passes through it. To lift the reflectivity level and thus raise transmission levels, manufacturers will often add coatings of a highly reflective material to this prism surface. As with the anti-reflection coatings, this is a specialized process using costly materials and so it stands to reason that not all prism coatings are created equal:
The cheapest method (apart from doing nothing) is to use aluminum coatings which can reflect between 87% to 93% of the light that hits it. Next are silver mirror coatings that have a reflectivity of between 95% and 98%. The best and most expensive method is to add a dielectric coating causing the prism to act as a dielectric mirror which can achieve a reflectivity of more than 99% across the entire visible light spectrum.
The great news is that Pentax justifiably highlight the fact that the prisms on the ZD ED contains dielectric coatings leading to an enhancement of image colors and brightness.
Phase Correction Coatings
The other potential problem with the roof prism is a phenomenon known as "phase shift" where individual wavelengths become out of step with each other as the light is reflected from the prism surfaces and results in a lower contrasting, lower resolution image. Better quality roof prism binos, including these Pentax ZD 8x43 ED's have special phase correction coatings applied to the surface of the prism to correct this which is another indicator of the high quality optical system used in them.
Exterior Lens Coatings
Whilst the older Pentax DCF ED's improved on most with the use of tough anti-scratch coatings applied to the exterior lenses, these new ZD ED's go even further as these protective coatings are now also Aquaphobic meaning that water simply rolls off them. It also deflects dust, oil and dirt.
The advantage of this is not only a better view in wet conditions, but watermarks are not left behind and thus less cleaning is required.
New Enhanced Light Transmission Coatings?
In their marketing Pentax Sport Optics highlight the point that the Z Series bins use "New Enhanced Light Transmission Coatings", which they say improves the image brightness and colors by increasing the transmission of light even further than before.
As a point of interest, Pentax also state that they use an "optimized film-deposition technology" to apply these coatings. It is common for optical coatings to be applied using the film-deposition technique, but the additional use of the word optimized in their description is interesting. Is this just marketing hype or an improvement?
Optical Components Quality Rating: 9/10
Optical Stats
8x43 Configuration
42mm diameter lenses is the most commonly used size on full sized bins, however Pentax have opted to use slightly larger 43mm ones, so I thought I would take a little time to discuss the consequences of this:
Obviously larger lenses are usually more expensive to make and use more glass, so will be heavier and make the binocular bigger. Although with just 1mm, the difference is so small that you really cannot notice the difference.
This 8x43 configuration produces a 5.38mm diameter exit pupil (43 ÷ 8 = 5.38), which is slightly larger than the 5.25mm exit pupil produced by an 8x42mm bin. This larger beam of light makes it very marginally easier to line it up with the pupils in your eyes and thus get the full view without any rings forming on the edges of it.
Assuming that the transmittance levels are the same the image produced by the Pentax 8x43 ZD ED binocular should look brighter in poor light when your pupils dilate to a size larger than 5.25mm, but once again the difference will probably be very minimal.
The Field Of View (FOV)
With an angle of view of 6.3 degrees which translates to a view that is 110 meters wide at 1000 meters (330ft @ 1000 yards), it has to be said that this is a little narrow when compared to some of the better 8x binos out there:
Close Focus
According to Pentax, the nearest that you can focus on an object is from 6.6ft (2m) away, however on the pair I was testing I measured it to be substantially nearer than that at only 5.3ft (1.62m), but at this range you do get a little cross over in the view.
Whatever the case, the minimum focus on these is excellent for a full sized in and is ideal for those who occasionally want to view flowers, butterflies or other insects from closer ranges.
Eye-Relief:
The 22mm of eye-relief is excellent and they rank up there with the best long eye-relief binoculars. This combined with the excellent twist-up eyecups that have 2 intermediate stops makes them a perfect choice for those who wear glasses.
Optical Stats Rating: 7/10
Image Quality
It is a shame that I did not have the previous incarnation of these bins with me to compare the view with, to see if the differences in the coatings that Pentax make a point of highlighting actually make a visible difference.
However as with all my reviews, I use a benchmark binoculars when evaluating the image and judge them against these so that I can more objectively rate them:
Colour Reproduction & Image Contrast
Pentax Sport Optics highlight a number of coatings used on these Z-Series bins that they say helps improve color reproduction and contrast including their "new Enhanced Light Transmission Coatings".
Of course I can't quantify this, but what I can say is that the colors of the image are really vivid, but without looking unnatural. I also never became aware of any artificial tinting that you sometimes see and whilst the brightness was very high, the image never felt washed out as there was a good level of contrast between dark and light areas.
Color Fringing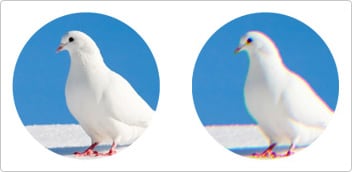 These Pentax ZD 8x43 ED binoculars incorporate aspherical lenses with ED glass elements that are said to reduce chromatic aberrations which in turn is the cause of the color fringing that you can sometimes see along the edges of objects in your view.
As with the older version the level of visible color fringing, even under extreme circumstances like looking at a dark telephone line against a bright sky was extremely minimal and matches pretty much any other bin that I have used.
Distortions and Softening
Edge to edge sharpness of the image is once again excellent on these Pentax binoculars and I was never aware of any sort of irregularities or distortions where the image can look to curve either inwards or outwards, to me it looked perfectly flat.
Image Brightness & Low Light Performance
No matter the light conditions, these were a match for my very top end 8x42 benchmark binoculars in terms of the image brightness and I never thought that one was particularly brighter than the other.
Against my mid-level 8x42 control, these looked to me to be marginally brighter in very low light.
Once again, in this area these perform to the highest levels and for me they are as good as the best high end 8x42 binoculars out there.
Image Quality Rating: 9/10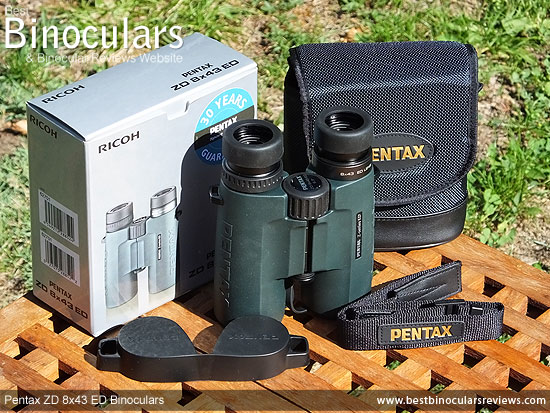 Accessories:
Carry Bag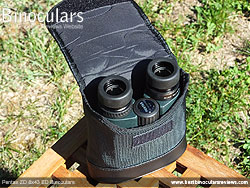 The soft carry bag that you get with these premium binoculars looks to be well made, but I would describe it as being rather basic:
Firstly it is very lightly padded and so offers a lot less impact protection than some of the better ones I come across. The bag is obviously not completely waterproof, but it will offer some good protection against light rain.
The bins fit snugly inside and you can just close and secure the main flap with the eye-cups twisted out and the rain-guard and lens covers on, which is good as this is something that is often and rather surprisingly overlooked.
This main flap is held closed with a strip of Velcro, which is reasonably secure, more so than magnetic clips, but less than a Zip fastener. Another point to keep in mind regarding Velcro is the noise it makes whilst opening it, unless you are careful it could easily give you away in a security situation, or frighten away nearby wildlife.
This Pentax bag does not come with it's own shoulder strap, instead you can use the neck strap on the binoculars, threading them through the sides of the flapped lid whilst the bins are inside. This solution works well enough whilst transporting your bins and is a good way to reduce bulk, but as you can only carry the bag via the strap whilst the bins are inside, it can difficult to decide what to do with it when you are using the bins.
Due to the lack of a dedicated carry strap, I surprised to see that the carry case did not have a belt loop on the rear of it, which could really help in this instance. The case also lacks any extra pockets, either external or internally.
To sum up, I would say that it is a lightweight, compact, functional, but simple bag, especially when compared to others in this class.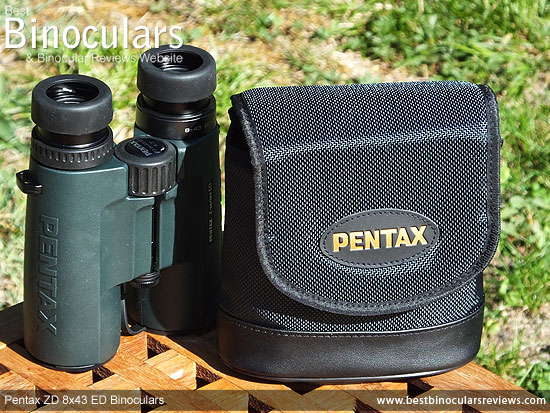 Neck Strap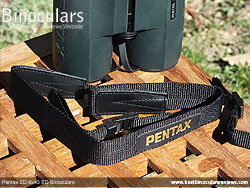 Compared to the vast majority of bins in this price range I would describe the Pentax DCF ED neck strap as being overly basic which is disappointing for a bin of this size and quality.
Whilst there is no denying that it works well enough in that it enables you to carry your bins around your neck, has a nice Pentax logo sewn into it and seems to be well made, it is completely un-padded and is only 2.5cm wide (2mm thick).
The strap attaches to the bin in the usual way by threading the thinner sections through the eyelets on the sides of the barrels and then back on themselves and through a slider so that you can adjust the length.
Being positive, this simplicity makes for a much lighter and compact strap that takes up a lot less room in the case.
Objective Lens Covers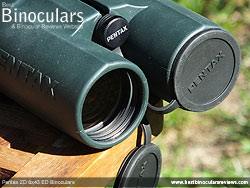 In contrast with the case, rain guard and neck strap, the objective lens covers are excellent:
As with many modern bins, the objective lens covers are attached to the binocular, but unlike most that use a simple elastic loop that goes around each barrel, these have a cords that are connected to the dust cap on the front of the central hinge.
I really like this solution as it looks far cleaner than a rubber loop around the barrel and not only does it make them almost impossible to loose, they are always handy, but most importantly when glassing, they hang down under the binocular, well out of the way.
The caps and their cords seem to be made from rubber and are of a good quality and don't look like they will break or perish too easily. They fit nice and tightly INSIDE the ends of the barrels without being too difficult to remove or replace. This solution is far nicer and better than most which fit OVER the ends of the barrels as it makes it far less lightly for them to dislodge inadvertently and it just looks so much more professional and cleaner.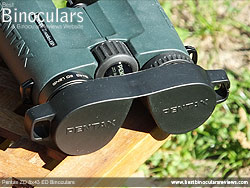 Rain-Guard
These rain-guard that comes with the DCF ED is made from plastic and is designed to be threaded through the neck strap and work best used when the bin is hanging from your neck.
I say this not only because of the couple of loops located on the ends, but because they fit very loosely over the eyecups and easily come away. So if you often carry your bins in your hand when not in use, they will almost certainly fall away.
Whilst not as flexible as some, the thin bridge that spans the two cups does flex, which allows for the different inter-pupillary distance settings, meaning that you can keep it your bin at your desired position when replacing the rain-guard.
Lens Cloth
As with the DCF ED these Pentax binoculars do not come with a lens cleaning cloth, which I must say is a little surprising, especially at this price and for a company that makes photographic products, I would have expected to find a great quality lens cloth included.
Whatever the case, I usually suggest that you should get yourself a decent Lens Cleaning Kit even for those that do come with a cloth as these ensure you clean your lenses correctly without marking or damage the sometimes delicate coatings.
Instructions & Warranty
Here we can clearly see Pentax's photographic heritage coming through as the owners manual comes in the form of a large folded piece of paper that looks exactly like the ones you get with most cameras and camcorders!
It is extremely basic, common to all in the ZD series, written in a bunch of languages, but only covers a few paragraphs for each. It does not go over how to setup, calibrate or even use the binoculars and only list the parts of the bin and the safety precautions!
The warranty on the other hand is excellent - in Europe you get a comprehensive 30 year guarantee. I am not sure of the offer in north America, but assume it will be similar.
Extras & Attention to Detail Rating: 6/10
Pentax 8x43 ZD ED Comparisons
Below is a table listing the main specifications & features of this Pentax Z-series bin as well as a number of other similar pairs:
Conclusions:
As the upgrades are fairly minor, I would not suggest that current owners of the older Pentax DCF ED 8x43's rush out an purchase this newer version. However with the added improvements thrown in (as small as they are) it obviously stands to reason that like the older version, the New Pentax ZD ED 8x43 is overall an excellent pair of optics that are a match for any at this price in regards to their optical performance and build quality. For me it is just a pity that their extras let them down a little:
Strong Points: These Pentax ZD ED 8x43 binoculars are really well made, using materials and glass from the top drawer. They also utilize most of the finest optical coatings available which all contribute to them delivering a superior quality as well as extremely bright image that equal or better any competitor in this price range.
On top of this they really do have the overall feel and look of a genuinely high quality optical instrument, that if looked after should last you a lifetime.
Their 22mm of eye-relief and excellent twist-up eye-cups with four click stops is excellent and far better than the mainstream, which gives you loads of room to customise them to perfectly fit your face and especially making them the perfect choice should you wear glasses.
With small features like the lockable diopter ring, the way the objective lens covers fit into the barrels and are tethered to the body, Pentax also show that in many cases they have paid great attention to the small details that really does help to elevate this binocular from the mainstream.
Weak points? I would have preferred it if they had a wider field of view, however to achieve this Pentax would probably have had to reduce the eye-relief and so as with most things in optics there are compromises to be made and a loss in one area means a gain in another. For most people this slightly narrower FOV will not even be noticeable let alone an issue, but if you specifically require a wide FOV, then these Pentax ZD 8x42 binoculars will probably not be the right choice for you.
For me the neck strap and the carry case were a little disappointing as they were both nowhere near as good as the actual binoculars themselves and they both fall for short of the level that you find with most others in this price range. Having said that, they both work well enough, covering the basics and whilst they may not be as luxurious as others in this class, if improving them meant that Pentax had to increase the price, I would probably prefer it if they just kept them as is.
Ideal Uses: Whilst the majority of full-sized 8x bins are great general use and a good option for nearly all types of birding and to a point these are no exception. I would like to add though that the slightly narrower view on these may be of slight concern those whose bird watching often involves tracking small, faster moving, unpredictable birds from close distances. However if this is not always the case, they still make a great choice for birders as they have most of the desirable features. This included the very high quality as well as bright image produced by the slightly larger objectives and high end coatings, perfect for when you find yourself in poor light, either because of the time of day or because of your location: e.g. a forest.
This brightness and image quality, combined with their fairly lightweight as well as tough fog and waterproof body and protective hydrophobic lens coatings ensures that they will not only handle most conditions, but will perform well in them, making them ideally suited for many general wildlife observation scenarios and especially as a tough, all-round hunting binocular.
In terms of size and weight, they are around average for a full sized bin and so may not be the ideal choice if you are looking to travel light and in this case I would suggest looking at mid sized or even compact bins. But if optical performance is more important to you than a little extra bulk, then these will also make a more than decent safari binocular. I would also suggest that you pack them somewhere in your car for all camping trips to not only enjoy all that is around during the day, but also in the evenings, where they can really help you enjoy a closer look at the stars.
100% Genuine & Honest Review
During your research you may have come across the many binocular reviews on the web that are little more than adverts written by people who have never even laid eyes on the model they are writing about, but I can assure you that this review is completely my honest opinion of these Pentax binoculars after having researched, used and tested them extensively both in my office and out in the field.