The Car Window Mount/Clamp for Scopes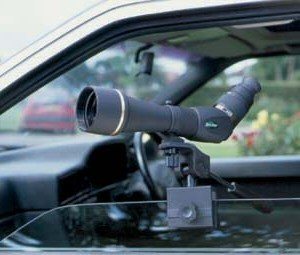 A Spotting Scope Window Clamp is far more than just a bracket that attaches your scope or other optical equipment to a car window, it is versatile enough to be attached to many objects. These include fences, tree branches, hide railings, tubular structures and even tripods, which enables you to use two pieces of equipment like a camera and a spotting scope with one tripod.
Other Uses
Hides
Whilst you can also get specialist hide clamps/mounts that differ to the "window" version in that their height is adjustable height and the clamping mechanism is designed to be attached to horizontal surfaces like table tops. You should be able to find a place to attach a window mount in most wildlife and birding hides. I have often found that the best place is either on the balcony rail or the cut out "window" of the hide.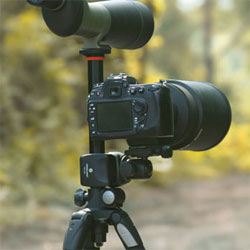 Attach the mount to a Tripod
You can attach a window clamp to the stem of a tripod and in so doing be able to fix two different pieces of equipment to it. The image on the right shows a Vanguard PH-240 window mount attached to a tripod enabling the user to use their camera as well as their spotting scope at the same time.
Fence Posts & Branches
There are many advantages to not having to carry around a tripod when your our on a walk. Most sturdy tripods suitable for taking the weight of a scope are pretty bulky as well as heavy, they can also sometimes take a while to set up, by which time the bird you were hoping to see has gone. You can of course keep your scope attached to the tripod while you walk, which can reduce the set-up time. An real alternative is to use a window clamp, which will easily attach to many objects that you find out in the countryside including fence posts and branches of trees. The advantage they have over a tripod in this situation is that they are far more compact and lighter.
What makes a Good Car Window Mount?
This sounds obvious, but as with all tripods that need to hold relatively large and heavy equipment like a scope, look for a mount that is sturdy in it's construction. There is little point in using any sort of stabilization device that is not stable!
The jaws of the car window clamp should also have a tough rubber surface, which is not only there to help them grip to what ever it is you want to, but will also prevent it from scratching the glass of your window.
Another obvious one, but something that often gets overlooked is the maximum width of the jaw or the "jaw size" is also important if you want to uses it in as many situations as possible - as the wider it can go, the more versatile your clamp will be.
As with using standard tripods for spotting scopes, the size of the base and the quick release plate is also very important, remember your scope is heavier than many cameras and because of it's length can become unstable on small bases.
Window clamps, just like tripods generally come with a few different types of heads designed for slightly different uses and equipment:
Ball Head Window Clamps - These are the most versatile as the base moves about on a ball and socket and so can be moved about in all directions, they can however be slightly less stable with heavy equipment when loosened to move as they don't usually come with a pan handle that you can use to prevent your scope from falling over.
Two-way Pan Head Clamps- Can pan left and right and usually through a full 360° as well as move up and down (tilt) which makes them ideal for spotting scopes, binoculars and video cameras.
Three-way Pan Head Clamps - Do all that Two-way ones do as well as rotating your equipment (usually a camera) 90° which allows you to take portrait shots.
Pedco UltraClamp Universal Window Clamps
Established in 1982, Pedco is a small American company who began by producing the UltraPod, a unique 2oz. miniature camera support. They now market their products worldwide and their product line has expanded to include the UltraPod II, UltraMount and the UltraClamp.
There are two versions of the UltraClamp, that are both exactly the same apart from the width of the jaws on the clamp: The Original has a jaw aperture of 0" to 1.5" (3.8cm) and the UltraClamp 2.5 has jaws that have an opening aperture from 1" to 2.5" wide, making it suitable for mounting spotting scopes as well as cameras, camcorders, binoculars etc on larger or wider objects than what the original Ultraclamp can accommodate.
Both clamps can be purchased on their own or as a kit that includes a Ball & Socket Mount, making the clamp even more flexible. This Ball & Socket Mount can also be used without the clamp to mount your scope or other equipment to a tripod or monopod.



Where to Buy & Prices
Depending on which model you choose The UltraClamp Kit (with the Ball & Socket Mount) costs between $22 and $35 in the US or about £25 and £35 in the UK:
Vanguard Window Mounts
At the time of writing vanguard currently have five clamps that I know of: The PH-242, a two-way fluid Pan Head, two three-way pan heads, the PH-304 and the PH-222 and then two ball head window clamps the PH-230 and the PH-250.
As mentioned the PH-242 comes with a two-way fluid Pan Head which means it can pan left and right through a full 360° and move up and down or tilt it from +90° to about -60° which makes it ideal for binocular, spotting scope and video use. You can of course also use it with your camera although it will not tilt the 90° to enable you to shoot portrait photos.
Read the full Review of the Vanguard PH-242 Window Clamp
If you are planning to use your mount mostly for photography and often shoot in portrait, I would suggest using one of Vanguard's ball heads (PH-230, PH-250) or their three-way pan heads (PH-304, PH-222)

Where to Buy & Prices
Depending on which model you choose Vanguard Window Mounts costs between $25 and $80 in the US or about £25 and £80 in the UK: