Celestron Spotting Scopes
About Celestron
It is probably true to say that Celestron are best know for their astro telescopes, which they fist began producing in 1960, Since then they grown to become one of the world's leading makers of telescopes and giant binoculars, which used mostly for astronomy. Recently Celestron have introduced a range of quality binoculars and spotting scopes aimed at terrestrial uses, which includes the excellent Regal F-ED Series Spotting Scopes. As well as this, the Celestron product range includes monoculars, microscopes, GPS devices, mounts, tripods, weather stations and many optical accessories.
Celestron now enjoy brand-name recognition among serious amateur astronomers as well as terrestrial observers for great quality optics, innovative technology and all at a very competitive price.
The Celestron Spotting Scope Range
Celestron produce a wide range of terrestrial spotting scopes that cover most bases and price brackets, including scopes ideal for sporting events, wildlife, bird watching, travel, sailing and yes, even for astronomy.
Below are some of their most popular ranges of spotting scopes:
Celestron Regal F-ED Series Spotting Scopes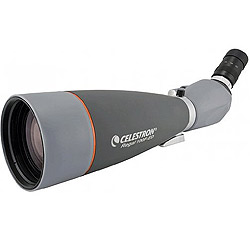 This is currently Celestron's top of the range series of spotting scopes and as the name suggests they feature the highest quality air-spaced doublet achromatic lens, one element of which uses fluorite extra low dispersion glass (ED) to produce incredible quality razor sharp images with virtually no chromatic aberration (color fringing).
These angled (45°) Celestron scopes also come with a tough rubber armored and waterproof body and have a dual speed focussing mechanism.
There are three sizes available - with 65mm, 85mm and 100mm objective lenses and all come with an excellent quality 8-24mm Zoom Eyepiece that attach to the body using the standard 1.25" push-fit socket. This gives you have the greatest flexibility in choosing further eyepieces to suit your needs.
Celestron Regal 100 F-ED Spotting Scope - Read My Full Review
This Celestron Fieldscope uses an air-spaced achromatic doublet lens to help reduce chromatic as well as spherical aberrations
Extra-low dispersion glass (ED) also used in the lenses.
Lenses have been fully multi-coated.
Includes a 8-24mm Zoom Eyepiece
Eyepiece fits into the body using a standard 1.25" push-fit socket
Tough Armored Body that is Fully Waterproof
Dual speed focussing mechanism
T-Adapter Included for Easy 35mm/Digital SLR Imaging
Supplied with a Carry Case
Celestron Digiscoping
Celestron Regal F-ED spotting scopes are also easily used for digiscoping as they come with a T-Adapter that makes it very simple to attach a 35mm or Digital SLR camera to.
Price Range & Where to Buy
Celestron LandScout Spotting Scopes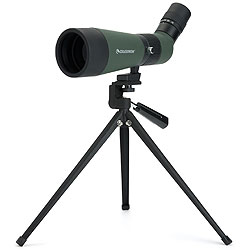 The Celestron LandScout series, currently consists of two compact models, a 50mm and a 60mm version.
Both come with Zoom eyepieces with the 50mm scope offering a 10-30x range and the 60mm one gives you 12x - 36x. Whilst this is somewhat less than full sized scopes, the advantage is a much wider field of view making these ideal for closer range observation and really quick and easy target acquisition. Perfect for backyard birding, hiking, hunting, camping or even taking to the range where distances are short to medium.
Not only very compact, but both are also what I would describe as cheap (well under $100 / £100), yet I was quite surprised by the overall build and view quality when I got to fully test and review the 60mm version. For more please read my full Celestron LandScout 12-36x60 Spotting Scope Review.
Main Features:
Compact & Lightweight Body
Bak-7 Prisms
Fully Coated Optics
Water Resistant & Fogproof
Rotating tripod mount
Lifetime Warranty
Models:
Celestron LandScout 50mm Scope (ITEM # 52320)
Celestron LandScout 50mm Scope + Backpack Kit (ITEM # 52324)
Promo Video
Price Range & Where to Buy
As mentioned earlier, the LandScout range consist of budget scopes and cost between $60 and $100 / £60 and £100 - follow the link below to check and compare current prices:
Celestron Ultima Refractor Series Spotting Scopes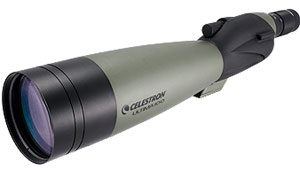 Celestron's popular Ultima Series consists of three sizes of scope (100mm, 80mm and 65mm), which are available in both angled (45°) and "straight-thru" eyepiece configurations.
All Ultima models are waterproof and have a sleek design that is accented with contours that not only look good but makes them easier to hold and handle.
All scopes in the Ultima series feature Bak-4 Prisms, multi-coated optics (Not Fully Multi-coated) to provide exceptional clarity and brilliance. According to Celestron the 80mm Ultima scope's excellent multi-coated optics bring you 50% brighter images than the 65mm!
The 100mm version, which is the largest aperture scope in the Ultima line brings you the best performance, especially in low light conditions making them ideal for all types of outdoor viewing activities including bird watching, nature and wildlife, target shooting and even astronomy. The Ultima's are as great to look at as they are to look through. Their The Ultima Series spotters are the perfect choice for the outdoor enthusiast looking for a spotter with quality design and construction, superior optics, and versatility at an affordable price.
Celestron Digiscoping
A T2 camera adaptor (Prod.Code 947) is available for the attachment of either SLR or DSLR cameras, and can now be used in conjunction with the multi-coated zoom eyepiece supplied.
Main Features:
Bak-4 Prisms
Multi-coated optics for increased light transmission under low light conditions
Waterproof
Soft Carrying Case
No-Fault Lifetime Warranty
Models:
Celestron Ultima 100 - 45° (Model No: 52252)
Celestron Ultima 100 - Straight (Model No: 52257)
Celestron Ultima 65 - 45° (Model No: 52248)
Celestron Ultima 65 - Straight (Model No: 52249)
Celestron Ultima 80 - 45° (Model No: 52250)
Celestron Ultima 80 - Straight (Model No: 52254)
Price Range & Where to Buy

Celestron UpClose Series Spotting Scopes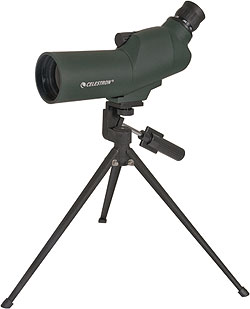 The small Celestron UpClose Spotting Scopes are waterproof, lightweight (under two pounds), with good quality optics making them a good choice for bird watching, nature or wildlife observation, hunting, and enjoying scenic views, where weight and size are important.
The UpClose series come in two sizes, with 50mm and 60mm objective lenses in both angled (45°) and "straight-thru" body designs. They have fully coated optics (Not Fully Multi-coated) and come with a zoom eyepiece included (20x-60x on the 60mm scope and 15x-45x on the 50mm version)
Models:
15-45x 50mm UpClose Spotting Scope (sku: 52228)
15-45x 50mm 45° UpClose Spotting Scope (sku: 52222)
20-60x 60mm UpClose Spotting Scope (sku: 52229)
20-60x 60mm 45° UpClose Spotting Scope (sku: 52223)
Main Features:
Waterproof
Fully Coated Optics
Comes with a Metal Tabletop Tripod
Aluminum Carrying Case
Soft Carrying Case
Price Range & Where to Buy
Celestron Electric Zoom Spotting Scope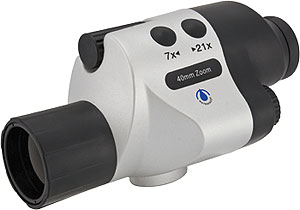 This is a unique spotting scope that has an electric zoom so you can quickly and quietly change the power from 7x to 21x with the press of a button, rather than rotating the eyepiece as you would on a standard spotting scope.
The body is fully waterproof and fogproof and comes with multi-coated optics (Not Fully Multi-coated).
Main Features
Multi-Coated Optics
Refractor Optical Design
Waterproof & Fogproof
Exit Pupil - 5.7 mm
Tripod Adaptable
Electric Power Zoom - 7 to 21 Power
Battery - CR123A Lithium (supplied standard)
No Fault Limited Lifetime Warranty
Price Range & Where to Buy
---
Where to Buy Celestron Scopes:
---
Featured Celestron Scopes
Below are a few featured Celestron Binoculars: View >> All Celestron Scopes reviewed
| | |
| --- | --- |
| | Very high quality optics that include and air-spaced doublet lens made from ED glass (extra low dispersion), to produce razor sharp images with virtually no chromatic aberration (color fringing). This is all packed in a stylish an tough waterproof body and comes with a 22x-67x (8-24mm) Zoom Eyepiece included. This scope is ideal for bird watching, nature observing, long distance viewing and even casual astronomical observing. |
Low costing and really compact with a wide field of view and good quality image.

The Celestron 12-36x60 LandScout spotting scope is a great choice for the beginner and also ideal as a back-up scope for more advanced users when you can't or don't want to take your large scope out with you.
View >> All Celestron Spotting Scopes reviewed on The Best Spotting Scope Reviews website.
---
Celestron Spotting Scopes on Amazon:
---
Celestron Binoculars
In the past Celestron mainly focused on entry level giant astronomy binoculars, but recently they have started producing much higher quality binoculars for both astro and terrestrial use and now I would say that their brand would stand for quality at an affordable price. Celestron have been able to bring their knowledge of telescope optics to the field of binoculars, where they have combined superior optics, modern design and technology to produce affordable binoculars and spotting scopes not only for astronomy but for most terrestrial uses as well.
Celestron Granite Binoculars - This is their top of the range series that currently includes an 8x42 and a 10x42 - These high quality, but still affordable binoculars feature a lightweight yet tough water and fog proof open hinge design body, excellent quality optics that includes the use of ED glass and phase correction coatings on the Bak-4 roof prisms.
Celestron SkyMaster Binoculars - Celestron's Skymaster line of astronomy binoculars offers exceptional performance in the field of binoculars for astronomy not only providing a spectacular view of the universe, but can also be used for many land uses.

Celestron Binocular Repairs
No-Fault Warranty on ALL Celestron Binoculars
Celestron offer a very comprehensive No fault Lifetime Warranty on their entire range of binoculars.
Most optical companies only offer such a comprehensive warranty on their top of the range binoculars, but the fact that Celestron have the same warranty for their entire range goes to show how much confidence they have in their products.
So what does this No fault Lifetime Warranty actually mean?
What it means is that regardless of how the binocular may have been damaged or rendered unusable (fully or partially), Celestron will repair or replace the product without any questions asked (there are a few restrictions) - This is Impressive
NOTE: This warranty is valid to U.S.A. and Canadian customers who have purchased this product from an Authorized Celestron Dealer in the U.S.A. or Canada. Warranty outside the U.S.A. and Canada is valid only to customers purchased from a Celestron Distributor or Authorized Celestron Dealer in the specific country and please contact them for any warranty service.
Technical/Customer Support
If you have questions about your Celestron product you can get hold of their Technical/Customer Support Department:
Telephone: 310-803-5955
Address:
Celestron, LLC.
2835 Columbia St
Torrance, CA 90503
USA