I recently had the opportunity to try out the Vanguard PH-242 window clamp which I not only used with a spotting scope, but binoculars, video camera and my digital camera. Below are my findings:
More than just a Car Window Clamp
As the image above perfectly demonstrates, you can use your mount for far more than just car windows, they can be attached to may objects and therefore be used in many situations and there are many cases where I actually prefer one to a tripod.
The jaws of the clamp extend to 1.6in (42 mm) meaning that it can be mounted onto many objects including fences, tree branches, deck rails and more. I only wish I had one of these at the last safari lodge I was working at, where it would have been ideal to use on the balcony overlooking a waterhole where many of Africa's wildlife would come down to drink.
The first thing you can't help but notice is just how "solid" the construction of it is, which means as long as whatever you mount it to is steady, it will provide a the stablest of bases for even the heaviest spotting scopes, cameras and binoculars. On the down side is that it is a little on the heavy side (1.56lbs – 0.7kg).
Even though it is a little on the heavy site, it is still fairly compact meaning that is a lot easier to carry around than a tripod making it ideal to use on walks.
The "non-slip" hard rubber faces on the clamp work well and I had every confidence that my expensive scope or camera and telephoto lens would be safe.
Quick Release Platform
Attaching your spotting scope or other equipment to the mount is simple using the included QS-52 Quick release shoe. This shoe can be move backwards and forward about a centimetre to help with the balancing of your scope.
The PH-242 comes with a large platform ideal for heavy and large equipment like full size scopes. According to the manufacturers the maximum loading capacity is 6.6lbs or 3kg's and it had no problem holding any of the equipment that I used during my tests for this review.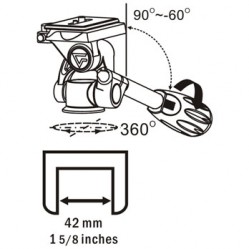 The Two-Way Pan Head
The PH-242 comes with a two-way fluid Pan Head which means it can pan left and right a full 360° and move up and down or tilt it from +90° to about -60° which makes it ideal for spotting scopes, video use and binoculars.
You can of course also use it with your camera although it will not tilt the 90° to enable you to shoot portrait photos. If you are planning to use it mostly for photography and often shoot in portrait, I would suggest using one of Vanguard's ball heads (PH-230, PH-250) or their three-way pan heads (PH-304, PH-222)
The movement on my sample was very smooth and locking or unlocking it to move is very simply done by twisting the pan handle.
Conclusion
I was highly satisfied with the performance of the PH-242 and I highly recommend it to anyone who owns a scope and who not only wants a mount for their vehicle, but to use on country walks or even in a hide.
Cost & Where to Buy
The Vanguard PH-242 Pan Head Clamp/Mount costs around $70 in the US and about £80 in the UK. This means that it sits at the mid to top of the range. Vanguard as well as other manufacturers make cheaper as well as more expensive models: