I recently got the chance to test the cheap Celestron LandScout 12-36x60 Spotting Scope. With is's small price tag, diminutive size, lower power and weight, it is quite a different beast to your average and far more expensive large diameter scope, but in the right situations they do have their place:
For many uses, the main problem with a full sized spotting scope is that compared to a pair of binoculars they are bulky and heavy. This obviously makes them more difficult to carry about in the field, take with on holiday's or just to lug about to the archery or shooting range.
There are also cases where a large scope with high magnifications is not really the right tool, say for example for birdwatching in a smallish garden, but at the same time you may want a little more power and thus more image detail than what you get with your binoculars.
Whilst they also have their own associated problems (optics is always about compromises which I will cover in the review), the best solution in these and many other instances maybe a compact spotting scope like this Celestron. Below is my full Celestron LandScout 12-36x60 Spotting Scope Review:
Main Feature & Specifications
60mm Objective Lens
12-36x Eyepiece
Fully Coated Optics
Water Resistant
Single Speed Focus Wheel
BK7 Roof Prism
Eye Relief: 18-14mm
Field of View at 1000yds: 157-84ft
Minimum Focus Distance: 33ft / 10m
Weight: 18.1 oz / 513g
Length: 10.75in / 27.3cm
The Body
Shape
Apart from it's smaller size this Celestron LandScout spotting scope looks almost like any "normal" sized scope. Indeed if you look at the photo below, without any sort of proportion in the image, you would probably not guess that it is only 26cm long.
All LandScout scopes are currently only produced with an angled body shape and whilst Celestron don't mention any details, I would say that the eyepiece is positioned at the most common angle of 45°.
An angled scope is probably the correct choice for most users than a straight through one for a number of reason. Firstly and because you look down into the eyepiece, it means that you don't requite a tall tripod to raise the scope right up to your eye level as you do with a straight scope. This also makes it much easier to share the scope between people of different heights and makes it much easier to look up into the sky. For more details on which body shape is correct for your needs, take a moment to read this section on angled verses the straight scopes.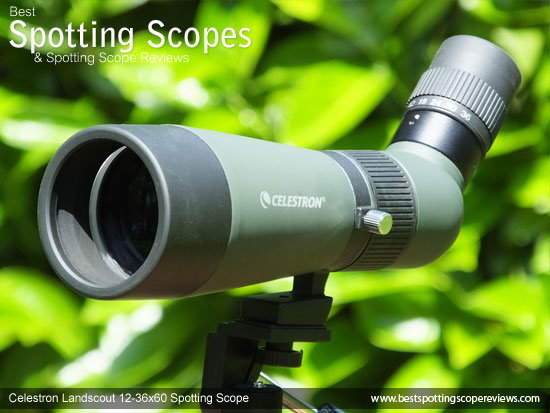 Weight
Tipping the scales at only 18.1oz (513g), you can see from the comparison examples that I have listed below that this LandScout is far lighter than your average larger diameter scope. Indeed in some cases it weighs less than a quarter of the larger models, which I am sure you will agree is a substantial difference.
The smaller lens and chassis obviously contribute to this lower weight. However if this is still not lightweight enough for your needs, you could opt for the even smaller and lighter 50mm Celestron LandScout (see below). So how do these Celestron's compare to other compact scopes on the market:
As you can see when compared to top end compact scopes like the Leica Televid above that costs around $2000, this and other cheaper scopes of a similar size are still far more lightweight. The reason for this is mostly down to the difference in materials used in the construction of the chassis. Most scopes at this price level will have a polycarbonate chassis, which apart from being lightweight, also has the advantage of being relatively strong, but also cheap to produce.
Top end scopes will have often have either an aluminium or magnesium chassis, which are both more expensive to produce and heavier, but have the advantage of being tougher.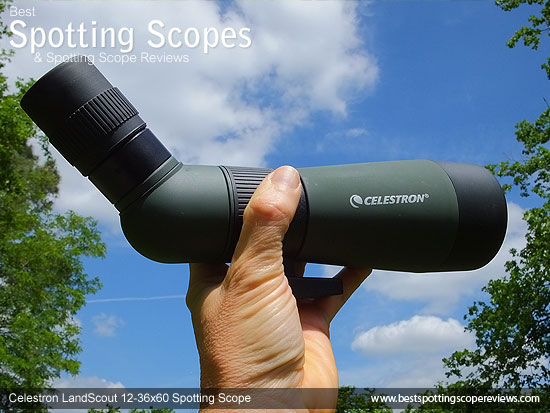 Dimensions
Of course the most important feature of any compact scope is that it must be smaller than full sized versions. So how much smaller is this and other compact scopes?
Below are the advertised lengths of a variety of different sized angled scopes arranged from the shortest to the longest to give you an idea:
As you can see, compared to the average full size scopes, this Celestron is at least 5 inches / 13 centimeters shorter, which is a substantial difference. It is also reasonably compact when you compare it to other 60mm scopes. However if you really want a tiny scope, then you may wish to consider the 50mm Celestron LandScout, which as you can see from the image below is even smaller: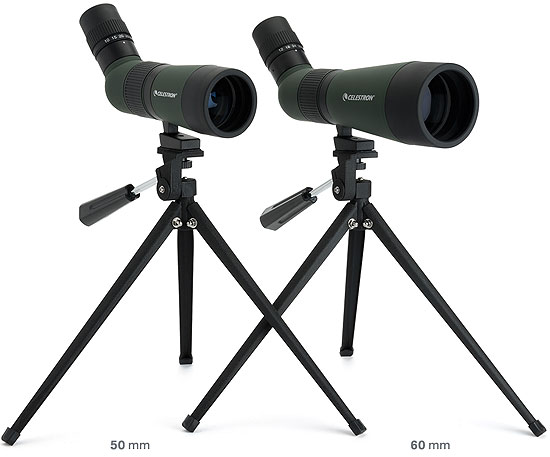 Rating for Body Stats (compared to other compact scopes): 8/10
Chassis & Exterior
Most of the exterior has a rubber covering apart from a few details on the eyepiece and the mounting collar that goes around the barrel near the focus ring.
This is fairly standard these days and offers some protection to the scope as well as giving you a more secure surface to hold onto.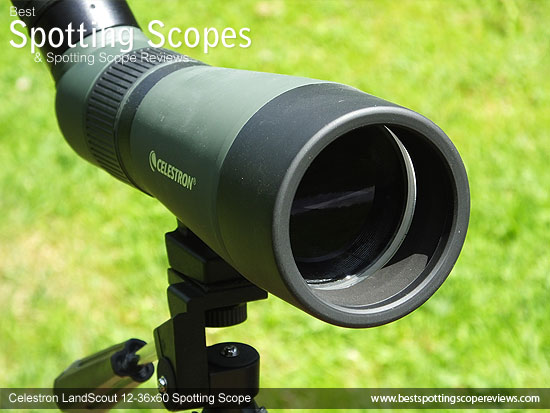 Sunshade
Most scopes have an extendable sunshield that can help reduce lens flair and protect the lens from physical damage as well as shielding it from falling rain or dust.
What is different is that this Celestron scope does not have an adjustable shield, rather the lens is permanently set quite deeply within the end of the barrel - I measure it to a depth of 2.5cm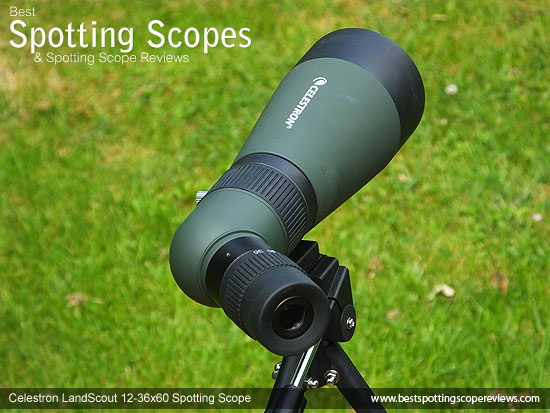 Mounting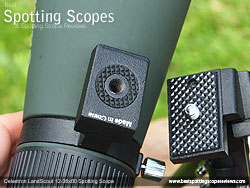 Whilst the mounting plate is quite small (9.5cmx2.6cm), for such a small and lightweight scope it is enough to give you a steady platform from which to work from.
As well as this there is a small circular section around the standard sized thread that is rubberized that increase the level of grip and during testing I had no issues with the steadiness of the scope once correctly mounted.
As with many scopes, the mounting plate does not fit directly to the body of the scope, but rather to a metal collar that goes around it. This collar can be loosened or tightened and in this way you can then rotate the scope about the mount to orientate the eyepiece to the side.
In certain instances or uses this can be very useful. Take target shooters for example who will often have the scope sitting next to them. In this way they can quickly and simply turn their head to the side and look down the scope rather than having to get up to do so.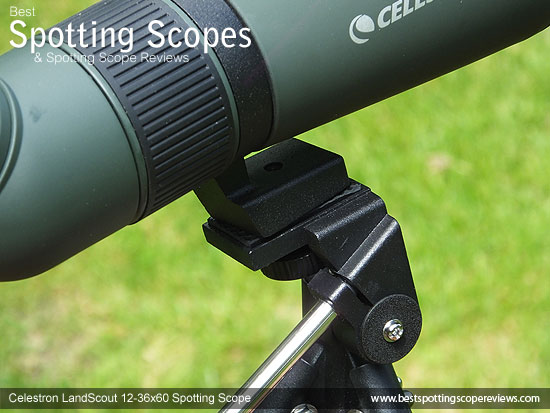 Weatherproofing
Celestron state that this instrument is "Water Resistant", but also state that it is Fogproof but do not go into any specifics or details.
So in order for the dry gas (usually nitrogen) to remain inside the body and thus prevent the internal optics from fogging, it has to be sealed and air-tight. To me this means that it will also be water tight. Perhaps not to any sort of depth, so don't take your scope swimming, but this should be more than enough to survive use in light rain for example.
Having a sealed body also prevents small dust particles from entering and potentially ruining your view.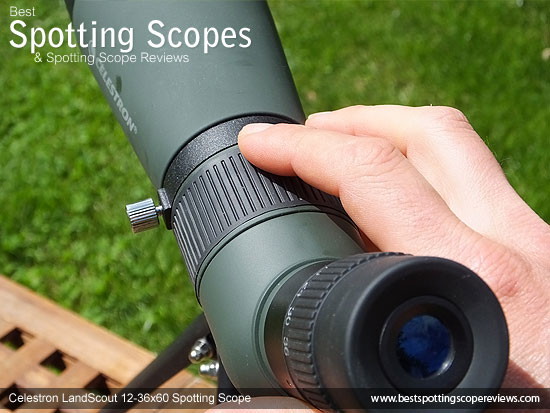 Focusing
I really like the focusing mechanism on the Celestron LandScout spotting scopes.
Unlike the vast majority that have a small knob placed on the body somewhere near the eyepiece, the LandScout has a large ring that wraps around the body.
This ensures that it is easy to use with either your left or right hand and is easy to reach from any position. On my sample, it had a very smooth action, without any sticking points and because it has a rubberized track is easy to adjust accurately even whilst wearing winter gloves.
As with most scopes that only have single speed focus mechanisms, it takes a fair few turns of the wheel/dial to go from the extremes of near to far focus. Whilst this ensures it is easier to fine tune your focus to get a perfectly clear image, it does take longer to make big adjustments than those that either have a higher gear or those with two speed focus wheels.
Rating for Body Construction Quality: 7/10
The Optics
Objective Lens
The 60mm objective lens would be considered massive on a pair of binoculars, but on a scope it is quite small. This obviously helps keep the size (and to some degree the weight) of the scope down, but on the negative side, it will not capture as much light as a larger lens and therefore potentially seem to deliver a less bright image in poor conditions.
However because of the lower magnifications, this scope still produces an exit pupil of 5mm in diameter (60 ÷ 5 = 12) at 12x magnification which is more than large enough to supply your eye with more than enough light even in very poor light.
It is only when using higher magnifications when the exit pupil reduces down to 1.7mm at 36x (60 ÷ 36 = 1.7) that perhaps this scope will be less than ideal in low light compared to larger (70 - 80mm) similar quality scopes.
For more on this subject and how the exit pupil affects perceived image brightness, please take a read of this article: complete guide to the exit pupil.
Prisms
The LandScout uses a roof prism to turn around the image after it passes through the objective lens, which according to Celestron is made from BK7 glass.
Prisms made from BK7 are usually only found on cheaper scopes like these as it is generally thought to be of a lower quality than Bak-4 or SK-15 glass. Although on the plus side, because it has a higher Abbe number it implies that it has less dispersion which can help with image quality but this also depends on many other factors throughout the whole optical path in the scope.
Optical Coatings
Multi-Coated
Every glass surface that light comes into contact with throughout the scope (usually more than 10) has the potential to either reflect some of it away or in an unwanted direction which can lead to a less bright and distorted final image that you see.
To reduce these unwanted reflections manufacturers will add a layer or layers of an anti-reflection material to some or all of these surfaces.
Not all optics are created equal and the amount of glass surfaces that they coat with either single or multiple layers varies depending largely on cost.
The Celestron LandScout 12-36x60mm spotting scope has been fully coated. What this means to me is that all glass surfaces have received at least one layer of anti-reflection material added to them, which is definitely better than those left completely untreated and better than Coated optics which have only had some glass surfaces treated.
The best optical devices are described as being fully multi-coated which means that all glass surfaces have had multiple layers of anti-reflection material added to them.
At this price level I would not expect to see many (if any) scopes that have been fully multi-coated and most will probably only be coated, so whilst this may not offer quite as high transmittance levels as the best, it is most certainly about as good as it gets within their class.
Transmittance Levels
Per Single Lens Surface
10 Lens & Prism Surfaces
No Coating:
96%
(0.96) x Power of 10 = 0.66 66%
Single-Layer:
98.5%
(0.985) x Power of 10 = 0.86 86%
Multilayer Coating:
99.5%
(0.995) x Power of 10 = 0.95 95%
Prism Coatings
The peculiar design of the roof prism used in this and indeed most other similar terrestrial scopes means should you want them to perform to the highest levels, they require a number of very specialized treatments and coatings. One helps to increase the transmission levels and the other helps keep the light in the correct phases to prevent some aberrations.
These obviously require expertise and cost money and thus the quality and the amount of coatings varies depending on the budget and desired result.
Celestron do not mention if or any of the coatings that they use on their prisms and as of yet I have not been able to find out any information so can't comment. However as they don't push it in their marketing and the fact that this is a cheap scope, I will assume until told otherwise that they don't use the best mirror coatings and the prism is not phase corrected either.
Rating for Optical Components Quality: 5/10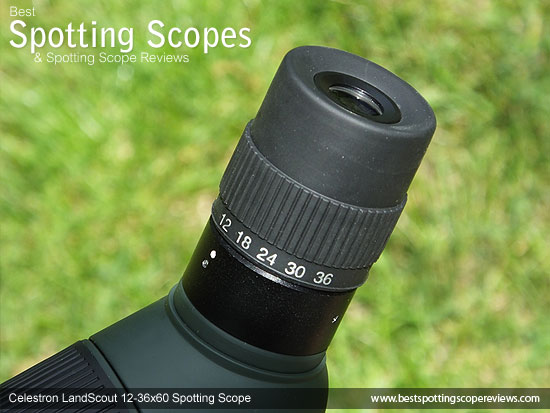 The 12x-36x Zoom Eyepiece
As with almost all lower priced scopes, the eyepiece on this Celestron spotting scope is fixed to the body and cannot be swapped for a different one with a fixed magnification or different zoom levels.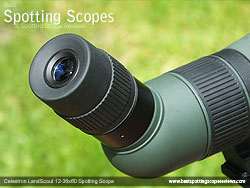 You can however adjust the magnification from 12x right up to 36x to suit your needs by rotating it. The action of this on my sample scope was nice and smooth with just the right amount of resistance to movement to stop it from turning by accident. There is also a rubber track on the scope which helps with grip, which if does help, especially you are wearing gloves.
Eye-cup
Most scopes will have either a twist-up/roll-up eyecup that keeps your eye supported at the right distance (eye-relief) from the ocular lens so that you see the full image without any black rings on the edges.
The lack of this on the LandScout for me is a little disappointing as it just makes it a little more difficult to keep your eye correctly positioned, especially for longer periods.
If however you wear glasses when looking through your scope, the combination of this along with the good amount of eye-relief (see below) actually works out quite well.
Optical Stats
Eye-Relief:
For those eyeglass wearers, this scope's eye-relief goes from a very good 18mm at 12x magnification to a more than acceptable 14mm at 36x which should mean that you should be able to view the full image without having to remove your glasses.
I tested this whilst wearing my sunglasses and it was indeed more than enough for me at all power levels. Indeed because of the lack of an adjustable eye-cup, in some ways it was actually easier to use than without my glasses on.
Field Of View (FOV)
Depending on the magnification you use, the field of view goes from 157 feet wide (at distance of 1000 yards) at 12x power to 84ft wide at 36x power. Metrically this equates to a FOV of between 52-28m at 1000 meters away.
As you can see from the examples below, compared to your average spotting scope this is actually very wide and is one advantage of having the lower magnifications:
If we compare this to other similar compact spotting scopes you can once again see that this compares very favourably:
The advantage of a wider FOV is that it makes target acquisition far quicker and easier, which is very useful in may situations, but especially when you are trying to view fast and erratic moving birds or other wildlife.
Those interested in digiscoping birds and wildlife will also benefit greatly from a wide FOV as being able to quickly lock onto your subject and then have time to adjust the camera and take the photo is from my experience very important.
Close Focusing Distance
The advertised minimum close focusing distance on the Celestron 12-36x60mm LandScout is 33ft / 10m away. It has to be said this is a fair bit further than the best.
To be fair scopes are not often used at distance much less than this, but if being able to view objects at closer distances than this is important to you, this will be an important consideration.
Optical Stats Rating (compared to other compact scopes): 8/10
Image Quality
My impression is that the color reproduction and amount of contrast between light and dark is fairly neutral and to me was very natural looking. This is good as sometimes, especially with cheaper optics you do get an unnatural hue or tint (usually yellowish) to the image. This was not at all the case on this Celestron LandScout Spotting scope in my opinion.
My opinion is also that the image is nice and flat, without any obvious distortions like "roller balling" that you also sometimes see.
Whist there is a certain amount of softening of the image right at the edges of the view, it is not excessive and I would say on a par with most other low costing and mid level scopes that I have used, so nothing to be overly worried about.
Image Brightness
In good light, I thought that the image through this scope was nice and bright, even at it's highest magnification and easily on a par with my mid-level 80mm spotting scope that I was using as a reference point.
In lower light levels, it did become apparent that the image was not quite as bright as the larger scope, especially when using higher powers. Because of it's much smaller objective lens that firstly captures less light and because it uses less anti-reflection coatings on lower quality glass, this is completely understandable and to be expected.
However I would say that whilst for digiscoping in bad light this may be a problem especially if you cannot adjust your camera to use low shutter speeds, for normal observation it was still easily usable.
So if you are expecting or needing the brightest image possible in low light conditions, you must either spend more to get a higher quality optics and coatings and/or choose a larger diameter scope.
Color Fringing
Whilst clearly visible, especially in extreme circumstances (like focusing on a black telephone line against a brightly lit cloud in the background), I felt that the amount of color fringing that comes as a result of chromatic aberrations was not excessive and at about a level that I would expect to see within this price range.
So for me this level of color fringing is not something to be overly concerned with. If it is, then you really need to spend much more money and get a much higher quality scope, possibly with ED glass lenses.
Note: for digiscopers, this may be a issue on some of your photographs, especially those where the subject contrasts greatly with it's background.
Rating for Image Quality: 6/10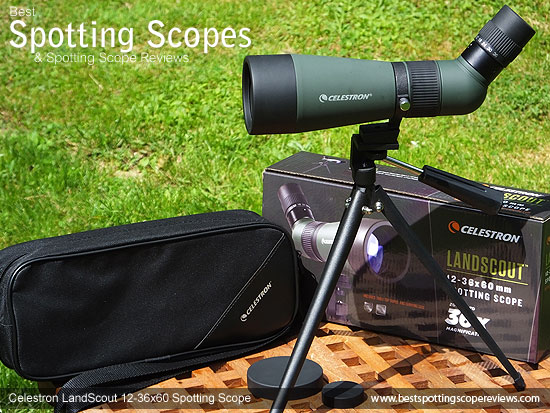 Included Accessories:
Carry Case
Unlike many larger scopes that come with a stay on protective cover, the Celestron LandScout comes with a soft carry case which for an instrument of this small size probably makes more sense but also is probably quite a bit cheaper to make than a tightly fitting jacket.
Having said this, the case itself looks well made and the stitching is good. Indeed most of the seams are internal which not only makes for a far neater finish, but protects them and thus I am sure will last longer than cases made with external seams.
The padding is very minimal and whilst the case will be a great place to transport and keep your scope whilst not in use, I doubt would offer enough protection should you drop the scope from a height onto a hard surface which is a shame.
However inside the bag there is a padded partition which is used to keep the tripod separate from the scope. This well padded and thus does a good job.
The case has an adjustable hand/shoulder strap that is un-padded and I would describe as basic.
Access to the interior is via a long Zip that runs the entire length of the case. This does make for a more secure closure than say a magnetic buckle or even a Velcro strip, but like the Velcro you may sometimes and in certain circumstances you will need to be a little careful so as not to make too much noise when opening it, which could frighten nearby wildlife or birds away.
Tabletop Tripod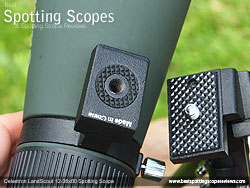 It is not a given that your scope will come with an included tripod. In fact in my experience most do not, so it is was a nice surprise to find a table top one inside the case.
What was even better was the fact that unlike many included tripods that are of a very poor quality and which I would immediately put aside, using my own instead, the one that you get here is not bad at all.
The metal legs and tripod head are steady, can easily hold the weight of this and indeed much larger scopes and there was no shaking or free play at all.
The Grip-action pan/tilt head works very well and provides you with a very high level of control when aiming and all with just one hand. This then leaves the other free to make magnification or focus adjustments and is ideal for use with a scope.
This is also great should you wish to use your scope for digiscoping as once again you can quickly and accurately aim it in the right direction with one hand and then use the other to adjust focus and take pictures.
Also because it uses a standard thread, you can of course also use it with your camera.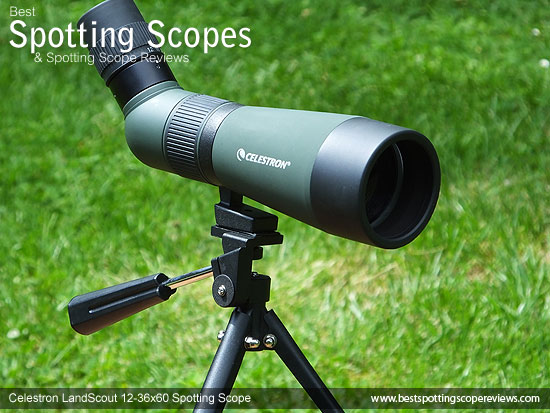 Lens Covers
Both the objective and eyepiece lenses come with a cover to protect them and keep them from getting dusty when not in use.
They are both made from black soft rubber and both fit very well and thus will not easily come away by accident, yet do not fit too tightly so as to make them too difficult to remove when needed.
Most full sized scopes will have a screw on metal cover that fits over the whole eyepiece and thus ensures all of this delicate section remains protected. Here you only get a rubber cap to protect the lens and not the whole eyepiece. I suppose this is another way that Celestron have managed to keep the cost down and I guess the thinking here is that with such a small lightweight instrument, the eyepiece has less chance of getting damaged than with a heavier one.
An improvement here would also to make some sort of way to keep the covers attached or tethered to the scope when you have removed them from the lens. This is very commonly seen with binoculars, but on scopes for some reason? In fact, I am yet to see it on a scope which I cannot understand as it is a great way of ensuring they don't get misplaced and are always handy to immediately replace after you have finished observing thus ensuring that your lenses stay protected and cleaner for longer.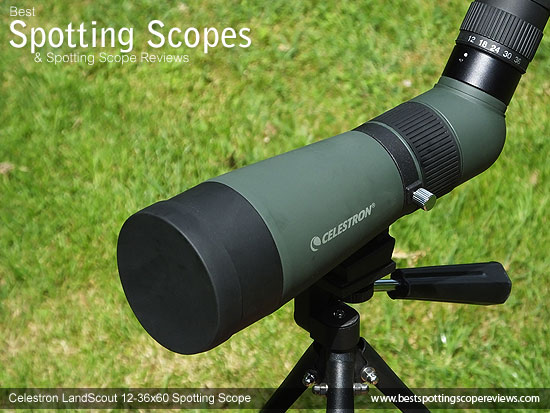 Eyepiece Cover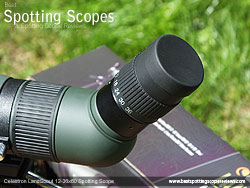 Also supplied with this Levenhuk Blaze spotting scope is a screw on metal eyepiece cover. Because it is made from metal and because you screw it into place, it is very secure and does a great job of protecting the relatively fragile eyepiece.
However replacing it does take a little time to screw it on and off, you probably will only use it when transporting or storing the scope and not for simply covering the eyepiece after every use when out in the field.
It is for this reason that it is a slight shame that they don't also supply you with a simple plastic cover to go over the eye-cup to protect and keep the ocular lens clean when out in the field. However to be fair to Levenhuk, very few manufacturers do supply one, which is a small attention to detail that most miss.
Lens Cloth
Not all scopes in this price bracket come with a cleaning cloth, so it is good to se one had been included. Like most, it is good enough for cleaning the body and only emergency use on the lenses. For proper cleaning I highly suggest getting a quality optical lens cleaning kit.
User Manual
The supplied instruction booklet at first looks to be very substantial, but like most it is written in a number of languages and is generic to the whole LandScout range. However it does briefly cover all the basics like naming the parts, attaching and using the tripod, focusing, changing magnifications, rotating the tripod mount as well as care and storage.
It also includes some basic information on digiscoping with this scope and a point and shoot camera.
Lifetime Warranty
Rather impressively at this level is the full lifetime warranty that Celestron offer and they state that they will cover repairs or replacement if any of the components are found to be defective as well as damage from normal wear and tear
Rating for Extras & Attention to Detail: 6/10
Celestron LandScout Comparisons
To help you compare the main features and stats with that of similar devices as well as one full sized scope for interest, I have included the table below:
| | | | | | |
| --- | --- | --- | --- | --- | --- |
| | Celestron LandScout 12-36x60 | Hawke Endurance ED 20-60x85 | Leupold SX-1 Ventana 15-45x60 | Nikon 13-30x50 ED Fieldscope | Opticron 15-45x60 Adventurer |
| Approx Price: | $60 / £70 | $750 / £450 | $220 / £200 | $750 / £350 | $150 / £100 |
| Objective Lens | 60mm | 85mm | 60mm | 50mm | 60mm |
| Shell | ? | Magnesium | ? | ? | ? |
| Interchangeable Eyepiece | No | Yes | No | Yes | No |
| Magnification | 12-36x zoom | 20-60x zoom | 15x-45x zoom | 13-30x zoom | 15x-45x zoom |
| Weight: | 18.1oz (513g) | 56oz (1590g) | 31 oz (868g) | 16.6oz (471g) | 31.4oz (889g) |
| Length: | 10.75in | 15.4in | 13.5in (34 cm) | 8.1in | 12.9in (32.7cm) |
| Eye Relief: | 14 - 18mm | 18 - 20mm | 24 - 27mm | 13mm | 17 - 24mm |
| Duel Speed Focus | No | Yes | No | No | No |
| Close Focus: | 33ft / 10m | 26.2ft | 13.8ft / 4.2 m | 9.8ft | 18ft / 5.5m |
| FOV at 1000yds: | 157-84ft | 105ft - 52.5ft | 121 - 63ft | 157ft | 102 - 51ft |
| ED Glass | No | Yes | No | Yes | No |
| Prism Glass | BK7 | BAK-4 | BAK4 | BAK-4 | ? |
| Phase Correction | No | Yes | ? | ? | ? |
| Lens Coatings | Fully Coated | Fully Multi-Coated | Fully Multi-Coated | Fully Multi-Coated | Fully Multi-Coated |
| Waterproof | Water Resistant | Yes | Yes | Yes | Water Resistant |
| Fogproof | Yes | Yes | Yes | Yes | Yes |
Final Thoughts
Strengths:
To be honest at it's very low cost, I really was not expecting much before testing, but in many ways this Celestron LandScout really surprised me and in a good way. Whilst it is true that in most areas they will never match a top end scope, but I think in the right situation they are more than capable.
The overall finish and build quality is excellent and in no way does it look cheap, indeed if I was to guess just by looking and holding this LandScout, I would say it could easily be a mid to high level scope.
The 60mm Celestron LandScout scope is also a great looking and I really like the focus dial that wraps around the body. Compared to most that have a separate focus knob, this makes for a far nicer, cleaner look and because it is really wide with rubberized grip makes adjusting the focus simple, with either hand and even with thick winter gloves.
Likewise, adjusting the magnification on the eyepiece is also just as easy and being able to rotate the tripod mount and thus orientate the eyepiece for different needs is a nice feature, especially useful to those looking for a target range scope.
The wide field of view is excellent and honestly does make it much easier to quickly locate that bird in a nearby tree or bush before it flies away. This for normal observation is important, but when digiscoping when you may also have to make a number of other adjustments to the camera etc is vital.
You don't always get a tripod included with your scope, so that is already a bonus. But the all metal table-top tripod is also by some margin a lot better than those that you usually get. It is nice and robust and easily takes the weight of this small scope to hold it as steady as you like.
Weaknesses:
At this price it is hard to be too critical of some features that they lack when compared to other more expensive optics. Sure it would be nicer if they were fully multi-coated, have a removable eye-piece or be completely waterproof, but in achieving these, the price would have to increase and thus would take them to a different level.
So I think the only real weakness for me when you compare them to other cheap spotting scopes is the lack of a twist-up or a fold-up eyecup, which I doubt would cost much to add, but would make the instrument just that bit easier to use.
The minimum close focus distance of 10 meters away is a little further than other similar sized instruments. For most users this will not be an issue at all, but if you do plan on close range observation, this is an important shortcoming.
Another minor weak point is the rubber eyepiece cover that only protects the lens from scratching and dirt/moisture. Most scopes come with metal eyepiece covers designed to protect this whole area against damage.
Conclusion & Ideal Uses
I think as an entry-level and very affordable, spotting scope the Celestron 12-36x60 LandScout is a great choice for the beginner who needs a lightweight and compact device. But it is also ideal as a back-up scope for more advanced users when you can't or don't want to take your large scope out with you. I am thinking of situations where you especially need a more compact lightweight device like camping, hiking or even birdwatching and hunting where you may also be carrying other gear like cameras, rifles or bows.
On the range these will also be great: good for outdoor, but also very good in indoor shooting ranges where the distances to the target are usually a little shorter and there really no need for a really high powered device.
I can see me setting one up permanently in a room looking out into the garden as it looks classy and is great for when you suddenly spot some birds or other wildlife.
If you are going on holiday and want to take a scope instead of or with your binocular then it is once again a great choice. Easy to pack away and at a cost that you could afford to replace it should it get damaged or lost in transit.
Digiscoping
Celestron advertise that along with an adapter this scope can be used for digiscoping with a point and shoot camera. I think that if you take into account the really wide field of view that enables locking onto your subject much quicker, this scope will indeed be a great low cost option for capturing images (especially in good light) of birds and other wildlife, be that in the garden or out in the field, where once again it's portability will really help.
100% Honest Spotting Scope Review
I firstly would like to thank Celestron for sending me this scope to test and review, but I would then also like to assure you that this review is completely my own and honest opinion of the device.
They (Celestron) nor indeed do any other manufacturers or suppliers compensate or even ask me to write my reviews in a particular way or with any sort of bias. I will and do point out good as well as bad features and performances, but always with an eye on their price level and intended uses.
I hope that in this way you can make a better and more informed choice when you look for your ideal scope.
I do of course make mistakes or am supplied with incorrect information. If you spot any, please feel free to contact me so that they can be corrected.