A few months ago I was contacted by a representative from a large Chinese company that sells Eyeskey spotting scopes, not only to the Chinese market, but to pretty much the entire world.
A Little About Eyeskey Optics
Now I have to be honest that before this contact, I had never heard of the Eyeskey brand, let alone used one of their scopes. So I did a little research and discovered that the company was founded in 1999 and are based in Hangzhou, Zhejiang, China. As well as a small selection of spotting scopes, monoculars and binoculars, Eyeskey Optics make a number of associated accessories and compasses.
As many western brands now get their products manufactured in China, the quality of optics from this region continues to improve and so I decided to take a look at one of their own brands to see how they would compare.
Eyeskey EK8380 20-60x80 Spotting Scope Review
Important Facts:
Low Cost, Entry Level Scope: Under $150 / £130
80mm Angled Spotting Scope
Waterproof & Nitrogen Filled
Single Speed Focus Wheel
Fully Multi-Coated Optics
BaK-4 Prism Glass
Eye Relief: 18-15mm
Close Focus Distance: 6m
Supplied 20-60x Zoom Eyepiece
Field of View at 1000yds: 89 - 44ft
Advertised Weight: 1275g / 45oz
Advertised Dimensions: Length 16.9in x Width 3.7in x Height 6.7in
The Body
Shape
The body overall design is very typical for an angled spotter with the eyepiece at what looks to be at 45° and a centrally positioned focus wheel on top of the scope body.
Note: Unlike many companies that will produce a scope in both angled and straight through bodies, the Eyeskey EK8380 is only available in this angled version (Angled vs Straight Spotting Scopes).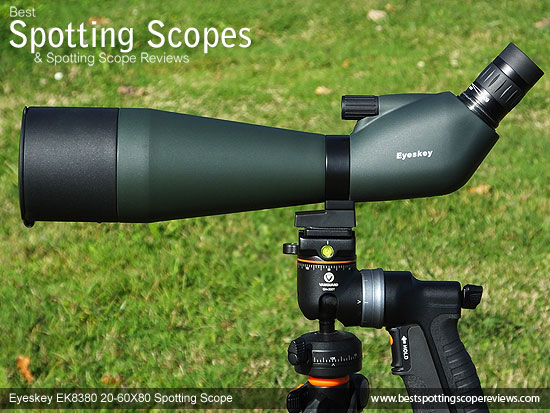 Exterior
Also available in black, the model I was sent has a rubber armour that covers most of the chassis, which I think (because if it's price range and it's lightweight) is made from a polycarbonate plastic.
Whist this rubber armour is about 2-3mm thick, it is also very hard and smooth. These properties offer less grip and shock absorption than softer more spongy rubber coatings. However on the positive side, it should be far longer lasting and less likely to perish.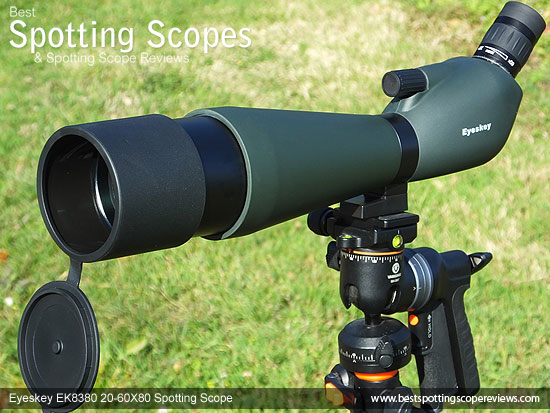 Lens Hood
As with the majority of modern spotters, this Eyeskey has an integrated lens hood that can be extended from the main body to provide extra protection from the elements (rain & dust), but also helps prevent unwanted reflections caused by the sun in some circumstances.
The hood on my sample had a good fit and slid out and back in with just enough friction to make it easy enough to do, but also prevent it from moving by accident.
A feature that I really like is that the lens cover is attached to the hood. Remove the cover from the lens and it just hangs down below the scope when you are using the instrument, but it is always there, cannot be misplaced and easily replaced when you are finished.
With no down sides that I can think of, I cannot understand why more manufacturers don't use this simple solution as I am always either misplacing loose lens covers, or looking for somewhere I can put it down so that it does not get dirty and thus potentially damage the lens when it is replaced.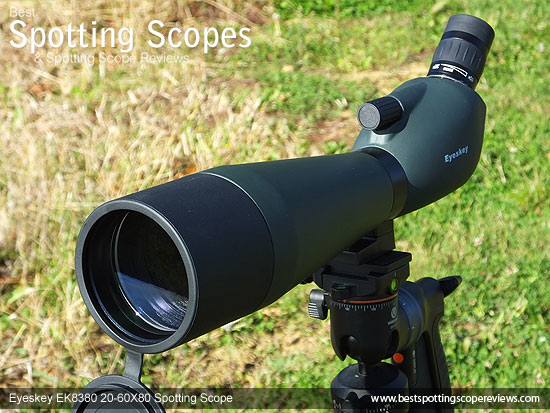 Mounting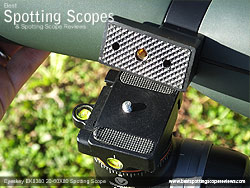 At only 5.1cm long and 2.2cm wide, the mounting plate on this full sized scope is relatively small and even though this scope is fairly light for it's size class, it provides a slightly less sturdy base than that have larger tripod mounting connectors.
To be fair however I never had any major issues with the mounting once I had properly tightened it onto my tripod head.
Another point to mention is that there is also only one threaded recess on the foot and thus only one position that it can be mounted to your tripod head. Many scopes will have two for some added flexibility. In this way you can slightly change the mount forward or backwards, which can help with balancing issues if for example you add a camera to the scope when digiscoping.
On the plus side the plate has a tough rubber foot that is etched and provides a good level of grip.
Collar
One feature that is missing from this scope is the collar that fixes the mounting foot onto the body of the scope cannot be loosened and thus the body of the scope cannot be rotated about it.
In some situations and uses like target shooting this can be a useful feature as you can then rotate the body so that the eye-piece is positioned in such a way that you can look through it from the side by just turning your head and not have to get up.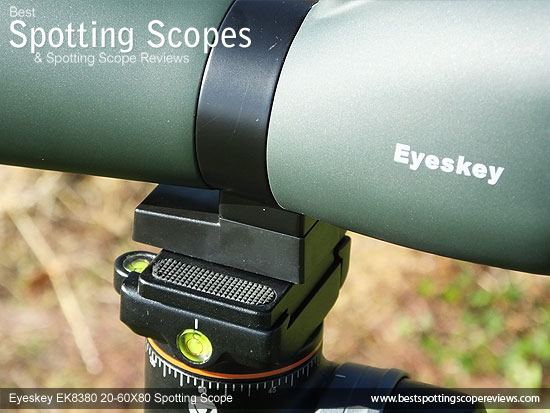 Waterproof & Nitrogen Filled
Whilst I did not test it, Eyeskey Optics state that this scope is both waterproof and because the interior is filled with dry nitrogen gas, the internal optics are also protected against fogging.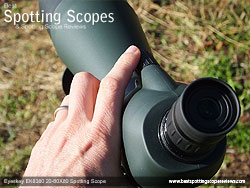 Focusing
Centrally mounted on the top of the scope the plastic and rubber coated focus wheel can easily be adjusted with either your left or right hands.
Unlike some that have a two speed focus wheel, this Eyeskey scope only has a single speed focus wheel, which I guess at this price level is to be somewhat expected. This is not a huge deal, but it does mean that it takes just a little longer to make large focus adjustments and making fine adjustments is just that tiny bit more difficult.
However I must stress that the differences are minute and it is just a case of being a slight inconvenience as I never really had an issue with obtaining a perfectly sharp image. More importantly to me was the fact that the wheel itself turned nice and smoothly with just the right amount of tightness to prevent accidental turning.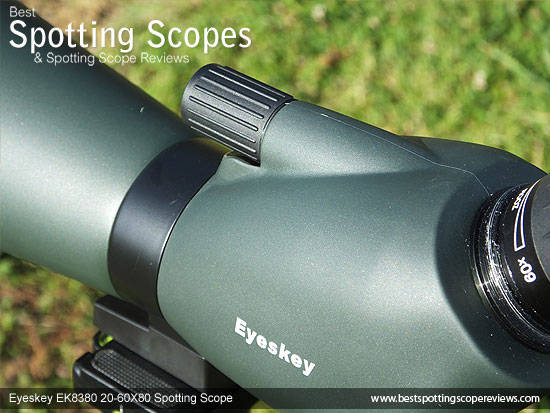 Rating for Body Construction Quality: 6/10
Weight
The Eyeskey EK8380 20-60x80 spotting scope has an advertised weight of 1275g (45oz) that includes the eyepiece, which as you can see from the comparison list below is extremely lightweight for a full sized spotter:
Thus if you combine this with a lightweight tripod, it makes this a great choice for a full sized scope to carry on long walks or to take travelling.
What is more and as a point of interest, I measured it's weight to be even lighter than what is advertised: 1209g with the eyepiece and 1123g with the eyepiece removed.
I am sure that part of the reason for this low weight will be due to it having a polycarbonate chassis although they do not mention it. Unlike many higher end scopes that will have either aluminium or magnesium bodies that are heavier and more costly to make, but also stronger.
Dimensions
The advertised dimensions are:
Length: 16.9in (42.9cm)
Width: 3.7in (42.9cm)
Height: 6.7in (17cm)
I found these measurements to be accurate, although if you extend the lens hood, the length moves out to almost 19 inches.
As with the weight these dimension make this reasonably compact for an 80mm instrument and thus once again makes a good choice as a full sized scope that you need to carrying about a lot or take with you when travelling.
Rating for Body Stats: 7/10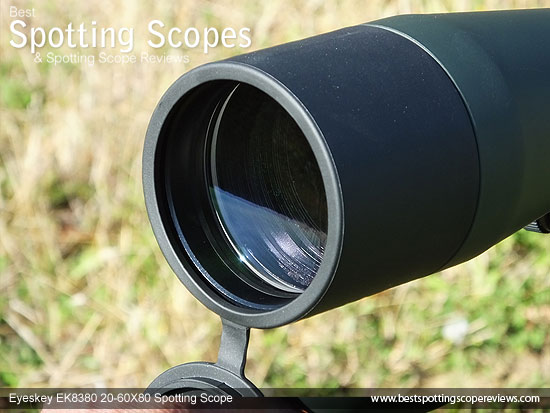 The Optics
Objective Lens
Eyeskey do not supply ant details to the makeup of the lens on this scope and so I can't comment other than to say at 80mm in diameter it is of a good size and thus has the potential to gather plenty of light which obviously helps with producing a good quality image and superior low light performance.
Prisms
I managed to discover that the prisms on this scope have been made from BaK-4 glass which is generally considered better than BK7 glass that is often used on cheaper instruments like this.
Optical Coatings
Anti-Reflection Coatings
Coatings of a special material that has anti-reflection properties are added to the glass surfaces on scope to prevent the light from being reflected away or in an unwanted direction, which can lead to a less bright and lower quality image being delivered to your eyes.
This Eyeskey scope is described as being Fully Multi-Coated, which is very good as it tells us that every single glass surface (both internally and externally) has been coated with this material.
Many cheap optical instruments like this one will reduce manufacturing costs by offering only single coatings on some of the glass surfaces, so it is great to see that Eyeskey have not made this sacrifice as it really can make an observable difference to the final image produced.
Optical Components Rating: 6/10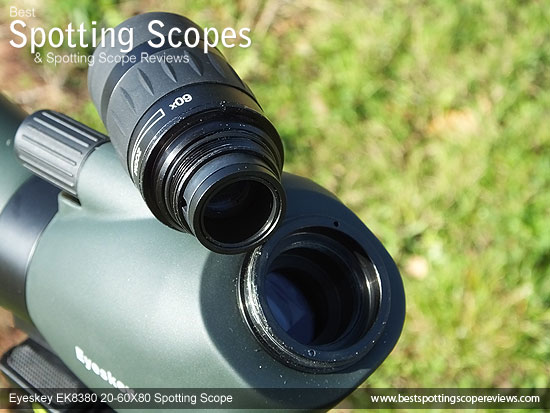 20x-60x Zoom Eyepiece
Included with the scope body is a 20x-60x zoom eyepiece which offers a good range and makes the scope very versatile to be used in almost any situation.
A real highlight of this eyepiece however is that it is removable! This is excellent as the vast majority at this price level will be fixed to the scope body. The advantage of this is you can if you wish by more specific eyepieces (like fixed focus ones) for different tasks.
To remove the eye-piece you simply unscrew it. Unfortunately Eyeskey do not publish what threading is used, but I am sure it could be established if you really wanted to swap eyepieces.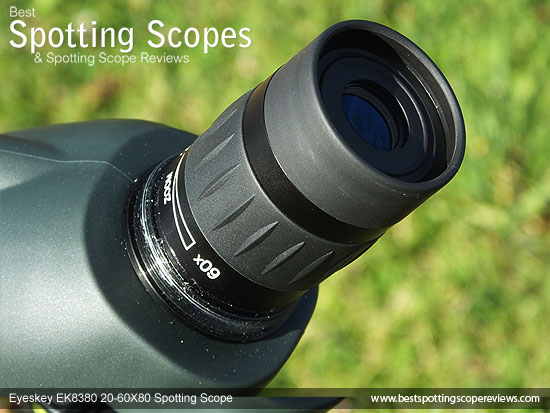 Eye-cup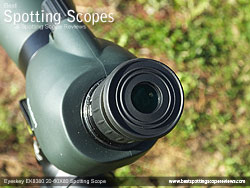 Whilst it is fantastic to find that they eyepiece is removable at this price point, I would really have preferred to have had one with a twist-up/down eyecup rather than a fold-up/down one which allows for more flexibility so that you to change the setting depending on the amount of eye-relief needed at different magnifications.
For example at 20x, the eye-relief is 18mm which is more than that offered by the rubber eye-cup and so you have to hover your eye behind the eye-piece.
Having said that, the majority of scopes at this level will have the same folding eyecups, but without the ability to remove the eye-piece. At least with this one if it really bothers you, you can buy another eye-piece and change it.
Optical Stats
Eye-Relief:
At 20x power, the 18mm of eye-relief is good and should be fine, even for those who wear glasses to see the full view by folding down the rubber eyecup.
However as you increase the magnification, the perfect point to position your eyes behind the eye-piece lens to get this full view without black rings on the edges of the view drops, until at maximum power it is now 15mm. For non glass wearers this is not a problem. But should you need or even want to wear glasses whilst using the instrument, this may be a little on the short side.
I tested this with my sunglasses on with the eyecup folded down and whilst I had no problems at lower magnifications, at 60x power I did now have part of the view on the edges obscured. Not a huge amount, but some.
Field Of View (FOV)
The width of the view at 20x magnification is 89ft wide at a distance of 1000 yards.
As you "zoom in" by increasing the magnification, this width (and height) of view decreases, until at 60x it is 44ft wide.
This range does fall a little shy of some of the best, but as you can see from the selection below, it beats a number of other similarly priced scopes with similar magnification ranges:
Close Focusing Distance
This Eyeskey has close focus rating of 19.7ft/ 6 meters, which is actually pretty good and compares well against most (see comparison table at the end of the review)
Optical Stats Rating: 7/10
Image Quality
Colors & Contrast
Compared to my far more expensive 82mm benchmark spotting scope, I would have to say whilst it is not at all bad, I though that the colours were perhaps not quite as vibrant. This difference is very small and not something to be majority concerned about and to put this into perspective, without direct side-by-side comparisons, I probably would not ever have thought anything about it.
I also thought there was a very slight yellowish tinge to the view through the Eyeskey.
Contrast seemed fine, although because of the less vibrant image, to me the view did just look a little more washed out through the Eyeskey than my benchmark scope, but once again the difference was very slight compared to the far higher level and much more expensive spotter that I was comparing it against.
Image Brightness & Low Light Performance
Many factors contribute to the perceived image brightness and low light performance on a scope. This includes the size of the objective lenses, magnification used and the quality of the glass and the optical coatings used.
With a large 80mm lens and fully multicoated optics, this scope is off to a good start. However once again comparing it to my benchmark, I have to say that the image was very slightly, but noticeably less bright in almost all conditions and at all magnifications.
To be fair my full sized benchmark has slightly larger 82mm objectives and as I have already stated is a great deal more expensive and thus uses far higher quality components and coatings.
To sum up, I would say that for a scope in this low price range, the image brightness is about what I would have expected, which is not bad at all. However it does fall a little short of what you get from higher end devices.
Color Fringing
Similar to the image brightness in that the the level of color fringing is fractionally more than that which I could see through my high end scope, but it is not so bad as to make it terrible.
Indeed I would describe it as being fair and really only noticeable in extreme circumstances.
Image flatness & Softening
Overall I thought the image looked nice and flat from one edge of the view to the other and I never noticed any abnormalities of the view where it looked to curve inwards or outwards, which sometimes can be the case especially with cheap optics like this.
I would describe the level of image softening right at the edges of the view as being average and once again nothing to worry about.
Overall
Whilst the overall image quality is somewhat inferior when comparing the view through a cheap spotting scope like this against an expensive device, the difference is not massive. For this reason I would have to say that as an entry level device, I thought the view you witness through this Eyeskey is not bad at all and compares very well with it's direct competitors.
Rating for Image Quality: 6/10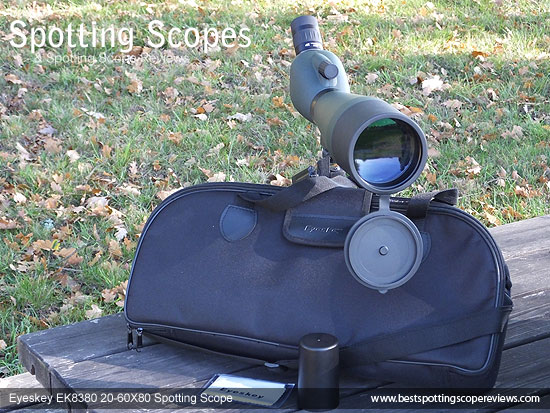 Included Accessories:
Tabletop Tripod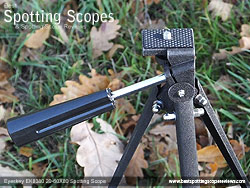 At this very low price point I was not expecting to find a small table top tripod included, but the fact that it was of a reasonably decent quality was even better.
Whist is fairly common for entry level scopes to come with a tripod as the manufacturers assume that you will not yet have invested in your own full sized one yet, most are of a pretty poor quality and sometimes provide more frustration than they are worth.
Except for the plastic grip on the pan handle and the plastic mounting screw knob,the tripod head and it's legs are made from metal. The legs spread out nice and wide and are easily firm enough to not only take the wight of the scope, but hold it nice and steady without any real fear of it falling over.
Likewise the tripod head is easily robust enough and I though that the grip and turn action of the pan/tilt head worked very well in comparison to many of the others that I have come across.
So whilst this tripod is still obviously no match for a good quality full sized tripod, it will provide you with a solid base to get you started and should you set up your scope on a balcony or table looking out onto the garden will work just fine.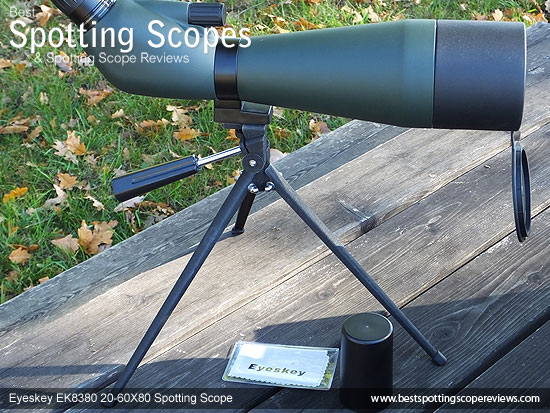 Carry Bag
Unlike many modern scopes that are supplied with a stay on protective cover, this Eyeskey spotting scope comes with a more traditional carry bag.
In some circumstances this is an advantage as it makes easier to carry other small items along with you as there is some extra room inside the bag. Indeed there is a compartment within it that accepts the table-top tripod.
The downside is you don't have the extra protection in bad weather as you would get with a tight fitting stay on cover. However as this scope is fully waterproof, this should not be a major factor.
Made from what looks like a tough nylon weave, the black bag looks to be reasonably well made, however is probably a little too lightly padded for my liking.
It has both hand carry straps as well as an un-padded but adjustable shoulder strap that does make the scope comfortable to carry about.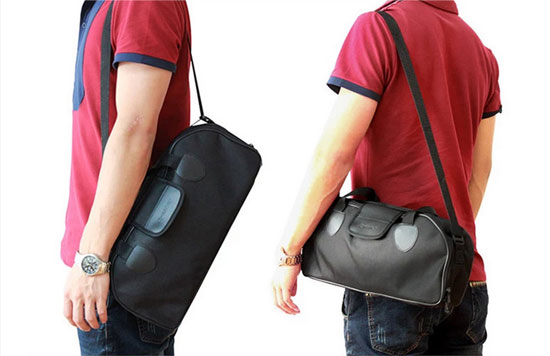 Objective Lens Cover
Whilst not as tough or as classy as the metal ones that you sometimes see on high end scopes, I really love the simple objective lens cover on this scope.
Made from a soft flexible rubber, it fits well into the end of the lens hood, but main reason I like it so much is that it is tethered to it and thus once opened it hangs down completely out of the way, but always available for you to simply replace it.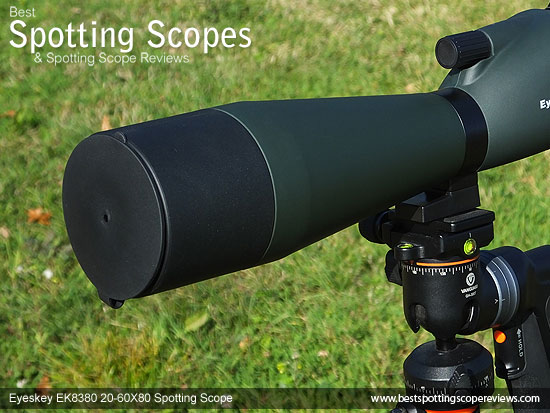 Eyepiece Cover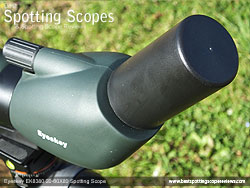 Snypex also supply a simple plastic cover that protects the lens on the eyepiece.
It had a good fit by which I mean that it does not come away too easily, but at the same time is not too difficult to put on or take off.
On the whole this type of cover is fairly standard and on a par with most others that I come across.
Lens Cloth
Not all scopes (especially those within this price range) come with a cleaning cloth, so it was a nice surprise to find that not only do you get one, but the quality of the micro-fiber cleaning cloth is very good. However for me, this should still only be used occasionally when out in the field.
For thorough and proper cleaning of the lenses without the risk of damaging or marking the coatings, I would still recommend that you get yourself a decent optical lens cleaning kit.
Rating for Extras: 7/10
Digiscoping
As you can see from the images below, with the correct adapter for your camera or mobile phone, it is possible to digiscope with this Eyeskey spotting scope. Note these adapters must be purchased separately which Eyeskey make or you can buy generic ones.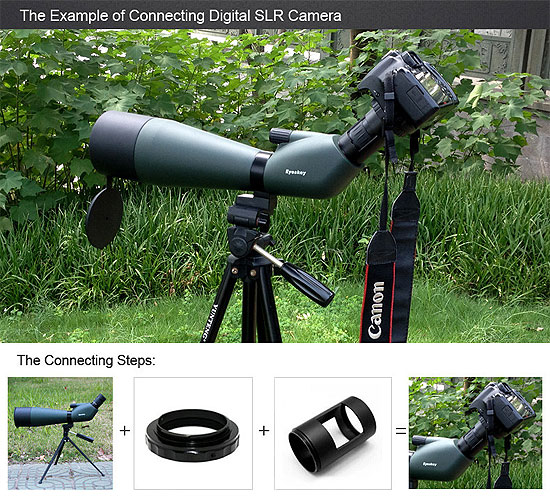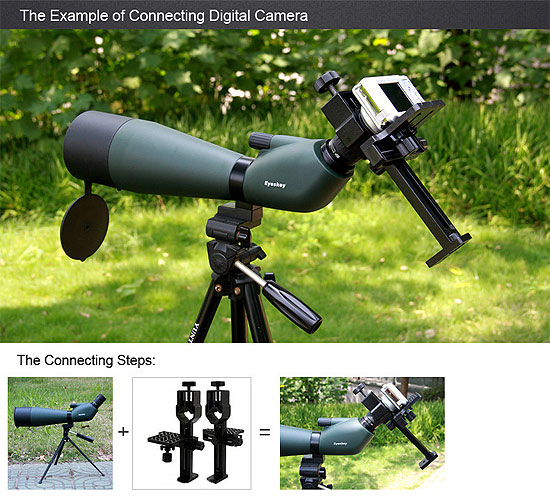 Eyeskey Comparisons
Below are most of the main specs and features pertaining to this Eyeskey scope along with a selection of similar sized scopes, but in a variety of price ranges that I have reviewed, which makes it easier for you to quickly spot it's relative strengths and weaknesses:
Final Thoughts
For an entry level scope, the Eyeskey covers all the basics and for the most part it does this pretty well and is as good as or better than I would expect to see at this level:
Strong Points:
The design and overall build quality looks good and at this price the fact that it is fully water and fog proof is worth noting even if you never take it out in bad weather as it is a small indicator of quality.
Whilst really simple, I really like the stay-on objective lens cover and in my experience the table top tripod is about as good as included ones get.
Having fully multi-coated optics and BaK-4 prisms is also good and both contribute to the reasonably good quality of image and whist it may not match that of higher end scopes, I feel compares very well against it's direct competitors.
The fact that the eyepiece can be unscrewed and removed so that you could exchange it for another should you wish is something well worth highlighting at this price level.
Weak points?
Although it is great at this price point to find a scope with a removable eyepiece, I would have preferred to have had one with a twist-up/down eyecup rather than a fold-up/down one which allows for more flexibility and enable you to change the setting depending on the amount of eye-relief needed at different magnifications. For example at 20x, the eye-relief is 18mm which is more than that offered by the eye-cup and so you have to however your eye behind the eye-piece.
Whilst not terrible, the amount of eye-relief (especially at higher magnifications) may be an issue to some people who wear glasses, with you not being able to get your eyes (with your glasses on) close enough to the lenses to see the whole view.
Features like a two speed focus wheel and a collar that you can loosen to rotate the scope in relation to the mount would have been nice to have, but are not essential.