Insect & Butterfly Binoculars
Binocular Reviews Home > Binoculars by Use > Best Butterfly Binoculars
>> Skip the blurb, show me the best butterfly binoculars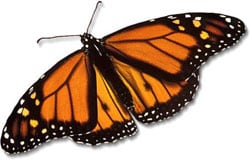 Viewing Butterflies through Binoculars
Everyone knows just how beautiful butterflies are, but by just using your eyes, you are mission out on so much detail. So for those of you who have never viewed them through a pair of binoculars, you are in for a real treat!
The traditional way of viewing these and many other beautiful insects would be to capture them, place them on a pin board and use a magnifying glass! Obviously this involves killing the creature, which in my opinion is very far from ideal. Whilst trying to get close enough to them by just using something like a magnifying glass is in most cases impossible and so by far one of the best ways to get a much better view is through a good pair of binoculars
So just what makes a good pair of binoculars for butterflies and what features do we need to look out for?
How to choose Binoculars for Butterflies, other Insects and Flowers
First I think you need to decide if you are just going to be using these binoculars for viewing small objects like butterflies from a near distance, or if you want a more all-round pair that will also work well for birds, other wildlife and many other activities. If this is the case, I would suggest take a look at good general use binoculars, that also have a close minimum focusing distance anything under 6ft (1.8m) is very good and you will be fine. To help you, take a look at the links below:
Close Focusing Distance
Without a doubt, the most important feature to look out for in a good pair of binoculars for viewing butterflies through is their close focusing distance. Close focus binoculars are essential as you want to be able to get as near to them as possible (without frightening it away). A pair of binoculars that can focus on a image at 6ft (1.8m) or less away will mean that the butterfly will fill your field of vision, bringing you as much detail as possible. A binocular with a further minimum near focusing distance will force you to back away and make the butterfly appear smaller, defeating the purpose of the binoculars. (importance 10/10)
So what is a good minimum? I would say that anything at or under 6ft (1.8m) would be fine and you can take a look at all the Close Focusing Binoculars, that I have so far reviewed - all of which have a close focusing distance of 6ft or under.
However if you want a pair of binoculars specifically for viewing objects at close range, you should try and get some binoculars that have very close focusing distances:
Other Very Close Focus Binoculars Worth Considering:
Other Important Features
When choosing your ideal close focus butterfly binocular, take time to compare and look at these other important specifications and features on the binocular. This way you can get the best binocular for your needs in any particular price range:
Field of View
This is not as important when observing the details close up of a slow moving object, but if you also would like to use your binoculars for things like birding or for taking to a sporting event, then the field of view (FOV) becomes much more important. The FOV is basically the width of the scene that is in view when you look through your binoculars, for a full explanation see field of view in my optics glossary.
A wide field of view will make it easier to find objects especially fast moving ones, it also gives you a more immersive, big-picture experience. On the down side is often a loss of pinpoint detail that you find in high magnification binoculars. In simple terms lower magnification often means wider field of view. A field of view that is too wide will often result in distortion at the edges of the image. (importance 5/10)
Eye Relief
This is very important if you use glasses. Take a look at Eye Relief in my glossary for a detailed explanation, but basically it is the distance behind the ocular lenses where the image is in focus. If you wear glasses, you can't get your eyes as close to the lenses than people who don't and so you need a longer eye relief that basically projects the image beyond the ocular lens. If you wear glasses, you should be looking for an eye relief of at least 15mm, to see the full image full image projected.
Eye-cups are related to the eye relief as they keep the distance from the oculars to our eyes, but also help keep stray light away from your eyes while using binoculars. Many eye-cups are made from rubber and can roll up or down depending on whether you use lasses or not. The problem with these is that the constant rolling causes the eye-cups to break. Another type are eye-cups that slide rather than roll, but these can be hard to keep in place. The third type are eye-cups that twist up and down and so they can be left at any position from all the way up to all the way down, some even have click stops at regular intervals with the eye relief distance for each stop marked on the cup so you can get the perfect eye relief for your vision. (importance 8/10 if you use glasses)