Whilst most monoculars on the market are essentially not much more than a simple binocular cut in half without too much more thought or effort put into them, with the VM 6x21 WP monocular, it is obvious that Pentax has instead put a whole bunch of thought and effort into the design and as a result has come up with something unique, very innovative and which they believe is simply a better compact monocular.
So after many weeks of both general use and testing, in this Pentax VM 6x21 WP review I will take you through my thoughts on them both as a monocular, and then when converting it into an 18x microscope and I go over just how good I think they are and what their ideal uses and types of users will be:
Pentax VM 6x21 WP Monocular & Microscope Kit Review
Part of the new V-Series of ingenious optical products from Pentax that includes their excellent VD 4x20 Binocular that splits in half to turn into a pair of Monoculars, this instrument can be used simply as a monocular or by attaching a micro stand, be converted into an 18x microscope. There is also the option to attach a smartphone adapter that enables you to take photos through the device, so there is plenty for me to go through with you!
Specs & Features at a Glance:
Mid Range: Approx: $160 / £120 / €145
Body

True Pocket Sized Monocular
Complete Kite converts it into an 18x Microscope
Take Photos & Video with your Phone using the Adapter
Fully Waterproof & Fogproof
Unique Rocker Focus Adjustment

Optics

Fully Multi-Coated Optics
Dach Prism made from BaK-4 Glass
Phase Corrected

Optical Stats

Ultra Wide FOV: 429ft @ 1,000 yards
Ultra Close Minimum Focus: 0.7m /2ft
Long Eye Relief: 17.8mm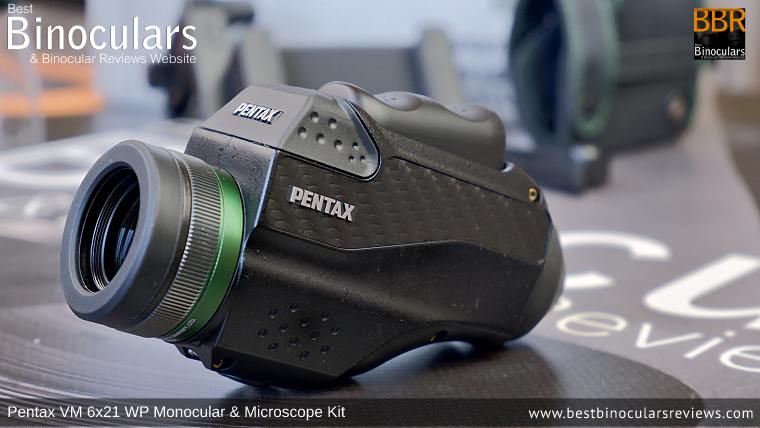 Body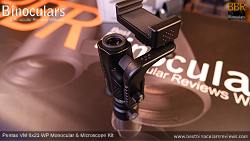 Shape
Unlike most monoculars that are built up around a Roof prism where the light exiting the prism is in the same line as which it enters, and thus end up having a straight-through barrel-like shape, the Pentax VM WP Monocular has its eyepiece slightly offset from the objective lens.
This is usually an indication that the device incorporates a Porro prism in the design, however, when I asked for clarification, Pentax came back to me with the information that a "Dach Prism" is used, which to my understanding this is just another term for a Roof prism.
Anyway, in the context of the body shape, the exact type of prism used is somewhat immaterial, as the important point to mention here is that the body shape is certainly not barrel-like and instead I found it to be very ergonomic and a more natural shape to hold in my hand.
Exterior
Unlike most modern monoculars and binoculars that have a rubberized exterior covering, Pentax has left that chassis on these exposed.
So whilst this does not offer quite as much grip or impact protection as rubber armor would, for such a small and lightweight device that fits into the palm of your hand, I don't feel this is as an important factor as it would be on a larger, heavier instrument. On top of this, the advantage is that it looks and feels a bit more like a camera, and I especially like the look of the faux carbon fiber panels on the sides.
Water & Fogproof
As is indicated in their name, the WP in all instruments in Pentax's optics lineup stands for waterproof, in this case to a depth of 1 meter, meaning that the interior optical surfaces and workings are protected from both moisture and dust for all normal/reasonable uses.
Also important to note that the air inside the instrument has been replaced with a moistureless gas (likely nitrogen), which adds to the weather protection by preventing the internal glass surfaces from fogging/misting up.
Dimensions
As I go through in my in-depth article and video on Monocular vs Binoculars, by using only one eye as you will with a monocular you are essentially trading the more immersive, natural experience you get from using both your eyes on a binocular to hopefully have a more compact, easier to carry instrument.
Due to their unique body shape, whilst shorter than your typical tube-shaped monocular, they are a little taller. However, with their small 21mm lens, these are already well within what I would describe as being a very compact, pocket-sized optical instrument.
Also, the advantage I found with this shape is that it fits more naturally into your hand than a standard "tube" compact monocular, resulting in it being more comfortable and easier to use.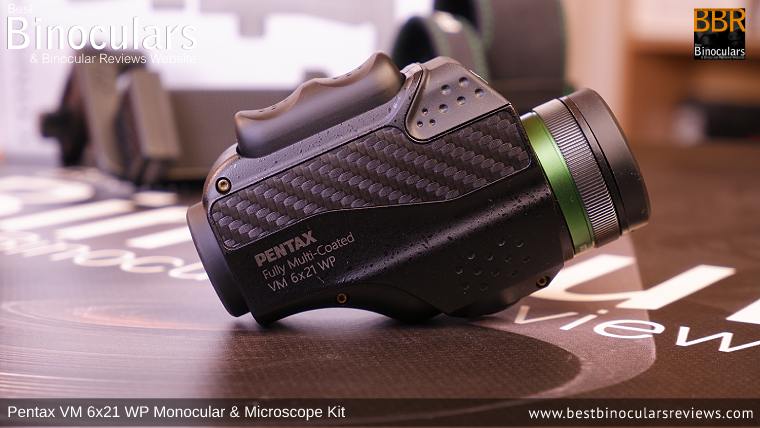 Weight
Considering just how small the Pentax VM 6x21 WP Monocular is, it is perhaps not quite as lightweight as you would imagine, however, I would argue that this is a strength rather than a weakness:
Firstly I must stress that it is obviously by no means a heavyweight monocular and still could easily be used for activities like very lightweight hiking, but due to Pentax incorporating a number of metal parts, it has a rather satisfying weightiness to it that gives them a more robust, higher quality feel than a very lightweight and cheap all polycarbonate binocular or monocular for example.
Body Stats Score (for a compact monocular): 9/10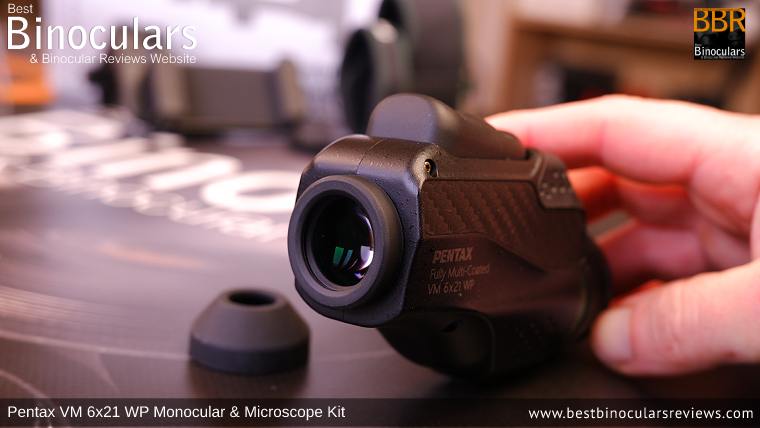 Eye-Cup & Eye-Relief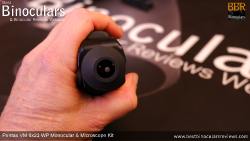 This Pentax monocular has a very simple rubber eyecup that cannot be micro-adjusted like a twist-up eyecup to alter the amount of eye-relief (distance of your eye from the ocular lens).
However, it is designed to be easily removed should you need the extra space. This is partly to allow for the extra space you need to decrease the distance between the ocular lens and your eyes should you want to use the monocular whilst wearing glasses and then also partly to make it easier for you to attach the adapter (V-SA1) and use take photos through it with your smartphone.
What is interesting and indeed impressive is the whopping 17.8mm of eye-relief, which for a compact-sized instrument is almost unheard of in my experience.
This in theory makes them an excellent option for eyeglass wearers. I of course and as always tested this theory by looking through them whilst wearing glasses and was easily able to achieve the full image without any tunneling with the eye-cup removed. Indeed the eye-relief on these is long enough that even with the eye-cup in place, the tunneling was fairly minimal.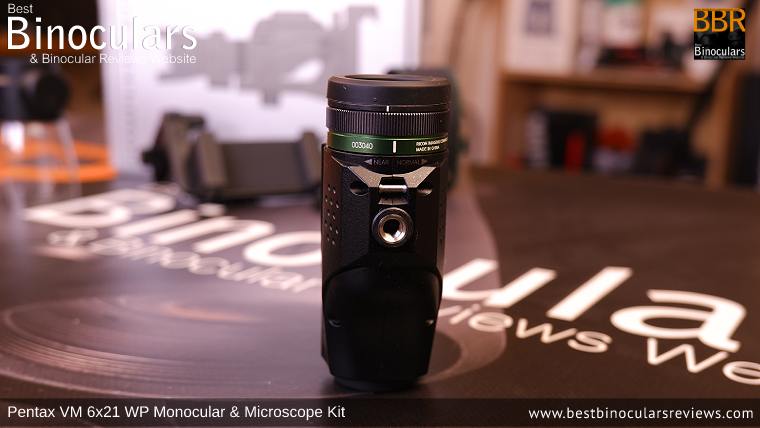 Focussing
There are actually two focus mechanisms on the Pentax VM Monocular / Microscope:
Firstly there is a ring located at the front which when turned moves the objective lens forwards or backward. This is only used when you want to change the instrument from a monocular to a microscope or even if you just want to change the monocular from a long-range, to close range instrument.
The second focus mechanism is another very unique aspect of this device in that to make small adjustments to the focus, you simply adjust the rocker located on top of the Pentax VM.
Most monoculars either have a focus wheel on top of them as you would find on most binoculars, or they require you to rotate the whole eyepiece.
Compared to both more traditional methods mentioned above, I feel that for a compact monocular, the rocker has the advantage as making a focus adjustment is much, much easier to do with one hand and at the same time keep the monocular steady for a shake-free view whilst looking through it.
However, the rocker does take a little getting used to in order to make fine focus adjustments as I found that a relatively small movement moves the focus a fairly long way. But after using it for a while, I found it became second nature and I have to say that on a small one-handed device like this, I really do like it and for me is certainly one of its best features and a definite strength over most of the competition in this compact monocular niche.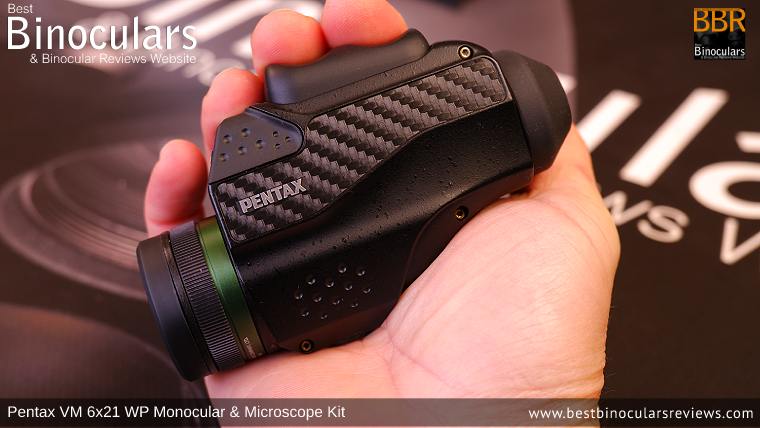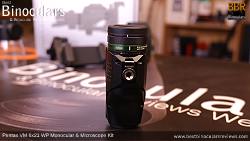 Tripod Adaptable
You will notice a threaded insert on the underside of the body. I imagine that the primary use for this is to attach the smartphone adapter (V-SA1), but it uses the same size thread as that used on most tripod mounting plates enabling the Pentax VM 6x21 WP to be fixed onto a tripod should you need it or want to.
Body Quality Score: 8/10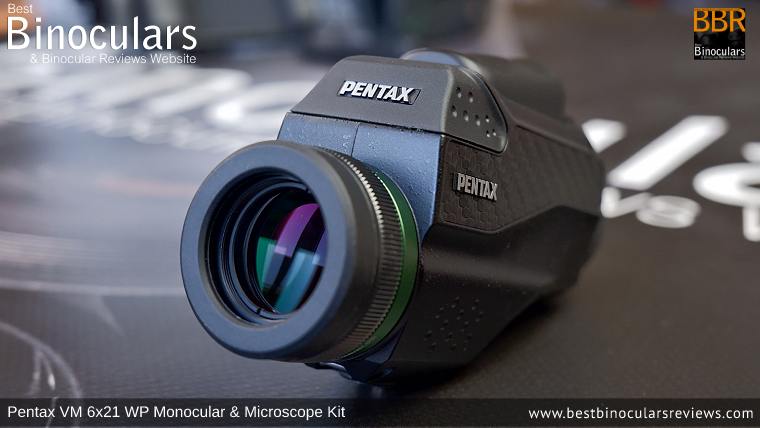 Optics
6x21 Configuration
The size of objective lenses found on a typical compact binocular or monocular ranges from about 20mm to 28mm and so at 21mm the one used here is on the smaller end of the scale.
The advantage here is it helps keep the size and to a lesser extent the weight of the instrument down. On the negative, smaller lenses (of the same quality glass and with the same optical coatings) may take in less light and so can sometimes deliver a less bright image, which can be noticeable in low light conditions.
However, also very important to note here is that the magnification used on compact monoculars or binoculars is typically 8x or 10x.
Here I think Pentax has been very smart in reducing that down to 6x and for quite a few reasons:
Image Steadiness
Firstly you get a noticeably steadier view, which for a small one-handed instrument is important. Yes, you may not get as much image detail at distance as a monocular with more powerful magnification, but just remember you cannot take "see" that extra detail if the view is shaking about.
Extremely Wide Field of View
Secondly, the lower power helps deliver the extremely wide field of view on these which I go through in more detail down below.
Low Light Performance
Then thirdly and most relevant to my point on image brightness, especially in low light conditions is that despite the small 21mm objective lens, the lower magnification helps maintain a relatively large exit pupil of 3.5mm in this case (21÷6), which along with the quality of the optics and coatings is essential for low light performance and makes it much, much easier to use as a device for taking photos or videos through.
Exit Pupil Size
Please note if you are unsure as to how and why the exit pupil size helps in low light please be sure to check out my complete guide to the exit pupil.
So if we compare the exit pupil on these against a number of other common configurations for compact monoculars and binoculars (see below), you can see that they do really well and it is only once you start getting up to mid-size 30mm territory that will get a larger exit pupil with an 8x or 10x power.
6x21 (21÷6 = 3.5mm)
8x20 (20÷8 = 2.5mm)
8x22 (22÷8 = 2.75mm)
10x28 (28÷10 = 2.8mm)
8x30 (30÷8 = 3.75mm)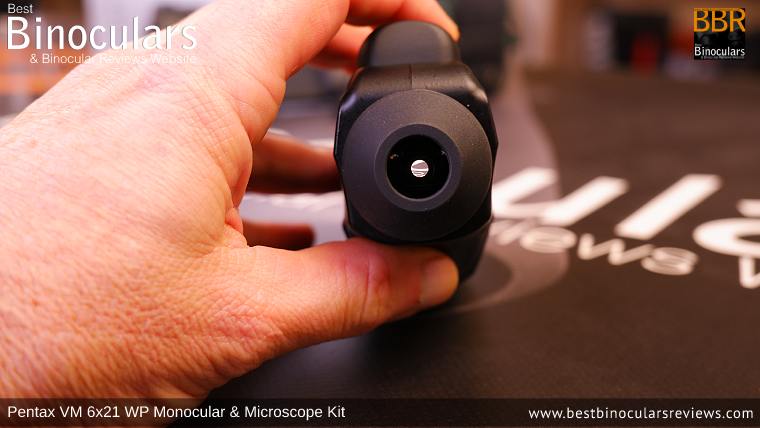 Optical Glass & Coatings
Prism Glass & Coatings
As mentioned earlier in this review, due to their shape, I assumed that they would have a Porro prism inside to erect the inverted image, but Pentax has told me they use a roof (Dach) Prism.
The advantage here is this design tends to be more compact, but they do require a number of special coatings in order to get the best performance out of them.
Firstly a Dach surface can cause something known as phase shift that affects each of the individual wavelengths of light as it reflects off this surface and which negatively affects image resolution and contrast.
The great news is that I can confirm that Pentax uses special phase-correction coatings on this surface to counter this and thus maintain a high contrast, high-resolution view.
Also important to mention here is the fact that Pentax uses good quality BaK-4 glass for the prism, which for this application is the preferable option over BK-7 glass which you will also often come across. Note that there are of course other types of optical glass used, but these are the two most common.
What Pentax doesn't mention is what material is used for the mirror coatings on the roof prism surface that does not reflect 100% of the light that hits it. As they don't highlight it in their marketing, I will assume for now and until I get confirmation otherwise that it is not dielectrically coated which is the best and most expensive option, rather it is more likely to be a silver mirror coating, which at this price range would be normal.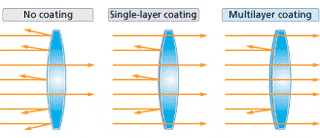 Anti-Reflection Coatings
Pentax to highlight that the optics are Fully Multi-Coated, which is important to note.
Here, the exact wording here is important as it confirms that there are multiple coatings of an anti-reflection material added on all air-to-glass surfaces throughout the entire optical system.
Lesser quality products are only Fully Coated or Multi-Coated, and this makes a big difference to both the quality and brightness of the view.
For more: What to look for when buying binoculars & Anti-Reflection Lens Coatings.
Optical Components Score: 7/10
Optical Stats
The Field Of View (FOV)
With an angle of view of 8.2°, this works out to be a full 143 meters wide at 1000m, or 429ft wide at a distance of 1000yds.
This is exceptionally wide and offers us numerous advantages:
A wide view makes it easier to locate and then follow fast-moving objects like birds, allows you to take in more of the onfield or on-stage action all at once without having to pan the view about at an outdoor sporting event or concert.
It also really helps make it easier to when taking video and photos through the Pentax VM 6x21 WP for these same reasons.
Close Focus
As mentioned earlier in the review, the Pentax VM 6x21 WP Monocular has a ring on the barrel that adjusts the position of the objective lens and which has the effect of altering the focal range.
In normal mode, the minimum focus distance is just 1.5m / 4.9ft which I would consider to be excellent anyway. However, set the ring to near focus setting and this reduces down to an extremely close distance of just 0.7m /2ft, making this an excellent choice for observing things like butterflies, dragonflies, and other insects or even flowers at very close range.
Note: With the microscope stand (V-MS1) attached, this reduced even further to about 9cm!
Tip: An extremely close minimum focus like this will make them very handy at places like an art gallery or museum if you want to get a better view of an object from behind a barrier.
Eye-Relief:
As I mentioned in the body section above when talking about the eye-cups, the Pentax VM 6x21 WP Monocular has 17.8mm of eye-relief, which for a compact-sized instrument very impressive and makes it a very good option for eye-glass users.
Optical Stats Score: 10/10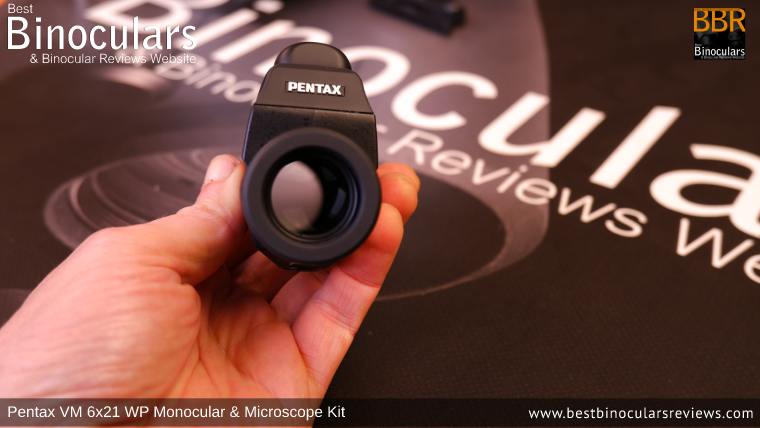 Image Quality
With just about every binocular, scope, and monocular review I write, like to compare the view through the instrument under review against a benchmark instrument within the same sort of size and magnification category. It is in this way, I am able to keep my thoughts and views as consistent as possible over the years.
In this case, I don't actually have a compact monocular benchmark, in fact from now the Pentax VM 6x21 WP is set to become the benchmark in this class.
But what I did have with me was an 8x30 monocular as well as a number of compact binoculars that included my benchmark 8x25 and 10x26 which I also used as points of reference:
Image Brightness
Considering the small size 21mm lens, the first time I held them up to my eye, I was immediately impressed by the brightness of the image produced by this tiny monocular and to my eyes, even on a very dull overcast day looked to be equally as bright as my 8x30 monocular, which I have to say surprised me.
Now as I go through in my video on Binoculars vs Monoculars, you don't as an immersive experience through this as a binocular, but what I will say is that the image these deliver looked definitely looked brighter to me in dull and overcast conditions than both my 10x26 benchmark and my 8x25.
Now a lot of this is no doubt as a result of the good quality glass and coatings used but also the fact that the lower 6x magnification results in the Pentax VM 6x21 WP Monocular maintaining a good-sized 3.5mm exit pupil, which I have already covered at the start of the optics section above.
Colors & Contrast
Yes, the image is nice and bright, but what is also important to stress is that it is not at all washed out, and to my eyes, the colors were vibrant but natural-looking, and the contrast was very good, with plenty of differentiation between bright and dark areas of a view, giving you a nice sense of depth.
Color Fringing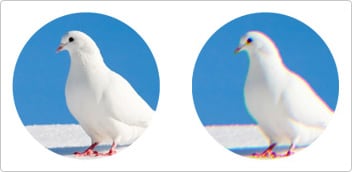 Whist the quality of the optics and how well the entire optical system is put together certainly makes a big difference, in general, I have noticed that the higher the magnification, the more obvious the amount of color fringing around the edges of objects tends to be.
So with a relatively low 6x power, I was never expecting the Pentax VM 6x21 WP Monocular to exhibit much and this indeed turned out to be the case and you will only really notice any by pushing it to the extreme, like for example looking along the edged of a black telephone line against a bright sky background and even then, the amount of fringing easily falls into the category of what I would consider being minimal.
Softening, Blurring & Image Distortions
Another really impressive aspect of the view you are presented with when looking through this Pentax VM monocular is just how minimal the amount of fuzziness or softening of the view there is right at the edges.
In terms of distortions, I was never aware of any sort of image curvature or waviness of the image.
Image Quality (for a compact binocular / monocular): 8/10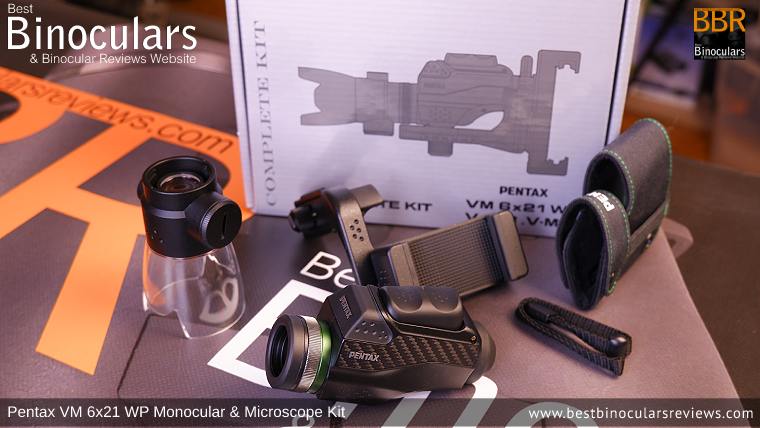 Included Accessories:
For this Pentax VM 6x21 WP Monocular review, I was using the "complete kit" which also includes the macro stand with the LED light (V-MS1) and the smartphone adapter (V-SA1) along with a carry holster and a wrist strap. Plese not that you can also purchase the Monocular on it's own and thus this will not include the phone adapter or the macro stand.
Wrist Strap
Whilst very basic, the included wrist strap is ideal for this tiny monocular in that it does not take up any extra space, does not get in the way when not needed (like when you have it mounted on a tripod), yet works perfectly if you want to carry monocular about, making sure that it is always handy, yet safe from being dropped on the ground.
Thus I feel anything more substantial than this would in my opinion be overkill and only get in the way.
To attach the strap you simply attach it to the bar on the underside of the body by looping it back on itself.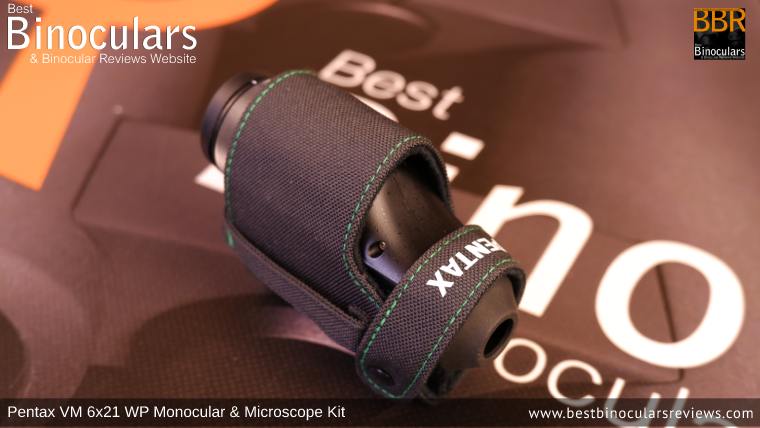 Carry Case
More of a holster than a case, but whatever you want to call it, I have to say that once I got my head around which way the monocular slides into it and then threaded it through my belt, I was smitten and feel that it is truly excellent.
Extremely well made with good stitching, the cover is unpadded and the way it is designed, means that it leaves some of the monocular exposed and so obviously does not offer as much protection as a fully covered and padded case would.
However, I feel the way it hangs from your hip completely out of the way and makes it extremely easy and quick to access the monocular more than makes up for this.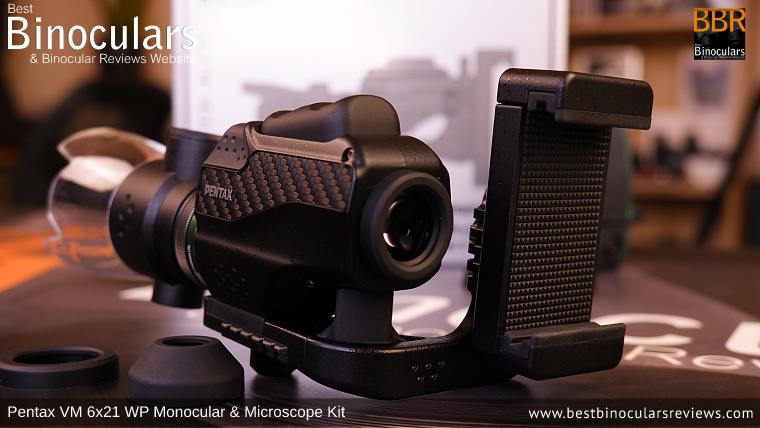 V-SA1 Smartphone Adapter
As with the monocular itself and indeed all the other accessories, the smartphone adapter is robust and extremely well made.
It is very easy and quick to attach to the thread on the underside of the monocular / microscope using a thumb screw and you can see that with the rubber foot that supports it up against the body of the monocular that not only has it been specifically made for the instrument, but a lot of thought has gone into the design.
Attaching my phone to the adapter was easy enough and the two spring-loaded clamps held it very securely in place. In this regard, I had just one issue in that the position of the on/off button on my phone ended up being hidden under one of the clamps. Thankfully Pentax has I think deliberately put a channel on this so that it did not turn my phone off, but it did make it more difficult for me to turn my phone on after it went into sleep mode during inactivity as I had to remove it from the clamp. Here I just changed my phone settings to stop it from happening, so was not a huge train smash.
Due to the adapters stability and the largish exit pupil on the monocular, it was nice and easy to line up the camera on my phone with the eyepiece and took me less time than what is often the case and I found taking footage through this monocular and when converted to a microscope about as easy as it gets when it comes to digiscoping.
Sample Photos
As for sample photos and video, as luck would have it and as I write this we are currently going through a very, very wet spring here in France and so as you can see, most of the photos that I have so far are either taken indoors and/or when the light conditions are not ideal outdoors, but even so with the few that I have taken and considering that the camera on my phone is not the best, I am pretty impressed. Note that once we get some clear sunny days, I plan to take some more sample photos to add, so watch this space!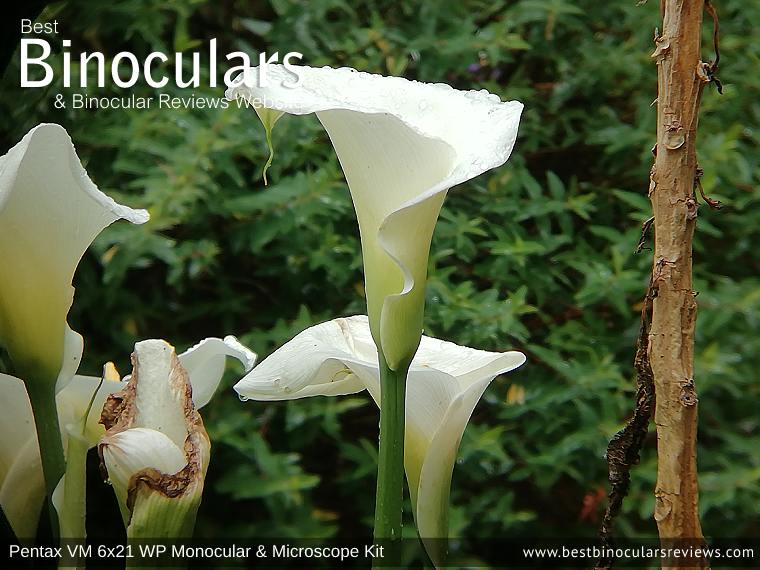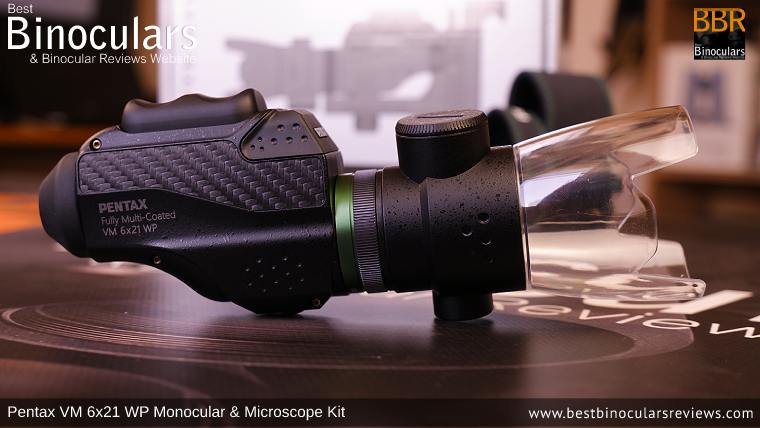 Pentax Macro Stand V-MS1
By attaching this 3x converter stand to the end of the objective lens and changing the focus ring on the objective lens to the near focus setting, it converts the Pentax VM 6x21 WP into an 18x microscope.
Once again this was well thought out and well designed making this process very simple to do. The stand comes with its own LED light, which is powered using a CR2032 battery, which was not included with my sample.
Sample Photos
Also, once again and as with the standard digiscoping examples above, because of the weather, I was only able to take samples of gear laying about in my office. So once I get some more time and the rain goes away, I plan to go out and get some better samples of nature, but for now these should give you a reasonably good idea as to what is possible with the microscope and just how much detail you can get from 18x magnification:
Note: The first photo below on the left was taken though the Pentax monocular without the microscope attachment (at 6x magnification), whilst the one on the right shows the details of the stitching you get at 18x with the macro stand attached:
The photo on the left is of the edge of my small knife - note just how blunt the tip is, something I never noticed before! The photo on the right is of the BBR banner I use on my table and is the background to most of the photos on this review.
Accessories Score: 8/10
Review Conclusions:
Strengths
Design
The ultra-small shape means it is no hassle at all take almost anywhere along where ever you go added to this, the very comfortable, ergonomic, and easy use form factor with its rocker focus mechanism are for my money some of the main selling points to the Pentax VM 6x21 WP Monocular.
Optics, Image Quality & Brightness
At this price level and for a compact device, the optics are of a good standard. This in combination with a moderate 6x magnification and the resultant 3.5mm exit pupil makes it not only easy to use but the overall image brightness and quality really impressed me, especially when you consider that the objective lens is just 21mm in diameter.
Versatility
Whilst you obviously need to get the complete kit, the fact that you can easily convert the monocular into a microscope is certainly a nice feature, and then on top of that take video and photos through it should you wish makes it even more versatile and opens it up to a whole bunch of uses (see below at the end of the review for ideal uses).
Minimum Close Focus
Another instrument of theirs, the Pentax Papilio Binoculars are famed for their very close minimum focus distance which makes them ideal for uses like butterfly observation.
At only 0.7 meters / 27.55 inches away, these don't quite match the Papilio binoculars (0.49m), but still make the Pentax VM 6x21 WP Monocular an excellent choice for observing and indeed taking photos and video of things like butterflies, dragonflies, and other insects or even flowers at very close range.
But then with just a turn of the ring on the objective lens and now in near focus mode, you can reduce the minimum focus all the way down to 9cm, but now it an 18x magnification!
Wide Field of View
At 143m @ 1000m / 429ft @ 1000 yards, another advantage of the lower 6x power is the exceptionally wide field of view that you are presented with when looking through this monocular.
A wide view like this is an advantage in a wide range of uses, but especially important when trying to follow fast-moving objects from close range, so garden birds or insects are good examples.
Eye Relief
At 17.8mm the amount of eye relief is excellent for such a small device and makes it a very good option for eyeglass wearers.
Weaknesses
No protective Lens Covers
On the whole, you can tell that Pentax has put a lot of thought and work into this instrument, so for me, it is a slight shame that they have neglected to include something as simple as lens covers. Remember this is not only for when out in the field but as it does not have a fully covered carry case unless you keep it in the box, the lens can get covered in dust when not in use and stored over long periods.
Ideal / Good For:
Sporting Events
Be it watching football, cricket, tennis, golf, and even horse racing, The small size makes it easy to transport and the wide field of view ensures you are able to take in more on-field action at once without panning make it perfect for taking along to most outdoor sporting events.
Kayaking & Canoeing
I recently went on a Kayaking trip and with me, I took a number of binoculars and a monocular with me to test and so from experience, I can say for sure that its small size and stable 6x magnification would be ideal when on a small boat or canoe when out on the water.
Butterfly, Dragonfly & Flower Observation & Recording
Whilst you won't get quite the same level of immersion as you do through a binocular, the very close minimum focus distance does make this a good option for studying flowers and insects from a very close range.
The inclusion of the smartphone adapter is also very interesting as you may also be able to record what you see.
Museums / Art Galleries
For many of the reasons above, but as well as the fact that it has a very close minimum focus distance would make me think this would be an ideal instrument to take along to this type of location where you could study some of the objects in greater detail.
Backpacking, Hiking, Bikepacking
Or just about anywhere where an absolute minimum size and weight is of paramount importance, the Pentax VM 6x21 WP Monocular is certainly worth considering as an option.
Survivalists & Preppers
As a very lightweight and tiny instrument for gathering information, I would certainly consider storing this in my Get Home Bag.
Good For Children
As well as adults I do feel that the low power which helps with image stability, the wide view which makes it easier for children to locate objects in the view, and the small size for small hands could make this a very viable option for children.