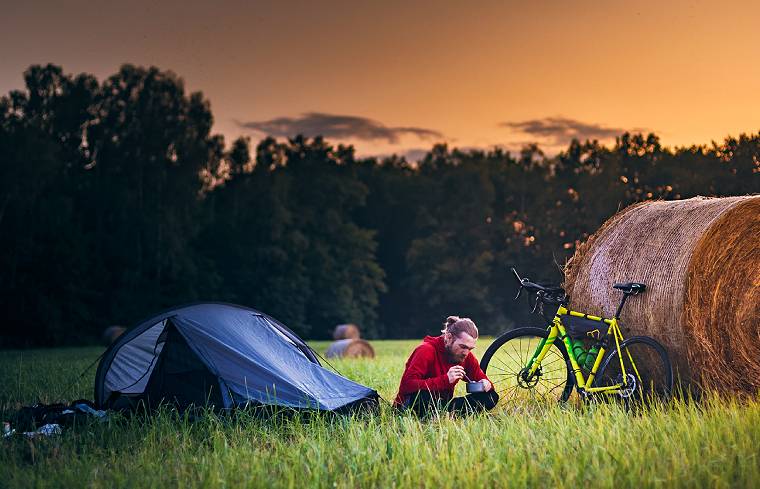 Why I chose this particular Compact Binocular & Spotting Scope combination for Backpacking & Bikepacking trips. Also includes alternatives & other advice:
Summer is almost upon us here in the Northern hemisphere and due to the ongoing travel restrictions due to the virus, this year we have decided to holiday nearer to home and stay away from more populated areas. Luckily where I live in Southern France this is not only possible but there is no reason why we can enjoy ourselves just as much as if we were to travel thousands of miles away as I often do when going back to my original home in Southern Africa.
So with this in mind, I have two trips in mind and am in the planning phase of both. Firstly as a family, we are going to go on a two three day, two-night ultra-lightweight hiking/backpacking and camping trip in a protected forest area not far from where we live, and then secondly, I plan on going up into the Pyrenees mountains on my bike and camping overnight in July and hopefully catch a stage of the Tour de France as it passes by.
Now for both of these trips, I have much of the equipment at hand already and for those who are interested, I will list some of them, but obviously, for the purposes of this article on BBR, I will be focussing on the binoculars I have chosen and, perhaps more surprisingly, a spotting scope that I plan on taking with me and why!
Why Binoculars – Intended Uses
Nature Observation
On both my planned trips there, we are visiting very scenic areas with the potential to view a good amount of birds and other larger wildlife including things like deer and foxes, as well as not forgetting the smaller stuff at nearer range like butterflies and dragonflies.
Recon & Scouting
If you only consider the reasons for nature observation listed above then for me taking a pair of binoculars is already a no-brainer. However, as I/we will also be venturing off the beaten path, then a pair of binoculars can also be a useful tool for things like scouting terrain up ahead without having to walk or cycle all the way there only to find that the path comes to a dead end.
Most of us spend most of our evenings and nights tucked always safely indoors and as such, unless we make an effort to go outside, it is not that often that we look up at the night sky and enjoy the view of the stars, galaxies, planets or even our own moon.
On both trips I will be camping out under the stars and so is a great opportunity for a bit of astronomy and is certainly something I can enjoy with my daughter without the distraction of a television!
So even though compact binoculars and spotting scopes are far from the ideal choice for astronomy as large instruments with big objective lenses are better able to collect what little light there is, it would not be feasible to carry these and so sometimes you just have to make the most of it and keep in mind that even a small compact will usually allow you to see more stars than what you could with the naked eye.

Why a Spotting Scope – Intended Uses
My intended uses for the spotting scope are actually pretty much the same as that of the binoculars, it is just that a scope has its own particular advantages (and weaknesses) compared to a binocular, and thus I see it as a complementary instrument and one which I will most likely use more when I am at a stationary point for a longer period of time – like at camp or at a picnic spot, etc.
Advantages of Spotting Scopes vs Binoculars
More Powerful and with Variable Magnifications
In order to keep maintain a good balance between the field of view, image detail as well as low light performance, the binoculars I choose will most likely be 8x or perhaps 10x which is perfectly fine and ideal for use from the hands.
With a spotting scope, I will have variable magnification, and depending on the one I choose (see below), it will probably range from 9x up to 27x, which is a popular choice of eye-piece for a travel scope.
This will help me gain that extra image detail when I'm up in the hills/mountains of that eagle perched on a cliff face (here is hoping!).
Light Gathering & Low Light Performance
As the binoculars that I will be taking will be small with small objective lenses, it will be nice to have an instrument with a larger lens that is better able to capture light and thus can work out better in low light situations. This will be especially true at sunrise, sunset, and indeed at night for astronomy. All of these times, I will be stationary in camp and thus plan to have my scope set up and ready to go.
Disadvantages of Spotting Scopes vs Binoculars
Size & Weight
Once again, in the context of my hiking and camping trips, a downside to a spotting scope, even a very small, travel-friendly one is that whilst it won't be that much different from a full-sized binocular, it is still going to be a fair bit larger than a compact binocular.
Tripod / Monopod Required
The other drawback to taking a spotting scope on an adventure where space and weight are at a premium is because of the higher magnifications and just how they are designed to be used (usually with the angled eyepieces), you really do need to mount them onto a tripod/monopod in order to get the best out of them.
Now as I will be filming for the BBR YouTube channel, I will have a tripod or monopod with me anyway, so for me, this is not an issue, but for others, this may certainly be something to keep in mind. Although there are some excellent very lightweight tripods out there or you could even go for a monopod that can double as a walking pole.
You can see what I use here: My Tripods for Binoculars & Spotting Scopes
So I guess, strictly speaking, if I wanted to keep my pack as small and lightweight as physically possible, the spotting scope would stay at home, but I do feel that I have space and so want to enjoy the extra benefits that it brings and besides, it also just happens that I have the perfect scope in mind and thus want to test it out!
Which Binoculars & Scope
So where I just always begin when deciding which binoculars to use is to now take a look at the intended use(s) and then decide what are the most important features they need to have in order to perform at the level and in the way that is required:
Must Have Features
Size & Weight
Most certainly, the main, underlying theme of both these trips is small & lightweight as I will either be carrying all my gear on my back in a backpack or in a number of small bags attached to my bike. Thus it is, without doubt, the most important feature of the binoculars and the scope is to be both small and lightweight and it is for this reason, I restricted my search to compact binoculars (objective lenses less than 28mm) and the scope to the very small "travel-friendly" options that usually have an objective lens of around 50mm to 60mm.
Although having said that and this may apply to you: If I was not taking a spotting scope as well as binoculars, then I would have also considered mid-sized binoculars (objective lenses between 30mm and 36mm), as their larger objective lenses would help me in low light situations and especially for astronomy, however as I am taking both, I will mostly rely on the spotting scope in poor light.
Versatility
For these trips, I need my binoculars and spotting scope to be as versatile as possible as not only will I be taking in long-distance views when up in the hills and mountains, but will be observing things at closer ranges like birds in wooded and forested areas where light is also bound to be less than ideal.
Magnification (image detail), Field of View & Low Light Performance
Here as always, there is a tricky balance to be made between achieving a good level of image detail (the amount of magnification) at distance (especially in open fields, in the hills and mountains) versus maintaining a wide field of view and reasonably good low light performance that will help with locating and following small fast-moving objects like birds at closer ranges and in sub-optimal light conditions like in forests for example.
Thus as I knew that the objective lenses on the binoculars were going to be fairly small so as to keep the overall size of the instrument to a minimum, it meant that in order to maintain a reasonable exit-pupil size and thus offer the chance of a decent low light performance, I was going to have to sacrifice a little image detail at distance and keep the magnification down.
The positive side of this is because you are less "zoomed-in", the field of view tends to be wider on a lower-powered optical device.
Minimum Focus Distance
On top of this, because we (especially my daughter) are interested in butterflies, there is the need for an instrument to be able to focus at a very close range.
My Choice of Binoculars
My Choice of Spotting Scope
Alternative Binoculars
Below are some of the other binoculars which I considered and have fully tested and reviewed. Note that some of these may be more suitable to your specific needs or requirements than the Pentax Papillio that I chose for my needs, but all of which I feel would be an excellent choice for most lightweight hiking, camping, backpacking, or bike backing adventures:
Alternative Scopes
Further Reading