Birders who wear eyeglasses, will know what a pain it can be to have to remove them every time you bring your binoculars up to your eyes to use them. This is also not only annoying, but the extra time it takes can make the difference between identifying the bird or not.
The good news is that this does not have to be the case and there is actually quite a simple solution:
Long Eye Relief Binoculars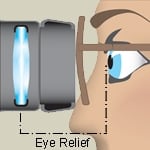 A binoculars eye relief is how far back from the eyepiece or more correctly the ocular lens, your eye should be positioned to see the whole field of view without any vignetting.
A binoculars eye-cups make sure this is simple to do every time you use your binoculars and are designed so that when they are fully extended and you push your face against them (without glasses), your eyes are at that particular binoculars perfect eye-relief distance.
With Eye-Glasses

However this is all well and good if you don't use eye glasses. What if you do?
When you wear glasses, you now have a buffer in-between your eyes and the binoculars and so you need to retract the eye-cups to take this in account and make sure that your eyes and not your glasses are at the right distance from the ocular lens. This binoculars with a long eye relief have more distance that you can play with, giving you more flexibility and so will suit more eye glass wearers and different types of glasses and different shaped faces.
So to make sure that you can use your binoculars whilst wearing your glass you need to:
1) Firstly make sure that the binoculars you use have enough eye-relief to compensate for the extra distance that your eyes will be away from the ocular lenses on the binocular.
How Long is Long Enough?

In many cases an eye relief of 14 to 15mm is often enough for most eyeglass wearers to see the whole image. However to make sure and to give you as much flexibility as possible try and look for binoculars that have at least 16mm but if you really want to be sure go for 18mm or more.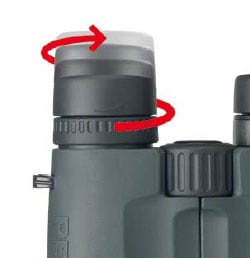 Eye-Cups
2) As well as a long eye relief, you need to make sure that the binocular has adjustable eye-cups that can be positioned and kept in the perfect location for you to get the full field of view without any vignetting.
If you have to use them in any position other than fully retracted, they also need to stay in this position when you press your glasses against the.
Because of this the best design for a long eye-relief is often the twist-up eyecup that uses as helicoid mechanism to move up and down. Look out for ones that have at least one, but preferably more fixed intermediate stops. This will give you more options when it comes to positioning your eyes with your glasses on at exactly the right distance from the ocular lenses.
Best Long Eye Relief Birding Binoculars
The binoculars listed below are a selection from a list I made from all the binoculars I have reviewed, then I have filtered out the ones that I consider to be ideal or the best for bird watching and then I filtered this list again to only show binoculars with an eye-relief of 18mm or more and so are in my opinion the best really long eye relief birding binoculars that I have fully reviewed:
Further Reading