Pentax are big players in the optics industry and with such a well know brand with such a rich heritage, I always enjoy getting the chance to test and and review their products. This time they sent me their mid priced DCF NV binoculars, that come with an 8x magnification and somewhat slightly different 36mm diameter objectives, but which Pentax say offers the ideal blend of a semi-compact design with light gathering ability making them perfect for all around use.
To see if this is true and indeed give them a thorough test, I spent over a week with them and used them in a variety of different situations and locations for a range of uses. You can read my findings and options below in my full Pentax DCF NV 8x36 Binocular review:
Main Highlights
Phase Coated Roof Prisms
Fully Multi-Coated Lenses
Fiber Reinforced Polycarbonate Body
Fully Waterproof and Fogproof
Long eye relief - 16mm
FOV: 342ft @ 1000 yards (114m @ 1000m)
Weight: 22.6 oz. (640g)
The Body
Body Design
Like a lot of modern roof prism binoculars that don't opt for the "open bridge" design the Pentax DCF NV series binoculars have what is now often referred to as a "Top Hinge" body design. What this means is that rather than having a long bridge covering most of the length of the barrels, or two thin ones on each end of the barrels (as in the case with an open bridge), they have a single, shorter one that is located nearer the eyepieces than the objectives. So as long as this single smaller bridge is strong enough (which it is on this Pentax), the advantage of this design is twofold: firstly it shaves off a little weight and secondly it leaves more of the barrels exposed, giving you more surface area to hold onto for a better, more secure grip.
Chassis
The main skeleton of the Pentax DCF NV is made from what they describe as "Fiber reinforced polycarbonate". Pentax do not go into specifics about which fiber they use to reinforce the polycarbonate with, possibly carbon, but more likely glass as I do know that materials like chopped glass fiber are quite often added to polycarbonate formulations when making bins. Adding glass fiber to the resin has the effect of increasing stiffness as well as improving other properties, for example flame resistance!
The very top end bins will probably use aluminium, or magnesium for the main material in the chassis, however this is a good lower cost alternative that is both lightweight and strong and is used in many binoculars in this price range.
External Covering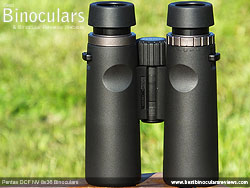 Like the majority of binos these days, the majority of the body on the 8x36 DCF NV has been encased in a rubber armor. On this Pentax, this rubber extends over the bridge as well and is pretty hard, very finely textured and not as tacky as I have seen on some. This possibly provides them with a little less impact protection and certainly makes the surface less grippy than some. But on the plus side, it does give then a very nice, quality look, even to the point that it actually looks metallic. In fact I thought that the body and in general the whole instrument feels like a much more expensive, high end pair of optics.
It is important to mention that the rubber is very finely textured and whilst this may only slightly help with grip, it plays a more important part in that this matte finish takes the sheen off the surface, making them less reflective, which if you need to keep your position hidden or not frighten away wildlife is significant.
There are some binoculars that also have a rougher texture on the areas where you hold the bins, which these lack. This I guess could help a little more with grip, but would also have spoilt the lovely clean lines on this series that I really love.
Under each barrel there are a couple of thumb indents which are there to help you hold them in the correct way and in just the right spot to ensure that they are nicely balanced.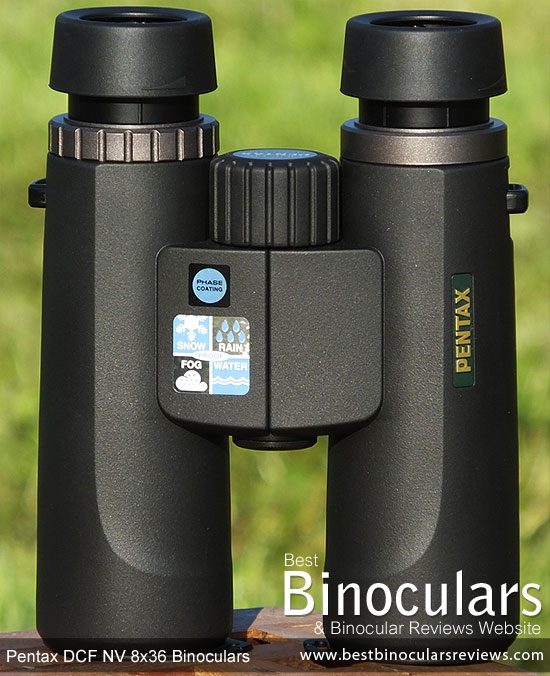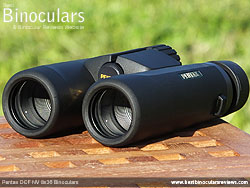 At just about 5mm, the 36mm objective lenses are not set as deeply within the ends of the barrels as some. This potentially offers them a little less shelter from moisture, dust and scratching when the lens caps are removed.
Fully Sealed
Using a double O-ring seal, these Pentax binoculars are fully waterproof with a JIS Class 6 rating, meaning that they are tested and are in compliance with the Japan Industrial Standards (JIS) for water resistance at level 6. The scale ranges from 0 (no protection) to 8 (fully submersible in water under specified pressure), KIS 6 means that "direct jetting water from any direction shall not enter the enclosure".
So whilst they don't have a submersible JIS rating, Pentax do say that these can actually be submerged to a depth of 1 meter.
During manufacturing and when sealing the instrument, all the air is pumped out and replaced with Nitrogen. This moisture free gas helps prevent corrosion and stops the internal glass surfaces from fogging up. This can occur when you get a quick temperature fluctuation, like when you come inside from an early winter morning walk.
Eyecups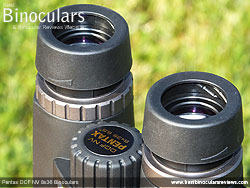 The eyepiece ring looks to be made from the same polycarbonate as the main chassis and is then covered in reasonably soft rubber to help with comfort. Fairly large, it has an external diameter of 40mm and are wide (6mm) at the point that comes in contact with your face.
The helicoid design enables you to twist up the housing in order to achieve the correct 16mm of eye-relief if you don't wear glasses. If you do, the 16mm is a very good (but not great) amount and should be enough for most eyeglass wearers.
In their marketing, Pentax state that the eyecups on these DCF NV series bins have "four click stops", which to be honest I could not detect any when twisting them up and down. However I will say that their is easily enough friction to ensure that you can set them to any distance you want/need between the two extremes to get the correct amount of eye-relief if you wear glasses.
Inter-Pupillary Distances
Pentax advertise their "eye width adjustment range" as being from 59mm to 74mm (2.3 – 2.9"), which I can confirm after measuring is correct. This IPD range is good, but the minimum of 5.9 cm may not be small enough for those with particularly close set eyes. For more see my guide to Interpupillary Distance & Binoculars.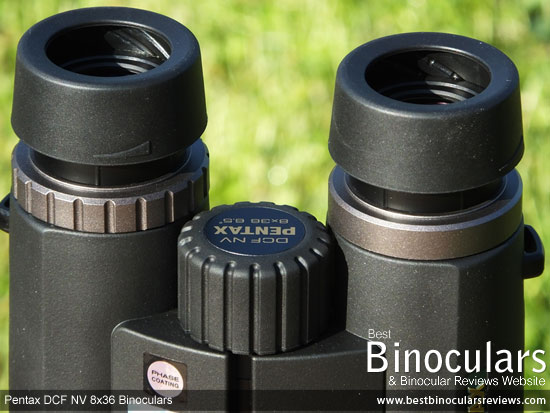 Focusing
I like the deeply grooved, rubber covered focus wheel that turns very smoothly, has no play and just the right amount of resistance to make turning simple, but accidental movement unlikely.
At 33mm in diameter, it is also very large, making reaching and turning it nice and easy. I would just say though that even though it is large, it does not stick out from the top of the bridge very much, this can make adjusting it little more difficult when wearing some types of thick winter gloves, where you have less feel as to the exact position of your fingers. The deep grooves, do go someway to countering this however.
You need to rotate the wheel about 1¼ times (450°) to move the focus from infinity to it's minimum focus distance of 3 meters (9.8' ), this is just under the average giving you a good balance between focus speed and the small adjustment accuracy.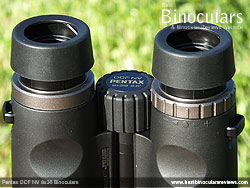 Diopter Adjustment
Positioned on the right barrel near the eyepiece the diopter adjustment ring has a range of between +3 and -3. Whilst it cannot be locked into position, it has fine click-stops that combined with a good amount of friction stop it from being accidentally moved.
Except for the + and - signs, a few arrows and the neutral dot, there are not any scale markings, which means if your particular setting does not line up with any of these markings, you may want to make your own mark with a pen or sharp knife to make returning it to your setting as simple as possible to prevent you having to re-calibrate them, which you only really should have to do once.
Rating for Body Construction Quality: 8/10
Dimensions
There advertised length is 6.1in (15.5cm), which like most bins is achieved by removing the lens covers and having the eyecups fully turned in. By twisting out the eyecups, the length extends to 6.4in (16.2cm) and then with the objective and ocular lens covers attached it is 6.5in (16.5cm).
With their hinge completely open, their width at their widest point is 5.1in (13cm) which is what they advertise their width as being. Their max height at this point is 2.1in (5.3cm). By completely folding the binoculars, their width reduces to 4.3in (10.8cm) and their height moves out to 2.5in (6.3cm).
These dimensions, especially their length is fairly long, even when you compare them to a lot of full-sized 42mm binoculars (see below), however I must say that for some reason they don't feel or look large at all, they feel well balanced and I really liked the way they felt in my hands.
Compared to Mid-Sized Binoculars:
Nikon 10x36 Monarch ATB: Length - 4.8in (12.2cm) | Width - 5.0in (12.7cm)
Pentax 9x32 DCF BC: Length - 5.0in (12.5) | Width - 5.4in (13.8)
Kowa SV 8x32: Length - 5.4in (13.7cm) | Width - 4.9in (12.4cm)
Minox BL 8x33: Length - 5.4in (13.7cm) | Width - 5.1in (13cm)
Pentax DCF NV 8x36: Length - 6.1in (15.5cm) | Width - 5.1in (13cm)
Compared to Full-Sized 10x or 8x42 Binoculars:
Weight
At 22.6 oz. (640g) they weigh quite a bit less than all but the lightest full sized 42mm binoculars, to give you an idea, take a look at the selection below:
Whilst If we compare their weight against mid sized bins, most with smaller 32 or even 30mm objectives, they are placed up towards the higher end of the scale:
Their 36mm objectives mean that I have labeled (and scored) them as a mid-sized bin but they are quite a bit different from the "normal" mid-sized device. Because of this their body stats score (see below) is not great as they have been compared to most "normal" mid sized bins, however I would like to add that I think the 36mm DCF NV series does offer a good midway point between a full sized an true mid sized binocular, with what I feel is not a bad compromise between size, weight and light gathering potential, which is almost exactly what Pentax's stated intentions are.
BBR Rating for Body Stats: 7/10
The Optics
Ocular Lenses
I measured the eyepiece lenses as being 22mm in diameter, which is good and actually about the same as on most larger 42mm binos. I was however not able to find out any more information on them and their design.
Objective Lenses
Lens Coatings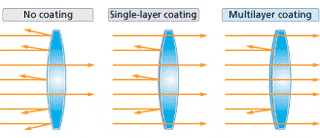 To help get as much light through the lenses and to your eyes (transmittance) and thus produce the highest quality and brightest image possible, special anti-reflection coatings are used on the lenses.
Pentax describe their lenses as having a "Full multi-coating", I take this to mean that all of the outer surfaces of the lenses have multiple anti-reflective coatings, which is what you want.
Lesser quality optics may only have single coatings of anti-reflective on all or even just a few of their lens surfaces.
These coatings can make a big difference in not only the brightness, but the also the quality of the view and I have often observed a better and brighter image through a binocular with smaller objectives, but high quality coatings than that of a large objective bin with only single layer coatings.
Guide to Transmittance Levels
Per Single Lens Surface
10 Lens & Prism Surfaces
No Coating:
96%
66% (0.96 x Power of 10 = 0.66)
Single-Coating:
98.5%
86% (0.985 x Power of 10 = 0.86)
Multi-Coating:
99.5%
95% (0.995 x Power of 10 = 0.95)
Prisms & Prism Coatings
The Pentax DCF NV Series binoculars use roof prisms, which I assume are made from BaK-4 glass, although they do not actually state it.
Phase Correction Coatings
As light passes through a roof prism binocular, light waves are split into two slightly out-of-phase beams of light. Left uncorrected, you get an image with a lower image resolution and reduced contrast.
To fix this problem, Pentax have added phase correction coatings to a surface on the roof prism on the DCF NV.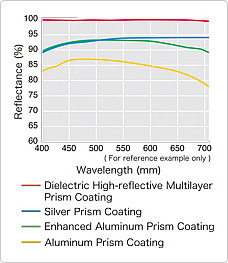 Reflective Coatings
Another downside to the roof prism design when compared to the porro prism, is that one of the surfaces of the prism does not reflect all of the light that hits it, which results in loss of light. To get around this highly reflective coatings are applied to this surface.
Pentax say that their prisms are super-reflective coated, but do not go into detail as to exactly what type of coating is used.
As you can see from the graph on the right, the amount of reflectance varies quite a bit depending on which is used.
I think the fact that they don't highlight it and because of their price range, we can assume that they don't have Dielectric coatings (reflectivity of more than 99%) as these are usually reserved for very high end optics.
My guess would be that they have used a silver mirror prism coating that can have a very high reflectivity of between 95% and 98% which is still excellent.
Optical Components Quality Rating: 7/10
Optical Stats
The Field Of View (FOV)
The view through the 8x36 DCF NV is 342ft wide at 1000 yards (114m @ 1000m). This translates to an angle of view of 6.5°, which is not bad, but must be said does fall a little short when compared to some of the best 8x binoculars:
Near Focus
Pentax advertise their minimum close focus as 9.8ft (3m), which I have to use when scoring them, however on the pair I was using for this review, I measured it at a much better 7.3ft (2.2m) making them fine for observing flowers, butterflies or dragonflies from close range on the odd occasion.
Eye-Relief:
The 16mm of eye-relief should be enough for most people who wear glasses to keep them on whilst using these binos and still be able to see the full view without any dark areas forming around the edges of the view.
Optical Stats Rating: 7/10
Quality of Image
To asses the quality of the image as accurately and as objectively as possible, I conducted a number of comparison tests both in good light in the middle of the day, as well as in poor light (at and just after sunset) these Pentax 8x36 binoculars and that with a number of my "control" binocular, which I do for all my reviews. As I don't actually have an 8x36 control, I chose to compare the view through these with that of my mid level control 8x32's and both my mid level and top spec control 8x42's.
Image Brightness & Low Light Performance
During the day and under cloudless skies, I really could not spot any difference in brightness between these Pentax 8x36's, or any of my controls, this included the mid and top spec level 8x42's. This is not that surprising as at this time, my pupil was probably only dilated to around 3mm, which is smaller than the exit pupil of all the test binoculars including the Pentax (36 ÷ 8 = 4.5mm) and so they were passing more light to my eyes than what they could take in. If you want to understand this more, please take time to read my complete guide to the exit-pupil.
It was only in very poor light after the sun had set and my pupils had dilated to probably more than 6mm that I began to notice a slight difference in image brightness. I could make out that these Pentax 8x36 DCF binoculars were just a tad brighter than my 8x32's, which is to be expected as apart from the difference in objective lens size, they have similar quality lenses, prisms and coatings. So with the same 8x magnification, the 8x32's produce a smaller 4mm exit pupil (32 ÷ 8 = 4mm).
What was interesting to me was that I could not really notice any image brightness difference between them and my mid level 8x42's, which because of their larger 42mm objectives produce a larger exit pupil of (42 ÷ 8 = 5.25mm). This could be for a multitude of reasons, which includes the Pentax offer better light transmission than my control which is highly possible or It could be that my eyes are not as sensitive at low light and so can't notice the difference.
However, I did feel that my very high spec 8x42 just seemed to produce a slightly brighter image than both the Pentax and my mid-level 8x42, which as they have far superior lenses, prisms and coatings is also to be expected.
So where does all this place the DCF NV 8x32 in the grand scheme of things? Well based on my experience I would rate their image brightness as very good, almost excellent in comparison to most 30 and 32mm mid sized bins. Verses full sized 42mm bines, they are still very good, above average which I would say is fairly impressive.
Colour Reproduction & Contrast
I thought that the colors of the image produced are nice and vivid, but at the same time do not look unnatural. You also cannot spot any artificial tinting, as I sometimes see, especially on cheap binoculars.
Contrast is also good, which gives the image a nice sense of depth.
Depth of Field
One area when my controls outperformed these was in their depth of view. To test for it, I focus on an object about 5m away and then take the view past that (without altering the focus) as far as it can go before the image becomes blurry and out of focus.
So whilst it is not terrible, I would not rate their depth of view as great.
Color Fringing
Considering that these do not used ED glass, which is supposed to help reduce or even eliminate chromatic aberration that is seen as color fringing on the edges of objects, I was really impress with just how little there was on these.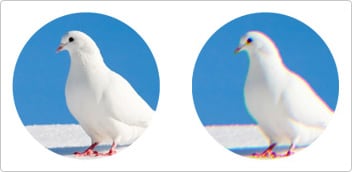 To check for it, I focus on the edges of objects that have a high contrast with that of their background. With bad chromatic aberration, you get a lot of softness and almost a halo around the edges of objects. This was certainly not the case with these and I really had to look hard for it to spot even the smallest amounts.
Image Softening
Checking right to the edges of the view, the amount of image softening was exceedingly minimal and as good as the very best and optics that cost many times the price of these, which is very impressive.
I also though that the image was nice and flat, meaning that when focusing on an object in the center of the view, it remained perfectly in focus right to the edges of the view.
Conclusion on Image Quality
On the whole I was very impressed with the view through the Pentax DCF NV 8x32, they are nice and bright, the colors are vivid, but still look natural and the sharpness, even right to the edge of the view is excellent. Thus to my eyes, the view is as good or better than any that I have used in this price range and better than many more expensive bins.
Image Quality Rating: 8/10
Pentax 8x36 DCF NV Comparisons
As a way of quickly comparing these Pentax's to other mid and full sized bins with 8x magnifications, I have included some of the major specifications and features from a few others that I have reviewed below. I think the one to look most closely at is the very similar Nikon Monarch models:
| | | | | | | | |
| --- | --- | --- | --- | --- | --- | --- | --- |
| | Pentax DCF NV 8x36 | Celestron Granite 8x42 | Hawke Sapphire 8x42 ED | Kowa SV 8x32 | Minox BL 8x33 | Nikon 10x36 Monarch ATB | Vortex Viper 8x42 HD |
| Approx Price: | $200 (£170) | $345 (£398) | $450 (£340) | $200 (£220) | $400 (£380) | $240 (£200) | $450 |
| Weight: | 22.6oz (640g) | 24oz (680g) | 25.7oz (730g) | 19.9ozs (564g) | 22.9ozs (649g) | 19.9ozs (564g) | 24.2oz (686g) |
| Length: | 6.1in (15.5cm) | 5.8in (14.7cm) | 5.5in (14cm) | 5.4in (13.7cm) | 5.4in (13.7cm) | 4.8in (12.2cm) | 5.8in (14.7cm) |
| Width: | 5.1in (13cm) | 4.0in (10.3cm) | 5.1in (13cm) | 4.9in (12.4cm) | 5.1in (13cm) | 5.0in (12.7cm) | 5.3in (13.5cm) |
| Eye Relief: | 16mm | 17mm | 18mm | 15.5mm | 17.5mm | 15mm | 20mm |
| Min Focusing Dist: | 9.8ft | 6.5ft | 6.6ft | 6.5ft | 8.2ft | 8.2ft | 5.1ft |
| FOV at 1000yds: | 342ft | 426ft | 426ft | 408ft | 421ft | 314ft | 347ft |
| ED Glass | No | Yes | Yes | No | No | No | Yes |
| Phase Correction | Yes | Yes | Yes | Yes | Yes | Yes | Yes |
| Lens Coatings | Fully Multi-Coated | Fully Multi-Coated | Fully Multi-Coated | Fully Multi-Coated | Fully Multi-Coated | Fully Multi-Coated | Fully Multi-Coated |
| Waterproof | Yes | Yes | Yes | Yes | Yes | Yes | Yes |
| Fogproof | Yes | Yes | Yes | Yes | Yes | Yes | Yes |
As you can see from the table above, whilst these Pentax binoculars have slightly smaller lenses than "standard" full sized bins with 42mm objectives, they are not actually that much smaller (if at all), however they are quite a bit lighter.
Accessories & Attention to Detail:
Neck Strap
I think the best word for me to describe the neck strap is "basic" - It very thin (less than 2mm), does not have any padding and is only 2.4cm wide at the area that hangs round your neck. But to be fair, they do the job well enough and these binoculars are lightweight and so whist a luxurious neck strap is always nice, it can also be sometimes be a bit of overkill.
As is the norm with most straps, to attach it to the binocular, you loop each end back on itself through a couple of bridges on the sides of the DCF NV and then it is held in place with a couple of slider buckles.
Objective Lens Caps
Made from a thin, flexible plastic, the objective lens caps are once again fairly basic. They do however fit very well within the ends of each barrel and should not come away accidentally.
Unlike many modern optics, they are not tethered to the binocular, however each cap has an open loop on the side of it that you can use to connect it to your neck strap if you wish.
Rain-Guard
Also made from a soft, thin plastic, the eye-piece cover (rain-guard) fits very loosely over the eyepieces, so much so that I almost feel that they have been designed for a different and much bigger instrument.
This loose fit and a flexible bridge between the two cups, does however mean that it can easily accommodate different inter-pupillary settings and so you don't have to fully open out your bins every time you want to put them away.
On each of the sides of the rain-guard is a loop that you can use to thread your neck strap through.
Carry Case
Whilst it is made well, the soft carry case is also pretty basic. The material is fairly thin and only lightly padded, so whilst it will protect the bins from gathering dust and from light rain, it will not help much with heavier contacts.
The flip over lid is fastened via a strip of Velcro, which is nice and secure, but the noise it makes when opening, could easily give away your position or frighten away timid wildlife if you are not very careful. It also does not have any extra pockets that can be useful for keeping lens cleaning gear.
The case does not come with it's own strap, but there are large cutouts on each side for the neck strap to fit through and so is designed to be carried in this way. It also does not have a loop on the rear bag, so you cannot thread your belt though it to carry your bins on your hip.
Lens Cloth
My sample pair did not come with an included lens cleaning cloth. This is only a minor point, as I would suggest getting a full optic lens cleaning kit to properly clean your lenses anyway.
Manual & Warranty Information
Inside the box you also get a basic users manual and details of the "PENTAX Worry-Free Warranty" as well as details on how to contact the Pentax Worldwide Service Network in your region.
Tripod Adaptable
The cap on the front face of the central bridge between the two barrels can be unscrewed, revealing a thread that you can then screw in a standard ¼-inch tripod adapter which can then be fitted to a tripod.
Extras & Attention to Detail: 6/10
Review Conclusions:
Strong Points: The build quality and the finish on the binocular looks and feels excellent and as such they look far more expensive than they actually are.
Considering their price range, I was also very impressed with the overall image produced especially when you compare them to other 30 and 32mm mid-sized bins in their price range: It is nice and bright even in low light, with vivid, yet natural looking colors and is pin sharp, even right at the edge of the view.
Weak points? Contrasting with the build quality of the binocular, I was a little disappointed with the included extras which includes the lens covers, neck strap and to some extent the carry case. However this is not all bad news: I say this because to achieve this price range, manufacturers have to make some compromises, some hide these "compromises" in the quality of the manufacture and the optics with fancy cases or by throwing in a free harness for example. Pentax have kept the quality of the body and it's optics high and thus have had to compromise a little on the extras, which in my opinion is the best way to go about it.
Ideal Uses: I think the best way to think of the Pentax 8x38 DCF NV is as a bridge between a mid and a full sized bin. Thus they are ideal for those who want a little more performance than the same level 32mm ones can provide (say something like their own Pentax 9x32 DCF BC), but yet something that is still lighter than most 42mm binoculars.
Therefor I would say that they make an ideal mid level bin to take camping, on hikes, long birding or general wildlife observation walks or anywhere else where weight is a factor, but so is a good low light performance.
Good Value for Money?
In terms of price, these are firmly entrenched in the middle of my Mid-Priced Binoculars price category (approx: $130-$300 / £130-£300), where these Pentax binoculars face a lot of competition, but in my opinion they sit comfortably up there with the best of them and could easily hold their own in the price category above. So for this reason, yes I do believe that they make for a really good value for money binocular.
Overall - The Pentax DCF NV 8x36 is a great quality binocular for the price, optically they perform as well and in some cases better than those costing well more than these. Whilst their 36mm objectives don't really make their overall dimensions smaller than most 42mm ones, they are very light and still produce a good quality, bright image and thus will excel in uses and situations where weight is a factor. So if your budget is under under $200 (£200), then these should certainly be on your short list.
Thanks...
I would like to say a quick word of thanks to Pentax UK for organizing and sending me this and indeed other pairs to review.
BBR - Genuine & Honest Reviews
Unlike the many bogus review websites that simply make up a story based on marketing material and have never actually used the binocular, I spend a lot of time using and testing every binocular I review.
I also feel that it is important to emphasise that all the views expressed on this page are my truthful and honest opinion of the device and written to the best of my knowledge and I have and never will write a review that is anyway biased.