Finding a good, cheap binocular is harder than if you have a bigger budget. This is because at this low price point there are many really bad instruments out there and so the chances of ending up with one of them are far greater.
I have tested and used many really bad cheap binoculars that at times I think you are better off not using it at all and I often encourage people to try and spend a little more to make sure that they don't get caught in this trap.
However, if you can't raise your budget, all is not lost as there are some relatively good ones out there. In the past, I have had good experience with binoculars from Tom Lock and so when they approached me with this low-cost Series One 8x42 Binocular, I was more than happy to give it a try:
Tom Lock Series One 8x42 Binocular Review
Specs & Features at a Glance:
Cheap Binoculars: Approx: $60 / £59 / €60
Body

Single Bridge Body Design
Polycarbonate Chassis
Water (1.5m for 3min) & Fogproof (Nitrogen)
Central Focus Wheel
Right-eye diopter
Twist-up eyecups
Tripod Adaptable
Weight: 670g / 23.6oz
Dimensions 14.6cm x 5.3cm x 12.6cm / 5.7in x 2.1in x 5in

Optics

Multi-Coated Optics
BAK-4 Roof Prisms

Optical Stats

17.8mm of Eye Relief
FOV: 356ft @ 1000 yards (119 @ 1000m)
Minimum Focal Distance: 4m (13.1ft)
The Body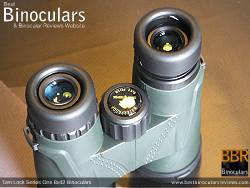 Shape
The Series One has a very typical and established shape for a modern roof prism binocular. This is good because it feels well balanced in the hands and is comfortable to hold.
Inter-Pupillary Distance (IPD) Adjustment
The central hinge feels robust, opens and closes smoothly, but at the same time has just enough friction so that they will remain at your desired setting.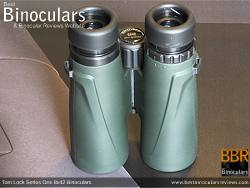 The IPD (Inter-Pupillary Distance) range on these Tom Lock Series One 8x42 binoculars is 5.6cm up to 7.6cm, which is the normal range for a 42mm binocular.
Exterior Rubber Coating
As is the norm these days, almost the entire exterior surface is covered using a protective rubber jacket.
As well as adding protection, it improves grip. Although as the rubber on this instrument is quite hard and lacks a rough texture, it offers less than the best.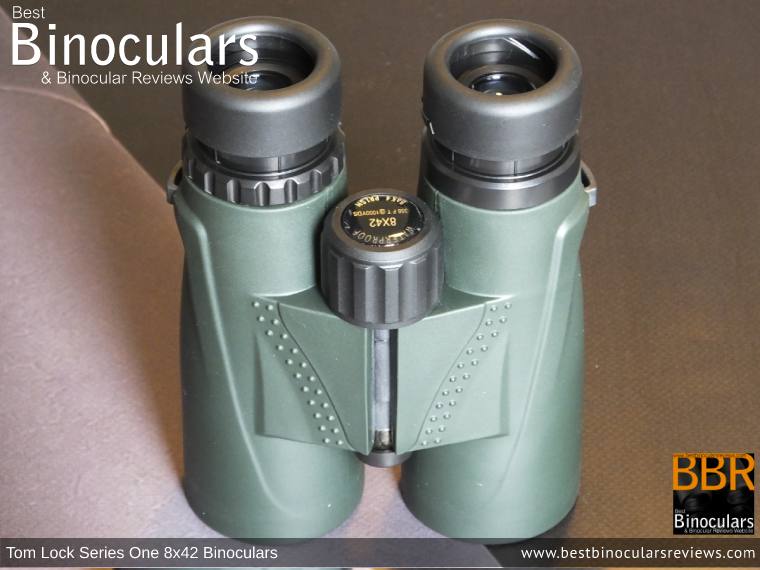 Chassis
As expected at this and the mid-range levels, the chassis on this binocular is made from polycarbonate plastic.
This is very common as it is cheap to make, long lasting, reasonably robust and very lightweight.
Fully Sealed
Even if you don't plan on venturing out in the rain, the fact that these Tom Lock's are fully sealed and thus waterproof is important.
Firstly it also prevents small dust particles from entering the system and then secondly it is a definite sign of quality in my eyes as many binoculars in this price range will not be sealed.
The fact that they are completely airtight means that they have also been able to make them fog proof. To do this the internal air is replaced with Nitrogen. This is a moistureless gas and so prevents the internal lenses from fogging up.
As I say at this price, this is certainly something that you don's always get.
Eye-Cups & Eyepieces
The Tom Lock Series 1 binoculars have twist-up eyecups which is great as many binoculars at this low price level will instead opt for the more simple folding rubber cups.
The twist-up mechanism functions very well and they have an impressive 4 separate click stops giving you plenty of options to get your eyes exactly the right distance behind the ocular lenses.
This combined with a full 17.8mm of eye-relief makes them a very good choice for eyeglass wearers.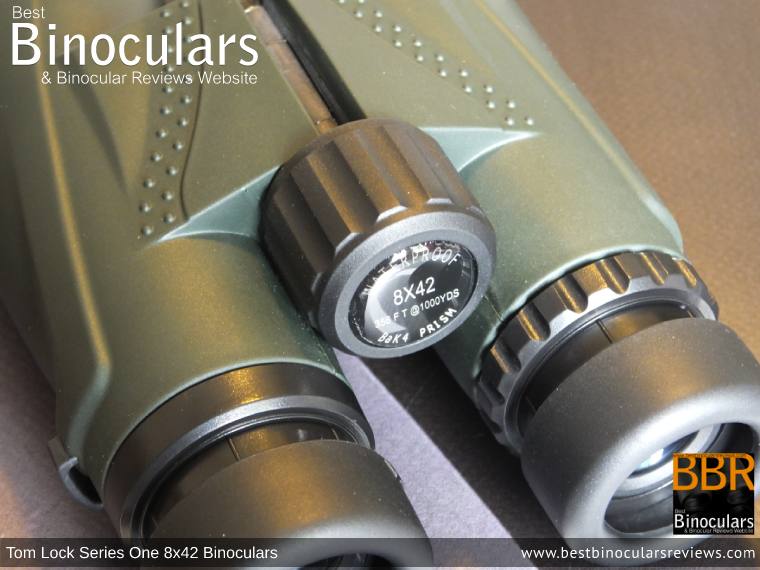 Focus Wheel & Focussing
At 32mm in diameter and 24mm long, these focus wheel is large enough and easy to reach from the standard observing position.
It turns smoothly and so is easy to adjust.
The gearing on this instrument is relatively low as it takes two complete turns of the wheel (720°) to take the focus from one extreme to the other. This is good for making fine adjustments but does mean that it takes longer to make large focal adjustments than higher geared focus mechanisms.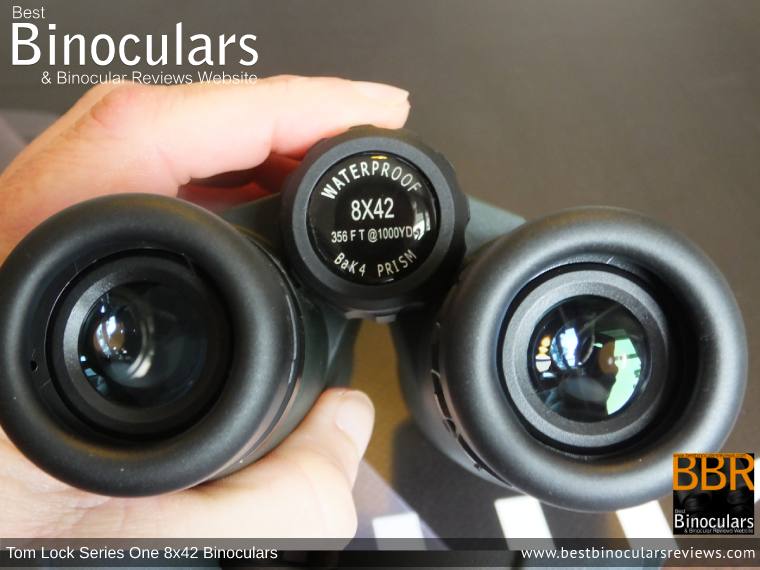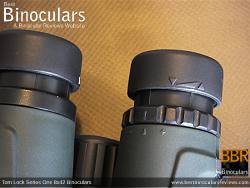 Diopter Adjustment
Used to calibrate your instrument to match that of your particular eyesight, the diopter adjustment ring is located in the most common location on the right eyepiece.
Whilst it is not lockable, it works well and has a good level of resistance to prevent unwanted movement.
Tripod Adaptable
This Tom Lock binocular is 'tripod adaptable', meaning the can easily be attached to a tripod using an ordinary tripod adapterr attached to the mount under the dust cap on the front hinge.
Best Binocular Rating for Body Quality: 6/10
Weight
When it comes to their weight, these Tom Lock binoculars rank up there with the most lightweight of 42mm binoculars that I have tested.
This makes carrying and using them over long distance and periods of time easier, but do keep in mind that many high-end binoculars tend to be heavier because they use a more robust magnesium chassis and have more metal parts than cheap binoculars like these.
Dimensions
When it comes to their dimensions, as you can see from the table above, these are very typical for a 42mm binocular, so nothing of importance for me to expand on here.
BBR Body Stats Score (for a 42mm binocular): 7/10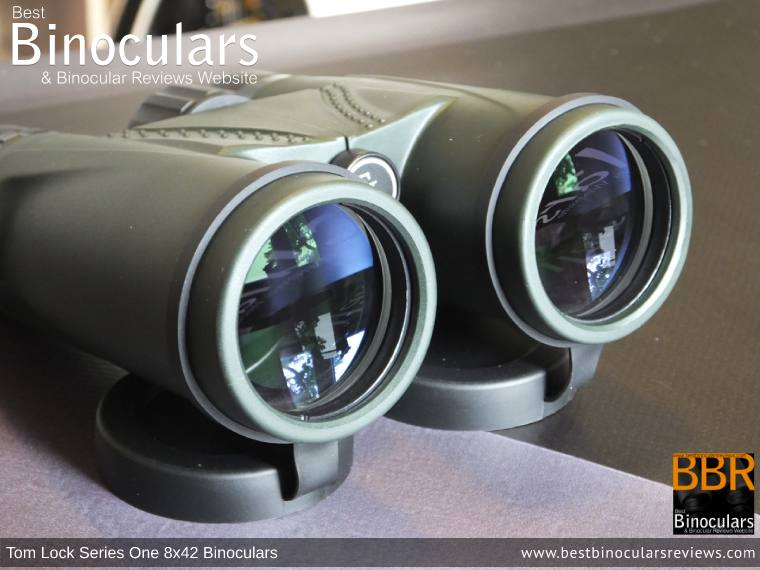 Optics
As you can see in my article on Cheap vs Expensive binoculars, the quality of the glass and coatings used is one of the main areas where binoculars of different price ranges differ.
Lenses & Lens Coatings
The Tom Lock binoculars use 42mm objective lenses, have 18mm eyepiece lenses and the optical pathway is multi-coated.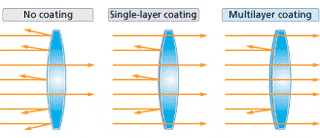 As you can see on my guide to anti-reflection lens coatings on binoculars, this means that some (usually the first and last), but not all lens surfaces have multiple coatings of a material that helps to prevent any unwanted light reflection.
Whilst you would obviously prefer to have a fully multi-coated instrument as this increases light transmission and improves image quality, it costs more which would only add to the total cost of the product.
Prisms & Prism Coatings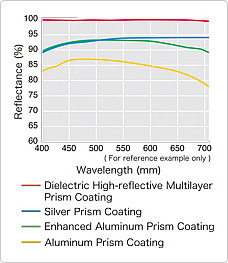 The roof prisms on these Tom Lock bins are made from BaK-4 glass which is great and certainly preferable to the BK-7 glass prisms found on many other cheap binoculars.
The prisms have an aluminum mirror coating that is able to reflect between 87% to 93% of the light that hits this surface which is what i would have expected at this price.
Note: More expensive optics will have a silver mirror coating (reflectivity of 95% to 98%), whilst top end instruments will have dielectrically coated prisms that can transmit more than 99% of light across the entire visible light spectrum.
They also don't use phase correction coatings onto the prism glass, but at this low-cost price range this is also to be expected:
Coating Comparisons
Optical Components Score: 6/10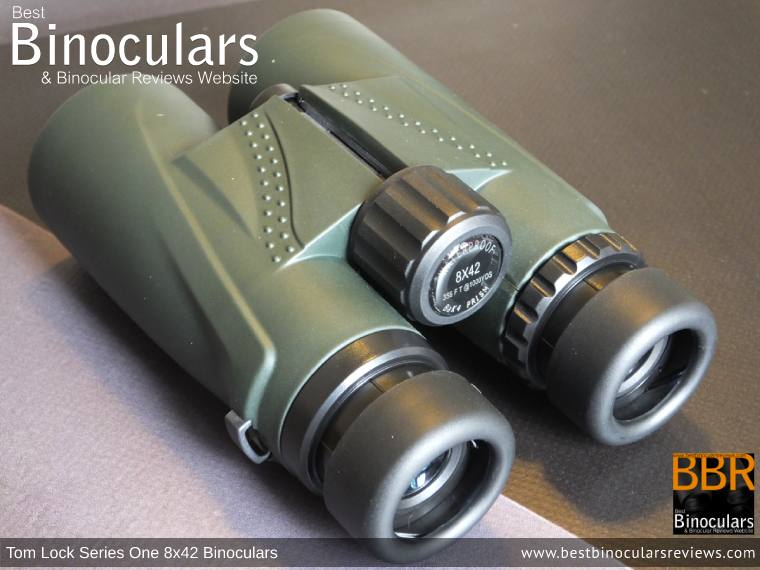 Optical Stats
The Field Of View
For an 8x binocular that will probably mostly be used for things like birding, the field of view is a little on the narrow side and I would have preferred it to be wider. So whilst I was not expecting it to rank up there with the very best wide angle binoculars, it is below average for an 8x42 and is one of the compromises you often have to accept when choosing to buy a cheap set of binoculars:
Close Focus
The advertised minimum focus distance on these is 4m / 13.1ft, which is longer than average for an 8x42 binocular.
Testing them, I found that I could focus on an object from about 3.6m / 11.8ft away, which is a little nearer than what they state, but still not close enough for me to recommend them as an ideal choice if you often find yourself wanting to study things like Butterflies and other Insects from very close range.
Eye-Relief:
At 17.8mm, these Tom Lock Series One binoculars have what I consider to be a long eye-relief, which in combination with their quality, multi-position eyecups makes them a good option if you wear glasses.
Optical Stats Score for an 8x42 binocular: 6/10
Optical Performance
During my time testing these Tom Lock binoculars, I took care to note what the view was like and as with all my reviews, I also made some direct comparisons between the view through these and my benchmark 8x42 binoculars, that I use as a reference point:
Image Brightness
As my mid-range benchmark has fully multi-coated anti-reflection optics and silver mirror coatings on the prisms, whilst this Tom Lock is only multi-coated and aluminum mirror coatings, I was expecting to see a difference and this was the case, but the difference was generally minor:
During the day and in good bright sunny conditions it was quite hard to notice, but in low light, as the sun began to set, I was more easily able to detect that the image on my benchmark was brighter.
Colors & Contrast
In my experience, it is quite common to observe a slight tint to the image (usually yellow) when looking through cheap binoculars and whilst in this case it is very minimal, almost imperceptible this is also true of these Tom Lock Series One 8x42 binoculars.
Indeed if you were to just pick them up and look through them, the thought would most probably never cross your mind. However, when comparing them against a higher class of instrument I could see a very slight difference, but on the whole, the colors look normal and is not something that I would be overly concerned with when spending this amount of money.
Level of contrast is good on these and you get a nice range between dark and light giving a good feeling of depth.
Image Distortions & Blurring
The image on my sample was flat and without any sort of curvature or other obvious distortions that you sometimes see, especially at this low price.
The amount of softening of the image at the edges of the view is extremely minimal, indeed this a real highlight as these actually had less than on my mid-range benchmark which I would rate as being about average in this area.
Color Fringing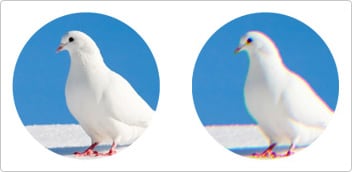 Another highlight is the fact that I observed very little color fringing around the edges of objects even when trying my best by doing things like looking along the edges of a black telephone cable lit up by a bright blue sky in the background.
Conclusion
Whilst the view is obviously not as superior as that which you get on a high-end instrument, I was genuinely surprised as to how good the view was as I was expecting there to be a far bigger difference between these and my mid-range 8x42 benchmark binocular and thus I have no doubt at their price level you will not get a better quality or brighter image from an 8x42 roof prism binocular.
Score for Image Quality: 6/10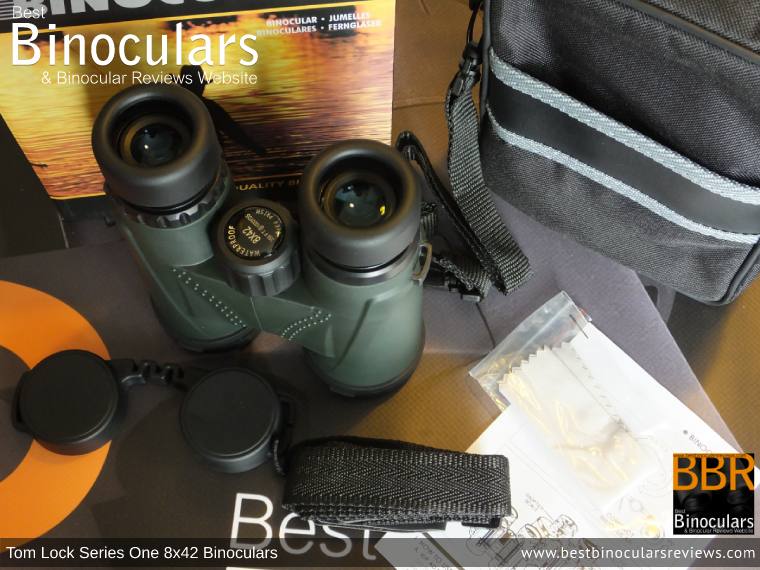 Included Accessories:
The Tom Lock Series One comes with a carry case, neck strap, lens covers, rain guard, cleaning cloth and instructions.
As you would expect, these are the same as those that you get with the 10x42 Series One, so I won't repeat myself by describing them in detail again.
But to summerise, whilst very generic and without any sort of branding, they do all work well enough and are at a standard that matches the best in the low-cost price category.
Accessories Score: 6/10
Tom Lock Series One 8x42 Binocular Comparisons
At the time of writing this review, these Tom Lock binoculars cost £59, which just raises them just above my "cheap level category" of binoculars costing under £50 and puts them up against low-cost binoculars costing between $50-$130 / £50-£130 which is what you see in the table below, or to get a better view, you can open the table in full-screen mode to view the full results and which contains all the 8x42 binoculars in this price range that I have tested.
In some ways, the comparisons below are a little unfair as many of the binoculars in this list cost more than double the price of the Series One, so do keep that in mind, but I have included it as I still think that it makes for some interesting comparisons.
Note, please also take a look at the following link to see how they compare against other really cheap binoculars costing under £50
Low Cost ($50-$130 / £50-£130) 8x42 Binoculars:
Review Conclusions:
When opting for a cheap binocular you have to be careful as there is a far greater chance that you will end up with an instrument that is really bad than if you were to move up into the midrange levels.
You also have to lower your expectations and accept that there are going to be a number of compromises and that a binocular that costs around $50 / £50 is never going to be of the same quality as that of those that cost 3x or even 10x as much.
So, having said that, I could list a whole bunch of areas where these or indeed any low-cost binoculars fail to match much more expensive alternatives. Instead, I will simply point out the areas where these surprised me in a positive way and where\even at this price range I think they should have done better:
What I Like
There are a stack of binoculars at this price range that are little more than a toy and in some cases, I would say that you are probably better of not having a binocular at all.
Thankfully, these Tom Lock Seris One 8x42 Binoculars are very far from that and in general, you get a rock solid instrument with a reasonably good quality view when compared to mid and even high-end instruments, but one that I would say is sometimes equaled, but really can't be beaten at this price level.
Components Used & Build Quality
Considering the very low cost, the overall build quality, and materials used for the chassis, and the rubber coating on the exterior is good.
Just to have twist-up eyecups at this level is an achievement, but the fact that they work as well as they do with their multi-position click stops is certainly a bonus.
The focus wheel, whilst very generic in its appearance, functions well and focusing with it is easy and accurate.
The optical components and coatings used are the best you could hope for without having to pay more.
Optics & Image Quality
The optical components and coatings used are the best you could hope for without having to pay more.
Considering the entry-level optics used, the image quality is surprisingly good. To put this into perspective, I would describe it using words like "reasonably good" or "fair" if I was to directly compare it to mid-range and even some mid-high level instruments, but when against its competition in this price range, I would use "excellent" and doubt that it can be beaten.
Eye-Relief
At 17.8mm, the Tom Tock 8x42 has ample eye-relief, which along with the multi-position, twist-up eyecups makes them a good choice should you need to wear glasses whilst using the instrument.
Room For Improvement
Field of View
I would have preferred to have been presented with a wider field of view when looking through these Tom Lock Series One 8x42 binoculars.
Close Focus
The minimum close focus distance of 4m (13.1ft) is not terrible, but it could be better and whilst this will not be an issue for most users, I would not suggest these as your goto instrument for uses like butterfly observation.
Ideal Uses