Introduction
When Swarovski Optik first announced that they were releasing their "new" flagship NL Pure binoculars that were going to supersede and improve on their legendary EL range of binoculars, like many, I was pretty sceptical.
The advertised new 'features' like the wavy shape and forehead rest seemed kind of gimmicky and superficial and thus only fueled this scepticism. Also, there was this feeling of just how could you improve on an optical system that was deemed by many experts to be the very best.
For a number of reasons, It took me far longer than I would have liked, but I eventually got my hands on a pair to test and evaluate. But now, as I write this review, I have been using the mid-sized 8x32 NL Pure binoculars for over three months, which I feel is enough time for me to weigh in with a meaningful insight, what I really like, what niggles me, the components used, how it performs and compares against others, including the EL equivalent as well as many other aspects, which I hope will help you decide if they are right for you and your needs:
Swarovski NL Pure Binocular Review
Contents, Main Specifications & Features:
Fluorite-Containing Extra Low Dispersion Glass
BAK-4 Roof Prisms
Dielectric & Phase Corrected
Fully Multi-Coated - SWAROBRIGHT, SWAROTOP, SWARODUR Coatings
Field-Flattener Lens System
First Impressions
So normally when I go over my first impressions in a review, I either do it in writing or make an unboxing video to stick up onto the BBR YouTube channel. However this time, I am going to add a video that I took after visiting Swarovski at the IWS show in Germany earlier on this year.
As you will see I go into quite a lot of detail in regards to the main features that first jumped out at me. In most of the video I use the 10x42 version as the example, but most of what I speak about applies equally to the 8x32 NL Pure:
The Body
Shape
If you have not yet looked at the first impressions video above, do so now, as I do go over my thoughts on the overall body shape and design of the Swarovski NL Pure binoculars.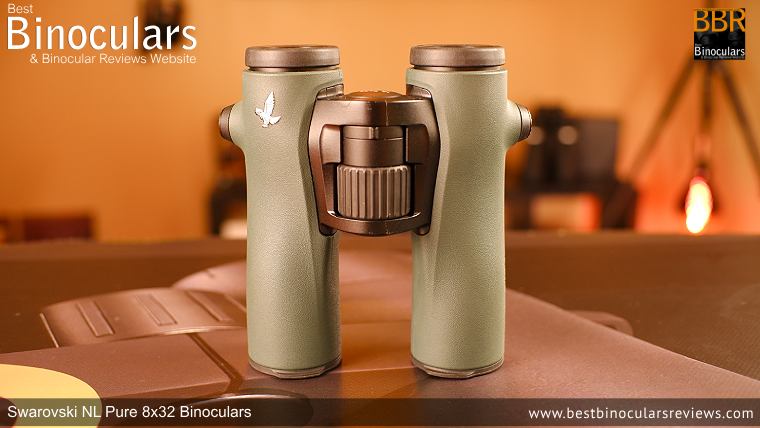 Materials
The main chassis on the NL Pure is fashioned from a magnesium alloy. Sure, this is heavier than those that use plastic, but it is usually more robust, often more resistant to expansion and contraction caused by temperature changes and just simply looks and feels better in most cases.
As with with most modern binoculars, these then have a rubber armor that apart from a few details and the central hinge, covers and protects the whole chassis underneath.
As is normal with Swarovski binoculars, they use a very thin and hard rubber. This obviously provides less impact protection and offers less grip than those using a thicker, softer rubber.
But on the up side, I think It looks better and because it fits very tightly there is absolutely no movement between it and the chassis underneath. In my experience the harder rubbers also don't (or are far less likely) become sticky, or tacky over time (many years) and so whilst I cannot say for certain in this case, I can say in my experience harder rubber coatings tend to be longer lasting.
Harder rubbers also tend to reflect more light than softer ones, which if you are trying to be super stealthy is also not ideal. However, because these is a fine texture on the rubber, this not only makes it less reflective, but also slightly increase the grip level, although still not to the same level as a soft, spongy rubber.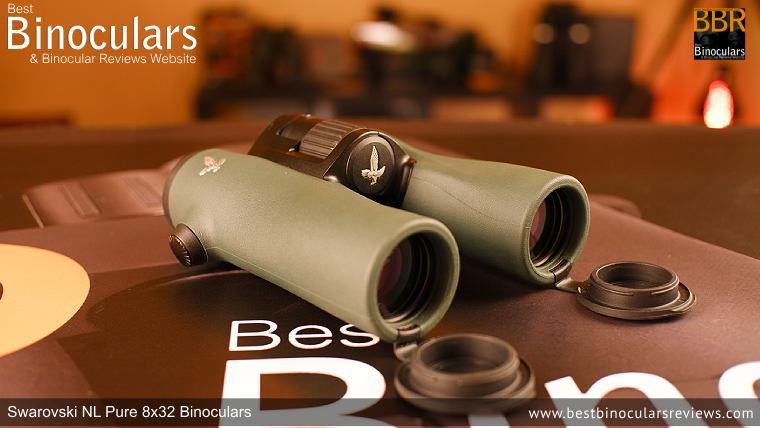 Environmental Protection
As you would expect for a instrument in this price category, the Swarovski NL Pure 8x32 binoculars are fully sealed and they say the instrument will remain water tight to a depth of 13ft / 4m.
Also keep in mind that as well as moisture, these seals prevent tiny particles like dust from entering the system, so it is important even if you never plan on going out in wet weather.
Swarovski has also then filled the interior cavity with an inert gas. They do not elaborate as to exactly which gas is used, but it is probably Nitrogen, although Argon is sometimes also used. Either way, both of these moistureless gasses are used to prevent the internal glass surfaces from fogging up, which can easily occur on instruments without this protection, especially when you subject them to a rapid temperature change (like going outside the house on a cold winter morning).
Also worth mentioning here is that these Swarovski binoculars are advertised as having a functional temperature range of between -25 to +55°C. Now unless you are an arctic explorer or live in Death Valley, you may think this is not relevant. But just keep in mind that some people will travel with their binoculars and store them in the hold of the plane or one day you may forget your binoculars and leave them in you locked up car on a hot day.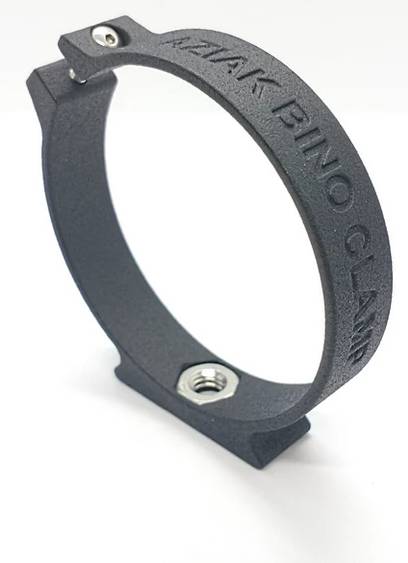 NOT Tripod Adaptable
Unlike the Swarovski SLC binoculars, the Swarovski NL Pure binoculars are NOT tripod adaptable in the normal way. By this I mean you cannot simply unscrew the faceplate on the central hinge and then screw in a normal/typical tripod adapter in it's place.
This does not mean that you cannot attach these binoculars to a tripod, instead you have to use a different type of adapter.
Swarovski have their own UTA universal tripod adapter that straps in the whole binocular onto a cradle using a rubber strap, it is expensive! The good news is that there are cheaper options of this design available. Or you can also take a look at something like the the AZIAK Equipment Bino Clamp that I recently tested that will work perfectly.
Eyecups & Eyepiece Housings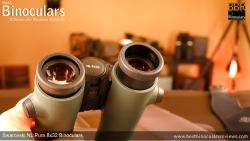 Both the eyecup and eyepiece housings on the Swarovski 8x32 NL Pure binoculars are made from metal (probably aluminum) which is a definite indicator of quality as you will often find these parts made from plastic on lesser instruments.
The negative of this is that it increases the overall weight, but as this is a part of a binocular that often gets damaged when dropped, this extra robustness is important.
On top of this the helicoidal twist-up mechanism on metal eyepieces is more often than not far superior to the plastic versions, and this is certainly the case with the NL Pure.
Indeed the twist-up eye-cups on these are truly excellent:
The cups slide into each of the defined click-stops nice and positively. Of which there are a total of seven (Maximum, Minimum and five intermediate settings), which for me is a record!
This along with the long eye-relief (18mm) is excellent as it just give you more options and more room to work with to ensure you are able to set them perfectly for your shape of face even when wearing glasses to get the full view with no dark areas on the edges of the view. For more see my guide to using binoculars with glasses.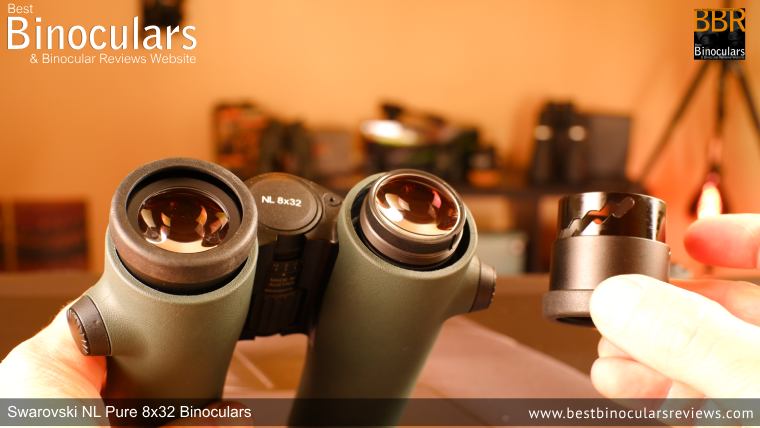 Another feature that I really like and something you only sometimes find on high-end binoculars like this is that the eyecups can be completely unscrewed and removed.
This not only allows them to be more easily replaced if needed, but it also makes it much easier to properly clean the ocular lenses.
Hinge & Interpupillary Distance (IPD) Adjustment
I have grown to really like the top-hinge design with it's integrated focus wheel on these Swarovski NL binoculars.
In terms of aesthetics, it adds a nice modern twist to the now already pretty standard top-hinge design which I think was pioneered by Zeiss, but now found on many roof prism binoculars (but usually with the focus wheel on top of the hinge).
In terms of function, it frees up more of the barrels below the bridge for you to hold onto. This is something that I appreciate because I mostly use my binoculars without a neck strap and thus having a large, easy to grip area to hold onto is important to me.
As is the norm, by opening and closing the hinge, you can adjust the distance between the centers of the two eye-pieces to match that of the distance between the pupils in your eyes, or your Interpupillary Distance (IPD):
By fully closing the hinges, the minimum IPD on the 8x32mm NL Pure is 5.4cm, which is very close and thus these should accommodate those with very close-set eyes.
After opening the hinges to their maximum point, I found the maximum IPD to equal 7.2cm, which is on the slightly narrower spectrum of average and thus if you have particularly wid-set eyes, this may be something to check before purchase. Note that the 8x42 Swarovski NL Pure has a maximum IPD of 7.4cm, if you still want a mid-size instrument, the Swarovski CL Companion 8x30 Binoculars have a maximum of 7.4cm.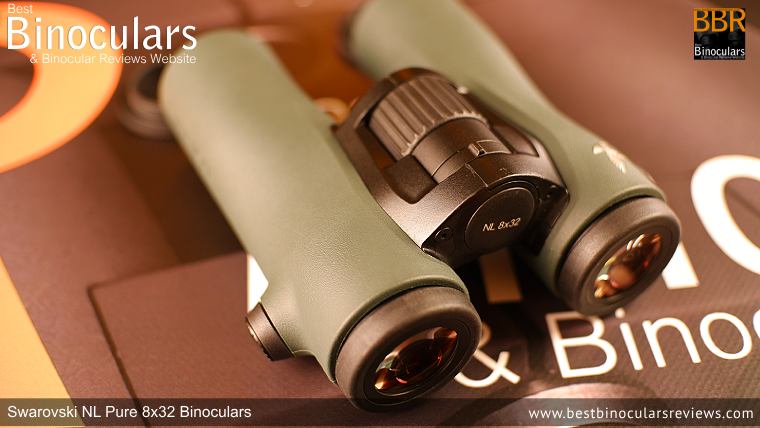 Focus Wheel & Focusing
With the NL Pure, Swarovski decided to incorporate the focusing wheel within the hinge arrangement. Before testing them, I was not so sure if this was a good idea as this design results in less area of the wheel being exposed, which I thought would be fine for normal use, but if for example in winter when you are wearing thick gloves, a less exposed wheel can be an issue in terms of being able to easily feel and accurately adjust it without looking.
But after now using the NL for sometime and testing them whilst wearing gloves, this turned out to be a non-issue for me. This is because the wheel is large (30mm diameter and 20mm wide), which along with the cut-out in the hinge underneath that exposes more of the wheel, I feel it makes it easy enough to locate and adjust using your finger(s) on top and/or your thumb underneath.
The ever so smooth focus mechanism certainly also plays it part here. Speaking of which, the gearing is such that it takes almost 2 full turns turns (approx 700°) to go from one extreme to the other.
Whilst not extreme, it means these are a little lower geared than the majority of binos I test. The downside to this is it requires more turning of the wheel when making focus adjustments which obviously takes a little longer and can get a little annoying if you often have to make large adjustments.
But on the positive side, this lower gear, along with the very smooth mechanism makes fine-tune the focus to get it 100% sharp that much easier to achieve without having to hunt back and forth. On occasions this can save you that spit second of time you need before the bird you were trying to identify, flies off.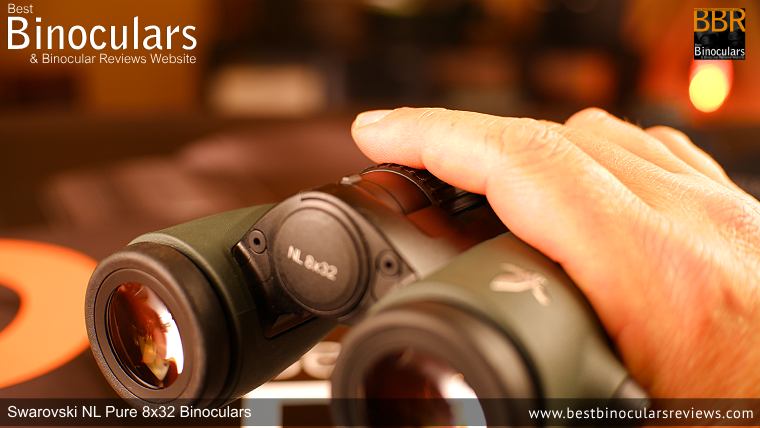 Diopter Adjustment
As is often the case with Swarovski binoculars, the diopter adjustment ring is located near the focus wheel and not near the right eyepiece as is the case on the vast majority of binoculars.
However, unlike most of Swarovski's binoculars this ring is not incorporated into the focus wheel mechanism and it cannot be locked. For example on the Swarovski EL Binoculars the you have to pull back on the focus wheel to unlock the diopter mechanism and adjust it. You then click it back in to lock it in position.
With the NL Pure, you simply adjust the dial positioned just behind the focus wheel. True, this is more convenient and I do like that they have included a scale that is viewable underneath which makes it easier to remember your setting. However, it is not lockable and thus there is always the chance (especially with gloves) that you could move it by accident.
In Swarovski's defence, there is quite a lot of resistance to movement and I never had it accidentally move during testing, but even so, a lockable diopter would have been preferred.
Rating for Body Construction Quality: 9/10
Weight
In their marketing of the product, Swarovski highlights a number of times that these are both lightweight and and compact, whilst I really struggled to find out any information to more important aspects like the quality of glass and level of coatings used. I find this to be very interesting as the size and weight in my option are the weakest part of the 32mm NL Pure.
At 22.8oz / 646g, they are considerably heavier than many other mid sized binoculars out there (see the comparison table below).
Admittedly a lot of this has to do with the very high level of (metal) components used in the body and the chassis, where lesser instruments will use much more lightweight, but lower quality material like plastic.
On top of this adding extra glass elements like field flattener lenses also adds to the weight.
So this extra weight is completely understandable and if this is what it takes to get this level of quality, it is well worth it, but I would not advertise the Swarovski NL Pure 8x32 binoculars as being light weight!
Dimensions
I measured the dimensions of the Swarovski NL Pure binoculars to be as follows:
Length: 5.7in / 14.5cm (eyecups retracted, lens covers inserted)
Width: 5.1in / 13cm (hinge open)
Height (depth) 2.6in / 6.6cm (hinge open)
This makes them (especially in terms of length) one of the larger mid-sized binoculars that I have come across. Indeed they are as long as many full sized binoculars I have used.
As with the weight, if this is what it takes to achieve such vast field of view, good minimal focus distance and still maintain a long eye-relief, then for many users this will be worth it.
However, if compactness is very important to you (for a mid-sized instrument), I would recommend something like the much more compact Swarovski CL Companion 8x30 Binoculars instead.
BBR Body Stats Score (compared to Mid- Sized Bins): 8/10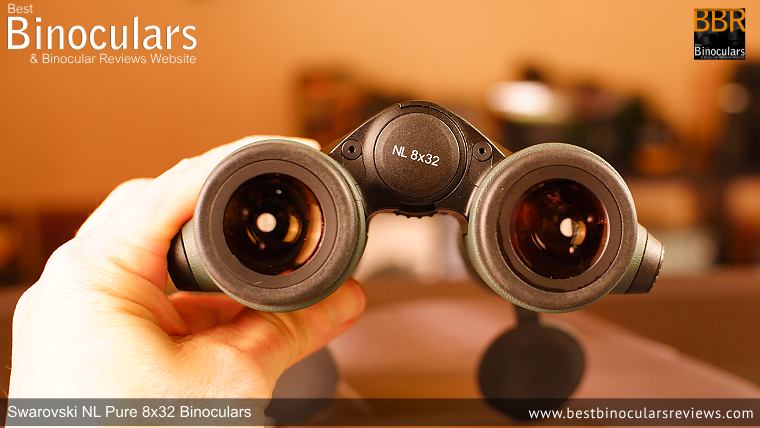 The Optics
8x32 Configuration:
Most mid-sized binoculars use objective lenses with a 32mm diameter as they provide a very good balance between light gathering ability versus size and weight. Then when these lenses are combined with an 8x magnification, it makes for a very versatile, easy to carry instrument:
The exit-pupils produced by an 8x32 binocular are 4mm wide (32 ÷ 8 = 4), which is more than adequate for normal day-time use and whilst they may not seem to deliver quite as bright an image as an equivalent quality 8x42 (5.25mm exit pupils) in very low light, they perform pretty well in dull conditions and still well enough for identification purposes in very low light conditions.
If you are unsure how the exit pupil as well as the quality of the optics affect image brightness, I encourage you to take a moment to check out my complete guide to the exit-pupil.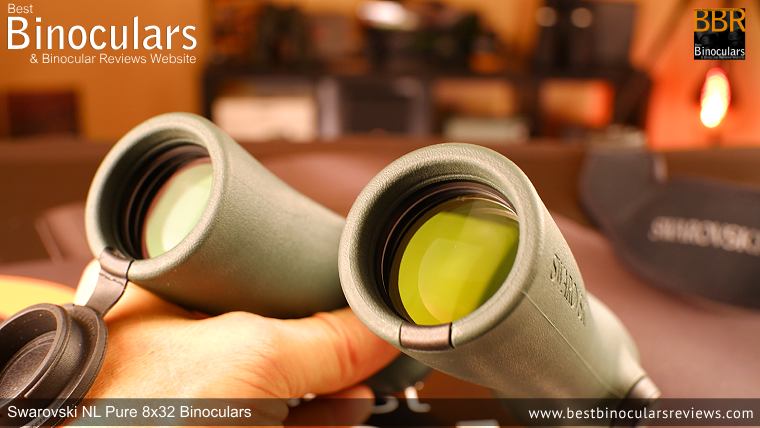 Optical Components & Coatings
As far as I have been able to understand from what little information Swarovski Optik offers, most (if not all) the optical glass and coatings and used on the NL pure are all the same as that on the EL Series:
Ocular Lenses
However, one aspect where there is certainly a difference is in the size of the ocular lenses. At 25mm in diameter, these are at the time of writing, the largest oculars that I come across on a mid-sized binocular and they match the best full-sized binoculars that I have tested.
For comparison, the super impressive Swarovski EL 8.5x42 Binoculars I tested a while back has 23mm oculars.
For more on the potential benefits of this, take a look at my guide to Ocular Lens Size in Binoculars.
Field Flattener Lenses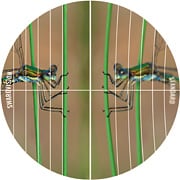 Whist not highlighted on their marketing, I do believe these incorporate field flattener lenses in their optical system, which is likely to be a lens element sitting just in front of each of the oculars. Only found on high end optics, they correct field aberrations and reduce distortion and thus help to deliver sharper images from the center of the view, right to the edges.
Objective Lenses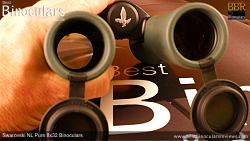 Fluoride HD Glass
The 32mm objective lenses on these Swarovski NL 8x32 binoculars have elements containing fluoride that has extra-low dispersion properties which reduce the amount each of the wavelengths of light deviates and thus limits or even eliminates chromatic aberrations which can result in less color fringing, improved color fidelity.
Worth noting here is many modern binoculars now use ED glass in their lenses, but most are made from flint and crown glass combinations. These can improve on the performance of "normal" low dispersion glass, but are not as effective as well designed lenses containing Fluoride like those used these.
Lens Coatings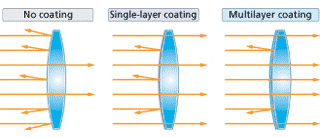 As light hits the surface of a lens, some of it gets reflected away, potentially causing unwanted effects like lens flair as well as reducing the amount of light traveling through the optical system and thus adversely effects the image quality and brightness.
To reduce this, almost every decent quality binocular uses some sort of anti-reflection coating(s) on the lens surfaces. However, not all are created equal and on top of this, some only use a single layer on all or even just some of the air-to-glass lens surfaces.
These Swarovski NL Pure binoculars are fully multi-coated using their Swarotop & Swarodur coatings.
These are their own mix of multi-layered, wide-band anti-reflection coatings that are designed to minimize unwanted reflections from the surfaces of their lenses.
Prisms
These Swarovski NL Pure 8x32 binoculars use roof prisms to correct the inverted image after it has passed through the lenses.
Phase Correction
As light reflects off the surfaces on the roof prism, can split into two slightly out-of-phase beams of light. This is known as "phase shift" and left uncorrected produces a lower resolution image with less contrast.
To correct this, phase correction coatings are added to the surface on the prism.
Highly Reflective Prism Coatings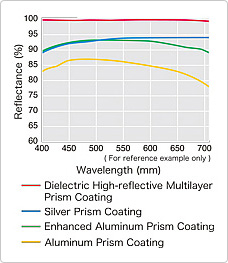 The prisms on the NL Pure have Swarovski's Swarobright dielectric coatings applied to them which improve the amount of light reflected.
Dielectric prism coatings are the highest level of treatment that can be used and has a reflectivity of more than 99% across the entire light spectrum and so is able to produce brighter images with a more true color fidelity (natural appearance) than those that use lesser quality coatings.
As a point of interest, I believe it was actually Swarovski Optik that invented this elaborate and expensive process of adding a large number layers (over thirty) of dielectric material that are tremendously thin to create a mirror on the prism which dramatically increases the amount of light transmitted.
Protective Lens Coatings?
Once aspect I have not yet been able to ascertain is if they incorporate a protective coating on the exterior lens surfaces. On many Swarovski binoculars, they advertise that their Swaroclean Lens coating is added which protects and helps make cleaning the lenses easier. I have not found any mention of this or anything similar on the NL Pure series.
Optical Components Quality Rating: 10/10
Optical Stats
Field Of View (FOV)
The field of view on these Swarovski NL Pure 8x32 binoculars is advertised as 150m @ 1,000 meters (450ft @ 1,000 yards), or to put it another way, the angle of view from the instrument is 8.5°. Either way you say or think about it, this is phenomenal and certainly what I describe as being very wide-angle binoculars. Indeed it is enough to make the difference noticeable when comparing the view to other "normal" binoculars!
Close Focus
Swarovski rates the near focus distance on these at 2 meters (6.6ft), which is very good to excellent for a standard mid-sized binocular that is not specifically designed for focusing on nearby objects and makes them a good option should you also like to study things like butterflies and flowers on occasions.
Eye-Relief:
At 18mm, the amount of eye-relief is excellent, and should be enough for most users to use their binoculars and keep their glasses on and still achieve the full field of view. For more see my complete guide on how to use binoculars with glasses.
Optical Stats Rating (compared to 8x32-36mm Bins): 10/10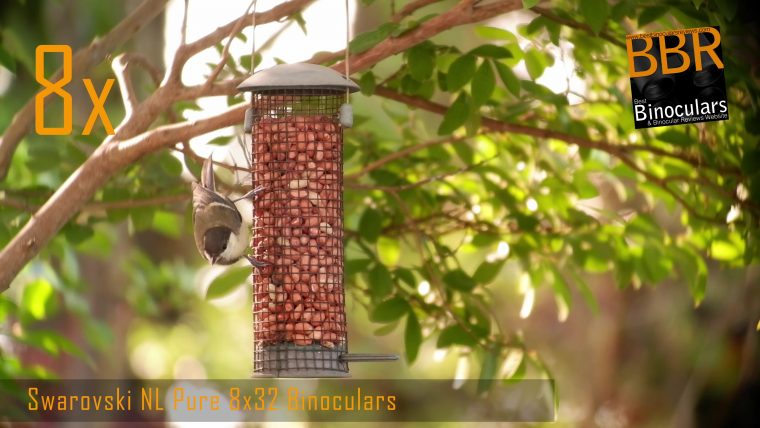 Image Quality
As well as using these Swarovski NL Pure binoculars for more than a couple of months, I also closely compared the view through them against the other binoculars that I had with me as well as compared them to my benchmark 8x32mm binoculars.
As well as my written observations, if you have the time, also take a look at the video below. In it, I go through the difference you see in a range of magnifications. One of the sample binoculars I use is the Swarovski NL Pure 8x32 binoculars, which I think you will agree delivers a superior image compare to most of the others.
However please do keep in mind that, the image I capture through a binocular using a camera and then upload onto YouTube does not completely represent the quality that you see with your eyes as there is always a loss, so it is just the relative comparisons that should be taken into account. Also be sure to maximise the video and change the quality to full 4K (2160p).
Color Reproduction & Contrast
If there is a mid-sized binocular out there with a notably better color fidelity and contrast than these then I would be seriously surprised.
To my eyes, the colors were as vibrant as it gets without looking unnatural and the level of contrast from the darkest areas of the view to the lightest makes the image come alive.
Image Brightness & Low Light Performance
One aspect you will certainly notice in my zoom comparison video is that in terms of image brightness, these Swarovski 8x32mm binoculars were as bright or brighter than many instruments that have larger lenses and a larger exit pupil.
Comparing them to my benchmark (mid-range) 8x32 binoculars, the difference in brightness was obvious and as their exit pupils are the same size, the difference here is completely down to the quality of build, glass and coatings.
For a mid-sized 8x binocular the image brightness on the Swarovski NL Pure 8x32 is as good as it gets.
Color Fringing
As I explained in the optical components section above, these incorporate a number of coatings and glass that improve the accuracy of light transmission, which in turn reduces aberrations.
Once of the most important is the ED glass elements containing fluoride which in theory can dramatically reduce chromatic aberrations as long as the optical system is well designed.
The good news that in this case the theory is converted into practice. My test is to look at the edges of a black telephone line against a bright blue sky and the level of color fringing that I could observe through these was as minimal as I have ever seen and a big improvement on my benchmark.
Image Flatness & Softening
During all my time using these as well as very close scrutiny during my comparison tests, I never observed any sort of curvature of the image and once you have focused right in on an object, it remains sharp and in focus from the center of the view, right out to the edges.
Image softening, or vignetting at the edges of the view was also almost zero on my sample Swarovski NL Pure binoculars and thus once again I would describe this aspect of the view as being as good as I have ever seen.
Image Quality (Mid- Sized Bins) : 10/10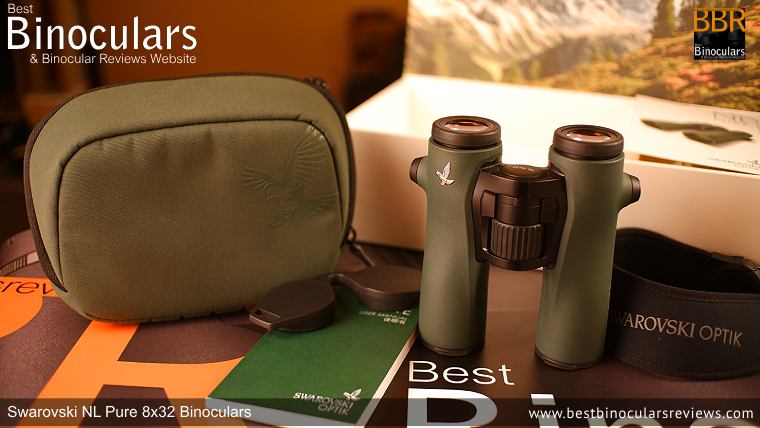 Included Accessories:
As usual, Swarovski Optik includes a number of mostly very high quality and well thought out accessories:
Carry Case
Apart from the smaller dimensions of the carry case, the included accessories and how they function is exactly the same as that of the 8x42 and 8x56 Pirsch ED Binoculars and so I once again ask you to refer to my 8x56 review for details: Accessories for the Bresser Pirsch ED Binoculars.
However, I would also like to add that the fact that Bresser includes the same neck strap is for me really impressive, but once again there are compromises to be had. Let me explain:
From the quick-release clips to oodles of padding and a non-slip grip on the underside, it is excellent in just about every way and even for a large 8x56 binocular is about as good and comfortable as it gets. So to include this exact same strap with a much smaller, more lightweight instrument is perhaps a little overkill and I guess it would have been tempting to swap it out for a thinner, less padded one as many other manufacturers do.
Objective Lens Covers
Due to all the benefits, many, even perhaps most modern binoculars now come with tethered objective lens covers, so there is nothing new here.
However, not all these are created equal, and the ones that you get with the current crop of Swarovski binoculars (including the NL Pure) are certainly better than most.
Made out of a tough rubber they fit very snugly into the ends of the barrels, which is a far cleaner more integrated look than those that fit over the barrel ends.
Also rather than a rubber loop that rather untidily wraps around the end of each barrel, Swarovski use a very different tethering system of a small metal bar located at the end of each barrel that you clip the lens cap onto. This is far neater, and you do get a filler piece to put in place if you don't want to use your lens caps, but you do need to be extra careful not to loose these or break the rubber connection on the cap when separating it from the bar.
Rain-Guard
The Swarovski rain-guard looks to me to be the same as that used on most of their other binoculars. It is made from a tough plastic that fits very securely over the eye-cups. The bridge between the two cups is not quite as flexible as it might be, but it still bends easily enough so that you can attach the guard onto the eyecups and maintain your preferred hinge/inter-pupillary distance setting. Each cup has a loop, through which you can thread the neck strap through should you wish.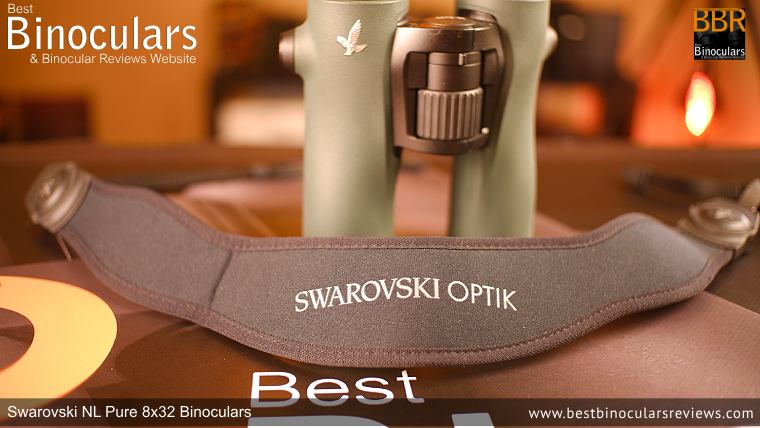 Neck Strap
Other than small refinements, Swarovski has not made any major changes to neck strap from the current version used on most of their other models, which is a good thing, as to my mind their system (both in terms of the design and how it attaches to the binocular) is as good as it gets.
Padding: Made from neoprene, the main padded section with the Swarovski logo printed on it has a curved shape to it so that it lies more naturally around your neck, which combined with about 6mm of padding, makes it very comfortable to use.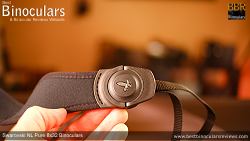 Length Adjustment: There is a locking mechanism at the point where the thinner cord connects to the thick padded section of the neck strap, which is used to adjust the length of the strap and then lock it in place.
To adjust the length you simply flip the lever up and then pull one end of the cord through it to either lengthen or shorten it. This system works very well, is easy to do, secure when locked and is much neater looking than most other systems.
Fixing the Strap to the Binocular: The most common method is to thread the strap through a loop on the side of the binocular and then back through a slider.
Whist this system usually works well enough and enables length adjustment, I find that it is always a little bit of a pain to set up, you can easily twist the strap as it cannot rotate about the binocular and is often a little untidy as you are usually left with loose lengths of strap on the sides that can just flap about.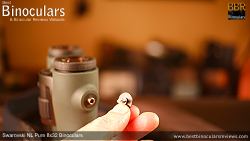 Swarovski Optik has a very different design that addresses all these issues. Instead you use small T-shaped pins that you thread through a loop on the end of the neckstrap and then click into a port on the side of the chassis.
Once you get your head around the concept, it is a far quicker and tidier way to fix the neck strap to the instrument.
On top of this, the pins allow the strap to rotate freely around the binocular which eliminates the twisted neck strap issue that is oh so annoyingly common with the traditional system.
I feel the only potential downside to this system is the possibility of loosing either the small pins or the rubber spacers that you use when you are fixing or removing your strap as they are quite small and can easily be dropped and then lost.
Cleaning Kit
Interestingly, Swarovski includes a small brush and bar of soap that you use to clean the outer armor on the instrument. I am not sure if this a gimmick or if the soap is specially made to ensure there are no chemicals in it that can damage the rubber?
Either way, I would really have like to have also seen a lens cleaning pen included.
Warranty
In Europe, the Swarovski Optic NL Pure binoculars come with the maximum 10 year manufacturer warranty included. In the US, you get a Limited Lifetime Warranty.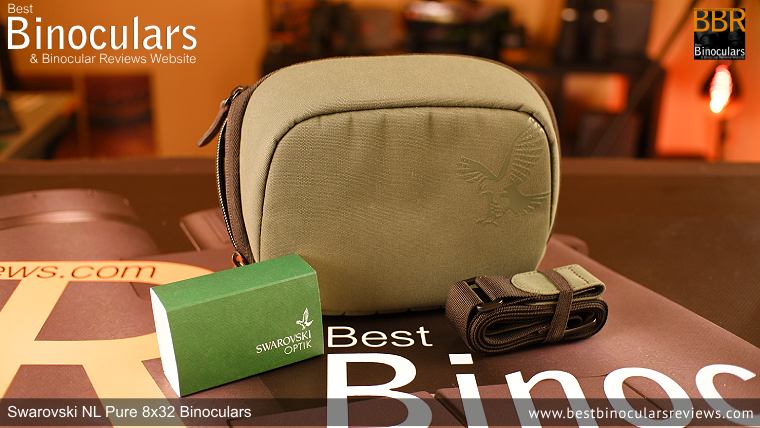 Extras Rating: 10/10
Swarovski NL Pure 8x32 Binocular Comparisons
Use the table blow to compare this binocular against a small selection of other mid-sized 8x binoculars that I have reviewed her on BBR. Note: You can also open table in full-screen mode to view the full results.
Review Conclusions:
In my mind, there is no debate that these Swarovski NL Pure 8x32 binoculars deliver an image and viewing experience that is as good as you could ever wish for on a mid-size binocular.
Added to this exceptional optical performance, are the beautiful ergonomic design, the use of the best materials and robust build quality, which not only makes them a joy to use but an instrument you can depend on and which should last you a lifetime.
So yes whilst I could argue that there perhaps there may be some mid-sized binoculars out there that are as good as these in some areas, there are none that are overall obviously better.
But. This level of quality does not come cheap, so yes, you expect to pay a premium to get the best. However, on top of this cost of using the best materials and the best level of expertise, there is no doubt that you are also paying a little extra for the Swarovski brand and all that goes along with it.
Value for Money?
So because of this, and just like the EL series, value for money is most certainly not their strong point and I would not recommend this instrument to someone who places a strong emphasis on this aspect.
Rather the NL Pure, like most other Swarovski binoculars, are for those looking to get the very pinnacle of performance and quality along with the prestige that goes with it and are willing to pay for it.
Under these conditions and for this type of person, yes I can wholeheartedly recommend the Swarovski NL Pure 8x32 binoculars. I have loved using and testing them, and honestly feel that they are a fantastic pair of binoculars and I am sad that they have to go back!
Better than the Swarovski EL 8x32 Binoculars?
So are the Swarovski NL Pure 8x32 binoculars an improvement on the older 8x32 ELs? Well, as is so often the case with optics, the answer is not quite as simple as a yes or no answer:
The field of view on the 8x32 NL is wider, but then you get a little less eye relief and whilst it is marketed as being "packed into the smallest possible package", the 8x32 NL Pure is actually a little bigger and heavier than the equivalent EL.
As for the difference in image quality (ignoring the field of view difference), I would say that it would take a brave person to state one is obviously better than the other.
The most obvious difference between the two is in the body design. I personally like the look of the new shape, which to me also feels great in my hands. But depending on your tastes this may not be the case for everyone, and as with all the other differences, it is very minor and not really not a deal breaker either way.
I also feel the focus wheel that is integrated within the bridge on the NL Pure is far superior, especially in terms of looks than the very plastic wheel on the EL. In terms of function, they are equal.
However, I would say the diopter adjuster on the EL is superior to the NL Pure, being that it is lockable.
So personally if I already had an 8x32 EL, I would not feel the need to immediately go out and 'upgrade' to NL Pure unless the wider view and body shape were critical to my needs, or wants.
Strengths:
Extremely high-quality optical components and coatings resulting in an equally impressive image quality and brightness
Extremely wide field of view
Beautiful modern design that is very comfortable to hold and use
Extremely smooth focusing mechanism for fast accurate focal adjustments
Metal eye-piece housings and eyecups with an excellent twist up/down mechanism, 7 click stops and 18mm of eye-relief
Excellent quality accessories.
Weaknesses:
You pay a premium for the brand
A little bigger and heavier than many other high end 32mm binoculars on the market including the Swarovski EL 8x32 binoculars. If compactness is very important to you (for a mid-sized instrument), I would reccomend something like the EL 8x32 or the much more compact Swarovski CL Companion 8x30 Binoculars instead.
Ideal Uses & Users:
Like most good 8x32 binoculars these are very versatile and well-suited for a wide range of activities and viewing purposes. But to be more specific and taking into account all the features and specifications that we have gone over, I would suggest these as being the ideal uses for the Swarovski NL Pure 8x32 Binoculars:
Birdwatching:
The 8x magnification and extremely wide view that you see through the Swarovski NL Pure 8x32 Binoculars provides an excellent balance between detail and ease of being able to locate and track small objects like birds at closer ranges. Add to this the exceptional image brightness (for a mid-size instrument), view quality and accurate color rendition and get to view the full beauty of the birds in fine detail.
Nature Observation: Perfect for all of the same reasons listed above.
Outdoor Hiking and Trekking: The compact and lightweight design of the NL Pure 8x32 makes it perfect for hikers and trekkers. They are easy to carry and store in your backpack.
Travel and Sightseeing: Whether you're exploring a city or enjoying scenic landscapes, the NL Pure 8x32 binoculars allow you a closer look at architectural details, landscapes, and distant landmarks, enhancing your sightseeing experience.
Wildlife Safaris: Same for all the reasons listed above.
Sports and Outdoor Events: Once again, the convenient size makes them easy to pop into your day bag and the wide field of view makes it easier to locate and follow all action without having to pan about. In summary, the Swarovski NL Pure 8x32 Binoculars are versatile and adaptable for a wide range of mostly outdoor activities. Their combination of 8x magnification, wide field of view, and exceptional image quality, makes them a great choice for general use.