Best Mid-Size Binoculars 2021 - Award Winners
Binocular Reviews Home > Binocular Guides > Annual Binoculars Awards > Mid-Sized Binoculars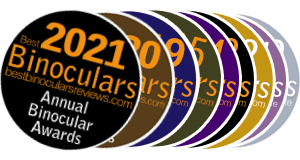 In this sub-section of the main BBR Bino Awards, I will highlight the winners for the Best Mid-Size Binoculars of 2021 in a range of sub-categories that will include, best overall, best for birding, wildlife observation / safaris, travel, hunting and best value for money. Please note that because I have flushed out the awards this year, the winners will also include winners from previous years that are still still 100% relevant and available in-store and thus well worth considering in 2021:
Best of the Best Mid-Size Binoculars 2021
I first tested these truly stunning binoculars way back in 2013 where they won the award as best overall binocular (for any size) and they are still going strong. Since then, the EL Series has been updated with a number of minor updates over the years, but they are essentially still the same instrument that I first reviewed almost a decade ago now and which I still feel are the very best mid-size binoculars that I have ever used.
All Swarovski EL WB binoculars including these 10x32mm versions use the very best components and coatings available, which when combined with the undeniable expertise, attention to detail and precision that we have come to know and expect from Swarovski Optic makes this binocular as good as it gets.
At the time of testing, they achieved a chart toping 97% on the BBR Scale which to date remains not only the highest score a mid-size binocular has achieved, but up there with the best of any size binocular. This score included perfect 10's for their Image Quality, Optical Components Quality, Optical Stats, Body Quality and for their Extras and Attention to Detail:
Body Quality:
9/10

95%




The VERY Best

Body Stats:
8/10
Optical Components Quality:
10/10
Optical Stats:
10/10
Image Quality:
10/10
Extras & Attention to Detail:
10/10
Main Specs & Features:
Very High-End Binoculars, RRP Approx: $2000 / £1450 / €1500
Lightweight Magnesium alloy housing
Fog & Waterproof (4m / 13ft)
Field flattener lenses to correct field curvature
Phase correction and dielectric prism coatings
FOV of 360ft @ 1000yds - excellent for 10x bin
Eye-Relief: 20mm
Swarobright & Swaroclean lens coatings
Buy & Compare Prices: Swarovski EL 10x32 Binoculars
Best Performance vs Price Mid-Size Binoculars 2021
Whilst the winner above is my choice as the best of the best, where money is no object, the Hawke binoculars below in my opinion offer the best balance between quality and performance versus price and thus makes the perfect choice for those looking for a very level mid-size binocular that is ideal for uses like birding, going on safari and general wildlife observation, but at a more much lower cost tan what you would expect to pay: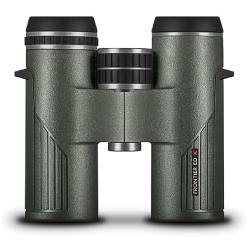 Over the past few years, I have been fortunate enough to test a number of great mid-sized instruments in a range of different price brackets, but if I had to choose just one where I feel the quality and performance go far beyond what I would expect to pay, then the Hawke Frontier ED X 8x32 binoculars are I believe the pick of the bunch and certainly one of the best value binoculars I have ever come across.
Achieving a truly outstanding total BBR score of 85%, they managed to score an almost perfect 9/10 for image quality, optical stats, and optical components and an 8/10 for everything else!
Highlights include a full magnesium chassis that is both robust and lightweight, excellent quality fully multi-coated optical system with ED glass elements in the lenses and they not only produce a bright, superior quality image, but also a very wide field of view making it easier for you to find and follow fast-moving wildlife and birds.
Important Specifications & Details:
Mid-to-High Level Binos - approx $390 / £370
Open Bridge Chassis Design

Dimensions: 4.25in (10.8cm) x 4.64in (11.8cm)
Weight 13.4ozs (380g)

Fully Multi-Coated Optics

32mm APO Objective Lenses
ED Glass Elements
Phase Corrected Roof Prisms
Dielectric Coated

Field of View: 288 @ 1000yds
Close Focus: 3.9ft
17.5mm of Eye-relief
Best Value For Money Binoculars
Considering their level of components and performance, their current retail price (approx $390 / £370) makes these incredibly good value for a mid-to-high level instrument:
Buy & Compare Prices: Hawke Frontier ED X Binoculars
Highly Recommended Lower Cost Alternative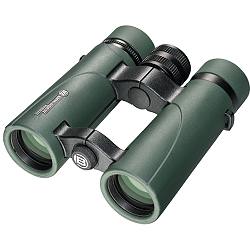 No matter how good value as they are, if you don't have the available budget to spend on the Hawke binoculars above it is no good.
So if you are looking for a lower-cost alternative, at around $190 / £175, I can certainly recommend the Bresser Pirsch 8x34 Binoculars as a great little mid-sized binocular that an ideal choice to take traveling, on a birding holiday or on safari or indeed simply use around the garden or on countryside walks.
Highlights include an attractive and lightweight open-bridge design, fully multi-Coated optics, slightly larger 34mm Objective Lenses, phase-corrected BaK-4 roof prisms, long eye-relief and a wide field of view.

Best Low-Cost Mid-Size Binocular 2021
(Under $130 / £130 / €130)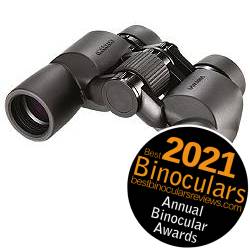 Already a winner as the best low-cost binocular overall, selecting these Opticron binoculars as the best low cost, mid-size binoculars for 2021 was a no brainer:
I have to say that these Savanna WP binoculars from Opticron and in particular the 6x30 configuration combined with using Porro prisms that give it their traditional-looking binocular body shape was a real revelation to me this year.
I actually chose them as one of the instruments to take along with me on a kayaking trip as their somewhat unique setup made them perfect for this. But it also makes them ideal for a whole host of other uses and I highly recommend them as a low-cost option for observing wildlife in places like forests or for backyard birding, taking to sporting events, or stashing in your bug-out bag. As well as this they are great for children or anyone with unsteady hands.
6x30 Configuration
Combining a very moderate 6x power with 30mm lenses makes for an interesting combination and I am somewhat surprised that it is not more commonly found: Firstly it produces 5mm exit pupils (30÷6) which is more than decent and for a mid-sized instrument is actually large, which along with quality optics and coatings play a big part in maintaining a bright image in low light conditions.
As well as helping produce a larger exit-pupil the lower power also makes it easier to maintain a more steady, shake-free view. Another huge advantage is that it helps produce a wider view. Measuring 420ft wide at a distance of 1000yds, the field of view on these is really impressive allowing you to quickly locate objects (especially smaller ones) and then follow them if they are fast and erratic moving (like birds for example). So as a close-range birding binocular (be that in forests or just backyard birding), or a binocular to take to an outdoor sporting event where you will see more of the action without having to pan the view about, these are certainly a good choice.
Porro Prisms
Whilst not as compact, at this lower price point Porro prism binoculars like these are often optically superior, delivering brighter, better quality views when compared to lo- cost roof prism binoculars. For the reasons why see Cheap Binoculars – Is a Roof or Porro Prism Best? and I found these Opticron Savanna WP binoculars to be an excellent case in point as they produce a remarkably bright image considering the small 30mm lenses and in my opinion, the quality is easily amongst the best in this class and matches that of far more expensive instruments.
Also important to mention is that the prisms are also made from BaK-4 glass, which is a good thing, especially at this price point where many instruments will use inferior glass (for binoculars) like BK-7 glass.
Eye-Cups & Eye-Relief
Not only does the Opticron Savanna WP 6x30 binocular have twist-up eyecups, but you also get a massive 21mm of eye-relief. Many budget binoculars will have simple folding cups with less than enough eye-relief required to accommodate eyeglass wearers.
Low Cost - approx $130 / £100
Comfortable Porro Prism Body Design
Water & Fog Proof (Nitrogen Filled)
Right Eyepiece Diopter
Twist-Up Eyecups
Fully Multi-Coated Optics
BaK-4 Porro Prisms
6x30 Configuration = Large 5mm Exit Pupil
Wide FOV: 420ft at 1,000 yards / 140m at 1,000 meters
Minimum Focal Distance: 9.8ft / 3 meters
Eye Relief: 21mm
Current Price & Where to Buy: Opticron Savanna WP 6x30 Binoculars
Highly Recommended Alternative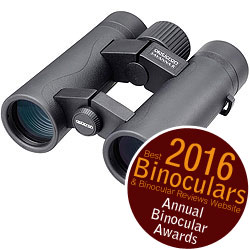 If you are looking for a low-cost mid-sized binocular with a more conventional configuration, then I actually have another instrument from Opticron that I can very highly recommend:
Winner of the award for the Best Low Cost Binocular in 2016/17 the 8x33 Savanna not only looks much more expensive than it is, but it's performance matches that of many much more expensive binoculars in this size category.
I really like the body design and shape of the Savanna R 8x33 from Opticron and the quality of included accessories is way above that which you normally receive at this level and so to me it really does show what is possible in this price range:
Low Cost Bins - approx $130 / £99
Open Bridge Body Design Dimensions: 5.1in x 4.7in (13cm x 11.9cm)
Polycarbonate & Aluminium Chassis Weight: 15.1ozs / 428g
Fog & Waterproof
Fully Multi-Coated
Aluminium Coated BaK-4 Roof Prisms
Field of View: 366 @ 1000yds
Min Focus Distance: 11.5ft
Long Eye Relief: 20mm IPD Range: 5.2cm - 7.6cm
Best Mid-Size Binoculars for Hunting 2021
Whilst you can certainly use most, if not all of the instruments on this page for any sort of wildlife observation, that includes hunting, in this category, I was not only looking for an easy to carry, lightweight binocular that you can more easily take about wherever you go, but also one that has been specifically designed with the hunter in mind: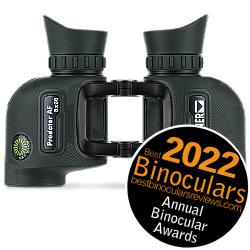 Steiner CAT™ Game-Sensing Lens Coatings
The Steiner Predator AF binoculars use special lens coatings specifically developed for the hunter as they enhance the reddish brown colors of game and reduce the vibrancy of foliage colors like green, helping you to more easily locate many types of wildlife.
Easy to Carry & Travel Friendly
A smaller more lightweight body is made possible by using relatively small 30mm lenses, but a real standout feature for me is the open bridge body design. Whist this is fairly common amongst roof prism binoculars, it is the first time I have used it on a Porro prism bino.
This combined with the porro prism shape not only makes for an extremely comfortable to hold instrument when holding them up to your eyes, but the gap between the barrels makes for a very secure region to hold onto when walking with them.
Like the Shadowquest/Nighthunter above, this instrument also uses a focus free optical system making it quicker for you to locate your subject and easier for you to use the binocular with just one hand and thus allowing you to hold your weapon or rangefinder in the other.
Cost & Where to Buy
At the time of writing, these Steiner Predator AF binos were available for approximately $340 / £340, which I feel for a mid to high-end instrument is excellent value:
Buy & Compare Prices: Steiner Predator AF Binoculars
Best Mid-Size Marine Binoculars 2021
If you are going out on the water, be that on a yacht, boat or even canoe and looking for a small, lightweight binocular: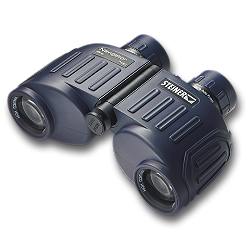 After having tested and used these 30mm Steiner Navigator Pro binoculars on a four day Kayaking trip, where they performed superbly, I certainly have no hesitation in adding them to my short list as one of the best binoculars for kayaking and canoeing, but also as the ideal compact marine binocular for just about any small boat, raft or yacht.
Highlights Include:
7x Magnification for image stability on the water
Steiner's Sports-Auto-Focus system: once set-up no further focal adjustments are necessary with images sharp and in focus from 20 meters to infinity which is great for when you are also juggling about a paddle etc.
Nitrogen pressure filling: 100% waterproof (up to 5 meters) and fog proof
Steiner's Hydrophobic "Nano-Protection" on the outer lenses making water sheet off them
Steiner's Legendary toughness: Makrolon housing that withstands 11G of impact and a Floating Prism System to absorb severe shock without damage
Steiner's NBR Long-Life Rubber Armouring designed to withstand sun and saltwater environments without perishing
Comfortable & compact shape especially for a marine binocular
More Information & Where to Buy:
Currently retailing for around $250 / £250 / 250€, these Steiner binoculars make excellent value in my opinion would be suitable for the more serious boater, yachtsman, kayaker or canoeist looking for a high performance, long-lasting binocular that will not only withstand, but relish whatever you throw at them:
Advice & Related Information
Not sure if you should choose a mid-sized binocular, say something like an 8x32 or if a full sized 8x42 would suite you needs better?
Part of my popular BinoWars series where I pit two different binocular setups against each other, in this particular article and the accompanying video I take you through the intrinsic strengths and weaknesses of each and contrast these against each other to help you decide.
Mid-Size Binocular Reviews
For some more options, take a look at a few of my latest reviews of mid-sized binoculars.
Mid-sized, mid-priced marine binoculars that break the mold using roof prisms, making them far more than just binoculars for boats & yachts.

With their 7x magnification, wide views & small size, I found them to also be a great close-range birding, wildlife, & general use bino ideal for adventures like canoeing, kayaking, hiking, camping & more...

Price: (3/6) Mid Priced Binoculars
BBR Ratings:
Body Quality:
8/10

82%




Outstanding

Body Stats:
8/10
Optical Quality:
8/10
Optical Stats:
9/10
Image Quality
8/10
Extras & Details:
8/10
Excellent quality and bright image, combined with an extremely wide view and small, lightweight body, these 8x32 Opticron Explorer WA ED-R binoculars are an ideal option for a wide range of uses where you want something a bit smaller than an 8x42, but better low light performance than a full compact binocular.

Other highlights include ED glass lenses, dielectric coated, and phase-corrected BaK-4 roof prisms, fully multi-coated optics, and a tough waterproof chassis.

Price: (3/6) Mid Priced Binoculars
BBR Ratings:
Body Quality:
8/10

82%




Outstanding

Body Stats:
9/10
Optical Quality:
8/10
Optical Stats:
9/10
Image Quality
8/10
Extras & Details:
7/10
This Pirsch ED binocular from the German brand Bresser incorporates a very good level of optics and body components into a mid-sized, easy to carry chassis, all the time keeping half an eye on the cost, with the result being an instrument that offers a very good performance to price ratio.

Main optical highlights include ED Glass lenses, a Fully Multi-Coated optical pathway and Dielectric, Phase Corrected BAK-4 Roof Prisms...

Price: (4/6) Mid-High Value Binoculars
BBR Ratings:
Body Quality:
8/10

82%




Outstanding

Body Stats:
8/10
Optical Quality:
8/10
Optical Stats:
8/10
Image Quality
9/10
Extras & Details:
8/10
Excellent quality mid-sized marine binoculars ideal for speed boating, sailing, yachting or indeed kayaking and canoeing, but can also be used for a number of dry-land activities.

Highlights include a tough waterproof chassis and outer armor that is very comfortable in the hands, with high levels of grip.

High-quality glass and coatings deliver a bright, vibrant view with extremely low levels of color fringing and almost no softening around the edges of the view.

Price: (3/6) Mid Priced Binoculars
BBR Ratings:
Body Quality:
8/10

82%




Outstanding

Body Stats:
7/10
Optical Quality:
9/10
Optical Stats:
8/10
Image Quality
9/10
Extras & Details:
8/10
Comfortable, easy to carry about and with a bright, good quality image, I love using these Opticron Savanna WP 6x30 binoculars, which I think this will also be the case for many people looking for an inexpensive, easy to use binocular as I feel they offer a good compromise between size, weight and image quality, and brightness.

Highlights include an excellent price to performance ratio, a wide field of view, steady 6x magnified image and a huge amount of eye-relief.

Price: (2/6) Low Cost Binoculars
BBR Ratings:
Body Quality:
7/10

72%




Excellent

Body Stats:
7/10
Optical Quality:
7/10
Optical Stats:
8/10
Image Quality
8/10
Extras & Details:
6/10
Mid-sized binoculars with a mid-level price tag, but with many higher-end features make these Levenhuk binoculars great value for money.

Highlights include ED glass lens elements and very highly reflective dielectric coated prisms that are also phase corrected. The fully waterproof body has a metal focus wheel, metal diopter adjustment ring, metal eyepiece housings and, metal eyecups. All of these are not something that you typically see on a binocular costing less than $300

Price: (3/6) Mid Priced Binoculars
BBR Ratings:
Body Quality:
7/10

78%




Excellent

Body Stats:
7/10
Optical Quality:
8/10
Optical Stats:
9/10
Image Quality
8/10
Extras & Details:
8/10
Mid-range 8x32 binoculars have an excellent performance to price ratio making these mid-sized Bresser Pirsch binoculars are ideal for for the more serious observer looking for an easy to carry, but relatively high performing binocular at a more than reasonable price

Highlights include a fully multi-coated optical system with phase coated Schmidt-Pechan roof prisms, a wide field of view and an excellent level of eye-relief.

Price: (3/6) Mid Priced Binoculars
BBR Ratings:
Body Quality:
7/10

73%




Excellent

Body Stats:
8/10
Optical Quality:
7/10
Optical Stats:
7/10
Image Quality
8/10
Extras & Details:
7/10
Top-end, mid-sized 8x32 binoculars offering an incredible performance to price ratio, these Hawke Frontier ED X binoculars have many alpha level features such as Dielectric, phase corrected Schmidt-Pechan roof prisms, ED glass lens elements and a magnesium alloy chassis.

In terms of their optical specifications, this 8x32 binocular from Hawke Sport Optics features an incredibly wide FOV which will please birders and general wildlife enthusiasts alike...

Price: (4/6) Mid-High Value Binoculars
BBR Ratings:
Body Quality:
8/10

85%




Outstanding

Body Stats:
8/10
Optical Quality:
9/10
Optical Stats:
9/10
Image Quality
9/10
Extras & Details:
8/10