I have been meaning to test out a smaller, lower-powered Porro prism binocular like these Opticron Savanna WP 6x30 binoculars for a while now as I do feel that they can offer the ideal solution for a number of people and specific uses:
These will include those looking for a wide field of view, a good low light performance from a compact instrument, and those who need extra image stability be that because it is for a child, if you have shaky hands, or indeed if you are operating from an unsteady surface like a boat.
Thus as I was busy planning for an upcoming 4-day kayaking and camping trip down the Dordogne river in France, I thought this would be the perfect opportunity to test some out and so I began my search for what I thought would be the ideal binocular (See my article & video on Choosing The Best Binoculars for Kayaking & Canoeing).
One of the fist to make it onto my shortlist and indeed one of the binoculars that I took with me was these Opticron Savanna WP 6x30 binoculars and below is my full review after having tested them both out in the field back at home and down the river:
Opticron Savanna WP 6x30 Binoculars Review
Contents, Features & Specifications:
Low Cost Binoculars: approx $130 / £100
Body

Porro Prism Shape
Aluminium & Polycarbonate Body & Chassis
Twist-up Eye-cups
Central Focus Wheel
Water & Fog Proof

Dimensions: 4.6in (11.7cm) x 6.3in (16cm)x 1.6in (4.1cm)
Weight: 17.1ozs (485g)

Optics

Fully Multi-Coated Optics
Very Moderate 6x Magnification

30mm Objective Lenses
5mm Exit Pupil
BaK-4 Porro Prisms

Optical Stats

Field of View: 420ft at 1,000 yards / 140m at 1,000 meters
Min Focus Distance: 9.8ft / 3 meters
Eye Relief: 21mm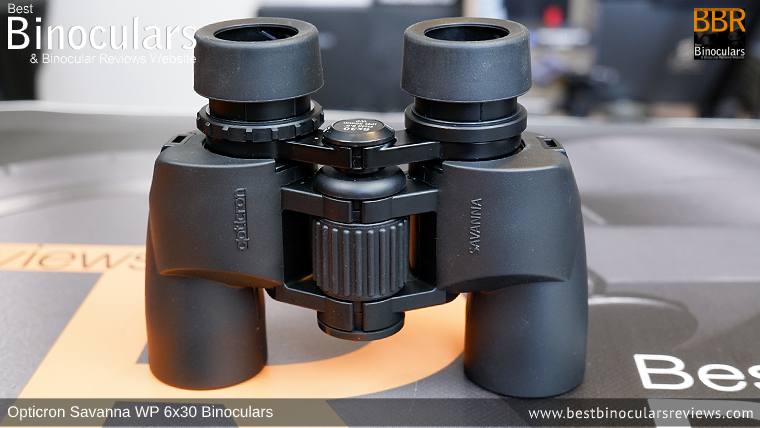 The Body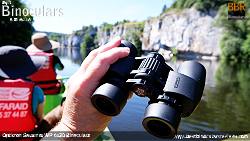 Shape
With its classic Porro prism shape, small size, and large central focus wheel, these Opticron binoculars remind me very much of one of my favorite mid-size binoculars of all time, the Kowa YF 8x30.
This is partly because when it comes to comfort in the hands, it is really hard to beat a well-designed Porro prism binocular and when you have a mid-sized 30mm one like this Opticron Savanna, it makes it even better.
Whilst this may seem somewhat insignificant, this "great fit" in my hands, along with the low 6x magnification and relatively low weight do all add up when it comes to image stability, especially over longer periods of observation.
I also think that this will especially be the case for those with smaller hands and thus is just one of the many reasons that I would certainly consider the Opticron Savanna WP 6x30 binocular as a great option for kids as well as adults.
Rubber Coating
The outer rubber armor is made from relatively hard rubber. It is also almost completely smooth and thus whilst it is certainly comfortable, it does not offer as much in terms of the level of grip as instruments with a softer, rougher exterior surface.
Most of the time this should not be an issue, but as I was taking them out on a canoe, it was for me a very small downside.
I would, however, like to add that the actual shape and the small barrels which are easy to grab hold of do make up for this and so to be fair to them, I never had an issue with them slipping from my hands during testing.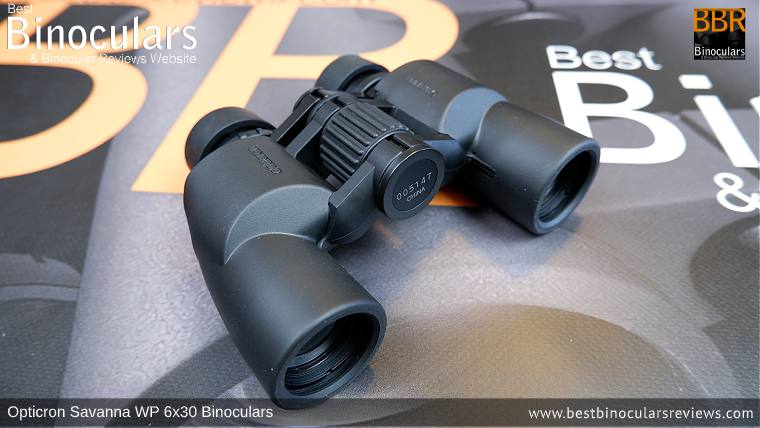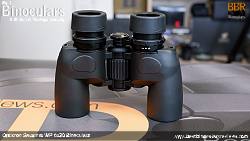 Main Body & Chassis Materials
Opticron says that they use both an aluminum alloy and a polycarbonate plastic in the construction of the body. From the looks of it, I would say that this means that the bridges are aluminum, whilst the barrels and other parts of the chassis are mostly polycarbonates.
At this price level, this is certainly to be expected, and whilst polycarbonate may not be as robust as other materials like aluminum or magnesium, as well as being cheaper to produce, it has the advantage of being more lightweight.
Hinges and Inter-Pupillary Distance (IPD) Adjustment
The compact shape and the three separate aluminum bridges mean that the whole binocular feels very robust to me and I would say that it would take a large amount of force to take the barrels out of alignment.
Opening and closing the hinges was nice and smooth on my sample Savanna WP, but at the same time, there's enough resistance to ensure they remain at your desired IPD setting.
Speaking of which, the IPD Range on this instrument is 50~70mm, meaning they should be able to comfortably accommodate most users with closer set eyes (including children) but may not be quite enough for those with very wide-set eyes.
Weatherproofing
The body on these Opticron Savanna WP binoculars is fully sealed and thus they have a waterproof construction, although Opticron does not sate a recognized standard or depth.
Internally the air has also been replaced with moistureless Nitrogen gas which has the effect of preventing any condensation forming on the internal glass surfaces.
For mid to high-end instruments this is certainly the norm, but at this price level this is not always the case and so whilst you may feel you don't need waterproofing, it is for me a good indicator of quality and certainly something that I look for when choosing binoculars.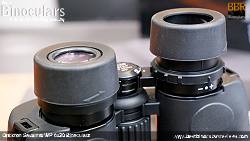 Eye-Piece Housings & Eye-Cups
Whilst Opticron does note state it, based on what I can see and the price level, I would say that the eyepiece housings are made from plastic.
Sure metal would be preferred, but as I say, at this price range this is the norm and to be expected and is one of the many small differences that you will usually find when comparing expensive versus cheap binoculars.
Despite this, the twist-up / down mechanism on my sample was smooth and they click very positively into the maximum and minimum positions.
Unfortunately, there are no intermediate click-stops, but the level of resistance to movement on my sample was enough so that I could position the cup at any point and the setting would remain as long as I didn't push them too firmly against my face.
Whilst not as good as the best high-end instruments, the amount of free play on each of the cups when wiggled about was minimal, which is often an issue I have with plastic eyepieces, so this was good.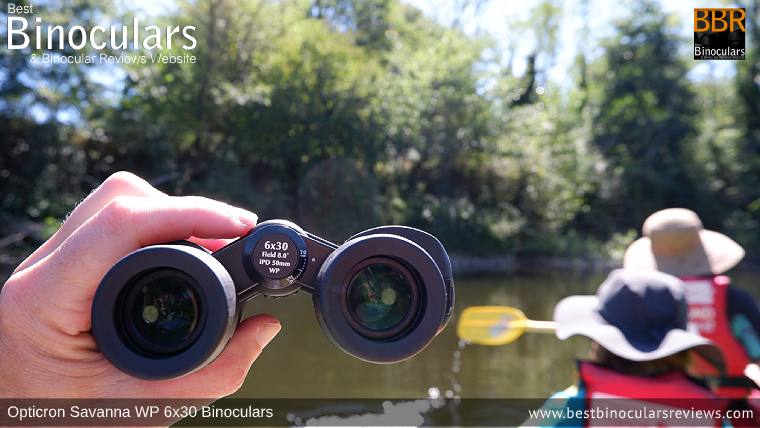 Focus Wheel & Focussing
Unlike most binos, especially roof prism ones that position the focus wheel right at the back almost in between the eyepieces, the focus wheel on these Opticron Savanna WP 6x30 binoculars is located between the two central hinges, which is a feature that is quite common on Porro prisms instruments.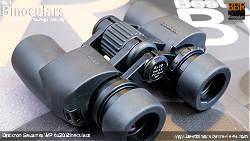 This location does require a slightly further reach and can be an issue on full-sized instruments (around 42mm) for those who have smaller hands but on this mid-size 30mm binocular this should not be an issue. Indeed my 9-year-old daughter was able to adjust the focus on this instrument fairly easily.
The focus wheel itself turned fairly smoothly on the sample I was using. Considering the price and the fact that on this type of binocular the focus mechanism also has to adjust the positions of the entire eye-piece housings this is good and will be better than many of the direct competition.
The focus mechanism is very aggressive as it only takes about ¾ of a turn (270°) to move from the minimum focus distance to infinity. The advantage of this is that it is very quick to make large focus adjustments, but on the downside, you have to be more careful when making fine adjustments to the focus.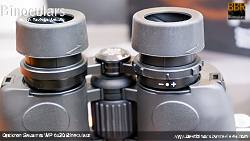 Diopter Adjustment
Under the right eyecup, there is a ring that when turned adjusts the diopter setting. For those who don't know, this plays an important roll in setting up the bins to your particular vision, especially if you have differences between your left and right eyes.
The diopter range on the Opticron Savanna WP 6x30 Binoculars is ±2.50 which is not the greatest, but also not the worst.
Unlike on some premium bins, the ring is not lockable, but at this price, this is perfectly normal and importantly it is tight enough that accidental movement should be fairly rare.
Tripod Adaptable?
Opticron advertises the Savanna WP 6x30 binoculars as having a Tripod adapter socket and indeed it looks like they are tripod adaptable, except that I could not unscrew the cap on the front of the hinge.
So I am not sure if this was just the case on my sample of if it is like this on all of them. I just didn't want to break it by trying too hard. I will try and find out and update the review as soon as I can.
Rating for Body Construction Quality: 7/10
Weight
Weighing in at 17.1oz / 485g, you can see from the comparison table below these sit around mid-table when compared to other mid-sized binoculars that I have reviewed:
Dimensions
As is per normal with a Porro prism-shaped binocular, in terms of their width (16cm when hinges are open and 13cm when closed) they are far wider and an equivalent mid-size roof prism binocular.
However as you can see, they compare favorably against other Porro prism instruments in this size category.
In terms of their length and height (depth), they are fairly typical.
BBR Rating for Body Stats compared to Mid Sized Bins: 7/10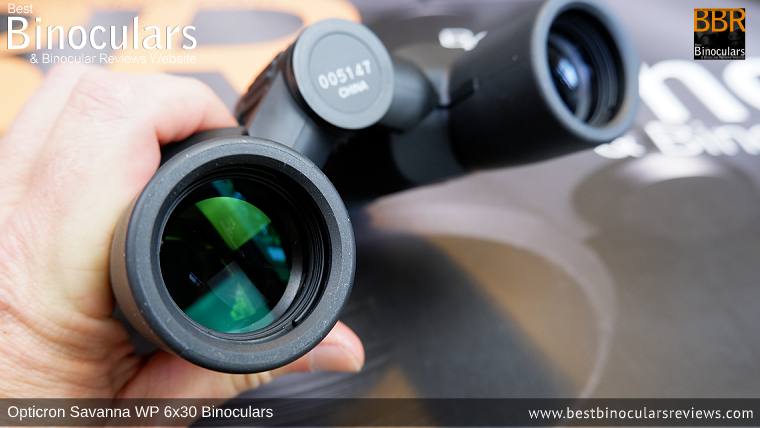 The Optics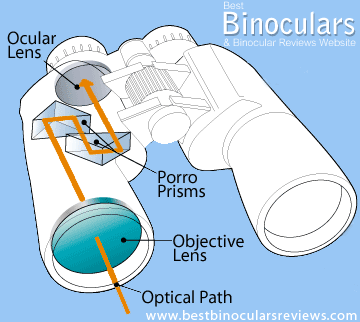 At this lower or budget end of the market, in terms of image quality, you are often better off choosing a Porro prism instrument like these over a roof prism one.
This is mainly because the design of the instrument as a whole is simpler and thus easier to make and with a Porro prism, you do not need any specialized (and expensive) highly reflective coatings on them to achieve maximum light transmission, which roof prism binoculars do.
So at the lower end of the market, to save money cheap Roof prism binoculars will use lower quality mirror coatings than high-end models.
On top of this, the Porro prism is also not affected by the phenomenon of phase shift like the roof prism is and so once again it does not have to be treated to correct this.
Eyepieces
Opticron doesn't go into any sort of detail as to the make-up of the lenses in the eyepieces, but what I can say is that the external ocular lens has a diameter of 21mm, which is pretty large for a mid-sized binocular and although I have seen larger it does match that of some full-sized instruments.
There are potentially a number of advantages to large ocular lenses, which I go through in this article, but chiefly it (along with a large exit pupil) makes the binocular easier to use as it is easier to line your eyes up with them. For novice users and children this is especially important.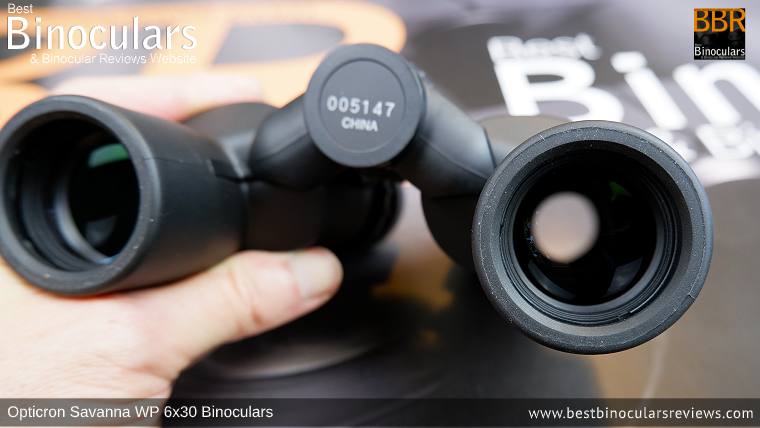 Objective Lenses
As is indicated in their name, the objective lenses are 30mm diameter, but other than that, Opticron does not go into any detail as to their makeup, so I can comment much further.
6x30mm Configuration
Combining a very moderate 6x power with 30mm lenses makes for an interesting combination and I am somewhat surprised that it is not more commonly found:
Firstly the 6x30 configuration produces a 5mm exit pupil (30÷6) which is more than decent and for a mid-sized instrument is relatively large.
As well as the size of the objective lenses and the quality of the optical components and their coatings, the size of the exit pupil makes a big difference to just how bright the image will seem in low light.
I go into this in great detail in my complete guide to the exit pupil, but if we also take a look at a number of examples:
The much more common mid-size configuration of 8x32 produces 4mm exit pupils which is a fair amount smaller which indicates that should all else be equal, these Opticron Savanna WP 6x30 binoculars should seem to produce a brighter image in low light conditions.
With their 56mm lenses and massive 7x exit pupils, these obviously won't compare to large binoculars like the Steiner Nighthunter 8x56 Binoculars that are specifically designed to perform in low light, but even the most popular "all-round" binocular configuration of 8x42 only delivers a slightly larger 5.25mm exit-pupil.
Now both of these are considerably larger (and heavier) and have larger lenses, so there will be other factors involved, but even so, it indicates to me that if you are looking for a smaller binocular that will perform reasonably well in low light, then these 6x30's should certainly be included in your consideration.
That's the theory anyway, for more on how they actually performed in the real world, take a look at my image quality section below:
Prisms
As I have already mentioned on a number of occasions and as is indicated by the shape of the instrument, the Opticron Savanna WP 6x30 Binoculars use porro prisms and not roof prisms to correct the image inside the device.
Opticron also uses BaK-4 glass as the prism material, which is a good thing as it is certainly considered to be a better option than BK-7 glass prisms that you will sometimes find on binoculars at this price level.
Optical Coatings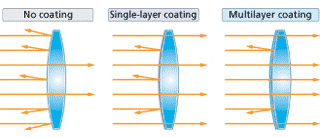 Anti-Reflection Coatings
The optics on the Opticron Savanna WP 6x30 Binoculars are described as being Fully Multi-Coated, which is once again good and exactly what we want to hear. At this price range, you will come across "Multi-Coated" optics, which sounds similar, but it means that only some of the lens surfaces are treated with anti-reflection coatings as opposed to all of them. The difference this makes to image brightness and quality is certainly noticeable and for me is one of the most important things to look for when purchasing binoculars, especially at this level.

Optical Components Quality Rating: 7/10
Optical Stats
Field Of View (FOV)
As well as helping produce a larger exit-pupil and helping you maintain a more steady, shake-free view, another potential advantage of using a binocular with a lower magnification is that they are likely to also produce a wider view and so I had high hopes for these 6x Opticron Savanna WP binoculars and thankful I was not to be disappointed:
Measuring 140 meters wide at 1000m (approx: 420ft wide at a distance of 1000yds), the field of view on these is really impressive and certainly makes them a wide-angle binocular.
So whilst you do sacrifice a little in terms of image detail at distance, the advantage is that this wide view makes it easier to quickly locate objects (especially smaller ones) and then follow them if they are fast and erratic moving (like birds for example).
So as a close-range birding binocular (be that in forests or just backyard birding), or a binocular to take to an outdoor sporting event where you will see more of the action without having to pan the view about, these are certainly a good choice.
Close Focus
At 9.8ft / 3m away, the close focus distance is not the best (I rate anything under 6ft as excellent) but is totally understandable when you take into consideration the wide FOV and extra-long eye-relief.
For most users, this will not be an issue should one of your main interests be viewing objects such as butterflies, dragonflies, or flowers at a very close range, then these will jot be the best option.
Eye-Relief:
The Opticron Savanna WP 6x30 Binocular is advertised as having a massive 21mm eye-relief which is excellent is considered very long eye-relief and will make them a great mid-size option for eyeglass wearers.
Note: I tested them using my sunglasses and by fully twisting in the eyecups I was easily able to enjoy the full image without any black rings forming on the edges. For more check out my article on How To Use Binoculars With Glasses: Eye-relief & Eye-cups Explained.
Optical Stats Rating: 8/10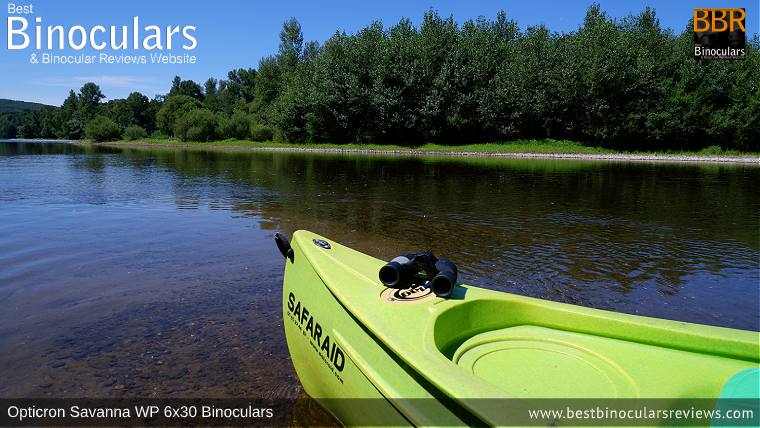 Image Quality
Whilst testing them on the river during my kayaking trip, I compared the view through these Opticron Savanna WP 6x30 binoculars against the other binocular that I had with me, the Steiner Navigator Pro 7x30 binoculars, then on my return, I tested them once again against a number of my benchmark binoculars (8x26 compacts, 8x32 mid-size, and 8x42 full size) in both good and low light conditions.
Also, I wanted to say that apart from the Steiner, all of the binoculars that I tested these against use roof prisms on nor Porro prisms, and all are far more expensive. Most of my benchmarks fall under the mid and mid-to-high value price categories.
Image Steadiness: 6x magnification
The amount on image shake that you see when looking through a binocular is directly related to the magnification. This (and their large-size and weight) is why most high power, long-range binoculars, and binoculars for astronomy need to be mounted onto a tripod to be effective.
It is also why most dedicated marine binoculars that are specifically designed to work on unsteady platforms like boats and yachts use a lower magnification (usually 7x).
Thus one of the main reasons that I selected the 6x30 Opticron Savanna WP for my kayak trip was because I was hoping that the low 6x magnification would really help with image steadiness whilst on the water, which in practice absolutely turned out to be the case:
The part of the Dordogne river that we paddled down was pretty slow-moving and tranquil most of the time and thus to be fair, I probably could have gotten away with an 8x instrument most of the time, but there is no doubt when comparing the view through these against any of my 8x benchmarks you can see and feel that there is less shakiness of the image. For me and my particular hands, the difference is not huge, but there is a difference.
Compared to the 7x power on the Steiner Navigator Pro , to my eyes (and hands) the difference was not really obvious.
Thus if I was going to select an instrument for use on the water, or if I had particularly shaky hands, then there is no doubt a lower power is the way to go. For me 7x would probably be low enough, but for others, like those with especially shaky hands, or for kids, the little extra steadiness that you get with a 6x may well be the right option.
Image Brightness
Considering that they only have small 30mm lenses, I thought that the general image brightness that I was presented with when looking through this Opticron Savanna 6x30 binocular was excellent.
Even in low light conditions, these performed very well. For example on a very dull, rainy morning, I could quite easily notice that the image was brighter through these than my 8x26 compacts which is understandable.
Against my mid-high level 8x32's and indeed the 7x30 Steiner Navigator Pro, they all looked about the same, with the 8x42 being fractionally better.
In very low light, when testing them at and just after the sun had set, the difference between the compacts and the full-sized binoculars became more obvious, whist to my eyes, all the mid-sized instruments were fairly similar.
The fact that these Opticron Savanna binoculars are fully multi-coated helps as do the Porro prisms which have 100% internal light reflection, but as I discussed in the Optics section above, more than likely a lot of this has to do with their lower power producing a relatively large 5mm exit pupil which in some ways makes up for their smaller lenses when compared to an 8x32 for example.
Contrast & Color Reproduction
Once again and considering their low cost, these Opticron 6x30 Savanna WP binoculars impressed me as to my eyes, the colors you see are vibrant, yet not too much so as to make the image look unnatural.
I would also say that my sample showed a good level of contrast, meaning that there was a wide variance between the light and dark areas of a view: In bright conditions, the image is not too washed out and on dull overcast days, you still get some good highlights along with very dark areas when looking into a thick bush or tree for example which helps give a good sense of depth to an image.
Also important to mention that I never observed any sort of unnatural tinting of the image as is sometimes the case, especially at this lower cost bracket where the use of inferior quality glass and coatings is more prevalent.
Color Fringing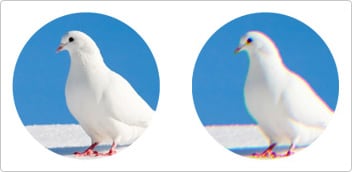 Another definite advantage of keeping the magnification down is that you often get much lower levels of color fringing around the edges of objects in the view and this certainly was the case with these.
Even by taking it to the extreme with my test of looking along the edges of a black telephone wire lit up against a bright blue sky, the halo that you see through these was very minimal and matches some of the best 8x instruments out there, which considering their price level and the fact that they don't use any ED (extra-low dispersion) glass in their lenses which can reduce chromatic aberrations (the cause of color fringing) is impressive.
Image Softening
When looking right at the edge of the view through these Opticron's there is a small amount of softening of the image, but the amount no more than what I would normally expect to see at this level and nothing to be too concerned with.
Distortions, Image Flatness
Lastly, just to confirm that I never once observed or became aware of any distortions, for example, image curvature or waviness when looking through and testing my sample Opticron Savanna WP 6x30 binocular.
Image Quality Rating for a mid-size binocular: 8/10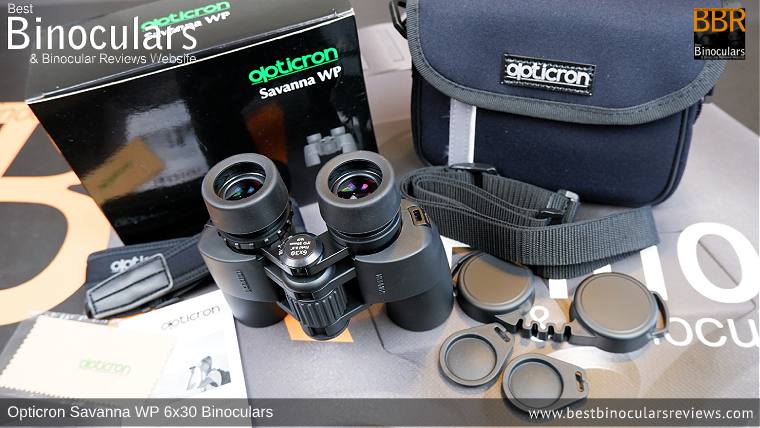 Supplied Accessories:
Carry Case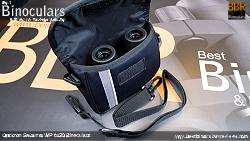 Whilst functional, it must be said that the included soft case that you get with these Opticron Savanna WP 6x30 Binoculars is very basic and lacks some of the finer details of the better ones.
The level of padding is very lightweight and thus does not offer as much impact protection than a more thickly padded case. The upside to this is that the case is more compact and compliant, which I found useful when packing it into my daypack during my trip.
The flip over the top lid is held fast with a rectangular strip of Velcro. This is not the most secure fastening system, but in most cases, it should be adequate. A point to mention here is that Velcro can make quite a lot of noise when ripping it open, which if you are not careful could startle birds/wildlife or give your location away.
The fit of the bins inside the case is good making it simple enough to take them out and replace and whilst it is tight, I like the fact that you can close and fasten the lid with the eye-cups extended and the lens covers in place.
The case has its own un-padded strap that can be removed should you wish. Unfortunately, this case does not have a belt loop on the rear which could make for a nice way to carry these small binoculars when not in use.
Also, note that the case does not come with any separate pockets.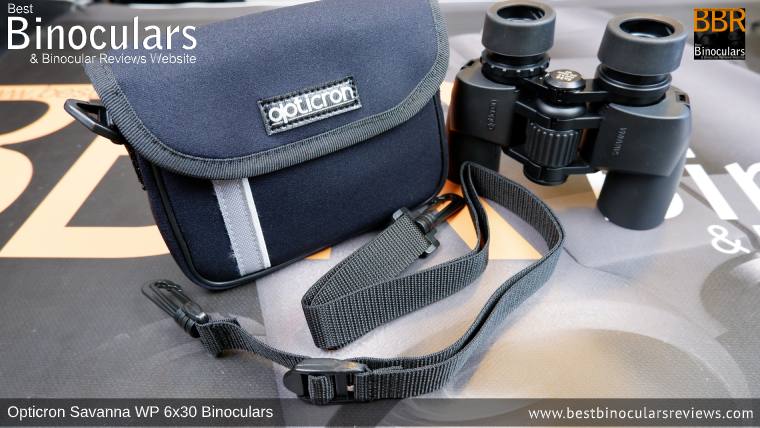 Neck Strap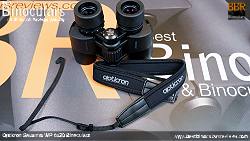 The neck strap is similar / the same as that which comes with the other mid-sized binoculars that I have tested from Opticron and whilst not as good as the very best, at this price level they are certainly amongst the better ones.
Highlights
Reasonably good quality especially at this price level
Good amount of padding for a lightweight mid-size binocular
Room for Improvement
It is a shame that Opticron does not use the same quick-release clips as that which you find on their Imagic BGA VHD 8x42 Binoculars for example that just makes it so much quicker to take off and replace the strap. You also get the added bonus of a handy hand strap with this solution.
Better neck-straps will also often have a high grip material on the underside of the padded section to help prevent it from slipping about and will have a number of other small features like ring connectors to allow for a more natural and free movement of the strap as you bring the instrument up to your eyes. But as I say at this price level this is about as good as you could hope for.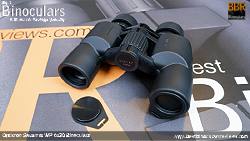 Lens Covers
Made from what looks like hard black plastic, the objective lens covers clip into the barrel ends. This looks nice and tidy, but I felt that they come away just a little too easily and unless you thread them through the neck strap could easily be misplaced or lost.
Rain-Guard
Made from soft rubber, the ocular lens cover (rain-guard) is of a very typical design and looks to be very generic and actually deviates from the more rigid plastic ones that Opticron usually uses.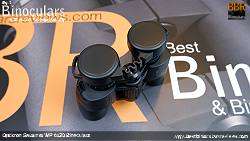 I actually prefer this as they hold onto the eyecups much better and do the required job of protecting the ocular lenses without fuss or fanfare.
Cleaning Cloth
Unlike their more expensive offerings like the Opticron Traveller BGA ED 10x32 Binoculars for example which come with a very high-quality micro-fiber cleaning cloth, the one you get with these is far simpler, but considering the price difference this is understandable and even so, it is still better than that which I see on many low-cost instruments.
However, I would still recommend that you consider purchasing a lens cleaning kit for thoroughly cleaning the lenses without the risk of damaging the lenses and their coatings.
Extras Rating: 6/10
Opticron Savanna 6x30 Binocular Comparisons
The comparison table below displays a small selection of mid-sized binoculars that I have reviewed. To view the full results:
open the table in full screen mode.
Review Conclusions:
Comfortable, easy to carry about and with a bright, good quality image, I love using these Opticron Savanna WP 6x30 binoculars, which I think this will also be the case for many people looking for an inexpensive, easy to use binocular as I feel they offer a good compromise between size, weight and image quality, and brightness.
Strong Points:
Price to Performance ratio
Costing about $130 / £100 these made in China Opticron Savanna WP 6x30 binoculars offer an excellent performance to price ratio and certainly deserve to be included amonst the Best Value Binoculars that I have tested. So whilst understandably they don't quite match the higher-end binoculars in all areas, they are a well made, reasonably high performing binocular that far outperform most at this level.


Ease of Use
Their size, shape, and low weight certainly contribute to this, as does their low power and large exit pupil.


Shape & Comfort
Whilst not as compact as most roof prism alternatives, I really like the mid-size Porro prism body design on these which makes them a real pleasure to use: the Opticron Savanna WP 6x30 Binoculars feel great in the hands and am able to hold them to my eyes and focus them, all with just one hand. If like me you also carry other equipment (like a camera) or are on a kayak, then this is a definite advantage!


Image Quality & Brightness
At this price level and for this size of the instrument, the image quality & brightness is very good and easily amongst the best in this class and level.


Field of View
As you would hope for and indeed expect on a 6x binocular, the field of view is nice and wide.


Eye Relief
At 21mm, the eye-relief is truly excellent for a mid-size binocular which is great news for eyeglass wearers especially.
Weaknesses:
Accessories
The accessories all perform their intended functions, but apart from the neck strap they are all somewhat simple, generic and don't quite match the high standards set but the instrument itself. But to be fair at this price range this is to be expected and they are still on a level with most others.


Close Focus Distance
Whilst the field of view and eye-relief is excellent, it means that the minimum focus distance does suffer a little, so whilst not bad, I would not suggest these as being the best option should your primary use be viewing things form very close range.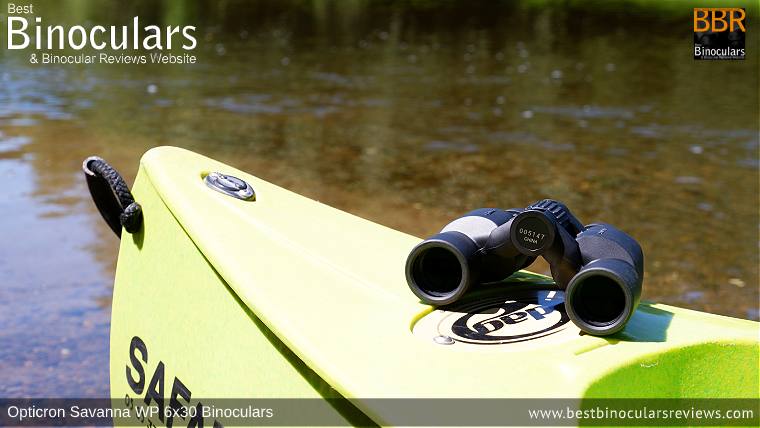 Ideal Uses & Users
Birding, especially at closer range and for small fast-moving birds like you will get in thick woods, forests. These will also make the ideal back yard birding binocular for many people.
Some Marine Uses
Whilst I would not recommend them as a serious marine binocular for the professional or boat owner, if you are going on a kayaking, canoeing, or even yachting holiday, then their low cost, low power, this small easy to carry binocular makes a good option.
Novice Users
The Opticron Savanna WP 6x30 binocular is an ideal first-time, entry-level instrument as the large exit pupil and low power makes them very easy to look through and keep a steady image. Likewise, the lightweight, very comfortable body makes them very easy to use.
Children
For all of the reasons above, as a first "serious" pair of binoculars for older children, I really cannot fault these. The wide view and low power really help a child to find whatever they are looking for, which is something I can't stress enough when choosing binoculars for kids.
People with Unsteady Hands
For whatever reason, if you have shaky hands, it is important to keep the power down. So for example, I often get people writing to me looking for a pair of binoculars for their grandparents, so their 6x power along with an easy to use shape and large exit pupil with plenty of eye-relief I feel makes them a good option in many cases like this.
Sports Binoculars
Once again, the wide field of view ensures that you are able to take in more of the on field action at once without having to pan about and I feel their size is compact enough for them to easily fit into most day sacks.
Survivalists & Binoculars for Preppers!
Low cost, relatively compact and lightweight but also with a relatively good performance even in low light, these Opticron Savanna WP 6x30 binoculars make ideal Bug Out Bag Binoculars.