Available in 8x32, 8x42, and 10x42 configurations, the Explorer WA ED-R series caught my eye when looking through the Opticron website when from their specification sheet I noticed that they incorporate many high-end features like ED glass lenses, fully multi-coated optics, and phase-corrected prisms, yet they still manage to maintain a very reasonable mid-level price point and thus from the outside they would seem to offer a very good component level to price ratio, which in turn could/should deliver a good performance to price ratio.
So my interest was peaked and thus in order to find out just how much of this potential converts into reality and to see just good they actually are, especially in relation to their reasonable price tag, I managed to get my hands on a set and after thoroughly using and testing them over the course of a number of weeks, below are my thoughts and full Opticron Explorer WA ED-R 8x32 binocular review:
Opticron Explorer WA ED-R 8x32 Binoculars
Main Features & Specifications:
Mid Level - approx $280 / £200
Body

Single Bridge Design
Rubber Armored Aluminum Alloy & Polycarbonate Chassis
Multi-Position, Twist-up Eye-cups
Central Focus Wheel
Water & Fog Proof (Nitrogen Filled)
Tripod Adapter Socket

Dimensions: 4.7x4.6x1.8 inches / 12x11.6x4.6 cm
Weight: 15.5ozs (440g)

Optics

Fully Multi-Coated Optics

32mm ED Glass Objective Lenses
Phase Corrected BaK-4 Roof Prisms
Phase Correction Coatings
Opticron's Oasis-C+ Dielectric Mirror Coatings

Optical Stats

Wide Field of View: 136m @ 1000m / 408ft @ 1,000 yards
Min Focus Distance: 2.5m / 8.2ft
Long Eye Relief: 18mm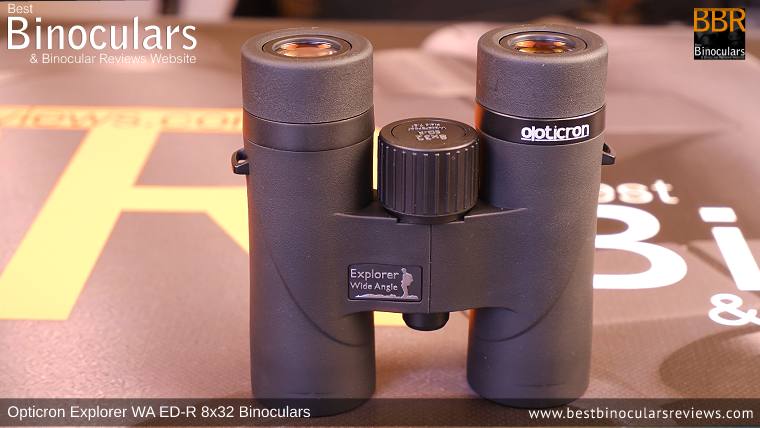 The Body
Shape & Design
The Opticron Explorer WA ED-R binoculars have a single bridge body, with Opticron's characteristic and somewhat understated yet classy modern design.
Another distinctive aspect of this and indeed many Opticron binoculars is their ability to squeeze a lot of binocular into a very compact shape, which I will get to in more detail later on in this review, but for me, it is another design feature that separates them from the hordes of generic instruments on the market.
Exterior Rubber Armor

The rubber on the full-body armor is relatively hard and thin and thus probably does not offer as much impact protection as thicker rubbers and is less tactile than softer ones. However, on the plus side, it is less likely to come loose and slide about on the chassis below, and in my experience, harder rubbers tend to last longer.
In terms of feel and ergonomics, I found these very comfortable as well as reasonably secure to hold onto with my average-sized adult hands, and whilst subtle, I do like the thumb indents on the underside that do just enough to subconsciously encourage you to hold them in the right way and right position when glassing to achieve a good balance.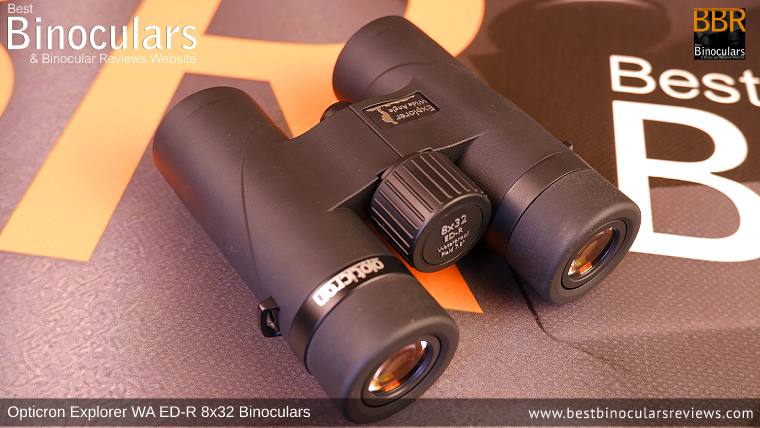 Main Chassis
According to their specifications, the body material used on all Opticron Explorer binoculars is fashioned from a combination of metal (Aluminum alloy) and Polycarbonate. Here I would assume the barrels are made from plastic and things like the hinges would are metal.
This is very much the norm at this price level, and it is only once you get up to high-end products that magnesium chassis begin to appear.
A polycarbonate chassis is possibly not as resistant to breakage as those made from magnesium or completely out of aluminum, but apart from being cheaper to make, they do have the advantage of being more lightweight and as long as you look after them, for most uses, this should be sufficient.
Water & Fogproof
Whilst there is no mention of a depth or industry-standard, the chassis on all Opticron Explorer binoculars are fully sealed to protect the interior optical surfaces and workings from moisture and dust.
Also important to note that the air inside the instrument is replaced with Nitrogen gas, which prevents the internal glass surfaces from fogging/misting up.
Hinges and Inter-Pupillary Distance (IPD) Adjustment
Whilst concealed under the rubber armor when you remove the dust cap for the tripod adapter socket you can see that the central hinge is made from metal.
On my sample, these felt very robust and opened and closed with a good level of resistance. If I was to be extremely picky, I would say that it was a fraction on the stiff side, but I would much rather that than having a hinge that was too loose resulting in you constantly having to adjust your IPD (Inter-Pupillary Distance) setting.
Speaking of which, with the hinge fully closed, the eyecups sit 54mm apart (center to center), whilst the maximum IPD setting (fully opened hinge) is 74mm apart.
Within a few millimeters, this is a typical range for a mid to full-sized roof prism binocular and so they should fit most adults and older children, just measure the distance between your eyes if you are unsure.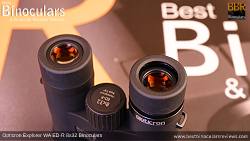 Eyecups
Whilst I cannot be certain as it is difficult to see under the rubber cover, but to me, it looks and feels like the eye-piece housings and perhaps the eye-cups themselves are like the hinge also made from metal and not plastic like many binoculars at this and lower price points.
Either Way, I found the twist-up/down mechanism on my Opticron Explorer WA ED-R 8x32 Binoculars to be excellent as they click very positively into each of the three pre-defined click-stops (1 intermediate) with a satisfying clunk.
There is also almost no free play or unwanted movement of the cup over the eye-piece housing which may not seem massively important, but I do feel is something to highlight as it shows to me that the build tolerances and materials used are excellent, which on less well-made binoculars is most certainly not the case.
This along with a full 18mm of eye relief make the 8x32 Opticron Explorer a really good mid-sized option for the eyeglass wearer. More Info: How To Use Binoculars With Glasses: Eye-relief & Eye-cups Explained.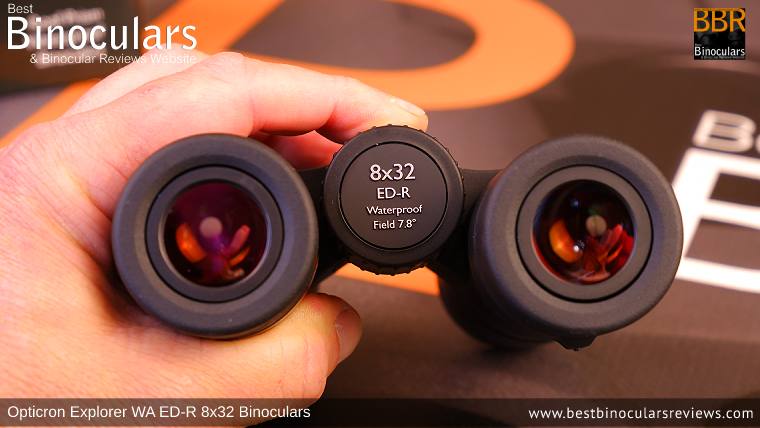 Focus Wheel & Focussing
Covered in a ridged rubber track and measuring 30mm in diameter and 22mm deep, the focus wheel is about the same size as that used on most full-sized 42mm instruments and thus is easy to reach and adjust, even when I tested them wearing my thick padded winter gloves.
To me, a metal focus wheel adds to the feeling and look of quality and so whilst I am pretty certain the spindle is metal, and even though it does not affect the function (which is very good) it for me is a slight shame that Opticron uses plastic for the focus wheel.
Although to be fair to them, at this price point it is pretty hard to find one that doesn't.
The good news is, like the eyecups, the mechanism is excellent, it turns with a good level of resistance, there is no free play, and is not at all sloppy.
The gearing is such so that it requires about 1½ rotations to adjust the focus from one extreme to the other. For me this is a nice happy medium, being reasonably fast to make large adjustments, but also not too difficult to make fine adjustments.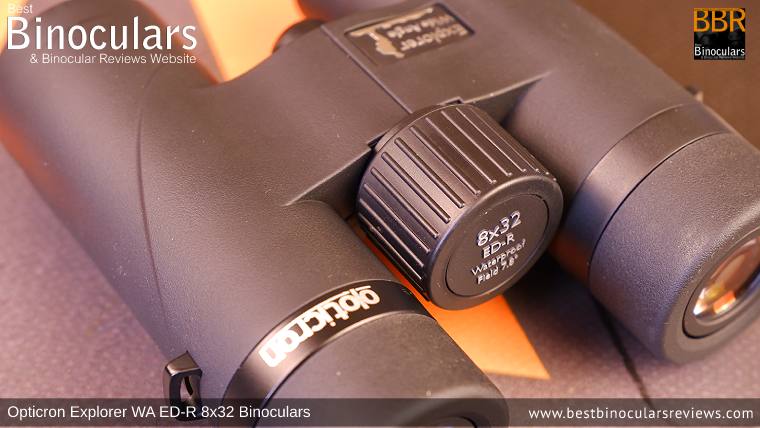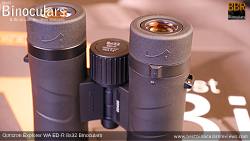 Diopter Adjustment
The ring used to adjust the relative focus between the two barrels to accommodate for any difference between your left and right eyes is positioned on the right eyepiece as is very typical.
Opticron indicates that it has a range of ±4, which is excellent.
The ring turns a fraction too easily for my liking and it is not lockable and thus there is the possibility of accidental movement from your desired setting. However, at this price range, I have rarely (if ever) found a binocular with a lockable diopter ring.
Also apart from the neutral setting, there is no scale or markings and thus I would suggest if after you have calibrated your binocular and your setting is not neutral, you should use a permanent marker or even a small nick with a knife to make a mark to make it easier to return to your setting without having to re-calibrate.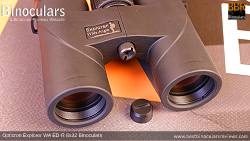 Tripod Adaptable
For most uses and users of this and indeed just about any small 8x32 binocular, it will probably not be necessary to mount it onto a tripod, however, should you need or want to, it is good to know that these Opticron Explorer binoculars are tripod adaptable.
By this I mean they have a tripod adapter socket that will accept most standard tripod adapters and which is revealed by unscrewing the dust cap from the center of the hinge by unscrewing it.
Rating for Body Construction Quality: 8/10
Weight
As you can see in the weights and dimensions comparison table below that contains a selection of mid-sized binoculars that I have recently tested and fully reviewed, these Opticron Explorer 8x32 binoculars rank amongst the lightest.
As I briefly mentioned in the body section above, this probably has a lot to do with the fact that they use polycarbonate and not metal for some parts of the chassis and which is why more expensive instruments that incorporate an all-metal chassis tend to be heavier than cheaper binoculars.
Dimensions
Another feature of these and indeed many Opticron binoculars that I have come across is that their dimensions (especially the length) tend to be a little less than a lot of the competition within their particular size class.
For a mid-size binocular like this where the main idea is to have a more compact and easy to handle instrument this is for me is often an important aspect to keep in mind.
BBR Rating for Body Stats compared to Mid Sized Bins: 9/10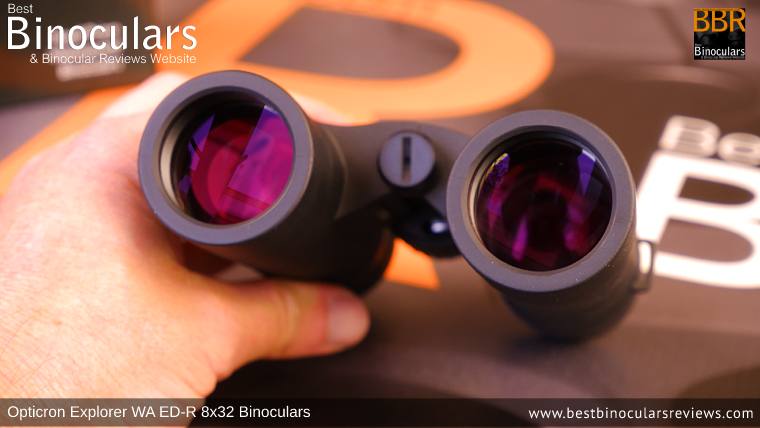 Optics
Keeping in mind their price (especially in the UK), the whole series of Opticron Explorer binoculars incorporate an impressive level of optics and indeed this is what first drew me to them and why I wanted to test and review here on BBR as I felt they certainly looked to have the potential to not only compete with but even better some of the very best at this level.
So let's take a closer look at what they have:
Objective Lenses
At 32mm in diameter, the objective lenses on these Opticron WA Explorer ED-R binoculars are a typical size for a mid-size binocular as this seems to provide a good sweet spot between size and weight versus light gathering ability.
ED Glass Elements
By incorporating elements within the lenses that have extra-low dispersion properties, there is the potential for a reduction in chromatic aberrations and thus the binoculars could produce an image that exhibits less color fringing around the edges of highly contrasting objects.

Now by just simply using ED glass, it does not guarantee this as there are many other factors to take into account and the lenses have to be designed with the rest of the optical system in mind, and I have tested many well designed non-ED glass binoculars, that perform as well as less well made ED glass instruments. but the potential is there. You can read how these actually performed in this area in the Image Quality section below.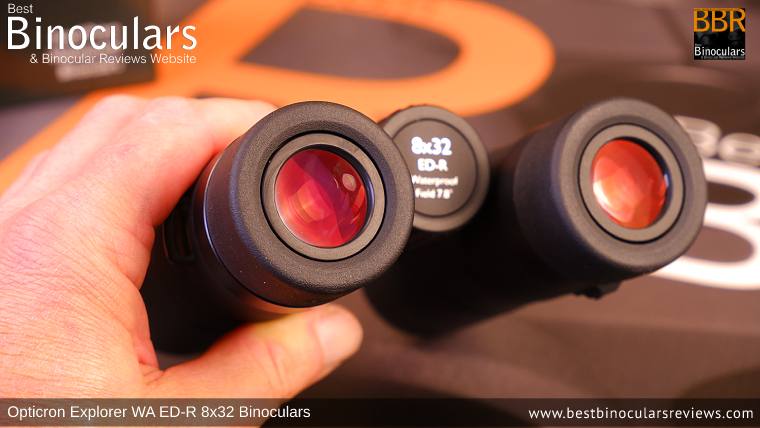 Ocular Lenses
As is almost always the case, Opticron does not divulge any details as to the make-up of the ocular lenses.
However, what I can say is I measured the outer element on these lenses at 21mm in diameter, which for a mid-sized binocular is good and indeed matches that of many full-sized instruments.
As well as the possibility of a better image resolution, larger ocular lenses on a binocular can potentially offer several benefits (see: Ocular lens size in binoculars), but one thing that is for certain is larger oculars are easier to line your eyes up with and thus just make the instrument easier to use.
Prisms
In their specifications sheet, it states that all Opticron Explorer ED-R binoculars all use "high-quality roof prisms" made from BaK-4 glass. This is exactly what we want to read as some binoculars (usually at the entry-level price points) will sometimes use inferior glass, like BK7 for the prisms.
What is not mentioned by Opticron is the exact design of the roof prism, but at this level and judging by the short length and relatively low weight of the instrument as well as the fact that they use dielectric mirror coatings (see below), this is almost certainly going to be the Schmidt-Pechan design.
Prism Coatings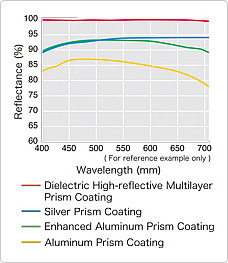 In their marketing of these Explorer's, Opticron highlights the fact that they use their Oasis-C+ coatings on the prisms:
Oasis
Now I know from reviewing some of their top-end roof prism binoculars like the Opticron Imagic BGA VHD that Oasis the name that they use where a binocular has dielectric mirror coatings on the prisms and consists of a 64 layer coating process applied to the reflective surface of each roof prism.
Now, this is in itself excellent as dielectric coatings have a light transmission of more than 99% and over a wider spectrum when compared to prisms using silver or aluminum coatings and results in a measurable (and I believe an observable) increase in brightness and clarity.
However, this process costs much more and thus is usually only used on higher-end instruments, and thus to have it at this price level is not yet the norm, although it has become more common over the past few years.
C
What I did not know, but managed to find out from the guys at Opticron is the C differentiates between the prisms that they source from China and the ones from Japan. This is interesting and indicates to us the difference between binoculars like these and their more expensive ones like the Imagic BGA VHD. Note that whilst improving all the time, the cheaper Chinese-made glass is said to have a slightly higher bubble count but is likely to be used on the majority of instruments at this sort of price range, so I don't feel this is something to be overly concerned about, but does help us understand some of the differences between these and Opticron's more expensive offerings..
+
Opticron also told me that the + designation is what they use to indicate where they have been able to get the subcontract manufacturer to improve light transmission in the optical system but not necessarily by changing the prism material or coating.
Phase Corrected
Also important to note is that the roof prisms used in the 8x32 Opticron Explorer binocular have been coated with a material that corrects something known as phase shift which affects the individual wavelengths of light as they pass through a roof prism.
The result is compared to untreated roof prism binoculars, these should deliver higher-definition images with improved contrast when compared to instruments that don't have these phase-corrected roof prisms, which at this price range is sometimes the case.
Other Optical Coatings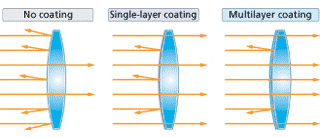 Anti-Reflection Coatings
The optical system of these Opticron Explorer WA ED-R 8x32 binoculars is described as being Fully Multi-Coated.
Once again, this is precisely what we want to read as whilst not common, at this price level, you will occasionally come across "Multi-Coated" binoculars, which even though it looks similar, it means that only some of the lens surfaces (usually first and last) are treated with anti-reflection coatings as opposed to all of them on fully multi-coated binoculars.
The difference this makes to the image quality and brightness is notable and for me is one of the most important things to look for when choosing binoculars.
Optics Comparisons
Optical Components Quality Rating: 8/10
Optical Stats
Field Of View (FOV)
Measuring 136 meters wide at 1000m, or 408ft wide at a distance of 1000yds the field of view on these 8x32 Opticron Explorer binoculars is exceptionally wide for an 8x binocular. Indeed it ranks right up there with the widest wide angle binoculars I have used.
From being able to more easily locate and then follow fast-moving objects like birds, to being able to take in more of the on field action at once without having to pan the view about at an outdoor sporting event, their extremely wide view is advantages in many situations and for me is one of the standout highlights of the Opticron Explorer.
Close Focus
In the specifications, Opticron advertises that the minimum close focus distance on these as being 8.2ft / 2.5 meters, which is roughly what I measured it to be. So whilst not quite excellent (anything under 6ft), It is not at all bad and will be close enough for most uses.
However, should your main passion be insect or butterfly observation at very close distances, then I would suggest that these would not be the ideal option for you.
Eye-Relief:
On BBR, I describe any binocular with 18mm or more have very long eye relief, so at bang on 18mm, these are certainly excellent in this area.
Testing the Opticron 8x32 Explorer whilst wearing my sunglasses and by fully twisting down the eyecups, as expected I had no problems at all in observing the full image without any sort of tunneling and thus would certainly recommend them as a good option for those using some sort of eyewear. For more check out my article on How To Use Binoculars With Glasses: Eye-relief & Eye-cups Explained.
Optical Stats Rating: 9/10
Image Quality
On a number of occasions during testing and in a variety of light conditions ranging from full sun to overcast, to very low light after sunset, I very carefully compared the view back-and-forth between these Opticron Explorer WA ED-R 8x32 binoculars and my 8x32 benchmark that I use for all my 8x mid-size binocular reviews and below are my thoughts:
Image Brightness
With their excellent level of optics and in particular the dielectrically coated prisms, I was fully expecting a bright image from these and I was not to be disappointed.
No matter the ambient light conditions, the image looked to me to be as bright as my benchmark, however, it was in low light that the brighter image produced by these Opticron binoculars was easier to notice. Thus I have no hesitation in rating these as truly excellent in this area for a mid-sized binocular.
Contrast & Color Reproduction
With this level of optical components, I once again was not expecting to have any issues in regards to the colors or level of contrast, and once again this turned out to be the case.
For me the colors are vibrant, but at the same time not overly so, so as to make the image look unrealistic. There is also no artificial tinting to the image which is sometimes the case, especially with instruments that use lower quality glass than these.
Likewise, I found there to be a very good range of contrast between light and dark areas in the view. This was the case even in very bright and very low light conditions and this range certainly helps give the image more depth, which is especially noticeable when looking into a thick bush or tree.
Color Fringing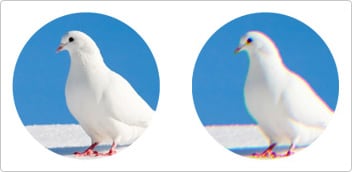 As I mentioned at the start of the optics section above because these Opticron Explorer WA ED-R 8x32 binoculars incorporate extra-low dispersion into their lenses, they have the potential to decrease the level of color fringing in the image, but in my experience, this is not always the case they perform no better than an average non-ED glass instrument in this area.
Well, the good news is, in this case there most certainly is an improvement, and to my eyes, the amount of visible color fringing that I could observe, even when taking it to the extreme by looking very carefully along the edges a black telephone line in front of a bright blue sky was extremely minimal and just about as good as it gets for an 8x binocular.
Distortions, Image Flatness & Softening
In regards to any other types of distortions, curvature, or waviness of the image, I was never aware of any, and once focused on a point in the middle of the view, the image through my sample pair looked nice and flat and remained in focus from edge to edge.
As is almost always the case, right at the edges of the view there is a certain level of image softening (vignetting), the amount on these is not excellent but is what I would class as normal and at this price level, this is actually pretty good.
Conclusion
Overall the image you see through this Opticron Explorer WA ED-R 8x32 binocular is every bit as good as I hoped it would be when I first took a look at their components and specification sheet and I have no doubt that or a mid-sized binocular within their price range, these rank up there with the very best.
Image Quality Rating for a mid-size, 8x binocular: 8/10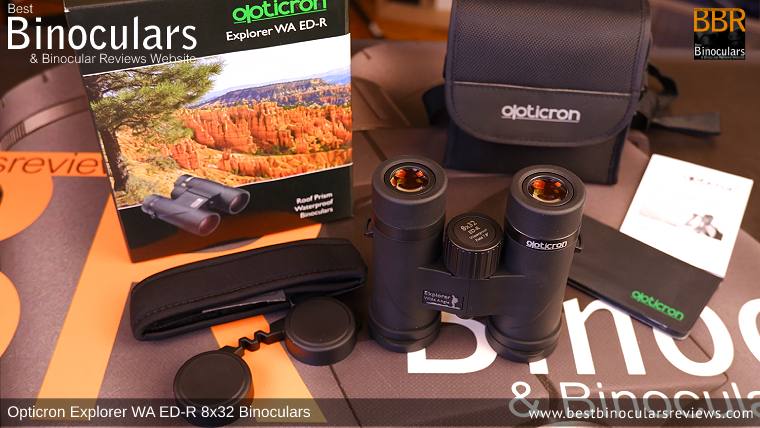 Included Accessories:
These Opticron Explorer 8x32 binoculars come supplied with a carry/storage case, padded neck strap, objective lens covers, rain-guard, cleaning cloth, guarantee/warranty card and user instructions:
Carry Case - Main Points
Very good quality soft nylon material case
Good stitching
Flip-over lid with Velcro closure, quick to access and reasonably secure, but makes more noise than a magnetic closure and not as secure as a zip.
Excellent fit for the binoculars: can close the cover with eye-cups extended and IPD personal setting intact
Own carry strap with length adjustment - no swivels, not padded, and cannot be removed
No extra pockets
No belt loop on the rear
Opticron branding on the front lid - better than the many generic cases I see at this price level.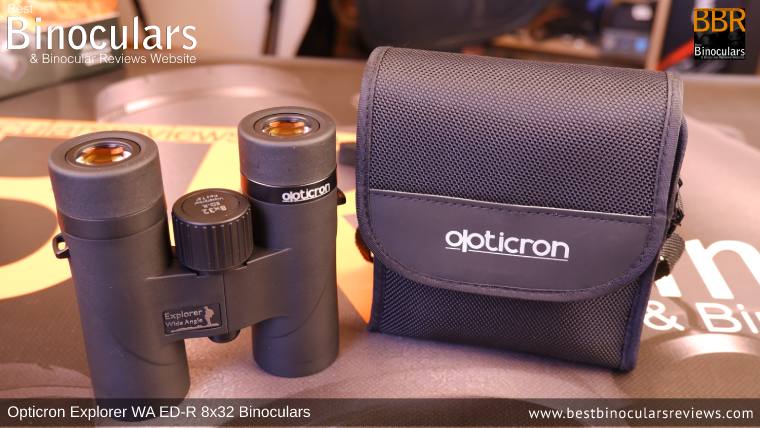 Neck Strap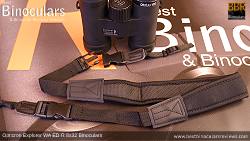 Whilst it does not contain any branding (some of you may prefer this), the neck strap is certainly at the higher end of the spectrum in this price range in terms of the overall quality and function.
The level of padding and overall comfort is very good and whilst it is not the widest strap out there, for a relatively small and lightweight instrument, it is more than sufficient and the fact that there is less material, it makes the strap less bulky and thus easier to carry about and pack away.
I also really like the quick release clips that enable you to very quickly and easily remove the strap from the binocular. On top of this Opticron shows very good attention to detail in that the male / female clips are reversed on each side of the neck strap meaning that once you remove the padded section, you can then clip the two shorter lengths that are still connected to the binocular together to make a hand/wrist-strap, which is something I really like and which surprisingly is a simple thing that many brands don't think to do.
Objective Lens Covers
The tethered objective lens covers are very typical to that which you find on most modern binoculars:
Main Points
Opticron branding on the ends - not generic like many, many others
Made from a relatively thick plastic/rubber, the tethers and loops look and feel more robust than most I come across so less chance of snapping
Very good fit over the ends of the barrels, however, a neater, cleaner look would be if they were to fit into the ends of the barrels
Tethered lens covers for easy access and less chance of misplacing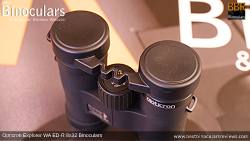 Rain-Guard
The rain-guard that these are supplied with is a departure from that which I have come to expect from Opticron and whilst the one they have used here looks more generic and is certainly a design that is more commonly used, I think it is a good thing.
On most, if not all other Opticron binoculars that I have reviewed in the past, they use a harder and less flexible plastic guard that I have found invariably comes away from the eye-cups a little too easily and thus will often come away by accident and even though you can attach them to the neck strap, it is not something that I often do and so has led to me frantically looking about in the grass for them!
This is not at all the case with the "new" ones supplied with these and so whilst there is nothing special about them, they do the intended job and do it well.
Cleaning Cloth
As with almost every other Opticron binocular that I have reviewed, the supplied cleaning cloth comes with its own pouch, cleaning instructions, and a very high-quality microfiber cloth. It is most certainly one of the best quality ones to come supplied with the instrument, especially at this price range.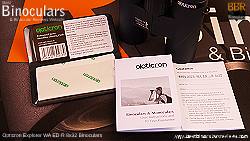 However, as good as it is, I would still recommend that you consider purchasing a lens cleaning kit for thoroughly cleaning the lenses without the risk of damaging the lenses and their coatings.
Instruction Manual
Opticron includes a small instruction open-out card that is very brief but does cover the most important aspects like focusing, setting the diopter, IPD settings, and the eye-cups, especially in regards to those who wear glasses. This is good to see as I can't tell you how few bino instructions include these basic, but important details.
Warranty / Guarantee
In Europe, the Opticron Explorer comes with a 10-year guarantee as standard, whilst in the US and I assume this would also include Canada and perhaps the rest of North America, they are supplied with a "Premier Limited Lifetime" Warranty.
Extras Rating: 7/10
Opticron Explorer 8x32 ED-R Binocular Comparisons
The comparison table below displays a small selection of mid-sized binoculars with an 8x magnification that I have reviewed. To view the full results:
open the table in full screen mode.
Review Conclusions:
With a current retail price of around $280 / £200, these mid-size Opticron binoculars offer a lot of bang for your buck and indeed boom for your pound and I have no hesitation of adding them onto my list of the Best Value For Money Binoculars I have reviewed. Before testing them I was impressed by the specifications and list of components, and now after using them, I am happy to report this has not changed in the slightest.
Strong Points:
Very Wide Field of View
All of their main specifications on the Opticron Explorer WA ED-R 8x32 binoculars are very good, but the field of view, in particular, is truly excellent. If you are looking for a wide-angle 8x binocular, you will struggle to do much better than this, especially at this price.


Image Quality & Brightness
The use of very good quality glass and coatings shines through and for me the image quality and brightness is certainly another major highlight and is as good as the best mid-sized 8x binoculars at this price range and matches many at a higher level.


Low Weight
Very lightweight and small size, even for a mid-sized instrument.
Room for Improvement:
Focus Wheel
It is probably overly harsh for me to say this at this, especially at this price level, but it is a shame that Opticron has not used a metal focus wheel which I feel would be more in keeping with the quality of the rest of the instrument and in particular the level of optics. Having said that however I must stress that this does not affect the function of the focussing mechanism at all, which on my sample was excellent.


Minimum Focus
Once again am being very harsh here, but in comparison to how wide the view is and just how much eye relief you get, it is a pity the minimum focus distance is not a little shorter. So whilst at 8.2ft, it is still good and certainly not a weakness, it is just not excellent.

Ideal Uses & Users
An excellent quality and bright image, combined with a wide view and small, lightweight body, these 8x32 Opticron Explorer WA ED-R binoculars are an ideal option for a wide range of uses where you want something a bit smaller than an 8x42, but better low light performance than a full compact binocular:
Travel, especially Birding Holidays
Their low weight, reasonably small size, combined with their very wide view are amongst the many reasons why this 8x32 Opticron Explorer binocular is a good option for holidays in general, but particularly birding vacations


Safaris & Wildlife Observation
As well as travel and birding, I think that these binoculars would also be great for general wildlife observation at closer ranges and fantastic on safaris, camping, and hiking holidays.


Sports
Whilst not quite as convenient to carry as a full compact binocular, if you have a reasonably sized day-bag, their wide view makes them an excellent option to take along to a whole host of outdoor sporting events.