Looking back at all the reviews I have written this year, I noticed that it had been a while since I last reviewed any higher-end, mid-sized binoculars and thus I decided this is what the BBR website needed next.
So I got in touch with a whole host of manufacturers and asked what they had and if they would like me to test them.
Needless to say, the support that this site gets from the optics industry is incredible and I am now swamped with mid-sized binoculars! So be prepared for a glut of 32 and 34mm binocular reviews over the coming months!
The first to respond was Hawke Optics, who sent me this 8x32 model from their new flagship range, the Frontier ED X series.
Hawke Frontier ED X Binoculars
Not long after their release, I was fortunate enough to get my hands on a pair of the 8x42 Hawke Frontier ED X binoculars, which as you can see in the review, performed extremely well, eventually scoring an outstanding 87 on the BBR scale, is what I would describe as having an outstanding price to performance ratio and on top of that, went on to win the award for the best Birding binocular of 2019.
As well as the standard sized 8x42 version and this mid-sized 8x32 Hawke Frontier ED X binoculars are available in 10x42 and 10x32 configurations and as is often the case with Hawke, produced in either a Green or Grey colored armor.
Hawke Frontier ED X 8x32 Binocular Review
Note: As I have already reviewed the 8x42 model I will bring to light any areas where the two sizes vastly differ from each other. However, to prevent me from repeating myself and thus incurring a "duplicate content" penalty from Google, I will be referring back to it when appropriate.
Standout Features & Specifications:
Mid-to-High Level Binos - approx $380 / £380
Body

Single Bridge Design
Magnesium Chassis
Twist-up Eye-cups with click stops
Centrally Located Metal Focus Wheel
Waterproof & Nitrogen Purged

Dimensions: 4.7in (11.9cm) x 4.6in (11.7cm) x 1.85in (4.7cm)
Weight: 19ozs (539g)

Optics

Fully Multi-Coated Optics

32mm Lenses with ED glass elements
Roof Prisms with Dielectric Mirror Coatings
Phase Corrected
Water Repellent Exterior Lens Coatings

Optical Stats

Field of View: 405ft at 1,000 yards
Min Focus Distance: 8.2ft
Eye Relief: 16mm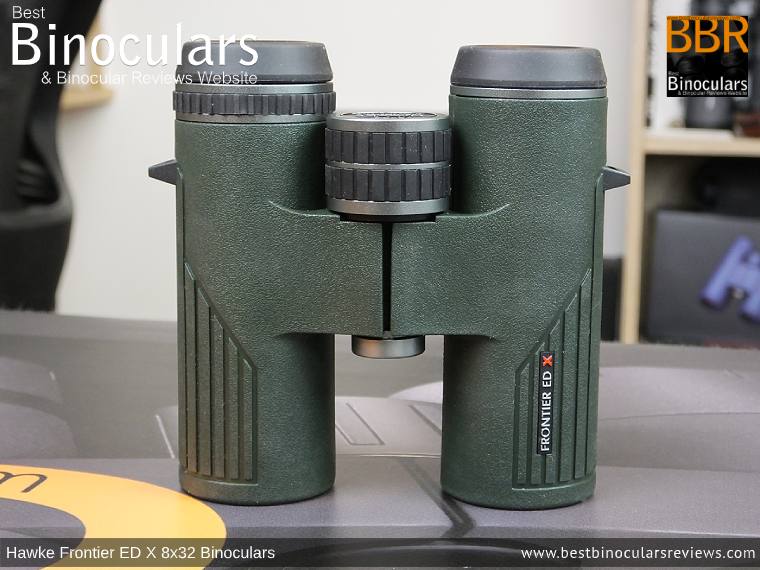 The Body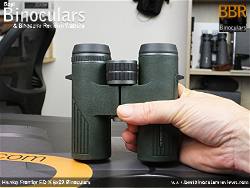 In terms of their general look and design, the 32mm Frontier ED X looks and indeed feels to be an identical, but smaller version of the full-sized 42mm models, which for me is a good thing.
They also look to have a typical shape and design for a modern roof prism binocular, but there are a few small differences and details worthy of a mention:
Hinge and Inter-Pupillary Distance (IPD) Adjustment
The single hinge is relatively thin, reducing weight and freeing up more of the barrels to hold onto.
This also means that there is the potential for it to be less robust than a beefier, more substantial bridge and thus a greater chance of the barrels becoming misaligned should you drop your binoculars. I could not test it to destruction, but to me, it looks and feels easily strong enough and is not something that I would be concerned with.
The hinge on my sample opened and closed with what I would describe as the ideal level of resistance, meaning that it was easy to adjust, but at the same time would remain at your desired setting.
By fully opening the hinge, the eyecups measure 7.4cm apart at their centers, whilst fully closed, this reduces to 5.6cm. This range of Inter-Pupillary Distance (IPD) is pretty typical and thus these will cater to the majority of users, including youngsters who usually have closer set eyes than most adults.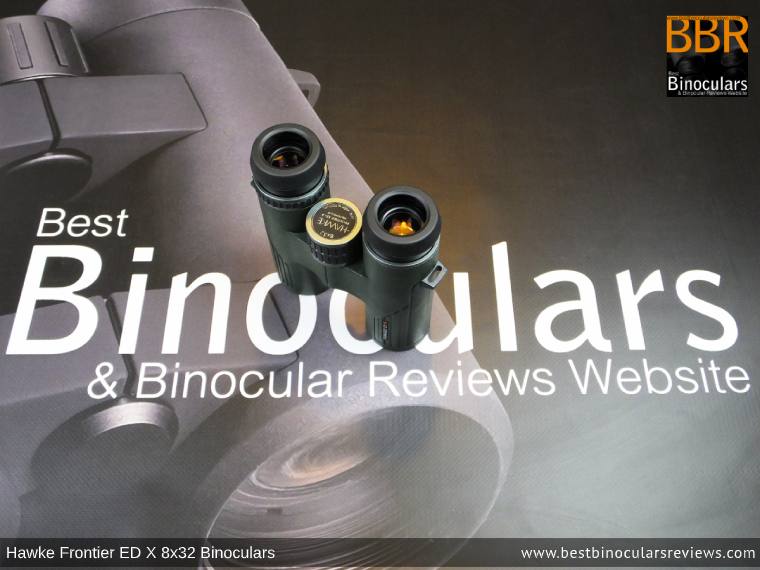 Main Chassis
Like the bigger version, these Hawke Frontier ED X 8x32 binoculars feature an all-metal, magnesium alloy chassis.
For most more careful users and general uses, this is probably not a vitally important feature and whilst it also makes them a little heavier than those using a plastic polycarbonate shell, for me it is a strong indicator of a higher quality instrument and just adds to a nicer overall feeling of substance and quality when holding them in your hands.
Weatherproofing
As you would expect of an instrument at this level, the body on all Hawke Frontier binoculars is fully sealed making them waterproof as well as protecting them from dust.
For fog proofing, the interior is filled with the commonly used Nitrogen gas. As it is completely moistureless, it protects the internal glass surfaces from fogging up which can and does often happen with unprotected binoculars when you get a rapid temperature change, like going outdoors on a cold morning from a warm house.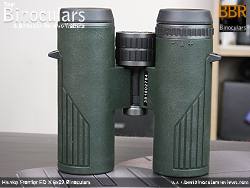 Exterior Rubber Coating
As is now pretty much standard, these Hawke binoculars have a rubber armor exterior that apart from a few small details, covers pretty the entire outer surface.
Available in either a gray or this green color on my sample pictured, the rubber used by Hawke is like that used on the 8x42 version: on the thin, harder end of the scale of what I come across.
The advantages include it looks good and generally less prone to perishing or becoming sticky than softer rubbers.
The disadvantages being less impact protection and grip.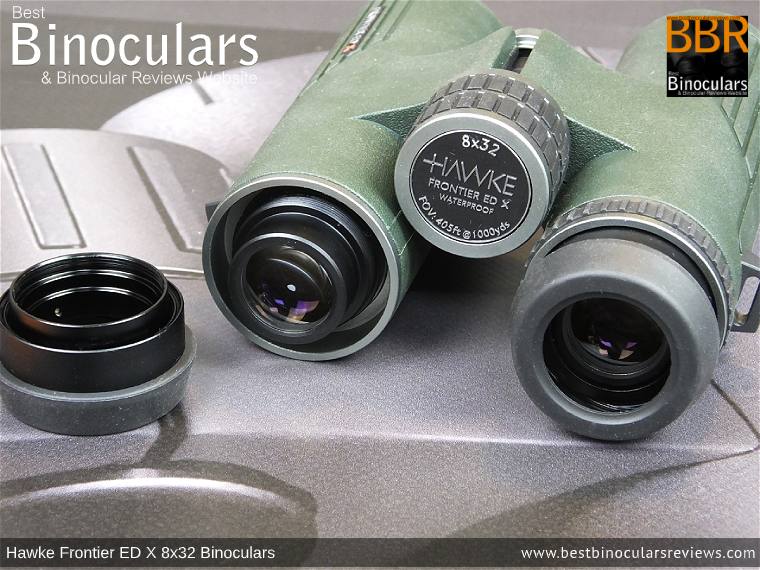 Eyepiece Housings
In terms of their appearance, the eyepiece housings and the eyecups look to be identical to those used on the 8x42 Hawke Frontier ED X binoculars.
However, on closer inspection and after measuring them I soon discovered that they are a fraction smaller, which for a more compact instrument is not surprising, but is also not always the case.
The good thing is whilst smaller, they still retain all the positive features found on the larger versions and which are important in this area:
Firstly it is important to stress that unlike many lower costing binoculars and indeed some at this price these have plastic eyepiece housings, the ones on these Hawke binoculars are made from metal.
Whilst at first this may not seem to be a big deal, this is the area the most often gets damaged, especially when dropped and so the fact that they are more robust is certainly worth highlighting.
Next is the fact that the housings can be completely unscrewed and thus easier to replace should they get damaged. This is a feature you only sometimes find on more expensive binoculars and certainly not the case on the majority instruments I test.
Added to this is the fact that the housings, eyecups and indeed the ocular lenses are much easier to clean when you can separate the parts and so is something that once again deserves your consideration.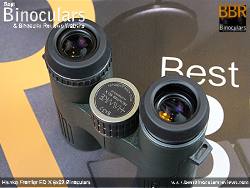 Eyecups
Similar to those found on most Swarovski binoculars, the design and indeed function of the eyecups used on these Hawke Frontier ED binoculars is nothing short of excellent.
The sleek almost minimalist design blends in nicely with the rest of the instrument making them look far more than just an afterthought, glued onto the eyepiece which is the case on many others.
Whilst they don't incorporate the softest or thickest rubber padding, I found them to be more than comfortable enough.
The twist-up mechanism also works well and whilst there is only a single intermediate stop, there is easily enough resistance that enables you to position the cup at any point between fully retracted and extended, which gives you the maximum level of flexibility and makes certain you are able to enjoy the full image without black rings on the edges.
More Info: How To Use Binoculars With Glasses: Eye-relief & Eye-cups Explained.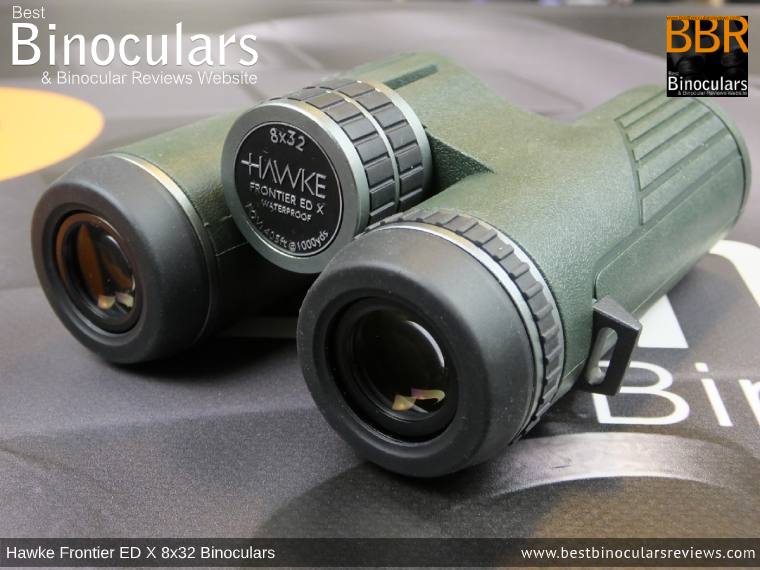 Focus Wheel & Focussing
Unlike the eyepieces and eyecups, the focus wheel Hawke Optics use looks to me to be identical between these and the full-sized version.
This is great news because I described the one on the 8x42 model as "a real cracker" and the on my 32mm sample was no different.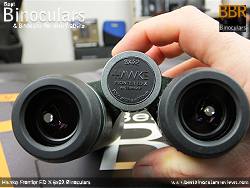 Being the same size as that used on the 42mm versions, it means that for a mid-sized instrument it is on the large end of the scale which has the advantage of being easy to reach and use, no matter the size of your hands.
Indeed a large focus wheel is also a definite advantage in winter, making it easy to feel and adjust whilst wearing thick gloves.
This combined with the silky smooth action makes focusing both accurate and a pleasure with or without gloves.
The gearing on the focus mechanism is also the same, taking 1¼ turns to go from one end to the other.
Some binos I test take fewer turns, whilst others more. I feel that this middle ground offers a good compromise between the speed at which you can make large focal adjustments versus how easy it is to make fine adjustments to the focus.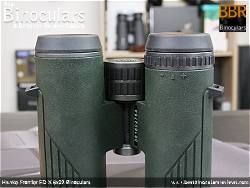 Diopter Adjustment
Used to calibrate the binoculars and thus allow for any differences in vision between your left and right eyes, the diopter ring is once again the same as that on the 42mm model.
Located on the right eyepiece, the rubber-track used for improving grip is discreet, but the diopter itself turns just a bit too easily for my tastes and thus there is a higher chance of it moving by accident than I would have liked.
Ideally and as you find on some binoculars, the diopter should be lockable to eliminate any chance of that occurring.
Note: A way to make this process easier is to make a mark for your exact setting using a permanent marker or a small nick using a sharp blade.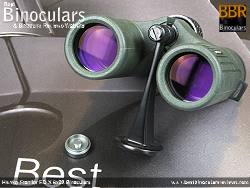 Tripod Adaptable
Attaching these Hawke Frontier ED X 8x32 Binoculars onto a tripod is just about as easy as it gets:
You simply remove the dust cap with the Hawke Logo from the center of the hinge by unscrewing it, then in its place, you screw in a standard tripod adapter.
As the barrels are nice and far apart, just about any tripod adapter that I have seen should work just fine.
Rating for Body Construction Quality: 8/10
Weight
As can bee seen in the table below, when it comes to their weight, these Hawke Frontier ED X 8x32 binoculars are not the most lightweight mid-sized binoculars out there.
However, if you only look at those that use magnesium chassis, they fare far better. On top of this, just keep in mind that as well as this, they also use metal for the eyepieces and focus wheel, which won't be the case on most cheaper alternatives.
Dimensions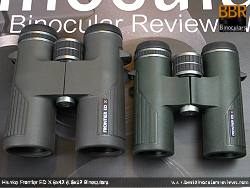 In terms of their dimensions, they are most certainly on the more compact end when compared to most "mid-sized" binoculars (those with objective lenses ranging from about 30mm up to 36mm)
However as you can see for the comparison photo they are considerably smaller than most 8x42 binoculars, including the 8x42 Frontier ED X.
For me, this relatively small shape is more important than the tiny weight increase and whilst by no means would I describe them as a pocket binocular, when not in use, I found that they would even fit into my larger jacket pockets.
BBR Rating for Body Stats compared to Mid Sized Bins: 8/10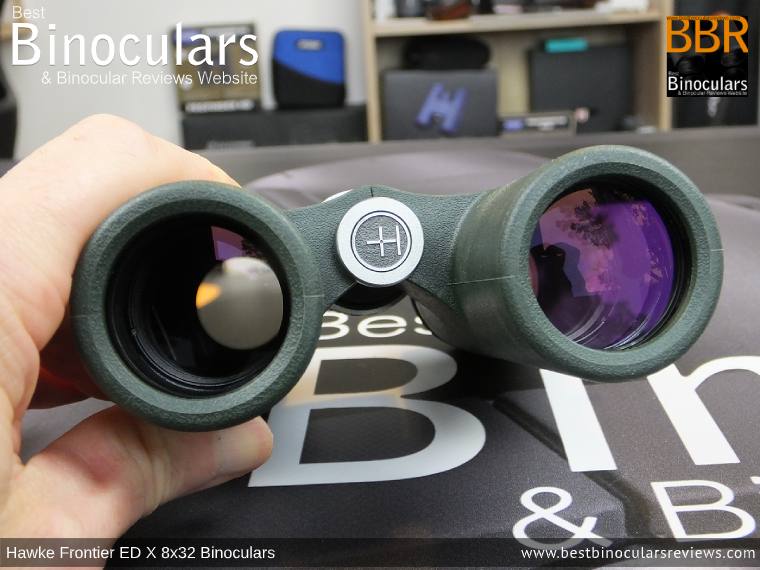 The Optics
Ocular Lenses
Measuring 19mm in diameter, the outer ocular lenses on this 8x32 Hawke Frontier ED X are a fair bit smaller than the 22mm ones on the 8x42 model.
Considering their overall difference in dimensions, this is to be expected and as such when compared to other mid-sized instruments they do much better and in my experience are about average. Although some binoculars like the Opticron Traveller BGA ED 10x32 still use large 22mm oculars.
As well as making it easier to line your eyes with the lenses, having a large ocular lens offers up several potential advantages including improved image resolution. See more on this here: Ocular lens size in Binoculars.
Objective Lenses
As one of the numbers in their name indicates, these Hawke binoculars have 32mm objective lenses, which for a mid-sized instrument is the most common size and for a binocular in this size class offers a good balance between light-gathering ability versus keeping the size of the instrument down.
ED Glass
The also as their name indicates, these and indeed all Hawke Frontier ED X binoculars incorporate ED (extra-low dispersion) glass elements within their lenses which has the potential to produce a higher definition image by reducing chromatic aberrations, the main cause of color fringing.
Prisms & Optical Coatings
Fully Multi-Coated Optical System
Water Repellent Exterior Lens Coatings
As the use the same prisms and optical coatings, that I have already covered this in the other review, I won't go over each of these highlights in detail again here, you can read all about it in detail in the Optics section of my Hawke Frontier 8x42 ED X Binoculars Review.
Optics Comparisons
As you can see from the table below, Hawke Frontier ED X binoculars use extremely high-end optics and almost all the coatings found on the very best instruments, yet cost considerably less which is impressive:
Optical Components Quality Rating: 9/10
Optical Stats
Field Of View (FOV)
Just by looking through them and at the image that I was presented with, I knew that the field of view on these was impressive and this was emphatically confirmed when I looked at the stats:
Measuring 405ft wide at a distance of 1000yds (roughly 135 meters wide at 1000m), these 8x32 Frontier ED X binoculars are impressive when it comes to comparing their FOV against other 8x binoculars:
A wide field of view is an advantage in just about every situation, but is especially sought after by birders and wildlife observers who often frequent places like forests or woodlands where the viewing distances tend to be a little shorter and thus a wide view makes it much easier to locate and then follow your subject especially if it is small, fast and erratic in its movements.
Close Focus
As with just about everything when it comes to optics, if they are strong in one area, there is undoubtedly a compromise to be had somewhere else. So whilst they have a very wide field of view, the minimum focusing distance of 8.2ft, whilst still very good, is a little off the 6ft or under that, I would describe as being excellent.
In real-world terms, this will not be of any major concern to the majority of users, but if your main interest is something like butterfly observation, this instrument may not be the ideal choice.
Eye-Relief:
Whilst not what I would consider being a very long eye-relief binocular, for a mid-sized instrument the 16mm is pretty good and in most cases should be enough for those who use glasses to be able to wear them and still achieve the full image.
I tested them using my sunglasses and by fully twisting in the eyecups was happy with the image as I was just able to achieve the full view without any black ring forming on the outer edge. So for me, the 16mm is fine and as I say this should be the case for most eyeglass wearers. But should you have thicker glasses or perhaps a different shaped face, this may not always be the case.
Optical Stats Rating: 9/10
Image Quality
As always I came to the following image quality conclusions after thoroughly using, testing and comparing the view between these Hawke Frontier ED X 8x32 binoculars against the relevant benchmark binocular - in this case, it was my 8x32 benchmark.
Image Brightness
Taking into consideration the use of extremely high-level optical components and coatings like for example the dielectric mirror coatings on the prisms, I was fully expecting these Hawk Frontier binoculars to perform well in this area, and they most certainly did not let me down.
My first comparison test was conducted in good weather conditions with bright blue skies, and here as expected it was hard to notice a difference.
Indeed these and most good quality mid-sized 8x32 instruments will even look to be about as bright as an equivalent 8x42 binocular as both will be supplying your eyes with more than enough light needed for you to perceive a bright image.
However, whilst testing them in thickly wooded areas and then again on subsequent days where weather conditions were very poor, the excellent image brightness of these became apparent and I highly regard them in this area and would rate them with the very best mid-sized binoculars.
So whilst they may not be able to compete against the larger 8x42 Frontier ED X under these adverse conditions, which is perfectly understandable due to the difference in objective lens and exit pupil size, they are certainly no pushover.
Contrast & Color Reproduction
At this level, I would be very surprised to have found them to perform badly in these two areas.
Once again I was not let down and to my eyes, the Hawke Frontier 8x32 ED X binoculars not only produce a bright image, but the colors are vibrant and not at all washed out.
Likewise, there is a good variance between the dark and light areas which helps give a good feeling of depth.
At no time did I ever notice any undesired tinting of the image.
Color Fringing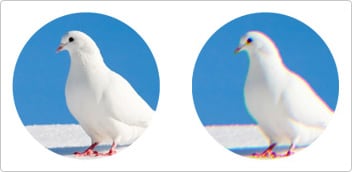 Just about every "good quality" binocular currently on the market use special optical glass which has low dispersion properties and thus as long as they are also designed and made well, they should reduce color fringing caused by chromatic aberration to some extent.
However, the ED (Extra-Low dispersion glass) used in the lenses of these Hawke Frontier ED X binoculars gives the optical designers even more options and thus if designed well, will reduce the halo of light around the edges of objects even further.
So once again I was expecting good things and I have to say that once again I was not to be disappointed and the level of color fringing, even when looking along a black telephone line against a bright blue sky backdrop is very minimal.
Distortions, Image Flatness & Softening
During all of my tests and general usage, I never noticed any type of image distortions, be that abnormal curvature or blurring when looking through this instrument.
Like just about every binocular I have looked through there is a degree of softening right at the edge of the view, but the amount is minimal and no more than what I would deem to be normal.
Conclusion
No doubt, the image quality is one of the real highlights on these Hawke binoculars and for a 32mm instrument they compare very favorably against their direct competition and indeed many normal 8x42's in many areas, even in less than ideal light conditions which is impressive.
Image Quality Rating for a mid-size, 8x binocular: 9/10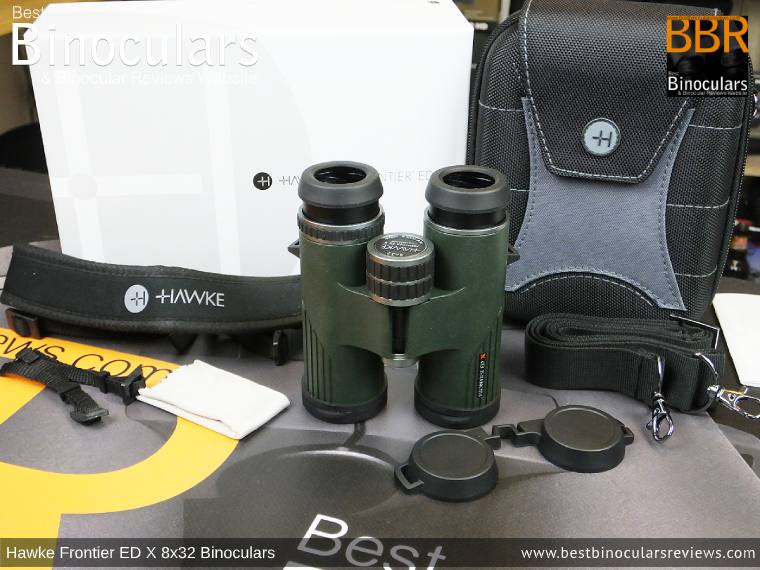 Included Accessories: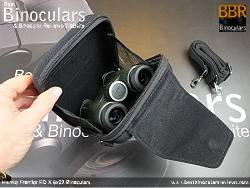 The list of accessories that these Hawke Frontier ED X 8x32 binoculars are supplied with includes a protective carry case, neck strap, lens covers, rain-guard, cleaning cloth and user manual.
In general, these are all of a very high standard, work well and I would say are about as good as it gets at this price level. Also, apart from a few minor size differences, they are all pretty much the same as that which you get with the 8x42 Hawke Frontier 8x42 ED X binoculars, which I covered in detail here and so won't repeat myself. Rather I will just list the highlights and any important differences between the two.
Below are the main points and highlights of each of them: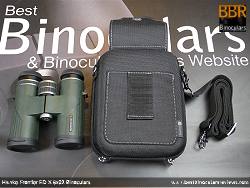 Carry Case - Main Points
Excellent build quality & materials
Semi-rigid design, very high level of protection
Double closure system - Zip and magnetic clip. Improved security & protection for storage, whilst quick to access in the field
Excellent fit for the binoculars
Own carry strap with length adjustment and swivels
Separate pocket on the rear
Belt loop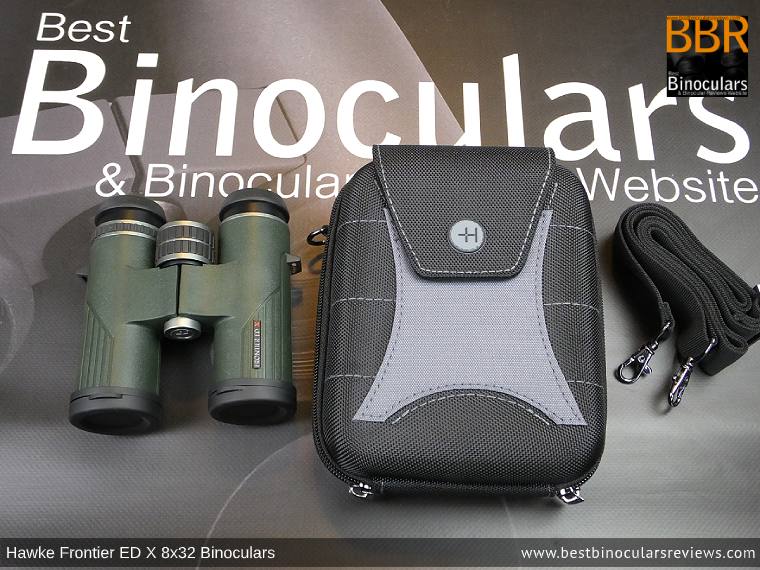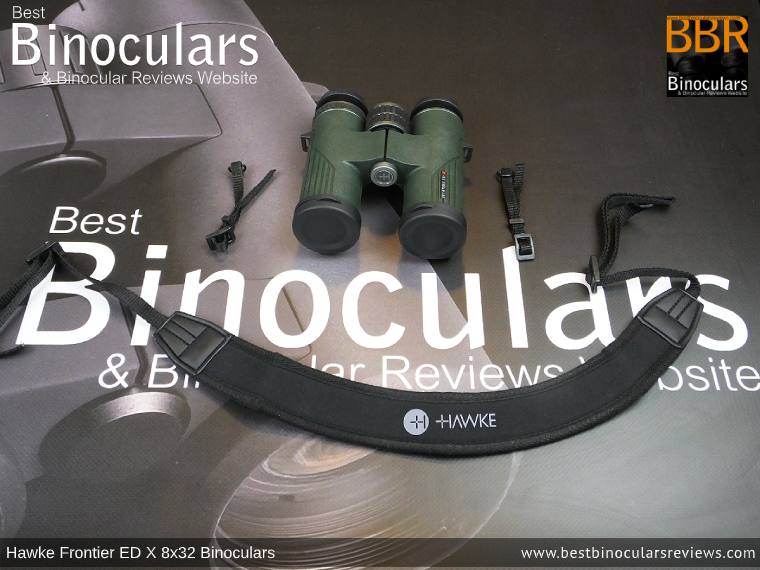 Neck Strap
In regards to the quality and comfort, this neck strap is excellent, whatever the case, it is more than enough for a mid-sized, low weight instrument.
Indeed even though these binoculars are smaller and more lightweight this neck strap is the same as the one you get with the 42mm models which I feel is worth mentioning.
A particular highlight of the Hawke Frontier ED X strap is that it has separate looped connectors between the padded section and the thin straps, this provides a little more freedom of movement and makes it easier to swap between a harness and the neck strap for example.
The only point I would like to make is that rather than the normal slider connectors, it would have been even better and more convenient had they used quick release clips.
Main Points
Excellent quality materials & stitching
Hawke Optics branding - not generic like many
Very well padded
High grip neoprene undersurface, reduces slipping around neck and shoulders
Separate looped connectors
No quick release clips
Length adjustable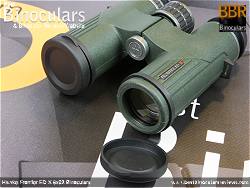 Lens Covers & Rain-Guard
In contrast to the well above average case and neck strap, both the lens covers and the rain-guard are fairly typical. They fit and perform their function well, but are pretty generic and lack any flair or branding.
Main Points
Relatively thin plastic/rubber and not as robust as some
Excellent fit over the ends of the barrels (into the barrel ends is neater), but still unlikely to come loose by accident
Tethered lens covers for easy access and less chance of misplacing
Loops on the sides of the rain-guard to attach it to the neck-strap
Common design with no branding - very generic looking
Cleaning Cloth
These Hawke Frontier ED X 8x32 binoculars are supplied with a fairly typical and standard level cleaning cloth that is more than adequate for cleaning the body and ok for light use on the lenses when out in the field.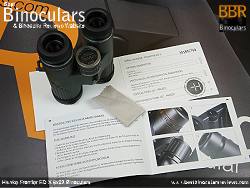 However, I would still recommend that you make the small investment in a lens cleaning kit to ensure that you don't mark the lenses when thoroughly cleaning them.
Quality Assured
Also included is a "Quality Approved" card that includes the instruments serial number and all the checks that the binocular has gone through before being approved for sale.
Instruction Manual
The included instruction booklet is very typical in that it looks substantial at first, but is written in several languages.
So whilst it does go through the very basic information that you need to get up and running, as well as cleaning and warranty information, there is no more beyond that.
Warranty
Another important aspect is the fact that Hawke Sport Optics offers a lifetime warranty against defects in materials and workmanship for the original owner on all their Frontier ED binoculars. Note, in the UK and Europe this they tell me this is restricted to 10 years by law?
Extras Rating: 8/10
Hawke Frontier ED X 8x32 Binocular Comparisons
The table below displays a small selection of mid-sized binoculars with an 8x magnification in the BBR database. To view the full results:
open the table in full screen mode.
Review Conclusions:
I have to say that just like the 8x42 model that I tested previously, these mid-sized Hawke Frontier ED X 8x32 binoculars certainly make excellent value for money as they provide you with almost unbeatable quality and performance to price ratio.
Strong Points:
In terms of the build quality, materials used and attention to detail, you really could not want for more, especially at this price level. Good examples include a magnesium chassis, metal eyepiece housings and focus wheel.
The view you are presented with when looking through the 8x32 Hawke Frontier ED X binocular is superb and certainly a major highlight for me.
Hawke Sport optics have used extremely high-quality optical components and coatings on their Frontier ED X series that results in a bright, high definition image with an extremely low level of color fringing.
Very wide field of view
Excellent quality as well as functional carry case and neck strap
Weaknesses:
Lens Covers
When placed next to the neck strap and in particular the carry case, the lens covers and rain-guard do look somewhat like an afterthought.

Their generic design and lack of branding are a shame, but to be fair they do what is required of them without issue. Although I would add that the rubber/plastic that Hawke Sport optics has used is relatively thin and whilst I did not test them to destruction, I image that they are not as long-lasting as the better examples that I come across.


Close Focus Distance
Whilst the field of view is excellent and you get a good level of eye-relief, the minimum close focus distance is the part of the equation that inevitably suffers as a result of this. So by no means terrible, it will probably be a little long for those whose main focus is on the close study of things like insects and flowers.

Diopter
The diopter adjustment ring turns just a little too easily for my liking and thus it does not take much for it to be moved by accident and thus forcing you to re-calibrate.
Ideal Uses & Users
Travel: Birding Holidays
This particular 8x32 model is ideal to those going on birding orientated vacations, or for travel to a jungle, thickly wooded area or for those who simply want a smaller device that is just that bit easier to carry in the hands, like if you do a lot of hiking on foot and/or carry a lot of other gear with you like a camera.


Safaris & Wildlife Observation
As well as travel and birding, I think that these binoculars would also be great for general wildlife observation at closer ranges and fantastic on safaris, camping and hiking holidays.


Sports
Whilst not quite as convenient to carry as a full compact binocular, if you have a reasonably sized day-bag, their wide view makes them an excellent option to take along to many/most outdoor sporting events.