Hawke Endurance Spotting Scopes
Available in three sizes, from the large 85mm, the medium 68mm and the compact, travel friendly 50mm versions, the Endurance range from Hawke Optics sit just below their flagship Frontier series and just as you would expect from these high end spotting scopes, they look to utilise a good array of high end optical components and coatings, which includes dielectrically coated prisms and fully multi-coated optics.
Some of the full sized models within this series also have ED glass elements within their lenses, but obviously these cost a little more than the non ED versions. Indeed I have tested and reviewed the 85mm version, which actually then went on to win my award as the best scope of 2014: take a look at the Hawke Endurance ED 20-60x85 Spotting Scope Review here.
So from experience I can say that there is no doubting their optical quality and for the price the whole series does look to offer exceptionally good value for money.
So what if you want a smaller, more travel friendly scope, does the performance of the large scopes trickle down to the smaller versions? To answer that question, I was sent to test and review the angled 50mm option and below are my findings and opinions:
Hawke Endurance 12-36x50 Spotting Scope Review
Before getting into the details of a review, I always find it well worth my while to quickly go over the main features of the instrument that I am about to test:
Main Feature & Specifications
Mid - High End Scope: Approx $399 / £330
50mm Objective Lens
Fully Multi-Coated Optics
BAK-4 Roof Prism
Ultra Compact Body

Waterproof & Fog proof
Two Speed Focus Wheels
Weight: 714g / 25.2oz
Length: 25.5cm / 10in

Removable 12-36x Eyepiece with Twist-Up Eyecup

Eye Relief: 16mm
Field of View at 1000yds: 174 - 90ft
Close Focus Distance: 2.5m / 8.2ft

Included Stay-on soft scope cover
Suitable for Digiscoping
The Body
Shape
This compact 50mm Hawke Endurance spotting scope has a very typical overall shape for an angled spotter, indeed if you don't have a point of reference, you can easily mistake it for a full sized instrument. However on closer inspection you will notice a few small differences which I will highlight in the body section of the review below:
A very small departure from the norm and something that is different from the the larger ED version I tested before is that the eyepiece is positioned slightly off center. I am not sure for the reason behind this, except for possibility that because the body is so compact, Hawke Optics may have had to do this to accommodate the porro prism design inside? Whatever the case, it still felt perfectly normal to use and for me was neither a hinderance or benefit in any way.
As I mentioned earlier this compact 50mm model is also available with a straight through body design, if you are unsure which type is right for your needs, take a quick look at this article on angled verses the straight scopes. However for me the biggest advantage of the angled option, is that you don't require really tall tripods in order to use them, which when your aim is to travel light with a compact scope, a small compact tripod is usually just as important as the scope.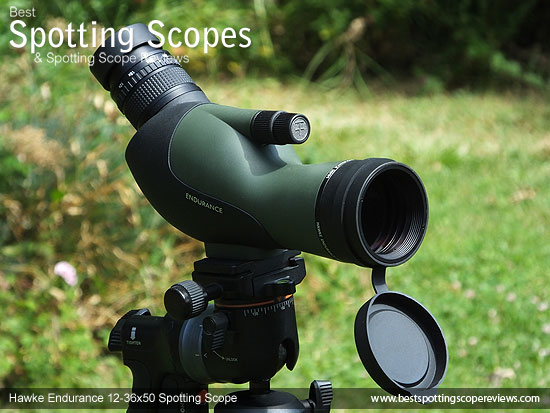 Dimensions
The whole reason behind a compact scope is obviously to get as much performance from the smallest instrument as possible and thus the dimensions are probably one of the most important aspects in this class.
As you can see from the selection below, most travel scopes are around 10cm - 15cm shorter than the average full sized instrument and this Hawke Endurance 50mm scope is no different, being 5.4in / 13.6cm shorter than the Hawke Endurance ED 85mm Spotting Scope:
The figures above are the official ones supplied, for completeness, I tested it and indeed found the length to be 25.5cm (with eyepiece attached). The scope is also about 7cm wide and 15cm deep.
Weight
Tipping the scales at only 714g (25.2oz), the Hawke Endurance 12-36x50 scope is as you would expect, substantially lighter than almost any full sized scopes out there. Whilst not the lightest, it is also up there with some of the more lightweight quality compact scopes as well:
Note: Hawke are also doing themselves a slight injustice as the figure above is their official advertised weight. I actually weighed my test sample and it came in even lighter at only 694g (without the lens covers, but with the eyepiece). Without the eyepiece the weight drops down to 540g.
Rating for Body Stats (compared to other compact scopes): 8/10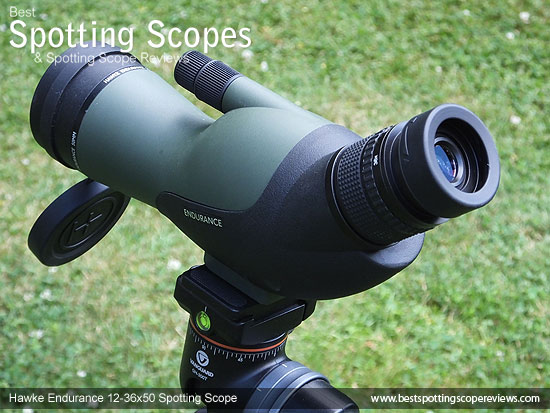 Exterior
Some scopes, especially those on the cheaper end of the scale have a rubber coating that covers almost the entire exterior surface and whilst this probably offers them a little more protection, it does not look anywhere as nice (or as expensive) as the exterior on this Endurance for example.
Hawke have opted to only add a a rubberized coating to the rear section of the scope, colored black, it makes for a nice two tone design and I suppose it offers a little more grip on the part of the scope you are going to be holding the most.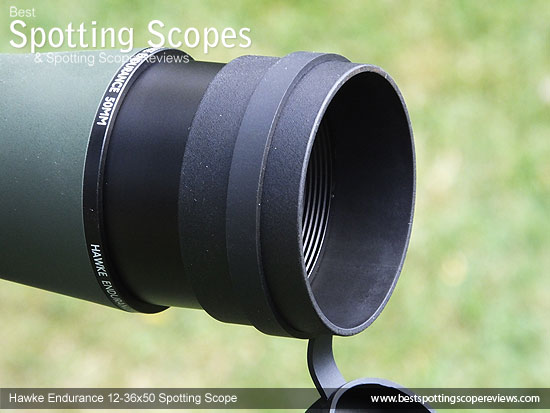 Sunshade
I guess to save on costs and weight, many compact scopes omit a sunshade that you usually find on your full sized version. his is not the case with the Hawke Endurance 12-36x50 scope, as it includes a really well designed sunshade, that is every bit as good as those found on the larger models.
Not can this reduce glare or sun flaring, but it also shields the lens from rain and will help stop dust settling on it in dry areas as well, so it is a nice feature to see included.
Mounting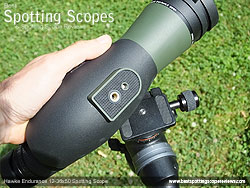 The base for mounting this Hawke spotting scope onto your tripod measures 5cm long and 3cm wide, which is a fair bit smaller than that you find on a full-sized scope, but as it is much smaller and more lightweight, a really large base is not really required.
However compared to other compacts that I have tested, this is one of the largest bases, which if you are planning on adding weight, to it when digiscoping for example, may be something to keep in mind.
The base itself has a rubber face to it, which helps prevent it from slipping or moving about on the tripod head.
Also worth pointing out is the thread for mounting it is made from brass, which is far superior than the plastic ones that I sometimes come across.
No Collar
A difference between this and the larger versions is the lack of a collar. For those who don't know, many scopes have a collar that the mounting base is connected to and so if you loosen it, you are able to rotate the scope around it.
This can be useful in some situations like at a shooting or archery range where some will have the scope positioned next to them and then they can quickly look through it by turning the head to one side. Being able to rotate the scope 90° from it's normal mounting position enables you to achieve this.
Weatherproofing
According to Hawke Optics, these Endurance scopes a fully waterproof. The internal lenses are also fog proof as the interior is "Nitrogen Purged", meaning the air inside has been replaced with a dry nitrogen gas which will not condense like moist air does when you get rapid temperature changes.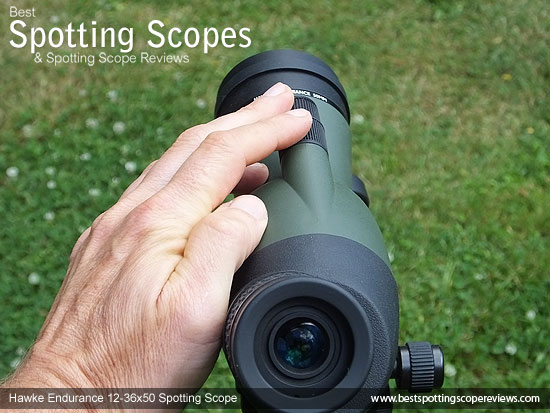 Focusing
The two speed focusing knobs on this Hawke Endurance 12-36x50 spotting scope are excellent. the larger one (nearest the eye piece) is geared more highly making large focus changes nice and quick and then you simply move your finger onto the smaller knob to fine tune the focus to get it pin sharp.
Both turned very smoothly on my sample and the were no rough sections or areas of free play.
I also like the fact that it is positioned in the middle of the body on the top (unlike some that are on the side), making it possible to make focus adjustments with either hand.
Rating for Body Construction Quality: 8/10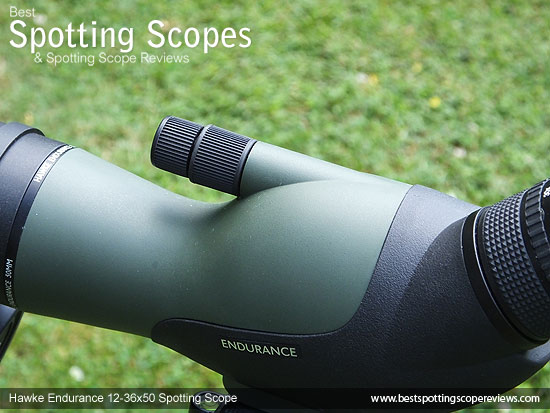 The Optics
Objective Lens
This scope has an objective lens that is 50mm in diameter, which for a spotting scope is really quite small.
The obvious advantage of this is that it allows for a smaller more lightweight scope to be produced. The negative aspect to this is the reduced surface area will not be able to capture as much light as a larger one and thus less light will pass through the optical system.
In normal light, especially where high quality glass and coatings are used, this difference is not that critical as even with a 50mm lens, there is enough light for you to see a bright, high quality view.
However, it is when the light is poor, compact scopes like these cannot compete with the light gathering abilities of larger instruments and it is one of the trade-offs that you just have to accept when opting for a small, lightweight model.

Non ED Glass
Whilst the compound lenses on this scope will contain elements with low dispersion glass, they do not have extra-low dispersion elements like the 85mm Endurance ED scope that I reviewed has.
This potentially means that these scopes may show a little more color fringing around the edges of the image as they may not be able to reduce the amount of chromatic aberrations as a well designed ED scope.
I use words like "potentially" and "may", because simply using ED glass in your lenses does not instantly reduce any aberrations, rather it requires it to be used in harmony with the rest of the optical pathway and I have used non ED glass scopes and binoculars that actually show less color fringing than some the have ED glass as their overall optical design was superior.
Another point to keep in mind is color fringing shows more, the higher the magnification and as this has a lower maximum power than most full sized scopes, color fringing levels may not be as visible than if you were viewing an image at 60x for example and thus is a little less important.
For more, please take a look at this guide to ED Glass and then also take a look at the Image Quality section of this review below to see how it actually performed.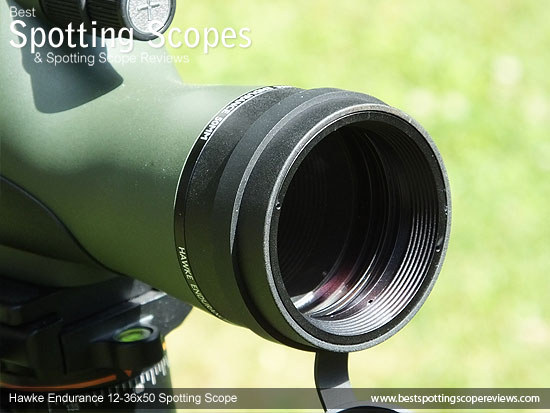 Prisms
These Hawke spotters use porro prisms to rectify the inverted image, which are made from Bak-4 glass, which most often considered to be a better option than BK-7 glass that is sometimes used. So all good news here.
Optical Coatings
Fully Multi-Coated
Hawke Optics state that this scope has fully multi-coated optics, which is exactly what we want to hear as it tells us that every glass surface throughout the optical system has been treated with multiple coatings of a anti-reflection material.
The result is far less light gets reflected away than untreated glass and as such the scope will deliver a brighter and better quality view.
Prism Coatings?
Hawke also advertise that they have used Dielectric coatings, which is a process that offers the highest levels of reflection and usually only reserved for very high end optics as whilst it performs far better than aluminium or even silver coatings, it costs a lot more to produce.
However this does surprise me as they also state that these scopes use porro prisms, which because this design of prism reflects 100% of the light that gets to them, no special coatings are required.
I will enquire and once I know any more information, will update the review. Until then if anyone else has any info, please feel free to get hold of me.
Optical Components Quality: 8/10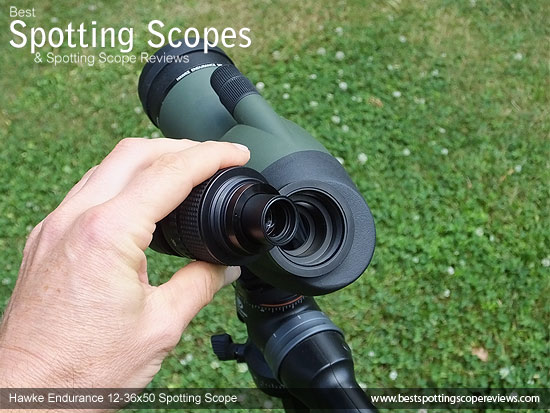 The 12x-36x Zoom Eyepiece
This Hawke Endurance 12-36x50 Spotting Scope has an eyepiece that can be unscrewed from the body and so whilst they do not advertise it, I assume it means that you could get other eyepieces if you wish.
However the included zoom eye-piece has a great range (12x-36x) and is of an excellent quality and so unless you specifically need a fixed zoom eye-piece for a particular use, this should cover most normal uses.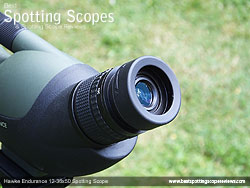 Eye-cup
I really like the twist-up eye-cup on this Hawke Endurance spotting scope as not only does it have a nice robust and sturdy feel to the action, but there are two intermediate click stops between fully extended and retracted. This make it easier for you to get exactly the right amount of eye relief for your use.
For example for most of the time and for those who don't wear glasses, you will probably just have it twisted all the way out and your eyes will be at the right distance behind the ocular lens to get the full view without any black rings forming on the edges.
However should you wear glasses, they will take up some of this space and thus you can twist down the cup to the level that you need and still get the full view.
Another important use of this, is if you use your scope to take pictures though (digiscoping). To get an image that takes up the full area in your view finder or on your phone, you often have to adjust the amount of eye relief until you get it right and so it is nice to have an eyecup with a number of fixed stops, but also one that is sturdy enough so that you can stop it at any point and it will stay there.
Optical Stats
Eye-Relief:
Most zoom eye pieces are advertised with a maximum and minimum amount eye-relief as this changes depending on the magnification. However Hawke only mention that this as having 16mm of eye-relief, which I will have to assume is the maximum until I am told otherwise.
This amount os ok, but a little less than some. However it should be enough to accommodate most people who wear glasses: To test it I put on my sunglasses and indeed with the cup twisted down I had no problem in getting the full view at any magnification, which is good.
Field Of View (FOV)
As you increase the magnification (or zoom into an image), the width of the image that you can see obviously decreases, thus with a variable zoom eye-piece you get a field of view that varies depending on what magnification you have it set at.
On this 12-36x zoom eye-piece this varies from 58m / 174ft at 12x power and reduces to 30m / 90ft at maximum power (36x)
As you can see from the comparisons below this is considerably wider than high powered large scopes and wider than many other compact scopes on the market.
So whilst you are sacrificing a little on top end power, the real advantage is that the wider view makes it far easier to quickly locate anything you are looking for through the scope. For normal use this is an important feature, but for digiscoping, especially where wildlife and birds are concerned this is vital.
Close Focusing Distance
The minimum close focus distance on this scope is excellent, advertised as 2.5m / 8.2ft feet away, I measured it to be only 1.9m on my sample.
Now I know that many people will wonder why this is important on an instrument that is usually used for looking at object far off in the distance, but if like me you like to look at or digiscope butterflies other insects and flowers, this is an important feature of this scope.
Optical Stats Rating (compared to other compact scopes): 9/10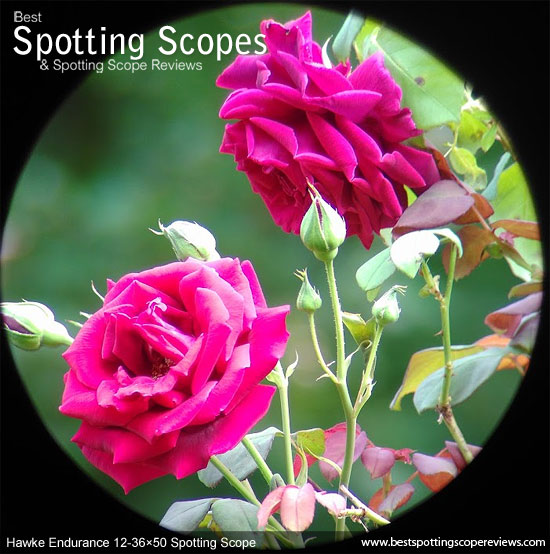 Image Quality
People quite often ask me why I don't use digiscoped images like the one above which was taken with my mobile phone through this Hawke Endurance 12-36x50 spotting scope using the SnapZoom adapter in order to describe or evaluate the image quality.
The answer is that I feel that this is unfair to do so as the quality that someone with my digiscoping ability and quality of camera is far below that which you actually see through the instrument. Also if you browse the web for talented digiscopers who use high end equipment, you will quickly see that they would be able to get far better results that I can when using the same scope.
So it think for now I will continue to describe the view, compare what I see against my benchmark scopes and then using my experience of having looked through many, many scopes evaluate it in that way. As for the digiscoping, I think the image that I post are a good indication to what can be achieved by someone with an average amount of ability using a normal mobile phone and adapter.
Color Fringing
When I tested the large version of this scope, the Hawke Endurance ED 20-60x85 Spotting Scope that has ED glass lenses to help reduce chromatic aberrations which are then seen as color fringing, I described it as excellent in this particular area, even at the highest magnifications.
This much smaller non ED version is perhaps not quite as good at reducing color fringing, but is most certainly still very good and in my view, easily a match for the best at this much lower price level.
Colors & Contrast
I think that the colors you see through the 50mm Endurance scope are both bright and vivid, but at the same time still very natural looking. This is all good as sometimes the image you see through some scopes can look a little unreal if you have too much contrast.
You also sometimes get a hue or tint on the view through a scope, especially those that use lower quality glass or coatings. This was not at all evident on this Hawke Endurance 50mm scope.
Image Brightness vs All Scopes
There is no denying that if you look hard enough when comparing the brightness of the image through this, or indeed any other compact scope that I have used against a large 80 or 90mm scope, you can see a difference in the image brightness.
In good light this difference is usually very, very minor and really for me is not an issue at all. However the darker it gets outside the bigger the difference becomes. For why, take a look at my complete guide to the exit pupil (note: whilst this guide is written for binoculars, the same principles apply with scopes).
So if the low light ability of the scope is vitally important to you, you are most probably better off sacrificing on transportability and going for a scope with a larger lens.
Image Brightness vs Compact Scopes
I compared this to my slightly larger 60mm scope and I have to say that I was quite impressed and indeed a little surprised by this tiny Hawke spotter. At the same magnification (thus with the same sized exit pupil), the difference in image brightness between the two was really not obviously distinguishable, be that in good or poor light and thus I would rate this scope as being bright - very bright for a compact scope.
Distortions & Softening
The level of image softening on the edge of the view is not the best I have ever seen, but still very minimal and really nothing to worry about. Also worth noting is that I was never aware of any distortions where the image can look like it is bending in on itself or folding outwards.
Rating for Image Quality: 8/10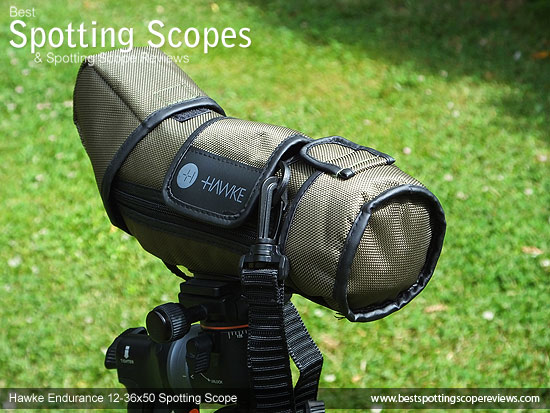 Included Accessories:
Stay on Cover
Most full sized scopes come with some sort of cover or carry case, however quite a few travelscopes, including the Opticron MM3 GA ED don't, so it was nice to see one included with this compact Hawke Endurance scope.
I found it to be very well made and had a good, snug fit, but was neither difficult to take on or off.
The case has the usual sections that cover the eyepiece, lens and focus knobs that can be opened so that the cope can be used with the rest of the cover still attached which is great.
You also get a simple carry strap that attaches to the cover via a couple of quick release clips that works really well and makes for a great way to carry about your scope when it is not attached to your tripod.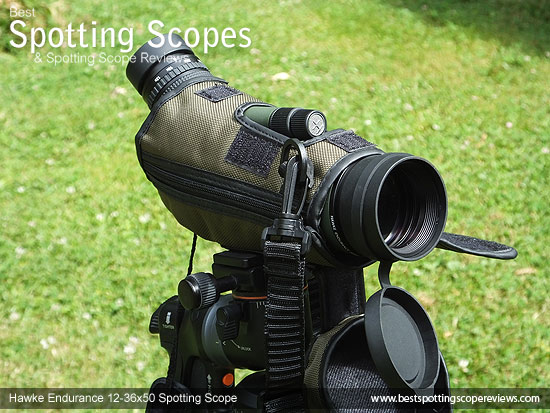 No Tripod Included
Note: Some copes come with a small tabletop tripod included, this is not the case with this Hawke spotter.
Lens Covers
The lens covers are simple yet effective. Made from rubber, both the objective and the eye-piece covers had a good fit and don't come away too easily from the scope.
I like the fact that the objective cover can remain tethered to the scope. This no fuss, yet very effective solution is a common feature on binoculars, but for some reason is something that has been adopted far more slowly on scopes, so is nice to see implemented here.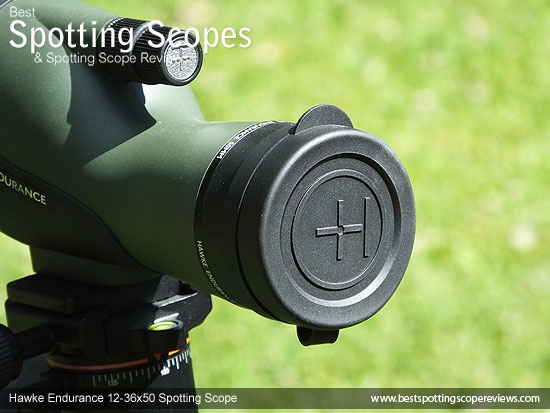 Lens Cloth
Whilst a reasonably good quality microfiber cleaning cloth is supplied, as always I will still suggest that you get yourself a optical lens cleaning kit to take care of your lenses.
User Manual
The small instruction booklet is basic, but contains the essential information on compatible eye-pieces, parts of the scope, how to use your scope, care, cleaning and a small section on telephotography and digiscoping.
Warranty / Guarantee
Each Hawke Endurance Spotting scope comes with the excellent Hawke Worldwide Warranty, the duration is is legally limited to 10 years within Europe, but is a lifetime warranty in North America.
Rating for Included Accessories: 7/10
Hawke Endurance 12-36x50 Spotting Scope Comparisons
Final Thoughts
Conclusion
As far as travel friendly, compact spotting scopes go, this is up there with the best that I have had the pleasure of testing.
Strengths:
Versatility is most certainly a major strength of this scope, not only does it's tiny size and low weight make it about as portable as it gets, but the included 12-36x Zoom Eyepiece covers a nice range and thus makes the scope ideal for a wide range of uses. If you consider this and the very close focussing distance and the excellent two speed focus knobs, then you have a spotter that you can be using to view birds in the distance at one moment and then observing a butterfly resting on the petal of a flower the very next. Brilliant.
Build quality is superb as is the use of high end optical components and coatings, which all contribute the the very good quality image that is delivers.
Weaknesses:
For a scope of this quality you really should pair it with a good quality tripod and so whilst it may have been nice for a simple table top tripod to have been included, these are usually pretty basic and so I am in two minds as to if by not having one included is a weakness or not. I will leave that with you.
The lack of ED glass on this version is another point which I'd like to discuss, but again I am not sure if it is actually a weakness as such. If they had added ED glass to the lenses, the price of the scope would rise quite dramatically and at this lower magnification, the actual difference it makes to the image quality is relatively small. So for many people it is probably not worth it. Perhaps it would be nice in the future if Hawke could offer one 50mm model with and one without, that way those who want the best with a cost no option budget, could have their cake and eat it.
Digiscoping
At the time of writing this review, I have done a little digiscoping with this Hawke Endurance scope using my mobile phone and the SnapZoom Adapter (see photo below) that I am currently also testing writing a review on.
Thus as I get results and photos of my efforts, I will post them here.
For now I think it is worth stating that whilst a compact scope and the adapter, mobile phone setup is a great option if you want to digiscope and still travel lightly, but for the best results you will always be better off with a larger scope and a a full SLR camera. Obviously both of these are large and heavy and so make for a completely different setup.