The story behind this review of the new Celestron TrailSeeker ED binoculars is a little different than normal and thought I would include it before we dive in:
I was recently contacted by Racheal, who had stumbled upon the BBR website whilst researching for a "pair of good binoculars" to take along on two safaris that she and her husband have planned and then after their return want to continue to use them for general wildlife viewing.
By how detailed and well thought out her email was to me, I knew that she had already clearly done a bunch of research before she contacted me via the BBR Patreon page looking for some extra and more personal advice from the "BinoWizard" on which binocular from her shortlist that she should settle on:
"I understand from your site that you tend to prefer smaller binoculars for safari, but since we do not have any pressing luggage and weight restrictions, I think we are more comfortable with 8x42 size as we would like to have the best visibility possible for dawn and dusk drives when the animals tend to be most active. We are trying to stay under $350, but want quality optics and hopefully a pair that will last for years to come. Based on your reviews and some other research that I have done I have narrowed our list down to the following:
The New Celestron TrailSeeker ED 8x42
As you can see from her shortlist, I had reviewed them all, apart from this new ED glass version of the Celestron Trailseeker.
Usually, I would have then based my advice to her on my experience with the instruments that I had tested and just used the specifications and my "best guess" based on past knowledge of their products for the New Celestron TrailSeeker ED 8x42 binoculars.
Contacting Celestron
However, as I had not tested a binocular from Celestron in quite a while and because of the extremely generous support that I receive from Racheal and others like her through Patreon, I decided to go one step further and contact Celestron on her behalf to see if I could arrange to have a pair sent out to me to test.
It was good to catch up with the guys at Celestron as it has been too long and they as always were most obliging and a brand new pair of Celestron TrailSeeker ED 8x42 binoculars landed on my desk a few days later. Thus after thoroughly researching as well as testing and using them out in the field, below is my full review and thoughts on them:
Celestron TrailSeeker ED 8x42 Binocular Review
Contents & Features at a Glance:
Mid Level Binoculars: Approx: $285 / £285 / €300
Body

Single Hinge Body Design
Magnesium Chassis & Bridge
Water & Fogproof (Nitrogen Filled)
Central Focus wheel
Right-Eye Diopter
Twist-Up Eyecups
Tripod Adaptable

Optics

Fully Multi-Coated Optics
ED Glass Lens Elements
Schmidt Pechan Roof Prisms
Dielectric Coatings
Phase Corrected

Optical Stats

17.2mm of Eye Relief
Very Wide FOV: 426ft @ 1000 yards (142 @ 1000m)
Close Focal Distance: 2m (6.5ft)
The Body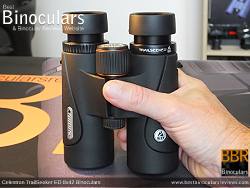 Shape & Design
Whilst essentially similar in shape to the older, non-ED TrailSeeker, Celestron has updated the pretty standard single bridge roof prism design with a new, more modern-looking exterior that I personally really like the look of.
Hinge & Inter-Pupillary Distance (IPD) Adjustment
Just shy of 4cm wide, the central bridge feels very sturdy and no doubt will be long-lasting.
On my sample, it opened and closed with a good, if fraction too much resistance. However, it is far better to be a little on the tight side than have a loose hinge that won't remain at your chosen IPD position that equals the distance between your eyes.
These Celestron TrailSeeker ED 8x42 binoculars have a minimum IPD position of 5.6cm and a maximum of 7.4cm which is a standard range for a 42mm binocular and thus should cater to the majority of users out there.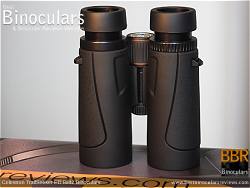 Rubber Armor Coating
Celestron has opted to use a relatively hard rubber for the exterior armor, which tends to be a little longer lasting and less likely to perish than softer ones in my experience.
However, a binocular armor made from a thicker, more spongy rubber will provide a little more impact resistance and generally has a higher level of grip.
Whilst Celestron has improved the grip levels in strategic points on the sides of the barrels by imprinting a very fine texture into the armor, it is still not as effective as a deeply textured softer rubber exterior used by some manufacturers.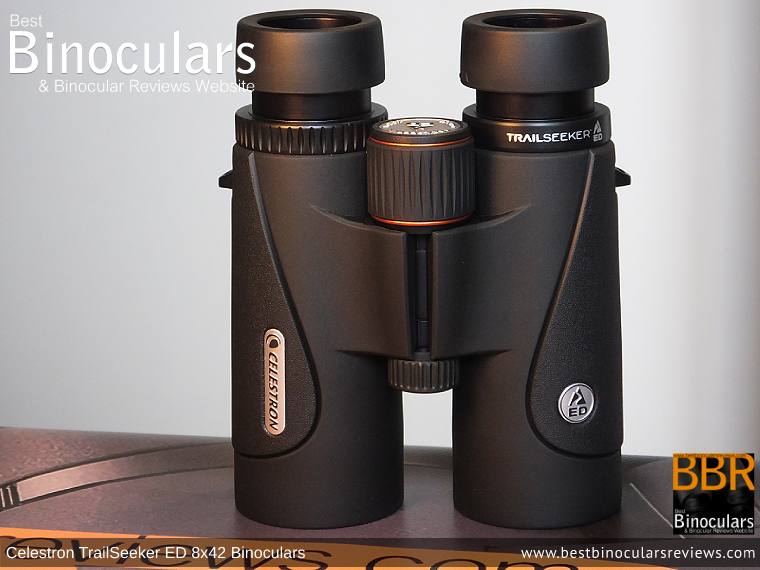 Chassis
As with the non-ED version, these Celestron TrailSeeker 8x42 ED binoculars feature a magnesium alloy chassis which is more expensive to produce than the polycarbonate ones that are prevalent at this and the lower price levels but generally offers a better balance between weight, strength, and durabilty and so it is good to see.
Weather Protection
By fully sealing the interior, Celestron has ensured that this instrument is fully waterproof and whilst they do not quantify this with a maximum depth or time, I am sure that it will be more than sufficient to protect them on even the wettest of days.
Remember as well as water, a fully sealed binocular is also protected from dust entering, which for many users is the more likely scenario.
The interior space has also been filled with Nitrogen gas. Unlike normal air, this is moistureless and thus prevents the internal optical surfaces from fogging which often occurs when you subject an unprotected device to rapid temperature changes.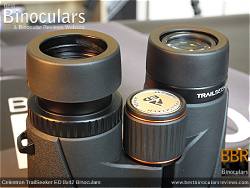 Eye-Cups & Eyepiece Housings
Whilst Celestron doesn't specify, the eyepiece housings look to me to be made from a metal and probably the same magnesium alloy used for the chassis.
This is good to see as this is an area on a binocular that often gets damaged when dropped, but to save costs many instruments will have plastic housings, which are cheaper to make, but nowhere near as impact resistant.
Likewise, under the rubber covers, the eyecups also look to be metal which is also excellent, although unlike some very high-end instruments, I don't think these can be completely unscrewed should you need to have them replaced.
The function of the twist-up mechanism is very good as it lacks any free play, or looseness that I often find.
Celestron has included only one click-stop between fully extended and retracted positions, although because there is a really good level of resistance to movement, you can actually position the cups at any point and they will remain there even when you press them quite firmly against your face which is excellent.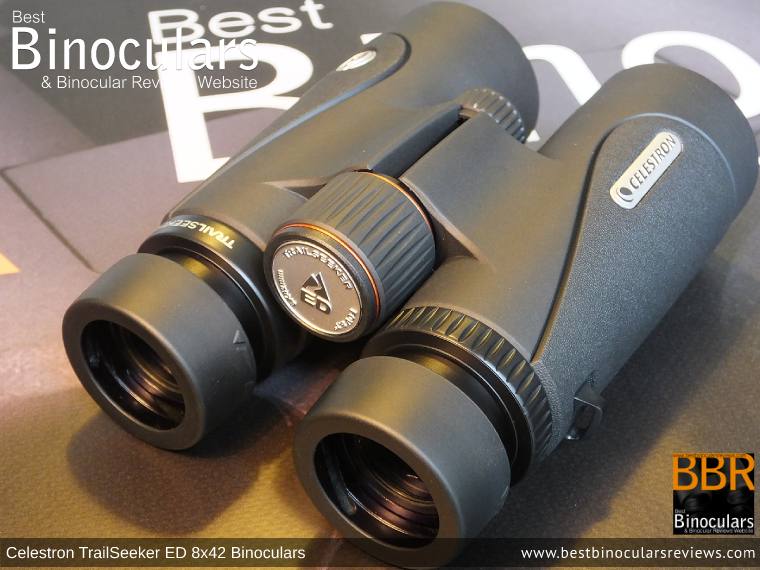 Focus Wheel & Focussing
A noticeable difference and certainly an improvement between the non-ED TrailSeeker and these Celestron TrailSeeker ED 8x42 binoculars is the focus wheel.
Gone is the generic and rather boring looking plastic wheel that you find on many modern instruments at the mid to lower price levels.
Instead, Celestron has upgraded the TrailSeeker ED to a metal focus wheel which not only looks far nicer but also has a really smooth action to it.
At 30mm in diameter and 26mm long, it is a little smaller than what I typically see on a full-sized instrument, but it is still easy to reach and the great action and rubber track make it nice and easy to use with just one finger.
The focus mechanism is geared so that it takes one and a half turns of the wheel (540°) to move from minimum to maximum.
This is a little less than the non-ED TrailSeeker, and is what I would call about average and a good compromise: So a more aggressive gear would make it faster to make large focal adjustments, but it is also a little more difficult to make fine adjustments and the opposite is true for a less aggressive gear.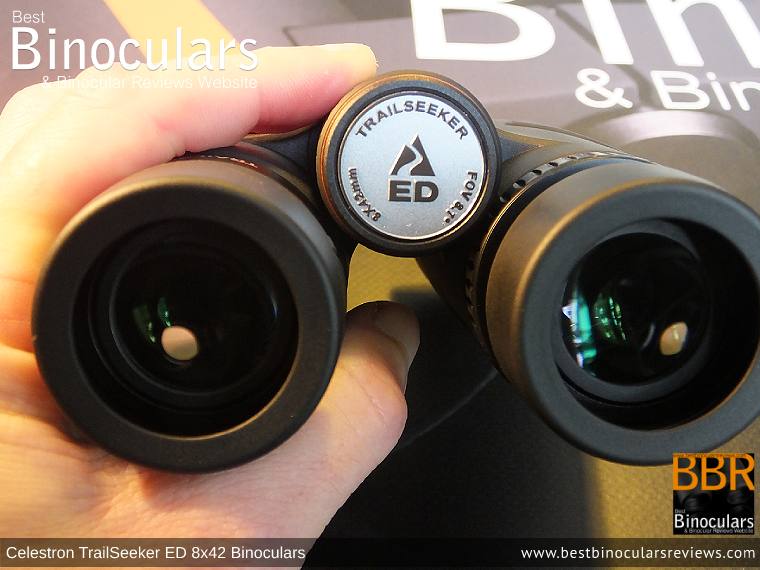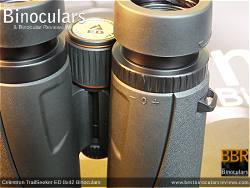 Diopter Ring & Calibration
In order to compensate for any difference in vision between your left and right eyes, any binocular worth its salt has some sort of diopter adjuster.
On these Celestron TrailSeeker 8x42 ED binoculars, it comes in the form of a wheel located on the right eyepiece, which is the standard location.
At ± 3, the range is good, but not outstanding and whilst it is not lockable, there is enough resistance to inhibit most accidental movement.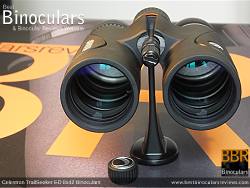 Tripod Adaptable
Attaching the Celestron 8x42 TrailSeeker ED binocular to a tripod is about as straightforward as it gets:
Described as 'tripod adaptable', all you need to do is unscrew the cover on the front hinge. This reveals a standard ¼ inch thread that will accept just about any standard tripod adapter, which are specifically designed to fit onto most tripod heads.
Body Quality Score: 8/10
Weight
As is confirmed in the comparison table below, these Celestron binoculars sit comfortably amongst the more lightweight 42mm binoculars on the market.
This is even more impressive when you consider that it has a magnesium chassis as well as a metal focus know and eyepiece housing.
Dimensions
As impressive its low weight is that for an 8x42mm binocular, these are relatively compact. Indeed they are really not that much larger than some "mid-sized" binoculars that I have come across in the past.
Note: This Trailseeker ED is a little narrower than the non-ED version of the TrailSeeker, but apart from that the body stats (Weight and Dimensions) are the same.
Body Stats Score: 8/10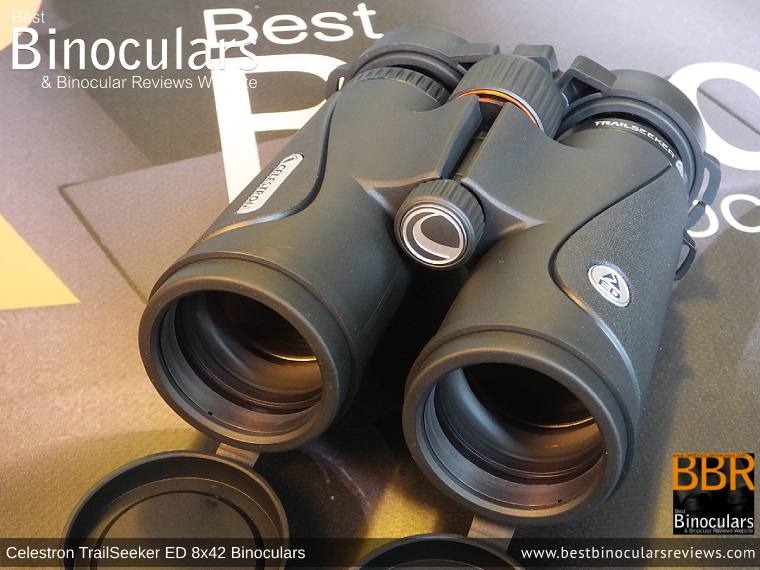 The Optics
Ocular Lenses
I measured the outer ocular lens to be 23mm in diameter, which is on the larger end of the spectrum for a 42mm binocular.
Larger ocular lenses potentially have a number of advantages over smaller ones. Most importantly, it is easier to line up your eyes with larger lenses leaving less chance of dark rings forming on the edges of the view. For more: Ocular lens sizes on binoculars.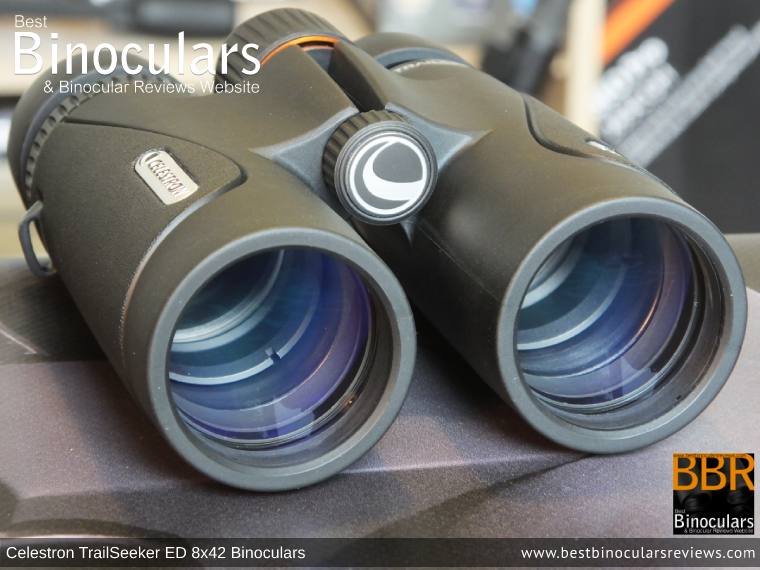 Objective Lenses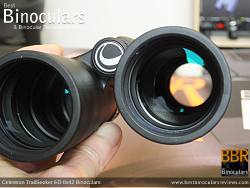 Considering how short this Celestron TrailSeeker ED binocular is when compared to other 42mm binoculars, I was very impressed to see just how deeply set back the objective lenses were from the ends of the barrels (8mm).
So whilst they could have made the body even more compact by shortening the barrels, this overhang offers a good amount of protection to the lenses from things like rain, dust as well as scratching.
ED Glass
In terms of their optics, the standout difference between these and the older Celestron TrailSeeker's is that this newer ED version now incorporates elements within the objective lenses that have extra-low dispersion (ED) properties.
This upgrade means that they now have the possibility of better directing the individual wavelengths of light as it passes through the lenses and thus reduces chromatic aberrations when compared to the "standard" low dispersion glass used in the non-ED version.
Fewer chromatic aberrations results in a higher definition image with less visible color fringing. To see how this actually played out, see the section on Image Quality below.

Prisms
As with all the instruments within the TrailSeeker series, this Celestron TrailSeeker ED binocular uses a pair of roof prisms made from BaK-4 glass within the barrels to re-correct the upside-down image created by the lenses.
Lens & Prism Coatings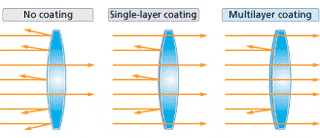 Anti-Reflection Coatings
This Celestron TrailSeeker 8x42 ED binocular has a Fully Multi-Coated optical pathway.
This is an important feature and certainly something to look out for when buying binoculars, but it is important to be aware of the precise wording.
Fully Multi-Coated tells us this binocular has multiple layers of a special anti-reflection material added to every air-to-glass surfaces throughout the entire optical system.
Lower quality binoculars will only be Fully Coated (single coating on all surfaces) or Multi-Coated (multiple layers on some surfaces).
The level of anti-reflection coatings does make a noticeable difference in both the quality and brightness of the image.
For more: Anti-Reflection Lens Coatings.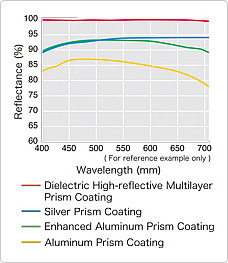 Prism Coatings
As with the non-ED version, the prisms on these Celestron ED binoculars have the same very high level of coatings:
To start with, they dielectrically coated, which is impressive at this price level as many will use less expensive silver mirror coatings.
A dielectrically coated prism ensures that over 99% of the light (in all wavelengths) gets transmitted, resulting in brighter, higher-quality views.
On top of this, the prisms also have phase correction coatings added to them. This keeps the separate wavelengths if light "in step" whilst it passes through the prism and thus ensures these binoculars deliver an image with improved resolution and contrast when compared to a roof prism binocular without them.
Coating Comparisons
Optical Components Score: 8/10
Optical Stats
The Field Of View
If a very wide view is important to you, which will be the case for many users, but especially birders, then these Celestron TrailSeeker ED 8x42 binoculars wont let you down.
Indeed as you can see from the table below, at 426ft wide (when measured at a distance of 1000 yards) they have an extremely wide field of view (FOV) than rankes them amongst the very best 8x42's I have tested. This wide view translates to a viewing angle of 8.1° and once again puts them in and amongst the best wide-angle binoculars on the market.
This wide view is instantly noticable and is something that you really can appreciate when testing and comparing them against others that are not as wide as it presents you with a number of advantages depending on your situation:
At longer ranges, you can scan wider areas more easily and take in more of the view without having to pan the view about and therefore have a better chance of spotting something of interest.
But it is at closer ranges where a wide view like this is most beneficial. Firstly because you are seeing a "bigger picture" it makes it much easier to quickly locate what you want to observe, which if it is small (like a bird) really helps. Then if it is fast-moving and erratic in its movements (again something like a bird), a wide view makes it much easier to follow.
Minimum Focus Distance
Celestron publishes the official minimum focus distance as being 6.5 ft / 2.16m, which is pretty much spot on as I was able to achieve a sharp focus using my test pair at a distance of only 6.56ft / 2 meters.
For an 8x42 this is very good and therefore makes these Celestron binoculars perfectly suitable if you also like to study things like Butterflies and other Insects.
Eye-Relief
When you take into account that these Celestron TrailSeeker ED binoculars have such a wide field of view and really good close focus, it is doubly impressive that they are still able to maintain such a good amount of eye-relief.
At 17.2mm, they don't break any records and just miss out on what I would class as having very long eye-relief, but in combination with their multi-position eyecups that as we have already discussed work very well, then you have plenty of room for customization to ensure you are able to take in the full view even whilst wearing glasses.
I tested this whilst wearing my sunglasses and by fully twisting the eyecups down, I was indeed able to enjoy the full image without any black rings forming on the edges. For more on this please check my guide on How To Use Binoculars With Glasses: Eye-relief & Eye-cups Explained.
Incidentally, these optical stats (FOV, close focus, and eye-relief) are pretty much the same on the non-ED version of the TrailSeeker.
Optical Stats Score for an 8x42 binocular: 9/10
Optical Performance
As well as taking careful notes whilst using them, I also made direct comparisons between the view through these Celestron TrailSeeker ED's and my benchmark 8x42 binoculars, which I use as a reference point for all my binocular reviews.
Image Brightness
When looking through an 8x42 binocular with a high-quality, fully multi-coated optical system and dielectric mirror coatings on the prisms, you expect to be presented with a bright image and these Celectron binoculars did not dissapoint.
I found this bright image especially noticeable in low light situations like in the thickly wooded forested area not far from my house and also just after the sun had dipped below the horizon.
In these situations, I found that the Celestron Trailseeker 8x42 ED binoculars were equal to my alpha level benchmarks and noticeably brighter than the mid-range benchmark.
For interest: On one walk with them, I also happened to be testing a good quality 10x26mm compact at the same time and the difference in image brightness in low light was quite remarkable. Here it is not only the quality of the optics that make the difference but also the larger exit pupil that an 8x42mm produces when compared to a 10x26 configuration.
Colors & Contrast
Here, once again, I compared what I could see through these and my benchmarks on a number of different occasions and in a variety of different light conditions and as with the brightness, I was very impressed with the general quality and color reproduction.
To me, the Celestron TrailSeeker ED 8x42 binoculars produce an image that is vibrant with a good level of contrast, but not overly so, meaning that the colors and contrast levels look natural and true to life.
I also never noticed any artificial tinting that you sometimes can see.
Color Fringing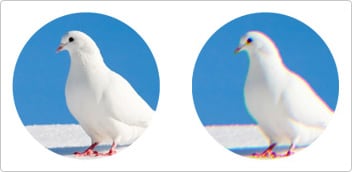 The amount of color fringing that I could observe, even when looking at dark objects with clearly defined edges like a telephone wire up against a bright sky background was very minimal and about as little as you could ever hope for with an 8x42 binocular.
It is here that the high-quality optical glass and the obviously effective use of the ED glass elements have served their purpose very well in reducing chromatic aberrations and once again I rate these TrailSeeker's amongst the best that I have used in this price level.
Image Distortions & Blurring
Softening of the image or fuzziness, right at the edges of the image was very minimal, indeed almost to the point of non-existence.
As for any other image distortions, like unwanted image curvature, at no time did I notice anything to be concerned with.
Conclusion
The Celestron TrailSeeker ED binocular delivers a bright, excellent quality image that I rate amongst the best in their class.
Score for Image Quality: 8/10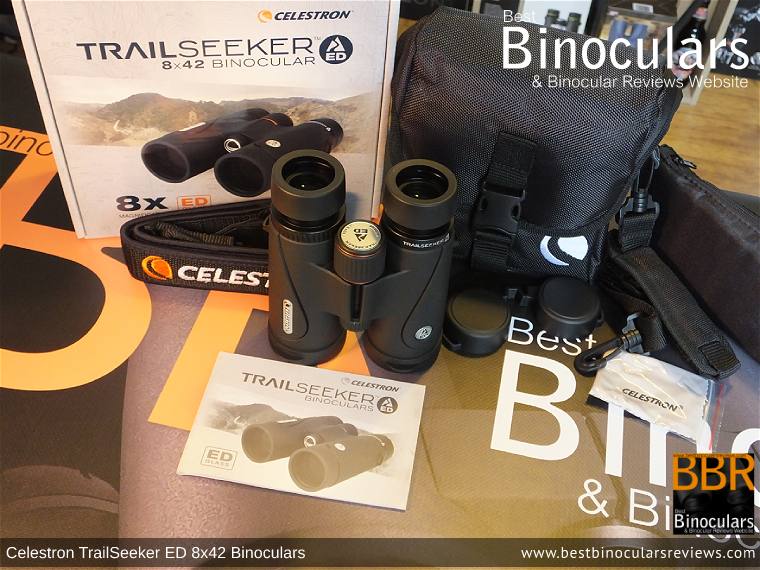 Included Accessories:
As well as the usual selection of accessories (Carry Case, Neck Strap, Lens Covers, Rain Guard and Cleaning Cloth), like the non-ED version, these Celestron Trailseeker ED binoculars are boxed with a binocular harness, which for some users will be a very welcomed addition.
Apart from the carry case, these accessories are exactly the same as those that you get with the non-ED TrailSeeker, so rather than just repeating myself, you can read about them in detail on the Accessories section of the Celestron TrailSeeker 8x42 Review.
Carry Case
One item that is different is the carry case and unfortunately, it is not for the better. The non-ED TrailSeeker that I tested came with a higher quality case that was the same that they use with their more expensive models like the Celestron Granite 8x42 binoculars.
I should stress here that I wrote that review back in 2014 and I assume that now they also probably have the same "new" case like the one you get with these.
To be fair to Celestron, there is nothing wrong with this new case, the binoculars fit well inside, it is secure, well-padded, has its own carry strap, a double belt loop on the back and a separate zip-closed pocket inside.
So in terms of function, it is just as good, but it is just not as luxurious as the older one. However, I must also stress that for the price range, the older case was far, far superior to the majority at this level and so now with the new case it is just more closely in line with the better ones that I would expect to find at this price.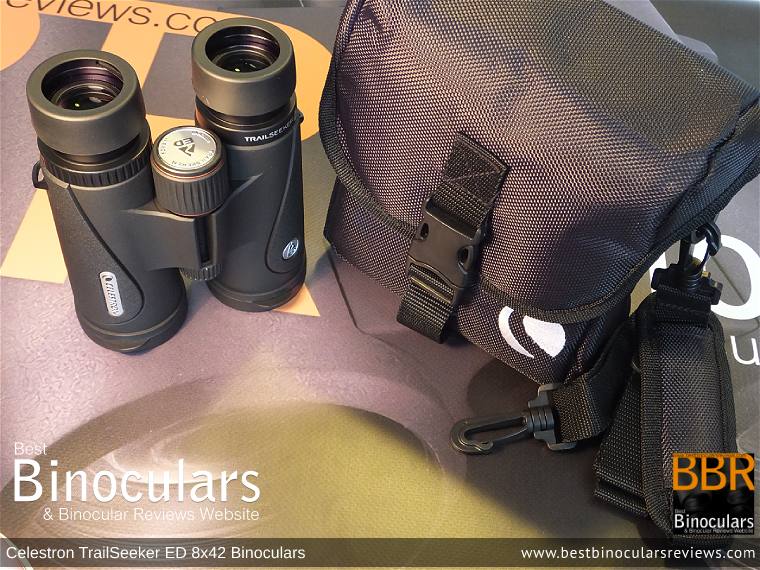 Accessories Score: 8/10
Celestron TrailSeeker ED 8x42 Binocular Comparisons
Below are a few other Mid level (Price between $130 - $300 ) 8x42 binoculars that I have recently tested and fully reviewed and thus make good choices to compare these against.
To get a better view, you can Open the table in full-screen mode to view the full results which also contains all the 8x42 binoculars in this price range that I have tested.
Review Conclusions:
Whilst the differences are subtle, there is no doubt in my mind that these newer Celestron TrailSeeker ED binoculars are an improvement on the non-ED version which I think already is an excellent binocular at this mid-level price range.
Sure, for the most part, the dimensions and the optical stats are the same, but these ED TrailSeekers just look and feel more luxurious and more expensive than what they actually are.
I also feel that the inclusion of the ED glass is a good thing and whilst the non-ED version did not perform badly in terms of the amount of color fringing in my tests (I thought they were very good), these TrailSeekers now perform excellently in this area.
So at this price level, I have no hesitation in highly recommending these Celestron TrailSeeker ED 8x42 binoculars which in my opinion one of the Best Value For Money Binoculars in their class.
What I Really Like
Many binoculars at this price range look very generic... as if they were all made in the same factory ;-) But these Celestron TrailSeeker ED's are anything but that.
Indeed, they have their own distinctive design and look that I personally really like. It is modern and classy without being too futuristic and I feel makes the binocular look far more expensive than it actually is which is always a good thing.
Body Stats & Components
For an 8x42 binocular these are small and lightweight, which certainly adds to their versatility. For instance, if like Racheal, you want a "full-sized" 42mm binocular to take traveling this is important.
This also especially impressive when you consider that they have many metallic parts like the magnesium chassis, focus wheel, and eye-piece housings. Note: Many lightweight instruments at this level will use cheaper plastic parts.
At this price range, the level of optical components and coatings used is as good as it gets which definitely shows when you look through them:
Image
The overall image quality and brightness are truly excellent for a binocular at this price level and match that of many if the better mid-to-high level instruments that I have used.
Field of View
All the image specifications are impressive, but it is the extremely wide field of view that really stands out and is certainly a particular strength of this instrument.
Close Focus
The minimum close focus distance at 6.5ft is also very good for a full-sized 8x binocular.
Room For Improvement
As I mentioned earlier, the carry case works perfectly fine and is on a par with the better ones at this price level, but it just lacks in terms of its luxuriousness when compared to the one that you used to get with the older version.
Ideal Uses