Hawke Frontier HD X Binoculars
With 32mm and 42mm options in either 8x or 10x magnifications and available in either gray or green color finishes, the Frontier HD X series sits just below the flagship Frontier ED X series from Hawke Optics with the main difference being that these HD models don't use ED (extra-low dispersion) glass elements in their objective lenses.
This makes them substantially less expensive than the equivalent ED models, but then there is also the potential that because they only use "normal" low dispersion optical glass and not the "extra" special stuff, then they will not be able to reduce chromatic aberration quite as much. The result is that they potentially deliver a slightly lower definition image that exhibits a little more color fringing around the edges of highly contrasting objects.
I say potentially because just by using ED glass does not automatically guarantee that you will reduce these aberrations. You still need a very well designed optical system with all the individual elements working in unison. Indeed, I have often found that a well made non-ED glass binocular performs as well as many similar priced ED instruments.
So with this in mind, I decided that as I have already tested and reviewed the outstanding Hawke Frontier 8x42 ED X binoculars that went on to win the award for Best Birding Binocular 2019, it would be very interesting to also test the equivalent HD model and see just how closely matched they are:
Hawke Frontier 8x42 HD X Binoculars Review
Note: As I have already reviewed the ED version of this instrument, I will be mainly focusing my attention on the differences between the two in this review. Where they are the same, I will refer to the ED version so as not to repeat myself.
Contents & Details At a Glance:
RRP: $339, £289 retail price approx: $300 / £289
Body

Single Hinge
Magnesium Chassis
Waterproof & Fogproof
Twist-up Eye-cups with click stops
Weight: 24.4oz / 692g
Dimensions 14cm (5.5ins) x 12.3cm (4.8ins)

Optics

Fully Multi-Coated Optics
BaK-4 Roof Prisms

Dielectric Mirror Coatings
Phase Corrected

Optical Stats

Field of View: 426ft at 1000 yards
Close Focus: 6.6ft
18mm of Eye Relief
IPD: 5.6-7.4cm / 2.2-2.9ins
The Body
Design & Shape
In terms of the overall shape and design, the Frontier HD X looks to be almost identical to the ED X and uses the same modern-looking top hinge design, which I think is generally a good thing.
A very minor difference between the two is with a few small accents and details on the body. So, for example, the ED X has a silver anodized finish on the focus wheel and around the diopter adjuster, whilst these HD X's are finished in black.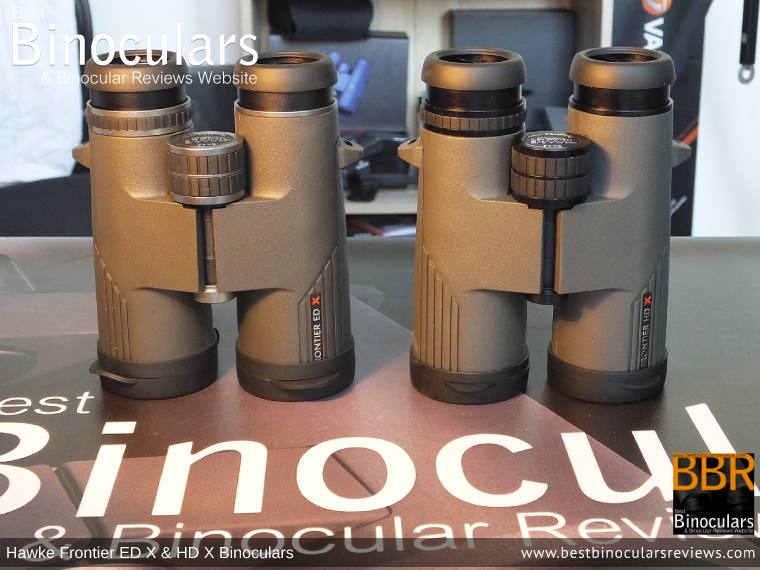 Hawke Fontier ED X on the Left & the Hawke Fontier HD X on the Right
Exterior Rubber Coating
With a choice of either grey or a green armor exterior, Hawke Sport Optics have chosen to go with a comparatively thin rubber which certainly looks great and I generally find tends to last longer with less chance of perishing than thick, soft rubber armors.
However, the payoffs are that it provides less of a buffer from hard impacts and you often get less grip from the surface. Hawke has helped greatly with this last issue by imprinting a very fine texture into the rubber. This texture also makes the surface less reflective, which for stealth, can be important to some users. For example hunters and security personnel.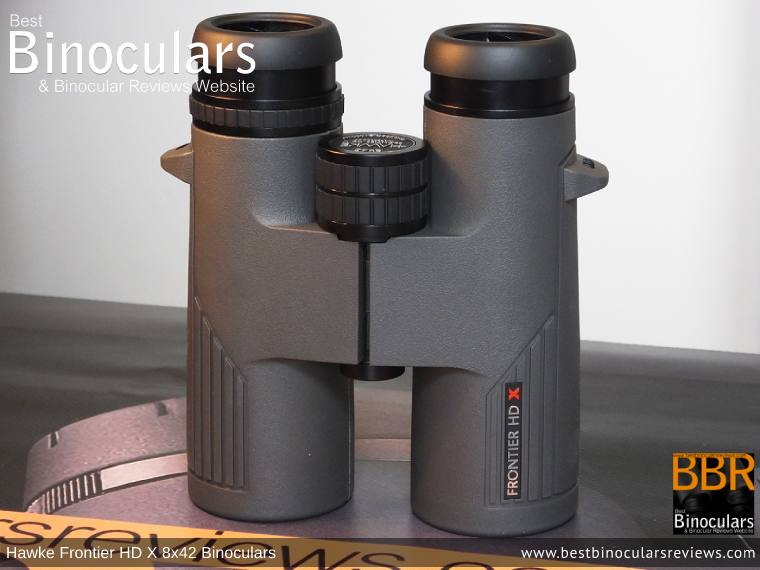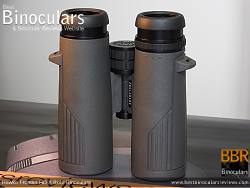 Chassis
As the dimensions and weights are the same, I am almost 100% certain that these Hawke Frontier 8x42 HD X binoculars use exactly the same magnesium alloy frame as the ED version and so I won't repeat myself by going over all the benefits again.
Fully Sealed
As you would expect, the Hawke Frontier HD X binoculars are sealed internally making them waterproof, these seals also prevent dust from entering in dry conditions.
Nitrogen gas is also pumped inside of them to replace the air in the factory. As this gas is completely moistureless, it prevents the internal optical surfaces from fogging or misting up.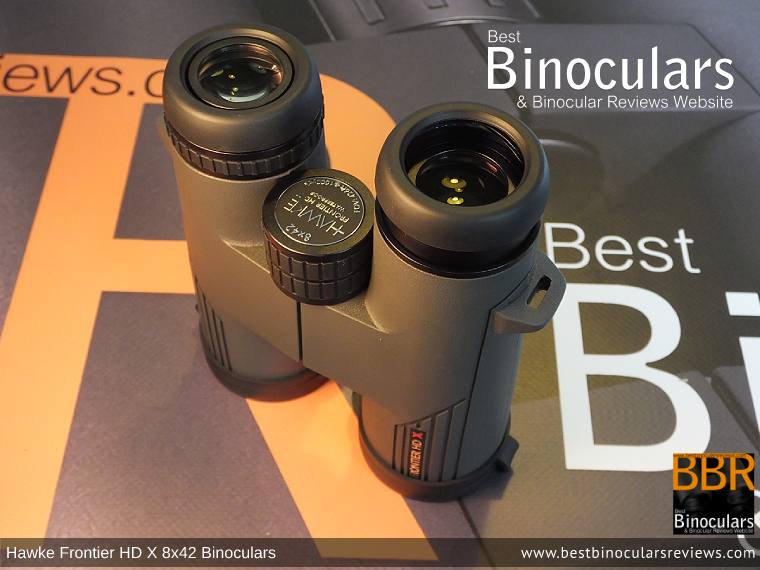 Eye-Cups & Eyepieces
I really loved the eyecups and the twist-up mechanism on the ED version and thankfully there is no difference between the two in this area once again.
The design and the way they work is very similar to that which you get on some of the very best binoculars in the world, like the Swarovski EL 8.5x42.
Like the main chassis, the eyepiece housings are made from metal and so whilst this is not as lightweight as polycarbonate, it is far more resilient. Being that this is one of the areas on a binocular that often gets damaged when dropped, this is an important point.
The twist-up housings can also be unscrewed and completely removed, which should the need ever arise to have then replaced makes this easy to achieve. I also find that by removing them, it not only makes it much easier to clean the eye-cups but as they are more exposed, you can far better clean the ocular lenses and around the eye-piece housings.
The thin rubber padding fits tightly onto the eye-cup and provides an acceptable level of comfort that is no different from the average.
The twist-up mechanism is extremely smooth and whilst there is only one fixed click top between fully extended and retracted, there is just about enough resistance allow you to position them at any point and have them remain there even when pressed firmly against your face.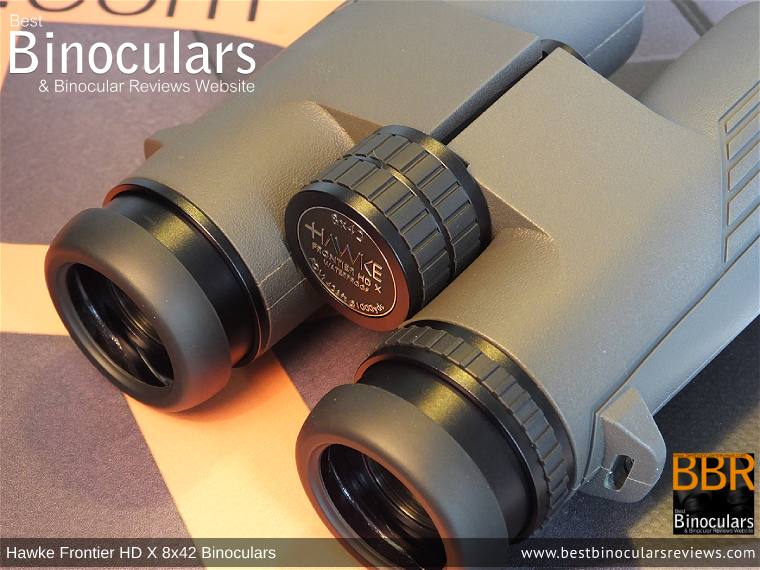 Focus Wheel & Focussing
As with the more expensive version, focusing on my sample of the Hawke Frontier 8x42 HD X binoculars was a real pleasure.
The metal wheel is nicely embossed with the Hawke logo and some other details on the main face, it is very far removed from the many generic wheels that I come across which is a great start.
The wheel has a really good rubberized track on it for extra grip and at 31mm in diameter, is nice and large, so makes reaching and using it, even with gloves on nice and easy.
The focus mechanism was extremely smooth on my sample which only added to the ease of adjustment.
The wheel takes about 1¼ turns to adjust the focus from the minimum focal range right out to infinity and thus offers a nice compromise between the time it takes to make large adjustments and being able to fine-tune the focus.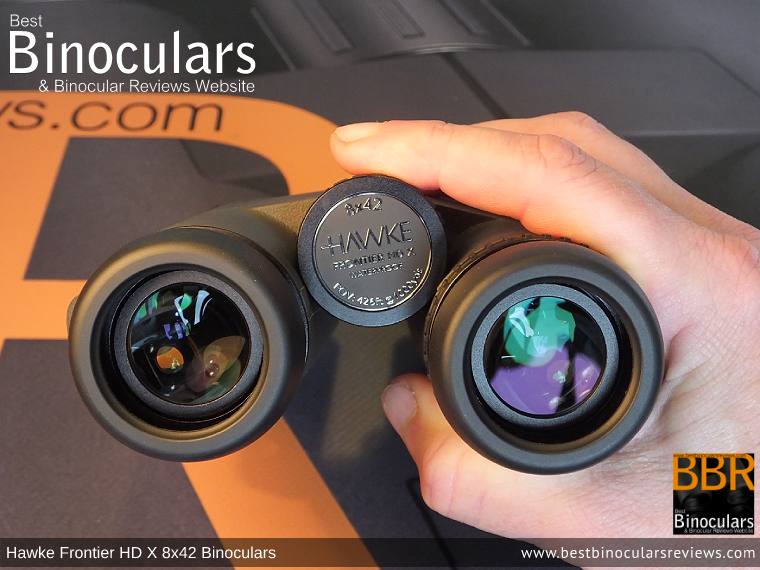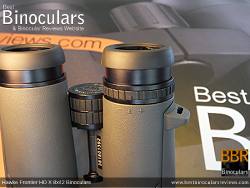 Diopter Adjuster
Enabling you to calibrate the binocular to allow for any difference in the vision between your left and right eyes, the diopter adjustment wheel on these Hawke binoculars is positioned on the right eyepiece in the usual place.
The wheel turns with a decent amount of resistance and rubber-track is there when you need to make adjustments, but at the same time is not positioned too proudly so as to make any accidental movement of your setting too easy.
However, lockable diopter rings are preferable, but generally only found on more expensive, top-of-the-range instruments.
Body Quality Score: 8/10
Weight
Weighing in at 692g / 24.4oz, these Hawke Frontier HD X binoculars weigh exactly the same as the ED X version, which for a binocular with a magnesium chassis, metal focus wheel, and eyepiece housings, this is very good:
Dimensions
Once again the dimension matches the ED version and once again these are all pretty good for a full-sized 42mm binocular.
Hinges & Inter-Pupillary Distance (IPD) Adjustment
Measuring 3.8mm wide, the single hinge that connects the two barrels opens and closes smoothly and has a good level of resistance so as to ensure the distance between the eyecups or Inter-Pupillary Distance (IPD) remains at your intended position.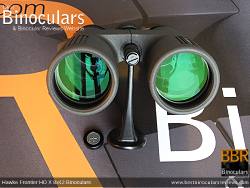 Tripod Adaptable
All Hawke Frontier binoculars, including this version, are "tripod adaptable".
This means that by unscrewing the cap on the front of the hinge, you can then screw in a standard tripod adapter, which in turn can then be fixed to a tripod very easily.
Body Stats Score (for a 42mm binocular): 9/10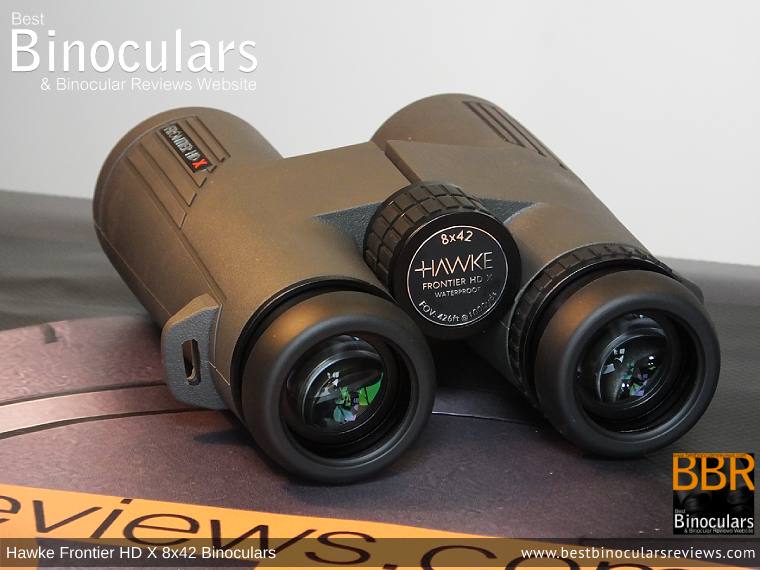 Optics
As I mentioned at the start of this review, the main difference between these Hawke Frontier HD X binoculars and the more expensive ED X version is that these don't have any extra-low dispersion (ED) glass elements in their objective lenses.
Indeed as far as their optical system goes, this is the only difference that I can see, so in this section, I will mostly focus on this point and what difference it potentially makes:
Eye-Pieces
As with most manufacturers, Hawke Optics does not include any specific information about the eyepieces and the configuration of the lens elements.
What, I can say is that the exterior ocular lens is 22mm in diameter, which is reasonably large for a 42mm binocular.
Large ocular lenses make it easier to line your eyes up with them an thus have less chance of dark rings forming on the edges of the view. You can read more about this and some other potential advantages here: Binocular ocular lens size.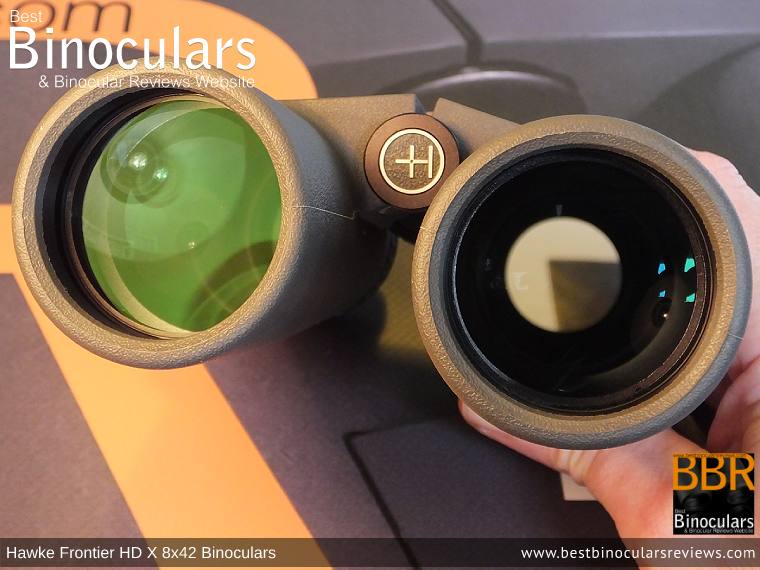 Objective Lenses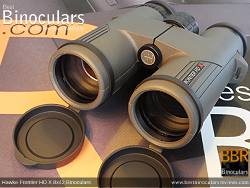 As the name of this model suggests, the objective lenses are 42mm in diameter and like the ED X that I tested, they are set back nice and deep within the ends of the barrels, which offers them a good level of protection as well as shielding them from light, which in certain circumstances can help reduce or eliminate lens flair problems.
No ED Glass - Is it a Major Issue?
Using ED (extra-low dispersion ) glass elements within the objective lenses can reduce chromatic aberrations and thus produce an image that shows less color fringing around the edges of objects.

However, unlike the Hawke Frontier ED X binoculars, these HD versions do not use elements made from ED (extra-low dispersion ) glass in the lenses, so how much of a big deal is this and is the ED glass version worth the extra cost?
Firstly, it is important to keep in mind that even though they do not have ED elements, like all modern binos of a reasonably high standard, these Hawke Frontier HD X binoculars will still incorporate high-quality, optical glass that still has very good low dispersion properties.
Also, it is important to realize that by just using ED glass in your lenses does not suddenly guarantee that you are going to reduce chromatic aberrations and thus produce an image with less color fringing. You still need to use it correctly and look at the entire optical pathway as a whole.
Indeed, I have on many occasions noticed that a very high-quality non-ED glass binocular can show the same level or even less color fringing than a lesser quality ED glass instrument with the same magnification. If you are interested, I go into more detail about this in an article that I wrote about if I think ED glass is worth the extra cost.
But to summarize, yes, ED glass can and does make a difference to the final image quality... but only sometimes as it depends on the quality of the glass used, the optical design and the level at which it was made!
Well, the great news for us is that for this Hawke Frontier binocular review, I had both 8x42 versions with me and thus could directly compare the difference the ED glass makes in the view which was really interesting to see. You can read about it in the Optical Performance & Image Quality section below.
Prisms
Made from BaK-4 glass, all Hawke Frontier binoculars use the Schmidt-Pechan design of roof prisms to correct the inverted image.
Optical Coatings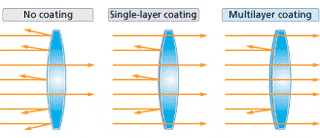 Anti-Reflection Coatings
The Hawke Frontier 8x42 HD X Binoculars are advertised as having Fully Multi-Coated optics, which informs us that every air or nitrogen facing glass surface throughout the system has been treated with multiple layers of an anti-reflection material which is good.
This is important as it does make an observable difference to both the quality and brightness of the image, but you need to be aware of the exact level used:
For more: What To Look For When Buying Binoculars & Anti-Reflection Lens Coatings.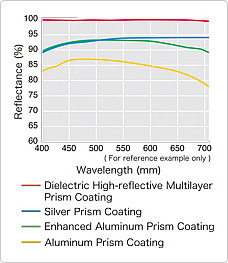 Prism Coatings
To get the best out of them, these Hawke Frontier HD X binoculars use the highest quality coatings on the roof prisms:
Firstly, they are dielectrically coated which is excellent as they reflect more light than the silver or aluminum mirror coating alternatives that you can find at this price range.
Secondly, and just like the ED version, Hawke Sport Optics has also added phase correction coatings to the roof prisms on these Frontier HD X binoculars. This eliminates the problem of phase shift to produce a higher resolution and better contrast than untreated roof prisms.
Exterior Lens Coatings
The outer lens surfaces also have extra coatings added to them that has water repellent properties to it. This allows raindrops to just roll off them and thus help to maintain a better view even in really bad weather.
As well as this, these coatings also help reduce water stains on the lenses and thus helps keep them cleaner for longer, which means less frequent cleaning is required.
Finally, it also results in having to use less pressure, when you do need to clean them, which in turn reduces the chance of scratching the glass or its coatings.
Coating Comparisons
Optical Components Score: 8/10
Optical Stats
Field Of View (FOV)
As with the ED X, the field of view on these 8x42 Hawke Frontier HD X binoculars is excellent and rank with the very widest 8x42 binoculars that I have ever used and certainly what I would describe as a wide-angle binocular in this magnification class.
Eye-Relief:
At 18mm, the level of eye-relief is excellent and certainly what I would describe as having a long eye-relief and thus when combined with their fantastic quality eye-cups a great choice for eyeglass users.
Note: Once again this measurement is the same as which was available on the older version.
Close Focus
The minimum focus distance of only 2m / 6.6ft is very good for a full-sized binocular and thus a good option if you occasionally like to view objects and things like butterflies from a very close range.
Optical Stats Score for an 8x42 binocular: 9/10
Optical Performance & Image Quality
For this Hawke Frontier HD X binocular review, not only did I use my mid-range and alpha level benchmark 8x42 binoculars to compare the view against but fortuitously I still also had the ED X version with me and thus was also able to make a direct comparison between the two which was really interesting:
Image Brightness
In good light conditions, all four binoculars were to my eyes, equal in terms of the image brightness.
In very low light, the better level of optics used in the two Hawk binoculars as well as my alpha level benchmarks came into their own and I was able to "see" a brighter view when compared to the mid-level 8x42 benchmark.
To my eyes and under very low light levels, there was no marked difference in brightness between the two Hawk Frontier instruments and my alphas. I did on occasions think that perhaps the ED X was a fraction brighter, but to be honest, I would then look again and the difference would be gone. The point being that if there is a difference it is extremely minor and thus I rate these very highly in this area.
Colors & Contrast
Turning my attention to just the colors and contrast levels, here again, it was very hard for me to observe any sort of difference between these and the higher-end instruments that I was comparing them against.
Thus, if there is a difference, it is extremely minor and really not worth dwelling on as swapping directly back and forth, I did sometimes think that I could see a difference and then immediately afterward, there was none.
Color Fringing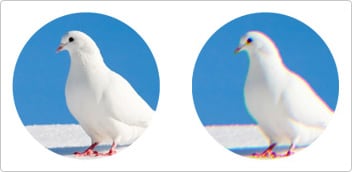 As I have mentioned, not only do the Hawke Frontier 8x42 ED X binoculars use ED glass that is designed to reduce the aberrations that cause color fringing, but when I tested them I was hugely impressed with just how well they performed in this area, so for the HD X this was going to be a very interesting comparison.
In isolation, the level of color fringing that is instantly observable through the HD X is very minimal and whilst like any binocular some color fringing is evident when you really look for it, the amount would certainly not be something to be overly concerned with.
When taking it to the extremes, like very closely examining the edges of a black telephone cable or dark green leaves against a bright blue sky in the background, color fringing is easier to notice.
Here, both my alpha level benchmark and the ED X did perform better than the HD X, but I have to say that the difference was once again very minimal and you have to look very closely for it.
Image Distortions & Blurring
As with the ED version, I never notice any other undesired image distortions and the level of image softening right at the edge of the view is extremely minimal.
Conclusion
To be honest, I was kind of relieved that in terms of the color fringing, I was able to differentiate between these Hawke Frontier 8x42 HD X binoculars and the ED version, otherwise, it would make it very hard to advocate using ED glass and the extra cost it entails.
However, having said that what was also very interesting is just how small the difference was and unless you have them both to compare against side-by-side you would never notice.
So in summation, yes there is a difference, but it is minor and as with many things in life, optics follow the rules of diminishing returns. So, these Hawke HD X binoculars, use very high-quality optics and deliver an excellent quality view, especially if you take their pice into account.
However, if you want the very, very best and have the extra budget, then the ED X does improve on these but don't expect to be blown away by the difference.
Score for Image Quality: 8/10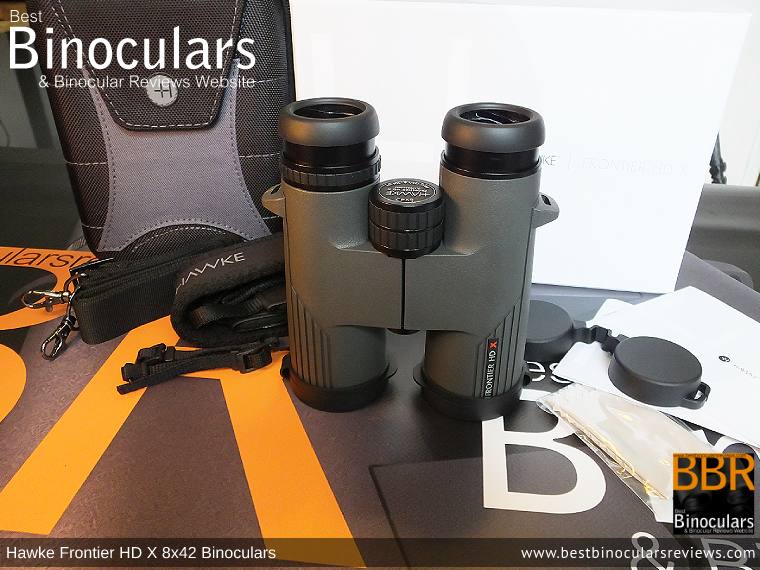 Included Accessories:
As the accessories supplied with these Hawke Frontier 8x42 HD X binoculars are exactly the same as that which you get with the ED version, I won't repeat myself here again by going into detail. Rather, I have just added the main points with photos and then if you wish to read about them in detail here on the ED X 8x42 review.
However, worth mentioning that they are all of an excellent quality and I thought were well above average… and that was at the higher price level. So to be supplied with such great accessories at this lower price range is quite exceptional!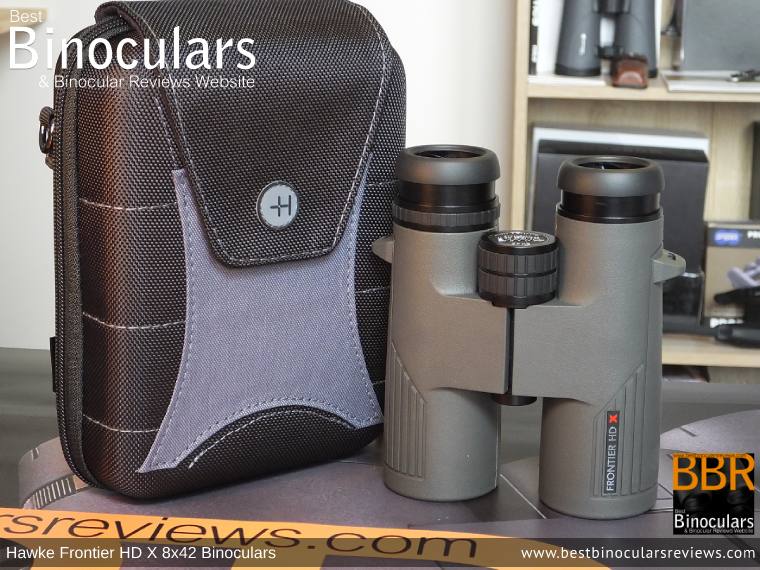 Carry Case - Main Points
Excellent quality
Semirigid construction - offers plenty of protection
Zipped & Magnetic Closure system - offers both secure and quick access options depending on your situation
External extra pocket on the rear. None internal
Separate carry strap with metal quick release clips
Binocular fits perfectly inside and can be closed even with eye-cups extended
Lens Covers: Main Points
Soft rubber/plastic rain-guard and lens covers
Fit well on the cups and into the barrels
Objective covers are tethered to prevent misplacement and easy access
Cleaning Cloth
These Hawke Frontier binoculars come with a cleaning cloth, which is of a good standard and ideal for cleaning the body and occasionally light use on the lenses. I would still recommend making the small investment in a lens cleaning kit to ensure that you don't mark the lenses when thoroughly cleaning them.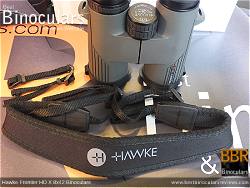 Neck Strap: Main Points
Excellent quality
Plenty of padding
Slightly curved
Rubber underside stops the strap sliding about
Can split the strap to remove the padded section and form a hand strap or easily switch between it and a binocular harness
Warranty Information
Hawke Optics offers a lifetime warranty against defects in materials and workmanship for the original owner.
Note: in the UK and Europe this is restricted to 10 years by law.
Extras Score: 8/10
Hawke Frontier HD X 8x42 Binocular Comparisons
You can compare some of the details of this binocular against a small selection of other mid-level 8x42 binoculars in the BBR database.
Open table in full screen mode to view the full results.
Review Conclusions:
As with the ED version, I think these Hawke Frontier 8x42 HD X binoculars push the limits as to the level that you can expect to find within their price category.
Indeed when you consider that apart from the lack of ED glass, these are essentially the same binocular, the level that they attain at this price is seriously impressive and you certainly get a high return on investment both in terms of the level of components used and their performance.
Main Strengths:
Excellent build quality using superior quality materials at this price level - excellent examples of this are is the magnesium frame, metal eyepieces and focus wheel, etc.
Extremely wide view, good close focus, and ample eye relief.
Very good image brightness and quality
Excellent quality and functional carry case and neck strap that are well above what you would expect at this price level
Weaknesses:
Lens covers, rainguard and cleaning cloth are not at the same level as the rest of the accessories and the instrument itself.
Very minor point, but quick release clips on the neck strap would make it even easier to take it off and swap with a harness.
Ideal Uses