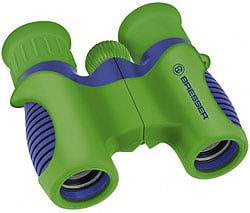 When choosing a pair of kids binoculars, there are a few choices which largely depend on the age of the child and just how interested they are in what ever it is that you need the binoculars for.
For an older child or teenager I would recommend choosing a "standard" binocular that has all the features that you look for in a good child's binocular, you can read more about this in my guide to Kids Binoculars.
For younger children there are a number of specifically designed Childrens Binoculars available, many are little more than toys that are only really useful for pretending to use them. But the good news is there are also some that are fully functional binoculars that work really well. One of these comes from Bresser:
Bresser 6X21 Junior Compact Binoculars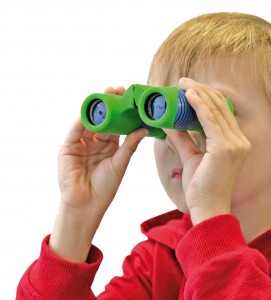 To be honest, before receiving these to review, my expectations were very low and I was somewhat sceptical as to just how serious they would be as a pair of binoculars.
Their bright colours do make them look very toy like to an adult, but I guess putting on my "kids hat" the combination of bright green and blue is very appealing.
The feel of these Bresser Children's binoculars in the hands is good as the rubber armour which is there to protect them from the inevitable drops and bumps is very comfortable.
Optics
The Bresser 6X21 Kids Binoculars use Bk-7 prisms that are usually used in lower priced binoculars, which is understandable in a kids binocular. The optics are fully coated optical system, which is good (great would be fully multi coated).
Looking through them for the first time I was very pleasantly surprised. Whilst they may not be the brightest or clearest compact binoculars that I have ever looked through, I was expecting the quality to be far worse. Comparing them to my benchmark compacts that I use for all compact reviews, there was not too much of a difference in brightness and the clarity of the image is impressive. Where these Bresser's were not impressive was in the colour fringing and sharpness of the image at the very edge of the view.
6x Magnification
Most people who are new to binoculars assume that the bigger the magnification the better the binoculars and as such they may be put of by these. Don't be. I think a 6x is ideal for children and this is why:
Powerful magnifications sound great but it makes it much harder to keep the image still and therefore get a good steady view of what you are looking at. Comparing them to my benchmark compacts that have a magnification of 10x, you can really notice just how much easier it is to keep the image still on the 6x Bresser, which I feel is vitally important on a kids binocular.
Another down side to higher magnifications is that generally the more powerful the magnification, the less bright the image produced will be. This is because they will have a smaller exit pupil (The amount of light rays that enter the objective lens and exit the ocular lens.)
Field of View
These have a field of view of 120m at 1000m, which is pretty good if you compare them to most compacts that have an 8x magnification. I guess the only niggle I have is that I would expect it to be a little more considering their magnification of 6x.
Focusing
Focusing them is surprising smooth and I love the little flower like rubberised central focussing dial that only takes one complete revolution to go from near focus to infinity. This enables you to to go from near to far very quickly and what was also good is that fine tuning the focus was also very good.
As with most "standard" binoculars, the diopter adjustment is located on the right barrel of the binocular. It allows you to adjust the lenses separately to allow for differences in each of your eyes and plays an important part in correctly focusing your binoculars. Being very picky, I would say that the adjustment ring on the Bresser 6x21 that I tested was probably a little loose meaning that may accidentally be moved.
Size & Weight
As you can see from the image below, they are far more compact than one of my favourite compact binoculars, the Steiner 10x26 Wildlife binoculars. I am not sure of their official weight, but they are a little lighter than most standard compacts.
Also Included
With the binoculars you also get a great little matching carry case, lens cleaning cloth and wrist type strap. Bresser are also so confident that these little gems can take what ever kids can throw at them that they come with a five year guarantee which is impressive.
Price & Where to Buy
These great little binoculars are available for between £20 and £30 in the UK. At the time of writing, I was not able to locate them in the US:
Conclusion
Overall I was highly impressed, they are definitely more than just a toy and considering the very low cost of these they are great. I highly recommend them as a great pair of children's binoculars.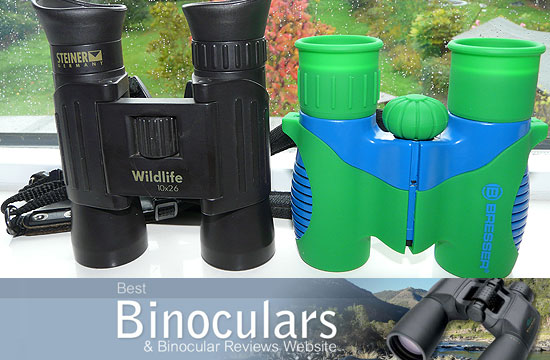 Further Reading
Read my guide to Children's Binoculars for more information on selecting the right binoculars for your child.