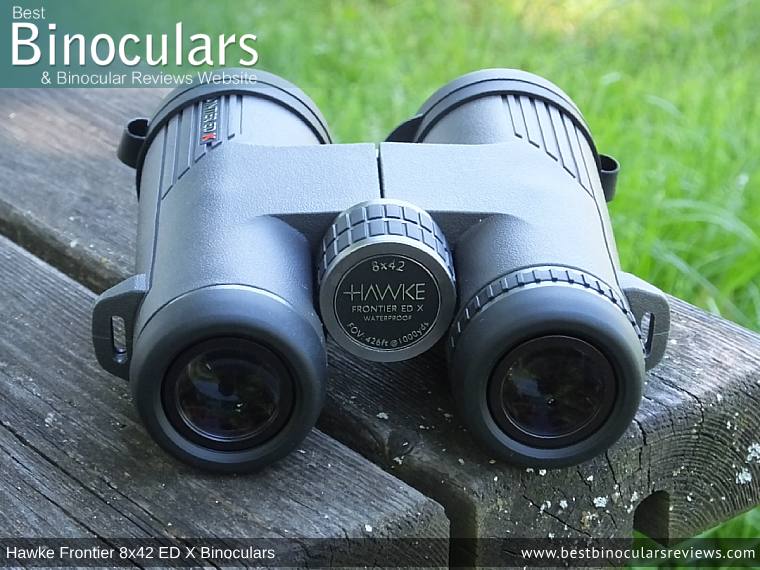 This question comes from a reader looking to buy some higher quality binoculars for their older children to view wildlife with and hopefully eventually also get into birding. He is wondering which configuration would be best, an 8x42 or 10x42:

Question:
I have just read your excellent review of the Hawke Frontier 8x42 ED X. I will be buying three pairs for my children aged 10 (boy) and 12 (twin girls).
We spend many hours in the bush in South Africa and I have decided it is time to upgrade them to a decent pair of binoculars.
At their current age they are a little more interested in general game viewing as such but in future I am sure there interests will turn to birding.
My only debate would be between the Hawke Frontier 8x42 ED X and Hawke Frontier 10x42 ED X. The 8x42 sound so good in your review that I am nervous to move away to the 10x42, however I am tempted due to the additional magnification for game viewing.
Do you think the 10x42 would be as good? I would really appreciate any advice you could pass on to me as buying 3 pairs is an investment an I would like to make the best possible decision.
Thank you so very much, Chris
Answer
Hi Chris, many thanks for your question, which I will try to answer as best I can below:
Firstly I would strongly recommend you take a look at my general guide on 8x42 vs 10x42 binoculars (see link above). As well as an article, this includes the video below which goes through all the main characteristics of these two configurations and their relative strengths against each other.
Build Quality
In terms of the overall quality, I am 100% sure that both the 10x42 Frontier ED X and the 8x42 version will be very similar, if not identical.
Indeed this will be the case for most models from the same series from just about any manufacturer or brand as they will share many of the same parts and be built alongside each other in the same factory.
Physical Specifications
Likewise most, if not all the physical specifications, like the dimensions and weight, will be identical or very, very similar that you won't notice the difference (eg: higher magnifications require thicker glass for the lenses).
Optical Specifications & Characteristics
Apart from the obvious change in the magnification, many of the other optical specifications and the characteristics of the view will change between an 8x42 and 10x42 binocular:
For example, the field of view gets narrower as you increase the magnification.

The smaller exit pupil produced by the higher 10x magnification also means that a 10x42 will not perform as well in low light as an 8x42, but in return, you get a little more reach or a slightly higher image detail at the same distance.
Considerations for the Novice / Child:
However, for novice users and children (even older ones), I usually advise sticking with the lower-powered 8x42 model for a number of reasons. 
Image Shake
Firstly, the higher the magnification, the harder it is to keep the image still as any movement in your hands is magnified by the power when looking through the binocular.
If your kids are anything like mine, they can never keep still and they have less steady hands and thus with a higher magnification they often find it hard to maintain a steady image and thus struggle to get a good view of the subject
Narrower View
Next is the decrease in the field of view which makes it harder to locate and if needed, follow anything of interest in the view.
This is something that less experienced users (like children) may have a problem with.
This is also something to consider as they get more interested in birdwatching: You often view birds at closer ranges than larger wildlife and they are often fast and erratic moving.
This is why a lower-powered binocular with a wide field of view is preferred by most birders. That is unless you usually observe larger birds like eagles or water birds like darters, cormorants, ducks etc at longer distances.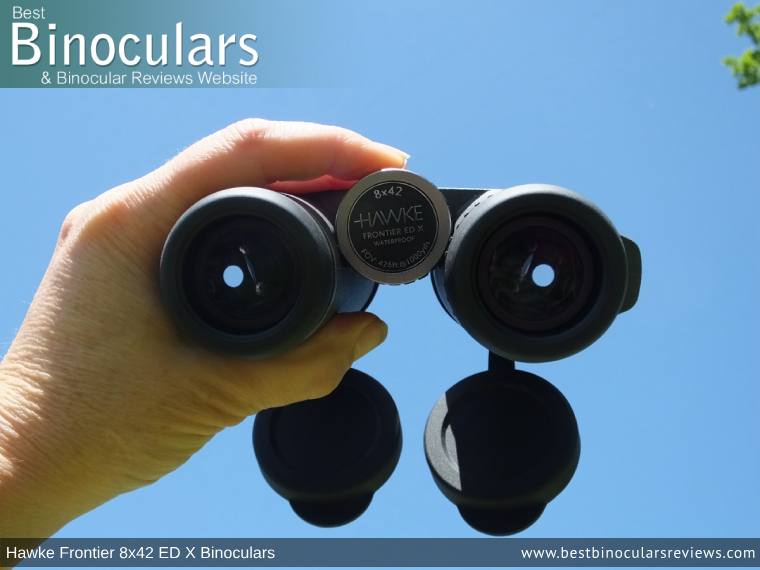 Exit Pupil Size & Ease of Use
Lastly, the larger 5.25mm exit pupil generated by the 8x42 configuration makes it easier to line up your eyes with the light exiting the ocular lenses.
The smaller 4.2mm ones you get with a 10x42 binocular mean that you have to be more precise and thus can easily end up with dark rings on the edges of the view.
Here again, less experienced users can often have a problem with this.
Conclusion
So for children and even novice adult users or the elderly, who perhaps have unsteady hands etc, I often try and make the experience of using a binocular as easy for them as possible.
In this way, I often find that they use the instrument a lot more, rather than just becoming frustrated and eventually giving up and this is why I would choose generally choose an 8x42 binocular over the 10x42 version.
I hope that this helps.
Further Reading